The Best Mini Bluetooth Speakers for Travel
The Tortuga Promise
At Tortuga, our mission is to make travel easier. Our advice and recommendations are based on years of travel experience. We only recommend products that we use on our own travels.
Music is a travel essential. Don't ever let anyone tell you different. You wouldn't be caught dead on a 10-hour flight without your headphones (BOSE if you can get 'em) and a smartphone loaded with Dashboard Confessional and all the podcasts you can handle. But what happens when you land?
Headphones are great for travel, but it's hard to connect with locals and other travelers when you're in your own world. Take off the headphones and get the party started at the hotel pool, hostel common room, Airbnb stuffed with friends, or just bang your head while you get ready in the morning. Mini bluetooth speakers have gotten pretty danged good in the last few years. Travel speakers are more lightweight, portable, waterproof, stylish, and long-lasting than ever before—not to mention affordable.
If you like to blast your music on the move, you have some awesome lightweight options. Here are 8 of my favorite travel bluetooth speakers to pack for your next vacation.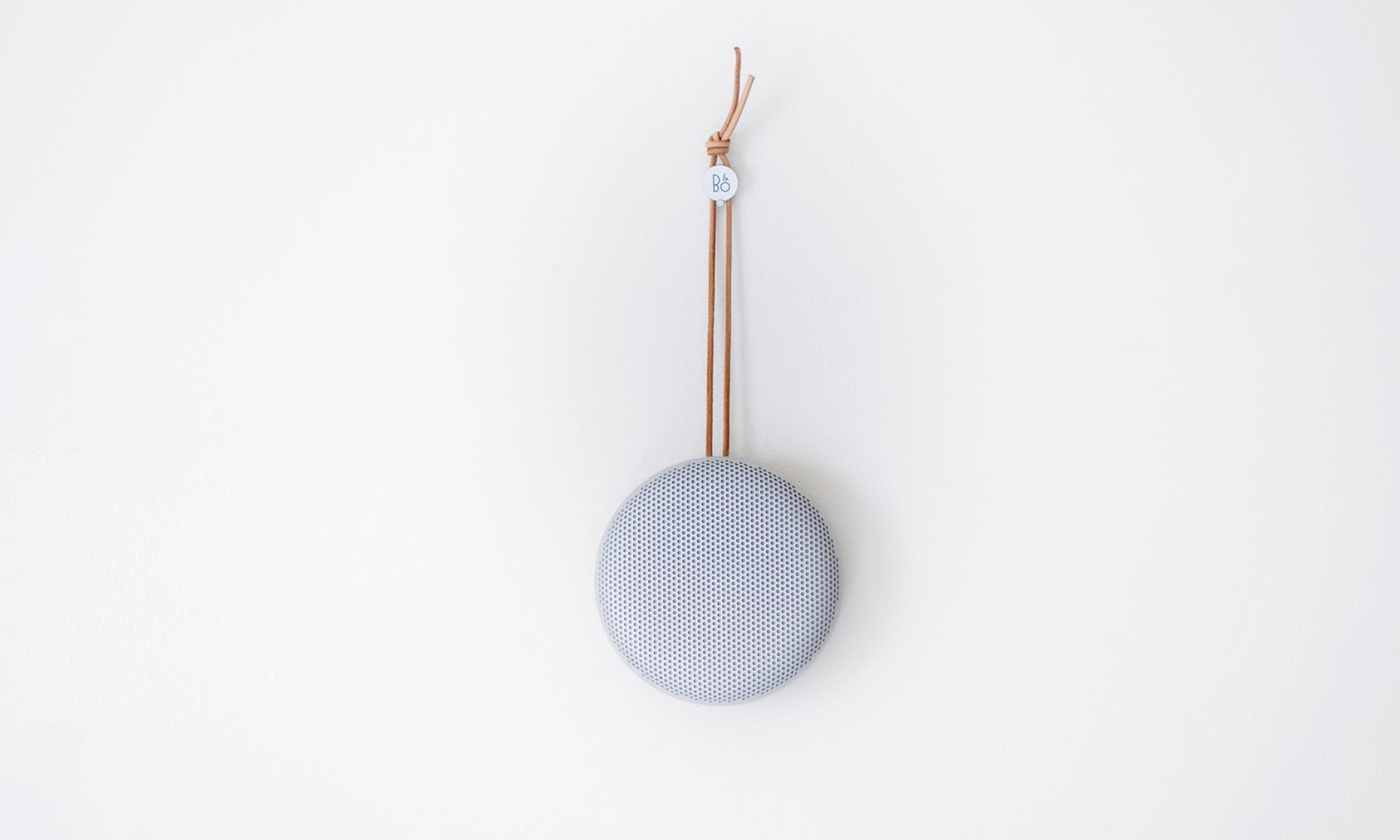 Best Ultralight & Budget Mini Bluetooth Speakers
The whole point of a travel speaker is that it's easy to pack and worth taking on the trip in the first place. That means lightweight (preferably under 1 pound), compact, and easy to carry. If the battery lasts longer than one meatloaf song, that's a bonus, and is needs to have features like an onboard mic, waterproofing, and oh yeah—good sound.
These super light travel speakers also happen to be the best budget speakers on the list, so it doesn't hurt that they're portable and affordable.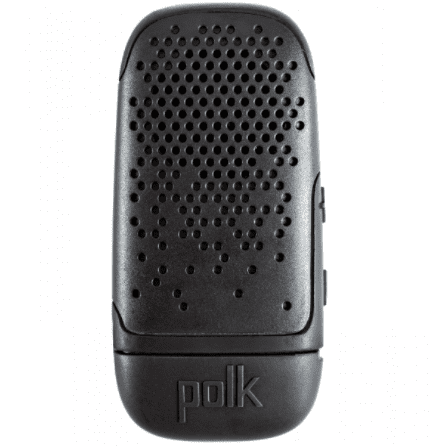 Polk Bit Mini Bluetooth Speaker is bonkers. At just over 1 OUNCE (yeah you read that right) this ultra lightweight bluetooth speaker isn't just built for travel—it's perfect for it. This thing is so lightweight you can clip it to your bag, or even your shirt, and jam out on a run, a bike ride, skating around town, or anywhere else.
The Bit has a built-in microphone so you can connect and use it as a speakerphone or voice command (awesome) while you drive or just to take a conference call or a skype call with your editor while you're in a noisy place. The only downsides are the short battery life (3 hours) and it's sweatproof, but not technically
waterproof. But for the price, the portability, and the features, you can't get mad at this beaut of a travel bluetooth speaker.
The tactile volume buttons for changing the volume are great, so I don't have to dig my phone out of my pocket when I'm biking. And the simple direct USB charging means you don't have to bring another cord or charging port. Just plug it into your computer or USB charger, and you're good to go. Nuff said.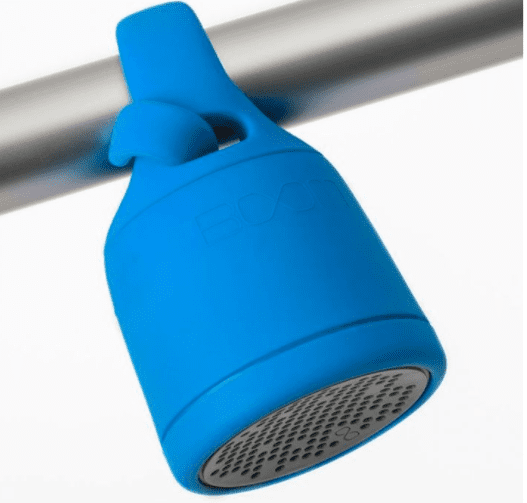 I reviewed the original Polk Swimmer bluetooth speaker a while back, and this mini speaker has aged beautifully. If you want portability but need a more robust waterproof design, upgrade to the Swimmer, or Swimmer Jr (it's a little smaller).
The Swimmer line of travel speakers is IPX7 waterproof rated (that's really good). And while it's not 1oz like the insanely small BIT, it's still super portable at just 6.7oz. The real upgrade though is the design. The clever tail grip design means you can take this mini speaker anywhere and attach it to just about anything to crank out the jams.
Hook it to your backpack, loop it around handlebars, stick it on your dog's collar; this travel speaker is perfect for the beach or
poolside. The long range bluetooth connectivity (225 ft) and dirt proof (sand proof) waterproof rating means you can even swim with this thing (it's rated for up to 3 feet of submersion for 30 mins).
This is the cheapest speaker on the list, and somehow it's one of the most feature packed options. Worth every penny, and perfect for any trip.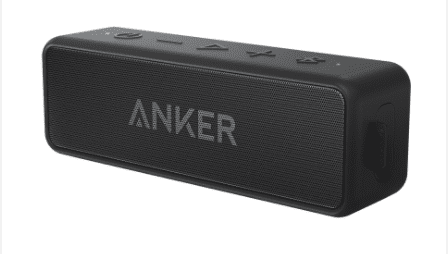 The Anker Soundcore 2 is heavier than the Polk line of speakers, but still definitely a travel bluetooth speaker at 12 oz. If you're a heavy speaker user, the extra weight is worth it for the insane battery life. It packs a 24-hour playtime (which is way better than the competition), and features all the high end extras you'd expect from a more expensive bluetooth speaker.
With a bluetooth range of 66ft, it's IPX5 water-resistant (IPX4 is technically "water-resistant"), and features a microphone so you can make weird poolside conference calls if you want. Oh, and the sound quality kicks ass. Anker makes great gear (I have their travel battery charger) This budget-friendly travel bluetooth speaker is a lightweight champ.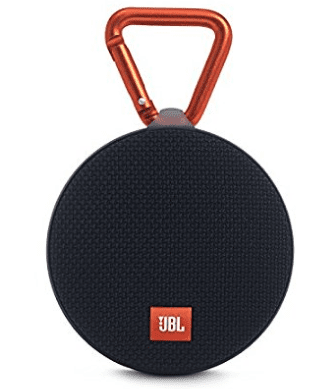 JBL makes a great legit waterproof travel speaker. This little monster has an IPX7 rating, 8 hours of battery life, and it's light (6.5 oz). It has a speakerphone mic (for those pesky conference calls). Plus, there's that convenient carabiner clip. I'm a sucker for a good clip.
Attach this waterproof speaker to your travel backpack, fanny pack, or just the waistband of your swim trunks and can start your own Full Moon Party.

The Fugoo line of travel bluetooth speakers is raising the bar for premium construction and sound. Really. This mini speaker is the smallest in their line of speakers, but it doesn't make many compromises to fit into the little 1 pound package.
This mini speaker has 360° sound, an IP67 waterproof rating, and it's mud, snow, and shockproof. The attached mounting cord lets you hang it from your backpack strap or tie it around your handle bars. And the battery lasts for 10 hours.
If you're nervous about breaking it, you can beef it up with a multi mount ($10) a travel strap mount ($10), or a full on mount pack ($19) to strap it to your bike or anything else that moves. Although I think it works fine as is.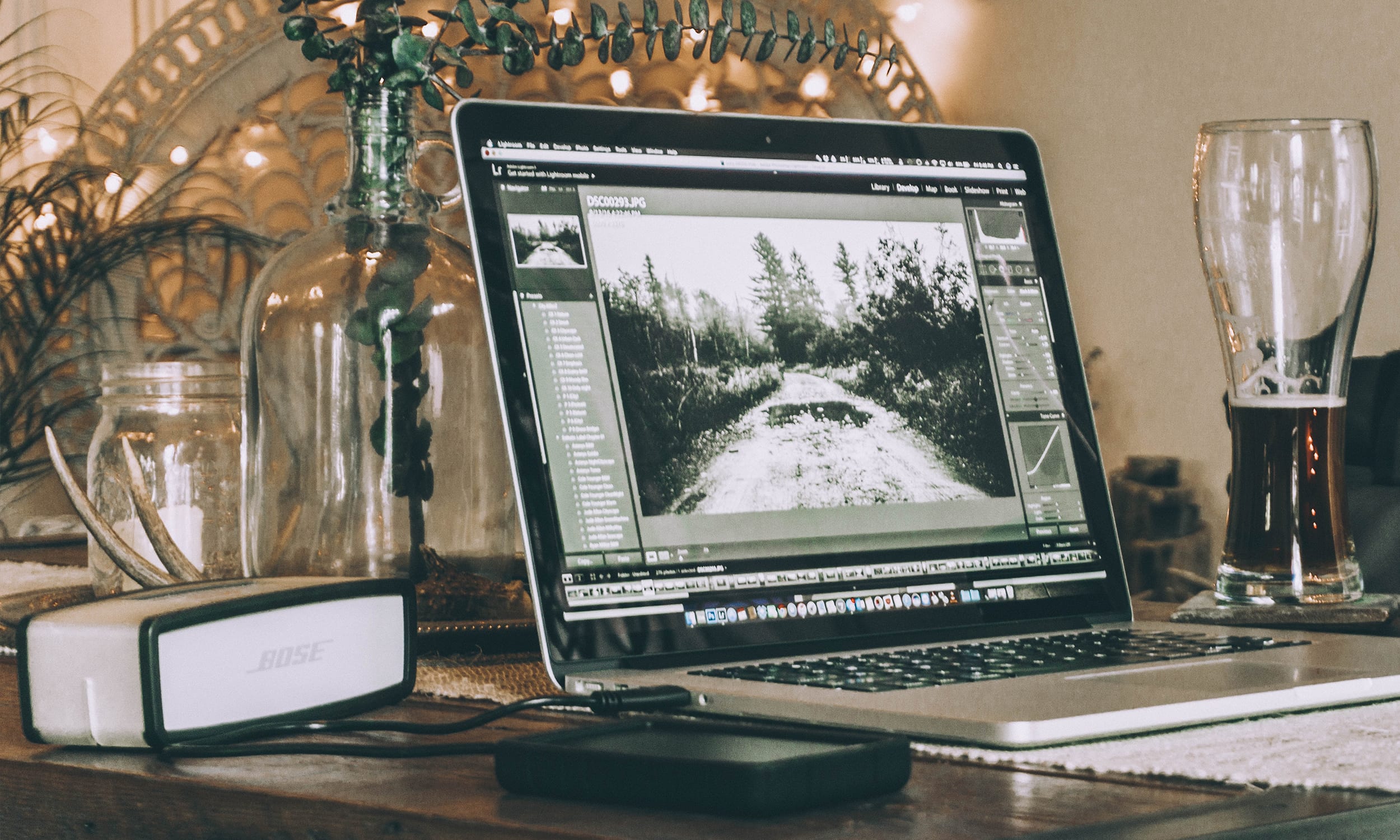 Best Travel Bluetooth Speakers
Wy what make a particular bluetooth speaker "the best" travel speaker on the market? There's not a clear cut answer. = Battery life is crucial. Waterproof rating is a must. The weight and size both factor in, and of course the sound quality matters. Plus, you have to consider price.
If you're willing to go a little bit bigger than the mini ultra lightweight travel speakers, these speakers pack a wallop while still packing like a tic tac.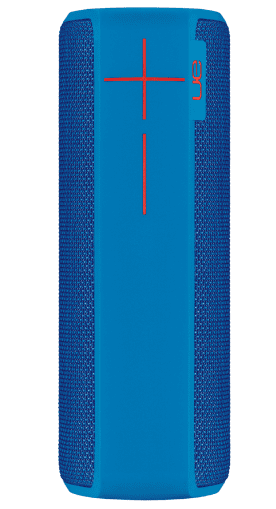 The UE Boom 2 might be the perfect travel bluetooth speaker. At 1.2 pounds this travel speaker is still very portable, and while it doesn't quite qualify as "ultralight" it more than makes up for the extra weight with top tier performance.
15 hour battery life
Waterproof
360° sound
Connect up to 2 devices at once (for dueling DJ functionality)
That dual connectivity means you can hook up two phones to see who's Spotify list has more Good Charlotte.
This portable speaker sounds like it belongs in your parents bonus room, but it looks great, feels great, and travels like a boss. Take it in the water, in the mud, on the sand, on a dune buggy—it doesn't care. The battery life is beefy, the sound is rich, and the price, while higher than budget travel speakers, is well worth the premium sound and durability. This is the cream of the crop of travel bluetooth speakers.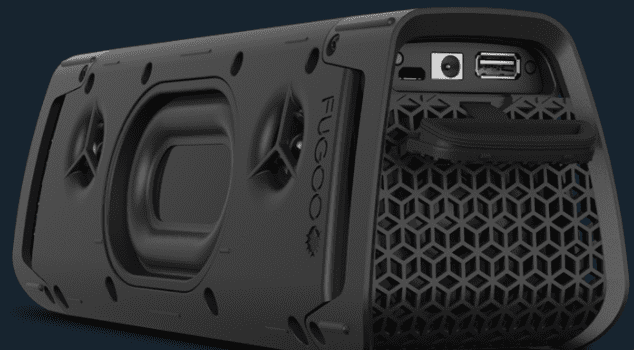 The Fugoo range of travel speaker might be even better than the UE Boom 2. And it's customizable. Choose from the "Style" option, "Sport" option, or "Tough" option each with its own features like grip and look over the same kickass speaker.
Seriously, this thing has some heavy duty specs. It packs 360° sound, 6 drivers (which is two more than the UE Boom 2), and a
whopping 40 hour battery life. 40. Hours. That's nuts. You wouldn't even need to bring a charging cable for a weekend getaway.
This speaker is shock tested up to 6 feet, IP67 waterproof rated, and comes with a speakerphone mic that's integrated with Siri and Google to actually use this speaker like a digital assistant without your phone on you (as long as it's connected). It's pretty cool.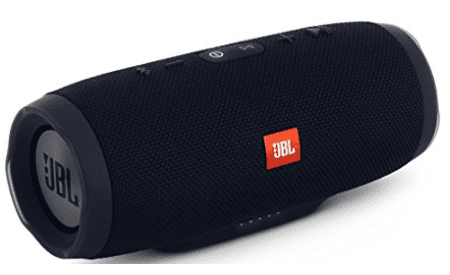 If you're still reading, you're obsessed about travel bluetooth speakers. So you know that the specs on the JBL 3 are top of the line. It's IPX7 waterproof rated, packs a 20-hour playtime, and connects up to 3 phones at a time (yeah). That's a lot of phones.
And you know the speakerphone that all the other travel speakers boast about? The JBL 3 features noise and echo cancelling speakerphone mics. This is the digital nomad's travel speaker.
Mini travel speakers have gotten ridiculous. If you want to start a party, don't rely on your phone's dinky speakers. Snag a bluetooth speaker that fits in your bag, sounds awesome, carries a charge that lasts all day, and can take a beating (or a soaking) in stride.
IPX7 (or IP67) rating is worth a few extra bucks. Waterproof is key for partying at the beach or the pool
Get a speaker with a built in clip or strap to maximize portability
360° sound is awesome
If ultra lightweight speakers aren't a must, you can upgrade with a slightly bigger speaker that's super portable
Don't forget about the speakerphone mic—you'll use it more than you think
Related Articles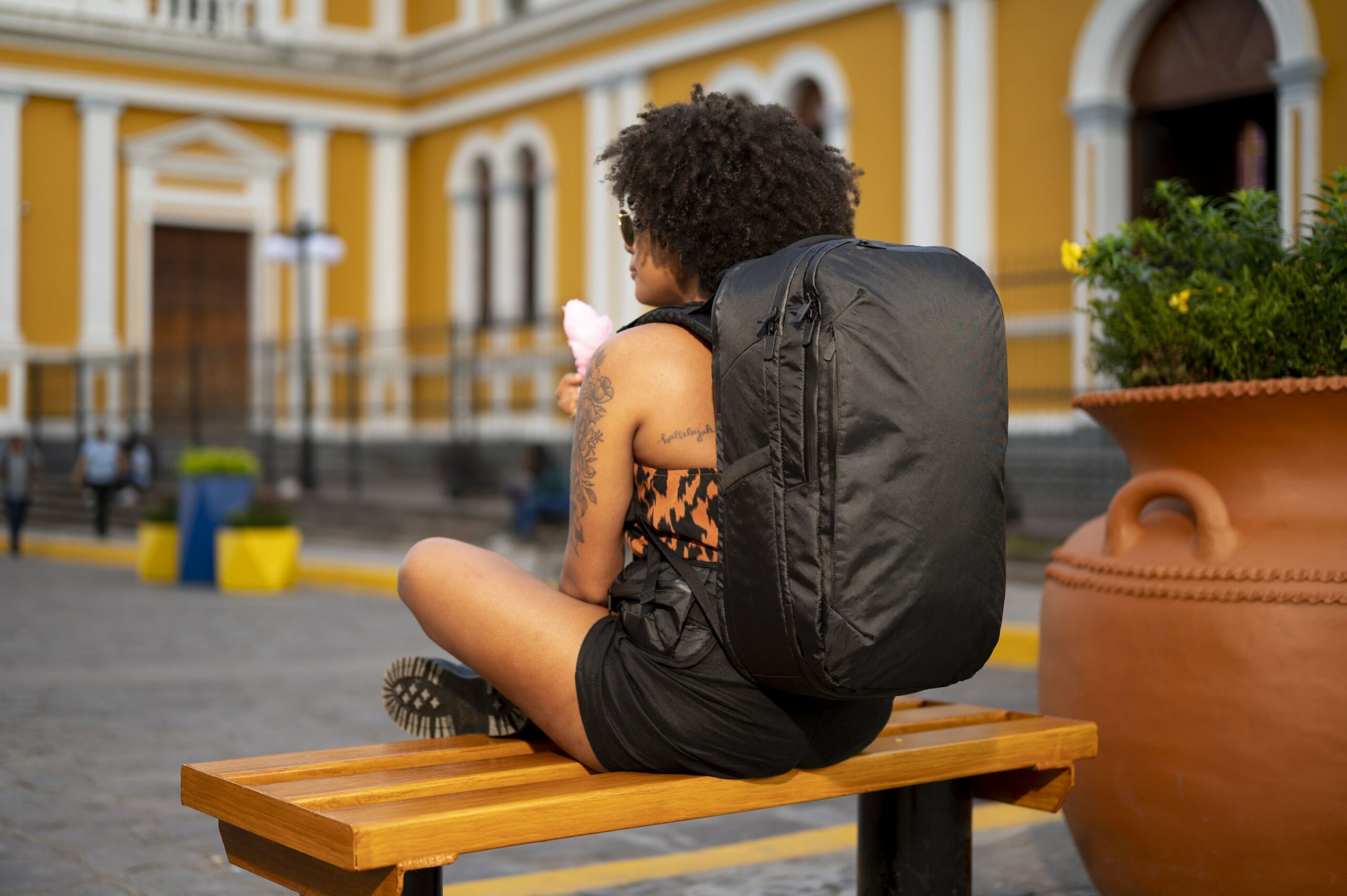 40L: Max International Carry On
Shop Now