I banged my forehead against the wall, silently cursing myself for signing up for this class.
Scattered in front of me were several novels, each at least four inches thick.
On my computer screen, the blinking cursor in the middle of a blank Word doc taunted me. Where, oh where, was my paper that was due in less than 10 hours?
I felt like it was jammed down the back of my throat. Jammed to a place I'd never been and couldn't find. A place that I didn't know existed until I signed up for a course on J.R.R. Tolkien and found out that place's name: Middle-Earth.
Definition: Middle-Earth: A fantasy land populated by dwarves, elves, hobbits, and the like; a world set in a wild, rugged world that looks remarkably like New Zealand.
Instantly recognizable to movie goers as the visually-striking world that director Peter Jackson, director, brought to life in the stunning Lord of the Rings movie trilogy.
Many years ago when I was yanking a paper out, word by word, for my midterm in a Tolkien class, I never thought I'd want to visit the Shire.
Peter Jackson, you charming devil, changed that feeling by filming all three Lord of the Rings movies in jaw-dropping New Zealand.
Basic Packing List
If you're headed to New Zealand, this is your basic packing list. Start here and then tweak for the region you're visiting and the time of year. There's a big difference between the sunny north coast of the north island, with palm trees, and watching penguins surf ashore outside of Oamaru on the cold, drizzly south coast of the south island in winter.
Waterproof and windproof jacket
Scarf to ward off chills
Long-sleeve layers
T-shirts to layer
Tank tops to layer
Sunglasses
Fellowship of the Ring
Two Towers
The Return of the King
Lord of the Rings Film Sets
If you're a LOTR fan, you can't visit Middle Earth, I mean, New Zealand, without making a pilgrimage to the filming sites. There are a number on both the North and South Islands, so take your time, and enjoy blurring the line between fantasy and the real world.
Tongariro National Park

Welcome to Mordor, the stronghold of dark Lord Sauron. The eerie, harsh landscape that Frodo toils to reach. In real life, Mount Ngauruhoe stood in — with some digital face-lifting — for Mount Doom.
Beware: if you're planning to hike Mount Doom, er, Ngauruhoe, it's not an easy climb. You'll need clear weather to summit, and it's very steep with a loose rock surface.
Packing List
Warm hat
Hiking boots or hike-worthy shoes
Water
Snacks or food if you're hiking Mt. Ngauruhoe
Sunscreen
Gloves
Strong constitution to fight off Lord Sauron's evil spells
Ax or sword to fight orcs
Mount Sunday

Nestled deep between sheer-sided cliffs is Mount Sunday, the filming location for Edoras, the main city of the people of Rohan. No traces of this film set are left, but if you listen hard enough, you might hear horses' hooves beating the rough terrain.
Meander to the top of Mount Sunday in a 1.5 km easy walk to the small hill's summit overlooking Rangitata River.
Packing List
Sunscreen
Water for hike
Hat
Helmet with horse's hair
Matamata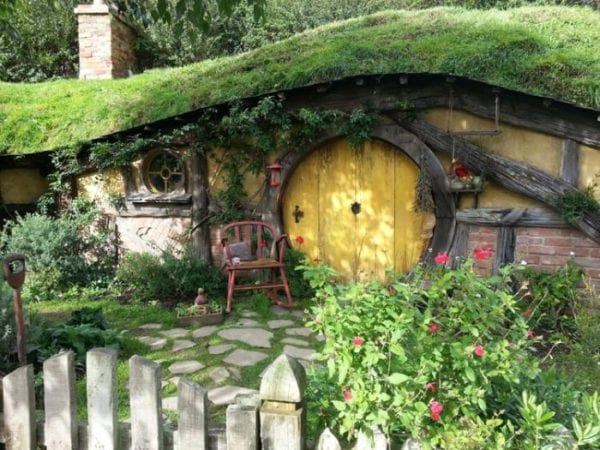 Walk through the Shire's lush dairy farming landscape around the Waikato town of Matamata. This landscape was transformed into Hobbiton with 44+ unique hobbit holes. Duck under the short doorway to enter Bilbo's hobbit hole for second or third breakfast.
Packing List
Comfortable shoes
Strong legs for entering the short hobbit holes
A well-developed hunger: keep up with all the hobbit's eating
Dancing shoes for summer night hobbit parties
Wellington
Located just walking distance outside of Wellington is Mount Victoria. This location is where Peter Jackson filmed the Gardens of Isengard, the River Andiun, Rivendell, and Osgiliath Wood. Whew, talk about getting your money's worth from this forested mountain.
While you're in Wellington, check out the Weta Cave at Weta Studio where the props, costumes, make-up, and special effects for Lord of the Rings were created. Come face to face with the trolls in the lobby of the Te Papa museum (not to be missed)!
Packing List
Comfortable shoes
Snacks & water for your hikes
Bravery to face the trolls
A gift for the elves
Paraparaumu

After exploring Mount Victoria, drive up New Zealand's west coast to Queen Elizabeth Park. This film location was used for shooting the Nazgul and mumakil scenes in the the Battle of the Pelennor Fields.
A short drive away is the Wairarapa region where Jackson shot the Paths of the Dead that Aragorn, Legolas, and Gimli explored.
Packing List
Sunglasses
Sunscreen
Swimsuit
Waterproof jacket for rain showers
Your ax for the Battle of the Pelennor Fields
Courage for navigating the Paths of the Dead
Persuasive speech to convince the dead to fight with you
Nelson

Buy yourself The One Ring at Jens Hansen's workshop. Hansen is the goldsmith who created 40 different One Rings that were used in the films.
One of those original rings is on display. Stare into its memorizing circle of gold and imagine the Eye of Sauron flicking towards you.
Packing List
Sunglasses
Sunscreen
Hat for sunniest days
Warm jacket for chillier days
Not the one Ring to Rule Them All (resist the temptation!)
Cardrona Valley
Drive the Crown Range Road into this lush valley protected by Mount Cardona. At the mount's summit, stretch your legs for a panoramic view of Middle-earth below you. On your left is River Andiun and the Pillars of the Argonath.
Shade your eyes for the straight-ahead view of Dimrill Dale. In the clear distance is Amon Hen on the shore of Nen Hithoel.
Packing List
Daypack with water and snacks
Sunglasses & hat
Grayl water bottle
Hobbit walking stick
New Zealand Lord of the Rings Tours
Trails of Middle-Earth Tour won a Trip Adviser's certificate of excellence. Reviewers rave about tour guide Rob and his staggering knowledge — nay, nerd fandom — about Lord of the Rings, the movies, filming process, film sets in New Zealand, and everything LOTR in between.
Hop on Red Carpet Tours for a two-week trip through Lord of the Rings as seen only in New Zealand. See the filming locations, and more importantly, if you could keep up on this epic adventure had by dwarves, men, elves, and hobbits. This tour has 213 reviews of excellent. "Fantastic" and "amazing" were the top two words reviewers gushed.
TL;DR
Thanks to Peter Jackson, New Zealand is eternally linked with Middle-Earth and Lord of the Rings. Venture into this ruggedly stunning landscape and step into the Lord of the Rings fantasy world by visiting the filming sets.
Image credits: kiwifruit-the-blog, elvenesse, justpoppingoutforabit, julianwebb.. Andreas Iga, Stocksnap, Tom Coates, Flickr, Iris Liu, Flickr, Jocelyn Kinghorn, Flickr 
Want more like this?
Get weekly gear reviews, travel hacks, and packing tips sent straight to your inbox. As an added bonus, we'll send you a carry on packing list right away.