NYC Packing List: What to Wear in New York
The Tortuga Promise
At Tortuga, our mission is to make travel easier. Our advice and recommendations are based on years of travel experience. We only recommend products that we use on our own travels.
One of the quickest ways to ruin a trip to New York City? Overpacking.
New York's sidewalks are a maze of construction, grates, and garbage. Toss in hordes of tourists and locals with no patience for slow walkers, and you'll understand why this is a terrible place to be dragging around a massive suitcase.
The good news is that it's easy to fit everything you need for a trip to NYC into a carry-on-sized backpack.
Take it from a local. I've lived in the city for more than a decade and hosted dozens of out-of-towners who didn't touch half of what they'd lugged to my fourth-floor walk-up. I'm here to help you pare down your New York City packing list and bring only what you need, any time of year. That way, you can experience the city as it should be: with as little holding you back as possible.
Tortuga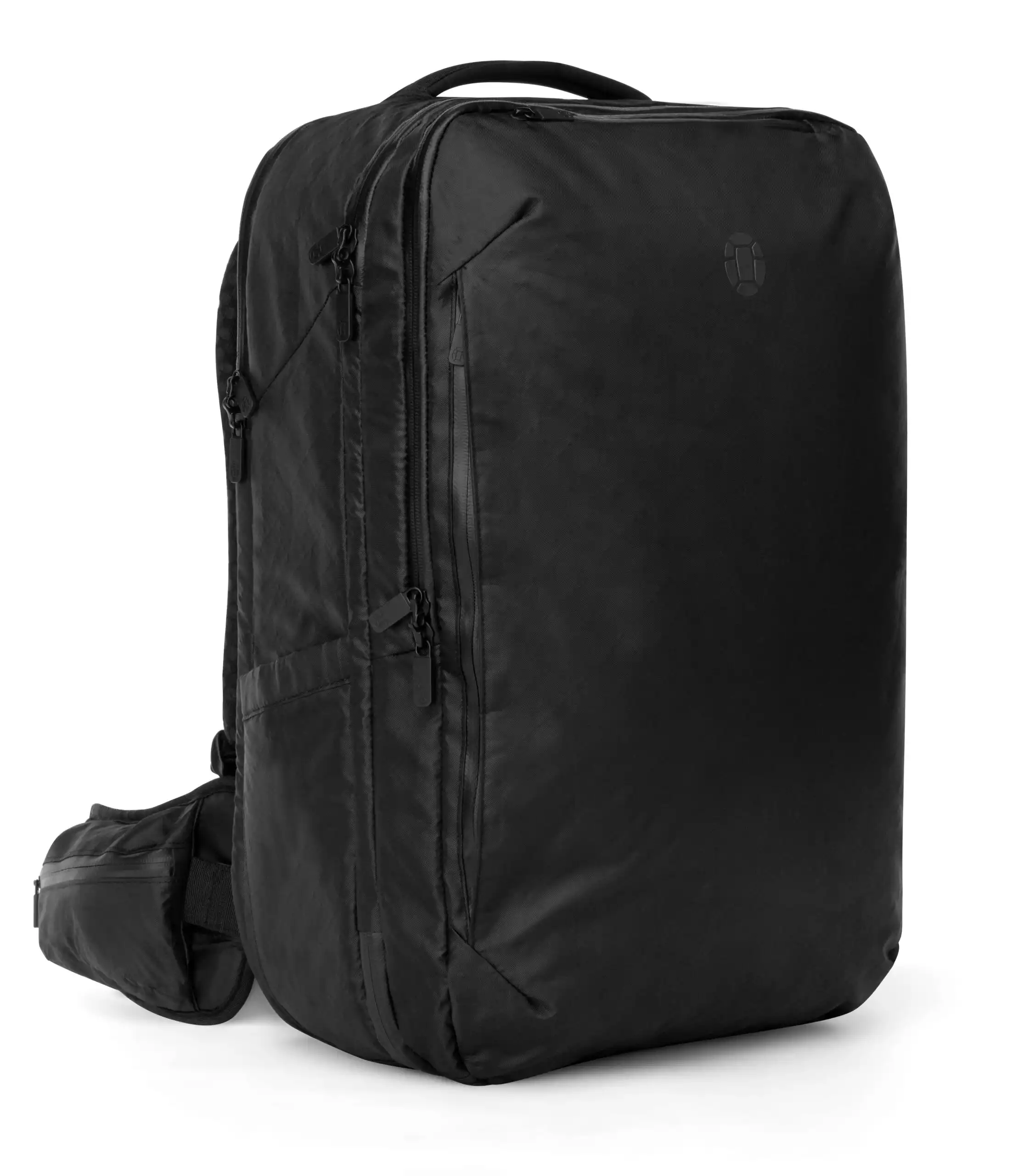 The Best Backpack for NYC
First thing's first: you need a backpack that's up for the challenge of NYC.
Tortuga's Travel Backpack is perfect for navigating New York City's hectic streets. A height-adjustable suspension system makes the Travel Backpack comfortable to carry up multiple flights of subway stairs. The Travel Backpack's sleek, monochromatic finish will help you better blend in with the locals.
A daypack is also a must. Why? Midtown Manhattan might be convenient for reaching tourist sites, but it's also an overcrowded, overpriced nightmare. Do yourself a favor and book your accommodation away from the tourist center, then toss essentials in a bag like Tortuga's Laptop Backpack so you don't have to trek back to your hotel until the evening.
NYC Packing Tips
Pack for the right season.
New York City has blazing hot summers, frigid winters, and temperate springs and autumns. Your packing list will depend entirely on the time of year you're visiting, so we've broken down what to bring for each season below.
Wear comfortable shoes.
Don't leave for New York City without a pair of comfortable shoes. Walking is often the most convenient, and always the cheapest, way to get around, so prepare to pound the pavement with some sturdy footwear.
Sneakers, slip-ons, and supportive flats are great nine months out of the year. In winter, pack waterproof boots that can handle patches of black ice and slush. Avoid spiky heels or anything that threatens to give you blisters. Also, this isn't the time to break in a new pair of kicks.
New Yorkers prioritize comfort and won't judge you for wearing shoes that look like they come from the back of your grandparents' closet. That said, you'll get the side-eye for wearing flip-flops down Manhattan's filthy sidewalks.
Bring quality basics, not technical gear.
There's no need to dress up to wait in line for the Empire State Building, but you also don't want to look like you've just rolled out of bed.
To blend in, follow the tenets of a travel capsule wardrobe: pack quality, wrinkle-resistant basics in a single color palette so you can mix and match items. Think casual but polished, comfortable but not sloppy.
The stereotypes about New Yorkers and dark colors are also somewhat true. When in doubt, wear black.
Include one fancy outfit.
Pack a nice outfit if you plan to attend a Broadway show, ballet, or opera. You don't need a tuxedo or a ball gown, but you'll feel out of place at Lincoln Center in shorts and a grubby t-shirt.
A button-up shirt and nice slacks will work well, as will a cocktail dress or blouse and skirt combination (just add thermal tights in the winter).
Swanky clubs sometimes have strict dress codes, so do your research if those appeal to you.
Don't stress if you forget something.
If your hotel or vacation rental doesn't have something on hand, chances are the bodega across the street will. Corner stores are ubiquitous, and New York City also has some of the best shopping on the planet.
You can find pretty much anything you'd ever need within a ten-minute walk, so don't worry too much about being unprepared.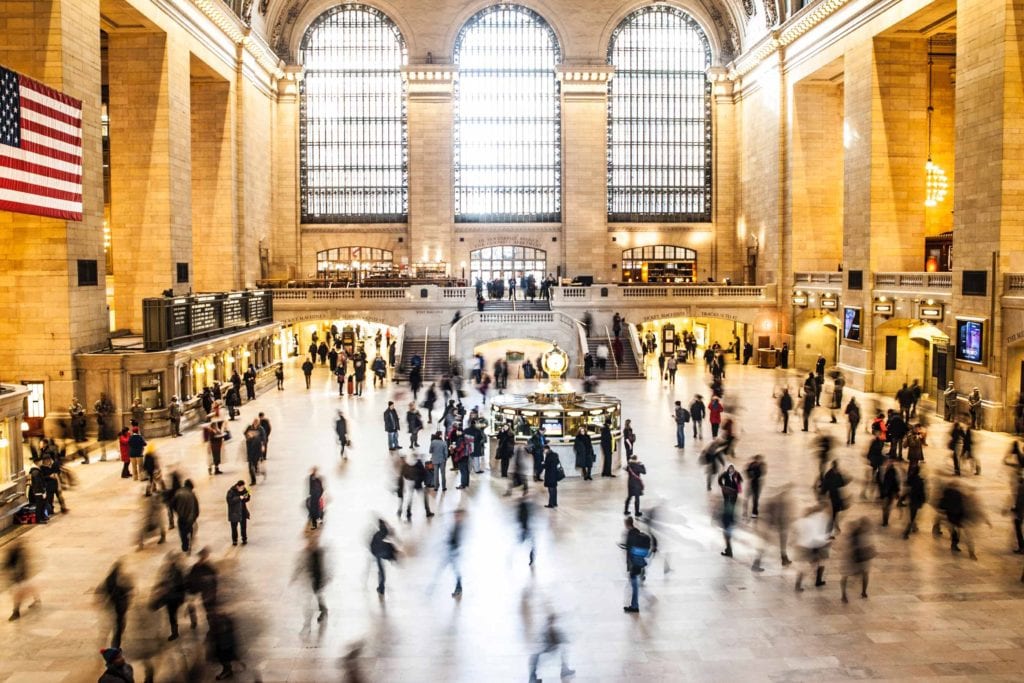 NYC Packing List
This universal packing list is designed for one week in New York City, any time of year. We've included adjustments to this basic list for summer, winter, fall, and spring travel below.
For trips longer than a week, plan to do laundry.
Clothing
3 casual tops (t-shirts or tank tops, depending on the season)
1-2 nice tops (button-ups or blouses)
1 layering piece (lightweight sweater, cardigan, sweatshirt, flannel, fleece, etc.)
A warm coat (winter) or light jacket (spring/fall)
1 pair of comfortable walking shoes
1 pair of dressier shoes (these should still be comfortable!)
A hat (a baseball cap for the spring and summer, a beanie for the winter and fall)
Pajamas
Extras
Sunglasses (even in winter; the glare off the snow can be killer)
Portable charger (you'll spend most days walking around away from your hotel, so be sure to bring a battery pack)
Water bottle (the tap water in NYC is great)
Hand sanitizer (use whenever you get off the subway; you don't know who, or what, has touched those poles)
What Not to Pack
A money belt. There are pickpockets in NYC, as in any big city, but keep your wits about you and your purse/backpack zippered shut and you'll be fine. All a money belt does is tell everyone you're from out of town. (Fanny packs, meanwhile, are everywhere.)
Uncomfortable shoes. You will not wear these, or you will wear them and then deeply, deeply regret your choices.
An umbrella. They're cheap and readily available at corner stores. Don't waste the bag space.
Tortuga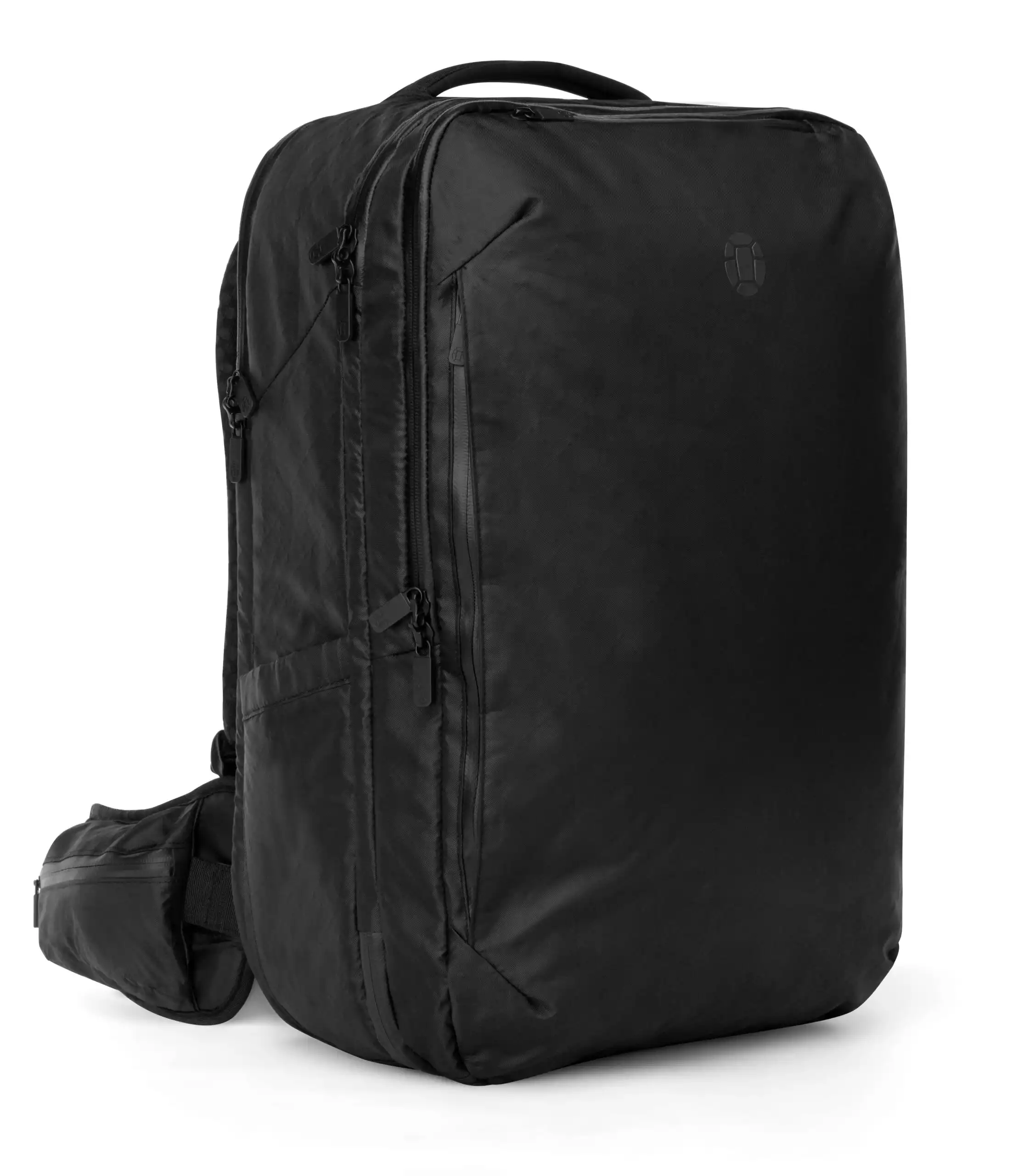 NYC Winter Packing List
New York winter really isn't that bad. Yes, it's cold. Yes, it gets dark at 4:00 p.m. Yes, you will accidentally step in a puddle of slush up to your calf.
But winter also means twinkling lights strung up across the city, bars with roaring fireplaces, hot toddies, ice skating, and more. Winter in New York City can be delightful, as long as you dress for the weather.
This is a walking city, and it remains a walking city even when the temperatures dip into the single digits. Bring a warm, insulated coat that at least reaches your hips (people regularly wear puffers down to their knees or ankles in the depths of winter).
Weather-resistant boots and warm socks are also a must; at any given time, the sidewalks might be covered in snow, dirty slush, rock salt, or all of the above.
Layer your coat over a warm sweater and top things off with a warm hat, scarf, and gloves. That'll keep you cozy whether you're wandering the holiday markets or just bar hopping.
2 pairs of casual pants or jeans
1 pair of dressier pants, chinos, slacks, etc. (women might consider fleece-lined tights if you're intent on wearing a skirt or dress)
1 long-sleeved button-up top or nice blouse
2 warm sweaters (wear one on the plane)
2 casual, long-sleeved tops for layering under your sweaters
Winter coat (a wool peacoat or an insulated puffer; wear this on the plane)
1 warm beanie
1 pair of gloves
1 scarf
Weather-resistant or waterproof boots (think stylish boots, not hiking)
Pajamas
NYC Summer Packing List
Summer in New York City is so fun but can be so gross. This is the season of outdoor concerts, patio dining, drinks by the water, and picnics in the park. But by mid-July, the city feels like a swamp. Underground subway stations can reach over 100 degrees. You are going to sweat.
Stay cool(ish) by packing lightweight, breathable fabrics. It's too sticky for jeans during the day, so stick to shorts, flowy skirts, linen pants, etc.
Pack some extra shirts or undergarments to replace the ones you'll inevitably sweat through by noon. Sunscreen, sunblock, and a hat are also vital.
3 lightweight bottoms (shorts, flowy skirts, linen pants, etc.)
4 casual t-shirts or tank tops
1-2 button-up short sleeve shirts or blouses
1 swimsuit (for trips to Coney Island, the hotel pool, kayaking on the Hudson, etc.)
1 pair of comfortable walking shoes
1 nicer pair of shoes for dinner, drinks, theater, etc. (white leather sneakers, block-heeled sandals, etc.)
Pajamas
A small pack of baby wipes for the dirt and dust that sticks to you throughout the day.
What Not to Pack
Hair tools. It's too humid for straighteners.
Jeans. They're too heavy for the weather.
Flimsy flip-flops. Your feet will get filthy. (Sandals with some height off the ground or toe bumpers, like Birkenstocks, are fine.)
NYC Fall Packing List
Fall in New York is magical. The air is crisp, the leaves are changing, and people are excited to step outside without instantly being drenched in sweat.
Early fall remains temperate, but evenings get chilly in October and November. Keep comfortable by dressing in layers, preferably in temperature-regulating fabrics like merino wool.
New Yorkers also tend to lean hard into each season's aesthetic, so you'll fit right in with flannel, fleece, and leather boots.
3 casual tops (t-shirts or tank tops)
1 pair of dressier pants, chinos, or skirt and tights
1-2 long-sleeved button-up shirts or blouses
1 layering piece (lightweight sweater, cardigan, or sweatshirt)
Midweight jacket (a leather jacket is perfect; a short wool coat, shirt jacket, or cropped puffer will also work well)
1 pair of comfortable walking shoes
1 nicer pair of shoes for dinner, drinks, theater, etc.
Pajamas
Baseball cap
What Not to Pack
Sandals. Though there are some hot days even into October, no one wears open-toed shoes past mid-September.
NYC Spring Packing List
Spring is one of the best times to visit New York City. People are cheerier for post-4:00 p.m. sunsets, and while the weather can be fickle, it's almost never too hot or too cold.
Spring and fall are essentially the same in terms of layering needs, but, again, New Yorkers fully embrace each season's vibe. If fall is all about flannels and leather boots, then spring is about florals, white sneakers, flowy dresses, etc. Spring can also be rainy, so be sure to pack a jacket.
3 casual tops (t-shirts or tank tops)
1 pair of dressier pants, chinos, or skirt and tights
1-2 long-sleeved button-up shirts or blouses
1 layering piece (lightweight sweater, cardigan, or sweatshirt)
Lightweight jacket (a jean jacket, shirt jacket, or light bomber is perfect)
1 pair of comfortable walking shoes
1 nicer pair of shoes for dinner, drinks, theater, etc.
Pajamas
Baseball cap
What Not to Pack
Shorts or mini skirts. It's not warm enough yet.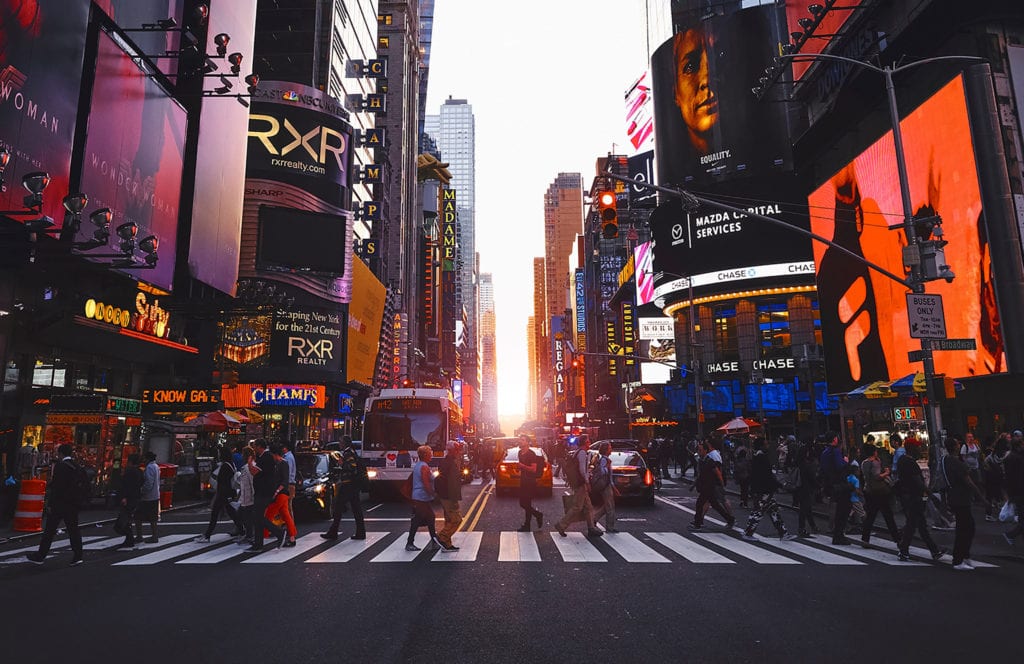 NYC 3-Day Weekend Packing List
It's easy to pack for a long weekend in New York City. The city is huge; no one will care, or notice, that you've worn the same t-shirt three days in a row.
Stick to odor-resistant fabrics like merino wool and wear your heaviest items (like jeans, boots, and jackets). You might even be able to fit everything you need into a personal item.
1 pair of casual pants or shorts, depending on the season
2 casual tops (t-shirts, tank tops, or long-sleeved tops, depending on the season)
1 pair of dressier pants, chinos, or skirt and tights
1 nice button-up shirt or blouse
1 layering piece (lightweight sweater, cardigan, or sweatshirt)
A lightweight jacket or warm coat, depending on the season (wear this on the plane; you can skip this entirely for summer trips)
1 pair of comfortable walking shoes
1 nicer pair of shoes for dinner, drinks, theater, etc.
Pajamas
Hat (baseball cap or beanie, depending on the season)
Conclusion
New York City has it all, and it's all best experienced with as little luggage as possible. Giant suitcases and packed sidewalks don't mix, so travel carry-on-only by packing only what you need. That includes:
Comfortable shoes
A weather-appropriate jacket
Casual but put-together outfits
A daypack