Osprey Backpack vs Tortuga Travel Backpack
Osprey is an outdoor company that makes a few travel products. The Farpoint series is less popular than the Osprey porter, but Osprey claims the Farpoint is designed for city travel like all of Tortuga's products.
At first glance, the Farpoint looks to have many of the Outbreaker travel backpack's best features. But upon closer inspection, Osprey missed some crucial details that will negatively affect your trip and pocketbook.
Because Osprey is an outdoors company, not a travel company like us, this is to be expected.
Not Carry On Sized
The Osprey Farpoint comes in four sizes: 80, 70, 55, and 40 liters. The range of selections sounds nice, but only the smallest option is carry on compatible.
Most airlines only allow bags up to 22 x 14 x 9″. The Farpoint 40 meets these requirements. The Farpoint 55 claims to be for "efficient packers" but is actually too large to be a carry on. It measures 25 x 13 x 12″, making it 3″ too tall and 3″ too deep to qualify.
No travel backpack should be larger than carry on size because you shouldn't be slowed down or burdened with the extra expense of checking a bag. So, we know the Farpoint 55, 70, and 80 are bad choices for travel backpacks.
The Farpoint 40 meets carry on regulations, but is it a good travel backpack?
Poor Ergonomics
The Farpoint's laptop sleeve — a critical part of any modern travel backpack — is in the wrong place.
As Packhacker says, "A major downside of this pack is the fact that the laptop sleeve is located at the front of the bag, meaning the weight isn't close to your body and therefore the distribution isn't ideal. If your laptop is too heavy, you could find yourself rocking backwards."
The Outbreaker's laptop sleeve is flush against your back for optimal balance and ergonomics. Your shoulders will appreciate this detail that comes from a company that specializes in city travel.
Checkpoint Un-Friendly
The TSA allows travelers to leave their laptops inside their bags through security, if the bag is designed with a separate, lie-flat laptop compartment. If you're carrying an Outbreaker from Tortuga, you'll be able to breeze through security like the pro traveler you are by leaving your laptop inside your bag.
Osprey missed this detail. Farpoint owners still have to take their laptops out of their backpacks in a security line.
The Downfall of Curves
Osprey's Farpoint backpack has a rounded profile, while Tortuga's Outbreaker 45 is more rectangular. The rectangular profile of the Outbreaker means that we (literally) didn't cut corners. The corners are valuable packing space, so why would we cut them out? You can pack significantly more (5 liters more, specifically) in an Outbreaker 45 than in a Farpoint 40. If you're traveling carry on, that extra space can be crucial.
No Reachable Pockets
Osprey claims that the Farpoint 40 was designed for the "fast-moving globetrotter." However, there are no convenient, easily reachable pockets when you're wearing the bag.
The bag's design means that you'll have to slow down and stop to get anything in or out of your bag. There are no side or hip pockets like on the Outbreaker.
The Farpoint does have mesh pockets on its front, but as the Packhacker review says, "when this bag is full, good luck trying to fit anything in them."
At Tortuga, we are fast moving globetrotters and know which details make a huge difference. We have gone through enough airport security lines to understand the necessity of quickly accessing a passport, or boarding pass.
The Outbreaker has two convenient hip belt pockets and two lie-flat water bottle pockets that you can reach while wearing the bag. The zippered hip belt pockets can be used to safely store small items like cash, coins, and boarding passes. If you're buying a snack at an airport kiosk or standing in line at immigration, you won't have to take off your backpack to reach your money or passport.
Buy From the Experts
If you want an expertly designed and made travel backpack, buy from Tortuga. If you're in the market for an outdoors hiking pack, Osprey might be an option to consider.
Tortuga is your one-stop travel shop. When you email us with a question or problem, you will get a prompt reply from the same people who make the product. We offer expert travel advice and gear reviews on our blog.
The Outbreaker travel backpack was designed for travelers, by travelers. If you like our approach, you can learn more about the Outbreaker here.
Related Articles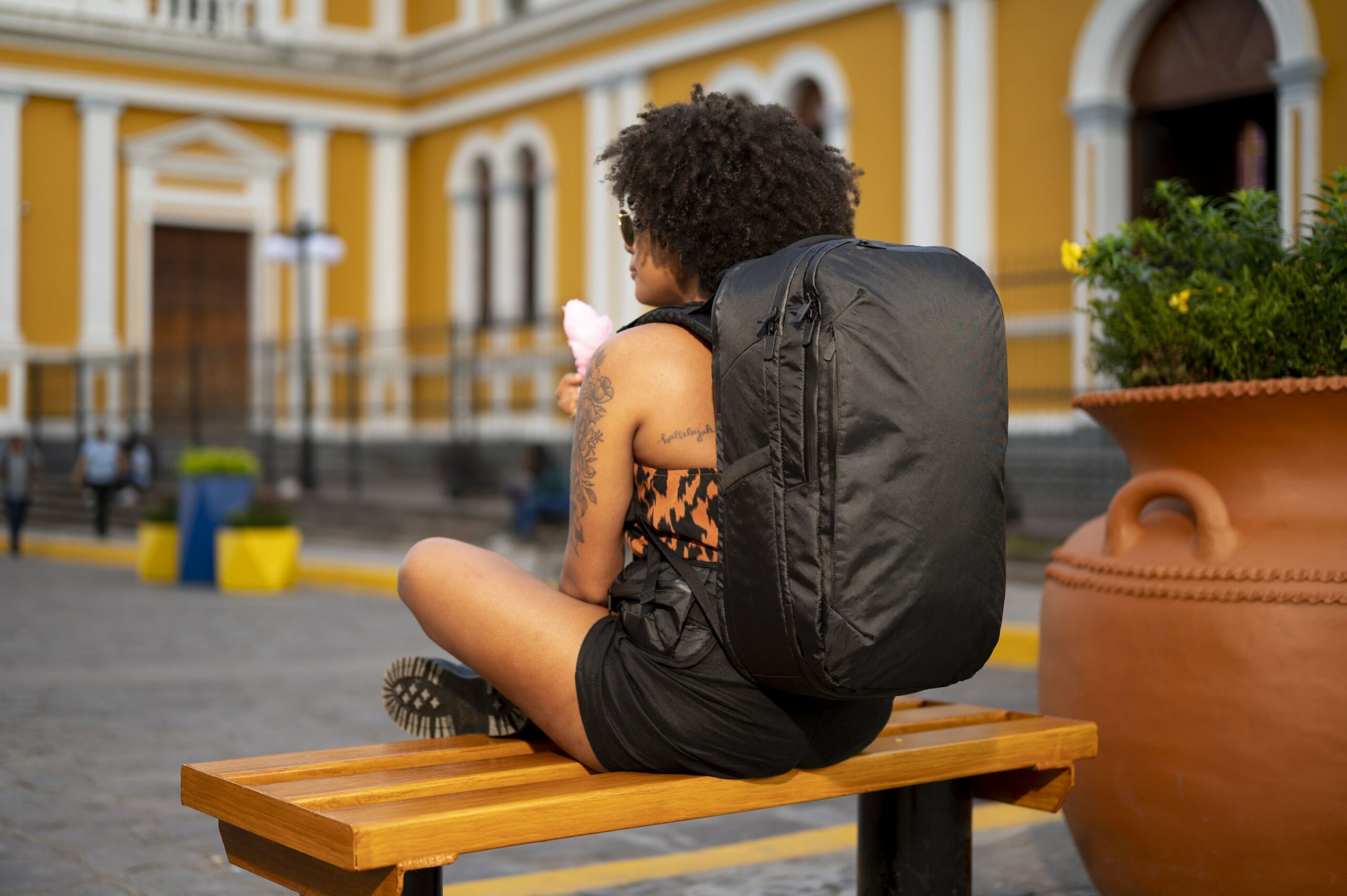 40L: Max International Carry On
Shop Now