Bolivia is a wild and wonderful country. The poorest country in South America is rich in breath-taking landscapes (literally breath taking — altitude makes hiking very difficult), fascinating culture, and tasty cuisine.
Traveling to Bolivia is not without challenge, however. I spent five weeks in La Paz and the surrounding areas and experienced every sensation possible during that period, wonderful and terrible.
Poverty is rampant, especially apparent in the unfinished, run-down structures of El Alto, which never ceased to tug at my heartstrings. The incredibly high altitude is taxing to the body and can render you incapable of adventure until you adjust. Food borne illnesses are quite common–several of my friends were even hospitalized after a particularly fateful meal.
Despite the challenges, Bolivia is an incredible place to visit. If you're headed to Bolivia, here's what to pack for an adventure you won't soon forget.
Clothing: What to Wear in Bolivia
The weather in La Paz is relatively consistent year-round. Highs hover in the mid 50's and 60's (fahrenheit). During the winter months, from May to August, temperatures will dip below freezing at night but will rise again during the day. Note that summer is the rainy season in Bolivia.
Popular spots like Uyuni and Lake Titicaca have similar climates to La Paz.
Most restaurants in Bolivia are very casual. I wore jeans to nearly every meal (excluding Gustu, for which I recommend dressing a little nicer) and was never out of place.
Your packing list for Bolivia should therefore include the following as a core wardrobe:
1 pair of jeans
1 pair of travel pants
1 pair of stretchy / athletic pants
2-3 base layer tops (long sleeve)
2-3 short sleeve tops
1 sweater
1 dressier outfit, for dinners in La Paz
Rain jacket
Wool socks
Travel-friendly underwear
Comfortable shoes
Ultralight down jacket, if you're traveling during the winter months (I like Uniqlo's versions)
Add to this list as you see fit, based on your itinerary.
I made the mistake of forgoing a sweater when I traveled to Bolivia, figuring I'd buy one on the ground. I don't recommend that course of action. I did find an alpaca sweater at the Witches' Market in La Paz, but it was far from flattering, itched like crazy, and wasn't that warm. It was also very expensive. I ditched that sweater as soon as I got to a warmer climate. Bolivia gets chilly, and you'll want a wear-everyday sweater that fits. Learn from my mistake: pack a sweater, preferably one made from merino wool.
Don't worry about bringing a warm hat, however. Alpaca hats are everywhere in Bolivia. They're soft, comfortable, warm, and all of the locals (and many travelers) wear them.
Toiletries
I'm usually team "just buy it when you get there" in regards to toiletries, but I'm making an exception here, on purpose. Make sure to pack:
Toothpaste
Soap
Shampoo and conditioner
Other essentials you'll need from day one
I recommend packing hair products instead of buying them when you land, which is the opposite from how I usually pack. Every shampoo and conditioner that I tried during my 4-month tenure in South America caused incredible amounts of buildup. My hair was so gunky at the end of my journey that I had to pay a professional to bring my hair back to something resembling normal. If I were to go back to Bolivia, I'd make room in my toiletry bag for GoToobs filled with my favorite shampoo and conditioner. If you have long hair, I highly recommend you do the same.
Luggage for Bolivia
Bolivia's unpaved roads, steep hills, and lack of elevators call for packing in a travel backpack. Rolling luggage might be nice in the airport, but you'll be constantly fighting with your suitcase on the ground.
If you're flying on a Bolivian airline at any point, note that they have strict weight restrictions for carry on luggage. When I flew with BoA, I was only allowed 7kg of weight. That's not a lot. I usually recommend the Outbreaker backpack for trips abroad, which is highly organized, ergonomic, and comfortable, but in the case of Bolivia you should consider something lightweight like the Homebase backpack. It's made from an ultralight waterproof sailcloth for the best blend of weight and durability.
Regardless of what you choose for a carry on, make sure to bring a daypack with you. You'll want something small to store your water bottle, souvenirs, rain jacket, and everything else during a day of adventure. The Outbreaker daypack is ideal for Bolivia because it packs flat in your carry on, repels water, and weighs only one pound.
Medicine and Vaccinations
I highly recommend packing Pepto Bismol and Immoduim when traveling to Bolivia. It's so much easier to enjoy a place if you aren't vomiting. Take it from someone who vomited a lot in Bolivia. (TMI? Sorry.)
Also consider packing antibiotics for traveler's diarrhea. This is a "just in case" item, to be sure, and something you'll need to obtain from your doctor in advance. You can certainly get medicine on-the-ground in Bolivia if you need it, but I'm of the opinion that it's frustrating to find a doctor in a foreign country while in the midst of a gatrointestinal illness. The risk of food borne illness in Bolivia is relatively high, so I think bringing a "just in case" remedy is merited in this situation.
The CDC recommends the following vaccines before traveling to Bolivia:
Hepatitis A
Hepatitis B
Typhoid
Yellow fever
Technically, you're only required to get the yellow fever vaccine if you're traveling to certain regions of Bolivia. La Paz, Uyuni, and Lago Titicaca are NOT regions that require a yellow fever vaccine.
If you're a frequent traveler, I recommend getting the vaccine regardless of whether or not you plan to travel to an at-risk region during your trip. The reason is simple: you may run into trouble at future borders if a passport control officer sees a Bolivian entry/exit stamp in your passport. The officer may ask to see your yellow fever card, since Bolivia is technically on the list of at-risk countries, and could deny your entry if you cannot produce the record. I keep mine in my passport wallet at all times. Bonus: having documentation of the vaccine could make the Bolivian visa application process easier (it did for me).
Similar to the yellow fever vaccine, malaria pills are only recommended for certain regions of Bolivia. The CDC does not recommend malaria pills for La Paz, Uyuni, or Lago Titicaca.
Technology
I don't recommend trying to work from Bolivia. I was there for 5 weeks and experienced slow speeds, spotty connections, and many country-wide internet outages. Bolivia is ideal for adventure and exploration, but there's a reason La Paz has a low score on NomadList.
If you insist on working from Bolivia, add your mobile office to this packing list. Otherwise, I recommend unplugging while in Bolivia and limiting your technology to the following:
I encountered both American-style (type A) and European-style (type C) plugs in Bolivia. Make sure you're prepared for both.
Gear: Everything Else to Pack for Bolivia
Consider adding the following to your packing list:
Water bottle that purifies pathogens (I use the Grayl Ultralight)
Sunglasses, especially if you're going to the salt flats
Ear plugs for La Paz–it can get noisy at night, especially if there's a parade
A travel wallet that will hold cash and coins, since many places only take cash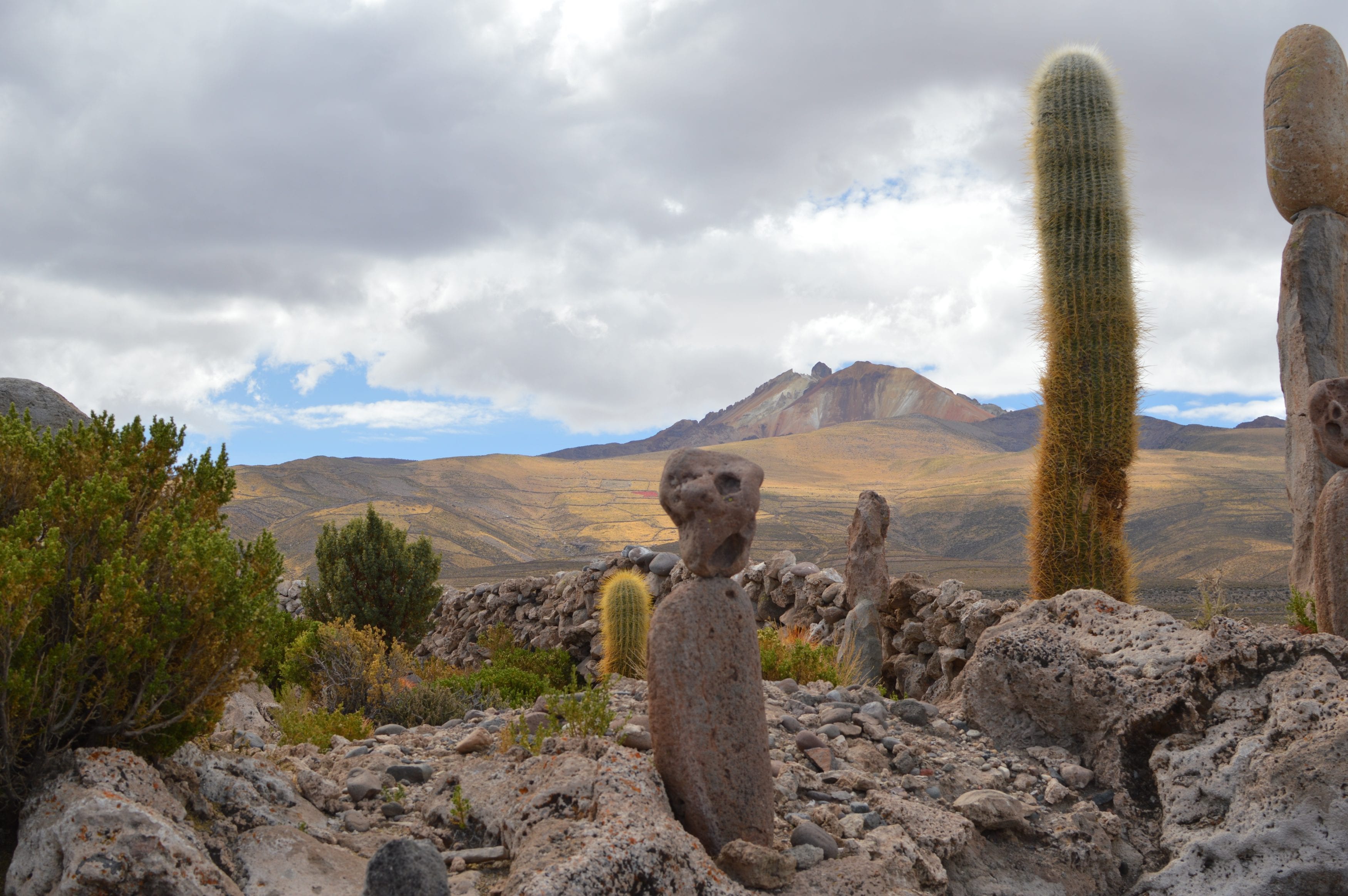 What to Pack for Hiking and Trekking in Bolivia
Popular hikes in Bolivia are:
Huyana Potosi (not for beginners)
El Choro
Tuni Condoriri / Pico Austria
Muela del Diablo
Sajama National Park
If you plan to hike in Bolivia (and you absolutely should), add the following to your packing list:
An extra pair of wool socks
Sweat-wicking layers
Shoes that you can hike in (but not necessarily hiking boots)
Medicine to combat altitude sickness
Rent all other hiking gear in Bolivia instead of bringing it with you to save space. Most of the trekking tour companies (like Kanoo tours) have gear that you can rent for day hikes or multi-day adventures. Some of my friends did a multi-day trek up Huayna Potosi and were able to rent crampons, parkas, and everything else they needed in La Paz. I hiked Tuni Condoriri without hiking boots – I did it in my trusty running shoes – and the company graciously provided trekking poles for our day trip for a nominal fee.
Confession: I say that I hiked Tuni Condoriri. More accurately, I hiked halfway up Pico Austria, collapsed mid-way through due to altitude sickness, and hobbled down the mountain trying to keep vertigo at bay.
The altitudein the Altiplano is humbling for sea-level dwellers, even for the fittest among us. My trek began at 15,000 feet and climbed much higher from there. Make sure to plan accordingly and give yourself ample time.
Packing and Travel Tips for Salar De Uyuni
The Bolivian salt flats are probably the most-visited place in the country and call for specific packing requirements, so I'm giving it a special shoutout in this post. Salar de Uyuni is one of my favorite travel experiences in my life, and I highly recommend a visit.
If you're going to the salt flats, consider adding the following to your packing list:
Sunglasses
Sunscreen (or buy it in La Paz)
Sneakers
Exercise clothes
Lots of bottled water (buy this in La Paz, or as soon as you land in Uyuni)
Our tour guide told us to think about how much water we'd need for 3 days, then pack double that amount. The salt flats are essentially a desert. It gets hot during the day, cold at night, and you'll be thirsty the entire time. Bring lots of water.
While I was in Uyuni, I found myself doing cartweels on the salt flats, clambering up rocks to see giant cacti, and climbing on top of rusty trains at the nearby train cemetery. I was very grateful for my sneakers, sweat-wicking top, and yoga pants. I don't think I could have indulged my sense of play to the same extent had I been wearing skinny jeans. I recommend stretchy pants or athletic shorts.
Sunglasses are nonoptional for Salar de Uyuni. Without protection, the sun's reflection off the expanse of salt is truly painful to the eyes and can cause lasting damage. Make sure your lenses are dark and filter UV rays. I highly recommend bringing sunglasses from home instead of trying to buy a pair in Bolivia, as I don't remember seeing sunglasses for sale anywhere convenient.
Getting to the Salt Flats
You have two options from La Paz: an overnight bus or a flight. The bus is inexpensive (~$30) and takes approximately 10 hours in good conditions. You'll traverse mostly unpaved roads. The flight costs approximately $100 on Boliviana de Aviacion and takes 45 minutes.
I took the overnight bus to the flats and found it to be a miserable experience. I was carsick from all the bumpy roads, I got no sleep, and was thoroughly grumpy after the journey. As soon as we arrived at Uyuni station, I pulled out my phone and cancelled my return bus ticket. I booked a flight instead and consider it to be among the best travel decisions I've made. If you're on a strict budget, the savings you get from the night bus might be worth the hassle. If you can swing the extra cost, however, I recommend flying.
A Note on Guided Tours
Usually, I like to forego a guided tour when traveling and set out on my own. Guided tours typically feel monotonous, restrictive, and cookie cutter.
Setting out on your own is a bad idea at the Salar de Uyuni. The expanse of salt is borderline impossible to navigate unless you're a true expert on the region. A guided tour enhances a visit to the salt flats and is by far the best way to experience Uyuni. In addition to navigating us around the flats, our tour guides provided us with picnics of delicious home-cooked meals, much-needed shade, invaluable information on the area's history, and a truly stress-free experience.
Two day guided tours of Uyuni typically include a visit to the salt flats, Isla Incahuasi (an island with giant cacti), Tunupa volcano, and the train cemetery.  You can extend your tour to include the flamingos of Laguna Colorada, geysers, and hot springs.
I recommend choosing a tour that includes a stay at Palacio de Sal – a hotel made of salt!
TL;DR
Bolivia is an incredible place for nature, culture, and food enthusiasts. It's not the easiest place to visit, but the challenges are well worth the reward.
Your Bolivia packing list should include:
1 pair of jeans
1 pair of travel pants
1 pair of stretchy / athletic pants
2-3 base layer tops (long sleeve)
2-3 short sleeve tops
1 sweater
1 dressier outfit
Rain jacket
Wool socks
Travel-friendly underwear
Comfortable shoes
Ultralight down jacket
Sunglasses
Sunscreen
Unlocked smartphone
Ereader
DSLR or mirrorless camera (if you prefer to travel with one)
Headphones
Chargers
Voltage converter
Water bottle that purifies pathogens
Ear plugs
Toothpaste
Soap
Shampoo and conditioner
Make sure to check the vaccines recommended for travel to Bolivia and obtain your visa in advance. You can technically obtain a visa at the border, but the requirements are strict and border officers only accept cash (and pristine, unwrinkled bills at that). I was turned away twice at the Bolvian embassy in Buenos Aires before successfully obtaining a visa–once because I didn't have a form, and once because they ran out of visa stickers. I'm glad I didn't try to get one at the border, because I would have been turned away. Give yourself peace of mind and get a visa in advance.
Above all, make sure to roll with the punches while in Bolivia in order to experience the incredible beauty of the country. It can be tough, but it's also exhilarating.
Want more like this?
Get weekly gear reviews, travel hacks, and packing tips sent straight to your inbox. As an added bonus, we'll send you a carry on packing list right away.