Fog City: What to Pack for San Francisco Year Round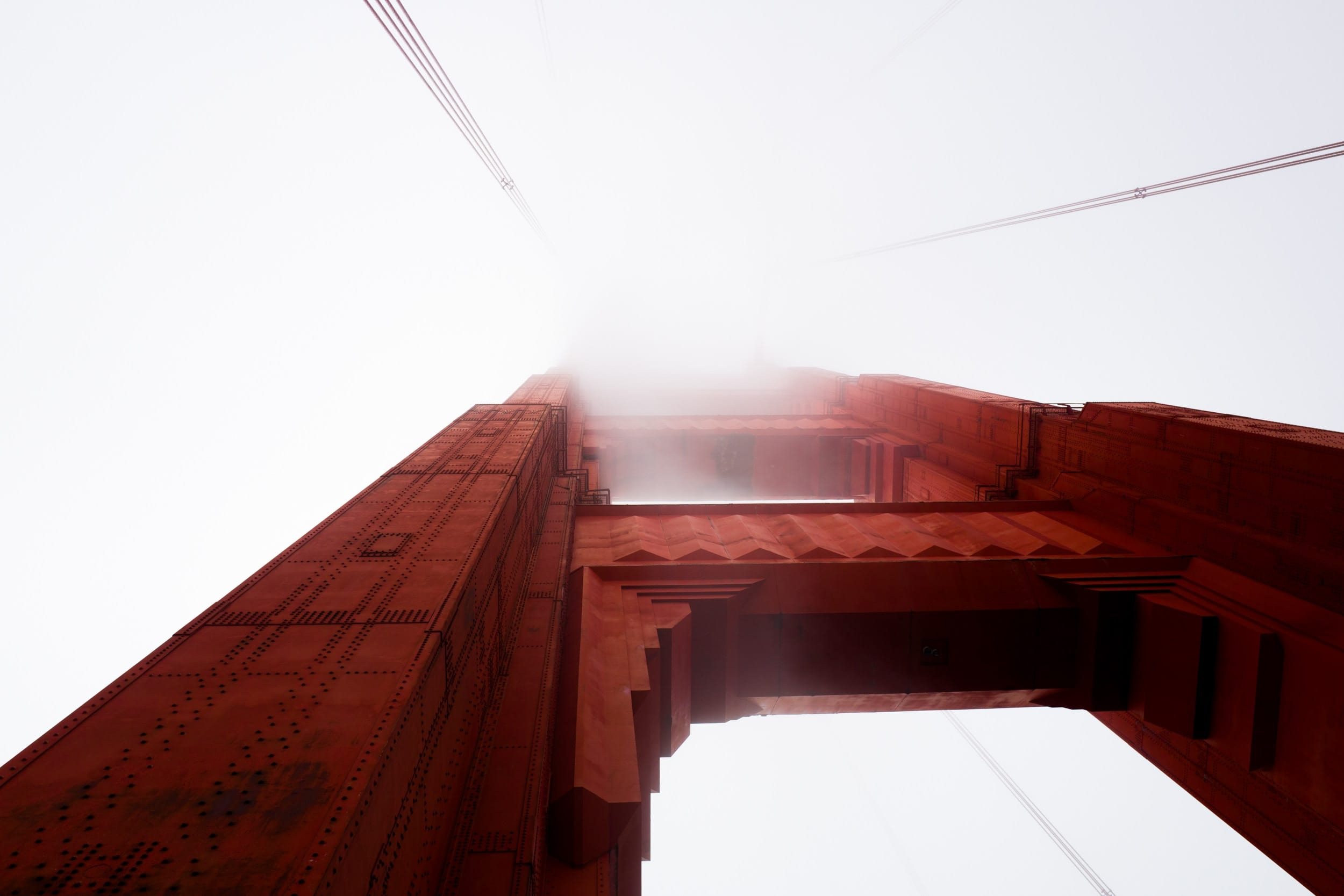 Whether you're trying to figure out what to pack for San Francisco in July or March, your packing list will stay more or less the same. Be sure to always bring a warm jacket, cooler layers, activewear, a daypack, sunscreen, and comfortable shoes. Pack it all in a travel backpack.
Before living in San Francisco, I definitely had no idea what to pack for a trip to San Francisco. It's California, so it must be warm, right?
Wrong. There's a little thing those of us who live here call Karl. He's the fog that engulfs our city, bringing winds and low temperatures. The fog that covers the sun and inspires countless weekend getaways to wine country. He's the reason why you'll find hundreds of unwitting tourists snapping selfies on Fisherman's Wharf in freshly bought San Francisco hoodies.
Weather here just isn't the same as everywhere else — it's cold in the summer and warm in the winter. So whether you're trying to figure out what to pack for San Francisco in July or March, here's our season by season break down of what to bring. The Travel Backpack is the perfect bag to pack in for San Francisco. With carry on sized luggage you won't have to check a bag, traveling on BART will be a breeze, and you can walk Fisherman's Wharf to your hearts content, hands free.
Tortuga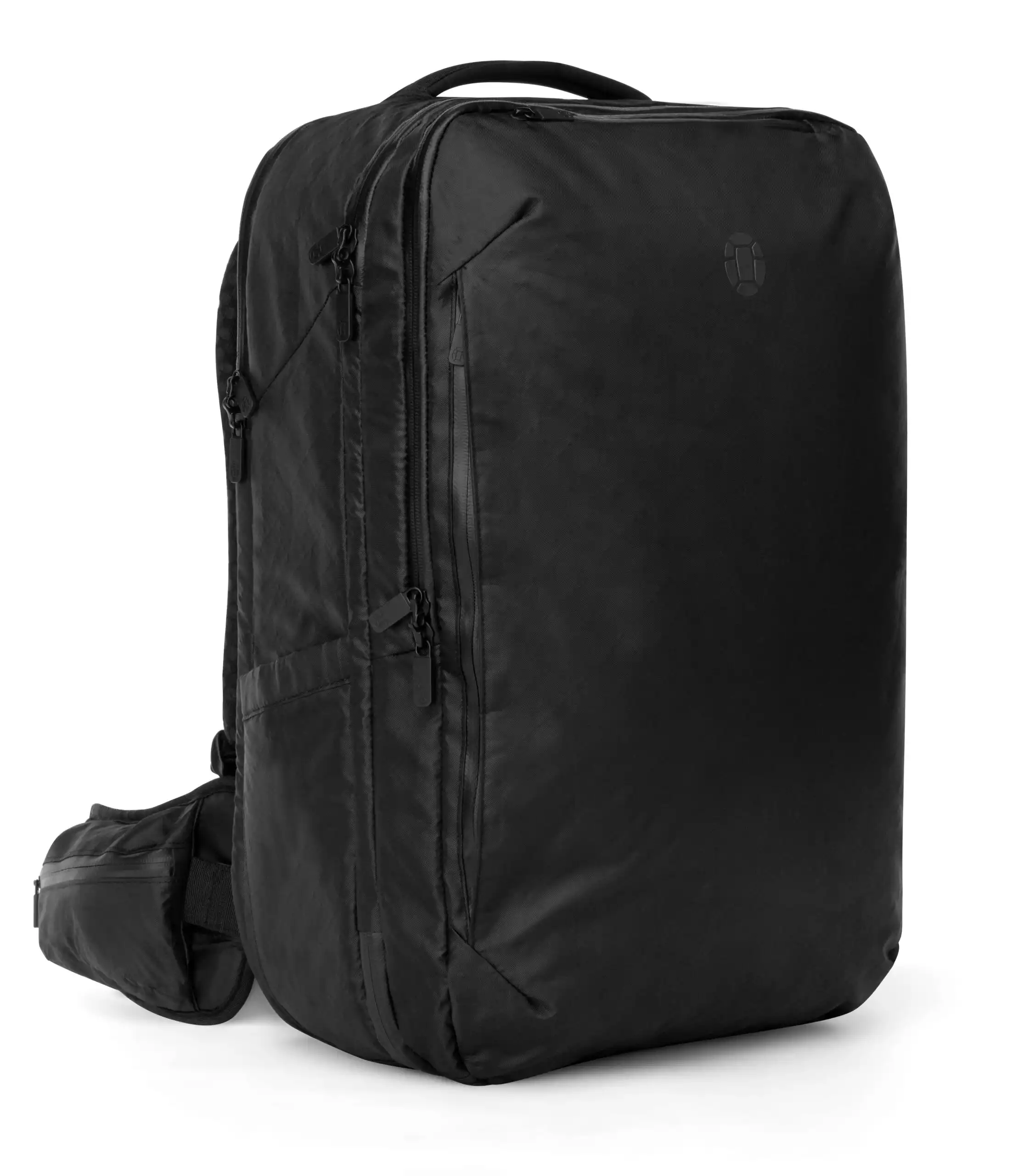 Things You Should Always Pack for San Francisco
For the most part, what I'd pack for a trip to San Francisco wouldn't change too too much from season to season. Regardless of the month, there's still a sharp dip in temperatures once the sun sets and between microclimates, and those steep hills are going no where. It's almost like you're packing for multiple climates.
For your trip to San Francisco make sure you include the following into your pack on top of your basic packing list:
A Warm, Windproof Layer
Extra bonus if it's waterproof. Most times of the year wind is more of a problem than water, and something folks often forget when checking a travel destination's weather forecast. I usually wear a Lululemon windbreaker and pack a small umbrella in my purse.
A Daypack
You'll need one for carrying those layers you shed as you explore!
If you plan on packing your computer and carrying it around town, the the Outbreaker Daypack is the way to go. There's a built in sleeve for your computer and it's made of waterproof sailcloth.
Activewear
Speaking of which, make sure you bring something to hike, bike, or jog in! And, if you bike, be smart and wear a helmet. Biking in San Francisco can be, err, a little dangerous.
Layerable Outfits
If you leave your hotel at 10 a.m. and don't get back until 10 p.m., you'll be shedding and putting clothes back on several times. So, make sure your undershirt can stand on its own in your outfit with layers.
Also, think "California Casual" with your ensemble choices. Even at most nicer restaurants in San Francisco, you can get away with a pair of skinny jeans and a nice top. My go-to outfit for just about everything is a pair of jeans with a nice tank top, chunky sweater, light windbreaker, and ankle height boots. Add a scarf if it's extra chilly.
Pro tip: Ladies, pack dresses that look good with a pair of leggings or tights. If it's nice, leave the hotel with your leggings/tights in your purse, and throw them on once it gets dark.
Comfortable Shoes
I'd suggest a pair of sneakers and one pair of comfy, fashionable, around-town shoes. Not only are those hills rough on walkers, but the Bay Area is super active. Why not join in and go for a hike or bike ride while you're here?
A Wine Key and a Picnic Blanket
If the sun's out, grab a bottle of (California) wine and head to Dolores Park for some prime SF people watching.
We love the Matador packable blanket.
Sunglasses
For blending in with those SF hipsters… just kidding (kinda). Pack your sunglasses.
Sunscreen
Karl or no Karl, you'll likely see some sunshine. Pack sunscreen but leave the mosquito spray at home.
Choose the Right Bag for a Trip to San Francisco
Tortuga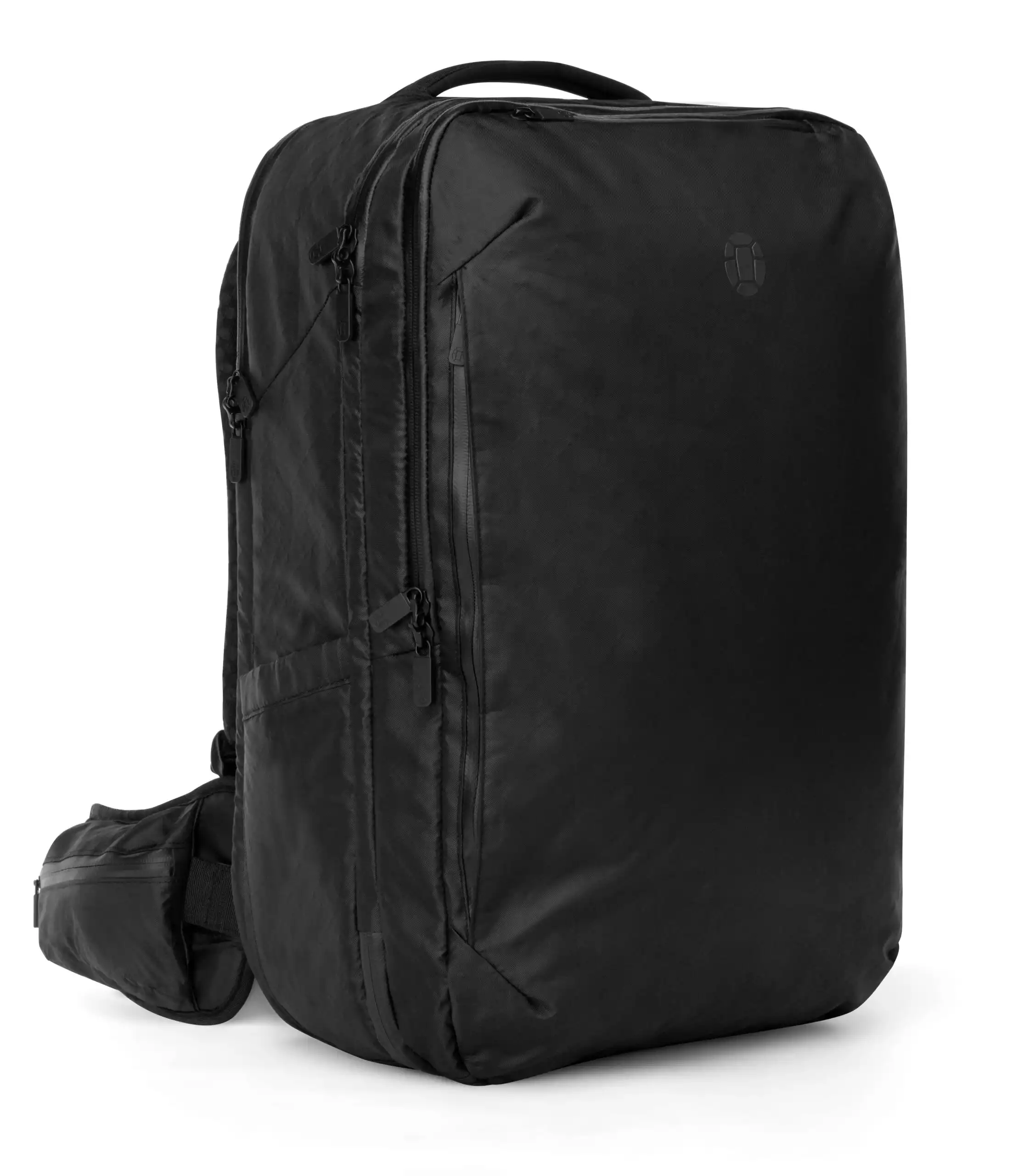 San Francisco is damp, right? Well, no need to worry about a rain shower or heavy fog on your travel day because the Travel Backpack is made of waterproof sailcloth. Your stuff will stay dry.
The adjustable harness system and extra cushy shoulder and hip straps on this bag make it an extremely comfortable carry. The obsessive level of organization on the inside means that everything has its place and packing is a joy.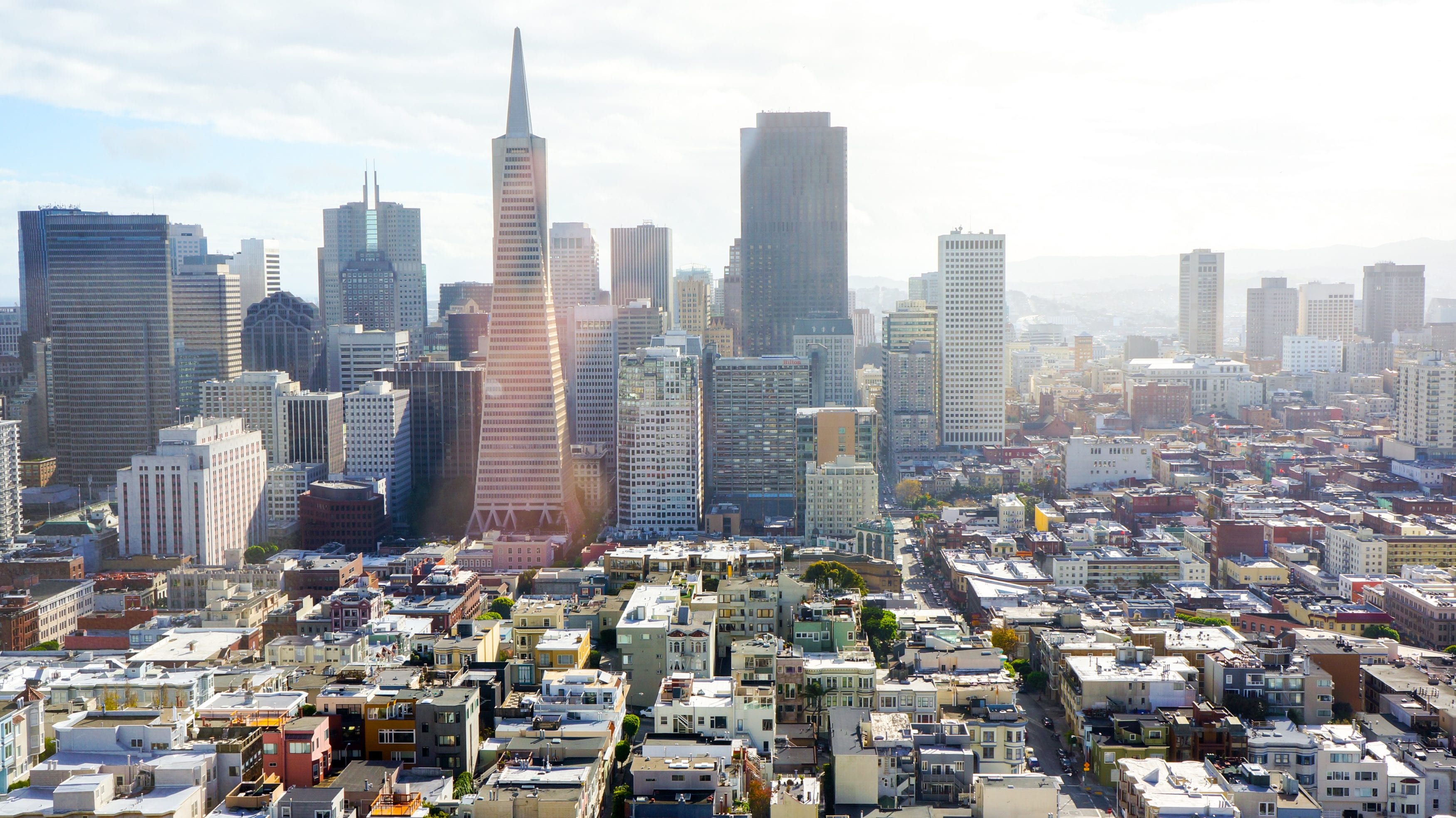 Mild Spring: What to Pack for San Francisco in March, April, or May
During the spring, pack for warm, 60-ish degree days and cool nights, with possible rain — especially in March. Generally, I'd recommend:
Leave the shorts at home — unless you run particularly warm-blooded.
Bring a warm wind and waterproof jacket — even up through May, you'll want a jacket at night… and sometimes during the day as well.
1 scarf — sometimes it's all you need when you're traveling between the city's microclimates.
1 – 2 tank tops — specifically, some that fit well under heavier layers and can be worn on their own.
Your running shoes — if you're in the area for the almost cult-like Bay to Breakers race, be sure to pack a pair of sneakers and one crazy-themed outfit for you and your travel companions.
June Gloom: What to Pack for San Francisco in June, July, or August
When we talk about summer in San Francisco, we mean "summer." Although the rest of the world is sweating and swatting away mosquitoes, we're still carrying around light jackets and swimming in the ocean is a strong maaayyybee.
June's also one of Karl the Fog's favorite months, and helps create a phenomenon known as June Gloom. Instead of warm nights and sunshine, we get to hang out with Karl in some drizzle. From the end of May until mid-August be sure to pack:
Again, leave the shorts at home… still not warm enough… nope… not yet.
Windbreaker or sweater/rain jacket combo — June – August sees the least rain so it's more the wind that's going to be your problem, but it never hurts to prepare against potential drizzle, right?
A hat — sometimes, it's the only way I can get my hair to stop pulling a medusa on the top of Twin Peaks in June.
Flip flops — for surprise sunny days and day trips inland.
1-2 pairs of pants — it's easy to forget about pants if you've gotten used to the heat back east. Pack at least one pair.
1-2 warm weather outfits — Okay, so maybe I lied about the shorts. The city may be chilly, but it's nice and hot out in wine country. You are making a day trip out there, right?
Your swimsuit — For aforementioned wine country trips… or a ridiculously cold dip at Ocean Beach. Your choice.
Festival wear — June Gloom or not, summer brings some of the best annual music festivals in the Bay Area, like Outside Land, Hardly Strictly, and a bunch of lineups at Stern Grove. Also, Gay Pride is in June.
Second Summer: What to Pack San Francisco for September and October
Did you know September is the warmest month of the year in San Francisco?
That's right, we have an indian summer, which means we save our sundresses for September and October (right as they go on sale — suhweeet!) and start searching for new roof top bars on around Labor Day.
November starts to get a bit chillier but until then, we finally get our summer.
Plan to pack the following for a trip to San Francisco in September or October:
Go ahead, bring that sundress and your favorite pair of sandals.
1-2 warm weather outfits — to wear in the city! Heck yeah.
A light jacket — this time of year is pretty warm and dry, but there's still that nighttime chill to contend with. Check the weather before you leave, but you might not even need a rain jacket / waterproof jacket.
1-2 pairs of pants — heck, you'll always need pants here.
Travel speakers — for sunny days spent relaxing in Dolores Park or on the beach. Of course, you could always rely on someone else's music.
Snow Free Winter: What to Pack for San Francisco in November, December, January, and February
Winter here isn't too shabby, but still a bit colder than other months. If you haven't picked up on the pattern yet, I wear the same things year round but swap out a couple essentials. During these months, it would be my coat. Come January you'll definitely find me huddled in a pea coat most mornings and nights. Be sure to bring:
A warmer jacket — you don't necessarily need to bring a full on winter coat, but that lightweight windbreaker may fail you. Try not to pack warm clothes, but sweaters and shirts you can layer with a well lined jacket.
Boots or sneakers — ankle height boots are simply the best shoes for unpredictable weather, and they match just about everything.
A scarf — a scarf can make a huge difference in keeping you warm, but packs down well.
An umbrella or rain coat — hopefully it doesn't full on flood while you're here, but be prepared for some rain.
Related Articles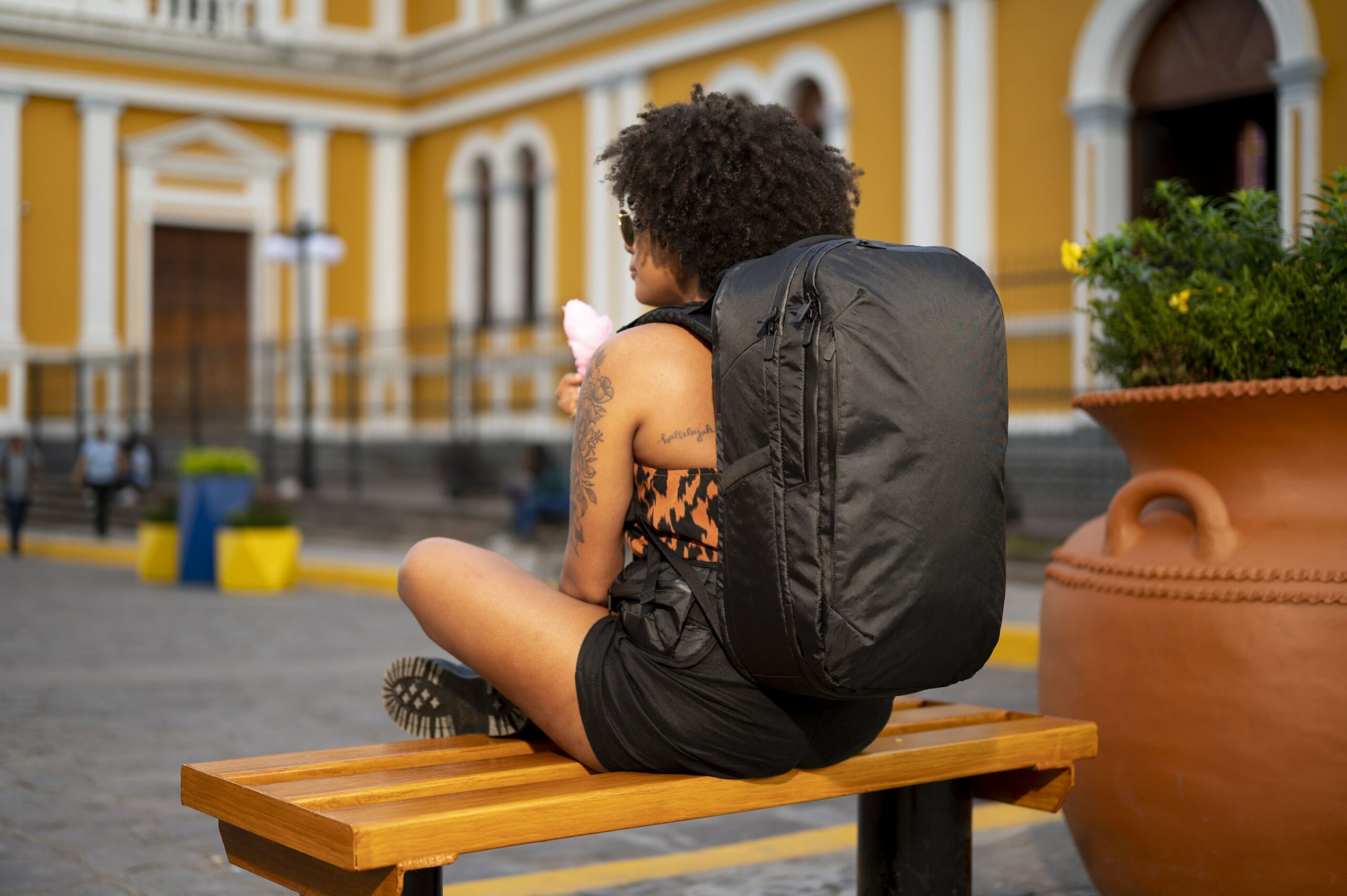 40L: Max International Carry On
Shop Now