The secret to a comfortable carry is two-fold:
Buying the right pack
Packing it correctly
Yes, some of this is up to you. Don't worry, we're here to help.
When buying a travel backpack, padding and comfortable straps are a must. Larger, maximum-sized carry on bags should also have a hip belt as most hiking packs do. A good hip belt will transfer most of your pack's weight from your shoulders to your hips.
Buying a bag with the right padding and straps is the easy part. Most people struggle with packing it.
Why Packing Matters
Packing the right items in the right spots in your bag will affect how heavy it feels. I was skeptical of this at first like you probably are. Until I tried it and saw how well it worked. Packing a backpack can be easy… if you have a plan.
The key to a comfortable backpack is a balanced load. Your pack's weight should be centered and close to your body.
Keeping as much weight as possible close to your body will minimize the "pull" on your shoulders which can cause strain. This packing strategy will also give you more "pack awareness."
The farther away your pack's center of gravity is from your body, the harder it will be to control its momentum.
"Pack awareness is especially important when navigating in crowded areas… Imagine weaving your way through a packed bus station during rush hour while wearing a pack that sticks out 15 inches off your back. It's more difficult to turn around, see who's around you, and you could even unexpectedly take somebody out with any sudden movements!"
Your heaviest items should be at the vertical center of your pack and as close to your body as possible as in the graphic below. Keeping the weight near you will make your bag feel like an extension of your body.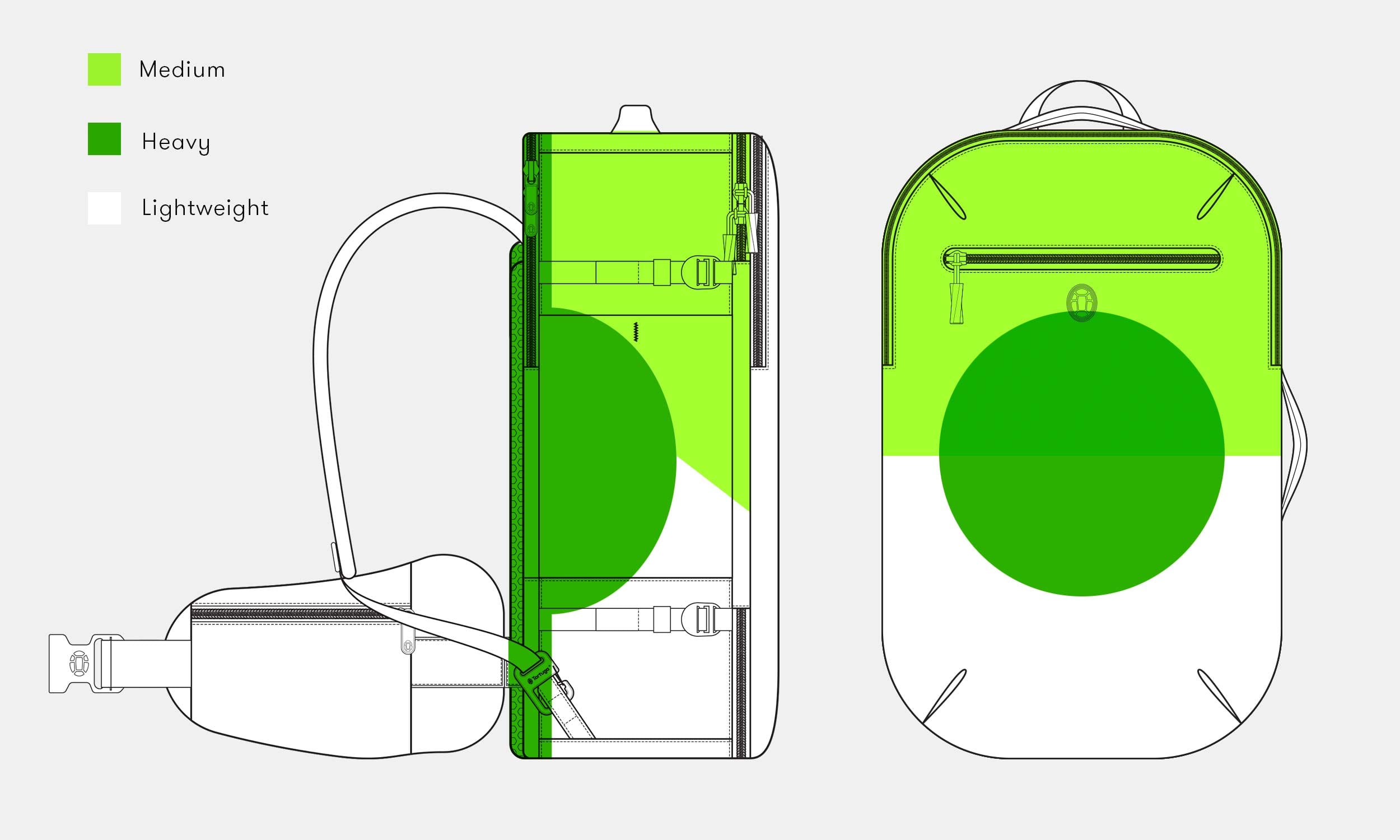 Pack your backpack in "zones" based on weight as seen above.
What to Pack Where
Heavy
Heavy items like shoes, a laptop, or a camera should be in the vertical middle of your pack and as close to your body as possible.
Your heaviest stuff will make or break the comfort of your pack. Start there.
Medium
Next, pack medium weight items like pants, jackets, and heavier shirts in the top half of your pack. Pack them around and above the heavy items.
By above, I mean on top of them, vertically, when wearing your backpack, not depth-wise when packing it. Even though your bag is lying flat when you pack it, picture it full and standing vertically on your back so that you can pack it correctly for real world use.
Lightweight
Lightweight items like t-shirts, socks, or underwear, go at the bottom (vertically, not depth-wise) of your pack. Pack them densely enough that your heavy items don't compress them and sink down in your bag.
A packing cube, is a good lightweight item that can give the bottom of your pack structure. I always place a packing cube of t-shirts and underwear at the bottom center of my Tortuga.
A packing cube will support your shoes better than a pile of socks will.
Balled up socks can also go inside your shoes to save space. Socks and t-shirts can be used as "filler" between other items so that your stuff is padded and densely packed. A solidly packed load will stay where you packed it.
The Exceptions
The last items to pack are the ones you need at hand. Pack them in your bag's exterior pockets.
When packing your bag's exterior pockets, you can prioritize convenience over weight.
Pack water bottles, umbrellas, guidebooks, and maps in exterior side pockets so that they are within reach.
Money and tickets can go in your hip belt pockets so that you can grab them without taking off your backpack.
I pack my toiletries and a book in my Tortuga's front pocket. Both should be in secondary pockets so that I don't have to open my pack's main compartment in the airport security line or on the plane.
Don't be that guy or gal fumbling around at airport security. Make a packing plan and stick to it.
Get a Free Carry on Packing List
Join our email list for more packing tips and gear guides.
When you sign up, we'll send you a free carry on packing list to get started.