Packing for Air Travel: The Complete Guide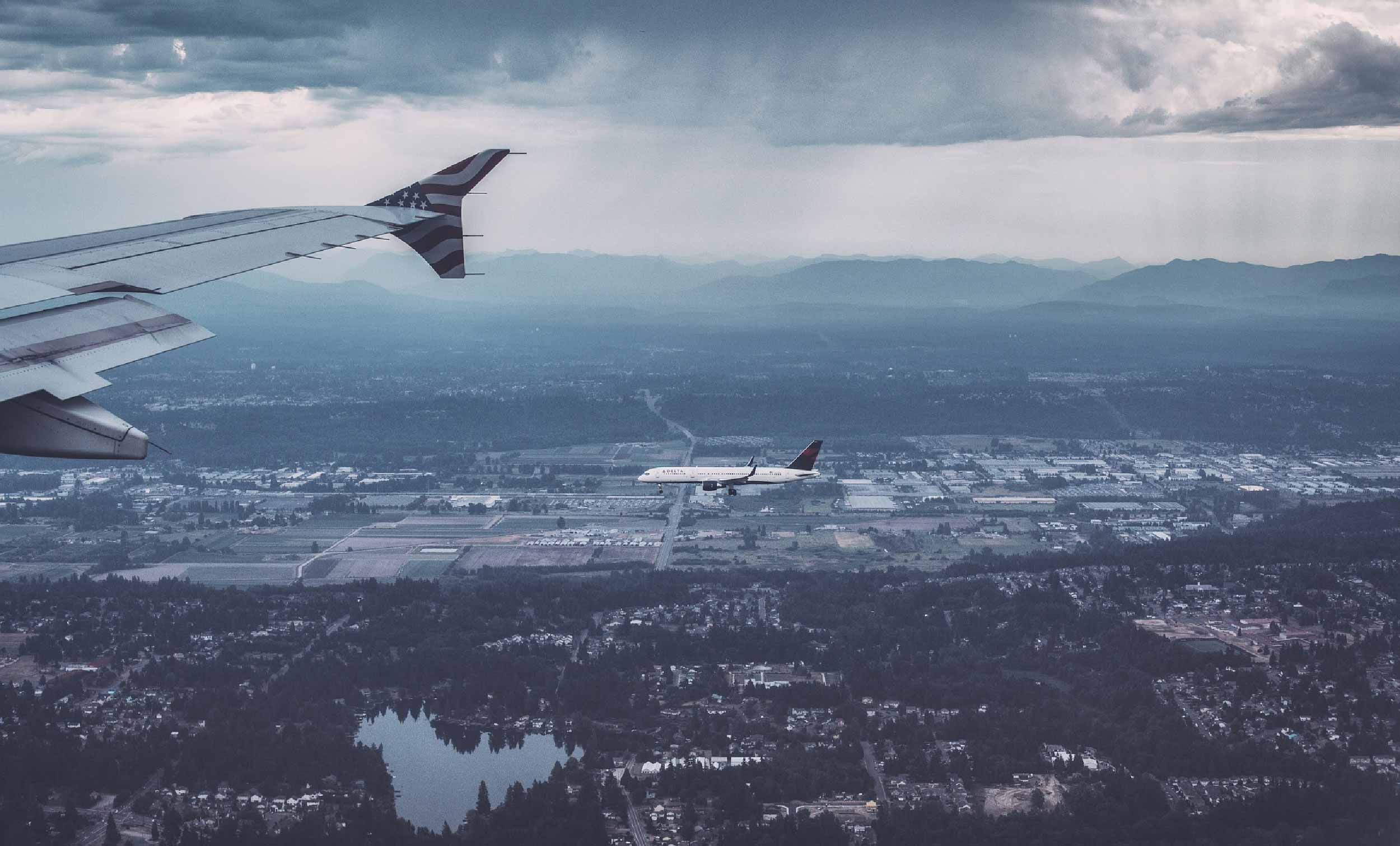 Air travel—and particularly packing for air travel—can be especially daunting for many travelers.
Today's version of air travel differs greatly from that of yesteryear. Today, people travel in comfortable casual clothing instead of wearing their Sunday best. These days there are restrictions on when to arrive, what to carry, and how much stuff we can pack. Before 9/11, travelers would show up, talk to an agent, carry on their paper ticket, and check whatever luggage they thought they'd need.
My husband and I look forward to long haul flights (and we regularly travel in economy class). I know it may sound strange, but it's true. Once we can get ourselves to the airport, we let out a long sigh and know that the journey has begun. Once in flight, we're stuck, but in a good way. There's no gym to go to, no dishes to do, no errands to run, no hikes to go on, and (most of the time) no way to respond to those last-minute emails. You're officially tuned out. What you can do is enjoy this time to read what you like, binge whatever show you need to catch up on, play games, rest, snack, meditate, eat, chat, and unwind. Let the pilot fly the plane while you go along for the ride.
What you pack for these flights will go a long way towards improving the experience and creating joy in the journey. Whether it's the food you bring or the comfort items that soothe you hours into a long haul flight, give some thought to the air time on either end of your adventure and pack specifically for it.
Packing for Long Haul Air Travel
The Basics
Channel your inner Santa: make that packing list and be sure to check it twice. Essentials and necessities make the cut, the rest is optional. What do you throw on when you get home after a long day to be your most comfortable? Make that feeling your goal in-flight, too. This is how to pack for air travel when you're flight is going to be long.
Pack these basics:
Comfortable, loose clothing
An extra layer for warmth on cold freezing flights or for rolling into a pillow for sleeping comfortably
Slip-on shoes that are easily removable for TSA lines and to allow room for in-flight foot swelling
Clean feet and clean socks: Smartwool for warmth or dryness, or check out compression socks as a possibility
Eye mask and earplugs for those moments of much-needed silence and darkness
Paperwork
No matter where you're going or for how long your journey, you need proof of who you are. You must bring multiples IDs when you're packing for air travel. Grab your forms of identification and make and copies of everything from your passport and credit cards to your driver's license and health cards. These copies should be in a carry on bag you bring on the plane. Don't make the mistake of checking your IDs or other important paperwork in your luggage. Some travelers even store an extra copy on their smartphones. Call your banks ahead of time to add those travel notifications and double-check that you'll have no fees abroad.
Paperwork to pack:
Passport
Local ID
Boarding pass
Copy of itinerary
Copies of important documents
Extra passport photos
Petty cash
Debit card/credit card(s)
Entertainment When Packing for Air Travel
Netflix and chill is relative in flight. Whatever lessens your anxiety, puts your mind into the mellow zone, and helps you wile away the hours, that's what you should bring for your journey. Remember that not all planes have seat-back entertainment. So bring what you need to keep yourself entertained when you're packing for air travel.
Some airlines have streaming options for your personal devices, though. (So charge your phone before you leave home!). Double-check your airline's website whether or not you need to download an app or join an airline's reward program to have full access to onboard entertainment.
You might want to pack:
Books, kindle, e-book, magazines
Music (on your device or using that provided by the carrier)
Movies on your iPad
Laptop anything (plus chargers and/or power strip)
Keep in mind that not all airlines have wifi capabilities, so download whatever you need before you board
Coloring books, crayons and colored pencils
Brain games of all kinds (i.e. sudoku, word searches, crossword puzzles)
Journal & pen (and if you're not the journaling type, bring the pen anyway – you'll surely need it to fill in those customs forms)
Toiletries When Packing for Air Travel
Most airlines have done away with their overnight packages that used to be delivered to your seat during long haul flights. If you want to have a way to remove the fuzz from your teeth, the haze from your eyes, the stink from your underarms and make yourself look presentable for whatever happens when you arrive at your destination – pack a small toiletry kit for the plane.
Remember that you'll have to abide by the TSA rules for liquids and pack everything in a quart-sized ziplock bag.
Consider including:
Travel-sized toothbrush and toothpaste
Face wipes or face wash to replenish those dried out pores
Non-aerosol deodorant will help keep that long haul flight plane stink at bay
Lip balm (remember all that re-circulated air you've been breathing for hours?)
Unscented moisturizer (for skin and face)
Unscented antibacterial lotion
Tips for Toiletry Packing
The 3-1-1 rule is now standard worldwide and as long as your liquids fit in that quart-sized ziplock bag, you're good to go. Medicines and baby formula can remain separate.
Abide by the TSA rules and follow the 3-1-1 standard (less than 3.4 ounces, 1 quart size bag, 1 bag per traveler)
Use smaller travel-size containers of your favorite products (this saves you money so you don't have to buy whole new bottles – squirt some of the product you already have into these handy, little containers)
Use contact cases to store makeup (moisturizer, eye cream, cover-up)
Consider squeezable bottles for liquids like shampoo, lotion, and sunscreen (GoToob is one great option)
Try travel-friendly products (check out what comes in travel sizes to try those at home before purchasing)
Consider dry versions of usually wet things, like shampoo and conditioner bars, to free up space in your ziplock
Think wet wipes or baby wipes for makeup removers
Snacks on Flights
Tummy rumbling isn't fun in a meeting and certainly not on a long haul flight. Drink water, limit alcohol, and since take out doesn't deliver at 40,000 feet, you might want to bring some of your favorite snacks on board.
Choose foods that are dry, non-perishable, non-liquid, non-stinky, not too crumbly, and if you can (for the sake of those highly allergic travelers sharing that circulated air with you) try to limit nuts and nut-butters. Think small size, finger foods that can withstand the flight. While you can buy food at the airport, packing your own food from home is healthier and less expensive.
Do your best to stay hydrated before, during, and after the flight. Consider bringing an empty water bottle that you can easily ask to have filled for you or do so yourself at water fountains or in the airport bathroom.
Consider these possibilities for your in-flight snack bag:
Pack items that are safe for room temperature (or eaten immediately)
Hydrating foods are always a bonus (i.e. cucumber)
Muffins (fruit, corn, or chocolate)
Quinoa salad
Dried fruit
Smashed avocado/hummus with crackers or pita (be sure the avocado/hummus is in an under 3 ounce sealed container)
Zucchini chips
Fruit, veggie, cheese bento box
Popcorn
Veggie slices
Edamame
Cereal
String cheese (to be eaten right away)
Sandwich (do your best to stay away from nut butters)
Crackers, pretzels or carrots
Granola bars
Chips/cookies
Tips for Packing Snacks for Air Travel
Packing for in-flight snacking is much like packing your picnic feast without that refrigerated cooler. Use what you have, repurpose what you can, and be sure you have a way to eat the deliciousness inside the container.
Think small space: Use collapsible Tupperware that can store flat when empty
Think eco friendly: Use reusable bags that can be repurposed
Think user friendly: Use camping or travel cutlery instead of relying on single-use items
Personal Item Packing
There's a difference between travel backpacks and personal items. The carry on backpack is your main piece of luggage, if you're choosing not to check a bag. The Outbreaker Backpack maximizes the carry on luggage allowance of most major airlines.
A personal item is a second, smaller item that fits under the seat in front of you. Smaller daypacks fit the dimensions of a personal item and are perfect for packing your in-flight items. 
Which one you choose depends on what you're carrying and how you're traveling. If you're traveling with a laptop, then the Outbreaker Daypack is a lightweight choice. It has a designated computer sleeve, beefed up padded back panel, and shoulder straps to make the heavier carry more comfortable, and it's made of waterproof sailcloth, so there's no weather worry. The Outbreaker Laptop Backpack is specifically designed to be the perfect bag for carrying your mobile office setup on a plane and the essentials for a travel day or day about town.
Personal Item Packing List
This is as close to a "go bag list" as possible. If you're flying, this stuff should be in your personal item and underneath the seat in front of you where you have easy access to it for the entire flight.
Include:
Wallet
Smartphone
Book for reading
Extra set of clothes and underwear
Important medical needs (prescriptions, glasses, etc)
Sunglasses
Empty water bottle to fill after passing through security
Headphones
Gum
Mini first aid kit (Tylenol, Benadryl, Alka Seltzer, band-aids, safety pins, hair ties)
Laptop, or tablet, for watching movies or working on flight
Charger for laptop, tablet, & phone
Snacks
How to Pack a Backpack as a Personal Item
Think about weight distribution, what you'll need to access most often, and what needs to remain well padded, or what needs to remain uncrushed.
Layer items by weight with heaviest at the bottom
Stand long or tall items on end so they take up the least amount of space
Wallet & ID go in the outside zippered pockets for easy access (put them as far down as possible to limit access of pickpockets)
Laptops & tablets lay flat against the back
Put snacks in a ziplock bag and keep them in the outer pockets for quick access
Extra set of clothes in a packing cube for cleanliness and organization and slide it down the side of the backpack
Lay your book and any other items you'd need in flight on the top of the space
Use a quart-size Ziploc bag for your liquids and place on top for quick access at security
How to Pack a Messenger Bag for a Personal Item
Since weight is not ergonomically distributed when carrying a messenger bag, proper and even distribution within the bag is important. Consider swapping sides with the bag instead of carrying it on the same shoulder all the time.
Balance is key: place items of equal weight on each end
Keep laptop or book in the middle and run them along the back of the bag
How to Pack a Handbag or Tote for a Personal Item
Rather than a bucket type bag or tote, go for something with decent internal organization to help keep your items easy to access in line ups at the airport, or mid-flight.
Use pockets to your advantage
Keep valuables deep inside the zippered center
Balance the weight as evenly as possible
How to Pack a Briefcase for a Personal Item
Business travelers can travel light by maximizing the space inside a briefcase instead of carrying another bag as a personal item. Here are some tips for the savvy traveler:
Use laptop sleeve for computer
Assign functions for each pocket (one for pens, one for chargers)
Extra clothes and liquids in larger compartment (packing cubes help to lessen wrinkles)
How to Pack a Diaper Bag for a Personal Item
If you're traveling with small children, the odds are good that your personal item is going to be a diaper bag. Use packing cubes to keep similar items together for quick and easy access (diapers in one, wipes in another, clothes in a third and another for snacks). Don't bring only one of your baby's favorite items on the road. Make sure to give young children some variety

What should go in a personal item to ensure a smooth flight with a baby?
Washable or disposable changing pad
Blanket
Diapers for 2-3 days: Plan for using more on the flight rather than fewer
Baby wipes
Burp cloths for young infants
2/3 Changes of clothes
Snacks (if the baby is old enough)
Breastfeeding scarf or drape (if nursing)
Toys (if the baby is old enough)
Pacifier (if it's what you choose – could help with teething and change of air pressure)
Benadryl (helps baby sleep on flight — always check with your pediatrician before giving your child any medications)
Children's Tylenol (always check with your pediatrician before giving your child any medications)
Invest in the Right Gear
Ever spent a redeye flight with your jacket balled up as a pillow and arrived with a serious cramp in your neck? Lesson learned: bring a travel pillow when packing for air travel.
The key to comfort on a long flight can be the right gear. If you fly often, or if you're flying a long way, it can be very worth it to make the investment in some of the essentials.

What should you consider?
Travel pillow
Eye mask
Travel blanket or scarf
Compression socks
Noise cancelling headphones (these changed my life)
Earplugs (at least)
Water bottle
Portable recharger for your devices
Trust me, you won't be sorry.
How to Pack for Air Travel Roundup
Travel isn't always easy, but flying doesn't have to be hard. Don't let the anxiety of a flight or what to pack overshadow the joy of the adventure itself. Pack for your flight with the same care that you pack for your destination.
Comfort is key
Invest in the right gear
Always carry your primary documents and copies with you
Pack a toiletry kit for the plane
Check rules and restrictions with your air carrier and TSA equivalent
Plan for food & entertainment
Stay hydrated
Maximize your personal item with careful planning and organization
Always pack an extra pair of underwear