How to Pack for a Trip to Everywhere and Anywhere
Packing for a trip doesn't change that much regardless of where you're going or when. The key to packing light for any trip is layers. Choose layers that are made of the right fabrics and learn to combine them to make outfits that will take you anywhere.
A friend of a friend recently emailed me asking for advice about how to pack for a long trip through multiple climates. She'd be traveling through both rural and urban Chile, Peru, Argentina – including Patagonia – Brazil, and Colombia for seven weeks while visiting arctic, desert, and tropical climates.
Her goal was to travel with only one travel backpack (as we recommend), but she had no idea how to do it or if it was even possible. I gave her the most thorough response I could and realized that if she was in need of such information, then surely many others were, too. Below is an expanded, more thought-out version of my advice to her. My focus isn't solely utilitarian; I believe we can look and feel great on the road while packing everything in one bag!
For the quick and dirty version of this post, skip straight to the around the world packing list.
The Golden Key: Layering
It sounds obvious, but the key is LAYERING.
Don't try to bring clothing designed for only one climate. Doing so would be expensive and waste a ton of space in your pack.
Everything you bring should be able to be worn in any weather. Winter-weight fabrics will weigh you down and frustrate you on the road. Any specialized items you may need, like gloves, can be bought locally and passed on afterwards. Focus on versatility and layer-ability.
You can always find a stylish piece that can be layered with other options to make it perfect for any climate. Use layers to dress smartly and look good.
Base Layers to Pack for Any Trip
Base layers are the foundation of a versatile wardrobe and will quickly become your best friend. Be thoughtful about your base layers and choose wisely. You don't even need to worry about how they look, because odds are no one will ever see them with the lights on.
You'll need several high quality, breathable base layers that you can wear basically all the time. Your list should include underwear (plus long underwear or tights for a trip through cold weather), undershirts, socks, and t-shirts.
These base layers should be made of wool or synthetic microfiber. They're both breathable. Also, when you're hot, wool and microfiber wick sweat away from you; when you're cold, they keep you warm. They also tend to not get stinky like cotton does.
Another super important quality about these two fabrics is that they dry really, really quickly. I can't overstate the importance of quick drying.
If any of your base layers happen to get wet or sweaty, they'll always be ready to wear again after a few hours of air drying. Most importantly, you can hand-wash and hang-dry your socks and underwear whenever you want in your hotel room. Because you can wash and dry your base layers so quickly and easily, you only need to bring a few pairs of each.
Two to three pairs of socks and underwear is all you need for any long-term trip. One pair of long underwear for both top and bottom will be sufficient. Long underwear make jeans or khakis and any long sleeve shirt an ideal outfit for even the most frigid conditions.
My highest recommendations for base layers go to SmartWool for socks and ExOfficio for underwear. I generally travel with two pairs of SmartWool socks and two pairs of ExOfficio underwear.
Really. That's all you need.
I've also had great luck with Under Armour Cold Gear for long underwear, which are the tight fitting but warm undergarments football players wear under their pads in the snow. They're incredibly comfortable, take up barely any space, and have kept me warm at the Sundance Film Festival and in Sweden during Christmas time.
You can find a huge variety of great base layer t-shirts these days. I've worn Under Armour, North Face, and store brand microfiber t-shirts, and they've all served me well. Go with what fits your budget and style needs. Just stay away from cotton if you're serious about layering.
Bottoms
At Tortuga, we're big believers that jeans are the best, most important pair of traveling pants. They're versatile, stylish, durable, and stain resistant. But lots of people disagree.
Nonetheless, I highly suggest you take at least one pair of jeans with you on your multi-climate trip. You can wear them to the club, museum, or for a hike. With some long underwear below them, they're great for a snowy day.
Best of all, you're probably making a mistake if you wash your jeans more than twice a year.
For an approximately eight week trip through hot and cold weather areas, I would bring two pairs of jeans – one fancier and one more rugged – one pair of khaki shorts, and possibly one pair of synthetic fiber shorts for rugged adventuring and/or swimming. That's it.
If you're really into packing light and don't care too much about going out at night, you can get away with one pair of convertible pants/shorts that zipper off around the knee.
To be honest, I think convertible pants are ugly as sin, but lots of people like them, and they're surely efficient. I wouldn't hesitate to bring a pair (and maybe no other bottoms) if I were taking an outdoor-focused trip like a safari.
In all, I'd recommend two to four pairs of bottoms. Jeans get my highest recommendation.
Tops to Pack for Any Trip
Shirts and tops are your opportunity to get creative and show your personal style, but durability is still key.
Remember that you'll be wearing your base layer t-shirts almost every day in almost every environment. My style is pretty classical, so I go with grey, black, and blue generally. You can never go wrong with a grey t-shirt and khaki shorts or a pair of jeans. If your style is a bit louder or more colorful, make sure that your base layer t-shirts match that.
Bring two shirts for going out, unless you know that you don't plan to socialize. Again, let your personal style shine and don't stress about efficiency. For guys, two button down shirts are probably perfect. Or, bring one button down and one polo shirt. For ladies, bring two blouses that make you happy that you're not in your base layer T anymore.
Bring what you find to be wrinkle resistant at home, but don't fret whether it's perfect "travel gear." Socialize on the road in the clothes that make you happy and confident, but keep in mind you only need one or two options.
I recommend one very durable and versatile sweater or fleece pullover. I tend to pack either a black fleece pullover or a grey wool sweater. A nice sweater is generally acceptable for any semi-formal affair – like a dinner party – in a cold weather city. This heavier weight top will also be great for wearing over your base layer t-shirts and under your jackets for those freezing nights. If you're moving from city to city, no one will notice that you've worn a sweater multiple times that week.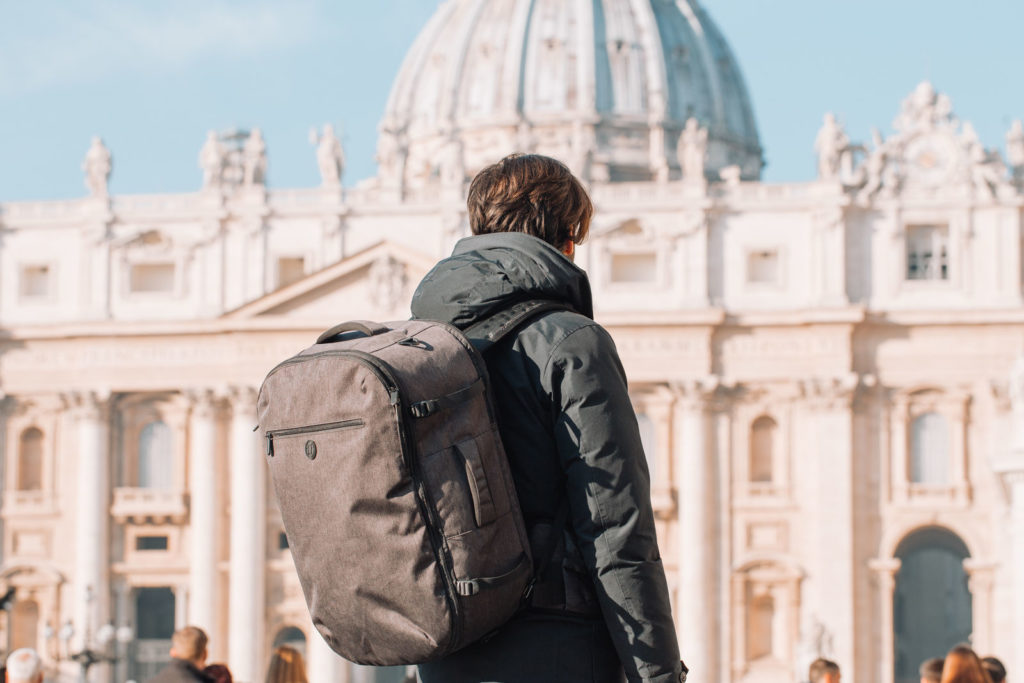 Outerwear
You'll only need one-and-a-half pieces of outerwear: a waterproof, windproof shell jacket and a fleece jacket. I say one-and-a-half because I don't consider the fleece jacket only as outerwear. It's also the second most essential layering piece behind your base layers.
You'll wear that fleece jacket on chilly summer nights in the Mediterranean and underneath your shell in the most frigid Scandinavian winter.
It's great if your shell and fleece jackets are a convertible set that attach in some way (zippers, snaps, Velcro), but it's not essential.
Your waterproof, windproof shell jacket will be an amazing investment because it'll be your rain jacket year-round, in any climate. These jackets are very stylish, so they're appropriate anytime, except for in the most formal settings.
In reality, it's oftentimes the wind and precipitation that chill us to the bone during the winter, so you'll quickly realize that your shell jacket is more useful than lots of heavy "winter" jackets that let through plenty of wind and rain. That's why so many skiers wear these jackets with just base layers underneath.
It's a bit trite, but I wear a North Face fleece and shell set. I fully recommend North Face, and you can find very affordable used jackets on eBay or Craigslist.
You don't need ski pants. They're huge, bulky, and expensive. Locals of sub-Arctic cities don't walk around in ski pants and neither should you. Your long underwear will keep you plenty warm.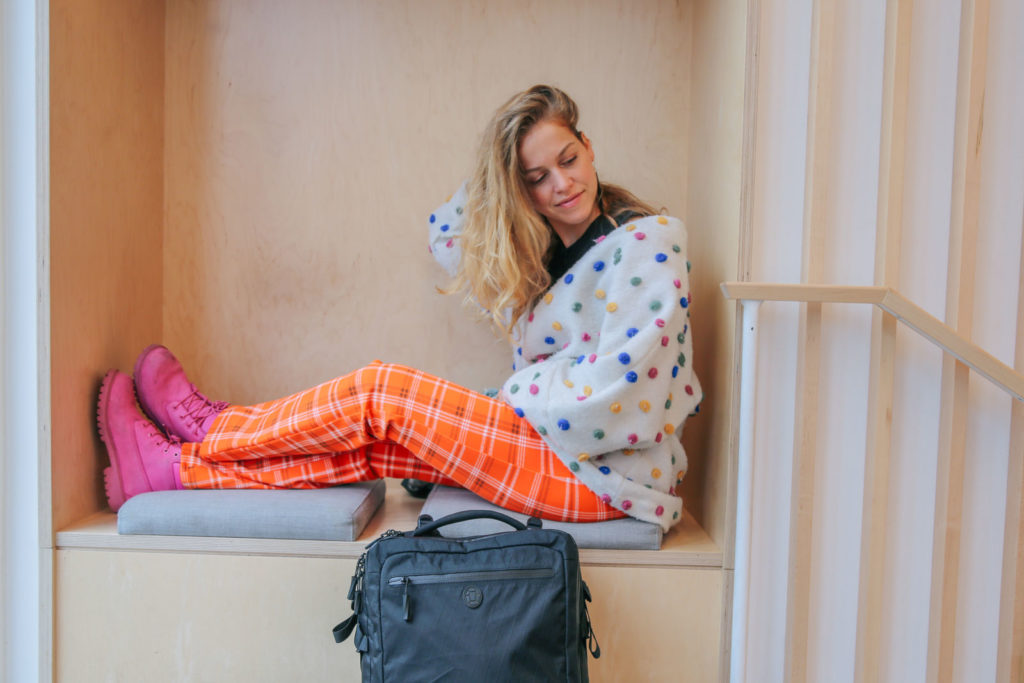 Accessories: The Goodies that Make it All Alright
Bring some accessories that make you really happy. For guys or gals, a scarf takes practically no space and individualizes almost any outfit. Or, perhaps it's a hat that's not absolutely necessary but makes you feel whole.
Don't give up your personal identity on the road just because some traveling expert recommends all utilitarian outfits. You won't look cool or be happy if you're dressed like a hunting guide, so don't bother.
Take along some jewelry or a beloved hoodie, even if it's not high-tech fleece. Wear your favorite vintage cotton T on your flight. You never know who might be sitting next to you.
Don't feel guilty about bringing one or two accessories that make you happy. If they become too big of a burden, you can throw them out. They're only stuff, and there's plenty more stuff to be had in this world.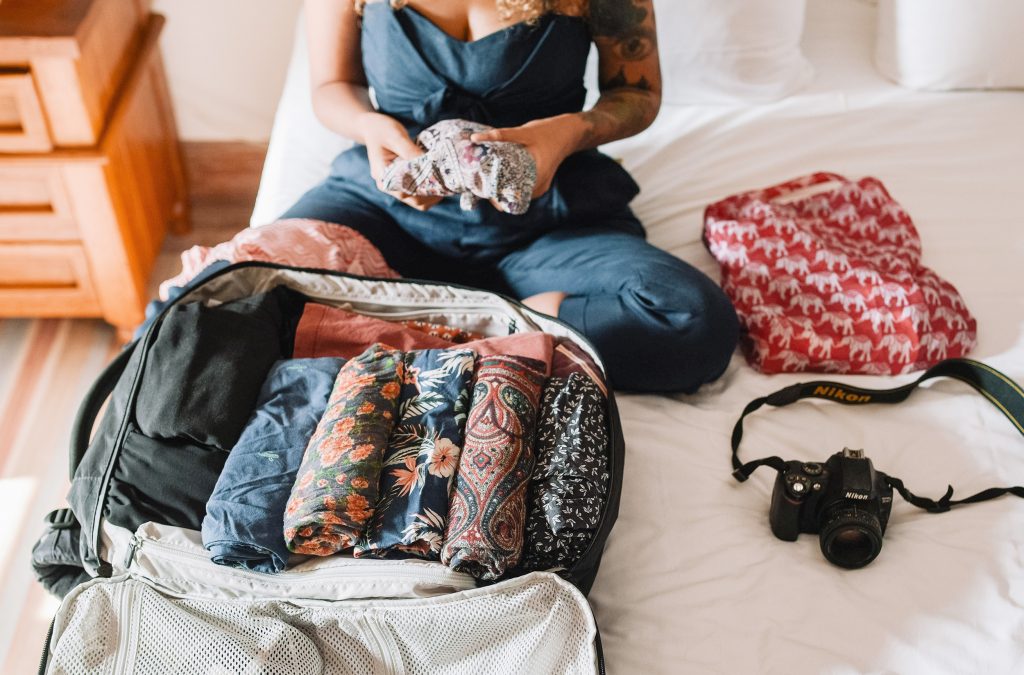 Packing for a Trip to Anywhere
You're only going to need one piece of luggage for your long-term trip through multiple climates. Anything more is inconvenient on the road. Just make sure that the bag fits your airline's carry-on limits, usually a total of 45 linear inches (length + width + height) or less.
The Tortuga travel backpacks fit these dimensions and were designed specifically for long-term travelers.
As for packing your bag, we suggest rolling your clothes. It saves space and actually prevents wrinkles. I suggest putting a rubber band around each piece of clothing to keep it secure. Bring a few plastic bags for wet or filthy clothes. They take up no space at all and are practically weightless.
If you packed what I recommend and bring one extra pair of shoes aside from the ones on your feet, your bag will fit everything perfectly. You'll also have plenty of space for a small computer or iPad, a few books, and a water bottle.
Did you forget something? Who cares. As long as it's not your passport, you can almost always find whatever you need wherever you are in today's globalized world.
Enjoy your trip. And be glad you decided to layer.
Around the World Packing List
Base Layers
Bottoms
Tops
Outerwear