Even ultra-light packers need a little help from a Packsmith sometimes. To help traveler and light packer Jon Li improve his packing for a 10 day business trip to New York City, I helped him streamline his packing and get it all into a professional looking Outbreaker Laptop Backpack.
I know what you're thinking. If he's already traveling light, what else is there to fix? Packing well isn't always about packing light, it's also about packing smartly and efficiently — which is what Jon requested help with in packing for a 10-day business trip to New York City last month.
Not a problem, Jon. You've got a Packsmith to help you find the best bag for travel to NYC and how to organize a suitcase — or whatever bag you end up with — better.
Which Bag?
Jon, a 32-year-old product manager in the music industry, is a self described minimalist. He's an easy going traveler, and loves traveling to see friends, eat, or do some specific activity, like fishing or bike-riding. Generally, he prefers to just carry one bag, but still hasn't found his ideal bag for his NYC work trips — which he usually also uses to visit friends.
"I have this Arc-teryx backpack that I love and have used on other trips, but it's a pain for business trips," Jon explains. "If it's the only bag I bring, it's hard to whip my computer out of in security, and I can't bring it as a daily bag to the office."
"My other option is a Coach Duffle bag and a small backpack, but I don't want to do that either. It's awkward."
Jon has also tried traveling with just the one daypack, but there's a problem here too. Though he just has one small bag, it's full and, "I end up acquiring extra stuff that I can't fit in my bag. Friends or my company give me things, or I buy a t-shirt somewhere, but it won't fit. So I usually wind up giving or throwing away stuff, which I don't want to do."
My mission with this makeover: find a solution to Jon's luggage problem.
Jon's Bag: Before
In the past two years, Jon has made this trip many times and tried all the above combinations, but when I got my hands on his bag for this latest trip to New York City in May, he had opted to squish everything into the daypack. In his one bag, he included:
Clothes
Jon says, "Everything I bring is intentionally not loud, because it allows me to wear it over and over again without people in the office noticing or thinking it's weird."
1 pair of black pants
1 t-shirt
1 jacket
Pair of black moccasins (easy to slip off, versatile, and comfy)
Toiletries
Jon relies on the hotel to provide him with soap, shampoo, and conditioner, so he usually just packs:
Toothbrush
Toothpaste
Nail clippers
Lotion
Floss
Allergy medicine
Other Stuff
15 inch laptop
Computer charger
Phone
Phone charger
Mini flashlight
Overall, Jon did a great job of sticking to the basics and only packing what's absolutely necessary. Everything other than his work computer was travel sized, and he was impressively able to fit it all into one daypack. Once packed away, his before bag looked like this (inside and outside views):
The problem ended up being that his bag was totally full, and his computer was buried deep enough in his bag that it was a hassle to slip back into his bag after an airport security check point (see the tiny sliver of silver hiding in there?).
Additionally, since he threw everything into his bag at the last minute, his stuff wasn't particularly organized. As such, he wouldn't be able to easily access clothes as he needed them.
This wouldn't matter if he was staying put, but since he'd be spending a few days with friends before checking into a hotel, having a more organized bag would help him be able to spend a night or two at a friends house without unpacking completely, then quickly re-packing to head to his hotel for the week.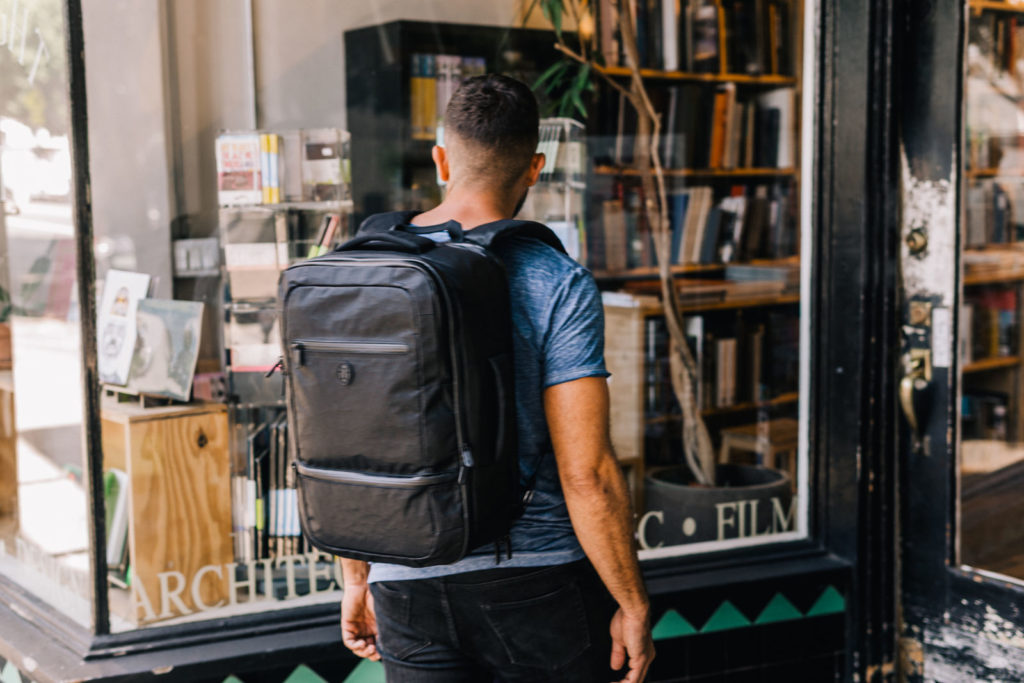 Perfect Packing for a Minimalist Business Trip to NYC
From our interview with Jon, it was obvious that the root of his packing problems was his bag. He nailed the packing list, but not the bag. Secondary to the bag issue was organizing the bag better.
In the end, we only added one item to his packing list and otherwise left it untouched, but instead focused on making over how he packed it all.
1. Swap Daypack for Laptop Backpack
Although I'm all in favor of packing for a weekend getaway in a daypack, it doesn't work as well with business travel. Most of us have to bring our computers on business trips, and we want to be able to get them in and out of our bags quickly in airport security. Additionally, Jon had a few other concerns that a little extra room could solve.
So, even though it goes against my packing philosophy to opt for a bigger bag, I wound up upgrading Jon's bag from daypack to a slightly larger Outbreaker Laptop Backpack (at 27L it fits under the seat on an airplane) so that he could:
Access his computer better during security checks
Have extra space in case he accumulated things on his trip
Better organize and access his stuff
2. De-clutter
Jon usually packs last minute and throws everything into his bag — but we took an extra 5-10 minutes to think about what should be packed in which parts of his bag. To help this along, I:
First gathered everything that needed to be packed, rather than throwing things into the bag as we went.
Talked about what he'd roughly be doing in NYC to help coordinate clothes to his timeline.
From this I learned Jon was planning to first spend a weekend biking with friends in Brooklyn, then head to Manhattan for business first thing Monday morning.
As such, we wanted to make the clothes he was planning to wear on the weekend more accessible than his work clothes. This way, he wouldn't have to unpack to much during those first two days, and could breeze on through security lines at the airport.
Work clothes on the bottom (since he'd need them last)
Bike / weekend clothes and toiletry bag in the middle
Shoes and socks on the side
Laptop in the designated sleeve
Phone, wallet, and earphones in the outside pocket
Chargers inside an inner pocket
Sometimes it's as simple as choosing the right bag and thinking through the organization process. The Outbreaker backpacks are obsessively organized to allow minimalist packers to perfect their light travel game.
Get a Free Carry on Packing List
Join our email list for more packing tips and gear guides.
When you sign up, we'll send you a free carry on packing list to get started.