Guest post by Brooke Schoenman of Her Packing List.
Travel brings you to a world of unknowns. Will it rain at all when I'm there? Will it be crowded with tourists? Will I need this fancy little dress in case I meet the man of my dreams?
Tons of unknowns.
These unknowns make packing light for female travelers a nightmare. Getting all of your potential luggage down to a manageable, carry-on-sized level is even more of a struggle. Having said that, I have done carry-on only before, so it is very much so possible. It just takes a bit of prioritizing and a little ingenuity.
Choose the Right Bag
Packing well begins with choosing the right bag. For women, having the option of an adjustable torso length is often important as those of us who are more petite often struggle with bags built for men. A well designed bag will make packing a breeze and will help you remain organized through the duration of your trip. Finally, a carry on bag is preferable to a larger roller bag. You'll save money on checked bag fees and enjoy greater freedom of movement.
The Outbreaker travel backpack is the perfect bag for female travelers and those with smaller torsos. The 35L fits petite frames well and is fully adjustable. Because it's a backpack it allows for total freedom of movement and as you breeze through the airport and on and off public transportation. The well padded shoulder straps and hip belt transfer the weight of the bag to your hips, so carrying the bag isn't a strain.
Take Only What You Need
The key word here is "need", and I know that you know what I'm talking about. Taking that amazing pair of heels just in case or that extra coat are not going to be on the list. Before your final pack, lay out all of your clothes and then take half of what you think you'll need. Sounds tough, right? But, you have probably taken a number of trips before where some supposed necessities never saw the light of day.
Take Multi-Purpose Items
Plenty of items on the travel market are designed to give travelers more bang for their buck by being used in more than one way. Take for instance the sarong, which can easily become a scarf, a towel, a hair wrap, a pillow case or a picnic blanket.
Besides that, I'd like to bring up a few favorites that are targeted to multipurpose use. The first one is the infinity dress. I was skeptical at first, but you can actually wear it about 100 different ways. This one item easily goes from dress to skirt to top to wrap, and the layers of different patterned fabric make it appear as though you have far more than that in your bag.
The classic zip-off pants are not the best looking but do help when packing light. Some of these pants will convert to capris and then to shorts and are often made of a special fabric that is quick drying and packed with sun protection.
When it comes to make-up, why not tone it down and either wear less (or none) on the road or try a multipurpose powder that can give color to your cheeks, your eyes and your lips (if coated with gloss) in one?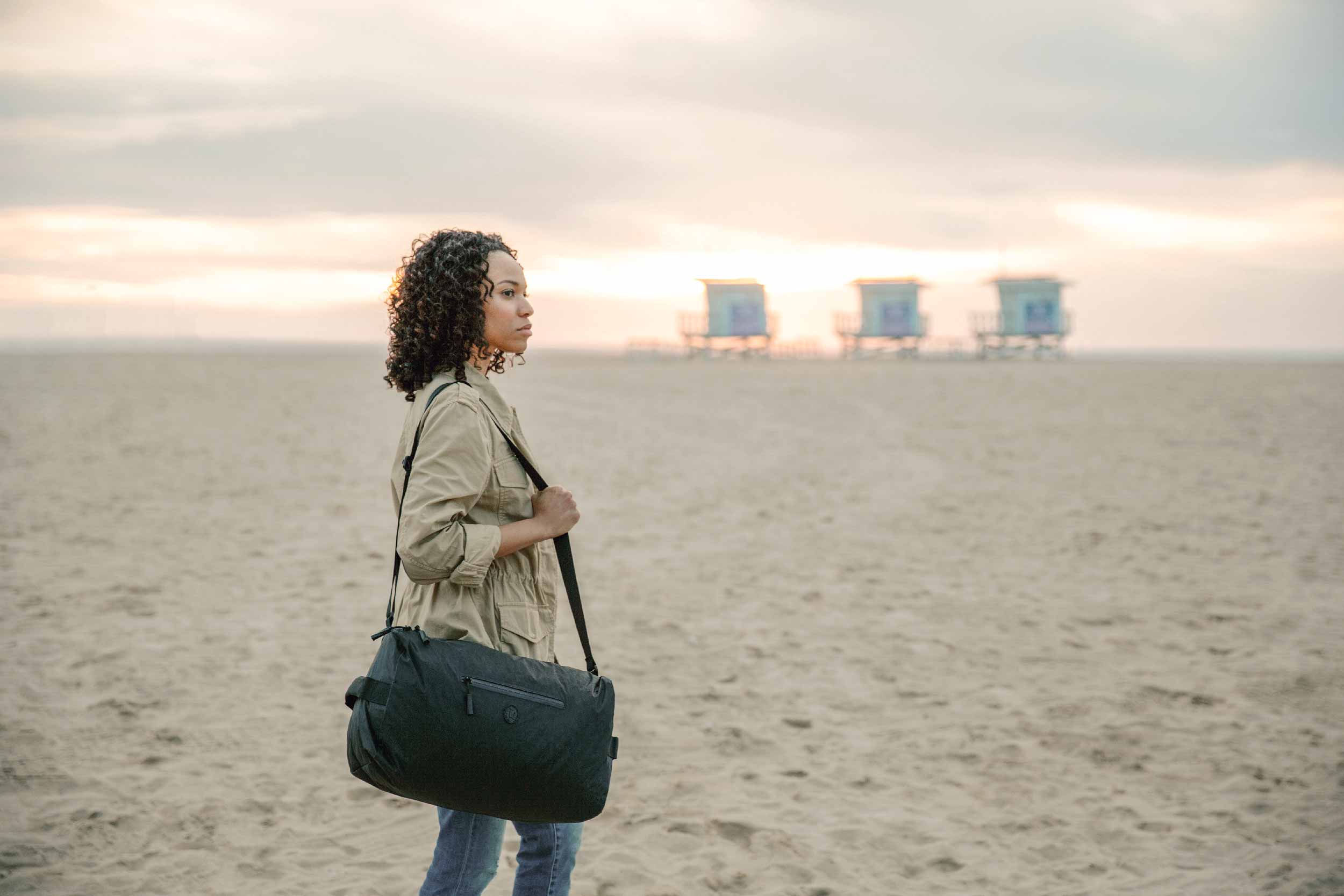 Take Advantage of Airline Personal Item Allowances
You might be able to squeeze in a bit more luggage if you are able to account for your extra personal item. When I travel carry on, I have my backpack and a tote bag holding my netbook (not laptop), magazines, purse and other little bits and pieces that won't fit in the pack. Sometimes, I use a small, packable daypack as my personal item, which can be stuffed to the brim with my netbook, DSLR camera and a number of small items, while still looking tiny and compact.
However, you will want to make sure you aren't on a super strict airline – one that actually makes you account for the weight of your personal item in addition to your carry-on. Those exist, right?
Wear It All At Check-In
If you can handle being a bit warm at check-in, wear as much of your luggage as you can. As soon as you get on the plane, you can take off some of the layers and relax. Why not put on 3 shirts, your heaviest jeans and your boots or sneakers and leave all the little things for the actual packing? While this is funny, it can save you money on baggage fees, and saving money means having more fun while traveling.
Stuff Your Pockets
Stuffing your pockets is yet another trick. I once forced myself to bring along a light jacket that looked like it was from an army surplus shop just so I could take advantage of the extra pockets. I threw in my travel alarm clock, book, reading glasses and so much more. No one really noticed that my jacket was actually acting as another carry-on since I was wearing it.
If you are able to use all of the tips above, there is no reason why you can't pack for your travels in a light, carry-on only fashion. It just takes a little bit of forethought and planning, but ladies, it is quite possible!
Want more like this?
Get weekly gear reviews, travel hacks, and packing tips sent straight to your inbox. As an added bonus, we'll send you a carry on packing list right away.