Pacsafe Venturesafe vs Tortuga Travel Backpack
The Tortuga Promise
At Tortuga, our mission is to make travel easier. Our advice and recommendations are based on years of travel experience. We only recommend products that we use on our own travels.
Not Enough Internal Organization
The Pacsafe Venturesafe has one large compartment in which to pack. The downside is the backpack's large internal compartment is exactly that: a huge, open compartment guaranteed to become disorganized. Unless you buy packing cubes to meticulously organize all of your possessions, you're destined for a jumbled mess.
Internal organization in your backpack is essential. Specifically pockets. Smaller compartments to split up that giant mesh compartment and keep items organized.

The Venturesafe is missing small pockets in its one large compartment to store items that tend to get lost in the heap, like socks and underwear. When clothes have specific homes in your bag, your stuff stays tidy—even when you're traveling for long periods of time.

The Outbreaker makes organization easy. Four small zippered mesh pockets line the edges of the roomy main compartment. On the other side, two mesh zippered pockets keep your clothing neatly folded. Your clothing has a home.

In the lie-flat laptop compartment, three more zippered mesh pockets await your charging cords, earphones, and voltage adapter. Looking for your phone charger? Or laptop charger? It's right there in that pocket. Stay organized in a wonderful world of unknown adventures.
Flimsy Padding
Pacsafe skimped on the Venturesafe's padding where it matters: On shoulder straps and hip belt. Thin padding guarantees knotted shoulders and aching neck. The weight of the pack rests on a flimsy belt and thin straps that dig into your body with every step.

Over time and more miles, these thin straps create a cluster of delicate pain triggers across your back from Venturesafe's poor ergonomics.

A proper hip belt transfers around 80% of your bag's weight from your shoulders to your hips and is padded for comfort. Feeling that weight lift off your shoulders is like magic. The Outbreaker's straps and hip belt are crafted with thicker padding than you'll find on almost any travel backpack. The suspension system is akin to a large hiking pack, but with the internal organization of a suitcase.

Lighten your load with a proper waist belt and wide padded shoulder straps.
Even after walking several miles and searching out your hotel, your neck and shoulders will thank you – instead of whining incessantly with pain.
No Weather Resistance
Pacsafe was so focused on building a theft-proof backpack (again: no backpack is truly theft-proof) that they ignored another crucial aspect of security: protection from the elements. Thieves aren't the only ones out to ruin your stuff. In fact, you're more likely to encounter a rainstorm than a thief.

The Venturesafe is made from tightly-woven polyester. That's far from ideal in the rain. No matter how tightly you weave a fabric, there will always be holes through which water can pass through. The Venturesafe leaves your stuff vulnerable, even in the slightest drizzle.

The Outbreaker's waterproof sailcloth and coated zippers allow you to step into a downpour with nary a worry about potential water damage to your stuff. The fabric was originally build for racing sails, so it's tough, durable, and most importantly: protective.
Anti-Checkpoint Friendly
If your laptop is in a separate, lie-flat compartment in your carry on (like the Outbreaker's electronics section), keep your laptop in your bag and fly through security.


Pacsafe missed that detail. In the TSA line, you'll have to pull your laptop out – one more item to track down the conveyer belt – because the Venturesafe doesn't comply with TSA rules.

The Venturesafe's has a front zippered compartment with a pocket large enough for your tablet or 15" laptop. Think about that: A laptop easily worth $1,000 is purposefully lodged in one of the most easily accessible pockets in a backpack. A backpack's front pocket should be a place to store your quart bag holding 3-1-1 liquids for a quick pull-out at TSA. Or, a place to stash the book you're reading for downtime at the gate.

A front pocket isn't the place for a laptop, wiggling around for the world to lust after.

Not to mention, it's awfully uncomfortable to have a large flat item, like a laptop, on the front of your backpack. It's more ergonomic to place it flush along your back. Perhaps in a fleece-lined pocket like the Outbreaker's, so your laptop travels in comfort out of potential damage from a soaking rainstorm, thief's sticky fingers, or banging against seats as you shimmy down the plane's narrow aisle.
Do You Appreciate Attention to Detail?
If you're a frequent traveler, you'll love the attention to small details that we lavished on the Outbreaker Backpack. We hope it'll become your favorite – and most comfortable – travel companion.
Related Articles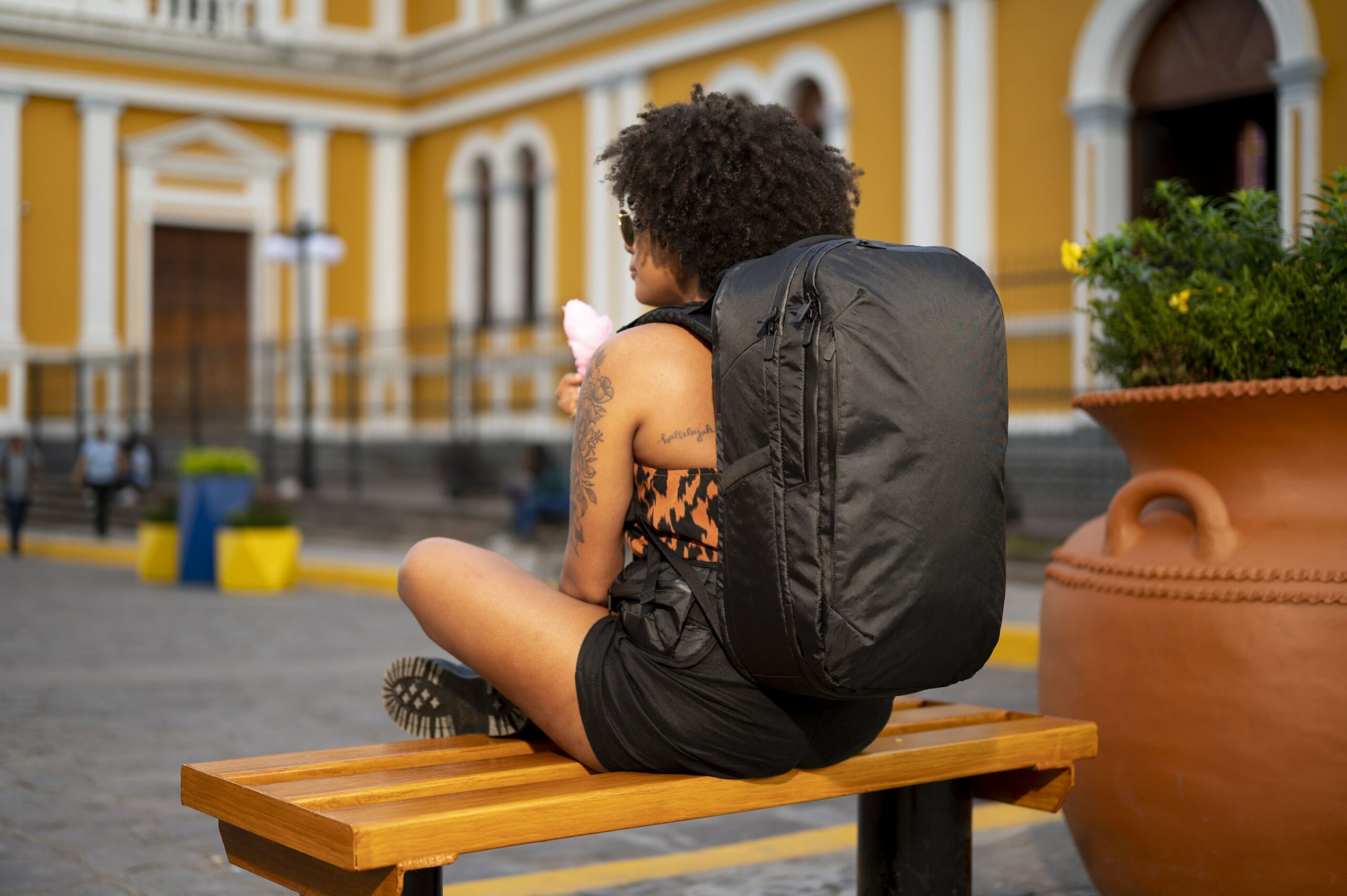 40L: Max International Carry On
Shop Now