How to Travel with Just a Personal Item
The Tortuga Promise
At Tortuga, our mission is to make travel easier. Our advice and recommendations are based on years of travel experience. We only recommend products that we use on our own travels.
If you feel like airlines nickel and dime you for every perk these days, you're not imagining it.
Budget airlines like Spirit have long kept prices low by offering a bare-bones travel experience. Delta launched its own no-frills fare option in 2012, and nowadays major carriers charge you for pretty much everything — including, on many routes, a carry on.
Don't get caught off guard: these basic economy (a.k.a. "saver" or "light") fares are temptingly cheap, but try to sneak a carry on aboard and you'll get slammed with the full cost of a checked bag. Sometimes there'll even be an added gate check fee, negating whatever great deal you scored on your ticket.
If you're a Tortuga fan, you already know that not checking a bag is the key to faster, cheaper, smoother travel. But to take full advantage of many basic economy fares, you'll need to go one step further and travel with just a personal item.
This doesn't have to be stressful. In fact, boarding a plane with nothing but a small backpack or tote bag can feel incredibly freeing. In this guide, we'll show you how to do it right.
First, let's do a quick refresher on what a personal item actually is.
Carry Ons vs. Personal Items
The difference between carry on bags and checked luggage is the size. The difference between carry ons and personal items is murkier.
In general, your carry on goes in the overhead bin while your personal item fits under the seat in front of you.
Personal Item Size Limits
While some airlines list specific dimensions for personal items, plenty don't. The average size limit for a personal item is 18 x 14 x 8 inches, but check your airline's personal item size guide before traveling.
Purses, backpacks, tote bags, and even duffel bags can all be considered personal items, as long as they can fit under your seat.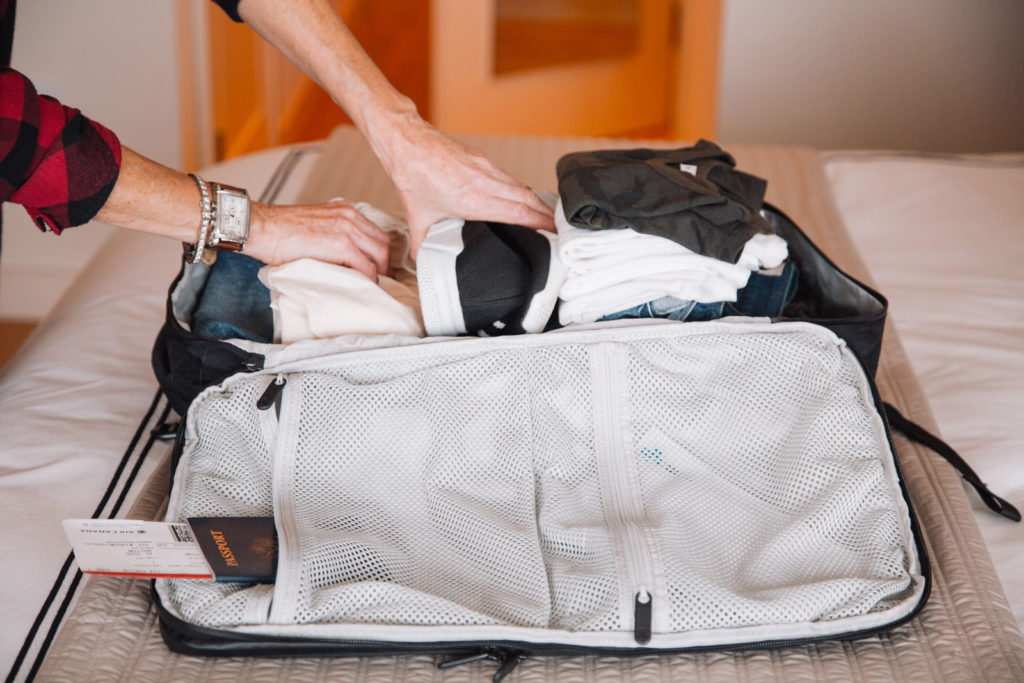 When to Travel Personal-Item-Only
There are a few situations when it makes sense to travel with just a personal item:
You've booked a basic economy ticket that doesn't include a free carry on in your fare.
You'll be bouncing around on your trip and relying on public transportation. You'll be grateful not to have to deal with larger luggage on packed buses, trains, and ferries.
Your trip is very short and you don't want to deal with the hassle of a larger piece of luggage.
You're traveling with a pet in the cabin (pet carriers typically count as your carry on).
Which Airlines Charge for Carry Ons?
The ever-growing list of domestic airlines that don't allow carry-on bags in their lowest tier fares include Spirit, Allegiant, Frontier, United (on select routes), JetBlue, Breeze, and Sun Country.
Popular international carriers that exclude carry ons in basic fares include RyanAir, easyJet, Norwegian, Avianca, and Wizz Air.
What's Allowed in a Personal Item Bag?
Anything that's allowed in a carry on bag is allowed in a personal item. Keep all liquids under 3.4 ounces and put them in a clear, quart-sized bag.
Things like coats, umbrellas, reading materials, diaper bags, and goods bought in the airport don't count towards your personal item.
Tortuga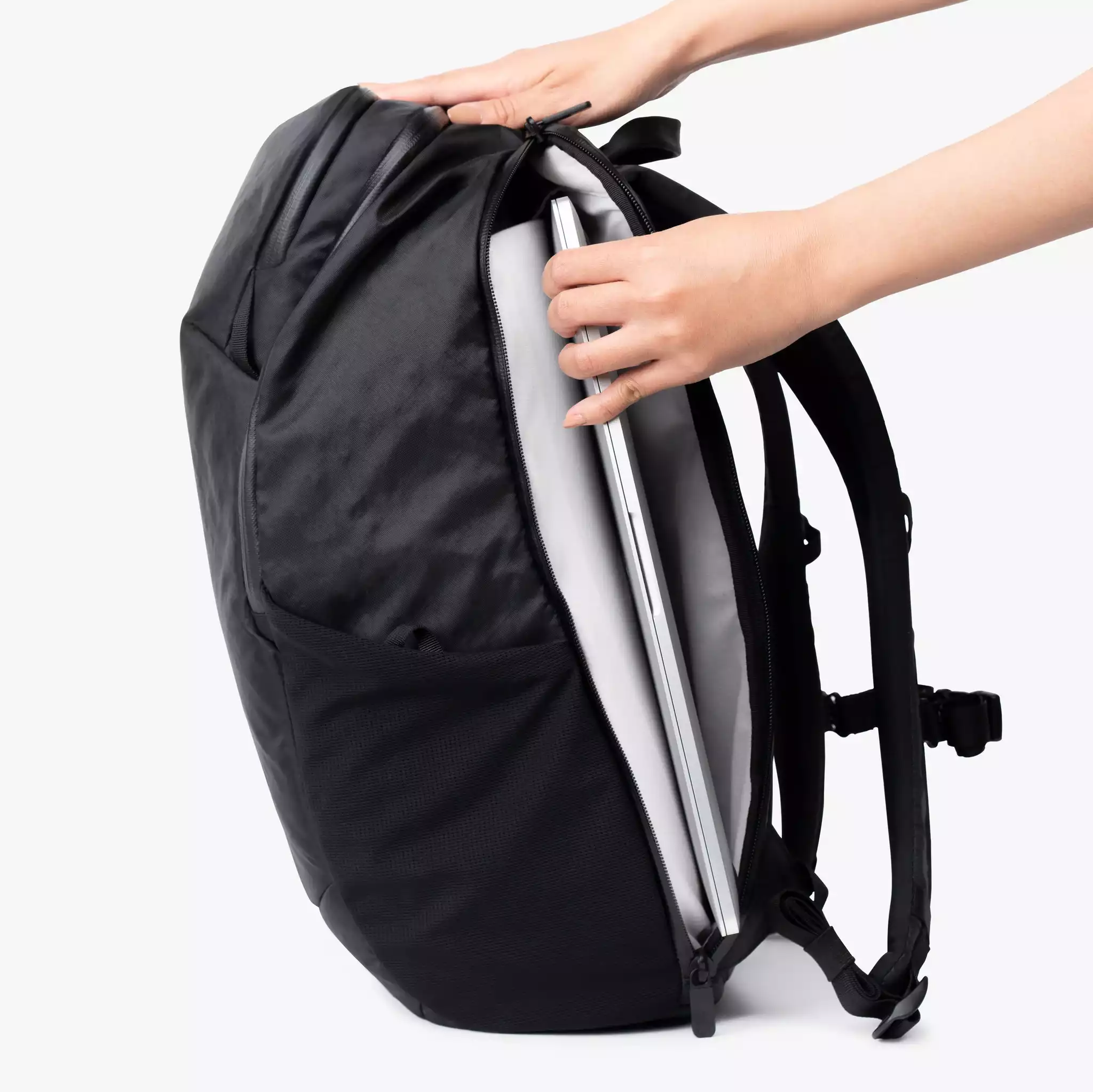 The Best Personal Item Bag
Tortuga's Laptop Backpack is everything you need in a personal item bag.
The Laptop Backpack will fit under your seat, and its full front opening makes it much easier to pack (and unpack) than a standard backpack or hiking bag. The padded laptop compartment will also protect your computer on professional trips or while commuting back home.
Finally, and importantly, the Laptop Backpack is extremely sleek. This isn't (just) about staying stylish while traveling: the more a personal item calls attention to itself, the higher risk that an overzealous gate attendant will find a reason to make you check it.
How to Travel with Just a Personal Item
Know your itinerary and skip "just in case" items. It's easier to pack if you know what you'll be doing every day on your trip, so get a solid sense of your itinerary before you leave.
Be picky. Bring only what you know you'll need, not items that might be nice to have.
Pack travel-friendly fabrics. You need clothes that you can wear multiple times and that will look presentable after being squished into your bag. That means odor-repelling, quick-drying, wrinkle-resistant fabrics.
Merino wool is your best bet here. Unlike cotton, it dries fast, regulates body temperature, and wicks away sweat.
Stick to a dark, matching color palette. Dark colors hide unexpected stains, while a neutral color palette lets you mix and match items. Limit yourself to two tops and one to two bottoms that you can rotate (your third outfit will be whatever you wear on the plane).
Wear your bulkiest items on the plane. This is especially important for cold weather travel. Layer up where possible. Tie sweaters or sweatshirts around your waist and wrap your scarf around your shoulders.
Remember, you can toss heavy outerwear in the overhead bin after you board.
Clip shoes to the outside of your bag. Ideally, the only shoes you bring will be whatever you wear on the plane.
If you must bring a second pair, use a carabiner to clip them to the outside of your pack. This will also prevent your shoes from getting the other stuff in your bag dirty.
Take advantage of pockets. Don't waste precious bag space on items that you can easily fit in your coat or pant pockets.
Leave the laptop behind. This is obviously not possible on business trips or working vacations. Otherwise, stick with a tablet or e-reader. Do you really want to spend your trip in front of a computer screen anyway?
Keep toiletries simple. Most accommodations provide basics like shampoo and conditioner, and you can always buy items at your destination. A toothbrush, toothpaste, and travel-sized deodorant are all you need.
Your skin will survive if you skip your 10-step routine for a few days. Embrace the low-maintenance lifestyle and focus on enjoying your trip rather than looking camera ready.
Don't bring things your accommodation provides. This includes towels, hair dryers, and irons. If you're unsure what will be available to you, call your hotel or rental and ask before packing.
Share packing duties with travel companions. If you're traveling with friends or a partner, split packing duties for items you can't live without. One of you brings the sunscreen, another the portable charger, etc.
Bring an extra lightweight, collapsible bag. You don't want to be stuck carrying your main bag on day trips. Instead, toss a collapsible tote (like this excellent option from Baggu) into your luggage and pull it out for trips to the beach, grocery store, and so on.
Plan to do laundry. For trips lasting more than a few days or involving lots of messy, outdoor activities, accept that you'll eventually have to wash your clothes.
Hotels and hostels usually offer laundry services. For vacation rentals, check if there's washer and dryer onsite or ask your host to direct you towards a good laundromat.
Knowing the laundry situation ahead of time will help you get your clothes clean with the least hassle.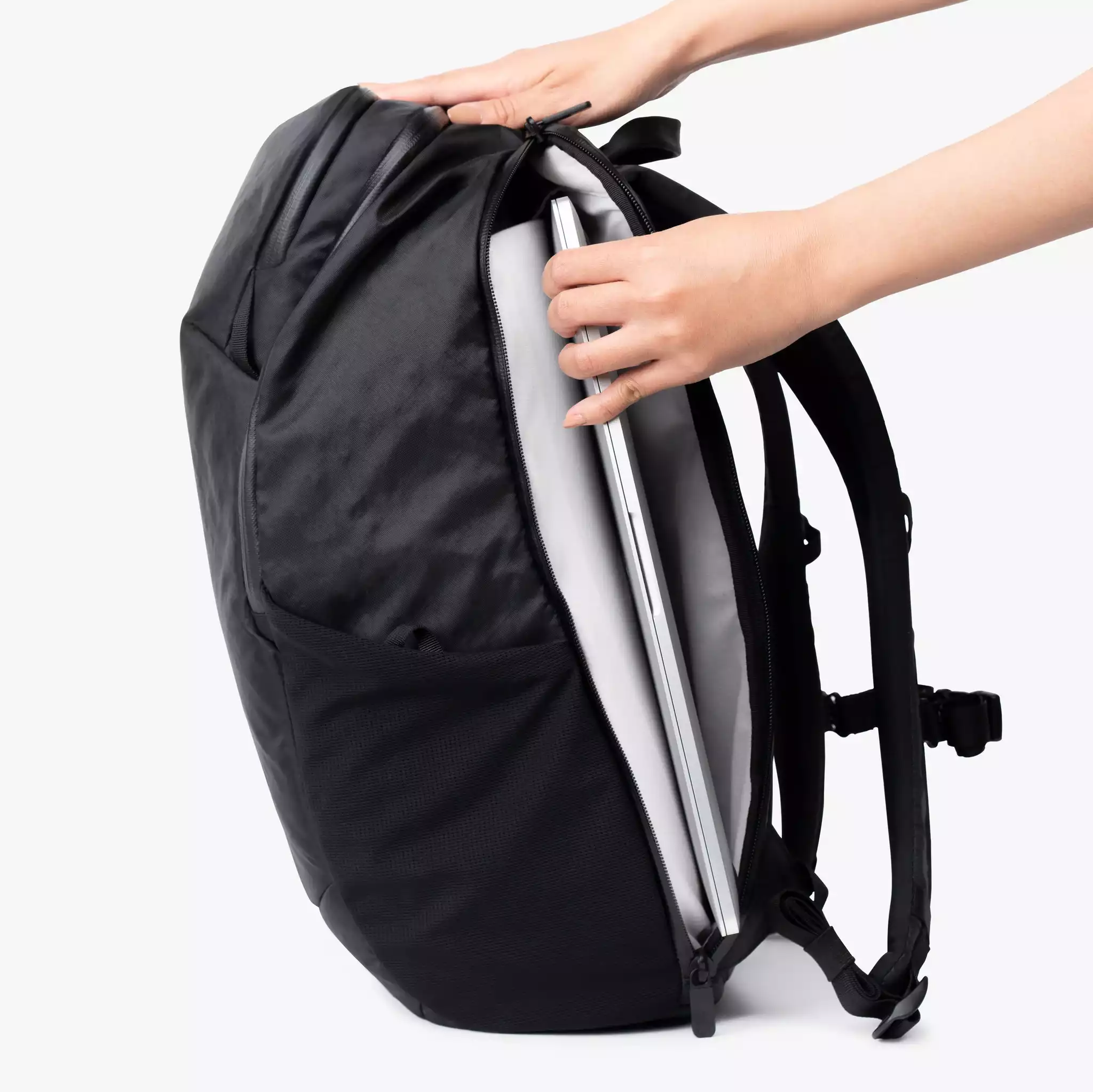 Conclusion
Traveling with just a personal item isn't the impossible dream, so long as you follow the rules of packing light. Bring clothes you can wear multiple times, lighten up on the toiletries, and wear your bulkiest items on the plane. That way, you can take advantage of fantastic basic economy fares without the ridiculous bag fees.
Related Articles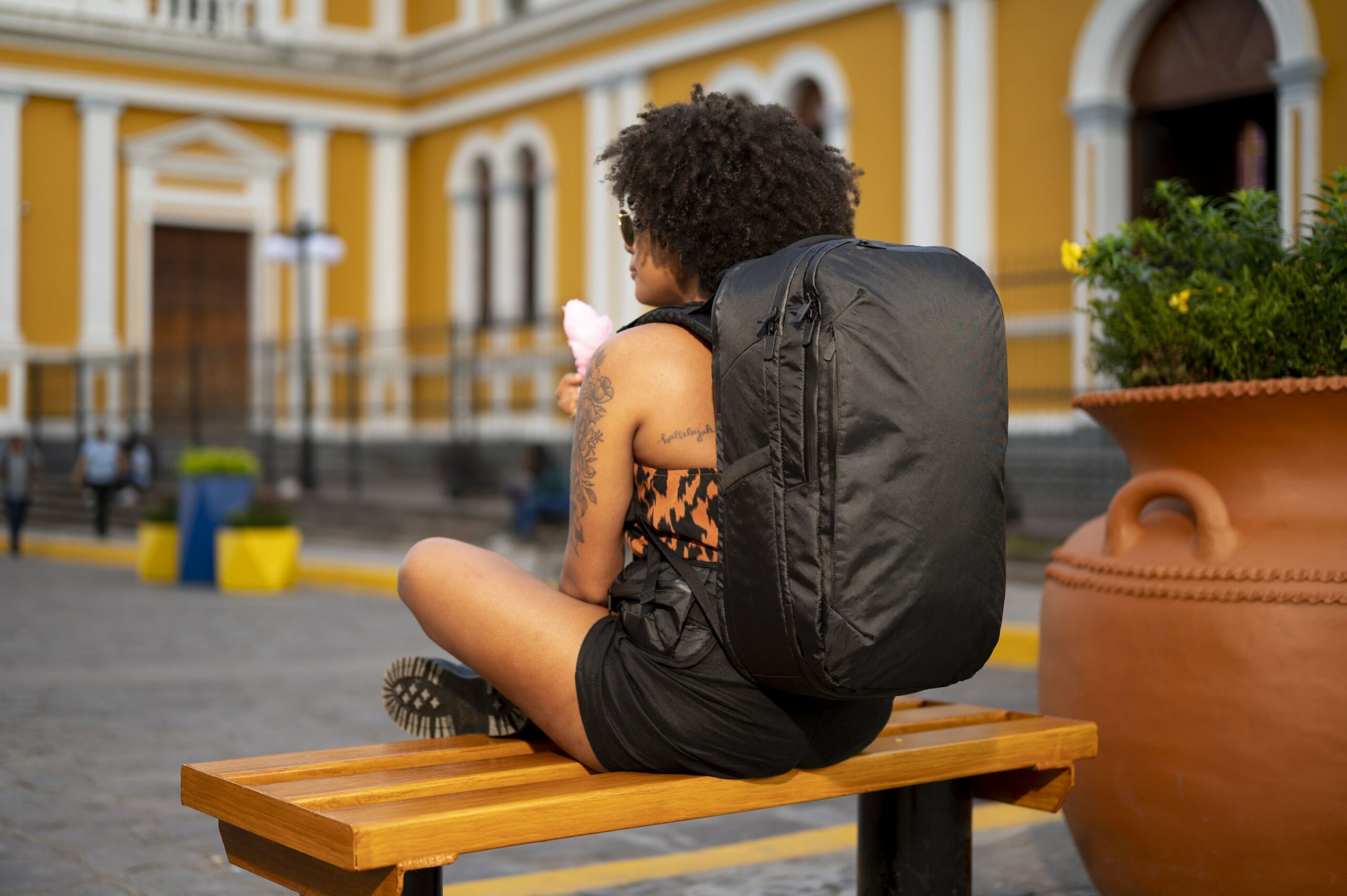 40L: Max International Carry On
Shop Now