Backpacker, business traveler, leisure holiday planner, and everyone in between – we're all carrying belongings on the road. If you're traveling by plane, there are rules, regulations, and restrictions involved in what airline passengers can bring and be advised: specifications differ between companies. Accessing this information can be tricky and, to compound difficulites, the rules change. 
With the addition of bare bones fares, even major airlines are introducing draconian measures surrounding personal item dimensions in an attempt to squeeze an extra buck from passengers with a bag just a little bit too big. If you're looking to maximize your flight experience, minimize your luggage, and find the perfect personal item that will fly on most airlines, keep reading.
Major factors in choosing the perfect personal item include:
      Size: 

Keep it small

      Airline requirements: 

Choose a bag that fits the airlines you fly most

      Ease of carry: 

Make sure it doesn't kill your back and fits under your seat
What is a Personal Item, Anyway?
In short, a personal item is a bag that that is smaller than your carry on, holds those items that can't be out of your reach on the plane, and will fit under the seat in front of you. Your carry on is the bigger bag you put in the overhead bin; the Outbreaker 45  and Setout Backpack are maximum sized carry on bags.
For personal items, we're talking backpacks, handbags, slim laptop bags, a packable duffle, or something of that size. For those traveling with little ones, diaper bags can be brought as an extra piece, in addition to a personal item, in most cases. 
What's the basic rule when it comes to personal items?
A personal item MUST fit under the seat in front of you. Traditionally – the specs given are 10x10x16 inches but that varies from airline to airline and aircraft to aircraft. Extra stuff like walkers, umbrellas, diaper bags, jackets, crutches, and strollers are typically allowed as well.
How to Pick a Personal Item
When choosing a personal item, think practicality, ease, and access. You're looking for a bag that's easy to carry, can be accessed quickly, and that has space for whatever you might need. Keep in mind that on airplanes, it's going to sit under the seat in front of you. On busses it might fit next to you or under your feet.
Airlines describe a personal item as a handbag, slim laptop bag, camera bag, briefcase, or backpack. Bigger than that is a no go – choose accordingly.
I'm 4'11 – my feet don't even reach the floor. The best type of personal item for me is one that fits under the seat but also raises the floor to meet my feet so my legs aren't dangling for the entire flight. The Outbreaker 35 backpack is perfect for this, and while it fits the personal item size requirements of some airlines, it's a little too big on others.  My husband, on the other hand, is a foot taller than me. He'd rather have one bag (counting as the personal item and/or carry on) – pop it up in the overhead compartment (or if necessary put it at his feet) and put his book, passport, phone and headphones in a pants pocket.
When purchasing a personal item ask yourself:
Can I fit everything I'd like inside?
If you buy a bottle of water or a packet of snacks at the airport – will it fit?
Does the shape work to hold multiple items?
Those open design items (think a daypack with only one opening not compartments) can carry less, or more, depending on the journey. A flexible shape works better than a rigid shell just in case you need to shove it under that seat.
Is it water resistant and will it stain?
If you can easily wash off that soda spill when that unexpected turbulence kicks in, that's a bonus.
How does it close?
Open top bags might seem like a great idea – but a zipper closure is far stronger security for avoiding theft and containing loose items.
Will it fit under the seat in front of you?
If not, it's the wrong bag.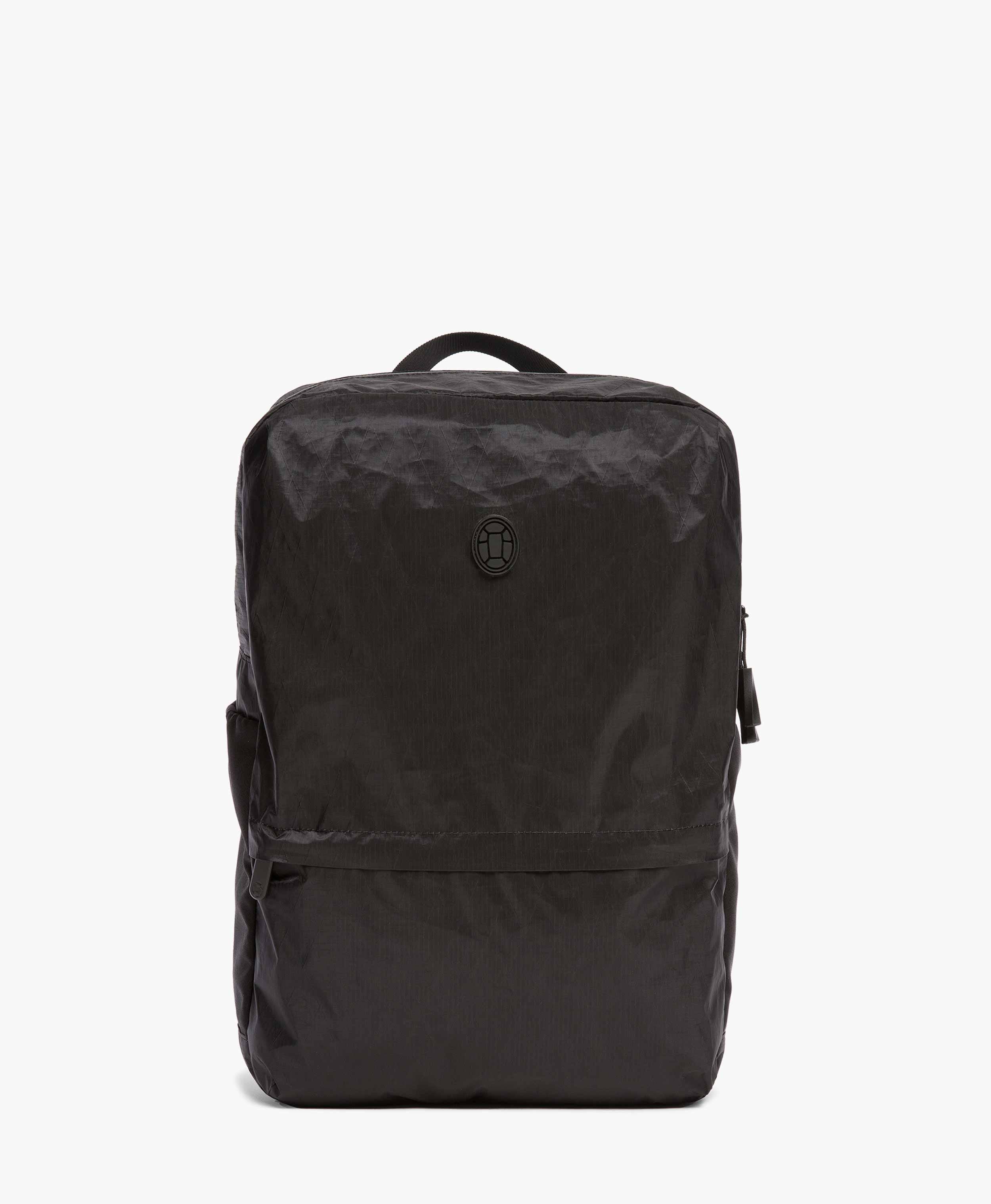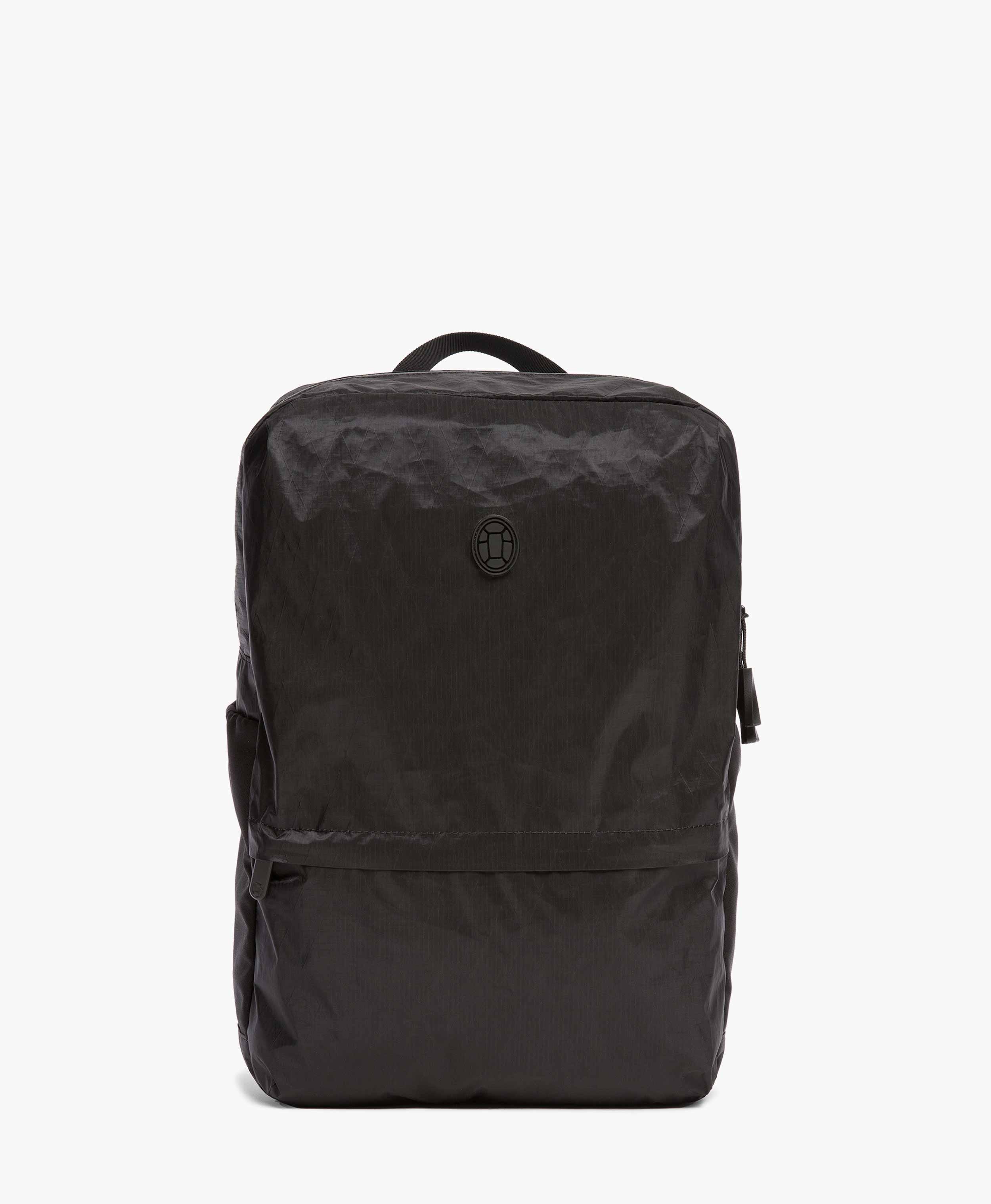 Specs:
17 x 11 x 6.5″
21 L
1.1 lbs
Laptop: Up to 15"
Tablet: Up to 10"
Features:
Weather resistant
Pack-flat design
Ariaprene padding
15" laptop sleeve
Tablet sleeve
Front organization pocket
Key clip
Made of waterproof sailcloth, this bag will protect what's inside during a rain shower or a splash at the beach.
It's small enough and light enough to make the perfect personal itme, or lay flat in the top of your carry on.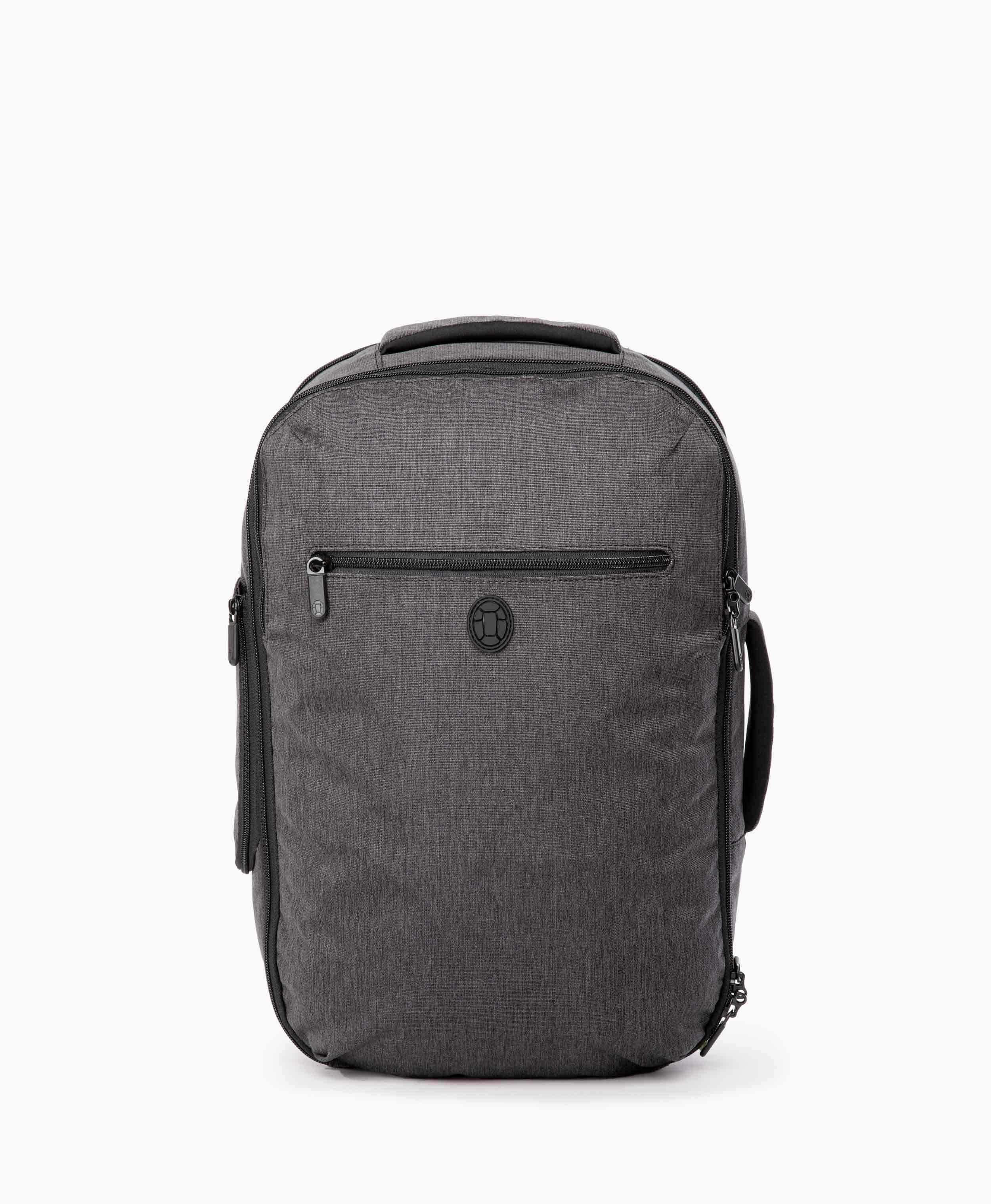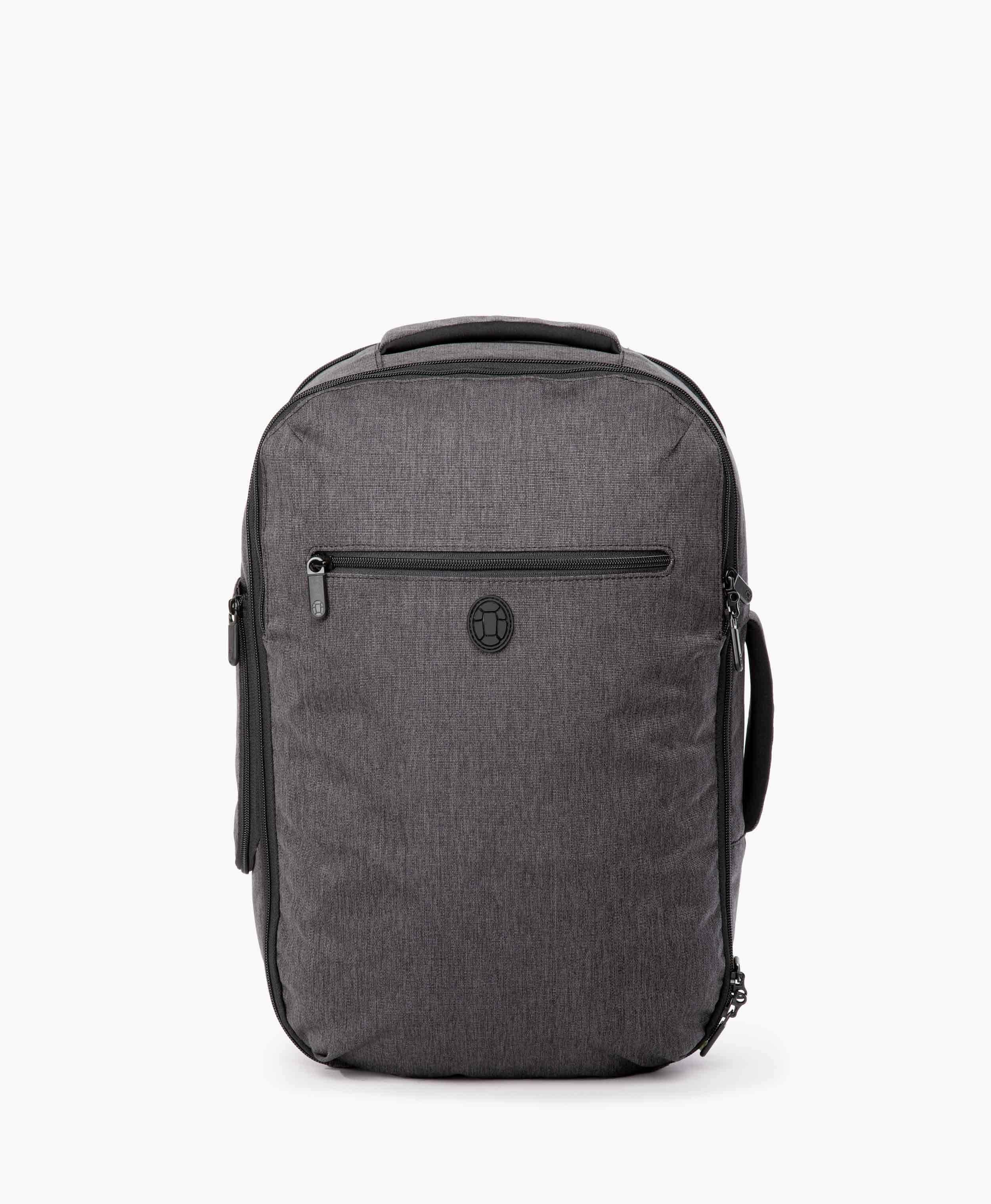 Specs:
18.5" x 12" x 6.75"
25L
2.8 lbs
Laptop: up to 15"
Tablet: up to 9.7"
Features:
Clothing compartment
Luggage handle pass through
Hideaway shoulder straps
Laptop and tablet sleeves
Weather resistant
Organization panel
Mesh pockets for chargers
Lockable zippers
Top and side grab handles
Removable sternum strap
Zip-flat water bottle pocket
The luggage handle pass through makes this the perfect bag for traveling with a carry on roller bag.
Specs:
17.5" x 11.5" x 5? (daypack)
7″ x 5″ x 2.5″ (pouch)
19L
8.5 oz (0.53 lbs)
Features:
Packable
Zippered front compartment
Water bottle pockets
Removable sternum strap
Fits under the seat of an airplane
This handy little bag folds away into its own little pocket, so it takes up almot no room in your carry on.
It doesn't have a computer sleeve, so it's perfect for a day of disconnected sightseeing.
What to Pack in a Personal Item
Obviously, the less stuff you have to carry with you on your travels, the better in terms of your carry experience. Where your personal item is concerned, think of those things you remind yourself of each day as you leave the house – you know, that 'phone, wallet, keys' thing? That's what goes in your personal item.
For me, that's my wallet, Epi-pen, inhaler, passport, phone, unscented hand lotion, chapstick, mint, gum, and peppermint oil. I put all of these into a small bag or packing cube that fits in a larger bag (like those of the Setout collection). Then I add anything else I might 'need' (cables, camera and batteries, liquids bag, laptop, chargers, book, snacks, medications, headphones) and any other little things I may want to the bag. Since that 'larger bag' fits under my seat it's now considered my personal item.
Airline Requirements for Personal Items
Each airline has its own rules and restrictions for cabin luggage. If your bag(s) fit in their 'bag checker stand' or are underweight and size, you're good to go. If you go over the size of that 'bag checker stand' you may have to gate check free of charge or, depending on the airline, there could be a fee. Many airlines use linear inches to delineate their dimensions. Linear inches is the term for the measurement of the total dimensions of your bag (length, plus width, plus height). 
The greatest obstacle in air travel is change. Your gate can change at the last minute, the drink you decided you were going to order is no longer available, you might have to completely unpack your electronics, or somehow the numbers on your home luggage scale may differ from those on the airport ones. The rules, and the restrictions are always changing. As new planes come onto the market and older models are taken off line, airlines alter their specifications and restrictions for all sorts of luggage allowances, including personal items. Be sure to check with your carrier before packing your bags.
Personal Item Sizes for Common Airlines
To save you time, here are the basic personal item allowances and exceptions for most of the major airlines flying in and around the USA, at the time of writing:
Spirit Airlines
Allowance: 1 personal item fitting under the seat
Personal Item Dimensions: 18.14.8 inches
British Airways
Allowance: 1 cabin bag + 1 handbag/laptop bag that fit under seat
Personal Item Dimensions: 16.12.6 inches
Frontier
Allowance: 1 personal item fitting under the seat
Personal Item Dimensions: 18.8.14 inches 
Virgin Atlantic
Allowance: 1 carry on + 1 personal item (no specific dimensions)
Total Dimensions: 24.10.16 inches will fit in overhead or under seat
Jet Blue
Allowance: 1 carry on + 1 personal item
Total Dimensions:  Overhead bin: 22.14.9 inches
Under seat: 17.13.11 inches
Additional Items: Duty free (in reasonable/limited amounts), 1 diaper bag (if traveling with lap infant), coats, umbrellas, wheelchairs, canes, walkers, child car seats
United
Allowance: 1 carry on + 1 personal item
Total Dimensions: Carry on max is 22.9.14 inches
Personal item 17.10.9 inches
Basic Economy Fare: Personal item only
Additional items: Assistive devices, diaper bag, jackets, child car seat
Southwest Airlines
Allowance: 1 carry on + 1 personal item (not specified size)
Total Dimensions: Overhead bin size is max 24.16.10 inches
Pet carriers as personal item at discretion of attendants
Allegiant Air
Allowance: 1 carry on + 1 personal item
Personal Item Dimensions: 7.15.16 inches
Delta Airlines
Allowance: 1 cabin bag + 1 personal item *personal item must fit under seat
Total Dimensions: 22.14.9 (must not exceed 45 linear inches)
Items must fit in baggage checker, which measures: 22.14.9 inches
 Additional Items: Crutches, wheelchairs, child car seats, strollers, duty-free purchases, food/drink, jackets, umbrellas
Delta Connection flights with 50 or less seats can ONLY bring a personal item that will fit under their seat on board & carry on items will be gate checked free
American Airlines
Allowance: 1 carry on + 1 personal item (handbag, laptop bag, briefcase or item of similar size)
Total Dimensions: Carry on 14.9.22 inches total/personal item 14.8.18/fit by feet
Personal item MUST be tinier than your carry on and fit by your feet
Basic Economy ticket: Personal item only: 18.14.8 inches
Additional Items:  Assistive devices, jackets, child car seat, stroller, diaper bag if traveling with child, a reasonable amount of duty free items, pillow/blanket, food
TL; DR
The airline industry changes so often that it's hard to keep up. The best advice is to check with your carrier for up to date information and plan to pack light.
Keep in mind that if you have flights with multiple carriers you'll need to check with each airline as smaller connecting flights, or those on partner airlines, might have different cabin baggage allowances than your primary carrier.
     

Do your research

     

Choose the items in your personal item wisely

     

Keep it smaller than your carry on (or just travel with one bag if you can)

     

Be sure it fits under your feet

     

Fly happy
Want more like this?
Get weekly gear reviews, travel hacks, and packing tips sent straight to your inbox. As an added bonus, we'll send you a carry on packing list right away.