RedOxx Sky Train vs Tortuga Travel Backpack
The Tortuga Promise
At Tortuga, our mission is to make travel easier. Our advice and recommendations are based on years of travel experience. We only recommend products that we use on our own travels.
Multitasking Spells Disaster
RedOxx's Sky Train tries to be too many things at once.

On their site, they call it the "quintessential dual-purpose bag." But this bag simply has too many things going on to have much of a purpose.

For example, this backpack can't decide how it should be carried. Their website says Sky Train can be carried in five different ways:
Carry like a suitcase using the Euro handle on the side.
Vertically using the Euro handle on the top of the bag.
Over your shoulder like a messenger bag using the Claw Shoulder Strap.
Cross body, carried like a messenger bag, again using the Claw Shoulder Strap.
Or pull out the retractable backpack straps from the smugglers pocket and travel in hands-free comfort.
Whew, are you confused yet on which way to carry it? Tortuga works hard to make sure a bag is as comfortable as possible to carry in only one way. We suspect RedOxx hasn't mastered five positions.


When we designed the Outbreaker, we had to choose between being really good at one thing, or being mediocre at a few things. We chose the former. At Tortuga, we always try to do one thing at a time and do it really well.
Not Enough Space
Sky Train leaves priceless carry on space unused. This backpack is smaller than airlines' standard carry on size of 22x14x9". Meaning when you use this bag, you're forced to pack lighter than you want to.

If you travel with a backpack that maximizes all available space the stingy airlines give, you could bring an extra set of underwear, pants, or comfy shoes to give your piggies a break.


Outbreaker maximizes your allotted carry on space. Both the Tortuga Outbreaker 34 and 45L are carry on friendly sizes.

Heck, you're paying for that space, you might as well use it.
Not Durable
When you first buy it, Sky Train's nylon fabric with a weatherproof coating is water-resistant. But that water-resistance quickly wears off with repeated use and under the tough situations commonly found on the road.

The last thing you want is your backpack's water-resistance to flake off when you're on the other side of the world.

We wanted Outbreaker to be as tough as you. That's why we chose waterproof sailcloth.
It has four layers instead of nylon's single layer. It's engineered to stand up to the worst storms on the sea and emerge looking beautiful against a setting sun.

The Outbreaker will do just that. Only in backpack form.
Poor Ergonomics
RedOxx doesn't believe you deserve comfort on the road. Here's what we mean, in a direct quote from their website:
"The bag was not designed to operate with a waist strap. However, you can use a pair of Luggage Compression Straps to cinch down the bag from the outside."
RedOxx goes on to explain how to cinch down these compression straps to "relieve some weight off the hips."

The skimmer's version: Sky Train is a bag you have to modify yourself to make it functional.

RedOxx should have designed their bag with a hip belt. It's an essential component of a travel backpack.



Your backpack can easily reach 25-35 pounds. Without a hip belt, all that weight rests directly on your vulnerable shoulders, instead of redistributing it to your powerful leg muscles.

The Outbreaker includes a heavily padded, weight-bearing hip belt. By using the hip belt, shoulder straps, and chest strap, you keep the backpack stabilized and feeling light. Tighten the hip belt correctly and feel your pack's weight lifting off your shoulder.
Not Checkpoint Friendly
Sky Train doesn't have a dedicated laptop sleeve. Instead, "you can use the back compartment. We recommend that you use a padded neoprene sleeve to secure your laptop."

Meaning at every security checkpoint, you'll have to pull out your laptop out of the backpack and remember to grab it — along with your shoes, quart bag, jacket, pocket lint — on the other side of security.

Or you could get a backpack that's checkpoint-friendly and designed for modern travel.


And with an Outbreaker, a backpack designed for 21st century tech, you'll breeze right through security with your valuable laptop still encased in its bed of fleece… in your backpack. You're that cool.
Zero Organization
Unzip Sky Train's main compartment to find two gaping internal compartments and one itty-bitty internal zippered pocket. There's not even a compression strap to wrangle this chaos.

An open space for your clothing, gadgets, and electronics in your travel bag is a nightmare come true. You'll never find what you're looking for in the inevitable jumbled mess. And your afternoon is wasted in reorganizing your bag when you were just looking for one little thing.

When you unpack the Outbreaker, your wardrobe is exactly how you left it.


Four, small zippered pockets line the inner edges of the Outbreaker's inner compartment. When you have a place to store the small things, like your socks, underwear, and tees, your bag is an organizer's dream come true.

Bonus: you get to actually see the destination you've traveled so far to see, rather than wasting gorgeous afternoons.

Unzip Outbreaker's main compartment to see two mesh zippered pockets lining the flap. Perfect for clothing that needs to stay put like collared shirts, slippery workout wear, jersey dresses, or dressy shirts for a night out on the town.
Adventure On Your Terms
See what travel feels like with a backpack that's designed with functionality and your comfort at the forefront. Check out the Tortuga Outbreaker as your next adventure companion.
Related Articles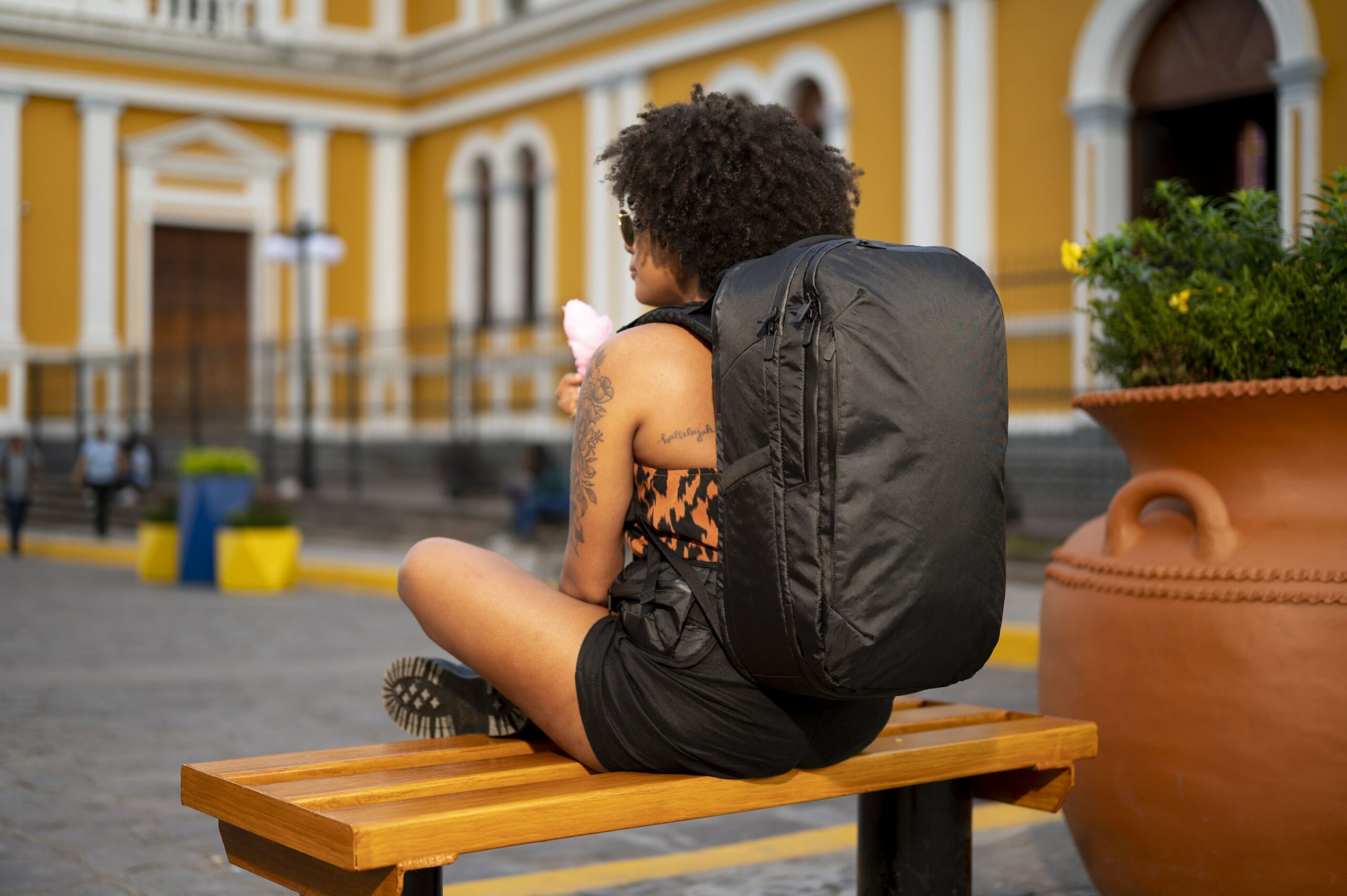 40L: Max International Carry On
Shop Now