The coronavirus pandemic has made 2020 the year of the road trip. Few countries are accepting American travelers so our only option is to travel domestically.
Air travel is safer than you might assume, but most people—understandably—feel safer in their own vehicles right now. So Americans are taking to the roads. The American Automobile Association forecasts that road trips will account for 97% of all summer travel in 2020. Car travel volume is expected to decrease 3% this year versus last year, but air travel is expected to decrease 74%.
We surveyed 438 past customers to learn how you're traveling this year. While our customers usually prefer international air travel, over a third will be taking four or more road trips this year. More than 35% of you will travel for at least a week per trip.
The typical responses differ from our usual trips but make sense this year.
Traveling by car
To nature or national or state parks and
Staying in an Airbnb (or another home rental)
That's exactly what I've been doing. In the last few months, I've road tripped from the Bay Area to spend a long weekend at Lake Tahoe and then spent two weeks on the road in Northern California from Mount Shasta, through Humboldt County, and down the Mendocino Coast.
Whether you love driving or are only road tripping because of limited flight options, we can make packing for your road trip easier.
You have an entire trunk—not just a shared overhead bin—to pack but should consider packing light on your trip, anyway. Why? Less physical baggage means less mental baggage. You'll have fewer things to remember, to pack and unpack, and to care for on your trip. You'll have the basics in your car, everything you need at your Airbnb, and access to buy whatever you might have forgotten. If you're spending the trip in the car or in nature, you don't need much anyway. You'll only need a few outfits to rough it in. If you're lucky, your Airbnb will have a washer and dryer so that you can do laundry mid-trip if you'll be traveling for two weeks or more.
I hope you're convinced that less is more. Now let's get packing.
Road Trip Packing List: Vehicle Essentials
If you don't road trip often, your vehicle might not be ready. The following list is useful for any car owner but is necessary on a long road trip.
Driver's license
Vehicle registration
Vehicle owner's manual
Copy of your insurance
Spare tire
Roadside emergency kit
I recommend two more items for your emergency kit.
Head lamp: A hands-free flashlight that's also useful for camping.
Roll of toilet paper: The toilet paper isn't for your car, but you'll be grateful if it's in your car when you need it.
Road Trip Checklist: Bag, Clothes, and Toiletries
Packing for a road trip is highly dependent on the season and what you'll be doing. My road trips were during the summer and mostly consisted of hiking, swimming, and paddleboarding. My bag was full of shorts, swimsuits, and t-shirts.
If you're traveling during the winter, you'll need more, heavier layers.
To accommodate the range of potential packing lists, let's start with a few basics. Even though you aren't flying, pack in a carry-on-sized backpack so that you can pack light and stay organized. Over 65% of our survey respondents pack in a backpack, not a duffle bag, even when they're on a long road trip.
Duffles are convenient to carry but lack the necessary organization for an extended trip. There's a reason duffles are sometimes called "weekenders."
Road Trip Backpack
The ideal road trip backpack is roughly carry-on-sized, organized, comfortable (in case you need to wear it), and durable enough to handle being tossed around.
Here are two carry-on-sized options plus two daypacks for daily adventures.
For Maximizing Packing Space
The Outbreaker Backpack will maximize your packing space and keep everything organized in its place from socks to electronics. If you're braving the elements, the waterproof sailcloth exterior will keep your stuff dry.
For Packing Light (Plus a Tablet)
If you're packing light but also want your tablet or laptop, the Outbreaker Daypack can handle your electronics despite only weighing a pound.
For Separating Clean and Dirty
The Setout Divide Backpack will help you keep your clean clothes separate from your dirty clothes. I find this essential for remembering what's clean and what's dirty when I have a bag full of nearly identical grey t-shirts.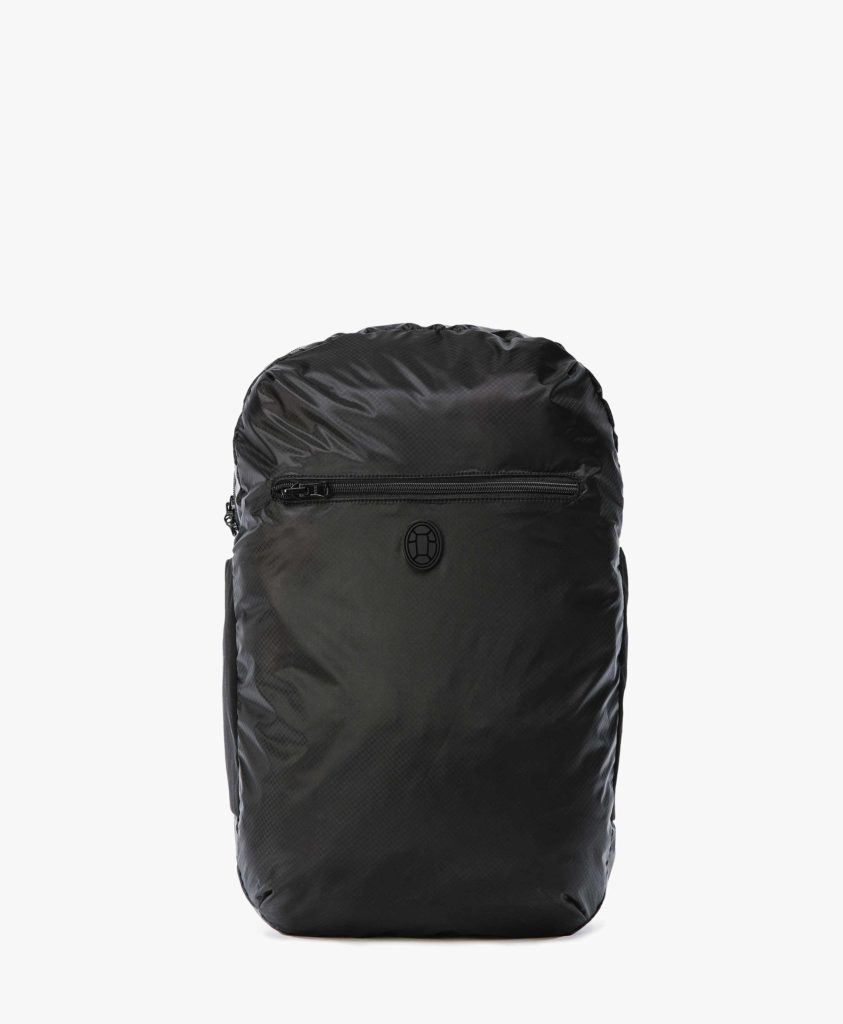 Daypacks are essential for bringing a few basic items without carrying your full-sized bag. Whether your hiking or exploring a city, the ultralight Setout Daypack can carry whatever you need. You can also use it as a overnight bag to bring what you need into your hotel or Airbnb while leaving everything else in your car.
Clothes
Once you've chosen to pack light, you can base your road trip checklist on a carry on packing list then adapt it for your specific trip and activities.
A travel packing list will cover the basics of a capsule-like wardrobe for your trip with the versatility to go from swimming in waterfalls to eating outdoors at a restaurant.
If you're packing a second bag, you'll have more rooms for clothes and gear. I packed in a carry on but also threw my water shoes and hiking shoes in the trunk.
The biggest differences between packing for a road trip versus a plane trip are bringing more clothes and bringing full-sized toiletries.
Toiletries
Not having to find or downsize to 3.4 ounces or less is great. I keep extra, travel-sized toiletries in my bag at all times, so I was ready to go. Most people will appreciate the convenience of packing the normal, full-sized toiletries from their bathroom without having to buy extras or settle for brands they don't like that just happen to come in a travel-sized bottle.
Two Nice to Haves
You have the extra space. What might you bring that you'll get maximum value out of? What might you use every day?
Cooler: Use your cooler to keep your lunch, snacks, and drinks cold during a day of adventure. I also use my cooler bag for carrying groceries from home or between stops. I use a free cooler bag that I got from Uniqlo, but Yeti makes the best coolers.
Plastic Bins: Many of our customers use plastic bins as trunk organizers that they can lift up and carry into their Airbnb. Smart. Costco and Amazon both have good, low-cost options. An organizer for your trunk or front seat can also be useful.
Depends on the Trip
If you'll be car camping, you'll need your tent, mattress pad, sleeping bags, headlamp (see above), gear for activities, and a knife.
Dog owners will want to bring along a collapsible bowl or two, extra food and water, and activity-specific gear for your dog.
The list is endless. Rather than try to cover every scenario, we'll leave the rest to you.
Most importantly, pack in a small bag, pack only what you absolutely need, not what you might need. Except for your emergency kit and spare tire. Those "just in case" items are essentials on a road trip.
Get a Free Carry on Packing List
Join our email list for more packing tips and gear guides.
When you sign up, we'll send you a free carry on packing list to get started.