Scotland Packing List: A Guide for Every Season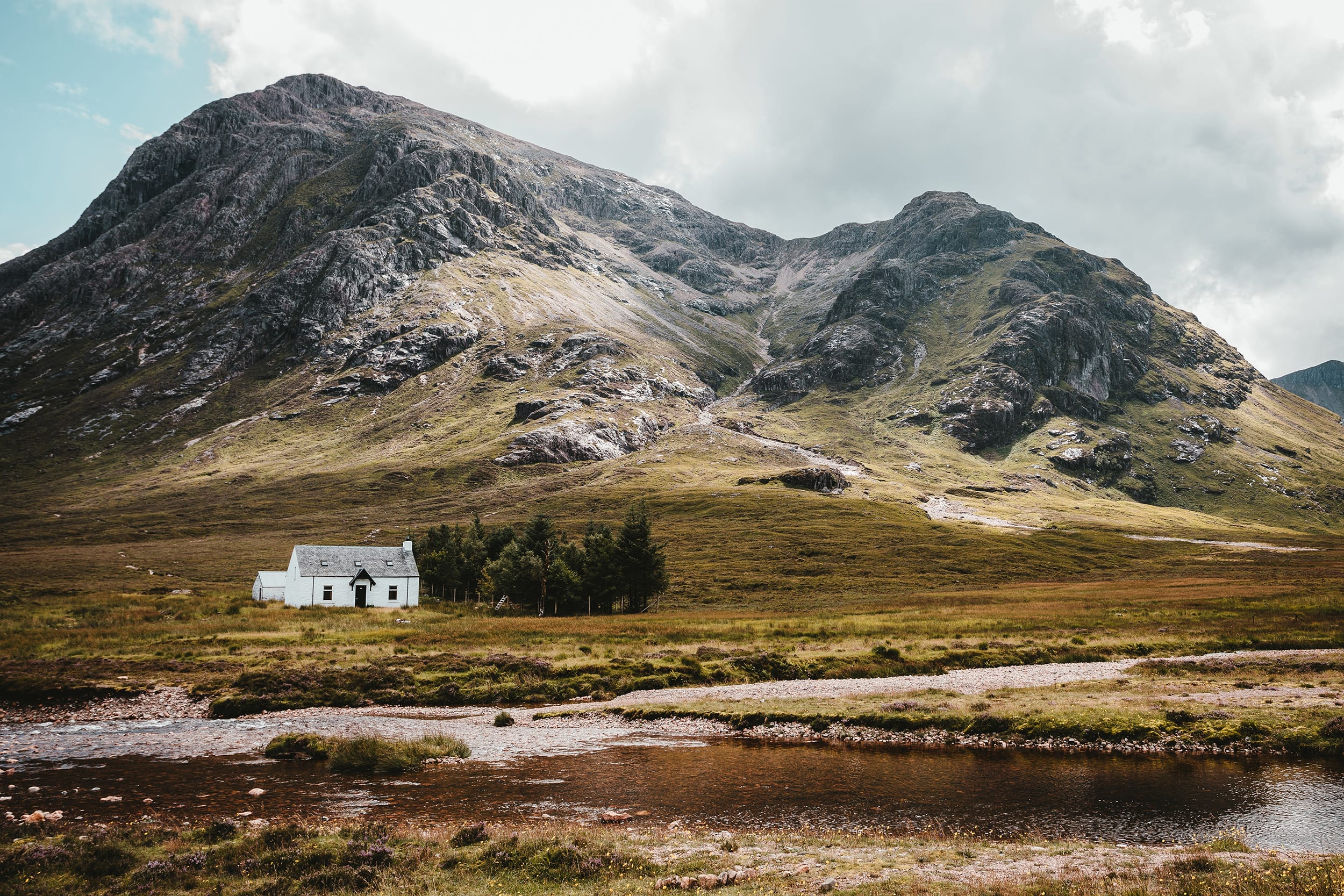 Scotland is a great country for the snappy dresser, but ultimately Scots don't care what you wear. No matter where you're going, the golden rule is to layer.
Where do you begin with a place like Scotland?
Robert Louise Stevenson said, "There are no foreign lands. It is only the traveler who is foreign." Ironically, I think the Scottish poet forgot to mention that in Scotland, no visitor is foreign. Scotland is a place where words fall short in describing such unfettered, yet familiar beauty and untamed, yet welcoming people.
To be able to write about the country I've called home since I was 18 years old is truly a pleasure. From getting that classic kiss under Edinburgh's fireworks on Hogmanay (New Year's) to fishing weekends in the Outer Hebrides with friends to hiking the Fife Coastal Path with my brother to speaking with a native Gaelic speaker for hours on the 'Harry Potter' train through the Highlands, this country has provided endless and invaluable experiences that will last a lifetime.
If you're planning to travel to Scotland, beware that the country quietly snickers at you when you expect everything to go according to plan. Ultimately, whether it's the weather, poor cell reception, bridge closures, or just those unsuspecting breathless moments, like a Scottish sunset, this country demands not just your patience, but also that you remain in the moment. While you can't plan for every unexpected situation, at the very least you can pack for it.
In this article, native Scot and friend Katie MacLeod-English, who runs the travel blog Stories My Suitcase Could Tell, and I will help you figure out what to pack for Scotland. Whether you're traveling to Scotland in July or September, use this Scotland packing list to pack your backpack.
Tortuga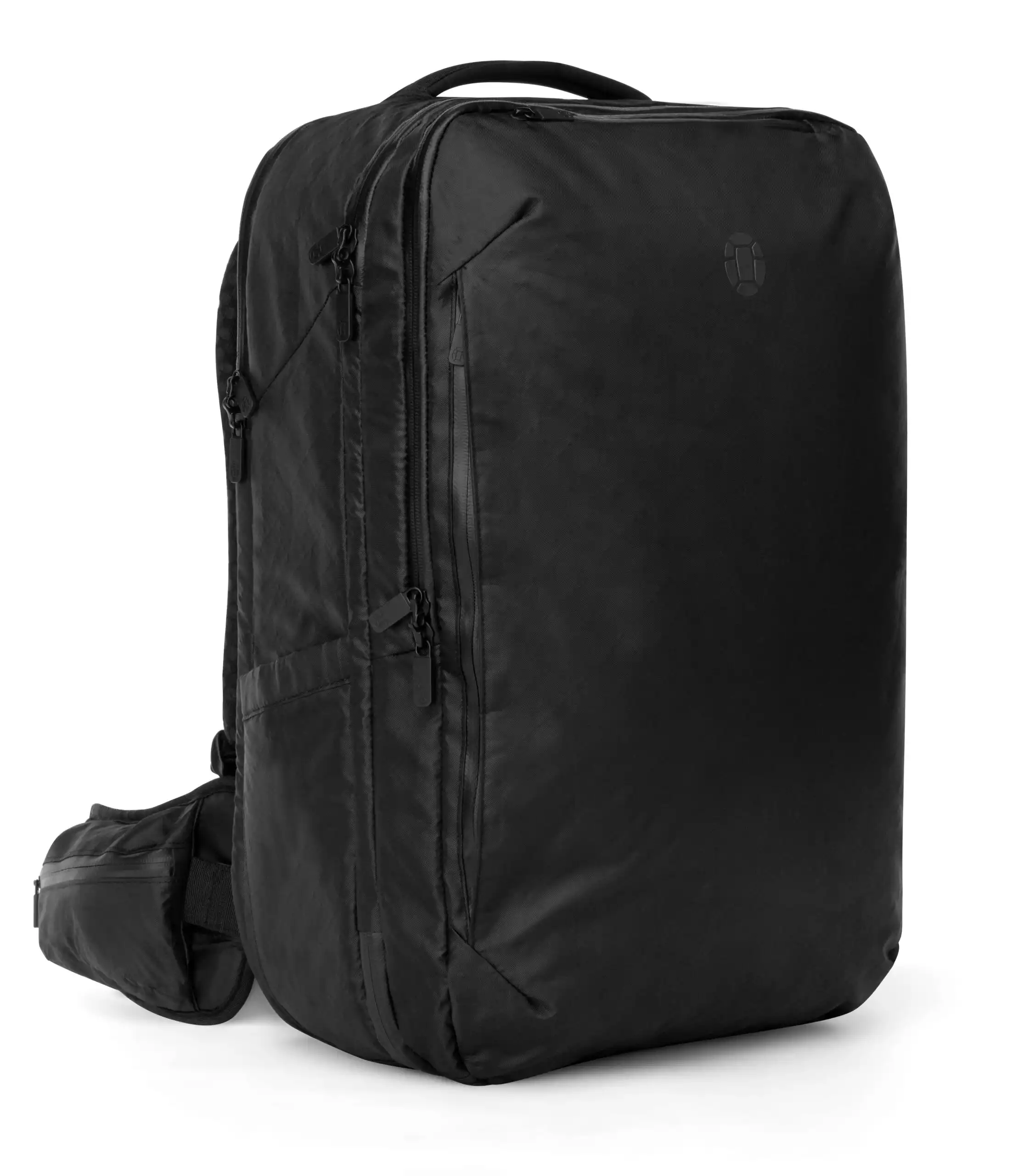 The Basic Scotland Packing List
Let's start with a basic list of what to pack for Scotland, year-round, before getting into the nuances of Scottish seasons.
Water-Resistant Backpack
First off, you will want to be as comfortable as possible. Any trip to Scotland will likely involve lots of walking, trains, and buses. Not to mention, Scotland and the UK at large are notorious for awkward urban planning. Imagine rolling a suitcase on cobblestones and skinny sidewalks while trying to find your hotel or Airbnb.
Spoiler alert: It's hell.
Choose a carry-on-sized travel backpack that's easy to maneuver and easy to pack and unpack. The Travel Backpack by Tortuga is a great pick for a Scottish trip. It opens like a suitcase so you can see everything you packed instead of having to dump your entire bag out just to find that one clean pair of socks. The bag's hip belt transfers up to 80% of the weight of your backpack to your hips, saving your shoulders. Plus, it's made out of waterproof sailcloth, so if you're caught in the rain, you'll be fine.
Shirts (2-3)
Ideally, this would be one to two long-sleeve shirts and two short sleeve t-shirts or tanks for layering, depending on the season (more on that in a bit). If you don't already have a favorite tee, check out our list of the best travel t-shirts.
Sweaters or Sweatshirts (1-2)
Bring one or two warmer layers to wear on top of your shirts.
Wool Socks (4 Pairs)
Wool socks are some of the best socks for travel since they're naturally temperature regulating, which is great for Scotland's unpredictable changes in weather. Especially in colder months, bring one thicker pair to wear at night.
Bottoms (2 Pairs)
Choose two pairs of jeans, pants, or leggings that are easy to mix-and-match.
Sweatpants or Long Underwear
A good merino wool base layer of leggings or long underwear can make a mild-weather outfit warm enough to wear on cold days as well.
Waterproof Windbreaker
This can be paired up nicely with a sweater, instead of a winter jacket, to save space.
Dressier Outfit
Edinburgh and Glasgow tend to be a bit dressier than the country villages. Pack one nicer outfit to wear there or on nights out.
Umbrella
Be rain-ready and include a travel-sized umbrella in your Scotland packing list.
UK Converter
Scotland has the same outlets as the UK. Bring a UK converter or universal travel adaptor for your electronics.
Reusable Water Bottle
Scots are environmentally conscious and tap water is very good to drink so pack a water bottle.
Unlocked Phone, UK SIM card, and Headphones
Make sure you have a phone and a SIM card, which you can order in advance on Amazon or pick up in the airport, to use while in Scotland, along with your favorite pair of headphones.
Book or Kindle
Make sure you have something to keep you entertained on public transportation and those rainy days inside.
Camera
Unless you plan to just rely on your smartphone camera, pack a travel-ready camera to capture shots of your trip in Scotland.
Keep reading for how to tweak this list for each season.
What to Pack for Scotland in Autumn
Scottish autumn is comfortably cold, rainy, short, and usually remains confined to the months of October and November. This is a perfect time to visit as daylight hours are normalizing and the days are a healthy mix of sunny and cold. The fall is perfect for enjoying cozy evenings in front of a fire or a day in a café with a cup of tea and a good book.
What to add to your basic Scotland packing list for September, October, and November:
Warm hat
Pair of light gloves
Pair of sunglasses
Light scarf
What to Pack for Scotland in Winter
Scottish winters can get bleak. The population retreats inside their homes or the local pub to spend time with friends and family. Daylight can be as little as six hours long with the sun setting around 3pm. Short days mean less warmth, and you'll want to bundle up, especially at night.
Scottish winters are not very snowy. Instead, at the worst, you should prepare for windy days with cold rain. December and January tend to have the worst weather.
What to add to your Scotland packing list for December, January, and February:
Replace one short-sleeve shirt with a long-sleeve t-shirt
Extra pair of wool socks (5 total)
Long underwear (1-2 pairs)
Winter scarf
Waterproof winter jacket
Waterproof hat
Pair of waterproof gloves
Sunglasses (when the sun is out, it is bright!)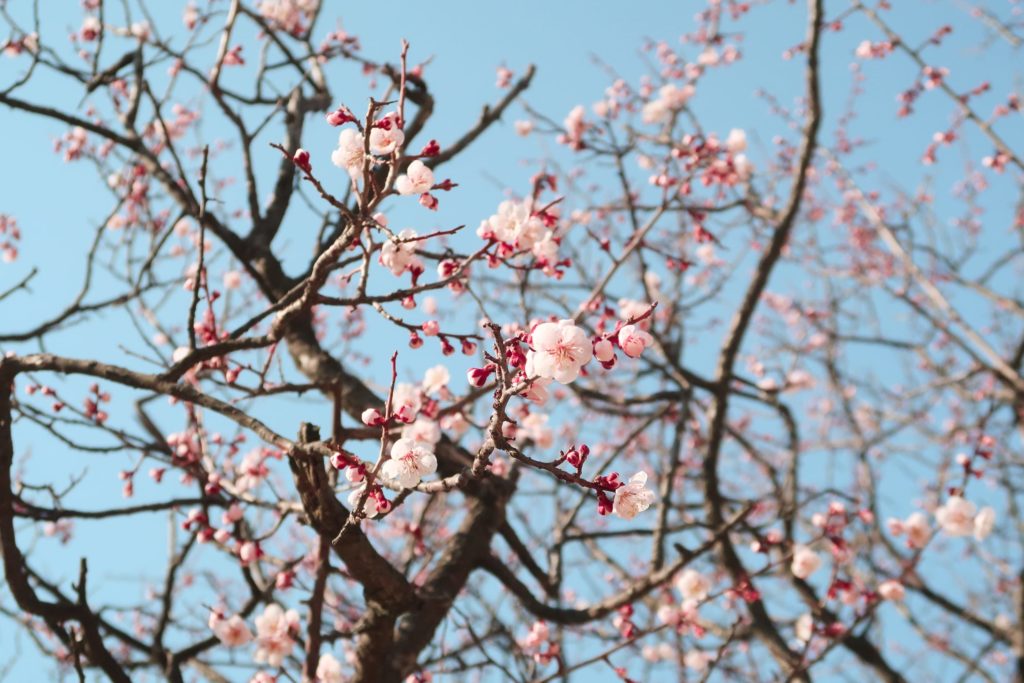 What to Pack for Scotland in the Spring
Spring arrives usually on time in March and lasts until the end of May. Unfortunately, the season is quite rainy, chilly, and windy. However, increasing temperatures and more daylight hours begin to have an impact on everyone, and the general mood is more positive. Scots will shed whatever layers they can at the first sign of warming temperatures.
What to add to your basic Scotland packing list for March, April, and May:
Lighter hat
Pair of sunglasses
Light travel scarf
Lighter dress/shirt in case of a warmer than usual day
Tortuga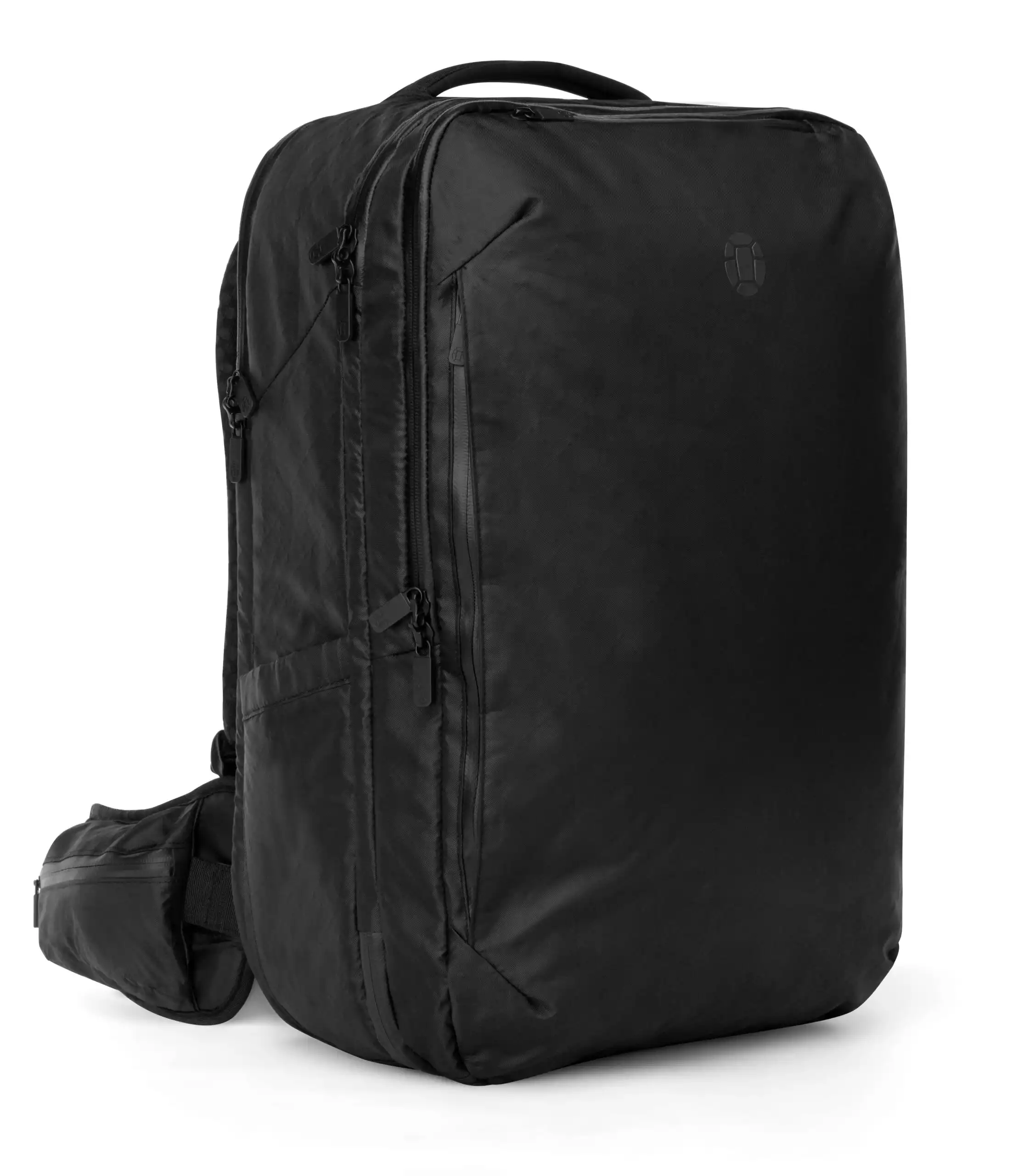 What to Pack for Scotland in the Summer
A Scottish summer can be an oxymoron. Many Scottish friends of mine complain that spring just extends into fall through the summer months of June, July, and August.
Summer is still a rainy time, just less so compared to the other seasons.
My favorite thing about Scottish summers is the long daylight hours, where the sun won't set until 11pm and will rise around 4:30am. It's the perfect opportunity to milk a trip in Scotland, as the long hours trick your body into staying up later.
What to add to your basic Scotland packing list for June, July, and August:
Short sleeved t-shirts (1-2)
Shorts (1-2 pairs)
Swimsuit (if you dare to swim in any of the chilly freshwaters or seas)
Summer hat
Pair of sunglasses
Lighter dress/shirt
Sunscreen
Katie adds, "Pack some long sleeve t-shirts, and then a cardigan or a sweater to put on over them if it gets chilly, and most importantly, take a light waterproof raincoat to put on over the lot. I can't travel without a waterproof jacket. I know, it's a stereotype that it always rains in Scotland, but I've learned from (a lot) of experience that the one time you don't take a jacket with you, it's going to rain."
I couldn't agree more. Rain is your companion in Scotland year around. No matter how well you dress, expect your clothes to get at least a mist, if not fully drenched, if you don't bring a rain jacket in your weatherproof backpack.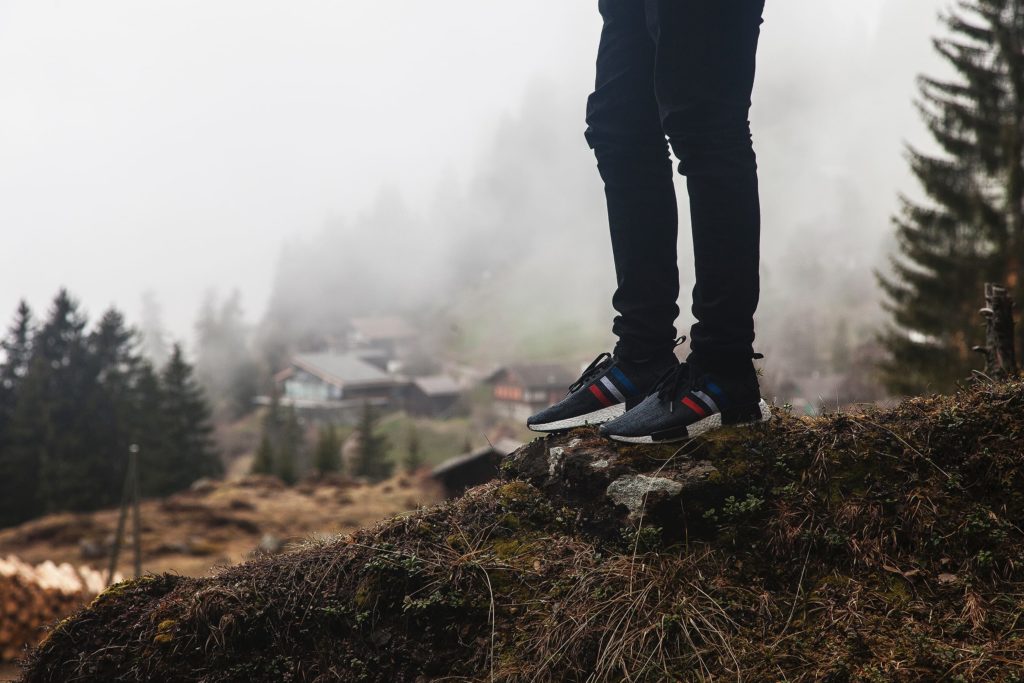 What to Wear in Scotland
If you want to feel like a newb, just wear a t-shirt and shorts for a summer day, or wear only a heavy winter jacket for protection in the winter. As Katie says, "The most important thing about packing for traveling to Scotland is to take layers, because we're not joking when we say we can experience four seasons in one day.
Kilt-Wearing Etiquette
Let's cover kilts. While they are comfortable to wear on the appropriate occasion, if you aren't at a wedding or on a Stag Do (bachelor party), expect to get a few weird looks. Scots do not wear kilts outside of ceremonies and sporting events. If you're not Scottish, expect to be interrogated about why you're wearing a kilt, as many are not fans of the kilt, a national cultural symbol, becoming a kitschy costume.
Packing Tips for the Scottish Country and Highlands
Whether you're in the Highlands, the Shetland, Orkney Islands, or the Isle of Skye, you'll notice that you're more exposed to the elements as these places are on the more remote and wilder side of the country.
Depending on what time of the year you head to "Highlands and the Islands'," you'll also need to prepare for rougher weather. Cell phone service is harder to come by, the roads get a wee bit more dangerous, and wildlife is afoot (mostly deer and smaller herbivores). In short, expect everything outside of Scotland's urban centers to be a little wilder.
Scotland Packing List for the Highlands and Islands
If you're traveling outside of Edinburgh and Glasgow, be sure to pack:
Map of Scotland: Either download an offline version of Google Maps before you go or purchase a paper map. It's better to have a map of the roads than rely on the shoddy cell signal of the Highlands.
Battery pack: I always carry a battery pack with me since I never know how much I'll need to use my phone or when I'll be in a place to charge it.
Favorite snacks: If you're a vegan, vegetarian, or have certain allergies, you're entering remote regions of the country that might not cater to your specific dietary requirements. Better to be safe than sorry.
Sturdy shoes: Expect to walk and do some light hiking.
Shoes to Wear in Scotland
For travel in Scotland, pack a pair of good, preferably waterproof, walking shoes with a solid tread. Leave the sandals and flip flops at home. Also, per Katie, "Unless you're literally climbing mountains in the Highlands, leave your hiking boots at home – your regular trainers or boots will be fine for most activities."
If it comes down to a space issue, pack the following pairs of shoes:
Good walking shoes
Pair of rain boots, wellies, or something waterproof
Shoes will make or break a Scottish trip since it's inevitable that you will be walking up and down hills, on and off trains, on cobblestoned and even dirt roads. If you need specific recommendations, check out the best shoes for urban adventures.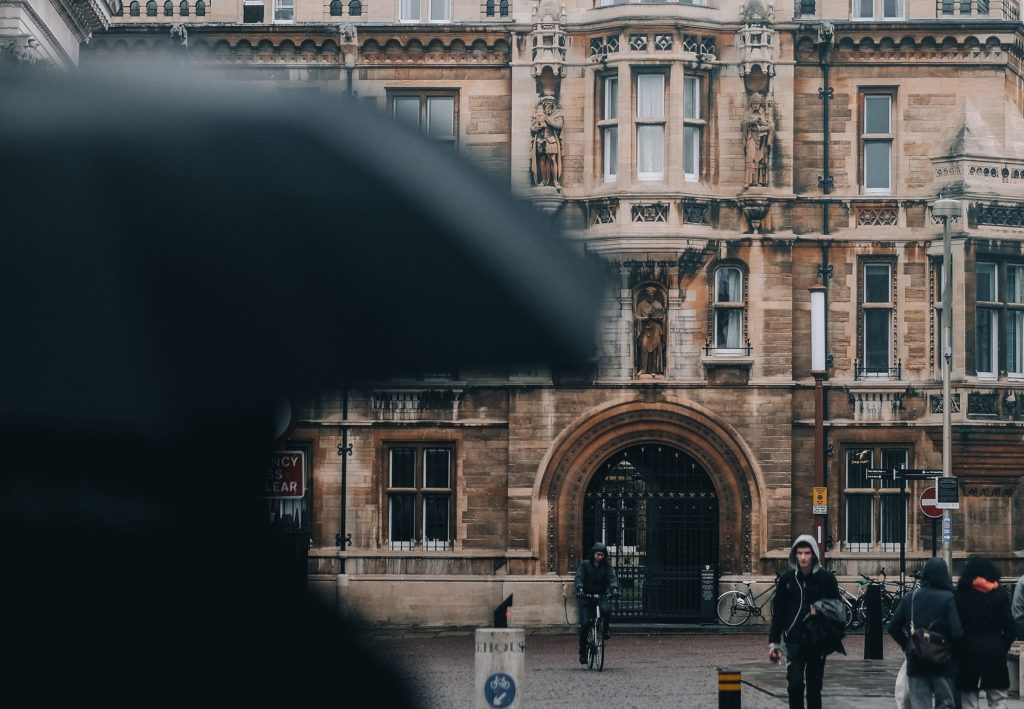 Where to Go and What to See in Scotland
Katie, a native Scot, grew up in and traveled the country extensively. I asked her a few questions to tease out which touristy things are worth doing and which off-the-beaten path adventures can't be missed.
What is your best tip for traveling to Scotland?
Look past the stereotyped version of Scotland. While we all know Highland cows are cute and kilts are unique, but there's so much more to see in Scotland than the shortbread-tin pictures suggest. There's really so much more to do here than you might expect at first.
What's the best thing to do in Edinburgh?
It's touristy, but the one thing I always do in Edinburgh is climb up to Calton Hill. The views across the city and out to Firth of Forth are gorgeous, and I never get tired of them.
Another good spot to get a view of the city is from the rooftop of the National Museum of Scotland. I'd also add that you absolutely have to get chip shop chips with "salt and sauce." Just trust me on this one – it's an Edinburgh specialty!
And the Best Thing to Do in Glasgow?
Checking out Glasgow's architecture is a must. There's a real mix of styles here, like Victorian, Gothic, and Art Nouveau, and more recently there's the Zaha Hadid-designed Riverside Museum. I love the contrast between shops and cafes on the ground level (Glasgow is the UK's biggest shopping mecca after London, by the way), and the proud columns and elaborate carvings above.
What one thing to do would you recommend in the Highlands?
Drive all the way to the north along the eastern stretch of the North Coast 500 route and visit Caithness. There are ancient castles, puffins nesting in the cliffs, beautiful scenery, and the mainland UK's most northerly distillery at Dunnet Bay. Their Rock Rose Gin is made from local botanicals, and I can personally recommend it for a G&T!
What is your favorite thing to do, or to visit, in all of Scotland?
I'm from the Outer Hebrides, so the islands will always be my favorite place to visit. I could go on and on about all the brilliant things to do there (and I usually do!), but one highlight is definitely sailing out to St. Kilda. It's a remote archipelago about 40 miles west of the Hebrides – the last residents left there in the 1930s – and the islands are a double World Heritage Site for their cultural and environmental significance. I've honestly never been anywhere else like it.
Visiting Scotland
There are tons of things to do in Scotland, like enjoying the views of Calton Hill in Edinburgh, taking in the architecture of Glasgow, exploring the North Coast 500, or ferrying out to the Outer Hebrides.
Choose the right luggage for your trip. Your best bet will be a water-resistant, carry-on-sized travel backpack.
No matter the time of year, wear layers and pack a waterproof jacket, as it rains all year.
Good and sensible walking shoes are one of the most important things to consider when packing for a trip to Scotland.
Autumn and spring are good times to visit as the country is experiencing milder weather, is less touristy, and has more normal daylight hours. Pack for rainy and chilly temperatures.
Winter can be quite cold and miserable, especially with short daylight hours. Pack for cold temperatures, accompanied by cold rain and the possibility of snow.
Summer can be an extension of spring but is becoming a warmer season. Pack for incredibly long daylight hours, slightly warmer temperatures and, of course, rain.