This post is part of our Travel Product Review series. At Tortuga Backpacks, we love to find the perfect tool for the job. We couldn't find the perfect travel backpack, so we created it. When we find other great products, we like to let you know about them with a review. The following review was unpaid and unsolicited. It reflects the opinion of its author only and is based on his/her own experiences.
Traveling, especially through airport security, is a horrendous hassle. Thanks, TSA! In addition to your bags, you must carry your ID, ticket, and something to entertain yourself with on the flight. While passing through the security line, you can't keep these valuable items in your pockets. You can either throw them loose into a bin and risk losing them or jam them into your bag and pray you can find them later. Once you reach your seat, you must juggle which items go in the overhead compartment, which go under the seat, and which you want at your fingertips, all while other passengers push past you to get to their seats. Fret no longer, loyal readers, there is a solution: Scottevest travel clothing.
Why the Travel Vest?
Scottevest sells a range of travel apparel designed for pocket enthusiasts. This review is of my favorite Christmas present, the Travel Vest for Men. I chose the vest, even though Scottevest sells several jackets, because of the flexibility to wear it over a t-shirt in warm weather or over a jacket in cooler weather. The vest runs true to size and fits comfortably in either scenario. Luckily, the vest is also fairly stylish, because I'm far too vain to wear something just for utility.
Biggest Benefit: Lots of Pockets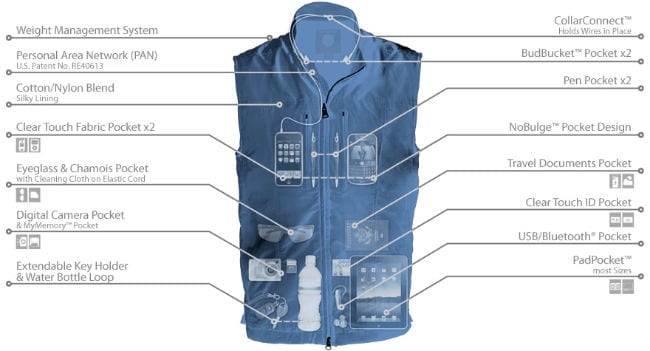 The strengths of Scottevest products are the number and design of the pockets. The travel vest has four low-profile exterior pockets, but the interior pockets truly set it apart from the competition. With twenty-two total compartments, you have one for every need including pens, cell phones, passports, IDs, mp3 players, sunglasses, cameras, and even an oversized pocket for an iPad, Kindle, or book. The attention to detail of the customized pockets elevates the vest from very good to great. For example:
An exterior pocket has a clip for your keys on an extendible cord
Cell phone and mp3 player pockets are transparent, allowing you to operate your devices without taking them out of the vest
Sunglass pocket also holds a chamois cleaning cloth
Camera pocket includes a sub-pocket for a memory card
Field Test
I tested the vest during a recent trip home from Los Angeles to Pittsburgh. The vest comfortably held my wallet, keys, phone, iPod, book, and notebook, without any visible bulk or excessive weight. Most importantly, with these items in the vest, rather than in my pockets or carry-on, I was able to breeze through the security line by placing the vest in the bin. Keeping everything secure and organized was a relief. Once on board the plane, I placed my bag in the overhead compartment and sat down. Everything I needed during the flight was already on me.
The Scottevest should prove useful while traveling, even after the flight. Based on my initial field test, the vest can easily hold everything you need for a day of sightseeing or cultural immersion: your passport, guidebook, map, notebook, pens, and camera. Plus, with your valuables secured against your body, you need not worry about pickpockets in heavily touristed areas.
Scottevest products are so useful that famed travel writer and vagabond Rolf Potts recently employed them on a six-week, around the world trip in place of luggage. On his "No Baggage Challenge" journey, Rolf did not bring a single bag, not even a carry-on. Instead, he relied on austerity and Scottevest. For proof, check out Rolf's wardrobe and packing methods.
Final Verdict
Pros:
Plenty of pockets made specifically for your most common items
Lets you breeze through airport security
Cons:
With so many pockets, you need a game plan to keep track of everything
Bottom line: The Scottevest Travel Vest for Men is a stylish, well-designed alternative to small carry-ons, daypacks, and overloaded pockets.
Want more like this?
Get weekly gear reviews, travel hacks, and packing tips sent straight to your inbox. We'll send you a carry on packing list right away.