Reminder:
we're launching
 a daypack and set of packnig cubes to accompany the
Setout Backpack
this spring. Below are a few more details on what to expect from those products. If you want a heads up when they launch, sign up below. We'll send you a carry on packing list as a special thanks.
Setout Packable Daypack
Specs
$39
8.5 oz
~ 19L (exact volume to come)
17.5 x 11.5 x 5″
Features
Zippered front pocket for organizing small items
Packs away into its own pocket
Padded air mesh back panel and shoulder straps for comfort and breathability
Adjustable sternum strap
Water bottle pockets
Sized to carry your in-flight essentials en route and everything you need for a day of sightseeing once you land
Fits under the seat of an airplane for use as a personal item
What Fits Inside
A light jacket
Keys, wallet, phone
A snack
Guidebook
Water bottle (or two)
Umbrella
Note that the Setout Packable Daypack does 
not
have a computer pocket. Because ripstop nylon is lightweight and packable, it is not strong enough to safely carry a heavy laptop with regularity. Heavier items require heavier fabric (or padding) which comes at the expense of packability.
The Setout Packable Daypack is, however, ideal for carrying lighter weight items like guidebooks, jackets, umbrellas, snacks, and anything else you might need for a day of sightseeing. 
If you'd like to carry a computer, we recommend the
Outbreaker Daypack
.
Setout Packing Cubes
Specs
$35
Set of 3 Cubes: 10.4 oz
Large cube: 4.4 oz
Small cubes: 3.0 oz each
Large cube: 14 x 11 x 2.5″
Small cubes: 7 x 11 x 2.5″ each
Features
Fits the Setout Backpack perfectly
Comes as a set of three with one larger cube (pictured) and two smaller ones
Has a mesh top so that you can quickly see what's packed inside
Uses high-quality YKK zippers with double pulls, which makes it easier to stuff them as full as possible
The Setout Packing Cubes, unlike their
Outbreaker counterparts
, are 
not perfect rectangles.
One corner of each cube has a rounded edge to fit perfectly in the Setout Backpack.
What Fits Inside
 Large cube: 2 pairs of pants and 1 pair of shorts, 3 long-sleeved shirts and 1 hoodie, or 5 long-sleeved shirts
Small cube: 3 t-shirts, 6 pairs of large socks, or 4 pairs of boxer briefs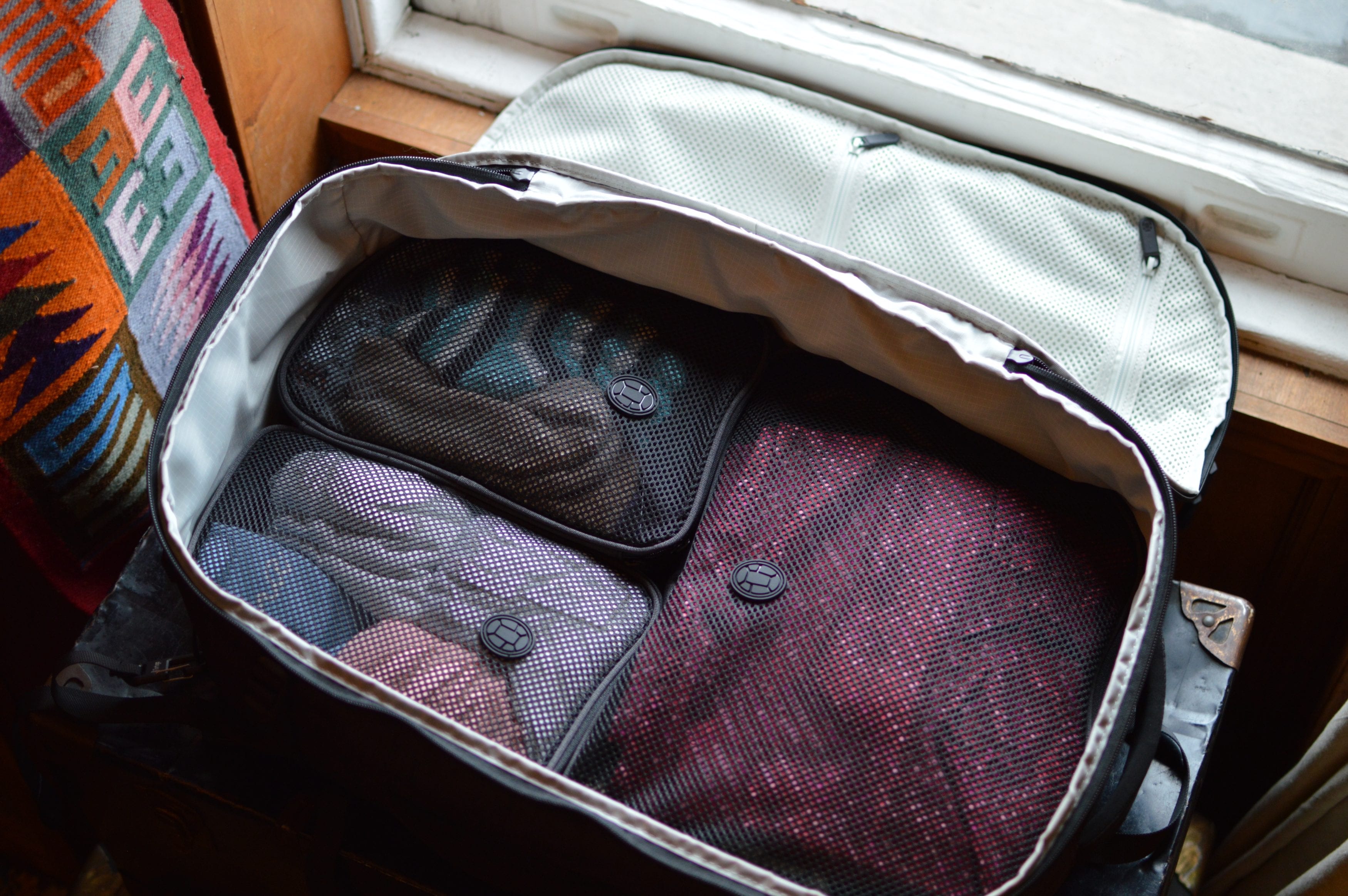 We're excited to share these products with you in the coming months. If you have feedback, requests, or questions, don't hesitate to
contact us
.
Want more like this?
Get weekly travel hacks, gear reviews, and packing tips sent straight to your inbox. We'll send you a carry on packing list right away.