The Tortuga Promise
At Tortuga, our mission is to make travel easier. Our advice and recommendations are based on years of travel experience. We only recommend products that we use on our own travels.
Tortuga is a product-first company. Jeremy and I started the business to "scratch our own itch."
We couldn't find the perfect travel backpack; so we made it.
A backpacking trip to Europe inspired us to start the business. Thirteen years later, we're about to launch version four (V4) of our flagship product: the Tortuga Travel Backpack.
In this article, we'll introduce you to our newest fabric, an upgrade so big that we had to design a new product line to showcase it.
The Old Materials
Each new iteration of the Travel Backpack has taken more time to design and develop. V2 took two years, V3 took three years, and V4 took six years. Making further improvements to our flagship products has become harder and harder.
Since V2, each new version has used a new, better fabric.
V1: 1680D ballistic nylon
V2: 1680D ballistic nylon
V3: X-Pac® VX21 sailcloth
V4: SHELL200
The 1680D ballistic nylon we first used was a tough but heavy fabric.
For V3, we invested nearly twice as much in materials for a better-performing fabric: X-Pac® VX21 sailcloth.
We launched the Outbreaker Backpack (V3) in VX21, which was 40% lighter than the previous fabric and completely waterproof. At the time, Tortuga was one of the first brands to use VX21 as the body fabric for a pack and the first to bring this premium sailcloth to the travel market. Since then, other brands have followed our lead.
Now, we're leveling up and pushing the industry forward again.
The New Material: SHELL200
The Tortuga Travel Backpack (V4) will be made with our all-new SHELL200 fabric, which is lighter and stronger than VX21. As a bonus, the new fabric is 100% recycled and the most environmentally-friendly fabric we've ever used.
Like VX21, SHELL200 is laminated, meaning it's made of multiple layers bonded together to form the final material.
SHELL200 is made of three layers:
200D recycled polyester face fabric
45° recycled polyester cross-ply
70D recycled ripstop polyester backing fabric
For the first time, the Tortuga Travel Backpack will use 100% recycled body and lining fabrics.
Why did we choose this fabric, and why was it enough of an upgrade to require a new version of the backpack?
High Performance
For a product-driven company, performance comes first.
For the Outbreaker Backpack, we moved from a basic 1680D nylon to VX21 sailcloth. As the name suggests, sailcloth was originally developed for the sails on racing boats and later adapted to be used in bags.
Sailcloth works well for backpacks because it is durable, lightweight, and waterproof.
Those three properties were perfect for a backpack that needed to travel around the world, be carried on your back, and withstand any weather. You might only use your bags for an easy, one week vacation. But we design them for you to live out of for a year or more.
Now that we've upgraded to SHELL200 from the VX21 fabric that we used on the Outbreaker Backpack, we wanted to provide a comparison between the two sailcloths.
SHELL200 vs. VX21
| | | |
| --- | --- | --- |
| | SHELL200 | VX21 |
| Weight | 5.9 oz/yd2 (200.1 gsm) | 6.2 oz/yd2 (210.0 gsm) |
| Tear Strength (ASTM D2261) | Warp: 26.7 lb, Fill: 24.8 lb | Warp: 24.4 lb, Fill: 17.2 lb |
| Waterproofness | 200+ PSI, 13.8+ bar | 200+ PSI, 13.8+ bar |
| Abrasion Resistance (ASTM 3884) | 500 cycles | 500 cycles |
Recycled Polyester
SHELL200 uses a polyester face fabric. VX21 used nylon.
Polyester is easier to recycle and reuse and can be sourced from your trash (post-consumer) rather than factory waste (post-industrial). Recycled nylon, which is much less common than recycled polyester, comes from the latter. More on recycling in the next section.
You might hear claims that recycled fabrics are weaker or less durable than virgin fabrics (i.e. fabrics made from material that's never been used before). Or that nylon is always better than polyester because it generally has a higher strength-to-weight ratio. In this case, neither is true.
We tested the tear strength of our new recycled polyester fabric (SHELL200) versus the previous virgin nylon fabric (VX21). As you can see in the chart above, recycled polyester won.
Polyester vs. Nylon
Polyester is similar to nylon but offers a few distinct advantages.
Compared to nylon, polyester:
Is more abrasion resistant
Repels water better
Stretches less
Is easier to dye, holds color better, and fades less (because it's more UV-resistant)
Pills less so it looks newer for longer
Is less shiny
Read more about the differences between nylon and polyester.
Waterproof
Polyester is hydrophobic, meaning that it repels water.
Nylon is hydrophilic, meaning that it absorbs water. Nylon is prone to stretching out after absorbing water.
Using a more water-resistant polyester face fabric allowed us to switch from C6 DWR (durable, water-repellent) finish to a more environmentally-friendly C0 DWR without sacrificing much water resistance on the face of the fabric.
The fabric is still waterproof thanks to multiple thin adhesive layers rather than the polyester film in VX21.
Better for the Environment
We do our best to limit our environmental impact and use recycled materials where possible, even if we don't advertise Tortuga as a "green" brand. Just because customers buy from us primarily for our products' performance doesn't mean we can ignore our environmental footprint.
SHELL200 is made of 100% recycled polyester certified by REPREVE. The fabric is even recyclable (again) after use.
When you buy a Tortuga Travel Backpack, you're recycling 25+ water bottles and saving 1.25+ lb of CO2 (based on the fabric used per bag).
If you've ever traveled to a country where you've had to buy bottled water instead of taking it from the tap, you know how many plastic bottles you throw away. Buying a travel backpack with recycled materials is a way to offset (but not undo) the trash you've generated. We also recommend traveling with a reusable or filtered water bottle.
By using recycled polyester, your bag's CO2 emissions are:
50% lower than nylon
38% lower than virgin polyester
Comparable to organic cotton
In addition to being recycled, SHELL200 is free of the most harmful chemicals used in fabrics. That means no TPU, PVC, DWR, or other coatings. The durable, water-repellent (DWR) coating used is C0 meaning it contains no fluorocarbons.
SHELL200 also contains no VOCs (volatile organic compounds), unlike other laminated fabrics that use solvent-based adhesives. The improved production process eliminates drying ovens, hot rooms (for curing), and other energy-intensive processes typically needed to laminate materials.
Conclusion
Our goal is to design evergreen products that can last forever.
The longer your bag lasts, the lower its impact on the environment. Every new version of the Tortuga Travel Backpack should be a major upgrade in its design and features over the last. The new SHELL200 fabric is the latest, biggest step on that journey.
Related Articles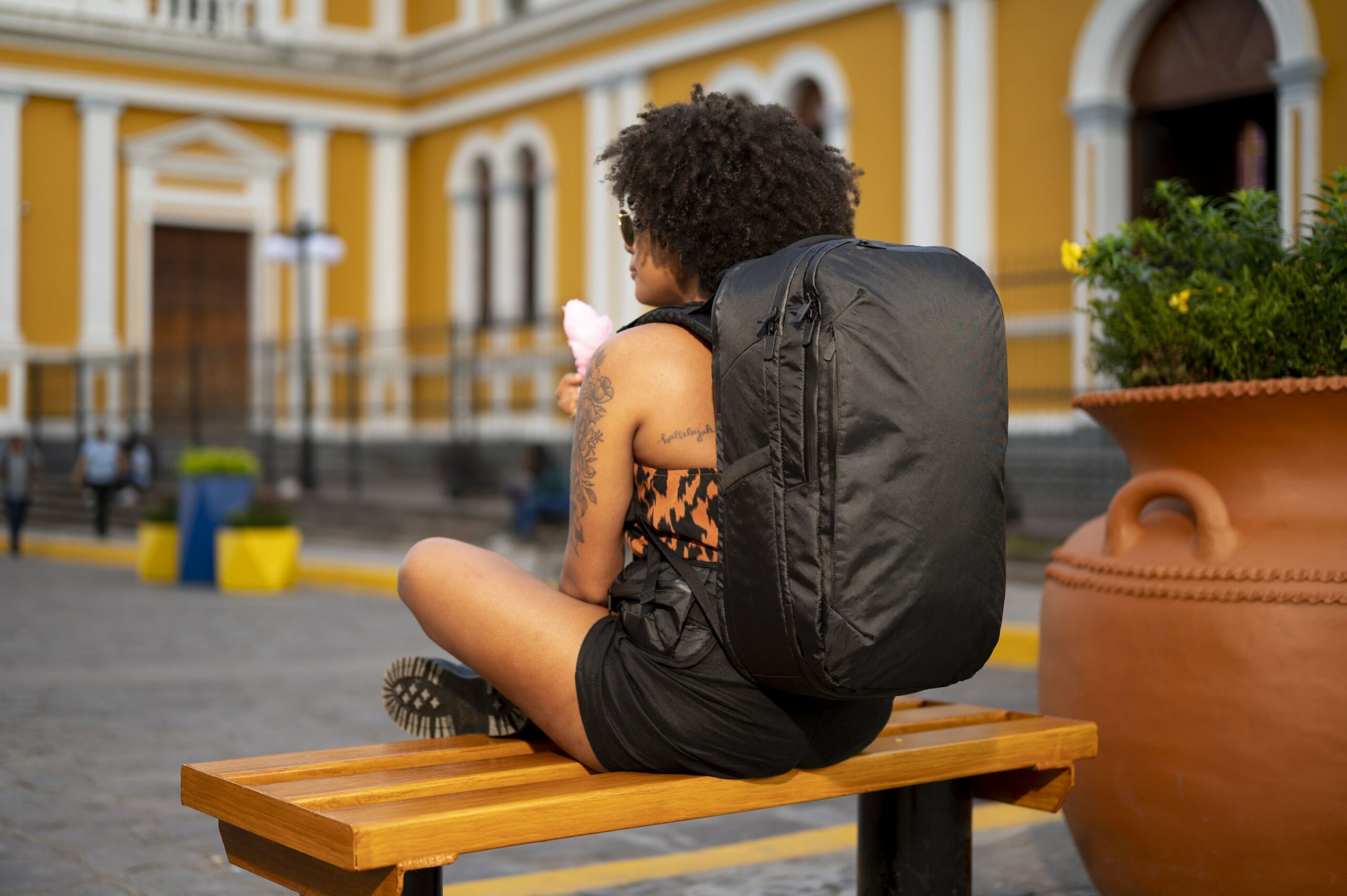 40L: Max International Carry On
Shop Now