Spring Break Packing List: 51 Things You Need in Your Bag
The Tortuga Promise
At Tortuga, our mission is to make travel easier. Our advice and recommendations are based on years of travel experience. We only recommend products that we use on our own travels.
If spring break has inspired you to travel, check out the Tortuga Study Abroad Scholarship.
Spring break isn't just for students. Spring break is a mindset.
The spring break mindset says that when winter is finally over, you need to head outside and celebrate the return of the sun. If, like me, you're from a place where the spring sun is slow to emerge, spring break is an opportunity to head to some sandy place where the sun is always waiting for you. In any case, we've got a spring break packing list to suit any vernal vacation.
We've broken our lists into three sections. First is a packing list for spring break travel essentials no matter where you happen to be going. Second is a spring break beach packing list for those who are seeking out the sun. Finally, we have a spring break packing list for more temperate climes.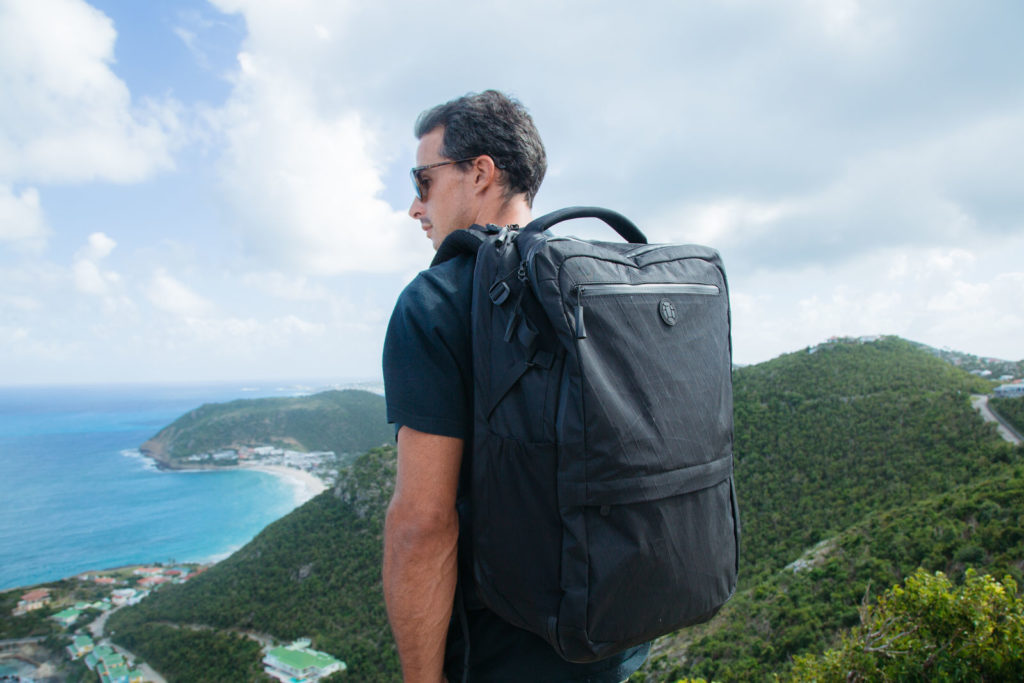 Spring Break Travel Backpack
First and foremost, you can't pack without having something to pack into. A carry-on-sized travel backpack is the ideal choice for a short spring break trip that doesn't require much clothing. One bag is all you need. Who wants to waste spring break waiting around at baggage claim?
The Tortuga Travel Backpack is the ideal bag for your spring break vacation. Maximize your carry on space by taking advantage of every allowable inch with the Travel Backpack. This backpack is also supremely organized, durable, and comfortable.
One of my favorite things about packing my Tortuga Travel Backpack for beach trips is the multi-compartment design. If I end up having to pack sandy, wet swimsuits or clothing, everything goes into the large main compartment while my laptop, electronics, and other stuff stay dry in the separate, rear laptop pocket and various front pockets.
Beyond that, the Travel Backpack is a supremely organized backpack. You won't have any problems fitting your spring break packing list inside and keeping it all organized.
Tortuga
Spring Break Packing List
We'll start with the basics that you'll need regardless of where you're headed this spring. You can buy some items on this list (marked with an asterisk) once you arrive. Buying instead of packing them will save space in your bag and cut down on your pack's weight.
You might not be able to find all your favorite toiletries abroad, though. If you're brand-specific or allergic to certain ingredients, decant small amounts of your favorites from your full-size bottles at home into carry-on-friendly containers of 3.4 ounces or less and carry them with you.
Toiletries
To be carry-on-compliant, pack 3.4 oz (or less) bottles in a quart-sized plastic bag. Otherwise, buy travel toiletries at your destination.
Toothbrush*
Toothpaste*
Floss*
Dr. Bronner's Magic Soap (can be used for shampoo, conditioner, body, and hand wash)
Razor, shaving cream, and aftershave*
Makeup*, if applicable
Miscellaneous
Passport
Copy of passport or extra ID
Copy of itinerary
Purse or wallet
Cash, debit card, and credit card
Unlocked phone
Phone charger
Travel adapter*
Computer, if you're working remotely
Notebook and pen*
Sunglasses*
Travel towel (microfiber is best)
Spring Break Beach Packing List
If it's time to hit the beach, you'll likely be leaving the layers at home and therefore won't have as much to haul.
For spring break at the beach, the slightly smaller Travel Backpack 30L is a great choice because it's sized to suit the maximum carry on dimensions for international flights. Thailand, anyone? Or how about Mexico?
Wherever the beach life beckons, here's what you need to bring along:
Toiletries
Sunscreen*
Mosquito repellent*, if applicable
Malaria medications*, if your destination is high risk
SPF lip balm*
Spring Break Beach Clothing
5-6 pairs of underwear
2 bras, if applicable
5-6 socks
3-4 t-shirts, shirts, or tank tops
1 light sweater
1 pair of pants (for chilly nights)
Sandals or flip flops
Sun hat or bandana
Swimsuit (choose shorts for bottoms and you can wear them out of the water too)
Beach towel
Miscellaneous
Small daypack for the beach
Portable speakers
Rehydration sachets
Tortuga
Temperate Spring Break Packing List
Not every spring break ends up at the beach. Sometimes a break is just an opportunity to get out of town. Maybe "out of town" means someplace chilly. If that's the case, you'll need enough layers to enjoy your trip in comfort. Here's what you should be packing for a week-long break:
Spring Break Clothing
1 hoodie or sweater
2 long sleeve shirts
5-6 pairs of underwear
2 bras, if applicable
5-6 pairs of socks
1-2 pairs of pants
3-5 t-shirts and shirts (button downs can be layered with t-shirts)
1-2 skirts or dresses
Gloves, hat, and scarf, if necessary
Pajama pants (for chilly nights)
Wherever your spring break will take you, the packing list above should have you covered. So choose your travel backpack, gear up appropriately, and have a great spring break, regardless of the weather.