Step Down to Carry On Part 1: Max Packer to Moderate Checker
The Tortuga Promise
At Tortuga, our mission is to make travel easier. Our advice and recommendations are based on years of travel experience. We only recommend products that we use on our own travels.
At Tortuga, we talk a lot about packing light. Traveling with nothing more than a carry on is ideal for most of us and our readers. But, over the past year, my friends and family have made me realize that traveling light isn't necessarily a desire, or possibility, for everyone.
Some travelers like ditching their bag at the check-in counter and wandering freely through the airport. Some have kids and like packing a few more "just in case items." I get that. Airlines have this service for a reason.
However, max packers—or, travelers who usually bring two checked bags, a carry on, and a personal item—usually express an interest in lightening their loads. The problem is, they aren't sure how.
Over a series of three articles, we'll cover the step down process for going from max packer to carry-on-only packer.
In this first article, I'll show you how to pack lighter, traveling with only one checked bag and one full-sized carry on. At the bottom of this article, you'll find links to the next two steps in the process.
Why Should You Pack Lighter?
If you're interested in packing lighter, you have your reasons. However, if you're in need of a little extra motivation, think about this:
If you travel twice a year, checking one bag instead of two could save you around $140. That's the price of a round-trip flight from San Francisco to Seattle.
Packing less means you're able to maneuver around airports and cities easier. Less stress is good.
You can save money on transportation by renting a smaller car or opting for a train instead of a taxi.
Now let's get to the real bulk of the article: how you can get from two checked bags to one without sacrificing preparedness or comfort. You won't be ditching the checked bags just yet. Packing lighter requires taking baby steps. This is simply the first step away from max packing towards carry-on-only travel.
Step 1: Change Bag Size and Ditch One Checked Bag
I'm a big believer in the rule that, "If your bag is smaller, you'll pack less." Smaller bags force you to think more carefully about what you put in them.
Part of this is definitely a mental exercise. You need to demonstrate restraint from reaching for that second suitcase. That's a hard habit to break.
So, for someone who wants to get down from one checked bag to two, the first step to packing lighter is changing your luggage to:
Checked: A Large Roller Duffle or Suitcase
I recommend an expandable bag. Try to force yourself not to expand it until you're on your way home so you'll always have a little extra souvenir space.
With this combination, you'll have the space of two full-sized pieces of luggage.
Carry On: A Max-Sized Travel Backpack
Something like the Outbreaker Backpack, which is a good-sized backpack, is more than enough to fit all your in-transit items and an extra days worth of clothes just in case your suitcase gets lost.
Personal Item: A Small Bag
"I like to bring a small purse I can tuck in my carry on tote," says frequent business traveler, Melissa Wolpert.
Personally, I like this tactic because it saves me from having to rummage around in my large carry on while in transit.
Another great option is the Outbreaker Daypack. Use the bag when you need it and pack it away when you don't.
Step 2: Limit "Just in Case" Items
"I always overpack and think I'll be sorry if I don't bring extra items 'just in case''," says 28-year-old Amanda Christensen.
As someone who has tried to communicate, "I need a bandaid" in a foreign language multiple times, I see the value in having just-in-case items. Still, there's no need to prepare for every possible scenario, so limit (rather than eliminate) your just-in-case items, especially since they tend to be the reason most packers go from stuffed to overstuffed.
Here are a few tips for limiting just in case items:
Pack clothes within a single color pallette: We're all guilty of packing too many clothes because we want options. I like to stick to a single color palette and give myself lots of mix and match options. At the same time, I also like to allow myself to pack one top or dress for that "just in case" scenario.
Pack 2–3 pairs of shoes MAX: Shoes are bulky and take up lots of room. Don't bring a pair for every outfit. Make sure to wear your bulkiest pair on the plane.
Ditch the full sized toiletries: For any trip under 2 weeks, you won't run out of anything if you stick to travel-sized-toiletries. Aim to keep all of your toiletries in a small to medium-sized bag.
Keep your first aid kit simple: Only prepare for things that are highly likely to happen—e.g. a cut, sunburn, motion sickness, or allergies—not every injury or sickness under the sun. Stick to the basics for a travel first aid kit.
Check the weather and pack accordingly: No signs of rain? Forget the umbrella. An even 40-50 degrees? Ditch the sundress.
Remember: You can always pick things up on the go: Unless it's a very specific medication or your favorite little black dress, you'll be able to buy or do without any of the "just in case" items you forget.
Step 3: Maximize the Usefulness of What You Bring
Keep an eye out for items that are more useful and versatile than others. For example, a solid t-shirt that matches all of your pants is better than three t-shirts that each match only one. Sneakers that double as hiking shoes are better than having a pair of hiking shoes and a pair of sneakers.
Try to reduce your electronics if you're bringing one for each function. You don't need a phone, tablet, laptop, Kindle, and camera. Don't forget about all the freebies and amenities you'll have while in hotels. If all of your hotels come with a blow dryer, leave yours at home.
Step 4: Pack Two Days in Advance
When you're in a rush, you'll tend to pack too much. Before every trip, pack your bag two to three days in advance. Then, the day before leaving, open your bag and take out a quarter of your stuff. Whatever you were on the fence about, ditch it.
Being able to take a second look at your bag before you leave will help you find things you don't really need.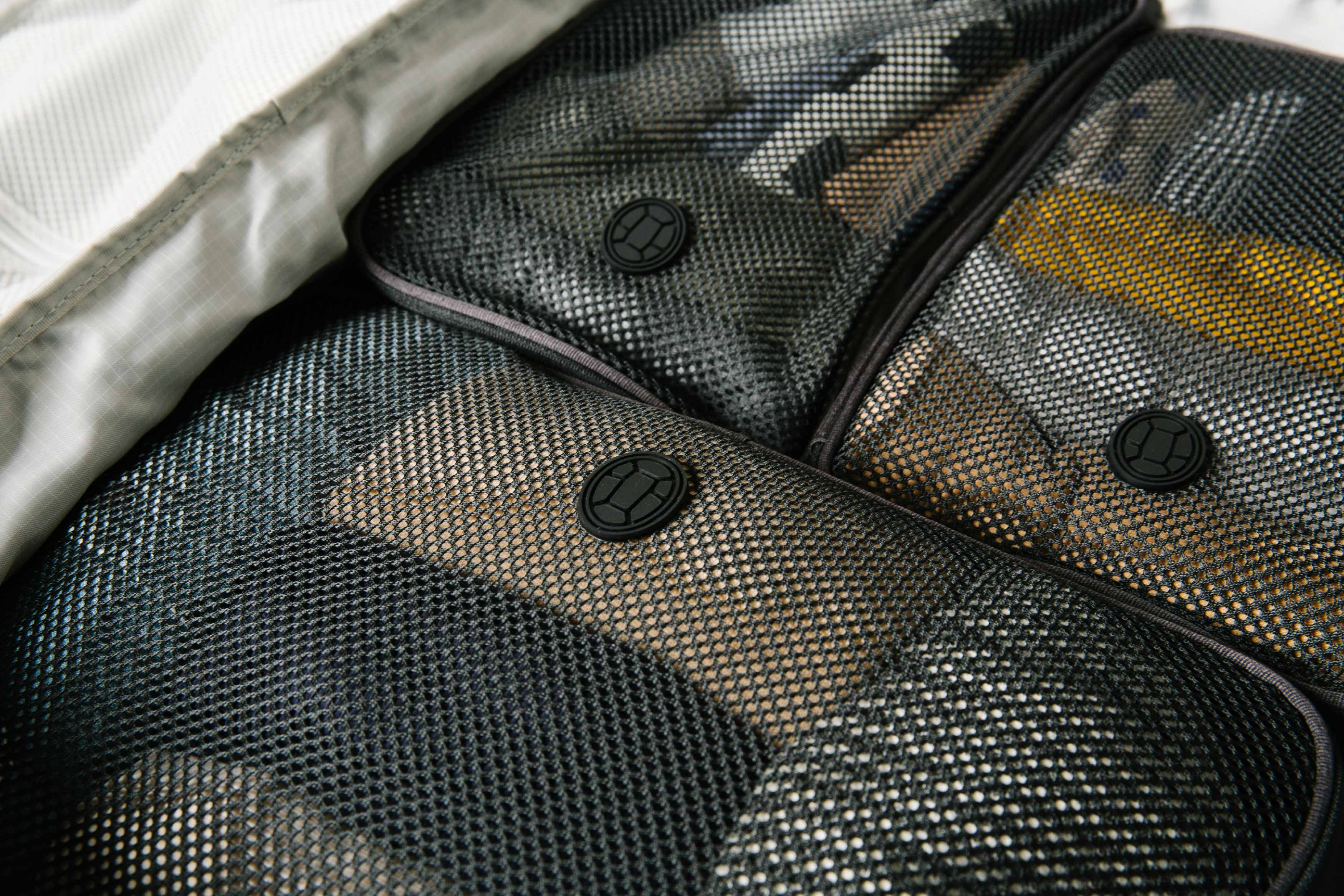 Step 5: Organize Your Bags
There are two reasons to do organize your bag.
First, you'll be more aware of what you're packing by grouping like items together. Second, you'll be able to get up to 30% more space without actually packing less. Just resist the urge to fill that extra space with more stuff.
A couple of tricks for saving space:
Use packing cubes: Make items easier to find and sort by using packing cubes.
Use travel space bags: By using compression or vacuum bags you can reduce the size of your stuff, especially clothes.
Fold or roll your clothes: If you don't want to invest in any of these, at least make sure you're folding or rolling your clothes. Stuffing your things haphazardly in a bag can make it seem like you need more space than you really do. Snap a rubber band around each roll to keep it in place.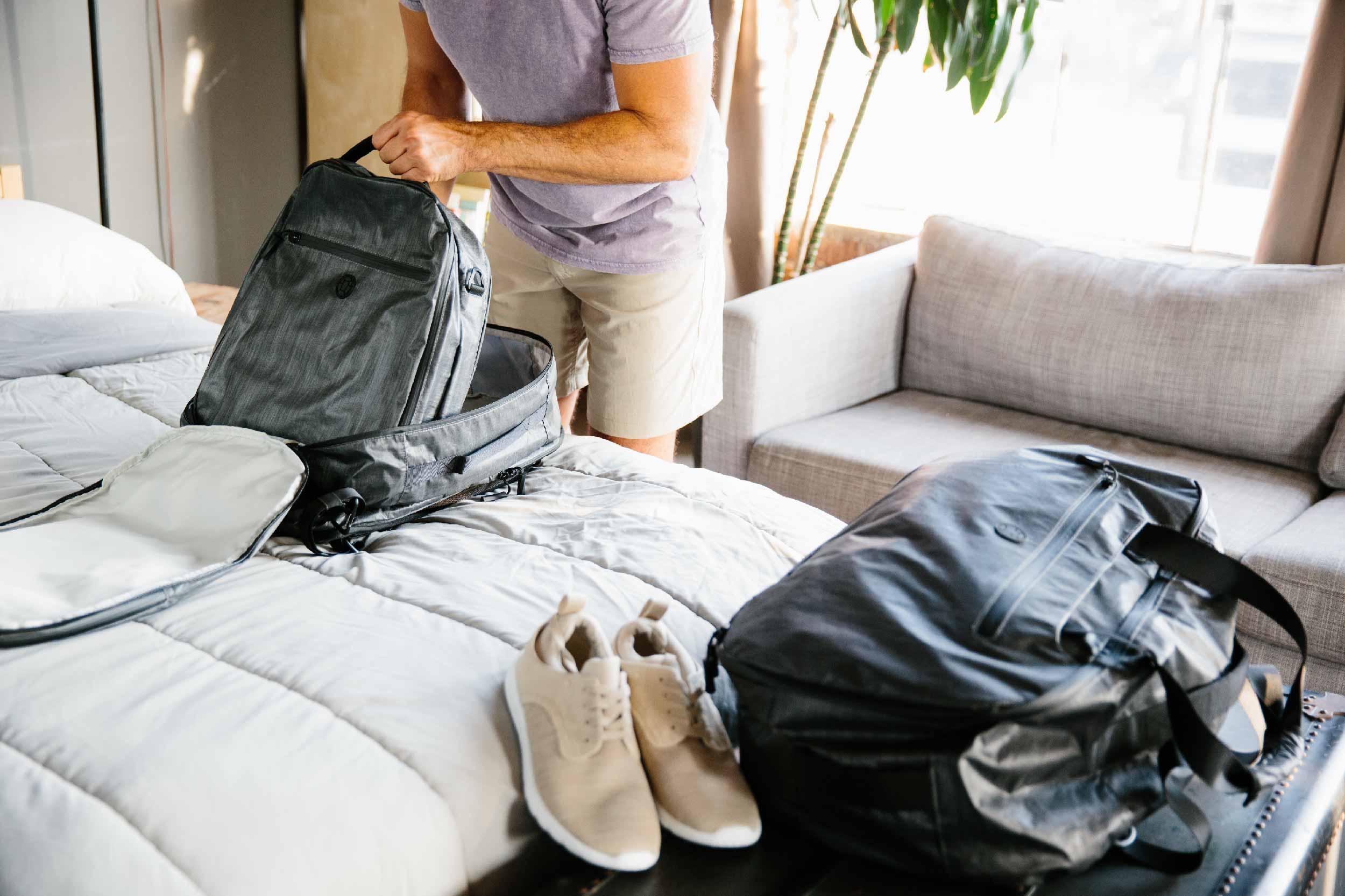 Step 6: Save Time Like a Carry-On-Only Packer
One reason that I don't like checking bags is that it takes time. However, most airlines now offer you the ability to check in and pay for your bags online before you arrive at the airport. Take advantage of this to save time and money.
Make sure you pack your laptop in your carry on so that it's not jostled by baggage handlers and left underneath the plane. Pack your liquids in your checked bag so that you don't have to take them out when going through security.
Want to really speed up things? Consider investing in TSA PreCheck. PreCheck has its own security line, which is usually shorter. More importantly, you can keep more stuff in your bag and more clothes on your body when going through security. The program costs $85 and is valid for five years.
If you travel for business, ask your company to pay for it.
Next Steps
Once you've mastered traveling as a moderate, not maximum, packer you can take the next step in the carry on journey: checking a smaller bag.