Step Down to Carry On: Check a Smaller Bag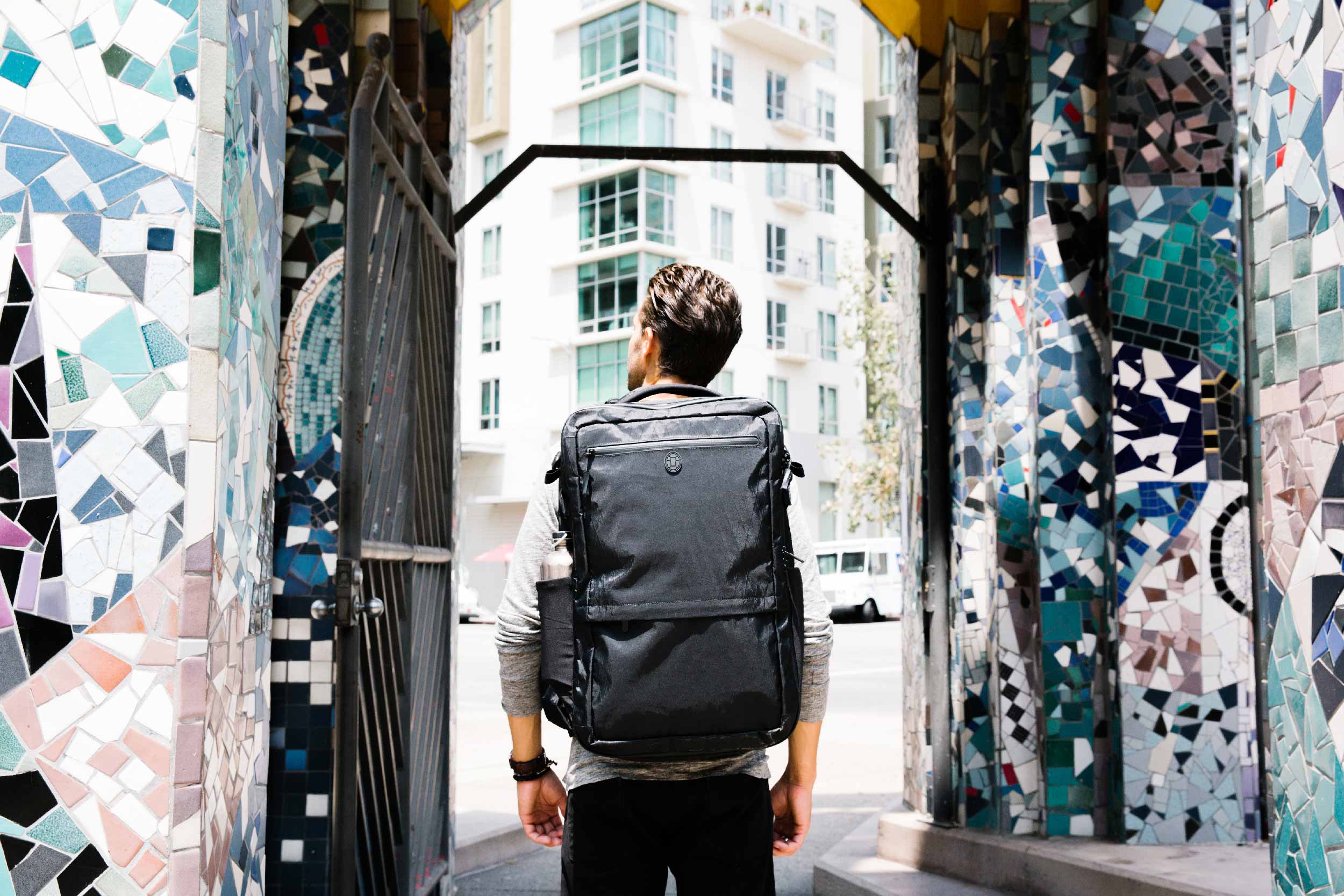 In our last segment of Step Down to Carry On, I focused on getting max packers — travelers who usually pack two suitcases, a carry on, and a personal item — down to a moderate carry-on-and-a-checked-bag combo. Of course, overpacking comes in all different shapes and sizes, so in this article, the second in our three part series, I'll be showing the moderate travel packer how to scale down to being a light checker — that is: traveling with a small checked bag and a carry on.
If you're a moderate packer, lightening up your load may not necessarily save you money on baggage fees, but it will allow you to move around more freely, have extra room for souvenirs, and feel like you've packed light enough to take public transportation instead of taxis. Are you ready to pack even lighter? Read on.
Recap of Part One: Light Packing Tips to Build On
Before moving forward, I want to review a few of the core tips we covered in the first part of this series, since I'll be building on them this week. These tips are general enough that they can help overpackers at any level, but to avoid repeating myself, I'll just quickly recap them here:
Swap out your bags for something smaller
Limit your "just in case" items
Maximize the usefulness of every item you bring
Pack two days in advance
Organize your bags with packing cubes & vacuum seal bags
Save time by checking in online in advance
Be prepared, in case of lost luggage, with tags & photos
Alright then, then let's get to our next series of steps to transform your luggage from moderate to light.
Step One: Get an Even Smaller Bag
I can't emphasize this tip enough: a smaller bag means you'll bring less stuff. No matter the size of your bag, every packer tends to feel compelled to fill it to the brim, so naturally less space = less stuff.
If you're paring down your luggage from large bag + carry on, to small bag + carry on, aim to have both pieces of luggage be carry on size. Aim for one backpack and one roll-aboard so you're able to carry both while still leaving one hand free. This duo will give you plenty of space to pack all the comforts of home you want to bring with you on the road, while also being easier to maneuver around the airport, or city, and more convenient overall.
Carry On: Larger Backpack
For your carry on, a larger backpack (45 liters is the max) like a travel backpack, will allow you to pack all of your travel essentials, a couple of extra outfits, and anything you weren't able to fit in your checked bag.
Checked Bag: Roll-Aboard
To keep yourself from getting a bag that's too large, search for carry on sized roll-aboard bags (even though you won't be carrying it on). A couple of features to look for (thanks to New York Times for the tips):
And, of course, don't forget to mark your bag with something unique (like a luggage tag or strap) to avoid a carousel mix-up.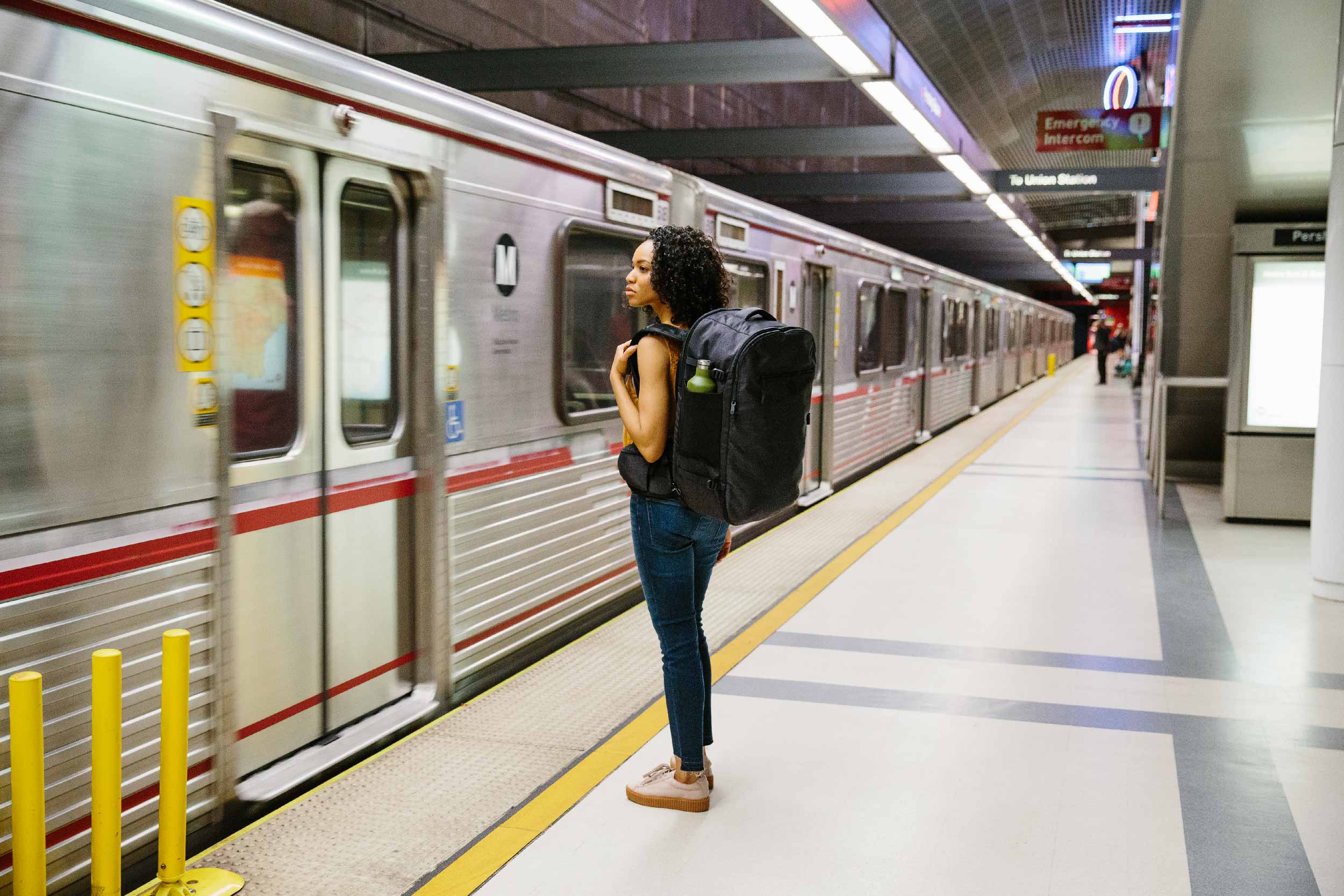 Step Two: Ditch the Personal Item… Sort Of
Challenge yourself to fit everything in just these two bags and ditch the personal item… sort of.
I'd still recommend taking a personal item, but packing it away in your carry on. After all, you'll want a smaller bag for getting around town once you've arrived at your destination. By having a personal item that you don't use on your way to your destination, you'll have this extra spillover room available to you when you fly home. A collapsable day bag, tote, or small purse works well for this. Another option, particularly if you are traveling with your electronics, or portable office set up, is the Outbreaker Laptop Backpack. It has plenty of room for your tech gear and enough space for a change of clothes and the essentials that you want at your fingertips during your flight.
If you'd rather not have your carry on under your seat, a nice tip is to put all of your in-flight necessities in this bag, but keep it at the top and don't take it out until you've boarded, or are about to board. This way, you're still giving yourself that extra "insurance" in case you want to bring some souvenirs or gifts from family home.
Step Three: Use a Destination, or Travel Packing List
Sometimes we overpack for a trip because we're not entirely sure what we'll need once we're there, especially when we're visiting a new country or region. To kick out even more of those "just in case items" you'll never use (hint: here are 9 items you shouldn't be packing) — or to make sure you don't forget something you'll actually need — focus your packing efforts with a destination list written by someone who's traveled there before.
Fortunately for you, we've got a great list of packing lists, according to destination and type, including, but not limited to:
Personally, I don't always pack exactly according to these lists, but use them to adjust the base list I use for every trip. I'll also take a look at Travel Fashion Girl's packing lists to get a feel for style in different places, since I always hate feeling like I'm the only weirdo wearing a tank top…
Step Four: Pack for Fewer Days Than You'll be Traveling

Once you know exactly what you need to pack for your trip, reduce it by two days. I didn't include this tip in our first part of the series, since it's a light packer trick that takes a little warming up to — but seriously, it works.
Rather than pack seven days worth of clothing for a week long trip to New York, pack five days worth. Going way for 2-3 days? Then avoid packing 2-3 pairs of pants, but maybe wear the same pair jeans twice and compromise with 2-3 different tops.
For anything over ten days, pack seven days worth of clothes max. You'll probably have to do laundry on a longer trip like that anyway. I set a, hard, 7 pair of underwear rule for myself (and if you're wondering about the laundry situation, I hand wash them in the shower each morning — it only takes a minute.)
If you've already followed our other light packing tips on choosing clothes that are easy to mix and match, focusing on neutral colors, and dressing up outfits with accessories, this little trick is easy to incorporate.
Pro tip: Include what you're wearing in transit in your total count of clothes.
Step Five: Seriously Organize Your Bag
In the last part of the series, we took one step towards better organization: using packing cubes and compressor bags to help sort your items by type and identify any redundancy in your bag. A couple of extra organizational tips to get your bag down a size:
Reduce your toiletry bag by using travel size only (and ditch the gadgets entirely)
Pack outside your bag, then put items in their respective spots
Put small items in shoes if you're bringing a pair that takes up too much space
Look at it like a Tetris game — leave no empty gaps between items
Light packers have a few tricks up their sleeves, but one of the simplest (and free) tricks is to simply have a list and be well organized in the way you pack.
Going from frequent bag checker to carry on only takes practice and it's better to take small steps towards it, than one big leap. In the second part of our step down to carry on series, we show moderate packers how to pare down to being light checked-bag packers using these tips:
Get an even smaller bag and aim to travel with two carry on sized pieces of luggage
Keep that personal item packed away while traveling
Packing according to a packing list
Pack for fewer days than you'll be traveling
Organize your bag
Stay tuned for the next installment, where we'll be taking you all the way from light back checker to carry on only. You can do this!