A great pair of hybrid shorts or versatile swimsuit is a great way to prepare for anything you encounter on the road without packing any extra gear. Choose swim pieces that do double duty and pack lighter.
A swimsuit is the one piece of clothing that you should always pack. Well, that and underwear I guess. A swimsuit is perfect for the beach, hotel pools, Scandinavian saunas, muddy Peruvian hikes, lakes, oceans, waterfalls, break glass in case of emergency, and something to sleep in at the hostel. I always pack a bathing suit, because it's lightweight, versatile, and missing out on a spontaneous hot tub would haunt my dreams. Forever.
After reviewing a lot of options, here's a complete rundown of the best board shorts, bathing suits, hybrid shorts, and swimsuits for travel.
What to Look for in a Travel Swimsuit or Hybrid Short
At the end of the day, a swimsuit is anything you don't mind getting wet. You don't need a fancy $200 bathing suit to jump in a lake. However, it feels good to pack a pair of shorts or a swimsuit that dries quickly, fits comfortably, and looks oh so stylish. These are three things I always look for:
Quick dry fabric

Zipper pockets

Comfy fit
Quick Dry Fabric
Quick dry fabric typically works by minimizing absorption. A lot of fabrics are nano-treated with a layer to keep water out, so they don't have as much moisture to get rid of when you hang them out to dry. Look for polyester blends with nylon, or if you're really serious about water-wicking, find a pair of shorts with PBT fabric for that really lightweight high-tech feel.
Zipper Pockets
A pair of travel shorts is only useful if you can rely on them. I hate shorts or swim trunks that have tiny, flimsy pockets, especially at the beach. Look for a pair of shorts with at least one fully closing zipper (usually the rear pocket). Knowing that you can keep a couple of bucks for a snack or a cerveza on you at all times, even when you're body surfing like a champ, is handy convenience.
Comfy Fit
Gone are the days of chafing from uncomfortable mesh lining. Ugh. That was the worst. Today's swimsuits have microweave lining, nylon blends, and other high tech fabrics to make sure that you get a pair of shorts or swimsuit that fits you well. Hyperflex weaves, nylon and elastane blends, and high-fashion cuts ensure that there is a swimsuit out there that will fit you perfectly.
I wear my hybrid shorts in the pool, at the cafe, and on the mountain. And I expect to look and feel great no matter where I am or what I'm doing.
Best Men's Hybrid Shorts and Swimsuits
Patagonia's all-wear hybrid shorts are exactly the kind of multi-purpose shorts every traveler should look for. Made from 98% organic cotton, they're incredibly comfortable, but also incorporate a 2% spandex weave for stretch and give when you're on the trail or biking through a new city.
The best part is that these shorts look completely normal for wearing around town. The front fly zipper lies flat, the back pocket buttons shut, and they only weigh 8 oz so you can toss them in your bag for any occasion without adding much bulk.
These hybrid shorts aren't technically for swimming, but come on—they're kind of epic. Made from a "veloce blend" fabric, the luxurious stretch knit feel of these active shorts is only matched by their functionality.
Tracksmith specializes in "techno-fabrics" and Veloce is lightweight with crazy 4-way stretch, quick-dry on the cooldown, and a stylish cut. I'd expect to pay $100 for these hybrid shorts. They're a steal at $58.
RVCA is a big name in surf wear, so it's no surprise that their hybrid Weekender Stretch Shorts keep up with the best on the market. The zippered rear pocket is a big deal (especially for surfers), and the poly/cotton/elastane blend ensures tons of stretch and a comfy fit.
The cut is modern, fashionable, and discreet. There are even belt loops if you want to dress 'em up not to look like a swimsuit.
The more "travel short" looking hybrid option from O'Neill has made me a big fan. The stow pocket lets you stuff these shorts down to next to nothing when you're not wearing them, but you'll probably wear them a lot. With the same stretch material as the Insider shorts.
They've added a few more travel friendly features like a hidden passport pocket and an external "knife sleeve" for when you're really getting out there. These are a great option for digital nomads with a little thirst for action because they can take a beating and still look great.
Best Women's Swimwear for Travel
After months of waiting and scrolling anxiously through fellow travelers' photos from your destination, your beach vacation is finally here. Don't get stranded on land with a swimsuit that wasn't built for travel. These travel swimsuits for women are built for adventurers of all stripes—whether you swim to stay fit on the road or are looking to take a quick dip in between marathon reading sessions by the waves.
"As carry on devotees, we knew we needed to create a multi-functional garment that packed well, is lightweight, and can withstand the wear and tear of salt, sand, sweat, and chlorine," the founders of swimwear company, Londre, say in their company story. As fellow nomads, they know the needs of water-loving travelers — and it shows.
Take their one-piece, The Multiway. It's designed with versatility in mind, and can be styled six different ways or, thanks to the matte finish, worn as a bodysuit. Further, the fabric has antibacterial particles that help it stay fresher longer while you're on the road.
While on the more expensive side, you can feel good about your purchase. All of their swimsuits are ethically made from recycled material.
If you can only pack one swimsuit for your beach vacation, but don't want to wear the same thing every time you jump in the water, opt for a reversible swimsuit.
While there are dozens of brands making creative and stylish reversible suits, Athleta stands out because their suits are sturdy, stylish, and more affordable than boutique or high-fashion brands. Plus, their cuts tend to be more conservative, provide great coverage, and stay put while you're wearing it.
Rest assured: no embarrassing bikini malfunctions here.
This option from Gottex has shirring throughout the waist for a slimming effect—the perfect antidote for the morning after a midnight street taco binge.
The maximum support and adjustable straps means running down the beach to retrieve that volleyball won't stray too Baywatch, either.
Sustainability rules 2019, and no one is leading the pack towards ethical swimsuit production quite like Patagonia. Their adorable prints and variety of cuts means you can look both sporty AND cute. Their products are fair trade certified and use recycled nylon.
As one reviewer put it: "Love this top when I need a bit more coverage from the sun. It looks great, is comfortable, and is perfect for watersports." 
The bottoms are sold separately.
When it comes to swimwear, surf brand Hurley knows how to design bathing suits that can withstand more than just laying out on the beach. For example, their Quick Dry Surf Bottom and Bralette combo are both constructed from soft, compression fabric that's both comfortable and — more importantly — doesn't move around as you swim.
Whether you're surfing in Sayulita or rafting in Laos, this swimsuit will keep you covered (literally) throughout your adventures, then dry quickly when you're done.
The also have a cheaper, though more simple in design, hipster bottom for $35 with similar features.
Every smart traveler knows that packing less means getting more (out of your experience, that is!). When I came across the concept of a reversible swimsuit, I fell in love. Double the look with a single piece? Thank you very much!
What's more, the on-trend high cut means your legs will look longer and gorgeous, no matter your body shape.
I love L*Space swimsuits for two reasons: They're built to last, with maximum coverage AND are great suits for a variety of beachy activities—especially if you're planning high-intensity activities like wakeboarding, paddleboarding, or surfing. Buy the top and bottom separately for mix and match fun.
And, since muted colors are out, this brightly colored tangerine piece will have you turning heads!
Some swimmers wouldn't dare cross oceans or state lines without their beloved Speedo in tow. And when it comes to travel swimsuits, I love Speedo's Turnz piece.
The tropical print that shows you're here for a little more fun than your standard solid suit, and the back-side design is one of Speedo's best sellers.
If you're training for your next Iron Man or love getting your laps in to wake up every morning, roll this one piece into your carry on!
Women's Swim Shorts and Cover Ups
Savvy travelers: you already know sarongs are one of the best and most versatile items to pack in your bag. You can use it as a towel, beach blanket, scarf, shawl, and — of course — a beach cover up. While I prefer to buy them on the road as a functional memento from my travels, sometimes you just need one before you leave.
For this, opt for a large sarong made of a cotton or another opaque material, like PrAna's soft and sustainably made Stefy Sarong ($30), or J Crew's handmade, Indian print sarong scarf ($50).Then, learn a few ways to tie it and get ready to hit the beach.
This versatile top is perfect for beach volleyball or a quick surf sesh. The nylon/spandex mesh features a built-in shelf bra with removable cups for comfortable support, and the racerback design ensures you comfort and coverage under any circumstances.
Wear it from beach to bar.
If you're looking for a single piece that can work overtime as resort wear, a swimsuit, and clothing that skews modest and culturally appropriate, then consider investing in a swim dress!
These options from chouyatou come in over a dozen of fabulous designs and color palettes. Just add a big ol' beachy hat and you'll look like a walking tropical vacay!
Havaianas makes more than just your staple flip flops. Their cover ups come in wild prints and large sizes, making this sarong work triple-duty as a cover up, a towel, a blanket… the ideas are endless.
Packing light means packing smart, and a sarong ticks off all the boxes.
A must have for hikers and surfers alike, this top keeps the UV rays off your shoulders in the ocean or on the trail. This hybrid designed shirt can handle surf wax and happy hour.
Perfect for long flights, long beach days, and long trails. Seriously. This shirt does it all.
Perfect for your first deep water solo climbing trip, or just a super sweaty run. The high-quality nylon/lycra fabric means these shorts will snap back like a pro and last forever. These shorts breathe and wick away sweat and moisture for comfortable all day wear.
They're also a great option for throwing on over your regular swimsuit if you're traveling somewhere more conservative and need a little extra coverage on the the water.
"When bikini bottoms are too little and board shorts are too much, these Paddle Board Shorts are just right."
Adding a pair of swim shorts to your packing list might just be the best decision you've made in awhile. These active shorts are made with Title Nine's premier SurFlex fabric, meaning it's UPF 50 swim fabric will never stretch out. Winning!
Do you love the crossover of swimwear to apparel? Then hop on the latest in swimwear trends—the three-piece suit!
This style pairs a bikini with a matching cover up, giving you the option for sun protection or sunbathing, without sacrificing style. Fashionnova has a few different three piece options to consider (I love this green one, too!).
The mix and match options that Aussie-inspired swimwear company Suki Swim offers allow you to personalize your suit and style. With patterns ranging from stripes, to spots, florals, and everything in between, you can easily pick up a few bottoms and tops that mix and match, creating multiple looks (each one cuter than the next) at a price point that doesn't make you cringe.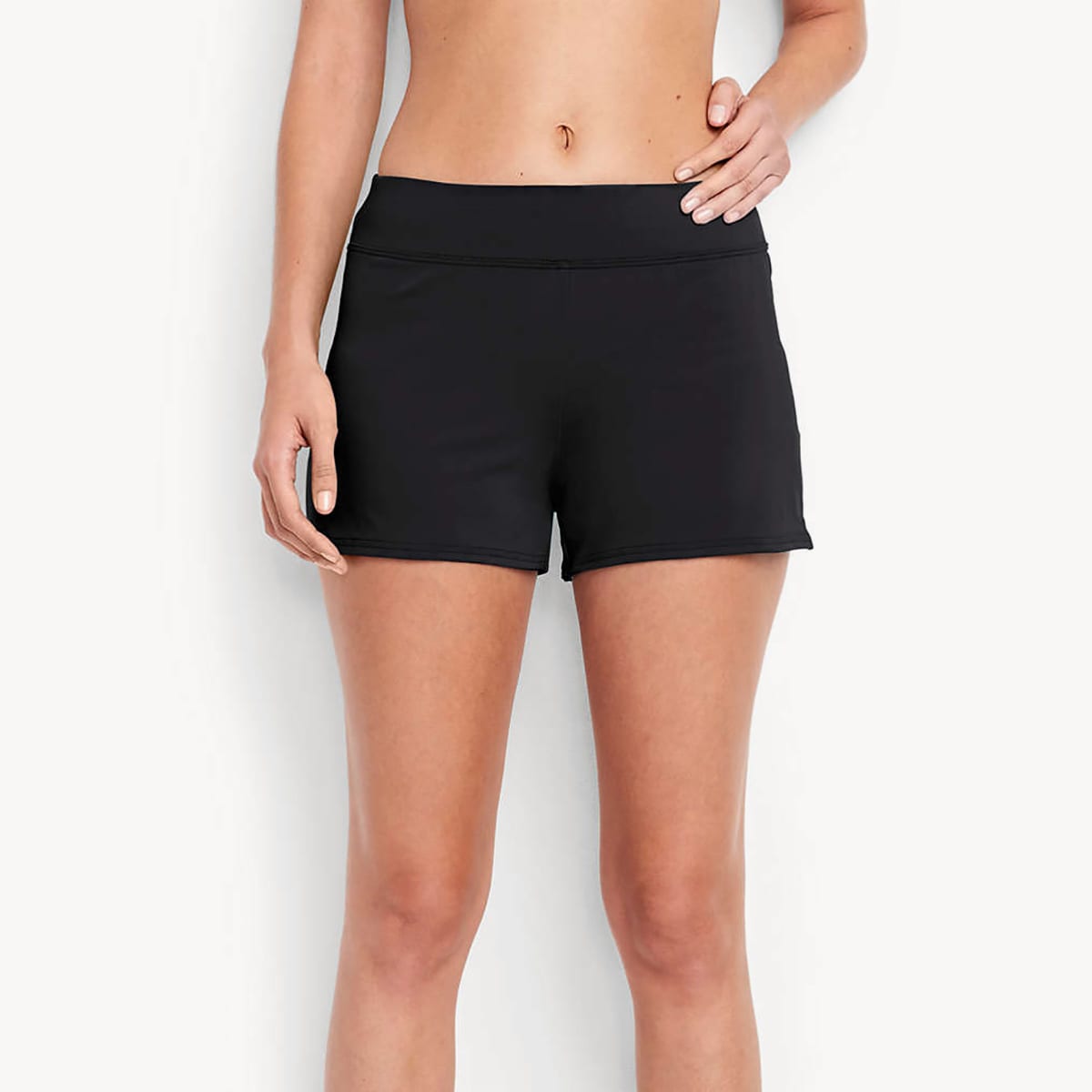 Popular outfitter Lands End does it all: Find swimsuit options ranging from bikinis to long sleeve swim tees and more.
If you're looking for budget travel swimwear for women, you'll love their variety of looks that don't sacrifice quality for price. At less than $30 a pop for most, your wallet will thank you, too.
These shorts are just so danged fashionable. Quick drying nylon, hidden snap button back pocket, and chlorine resistant for hitting up a lot of rooftop hotel pools. These will easily be the coolest shorts you own. They'll also be the cheapest.
You can't do much better than $15 for a great pair of swimmers. Plus, the short version is stylish as hell, weighs next to nothing, and will make you look European. Once you tan your upper thigh. Choose from seven different colors.
Ladies, there's nothing super hi-tech about these polyester boardies, but the cut is great, the coverage is ideal for surfing, and you can't do much better for $20.
Beat these up in the ocean guilt free.
Best Surfing Swimsuit
Board shorts were designed for a specific purpose—to protect your legs from the beach. Your surfboard, surf wax, salt, and sand all rub the crap out of your legs. Seriously, it's rough. Don't believe me? Go surfing in a speedo. Plus, the extra length of the board shorts keeps your pasty white thighs from the sun.
Made from 92% recycled polyester and spandex, these shorts will move with you under any circumstances. The back pocket features a flap coverage and eyelets for drainage, and a velcro fly for security.
They're a great budget board short option.
Getting the length right is the toughest part of designing a comfortable functional pair of women's board shorts.
Luckily, Roxy nailed it. These elastane blended shorts have all the stretch you need, without coverage. Everyone who's bought these raves about them being the "perfect length."
Just sayin'.
Bonobos is all about style that works on the road. These comfy boardies are made from a chambray cotton/poly blend so they'll feel great in or out of the water.
I'm a huge fan of the key catch (useful when you want to leave your valuables in the hotel room, while still bringing along your key) and these shorts have great pockets.  
Super basic board shorts, but the elastane blend and solid style mean these shorts can handle years of heavy use.
TL;DR
A good pair of hybrid shorts or versatile swimsuit is a great way to prepare for anything you encounter on the road without packing any extra gear. Find a suit you can wear in the lake or the local watering hole and your trip just got that much more interesting.
Hydrophobic material is a must

Zipper pockets keep your stuff safe on the move

Style and function can go hand in hand

Look for elastane or 4-way stretch
Want more like this?
Get weekly gear reviews, travel hacks, and packing tips sent straight to your inbox. As an added bonus, we'll send you a carry on packing list right away.