The Best Airplane Food by Airline
The Tortuga Promise
At Tortuga, our mission is to make travel easier. Our advice and recommendations are based on years of travel experience. We only recommend products that we use on our own travels.
Order the stew or the curry. Don't drink the coffee or tea. And if you have a special request, make it at least 24 hours in advance.
Once, long ago, on a Frontier Airlines flight from Denver to Tampa, the scent of warm chocolate chip cookies wafted down the aisle.
My fellow passengers on the flight perked up their heads.
Soon, the flight attendants handed out warm, chocolate-melting cookies.
Years later, I still remember how my heart jumped in delight when I realized no pretzels. Cookies!
Now, you're lucky if you get a complimentary snack, much less a meal on a flight.
But, if you are lucky enough to be on a flight where meals are served — because they view their passengers as human, and humans still have to eat — here is your guide to the best airplane food, by airline.

What're the "Safest" Bets in Terms of Food Safety?
According to Thrillist, your safest bet is the stew or curry if it's a hot meal: "As it's pretty consistent no matter how under – or over-heated it is… Skip chicken and pasta dishes, where proteins go to die and starches break down (read: noodles get soggy, and chicken dries out)."
Keep in mind that your food is cooked 10 hours before it gets eaten. Back to Thrillist:
"Generally, chicken is cooked 60% of the way, and steak 30% to done, with the final phase occurring onboard. Once cooked, it gets blast-chilled in special fridges — in a not-quite-frozen-but-not-edible state, your food awaits transfer to the tarmac."
Why Do They Say Not to Order the Coffee?
Is this an old wives tale or rooted in truth? Well, put down your coffee, because what I'm about to tell you is not delectable.
Don't drink any beverage made from hot water on the plane. Yes, even coffee.
One flight attendant told Business Insider: "Flight attendants will not drink hot water on the plane. They will not drink plain coffee, and they will not drink plain tea."
Why? Because an EPA study found that 1 in every 8 planes fails the agency's standards for water safety.
According to a new study by Hunter College's NYC Food Policy Center, the water tanks on planes aren't kept to a strict maintenance schedule, which could lead to potentially harmful bacteria living in the coffee or tea.
"Planes come in, [and the tanks are] not being emptied and cleaned, because there is no time for that. The water tank is being filled on top [after] each usage. Whatever would be on the bottom stays there and sits there," Charles Platkin, a professor of nutrition and the executive director of the Food Policy Center, tells The Post.
Delta and United both reported they used a high-tech ozone disinfection process at least quarterly to clean their tanks.
Read that sentence again.
Every 3 months or so, they clean their water tanks.
Think about what your Nalgene looks like after a month of hard use. Yup — enough said. Don't drink the coffee.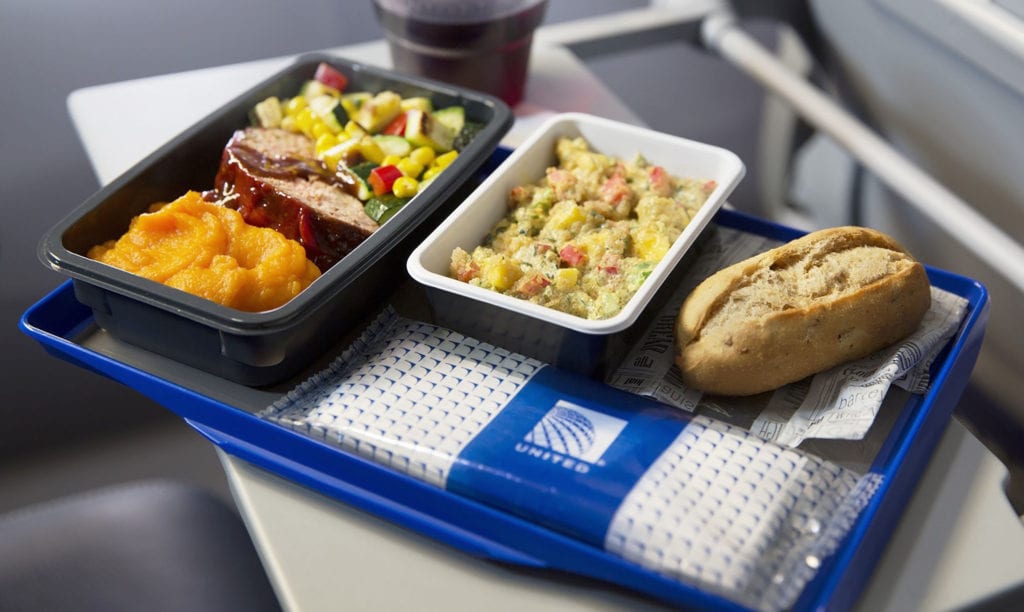 Which U.S. Airlines Provide Complimentary Meals?
Three, according to Mashed.
United
United offers complimentary meals in coach on most international flights with a three-course meal and free drinks. Here is their full breakdown of what food and/or drink to expect on your flight in economy.
American Airlines
American offers complimentary meals on flights between the U.S. and Europe, Asia, and some Latin America destinations. Also, if you're flying between LAX or SFO and JFK, you'll get a free meal.
Delta
Delta offers complimentary meals for routes based around JFK, LAX, Seattle, Boston, and Washington, D.C
What Each Meal Option Really Means
The airlines have codes for different types of meals:
GFML (Gluten Free Meal)
Indicates no wheat, rye, barley or their derivatives.
NLML (Non-Lactose Meal)
Indicates no milk, cheese, dairy or their derivatives.
PFML (Peanut Free Meal)
Indicates no peanuts or its derivatives.
FPML (Fruit Plate Meal)
Contains fresh fruits & possible bakery item.
DBML (Diabetic Meal)
Indicates no refined sugars, syrups, jams, cakes, chocolates, etc.
VGML (Vegan Meal)
Indicates no meat, fish, seafood, eggs, honey, dairy products or their derivatives.
SFML (Seafood Meal)
Contains only seafood items.
RVML (Raw-Vegetarian Meal)
Indicates raw vegetables and fruit.
Gluten Free Passport has a comprehensive article detailing more info about special diets when flying.
When Should You Order Your Meal Ahead of Time?
If you have a special request for your meal — like dietary needs or allergy — you'll need to file your request with the airline ahead of time.
Most major airlines require you to make your request at least 24 hours before your flight departs.
Which Airlines Serve The Best Economy Meals?
Here are the best economy meal offerings according to the 2017 Skytrax World Airline Awards:
Thai Airways
Inspired by the flavors of Thailand — this airline's native country — these award-winning meals are made with seasonal ingredients, sustainably sorted fresh produce, and options from around the world. Even the pictures made me hungry.
Turkish Airlines
Named Europe's best airline, they aim to please. On short-haul flights, you get sandwiches, olive oil-based starters and desserts. On longer flights, you get a menu that's internationally influenced and made with fresh, seasonal ingredients. *gasp*
Asiana Airlines
This South Korean airline flies to Europe, Australasia, North America and Asia. Their menu specializes in classic Korean dishes like smoked pork and thinly-sliced tofu served with vegetable wraps (podubu bossam).
Qatar Airways
Of course this luxury airline would make this list. Trays and dishes are 99% recyclable. You choose between three main courses — including a light option — and pair it with a fresh salad and regional dips like hummus. Or, order from the special meals menu.
Japan Airlines
This airline flies to 56 countries in Asia, Europe, and North America. And they have an unusual approach for their meals. The airline partners with popular restaurants in Japan to keep the menu tasty.
Singapore Airlines
Flying over Asia, Europe, Australasia, Africa, and North America, this airline is world-renown for its service. Including its meals, with a wide variety of dishes and special meals like post-weaning and baby meals for children or vegetarian Indian dishes.
Austrian
Serving Central and Eastern Europe, this airline offers meals on longer flights. Order from the special a la carte menu in advance and get Austria's famous wiener schnitzel. Or tapas, mezze, or Japanese dishes.
Cathay Pacific
Named the world's best airline countless times, this airline flies to almost 200 destinations in Asia, North America, Australia, Europe, and Africa. They serve a wide range of food, from local favorites to international dishes, including special diet meals.
Lufthansa
With an ever-changing menu, you won't be bored… or hungry. Lufthansa serves a three-course meal with two hot mains to choose between, and salads, deserts, and hot drinks. Occasionally, on some international flights, they get frisky and serve dishes typical of the region you're visiting.
EVA Air
Taiwan's leading independent airline flies to 60+ international destinations in Asia, America, and Europe. Their meals in economy are some of the best, with a rotating menu. On some routes, passengers got goodies from PAUL, the century-old French bakery.
Notice no U.S. airline food is mentioned? Yeah, I know — they're dropping the ball.
Mashed calls Hawaiian Airlines's meals , "arguably the best the U.S. has to offer." What you'll be served depends on the time of day you're flying. But in economy, you can expect stir-fried chicken with vegetables and steamed rice to hot ciabatta sandwiches.

When Is It Worth It to Order Food on an Airplane?
When traveling, how you answer this question boils down to ease:
Is it easier to order food on the airplane? Or pack my own and take it through security?
How you answer that question is totally up to you and your relationship with food (and security and airplanes).
If you decide to pack your own food, check out this fantastic article by Jessie on travel-friendly food to bring onto the plane with you.
Budget Airlines: Do You Get Food?
Um, guys, this is the hard truth: if you're flying a budget airline, expect to pay for your food. With the exception of Southwest Airlines, most carriers will charge you for snacks.
Oh, you want a meal?
Only this one budget carriers offer meals (that you've got to pay for):
TL;DR
Want a meal on an international flight? Fly Cathay Pacific, Qatar Airlines, EVA Air, Singapore Airlines, Asiana Airlines or Turkish Airlines for the best economy meals.
If you have a special dietary need, order your food 24 hours before your flight.
When should you order food on a flight? If it makes your life and travel easier.
You don't get food on budget airlines. Pack your own, babe.
Don't drink coffee or hot tea on a flight. Please.