Shortly after graduating high school, I went with my dad on a business trip to South Africa. I'd flown before, but never for more than 6 hours. On the way back, I had a 16 hour flight and was seriously under prepared. With nothing more than a sweatshirt and a book to make my flight comfortable — I was dreading the flight.
Mentioning this to my dad's colleague at the airport, he replied "My trick to long flights? Sleeping pills… but I can't give any to you. You're the boss's daughter." In true teenage fashion, I gave him a side glare and slipped away to take advantage of the 18+ drinking age at the airport bar before the most tedious flight of my life.
Lesson learned. Now that I'm a frequent traveler, I never board a flight without my airplane essentials. If you also fly often, I know you want to do it right and have the best flight gear in your carry on backpack. To help you find the best travel pillow, headphones, eye mask, and other in-flight essentials, to tuck into your Outbreaker backpack, scroll on for our flight gear buyer's guide.
The Best Travel Pillows for Flying
While the free airplane pillow, or a rolled up sweatshirt, may be fine enough for some, others wouldn't dare fly without their favorite travel pillow:
I'm not much for travel pillows but last year I bought the Aeris Memory Foam Pillow and use it on weekend trips back east. It takes up about as much room in my carry-on tote (the Baggu Duck Bag) as a sweater. Overall, it's comfy, affordable, and packs down relatively well.
Frequent traveler, friend, and fellow RPCV, Emily Silman, found a brilliant alternative to bulky travel pillows that don't support your neck right. The Trtl Soft Neck Support Pillow offers adjustable head support for sleeping on planes and packs down small.
Tech entrepreneur and traveler, Sam Lang, recommends the Cabeau Memory Foam Pillow. Cabeau has several other pillows to choose from, including the cooling Evolution Cool ($60), the compact and inflatable Air Evolution ($20), and the comfy Evo Microbead ($20).
As one reviewer put it:
This pillow… seems to take the best of what's available and removes the problem areas of the past.
For those who prefer a more traditional square-shaped pillow for flights (my preference if I plan on camping), Forbes recommends the Therm-a-Rest compressible pillow ($20-35) while Wirecutter recommends a similar self-inflatable version by REI ($20).
Flight-Worthy Eye Masks
As long as I have some ambient music, Tylenol PM, and a good eye mask I can sleep on pretty much any flight. A few masks to check out include:
Clint of Trip Hackr recommends the Dream Essential Lightweight Contoured Sleep Mask. Not only does it block out light completely, but it also sits above — not on — your eyes.
What if you had an eye mask that shut out light while also helping to keep your eyes from getting puffy on a long flight? Lucky for you, the Binchotan Charcoal Eye Mask by Morihata does just that.
The Slip Silk Mask is a luxurious, 100% silk sleep mask that's designed to rejuvenate skin and avoid tugging at any sensitive parts of your eyes. Also hypoallergenic, it lets skin breathe — yeah, this is a first-class kind of mask.
For a simple, no-nonsense sleep mask, the Alaska Bear is what you need. Silky comfort and black-out effectiveness has earned it #1 bestseller status on Amazon.
Travel + Leisure has a great list of their 15 favorite eye masks if none of these meet your needs.
Keeping Warm: Blankets, Blanket Scarves, & Jackets
A good jacket, blanket, or blanket scarf is a must for staying warm on flights. And, since it's fall right now, this is a great time to grab a new blanket scarf if you need one.
Cocoon's CoolMax Blanket comes recommended by Women on the Road. I've actually flown with the lighter, Cocoon travel sheet ($46), as a test a few times. CoolMax does it's job and keeps me warm on the plane while not taking up too much space, but it can't be doubled as a wearable item — a huge con for me.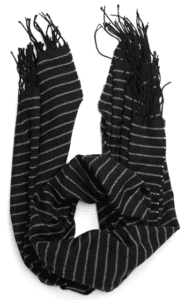 Tortuga's own Taylor Coil swears by her Zara Blanket Scarf for travel. Being fall right now, Zara has dozens of large, cozy, wraparound scarves and blanket scarves to choose from.
A plain, black, cotton infinity scarf that I bought for about $10 at Forever 21 two years ago serves me well. Though they no longer carry that specific scarf, there are quite a few affordable blanket scarf options if you're on a tight budget. I'm also a fan of the pocket scarf ($15) they have for their fall 2016 line — iPhone storage problems be gone!
"I won't travel without my favorite Mountain Hardware zip up," says world-traveler Bea Fin.
"It's the perfect weight for cold flights but not too heavy for running across the terminal. Most of all I rely on the three zippered pockets to keep flight essentials (tissues, earphones, phone, extra socks) within reach without worrying about stuff falling out."
Best Socks for Flights
For those of us who get cold feet… literally:
"Warm fuzzy socks are a must," says RPCV Megan Burden, "My feet always get so cold!" Ditto — which is why I never travel without a pair. Smartwool socks are my favorite brand for flights.
Several people have recommend Japanese compression socks for keeping foot swelling down on flights — especially for pregnant women. Though none of them, sadly, could remember the exact brand, REI carries some well rated compression socks by Sockwell for both men and women.
Favorite Headphones for Flying
Of course, that one flight essential you absolutely can't forget: headphones.

Bose QuietComfort 20 / 25 ($250-300)
Several travel friends — and Forbes! — have all quoted Bose as having the best headphones for flights. For those who prefer compact earbuds, opt for the Bose QuietComfort 20 ($250). If you favor over-ear headphones, go for the Bose QuietComfort 25 ($300). Both are noise canceling.
Wirecutter has recommended the Sony MDR7506 as the best over-ear headphones for 3 years in a row now. They may not be the smallest, but they're high quality and much more affordable than Bose.
You know what? I still travel with the iPhone headphones I get with my phone. They're still the most comfortable set I've found and, as an ultra-light packer, I prefer earbuds that fit in my pocket. However, I might be upgrading to the new wireless AirPods ($160) now that I can't use the same headphones for my laptop and new iPhone 7.
If you've upgraded to the iPhone7 and prefer bluetooth, cord-free headphones, I'm back to the Wirecutter for recommendations: the Jabra Move Wireless as a great over the ear option.
Earplugs Recommendations for Flights
Okay, so maybe you just want to block everything out and sleep. Two no-frills earplug brands to buy are:
For the eco-conscious travelers out there, opt for reusable earplugs. The 3M TEKK are a great, super affordable option (you can find them on Amazon or probably your local hardware store). Plus, the cord means you won't lose them if they fall out while you're napping.
Expert Vagabond recommends Hearos ear plugs. They're simple, cheap, and will do the trick.
Stay Hydrated: Water Bottles
Just about every airport I've ever been to is equipped with drinking fountains — so why pay for water? Be prepared and bring a good water bottle instead:
Expert Vagabond recommends the Clearly Filtered Water Bottle for travel. Although expensive, this water bottle will keep you hydrated even when there isn't clean drinking water around. This bottle is a great option if you're thinking beyond just the flight and preparing for your entire trip.
Having recommended this option before, I'll recommend it again: the Platypus water bottles are great for flying. They fold down to pocket sized when not in use (e.g. going through security) and can hold a hell of a lot of water. The Vapur water bottle is a similar alternative.
The only downside is that they're a bit tricky to clean.
Before I started traveling with a Platypus, the CamelBak was my go-to. Easy to throw in the dishwasher and clean and it, well, holds water. It's also on StefanRTW's list of travel water bottles.
Portable Battery Chargers
Although some flights have USB outlets under the seats now, not all do. Recently, I was on a United flight that felt like something out of the 90s (communal TV screen, anyone?). In that situation, a portable batter charger can be a life saver:
Travel Hackr recommends the Anker 2nd-Gen Astro portable charger while I'm more a fan of the smaller (but less powerful) Anker PowerCore.
Take a tip from our digital nomad buyer's guide — if you want a charger that does more than just charge, portable Wifi routers, like the D-Link or the HooToo ($39) can double as a portable battery charger in a pinch.
Miscellaneous
A few other things I usually have on hand when I fly include:
A pen… any pen
Tylenol PM (to help me sleep on flights over 6 hours)
Hand lotion
Face wipes
USB charger for my phone
TL;DR
For anyone who flies a lot (or at all), you can make your flight go much more smoothly and comfortably by packing:
A great travel pillow
Eye mask
Blanket, blanket scarf and (or) warm jacket
Headphones or earplugs
Water bottle
Portable battery charger
Pen, medicine, and skin care items
Want more like this?
Get weekly gear reviews, travel hacks, and packing tips sent straight to your inbox. We'll send you a carry on packing list right away.