Before boarding the plane on my first (and so far only) trip to Morocco during spring break of my study abroad, I spent hours Googling what to pack, what I, as a woman, should wear, and trying to figure out the temperatures and activities I should prepare for. Once on the ground, I felt like I'd done a pretty good job, but I literally spent hours combing forums and blogs.
Chances are, you don't have hours to spare researching your Morocco packing list the way college-me did. So, with this post, I want to simplify your search and give you not just a Morocco packing list, but to also answer: What should you wear in Morocco — especially as a woman? What should you pack if you're going there in the winter? The summer?
Morocco Packing List
Even on a brief visit to Morocco, you could go from sweating through your t-shirt exploring Marrakech to shivering outside on a cold night in the Atlas mountains. For that reason, I'd recommend having at least a rough idea of what you want to do and where you're going to get a better idea of how to pack.
For me, I traveled to Morocco as a college student. I knew I'd mostly stay in the south, around Marrakech, Essaouria, and eventually spend a night in the Sahara. I would be on a tight budget, and wanted to spend time both in cities and out hiking.
In retrospect, I actually wish I had brought a tent (to take advantage of ultra-budget camping options) and a pair of climbing shoes (for climbing Toudra Gorge), but probably only spent an extra $20-30 as a result.
This list is designed for travelers who want to do a variety of activities, and visit different places, during their trip to Morocco:
Travel Backpack
The Outbreaker travel backpack is the perfect bag for packing for Morocco, especially as a woman. When you can wear your bag, you're hands free for ease of movement and you're not at the mercy of "helpful" touts. Being able to carry your own bag is the ultimate freedom as a woman traveler.
And for travelers of all genders, the Outbreaker Backpack just can't be beat — with its waterproof sailcloth, spacious clothing compartment, and comfy height-adjustable suspension system, you'll never go back to your roller bag.
Clothing
1 pair of sneakers (for hikes and outdoor activities — seriously, you don't need hiking boots)
1 pair of flip-flops / sandals (especially if you plan on visiting a hammam or staying at hostels, those "shower flip flops" are essential)
Socks
Underwear / bras
1 pair of jeans and 1 pair of loose, breathable pants
1 long skirt (for the ladies)
3 – 4 t-shirts (one of which should be good for outdoor wear)
1 long sleeve shirt (baggy or otherwise)
1 light sweater or sweatshirt
1 jacket (it can get cold in certain places certain times of the year)
A bathing suit (ladies: bikinis, actually, are better. You can wear the bottoms to a hammam instead of your regular undies)
A scarf
Hat (either wool cap or floppy top, depending on the season)
Of course, you could always mix this up a little, and I'm personally a fan of the leggings-and-tunic combo (since leggings work well for sleeping). However, this list should give you a good base for your Morocco packing list.
What to Pack by Season 
December to February are the coldest months of the year in Morocco — and it does get chilly. You'll see snow on the tops of mountains, and the Sahara can be very cold at night (if you're planning to do an overnight camel trek out there — which you definitely should!)
The spring and fall are great times to go, when things have warmed up a bit, but haven't quite hit the brutal summer highs. Since Morocco is an arid climate, temperatures tend to go down after sunset throughout the year, much like California's climate.
If you're traveling to Morocco in the winter…
Bring a jacket, closed toe shoes and socks, and a wool cap. If you're heading to the coast, make sure that jacket is a windbreaker. If you plan on camping or staying in very rustic accommodations, consider bringing your own sleeping bag (ideally one that packs down small).
If you're traveling to Morocco in the spring / fall…
You'll still want to have a jacket or windbreaker on you for after dark, but also make sure to pack clothes that'll keep you cool during the day. A pair of loose fitting pants or a long skirt and breathable t-shirts work well.
If you're traveling to Morocco in the summer…
Like you would during the spring or fall, you'll still want clothes that keep you cool and a light jacket for after dark. Pack, don't plan on buying, a bottle of sunscreen. Sunscreen in Morocco can run from $10 – 18 USD, so much cheaper to just buy at home. Also think of packing a water bottle and a floppy hat (I personally hate the way they look… but I hear it's a thing).
What to Wear in Morocco
For men, there's not too much special to consider when figuring out what to wear in Morocco. In a nutshell, my advice to you would be:
Jeans and t-shirt are fine.
Long shorts (sorry SoCal hipsters) and t-shirts are OK in hotter regions, but are sometimes shorts are viewed as underwear. Bring them, but follow local cues.
Don't dress like a bum / Aladdin / etc. It could either get you unwanted attention (of the "hey, hey, hashish?" variety) or you'll just be laughed at.
For women, you will have to make sure you wear culturally appropriate clothing while traveling in Morocco. However, even though Morocco is predominantly Muslim, it's more relaxed than some of its neighbors to the east, and most major tourist spots have gotten used to foreigners and their style. Still, be culturally respectful and:
Cover your shoulders and leave the strappy tops at home.
Cover your knees at least. In rural areas, full length is even better.
You don't need to cover your head, but bring a scarf for visiting mosques.
I know short shorts and crop tops are in, but leave them at home.
Loose fitting pants and tunics are fantastic for travel to Morocco, especially if you're there in a hotter month (more on that later).
While I was there in April, I wore a t-shirt, light sweater, baggy pair of jeans, scarf, and flip-flops most days. If I wasn't wearing the scarf, it was at least in my bag just in case.
My last word on this is that, technically, you could totally walk around in shorts and a tank top in Marrakech's Djema el Fnaa or any other touristy region — but it will get you attention you don't want, and it's not all that respectful.
Morocco's already pretty relaxed (compared to some other Muslim nations) when it comes to female tourists bearing skin, so don't abuse it.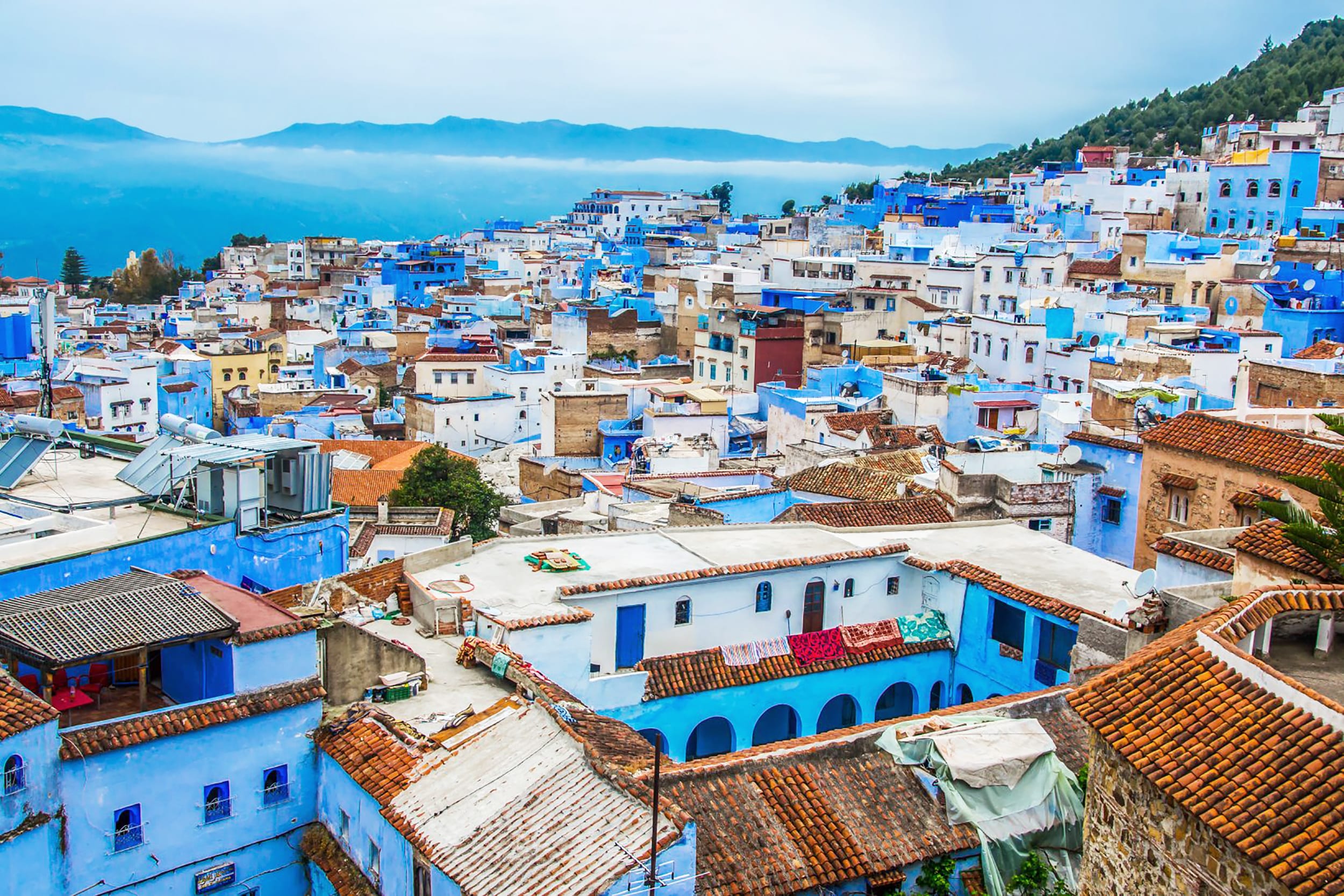 Daypack List for Morocco
A sturdy, well designed and packable daypack is an important piece of gear for your trip to Morocco. As with most things, one size does not fit all for daypacks. You'll be out on excursions on camels, wandering the medinas and shopping in the souqs and you'll want a bag with comfortable, padded straps, made out of decent material, not one of those flimsy waste of time daypacks that don't hold up to serious adventure.
If you are traveling with a laptop computer, or want the added toughness of fabric that won't tear, even if it's punctured, then the Outbreaker daypack is the best choice. Made of waterproof sailcloth with a designated computer sleeve, this bag makes an excellent office bag for the co-working space in Fez, or a trip to the souq in Esuaira.
On the other hand, if you aren't traveling with a computer but you need a bag to contain the essentials for your day of sightseeing in Marrakech, then the Setout packable daypack is just right. As an extra bonus, it folds up small into it's own pouch to fit neatly into your 
Make sure the following is in your daypack for every outing:
Sunscreen
Ample water (the Grayl bottle has a built in filter!)
Light wrap (for men and women, to cover up and block the sun and sand)
Wallet-light (leave most of your money, cards and valuables locked up, carry a small wallet with just what you need for the day
Phrase book (if you don't have an app for that)
Charger block (for your phone or camera)
The address of the place you're staying, written in Arabic (for when you get lost; hand it to a driver to get home easily)
Outdoor Gear
Morocco is great for outdoor lovers. But should you bring the gear? Here are some you may want to bring, and thoughts on each:
Surfboard – If you're a serious surfer, you're going to bring it. If you're a novice, you can rent.
Climbing gear – Ditto. There are some awesome climbs in Toudra Gorge, as well as several gear outfitters. At the minimum, bring your climbing shoes if you plan to scale some rocks.
Tent – I'm on the fence about traveling with camping gear. If you're on a really tight budget, a tent can save you some Dirham. Likewise, if you're planning on a trek, it can be nice to have your own gear. Otherwise, you don't really need it.
Sleeping bag – Again, this depends on your travel style. I did a lot of couchsurfing and was glad I had it, but wouldn't bother if I was only staying in hotels / hostels. Even treks into the Sahara will help you out with blankets and bedding.
Daypack, water bottle, and sneakers – This is all you'll need as a hiker.
Other important things to pack
Headlamp or mini-flashlight
Sunscreen
Camera / iPhone
Adapter
Book or Kindle (few English language books here)
Once there: keep snacks and some TP in your daypack — just in case!
TL;DR
If you're planning a trip to Morocco, make sure your Morocco packing list is both practical and respectful of local culture.
Start with the right luggage. A carry on travel backpack will keep you organized, comfortable, and keep your hands free.
Ladies, make sure to cover your shoulders and knees during your trip, and men should stick with long shorts as well. Throw in a scarf so you can quickly cover up at mosques or in rural areas need be.
No matter what time of year it is, bring layers and prepare to be both hot and cold at some point. In the winter, bring a good jacket, and in the summer pack your sunscreen instead of buying it there.
If you plan on being active, also think about what kind of outdoor gear you might need, and what you're OK with renting. Either way, sneakers are enough for 99% of the activities you'll be doing. Bring flip flops for hammam visits. Otherwise, your packing list shouldn't look too different from other trips abroad!
Want more like this?
Get weekly gear reviews, travel hacks, and packing tips sent straight to your inbox. As an added bonus, we'll send you a carry on packing list right away.