Tom Bihn Aeronaut vs Tortuga Travel Backpack
While both the Tortuga Travel Backpack and Aeronaut are the maximum allowable size for a carry on bag: 22″ x 14″ x 9″, they break up the space differently. The Travel Backpack offers one large main compartment. The Aeronaut is divided into three: a center compartment and two smaller compartments on each end. The Aeronaut offers more organization without requiring packing cubes, while the Tortuga Travel Backpack has more flexibility for packing larger clothing items and gear.
The biggest differences between the two bags are how ergonomic they are, how they store electronics, and how much they cost.
Ergonomics
The Aeronaut tries to be everything. It's a duffel bag first and a backpack second. Tom Bihn's website says:
Hard to categorize, the Aeronaut is at once soft luggage, a duffel bag, and a backpack.
The Tortuga Travel Backpack is designed to be one thing only: the best travel backpack on the market.
By trying to be a duffel bag and a backpack, the Aeronaut is forced to make sacrifices.
As Packhacker says in their review, "Most of our specific qualms with the Aeronaut stem from the different modes of carry. For instance, the backpack straps are anchored close together which means you can feel them digging into your neck—especially when the bag is fully loaded-out with heavy gear."
Because it's also a duffel bag, the Aeronaut doesn't include a hip belt. You have to pay extra for one. Even if you buy one, the belt that you get does not have any padding. From the Aeronaut's product description:
The waist strap is meant not so much as a weight-bearing "hip belt" but rather a simple way to further secure the Aeronaut on your body.
Without a padded, weight-bearing hip belt, you're forced to carry your entire load on your shoulders. The purpose of a hip belt is to distribute weight off of your shoulders and onto your hips. The Tortuga Travel Backpack transfers 80% of your backpack's weight onto your stronger leg and him muscles. By distributing your pack's weight, you minimize the strain on your shoulders and back.
Without a quality hip belt, the Aeronaut is less comfortable, especially on longer walks.
The Tortuga Travel Backpack includes a heavily padded, weight-bearing hip belt. By using the hip belt, shoulders straps, and chest strap, you can keep your load stabilized and feeling light on your back. When you tighten the hip belt correctly, you will immediately feel a change in your pack's weight. Hip belts may not look cool, but they work like magic.
Laptop Sleeve
The Aeronaut does not include a dedicated place to store your laptop or tablet. If you're carrying a computer, the Aeronaut cannot protect it.
The Tortuga Travel Backpack is designed for modern travelers who want to travel with a laptop or tablet. Use the dedicated sleeve which holds up to a 17″ laptop between the back padding and the bag's main compartment.
The Tortuga Travel Backpack's sleeve is TSA checkpoint friendly. The lie-flat design lets you leave your laptop inside the backpack when you're going through a TSA checkpoint.
Airlines already nickel and dime travelers for every little thing. Luggage companies should not do that, too.
Tom Bihn's unpadded waist belt will also cost you another $10. Although a hip belt is an essential part of a large travel backpack, they don't include it with your bag. It's a hidden fee.
Excessive baggage fees were a big motivator for us to create the carry-on-sized Tortuga Travel Backpack. If you want a bag that is comfortable, can accommodate your laptop, and is affordable, check out the Travel Backpack. Don't worry, Tortuga doesn't have any hidden fees.
Read more about the Tortuga Travel Backpack and make your own decision on the best travel backpack for you.
Related Articles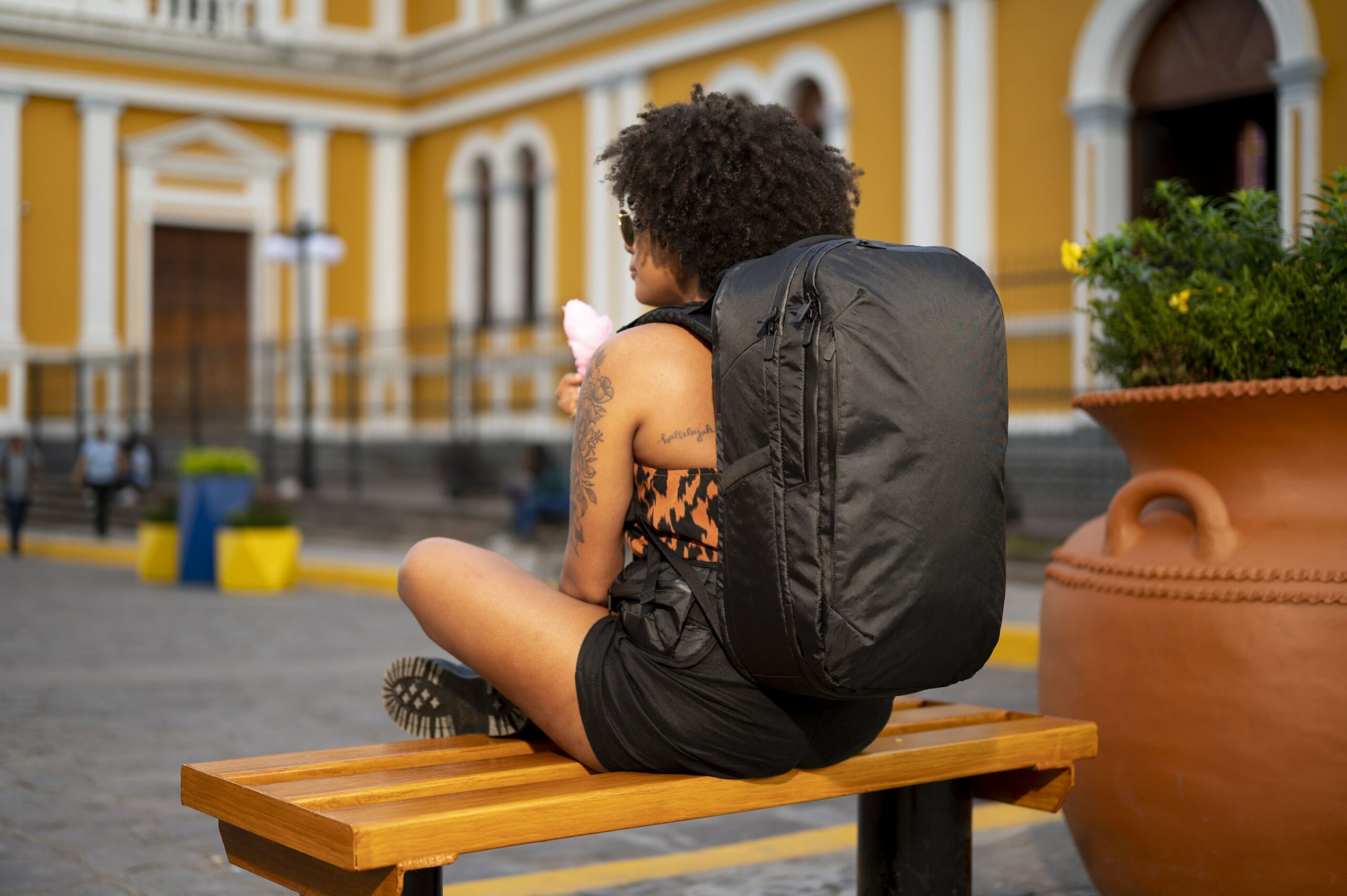 40L: Max International Carry On
Shop Now