Ok, I understand that the world has a lot of people in it (7.5 billion and counting last time I checked), but it's a pretty big place. You'd think there'd be at least a few interesting spots left that aren't selfie stick wielding tourist traps. Turns out, you're wrong.
Despite tense international relations (pretty much everywhere), tourism is booming. Over 1.2 billion tourists traveled in 2015, and that number is climbing. Planning a "secluded getaway" is tough, and only getting tougher.
To help you out I've compiled a list of the 7 Most Overcrowded Tourist Traps to Avoid in 2017 to help you avoid the crush of bodies, or at least adjust your expectations, for your next vacation.
But don't panic—it's not all bad news. I also have a super duper top-secret list of alternate suggestions for each tourist infested bummer. But be cool. Don't tag me in your twitter rant or send me the photos of your secret getaway on Instagram. That would ruin it for everyone.
The Great Wall of China: The Great Crowds of Beijing
Surprised that the Great Wall of China made the list of insanely crowded travel destinations? You shouldn't be—over 10 million people visit the wall every year.
"But the Great Wall is enormous," you say. "Surely, you can walk for miles without seeing another soul." If only that were true.
Yes, the Great Wall stretches over 13,000 miles from end to end, but despite this impressive length, the "Great Wall" is mostly just a handful of overcrowded, tourist ridden spots within a day's drive of Beijing. Thanks to travel constraints, construction woes and decay, guided tour groups, and just general laziness and unoriginality, almost all of those 10 million tourists go to two or three spots. Seriously: Biggest tourist trap in the world.
Hands down, the worst place to visit the Great Wall is Badaling, located 37 miles northwest of Beijing. A horror show of tourist buses, trams, "conveniently located shops and dining," and all the other schlock that ruins truly historic sites. Avoid it at all costs.
Enjoying the majesty of this ancient structure is impossible when thousands of other tourists are jockeying for the perfect selfie. Count me out. If you're imagining that picturesque solitude or perfectly framed shot of this ancient winding wonder of the world curving off into the distance—think again.
Alternative to The Great Wall: Kumbhalgarh Fort, Rajasthan, India
This, my friends, is "The Other Great Wall." Don't let the moniker of the second longest wall in the world deter you from visiting the Kumbhalgarh Fort located 84 kms north of Udaipur in western India—this "Great Wall of India" is home to splendor, magnitude, and majesty on par with that crowded fence in China, minus the hordes of tourists. Yes, the 22-mile length can't hold a candle to the length of the Great Wall in China, but you're not going to walk more than a few miles anyway, so what's the difference? And, if you visit, you'll find that, pound for pound, the Kumbhalgarh Fort can compete with the Great Wall in a hundred impressive ways.
Home to 360 temples, 7 massive gates, 7 ramparts, numerous towers, and a magnificent palace called Badal Mahal or the "Palace of Cloud" at the center, the "Great Wall of India" is beautiful unique location that somehow remains widely unknown to western tourists. Honestly, had you ever heard of this place before you read this article? No, you hadn't.
I'm actually going to drive the entire length of western India in April in my very own tuk-tuk (or rickshaw if you prefer) as part of the Adventurists Rickshaw Run (more on that in a few weeks). I don't care how far out of the way this is—we're going.
Take a stroll on the wide ramparts of a 15th century masterpiece, and enjoy the serenity of knowing that you've seen something that no one else has—at least no one you know.
If You Insist: Visit the "Wild Great Wall" at Jiankou
If you absolutely have to see the Great Wall of China, it's best to get a little "wild.' Specifically, at the "Wild Great Wall of China" which includes derelict sites, difficult to reach locations, and "unrestored portions of the wall that aren't open to mass tourism."
Here's a helpful TripAdvisor review to whet your appetite for the unknown:
"The Jiankou stretch of wall has some of the most dramatic elevation changes and scenery that the Great Wall has to offer. Although farther than the touristy sections of the wall, it is well worth the trip as you avoid a large majority of the crowds — often only seeing a few groups of tourists during your visit."
Antarctica: A Continent-Sized Tourist Trap
If you managed to visit Antarctica before it was cool (or increasingly warm), congratulations. Antarctica is officially "over" now.
In 2015 over 40,000 tourists visited Antarctica, and with more cruise companies opening every year, that number is only likely to increase. If you don't think 40,000 tourists sounds like all that many, remember that 100 years ago, only ten men had ever set foot on the South Pole, and five of them died on the return journey.
Even John Oliver doesn't want you to visit Antarctica. And that was three years ago.
Alternative to Antarctica: Tasiilaq, Greenland
Are you just dying to see glaciers, ice, snow, and polar wildlife before they're all gone? You don't have to trek to Antarctica with the uninformed masses—just head to Tasiilaq on the east coast of Greenland.
Isolated in a way that most westerners can't even comprehend, yet still accessible, the largest town in Eastern Greenland—Tasiilaq (pop. 2000)—is the staging point for pretty much everything you could ever want to do in the frozen north. Glacier hikes, dog sledding, kayaking, heliskiing, climbing, and snowmobiling are just some of the amazing adventures on offer, depending on when you visit. Greenland somehow manages to remain accessible while dodging the tourist trap bullet.
A tourist destination for over 50 years, Greenland has somehow remained largely ignored, The Secret Life of Walter Mitty notwithstanding. Greenland's glaciers are melting at an alarming rate, so if you want to see them, visit now. It won't be crowded.
Salt Flats at Salar de Uyuni, Bolivia: Photobombed in Paradise
Ever since I saw the first pictures of this magical landscape where land and sky merge in an endless vista or blue and white, I've wanted to visit the Salt Flats of Salar de Uyuni in Bolivia. Thing is, I'm not the only one.
In part thanks to the ease and ubiquity of smartphone photography, the Salt Flats of Bolivia have become a tourist trap for every travel blogger and Instagram star looking for a jumping profile photo. Seriously, it's an epidemic.
The fallout has been a surge of tourists leading to surprisingly expensive luxury tours that require booking times months in advance. Odds are your "once in a lifetime" photo is going to be tough to take without getting photobombed by a tour bus in the distance.
If you're not a big planner, the Salt Flats of Bolivia aren't for you.
Alternative to the Salt Flats at Salar de Uyuni: The Salinas Grandes, Argentina
Luckily, Bolivia doesn't have a monopoly on salt flats. Salinas Grandes in Argentina is home to over 3,200 miles of sprawling uninhabited, pure white salt flats, without the tourists.
Largely empty thanks to the difficulty reaching the flats, (you have to drive over a winding road with elevations over 13,000 feet!), the reward of enjoying the solitude are well worth a little altitude sickness. But the best part about Salinas Grandes—and the biggest indicator that it isn't a tourist trap—is that it's free to enter the salt flats. A free, uncrowded, pristine landscape at the top of the world? Unheard of.
Cabo San Lucas, Mexico: America's Mexico
While it's beautiful and full of interesting events like the annual whale migration, Cabo San Lucas has become a tourist mecca for partiers, spring breakers, and honestly, just tons of Americans.
Cards on the table, I am visiting Cabo later this year, and while I'm thrilled about it, I'm well aware that Cabo is a touristy destination that isn't indicative of the rest of Mexico. I'm excited by the ocean views and party atmosphere, but Cabo isn't Mexico. Honestly, you can spend a week there and not speak a lick of Spanish.
Alternative to Cabo San Lucas: Puerto Escondido, Oaxaca, Mexico
A few years ago I traveled around Mexico, Guatemala, and Belize for a few months, and, hands down, my favorite spot was Puerto Escondido in Oaxaca, Mexico.
I'm a surfer, so I was initially drawn to the world-class waves, but despite my initial aversion to what looked like another tourist trap, I instantly fell in love with the sleepy suburb of Brisas de Zicatela, just a few kilometers south of town.
Home was a 3-story tree house (for reals) with a lovely kitchen, decent wi-fi, and an epic view of the surf for just $7 a night. Surfing three times a day, I fueled up at this little taco place on the walk to the beach that has the greatest fish tacos and pineapple salsa in the entire world. Shut up. It totally does and you're wrong if you disagree.
The beaches were fun but quiet, the living was cheap and easy, and I read a lot of books when I wasn't surfing. Honestly, I don't know why I'm not there now. Seriously, I've thought of packing up shop, renting my place out for a few months, and heading down to surf, sleep, and get a boatload of writing done. Don't think I won't.
Las Vegas: Take Your Chances with the Crowd
With nearly 40 million visitors last year, Las Vegas tops almost every list of the "most visited tourist destinations on earth." And rightly so. Almost no one actually lives there, and if they do, you won't see them on the strip unless they're working or have a cousin in town. Vegas is kind of like Times Square in New York: bright, noisy, expensive, and full of tourists.
I always encourage people to try new things, but Vegas just shouldn't be one of them. It's a rough place to visit, takes a toll on tourists, and costs a fortune if you're not savvy.
If you absolutely insist on visiting Las Vegas, Here's a full rundown of every single casino on the Las Vegas Strip. In order.
Yeah, alternative travel isn't all about roughing it off the beaten path. Sometimes the most exclusive experience is that way because it's the best option possible.
If you crave the opposite of the Vegas Strip, but still want a chance to lose all your money, do it in style at the Monte Carlo Bay Casino in Monaco. Home to some of the wealthiest people in the world, the exclusivity might scare away most travelers, but not you. You're different. You want to run with a selective crowd.
Just be sure to wear a tuxedo (there's a dress code), and bring some cash (admission to the casino itself is 10€. On the plus side, you only have to be 18 years old to gamble, so that's awesome.
Varadero, Cuba: Hemingway Loved It. Probably.
If you haven't heard, Cuba is open to American tourists for the first time in over 50 years, which would be awesome except for one tiny detail: It's full of American tourists now.
Havana and the surrounds are absolutely packed with Americans searching for forbidden thrills and hidden gems on this once off-limits island, but actual serendipity is in short supply. Housing shortages, lodging woes, and just general overcrowding have become hallmarks of Cuban tourism since the borders opened in 2015.
One of the biggest offenders is Varadero Beach, located just 20 km from Havana (and the international airport). The blonde sand beaches and amenities are enticing, but the tourist conveyor belt from Havana makes sure the beaches are stocked with tourists year round.
Bonus tip: If a destination says anything about Hemingway, avoid it like the plague.
Alternative to Varadero, Cuba: Península de Guanahacibibes, Pinar del Río Province
While there are tons of options for seeing "the real Cuba" the Peninsula de Guanahacibibes on the isolated western tip of the island might be the most remote.
Located in the opposite direction of Veradero (whew), this pristine stretch of island is home to more than just crowded beaches. Home to 60km of green wilderness dotted with sandy beaches like María La Gorda, take your pick of activities from beach lounging, hiking, or some of the best diving and snorkeling in the Caribbean.
Times Square, New York City: NOPE NOPE NOPE NOPE
We're number one! We're number one! Depending on how exactly you measure it, New York City's Times Square (and the Forbidden City) are routinely touted as the most visited tourist destinations in the world. But I don't live 3 miles away from the Forbidden City, so I'm going to talk about Times Square.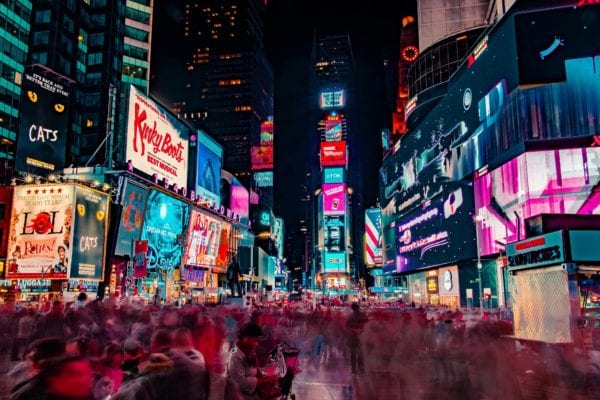 Thanks to recent efforts to clean up Times Square and polish it with Broadway glitter, this monument to consumerism has become more popular than ever. Except with people that actually live in New York. Times Square is an abomination that I only see when relatives visit, or I have a hankering for Olive Garden.
On New Year's Eve alone, over 1 million people crowd into Times Square to watch the ball drop. Let me repeat that: a crowd of 1 million people—or roughly the population of Idaho—squeeze into a cordoned off area consisting of a few city blocks to watch a shiny ball slide down a pole. All the nopes. Nope. Nope. Nope.
Alternative to Times Square: Nauru: The Least Visited Country in the World
You haven't even heard of Nauru, and that's not surprising seeing as it's the world's smallest island nation (8 sq. miles) and the least visited country on earth. In 2011, only 200 people visited this Micronesian enclave. Two hundred. That's amazing. You could realistically meet every single Nauru…vian tourist in a single evening. And probably remember most of their names.
Sure, most of the island is an open phosphate mine, but true isolation comes at a price. I can't wait to visit this yea—what's that? A BBC report claims that the Australian government has been forcefully sending refugees and asylum seekers to Nauru for indeterminate amounts of time in a human rights tragedy since 2013? There are more than 10,000 people on the island now?
Damnit! Even an open phosphate mine on a tiny island in the middle of the ocean is crowded. I give up. If you need me, I'll be in an Elmo suit in Time Square giving out "free" hugs.
TL;DR
The world is getting smaller, more populated, and easier to traverse every single year. Selfie sticks are everywhere and nothing is sacred. If you want to escape the tourist hordes, you have to dig a little deeper and get outside your comfort zone. But the rewards (and the selfies) are worth the extra effort.
The Great Wall of India is incredible
Don't go to Antarctica
Cuba is basically Florida now
Even a phosphate mine in the middle of the ocean is overcrowded
Photo Credit: Travel Coffee Break, Stocksnap
Want more like this?
Get weekly gear reviews, travel hacks, and packing tips sent straight to your inbox. We'll send you a carry on packing list right away.