How to Choose the Best Travel Backpack for Europe
The Tortuga Promise
At Tortuga, our mission is to make travel easier. Our advice and recommendations are based on years of travel experience. We only recommend products that we use on our own travels.
When traveling around Europe, your bag shouldn't define your trip. Even if you say that you're "backpacking Europe." Your bag should make your trip easier, not add to your worries.
A suitcase is too heavy to haul up a flight of stairs, never mind across all of Europe. A hiking backpack is comfortable but disorganized.
What you need is a backpack made for traveling. Your backpack should combine the size and organization of a carry on with the ergonomic design of a hiking backpack.
Unfortunately, many travelers don't buy travel backpacks because they don't know the difference. Learn what to look for in a backpack specifically designed for travel and how to choose the best backpack for Europe.
Tortuga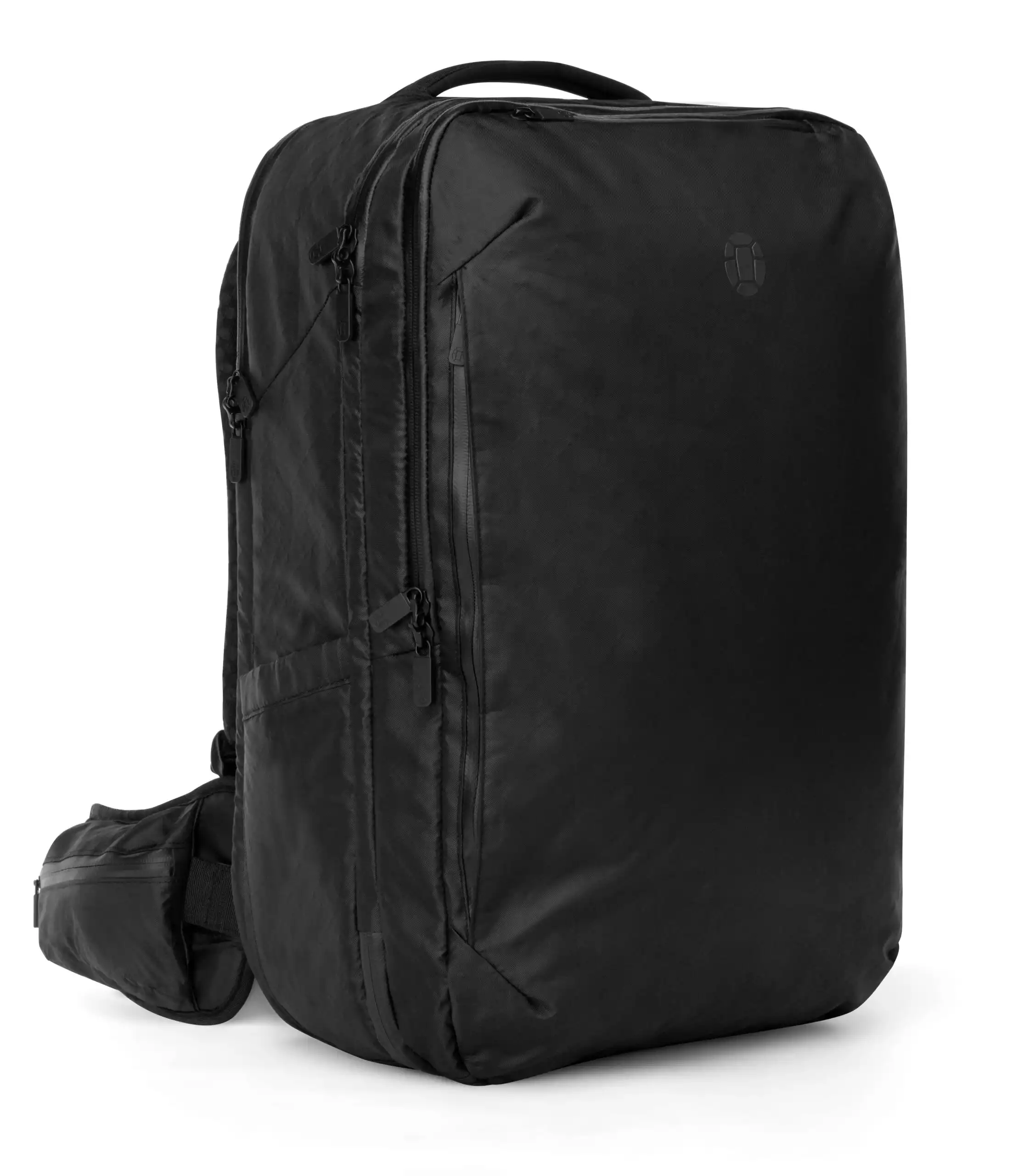 What Size Backpack Should You Buy for Europe?
When you're on the road, don't lug around an oversized hiking backpack. You'll never get anywhere.
You need a bag that works in every travel scenario. A travel backpack for Europe should be carry on-sized, even if you'll be riding on more trains than planes.
The exact size depends on which airline (or airlines) you'll be flying. The carry on size rules vary between America and Europe. Make sure to check every airline that you'll be flying, especially if that includes a US carrier to Europe and European carriers within the continent.
The maximum size carry on allowed in the US is typically 22 x 14 x 9″, or 45L in volume. In Europe, you'll see more variance. Stricter airlines there will only allow bags up to 21.5″ (55 cm) tall and 8″ (20 cm) deep.
Make sure to check carry on size restrictions for your airline, especially for budget travel. Budget airlines are often more strict about the size and weight of your bag. Don't forget to weigh your bag before you leave. A cheap $10-20 luggage scale could save you a checked bag fee.
When you do take your bag on a flight, you'll save money and time by not checking it. Since you'll have it with you, your airline can't lose or damage your bag either.
We recommend a mid-sized carry on backpack under 40L for maximum flexibility across airlines and regions. This size is small enough to be comfortable on your back and easily maneuvered around trains and hostels. You'll be able to fit one to two weeks of clothing which you can re-wear and wash on longer Eurotrips.
Get Organized
Most backpacks load from the top. To get something out of the middle or bottom of your bag, you'll have to unpack everything above it.
You'll need a better solution than that while traveling, especially when staying in hostels and budget hotels without much personal space.
Use a front-loading bag that packs like a suitcase. Front-loading (also known as panel-loading) backpacks open like a book so that you can easily reach anything in your bag without unpacking everything on your person.
Now you can have convenient access for yourself and won't annoy anyone else because your clothes are strewn around the room. Win, win.
Prevent Theft
Petty theft unfortunately happens in hostels and on trains and buses. Crowded tourist areas are prime targets for pickpockets since they know you are likely carrying money and maybe even your essential documents. Plus, you're distracted by sightseeing.
Hiking bags close with a simple drawstring or buckles. Those bags are magnets for thieves. They're a breeze to get into and make you stand out as an obvious tourist.
A smarter option is a theft-proof backpack. You'll never be 100% theft proof, but lockable zippers can slow a thief down. They also send the message that you're not an easy mark, so thieves are more likely to skip your locked bag in favor of an unlocked one.
Use a simple TSA-approved padlock to prepare your travel backpack for Europe. When a potential thief sees that little lock, he'll move on to an easier target.
Stay Comfortable
In Europe you'll be moving around between accommodations and cities on buses and trains. You'll be walking a lot, and you need an ergonomic backpack.
The best approach is to look for a backpack with a hiking-style suspension system. Unlike traditional backpacks, where all of the weight is on your shoulders, a hiking backpack uses a padded hip belt to transfer most of the weight to your leg muscles, which are far stronger.
Wearing a hip belt saves you from back, neck, and shoulder strain. When you switch to a hip belt, you'll never go back.
Tortuga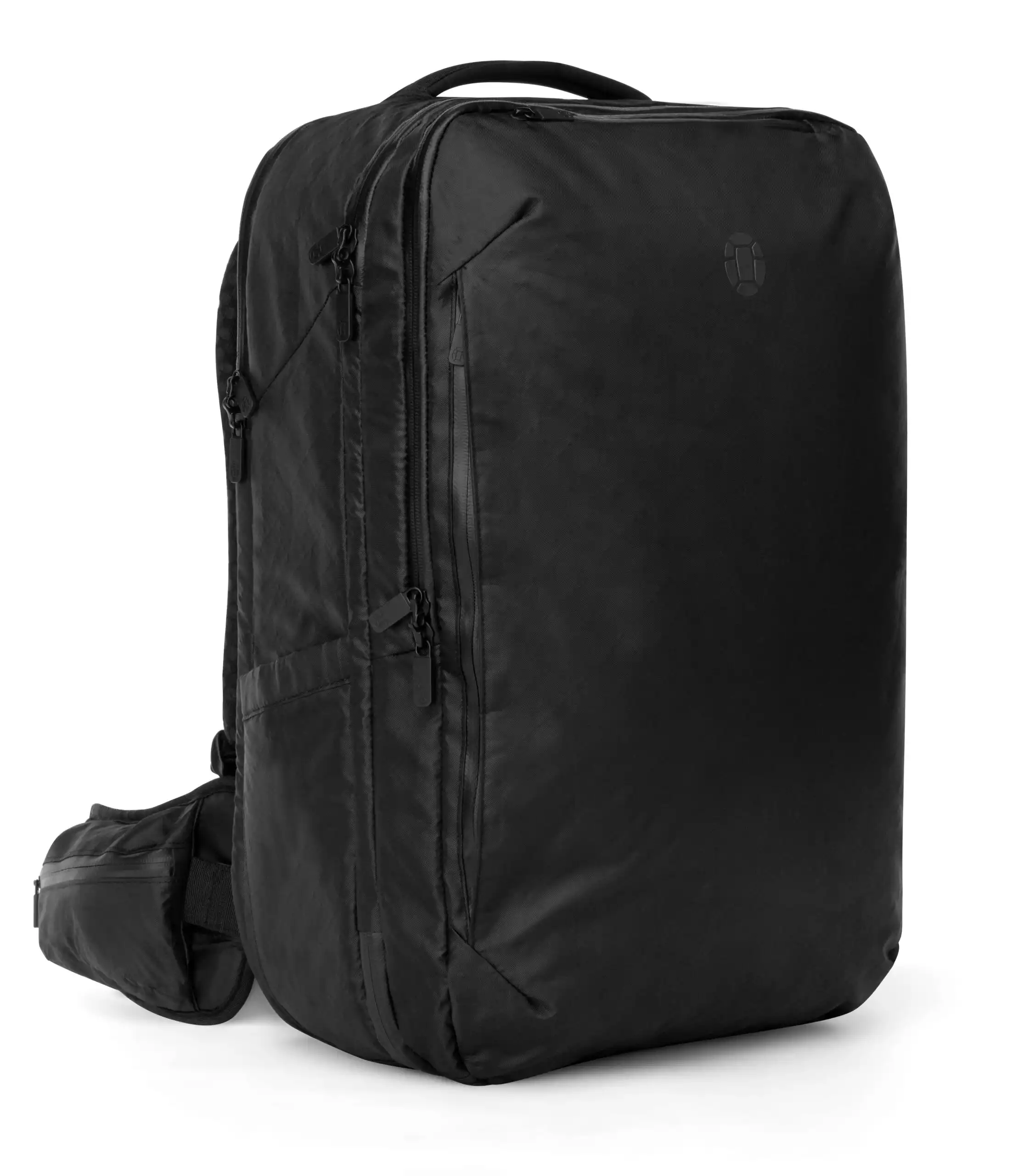 The Best Travel Backpack for Europe
The Travel Backpack combines the ergonomics and portability of a backpack with the obsessive organization and easy packing of a suitcase. With the Tortuga Travel Backpack, you have a compartment or pocket for everything on your packing list.
There's a large main compartment for your clothes with zippered pockets for cords, toiletries, and other small stuff. You can pack your laptop, tablet, or Kindle in the TSA-friendly lay-flat laptop compartment. You can stow all the small essentials that demand easy access—like your favorite notebook or sunglasses—in the front compartment.
The Travel Backpack is height-adjustable so you'll get a perfect fit.
The bag is made with waterproof sailcloth to keep your stuff safe on rainy European days.
The Tortuga Travel Backpack is our most ergonomic, most organized, and most adjustable backpack. The 35L size will meet carry on dimensions on most European airlines so you never have to check a bag.
We started Tortuga after realizing the shortcomings of existing bags during a backpacking trip to Eastern Europe in 2009. Mine was large, cumbersome, and disorganized. Jeremy's shoulder strap broke on the first day due to cheap materials.
We couldn't find the perfect travel backpack, so we made it.
If you're heading to Europe, you need a backpack designed for travelers by travelers.