There are a few pieces of travel gear or clothing that are so useful or versatile they can fundamentally change how you travel. An elastic belt, merino socks, stretchy pants, a battery case for your phone, and a fanny pack (sorry — "bum bag" if you're from the UK) are all straight up game changers once you cross the Rubicon and embrace something that might not be in your typical travel wheelhouse. Recently, a travel blazer has joined my list of oddly useful, good-for-every-trip, must-have packing items.
And I feel so dang mature (it's pronounced mah-TOUR, you heathen).
Travel Blazers are Awesome
What a blazer does for your travel gear is weird. No really. When you first start backpacking it's all about "performance" gear. Zipper toggles and pockets inside of other reinforced pockets. Goretex… everything. Then, a strange thing happens: you learn how to pack better.
Over the years, my wardrobe has gotten smaller while also becoming more versatile and (oddly), better for longer trips. I know, crazy, right? But that's the thing about long-haul travel and "digital nomadism"—travel isn't just about pub crawls anymore—although who doesn't like a "free" 25€ novelty t-shirt? When you embrace carry on packing you, paradoxically, have to up your game with better quality fabrics (i.e. clothing that doesn't stink or wrinkle after a few days) and outfits that look good in every setting from destination weddings, to walking tours.
Fashionable travel isn't just about looking cool when you're on the road. It's about feeling comfortable, traveling well, and getting stuff done. Travel jackets are one of the most difficult things to pack. They take up a lot of space, they wrinkle easily, and the worst part about most travel jackets is that unless there's terrible weather (or it's winter), you might go the entire trip without using one of the most bulky items in your backpack. Unless you pack a travel jacket that doubles as part of your everyday wardrobe.
When you invest in better gear—like a travel blazer—you have a layer that performs on the plane, on a packed bus to nowhere, on windy walks to the coffee shop to write that blog, and at the co-working space downtown. But what's more, you free yourself up to enjoy your trip without a massive coat weighing you down or making you look like you just got back from Everest.
So, without further ado, here are some of the best travel blazers around, but first, let's start with a quick sizing guide to help you pick the right blazer for you.
Travel Blazer Sizing Guide
The whole point of a travel blazer is to have a layer you can wear anytime, to any event. That means it has to fit well, and by that I mean snug where you want it, and comfy where you need it. A floppy mess will make you look like you borrowed your grandpa's old coat and if it's too tight… well you'll look like an idiot.
Three options
Look in a blazer you already own.
Have a professional measure you, such as a tailor or dry cleaner.
Measure yourself using the instructions below:

Maintain the same height of the tape measure all the way around your body.
Make the tape measure snug, but not tight when you read the measurement.
How to determin your sleeve length
Relax your arms (Natural arm stance is slightly bent, never straight)
Take measurement in 3 steps
Start at the bone at the top edge of your shoulders down to the elbow
Land tape measure slightly back towards the elbow bone
Continue down to below the wrist bone for final measurements
Every blazer is different but typically blazer sizing follows these general criteria:
Small: 35"-37"
Medium: 38"-40"
Large: 42"-44"
XL: 44"+
Slim Fit: Typically 1" slimmer than a regular cut blazer
Long: Typically 1" longer sleeve length than a regular cut blazer (for men over 6'0" tall)
Those aren't hard fast rules, but they're a great starting point. To make sure you have your measurements correct, use a cloth measuring tape (not that one in the tool box), and measure your chest at the largest point, or your midsection if that's a little bigger, then use the largest number. No judgement if your belly is bigger than your chest, you just need to use that as your measurement so that the blazer fits.
To measure your sleeve length, start at the center back of your neck with your arm slightly bent and follow the tape measure around to your wrist bone. If that sounds weird, welcome to the world of tailoring.
I'm a relatively slim, tall guy so I always make sure to get a slim fit (I'll drop an inch in a regular cut blazer), and get the long sleeve length. Play with your fit until you dial it in, but once you do write those numbers down. Your accurate measurements are your new social security number. Oh, and always go single breasted. This isn't a suit jacket, you fancy bastard. Keep it stylish.
But enough about sizing. Here are some of my favorite travel blazers.
If you've read anything else I've written about travel clothing, it's no secret that I'm a big Bluffworks fan. They make excellent, stylish travel clothing that not only takes an absolute ass kicking on the road, but looks great while it's doing it. I get comments on my Bluffworks travel pants nearly every time I wear them, and the same holds true for the travel blazer.
This wrinkle-free travel blazer fits great, looks awesome, with all the right stretch and give to take everything from airport lounges to after hour raves. Machine washable (which is a surprisingly rare feature for travel blazers) and super comfortable, thanks to the stretchy polyester, the Bluffworks travel blazer features 10 pockets, many with zippered enclosures, to keep your stuff safe and organized while in transit.
Look dapper at the airport and breezing through security with all your stuff conveniently stashed in your secure pockets. No more dumping everything in that little tray.
Wear this blazer to your next meeting, or just on your next flight, and you'll impress someone when you land looking fresh as hell.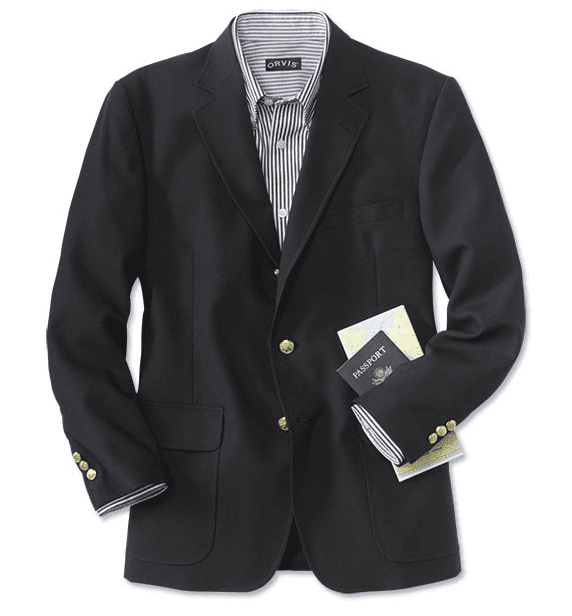 The wool blend fabric makes it great for fighting wrinkles, hiding stains, and resisting odor from a few too many hours on the road. (I'm kind of a wool nerd). Like the Bluffworks blazer, the Hopsack travel blazer has the right amount of pockets (a button-tab pocket, zippered security pocket,"utility" pockets) making it a great jacket for keeping tickets, passports, and your phone organized, safe and still handy in transit.
The Orvis buttons are flashy as heck, it's tailored to look like a "3-roll-2" jacket meaning it has a sweet deep V when you only button the middle button—which is the only way to wear a blazer.
Bonus Feature: The lapel button hole is actually really good for holding your headphone cable and keeping your earbuds organized if you haven't gone for bluetooth headphones yet.
The Tasso Elba linen blazer from Alfani is a surprisingly lightweight travel blazer perfect for wearing as a pure fashion accessory. Think the Azores, or "lunching" on a sloop with a dude named Bryce. Linen doesn't pack as well as polyester, wool, or cotton, but it looks great, and won't weigh you down.
What it lacks in uber functionality, it makes up in pure style. But if you're looking for a more hearty travel version, check out the Tasso Elba Stretch Knit Blazer ($129) for more warmth, a more textured travel look, and durable feel.
If you're looking for a clean, no frills travel blazer that can get the job done for under $100, look no further. The Microfiber hybrid blazer is a practical, solid travel jacket. The cut isn't the most stylish on the market, but maybe that's what you want—a step up from your old rain jacket that doesn't look out of place at happy hour.
Full of features like RFID-blocking pockets and a stain-resistant finish, this travel blazer is a great budget option to see if travel blazers are even your thing.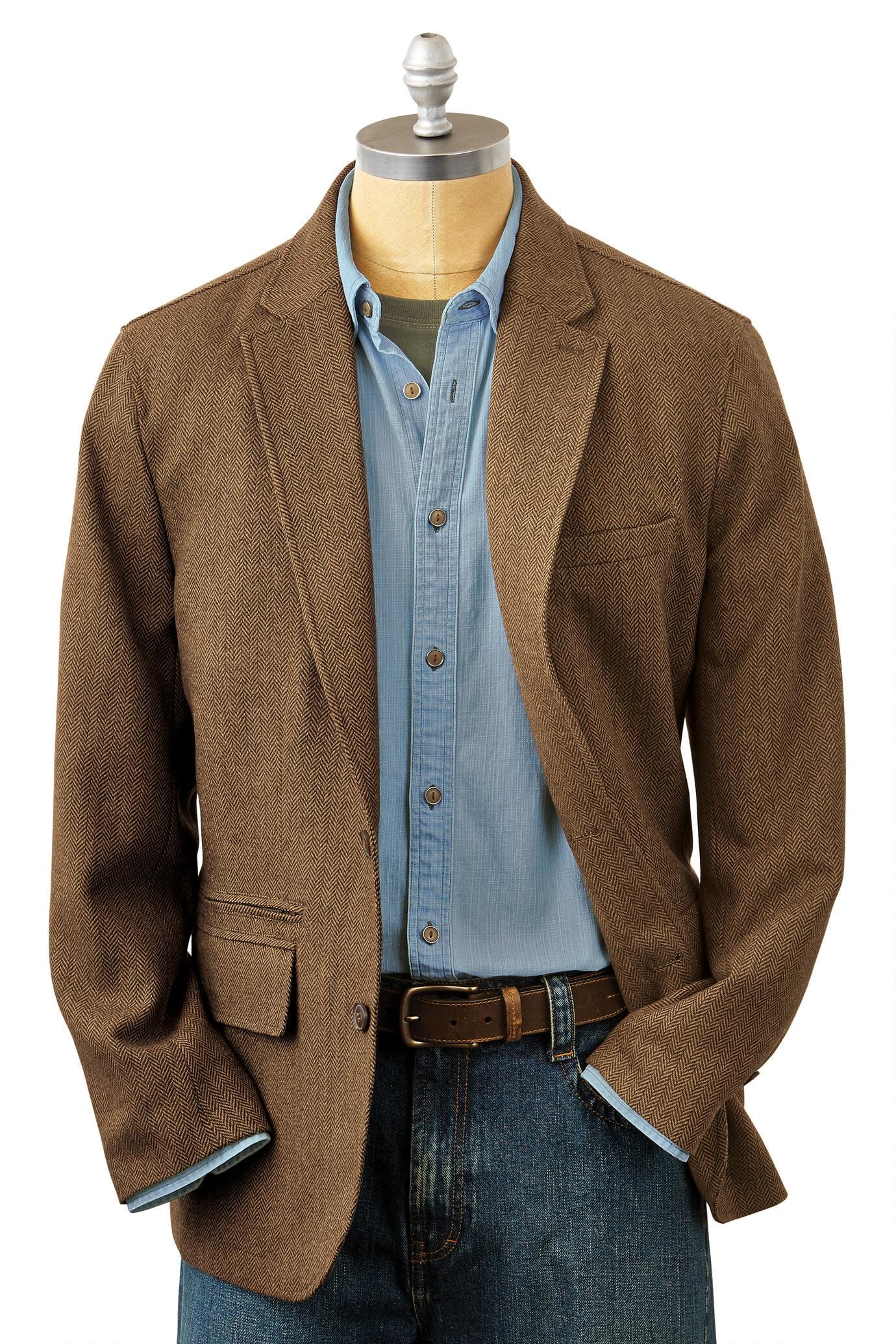 If you want to trick people into thinking you're a traveling archeology professor searching for a lost relic, ditch the whip and fedora and snag a travel blazer with style. The midweight poly-wool herringbone pattern gives this travel blazer a classic look that screams, "I know what I'm doing."
It's machine washable, making it ideal for travel. And, it's packed with eight pockets—including, two flap pockets (with snazzy plaid lining inside), zip chest pockets, and even a hidden zip pocket. Fully lined in cotton plaid, this blazer even has freaking herringbone elbow patches.
The horn buttons and double back vents are all style, but the loop inside back neck means you don't need a hanger to hang it. This stylish travel blazer might just make you a better person. Maybe.
TL;DR
The best travel wardrobes hinge on a few pieces of gear that work everywhere for every occasion. When you're ready to take your travel style to the next level, invest in a great travel blazer and you'll be wearing it on adventures for years to come.
Slim fit is awesome if you're "slim"
Write down your measurements; they're super useful to have
Machine-washable is super important for a travel blazer
Zippered pockets turn your blazer into a secret carry on bag
Don't you dare button that bottom button. Stop it. Stop it, right now.
Want more like this?
Get weekly travel hacks, gear reviews, and packing tips sent straight to your inbox. We'll send you a carry on packing list right away.