How to Build a Travel Capsule Wardrobe
The Tortuga Promise
At Tortuga, our mission is to make travel easier. Our advice and recommendations are based on years of travel experience. We only recommend products that we use on our own travels.
Steve Jobs wore his trademark black turtleneck. Former President Obama keeps his wardrobe simple to avoid decision fatigue. Forbes even made a list of celebrities who always dress the same. What can we learn from the idiosyncrasies of the rich and famous?
We can learn to keep our wardrobes simple, especially when traveling.
Building a core wardrobe of matching basics will help you pare down your packing list and travel with just a carry on backpack, saving time and money.
Plus, since your clothing is meant to mix and match, a capsule wardrobe makes figuring out what you want to wear that much easier—you can recombine any pieces you like into a fresh outfit.
In this article, we'll show you how to build a capsule wardrobe that will fit in your carry on and keep you looking sharp wherever you go. Then we'll look at example packing lists for different types of trips and travelers. Finally, we'll dig into specific product recommendations that deserve a spot in your bag.
Tortuga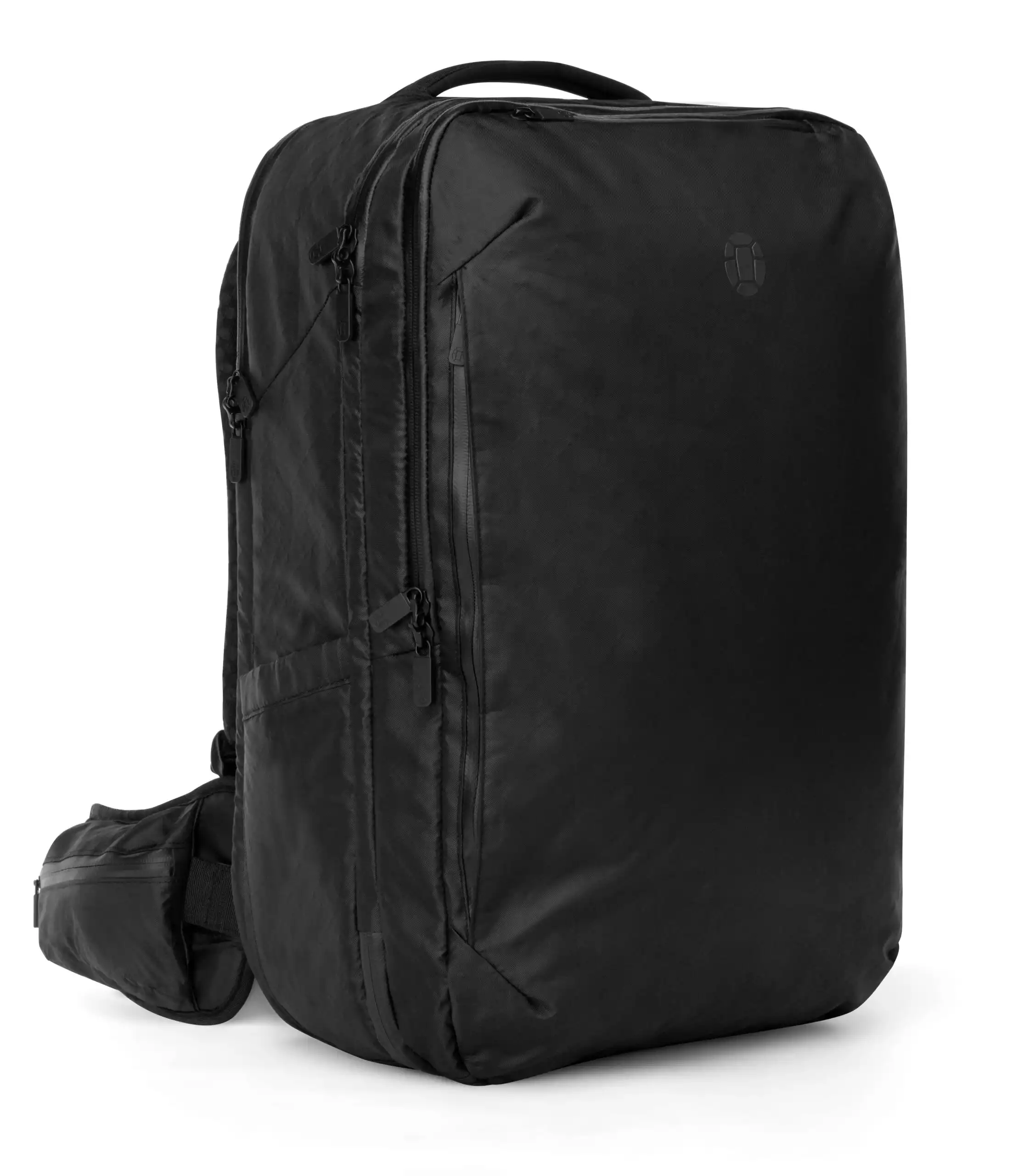 What Is a Travel Capsule Wardrobe?
A capsule wardrobe is a collection of basic, functional clothing that won't go out of style. Each item should be multi-purpose and compatible with the rest of the wardrobe. Think versatile staples, not this season's must haves.
An ideal travel capsule wardrobe will also consist of a small number of quality items that can withstand the rigors of life on the go. You shouldn't need to replace everything on your next trip.
Finally, you should genuinely like every item in your capsule wardrobe. Remember, simple and functional don't have to mean ugly. You want to feel good about reaching for these pieces again and again.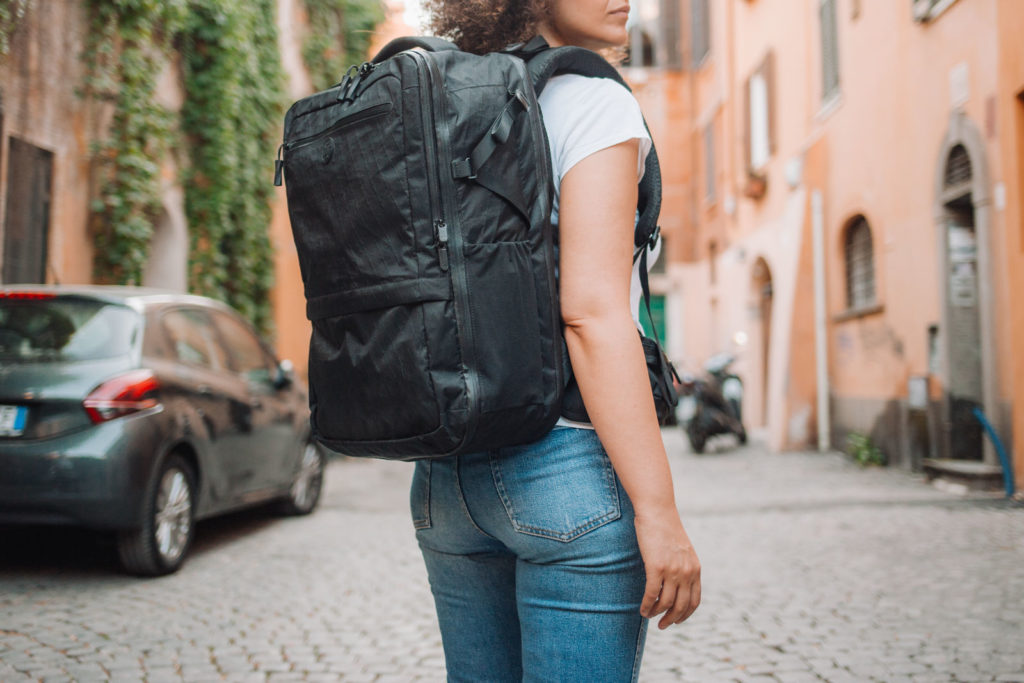 Choose the Right Bag
A capsule wardrobe won't go far without the right bag to pack it in. Choose a travel backpack that's carry-on-sized like the Outbreaker Backpack. The Outbreaker fits a week's worth of clothes, making it ideal for traveling with a capsule wardrobe.
How to Build a Travel Capsule Wardrobe
Your travel capsule wardrobe should follow the principles of packing light.
Pack for One Week
You don't have to replace your entire closet. Your packing list should include enough items for one week's worth of outfits. When you travel for longer than a week, do laundry.
Pack Layers, Not Bulk
A few thin layers are more versatile than one heavy layer. Light pieces are also smaller to pack, making them perfect for carry-on traveling.
Choose the Right Fabrics
To avoid breaking out the iron in every place you stay, opt for clothing that's naturally wrinkle-free.
Merino wool is good at repelling odors and regulating temperature, while synthetic performance fabrics are good at wicking sweat. Avoid 100% cotton, which is quick to smell and slow to dry.
Aim for clothes that are easy to maintain. Vacation is too short to waste on trips to the dry cleaner.
Invest in Quality Materials and Craftsmanship
A high-quality t-shirt can immediately elevate your outfit. You also don't want ripped seams and lost buttons on the road, so don't cheap out on the basics. Opt for well-made items that you can count on for many trips to come.
Avoid fast fashion, which won't hold up in a capsule wardrobe.
Simplify Your Color Palette
Keep your capsule wardrobe within a matching (and ideally neutral) color palette, so you don't have to decide which clothes to wear together. Leave bright hues and wild patterns as accent pieces or for the rest of your closet at home.
Pick Timeless Cuts
Remember, a good capsule wardrobe is made up of a small number of durable, classic pieces. Go for timeless silhouettes that make you feel comfortable and confident, and don't waste energy worrying about the latest trends.
Consider Tailoring
Proper fit can make all the difference between looking sloppy and looking chic. Hem pants, shorten sleeves, and take in waistbands to add polish to even the most basic outfits.
You'll be getting a lot of use out of these pieces, so a trip to the tailor is worth the cost.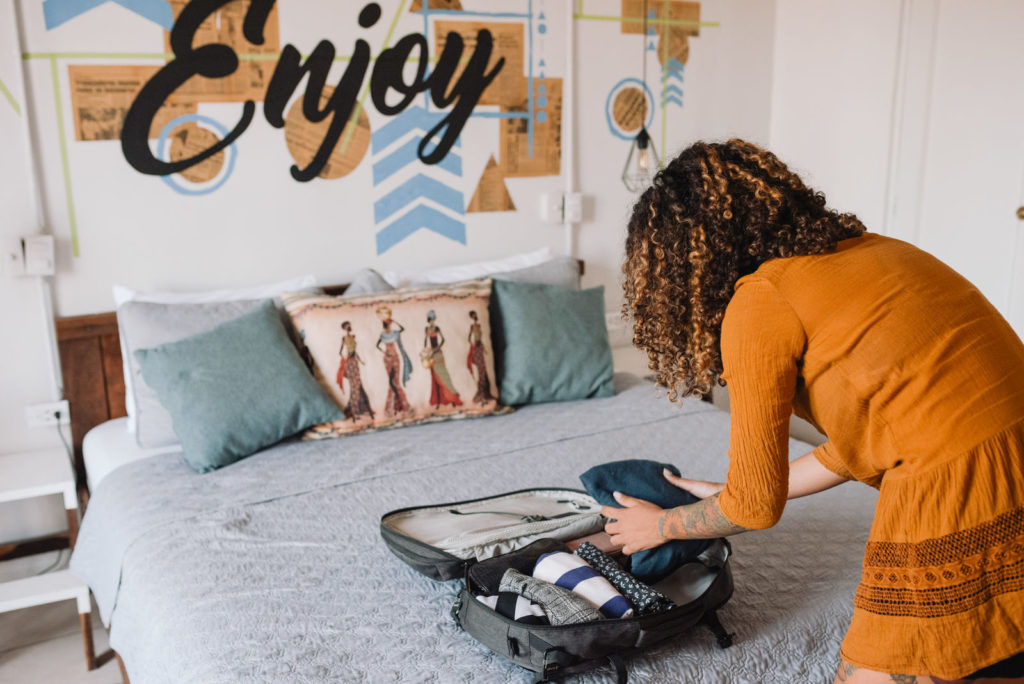 Travel Capsule Wardrobe Checklists
Our basic capsule wardrobe packing list will work for most kinds of trips. We've based this list off of our ultimate carry on packing list, which is designed to last a week in a carry on. You can mix and match items and lists to build one that makes the most sense for you and your travels.
We've also included additional packing lists for business travelers, outdoor adventurers, and those heading to extreme climates below.
Women's Travel Capsule Wardrobe
Men's Travel Capsule Wardrobe
Summer Travel Capsule Wardrobe
Use this packing list for beach vacations, cruises, and other warm-weather trips.
Tortuga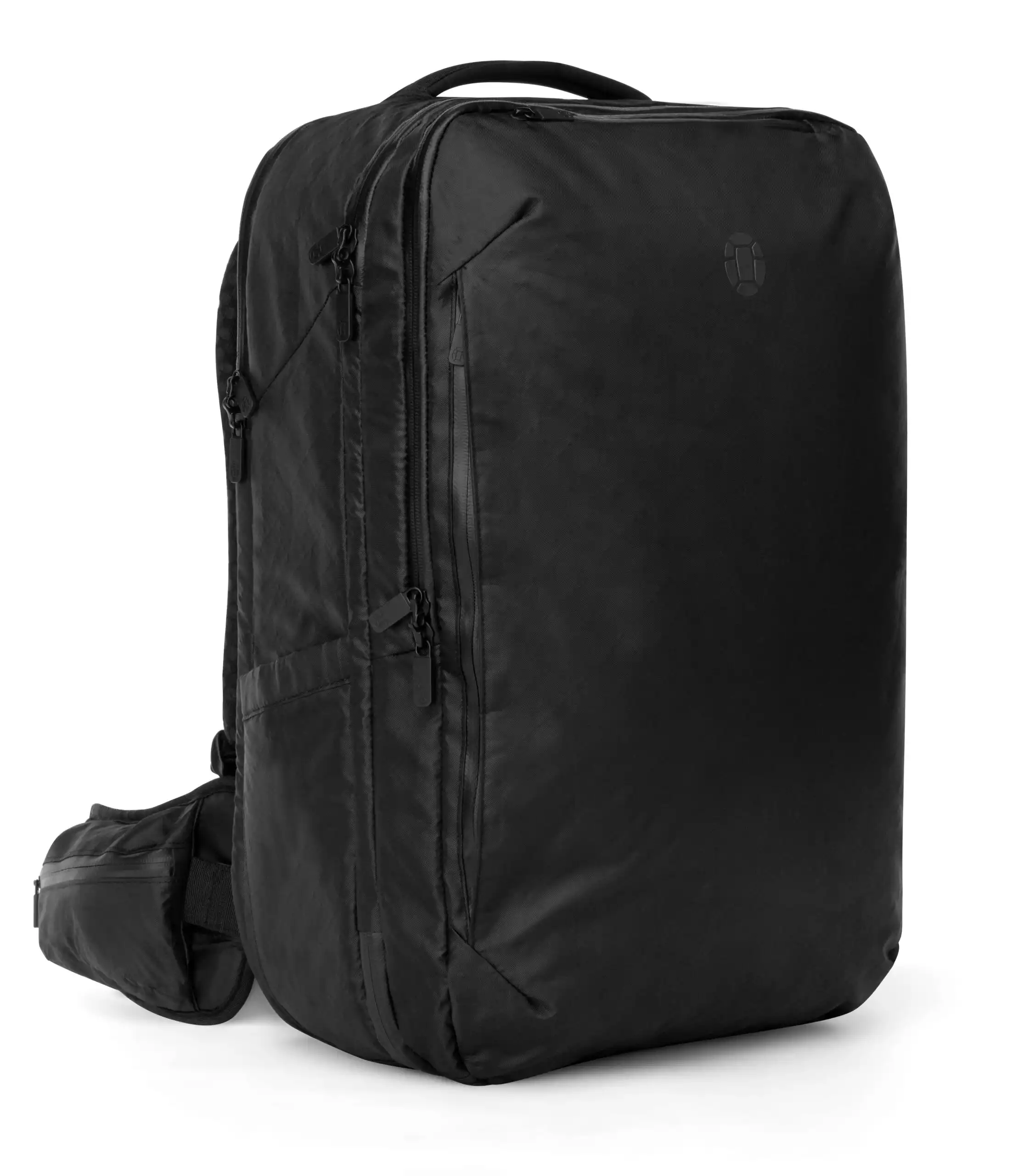 Winter Travel Capsule Wardrobe
Use this packing list for winter travel, especially if you'll be spending time sightseeing outdoors.
Business Travel Capsule Wardrobe
If your travel includes regular meetings, in person or online, consider adding the following to items your capsule wardrobe:
Adventure Travel Capsule Wardrobe
Use this packing list if you plan to spend a lot of time in the great outdoors:
Depending on the weather at your destination, make two workout capsule wardrobes: one for cold weather and one for warm weather. Store one at your home base and swap it out when needed.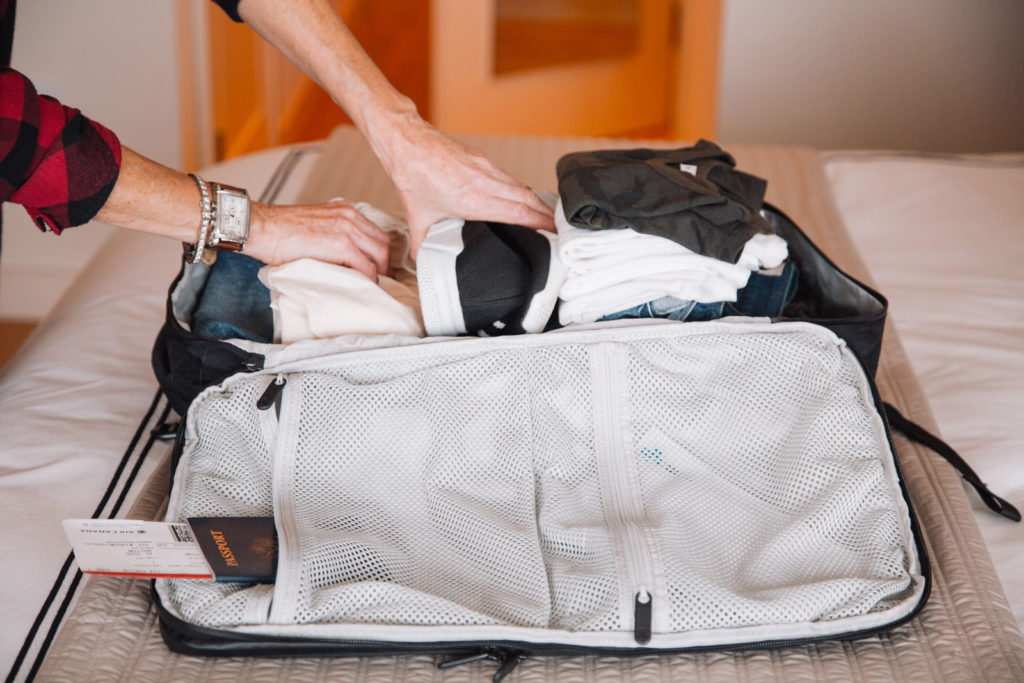 The Best Clothing for Travel Capsule Wardrobes
Remember that a good capsule wardrobe is made up of a small number of durable, classic pieces. No cheap throwaways. No fast fashion.
This wardrobe is an investment. If something costs more than you would usually pay, that's okay, as long as it lasts longer and never goes out of style.
Travel Capsule Wardrobe T-Shirts
Merino wool is the ideal t-shirt fabric because it regulates your body temperature and repels odors. You can wear a merino shirt multiple times before needing to wash it.
Smartwool and Icebreaker are the most popular choices. We also like newer brands like Unbound Merino, Wool & Prince, and Outlier.
For non-wool t-shirts, check out brands like Everlane and Uniqlo.
Travel Capsule Wardrobe Jackets
Your choice of jacket completely depends on the weather in your destination and your travel style.
Rainy weather is easy. Most outdoor companies make thin, packable rain jackets. Multiple Tortuga recommend the Patagonia Torrentshell (men's, women's). L.L. Bean's H2Off and Columbia's Arcadia II are solid, affordable picks.
Temperate weather and city trips call for canvas, jean, or shirt jackets, which are easy to dress up or down. Just avoid anything too bulky.
Leather jackets look great with just about anything but are heavy. If you'll wear yours every day (and thus never have to fit it in your bag), a leather moto can make a strong addition to your wardrobe.
For cold (but not frigid) weather or more outdoorsy destinations, go for a packable puffer that you can layer over a fleece or under a weather-proof shell.
Down insulation offers the best warmth to weight ratio. My Patagonia Down Sweater Jacket (men's, women's) kept me warm in actual Patagonia and smooshed into the size of a baseball in my backpack. Uniqlo's Ultra Light Down Jacket (men's, women's) is a comparable budget option.
Because down doesn't work well when wet, consider synthetic fill for drizzly destinations. Synthetic fibers dry faster than down and are also generally cheaper. Either way, stick to dark colors, which keep puffers looking sleek.
For very cold weather, invest in a hip- or knee-length water- and wind-resistant parka. While heavy, you can always stick your parka in the overhead bin during flights and leave it in your room when necessary.

Travel Capsule Wardrobe Pants, Shorts, and Skirts
Jeans are some of the toughest, most versatile travel pants around. Just remember to wear them in transit as they're big, bulky, and hard to pack. Go with your favorite style but avoid pairs with rips and distressing, as this makes them difficult to dress up.
Chinos are classics too. Our favorite travel chinos are from Bluffworks, but every brand from Gap to J. Crew to Banana Republic makes its own version. Find a pair that fits you well and isn't too bulky.
Active brands like Athleta, Outdoor Voices, and Lululemon also offer a good selection of comfortable, travel-ready pants. Go for dark colors and no one will be able to tell that you're wearing performance fabrics.
Athletic shorts are another versatile option on the road. They can be used at the gym, for outdoor adventures, as a substitute for pajamas, and as swim trunks.
Midi and maxi skirts are perfect for warm climates because they look fancy while also being comfortable, breezy, and modest.
Travel Capsule Wardrobe Shoes
Unless all you'll be doing is ordering piña coladas from a lounge chair, you'll need more than a pair of flip-flops.
All travelers should invest in reliable, walkable travel shoes. Depending on the activity level of your trip, these can be loafers, ankle boots, cushioned flats, or even a pair of Birkenstocks.
Cole Haan is famous for its comfortable oxfords, with the packable ZERØGRAND line being particularly great for travel.
Sneakers are fine, but avoid pairs with loud colors or logos that will clash with the rest of your wardrobe. Brands like Thousandfell offer classic white tennis shoes in stain-resistant fabrics, while you can toss Allbirds' Wool Runners (men's, women's) directly in the washing machine when your trip's over.
Travel Capsule Wardrobe Socks and Underwear
Choose any brand of underwear that looks good and feels comfortable but avoid cotton if you can. You need a fabric that will repel odors and dry quickly. We're long-time fans of ExOfficio underwear. ExOfficio has a variety of styles for men or women that dry quickly, wick sweat, and repel odors.
For socks, we recommend Smartwool and Darn Tough. Both brands make wool socks that stay up and fit snugly. You can find both men's and women's socks in every style from thick, calf-high hiking socks to thin, low-rise athletic socks.
Conclusion
A capsule wardrobe ensures that you'll look great, no matter where your travels take you. You'll also save time and money in shopping for, packing, and maintaining clothing in the long run.
Best of all, a capsule wardrobe reduces decision-making and eliminates stress from your packing list. That means you can get back to focusing on what matters: enjoying your trip.