Travel Wardrobe: How to Build a Travel Capsule Wardrobe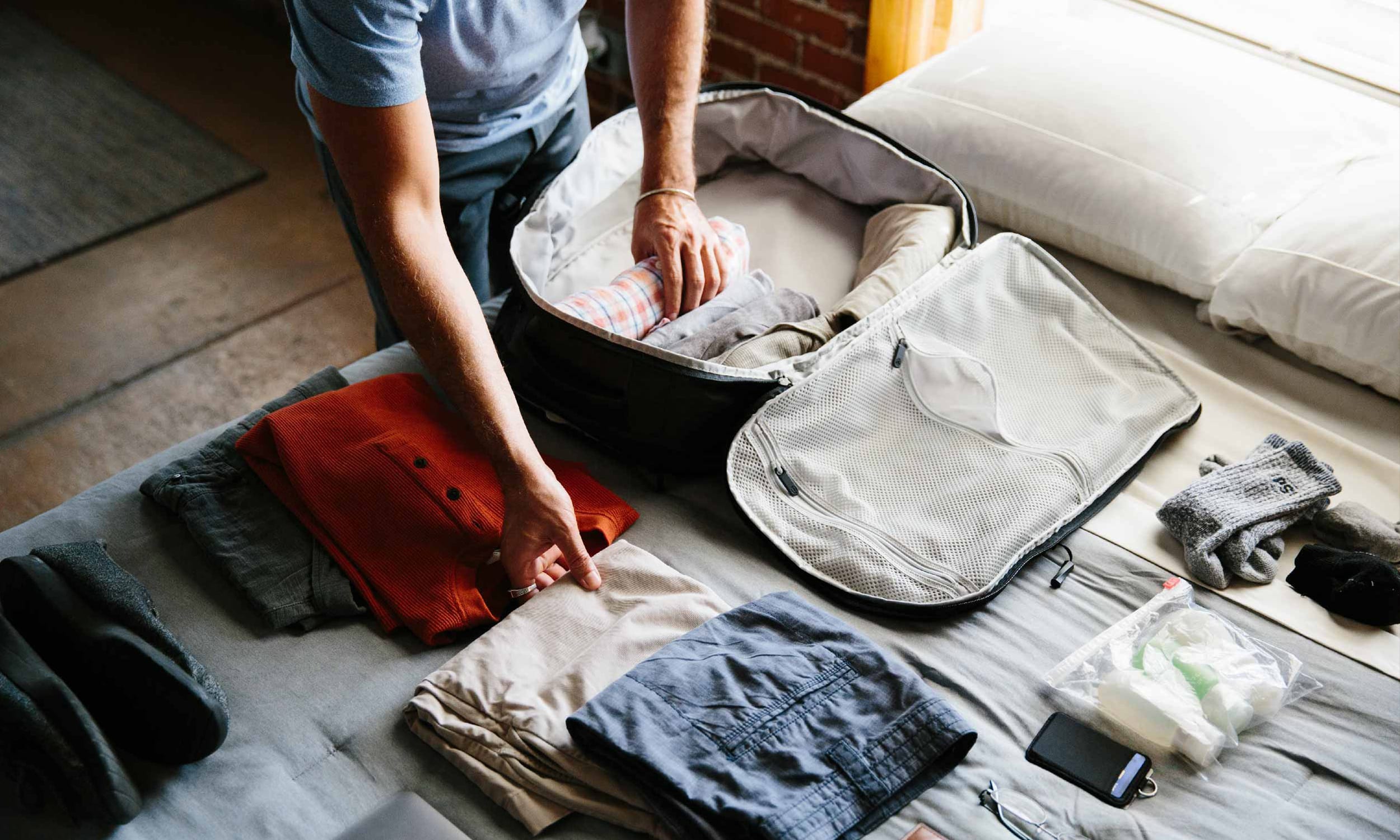 Steve Jobs wore his trademark black turtleneck. Former President Obama keeps his wardrobe simple to avoid decision fatigue.
"You'll see, I wear only gray or blue suits," he said. "I'm trying to pare down decisions. I don't want to make decisions about what I'm eating or wearing. Because I have too many other decisions to make."
Forbes even made a list of celebrities who always dress the same. What can we learn from the idiosyncrasies of the rich and famous? You don't want a closet with dozens of the same outfit. You aren't Superman. We can learn to keep our wardrobes simple, especially when we're traveling.
Build a core travel wardrobe of matching basics so that you can pack light and never have to decide what to pack. Building a capsule wardrobe will pare down your packing list and help you to travel with a carry on backpack, saving time and money as you travel.
Plus, since your clothing is meant to mix and match, figuring out what you want to wear is that much easier—you can recombine any pieces you like into a fresh outfit.
Let's discuss what a capsule wardrobe is, look at some examples, and build one that will work for any length of trip. Feel free to use the clickable Table of Contents above to jump to the section that most interests you.
The Principles of a Capsule Wardrobe
The purpose of a capsule wardrobe is three-fold:
To reduce decision making and eliminate stress from your packing list
To ensure that your clothing is flexible enough that you look great, no matter where your travels take you
To save time and money in shopping for, packing, and maintaining clothing
What is a Capsule Wardrobe?
A capsule wardrobe is a collection of basic, functional clothing that will not go out of style. Each item should be multi-purpose and be compatible with the rest of the wardrobe. Think staples, not this season's must have's.
An ideal capsule wardrobe will have a small number of quality items, not a lot of cheap stuff. You shouldn't need to replace everything on your next trip. Each item should be higher-quality and longer-lasting than your average item of clothing. Fast fashion won't hold up in a capsule wardrobe.
Brands like Uniqlo (value) and Outlier (high-end) make the exact type of clothing you'll need. Plain yet stylish. Remember: simple and functional doesn't have to mean ugly. Not even for women.
We'll get to some examples later. First, let's review some of the principles of packing light. These rules will tell us what to include in a capsule wardrobe.
Pack for One Week
You don't have to replace your entire closet. Having a core wardrobe that you can travel with will simplify your packing. Your packing list should include enough items for one week's worth of outfits.
When you travel for longer than a week, do laundry.
Pack in Layers, Not in Bulk
A couple of thin layers are more versatile than one heavy layer. Plus, light pieces are much smaller to pack—perfect for carry on traveling.
Consider this when you are buying clothing as well as packing it.
Wear the Right Fabrics and Go Low Maintenance
To avoid breaking out the iron in every place you stay, opt for clothing that's naturally wrinkle-free. Wool is expensive but good at repelling smells and regulating temperature. Synthetic performance fabrics are good at wicking sweat but hold on to odors. Aim for clothes that are easy to maintain.
Seriously—if you're doing laundry on the road, you don't have time to air dry that fancy material or take high maintenance fabrics to the dry cleaner. Vacation is too short to waste on trips to the cleaner.
Simplify Your Color Palette
Don't try to mix and match classic white and blue stripes with hot pink, y'all. Keep your capsule wardrobe within a matching color palette so that you don't have to decide which clothes to wear together. Leave bright colors and wild patterns as accent pieces, or for the rest of your closet at home.
Make Updates
The concept of the capsule wardrobe is rooted in quarterly updates to your most-loved pieces. This means downsizing and rotating outfits within a three-month period.
Once you've passed the 90-day mark, you can swap out the old for a few new seasonal items. Or, you might want to spice up your basics with choice selections discovered on your journey.
Find Good Quality Pieces at Budget Prices
Opt for high-quality, versatile clothes, and layer them depending on the weather. Look for gently used clothing at consignment shops or ThredUp. Or, shop the sales at go-to clothing stores.
Now that we've established the basic rules, let's look at some examples of capsule wardrobes before building one for ourselves.
Building a Travel Capsule Wardrobe
We'll build our capsule wardrobe using the light packing advice we outlined earlier. Remember that a good capsule wardrobe is made up of a small number of durable, classic pieces. No cheap throwaways. No fast fashion.
This wardrobe is an investment. If something costs more than you would usually pay, that's okay, as long as it lasts longer and never goes out of style.
I've worked to pare down my clothes over the years but don't have a minimalist closet yet. The list below is more of a thought experiment than an expert's how-to guide. We're figuring this out together. We'll base our wardrobe on the Tortuga packing list because the list is designed to last a week in a carry on bag.
Capsule Wardrobe Packing List
3 comfortable, casual tops
2 nice tops
1 long-sleeved shirt
1 light jacket or fleece (plus climate-specific gear if necessary)
3 bottoms—at least one of which can be dressed up and down
6 pairs of underwear
6 pairs of socks
2-3 bras (sports bra and everyday)
1 pair of multi-use shoes for walking and casual everyday use
1 pair of "nice" shoes (flats, booties, fancy sandals, etc.)
Perhaps 1 pair of exercise shoes (if you can't do without them)
Pro Tip: Choose the Right Bag
Consider your trip and carefully choose your bag before you start packing your outfits.
For trips of a week or longer, choose a travel backpack that is carry on-sized like the Outbreaker Backpack.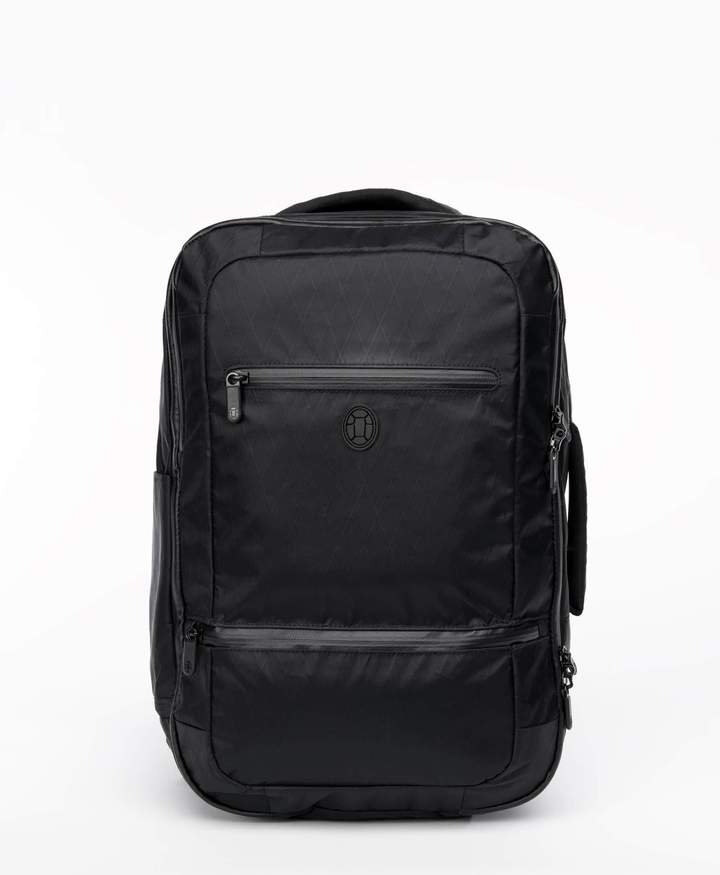 Add a laptop backpack as your personal item, to carry your electronics and in-flight essentials. Tortuga backpacks also offer a laptop compartment separate from the main one if you want to travel with one bag
Capsule Wardrobes—By Traveler Type
Digital Nomad Capsule Wardrobe
There are enough daily decisions to make when you're on the road as a digital nomad. Which gelato flavor should I pick? Should I work with pants on today? What time of day will I get the most exposure and momentum for this Facebook post? Where can I find the fastest internet connection to upload my big project?
What to wear and how to best pack shouldn't be two more. Don't add fuel to the fire by overstuffing your travel backpack with too many clothes or the wrong pieces for the occasion. Stick to this capsule wardrobe list for travel and you can kiss your decision-fatigue goodbye (well, almost. It is tough to pick a flavor of gelato…).
Since we've got our basic travel capsule wardrobe down, here are some edits specific to those of us packing digital nomad clothing.
Do You Spend Most of Your Time Working Outside of Home?
As a fellow caf-fiend, I understand the desire to get out of your pajama bottoms and face the world. Whether in search of the world's cutest cafe, the desire to feel like a "regular," or increasing your odds of a chance meeting with a cutie, digital nomads who hang out at coffee shops should adjust their capsule wardrobes accordingly:
Choose trendier clothes instead of loungewear
Add one extra layering piece, or a sarong scarf—the perfect cure for cafe drafts
Add a pair of headphones (not strictly a wardrobe item, but certainly part of the digital nomad uniform)
Pro tip: Look at the semi-professional clothes already hanging in your closet to find the ones to include in your digital nomad capsule wardrobe. Weed out the clothes that you pick at and fiddle with while wearing.
Do You Spend Most of Your Time Working Inside Your Home?
Maybe you are staying in the Airbnb of your dreams or you found an incredible, spacious rental with the perfect corner for you to crank out a few hours of work.
If your Wifi connection is too reliable at home to face the nearby cafe internet gamble, here's how you should modify your capsule wardrobe list for travel:
Favor comfier "at home" pieces
Add one pair of cozy socks
Do You Spend as Much Time Playing as Working?
You didn't uproot your life for the road to spend all of your time tap-tap-tapping away at your laptop, did you? Gather some great content for your website or keep your adventurous side alive by balancing work and play… and by balance, we mean letting it tip towards the fun stuff.
Choose one or two outfits that fit your travel style (adventure, dancing, volunteering, etc.)
Make sure your footwear aligns with your hobbies
Do You Prefer Luxury Travel and City Living?
If you'd rather die than be caught in Chacos, make sure your mobile closet aligns with how you have fun. Dress it up or dress it down with these changes to the classic capsule wardrobe list.
Choose two pieces that can be dressed up into nice "going out" outfits
Include a dress and/or a button-down
Include a pair of dark denim jeans
Pack jewelry and other essential accessories
Upgrade your sunglasses and case
Choose one pair of shoes you love and that look great
Do You Have a Lot of Meetings?
For your Skype video calls with leads and clients, look like the rockstar you are. Think corporate professional outfits with flair. If your style of remote work includes regular meetings, in person or online, then you might want to consider the following:
Button-down or collared dress shirt (wrinkle-free)
A beautiful sheath dress
Travel blazer that can be dressed up or down
Shoes that go from work to play
Do You Dig Off the Beaten Path Travel?
If immersion is the name of your game, here are some edits to your travel capsule wardrobe essentials.
Consider actual travel pants, quick-dry and zip-off to add versatility
Add a pair of gloves
Make sure your footwear is adventure-friendly
Bring a lightweight SPF 30+ long-sleeved shirt
Trade in tank tops for something more conservative
Ensure bottoms are at least knee length
Capsule Wardrobe for Fashion and Function
What should you pack in your fashion-forward traveling capsule wardrobe? I'm glad you asked.
Here's our best advice on ways to flesh out your fashionable travel capsule wardrobe to cover all your style bases for work, travel, and life.
Packing List Adjustments to Keep Your Style En Vogue
2 bras: one to wear and one to wash
2 workout bras
2 professional shirts or dresses
2-4 less professional but still snazzy shirts
1 black dress
2-3 everyday shirts for layering
1 scarf
Leggings or tights
2 shorter bottom-half pieces (i.e. shorts, maxi skirt, knee-length skirt)
Accessories galore: TBD by your personal style
Prepare for Nightlife
If you're a lover of nightlife, I have three words for you: little black dress.
Seriously. Oh, the places you can go in a little black dress.
Get fancy by adding heels and a statement necklace or a jaw-droppingly gorgeous silk scarf. Lean towards casual with a red belt and flats. Layer a cardigan over top for chillier and more casual nights. Slip Merino wool leggings underneath for cold pub-hopping in Germany.
The possibilities are endless and only limited by your imagination. A little black dress is your blank canvas for anything from casual to elegant.
Accessories Game Strong
My friend, Megan, knows how to accessorize the right way. She wears a pendant necklace with a statement ring and suddenly her whole outfit looks new. Even though she wore that shirt two days ago and she hasn't changed her shoes yet.
Accessories—like scarves, necklaces, bracelets, rings, earrings, even hats—are your magic awesome-sauce to kick up your fashionista capsule wardrobe. Picking, and packing, this part of your wardrobe is the hardest part. It's also the most difficult for me to give you direction on. Why? Because accessories are very personal. Some ladies love traveling with a hat. I prefer a baseball hat on the road. Others travel with an enviable jewelry collection, like my friend, Megan.
Personally, I carry only a few earrings and two necklaces. Whatever makes you feel gorgeous, sexy, and more you—bring it. Whatever adds certain je ne sais quois to your outfit and makes you feel like a million bucks—bring it. Whatever puts a smile on your face when you wear it—bring it.
That being said, don't bring an item if it costs a million bucks. Or maybe more than twenty bucks. Guaranteed that item isn't meant for the rigors of the road and it might get broken, lost, or stolen.
Capsule Wardrobes for Men
Yes, you can still look fresh while living out of a suitcase. Leave the many-pocketed, zip-off, dorky travel pants at home and up your game with a well-planned travel capsule wardrobe.
T-Shirts
T-shirts will form the base layer of your outfit and the canvas to anchor your more colorful additions. Don't cheap out on your t-shirts—a quality tee elevates your look immediately.
Choose Merino Wool
Merino wool is the ideal t-shirt fabric because it regulates your body temperature and repels odors. You can wear a merino shirt multiple times before needing to wash it. The problem is that merino wool is expensive.
Icebreaker is the most popular brand, but the founder of Tortuga Backpacks, Fred, swears by his Ibex t-shirt. Both brands look like 'technical' clothing. They have very visible logos and, in the case of the Ibex, excessive seams. Wool & Prince and Outlier make more stylish versions.
For non-wool t-shirts, Tortuga's favorite brand is American Apparel (men). Their shirts are a good balance of price and quality. Choose a cotton or poly-blend shirt based on fit and preference.
Long-Sleeved Shirts
For larger items like long-sleeved shirts, remember to avoid anything bulky. Don't pack any huge hoodies or cable-knit sweaters. Choose thin shirts that you can layer with the t-shirts above or the jacket below. Thin, merino wool shirts work well. Some of the brands from the last section also make long-sleeved versions of their t-shirts.
Shirt jackets also work well. You can wear one over a t-shirt as an outer layer in temperate weather. Just be careful to avoid overly thick fabrics. Edgevale's North Coast Shirt Jacket is a good choice.
Light Jacket
Your choice of jacket is highly dependent on the weather in your destination. Is it cold? Is it temperate? Is it rainy?
Rainy weather is easy. Most outdoor companies make thin, packable rain jackets. Fred carries a Patagonia Torrentshell. The Wirecutter recommends the Marmot PreCip.
Cold weather is trickier. Warmer jackets are typically heavier jackets. The biggest question is how variable the temperature will be at your destination. Will you always need to wear your jacket? If so, you can carry a heavier jacket because you won't ever need to pack it in your luggage.
Remember that you can always stick your jacket in the overhead bin during the flight and leave it in your room when necessary. However, you're still carrying it in those situations. Weigh how often you'll need it against how willing you are to wear it in unideal situations.
Jeans or Chinos
If you wear jeans at home, you can wear them on the road. Just remember to wear them in transit as they're big, bulky, and hard to pack.
For jeans, skip the performance gear and go with your favorite style and fit. Most "performance" jeans look like dad jeans from an 80s department store.
Outlier's Slim Dungarees look good and, while not cheap, are priced comparably to high-end denim brands.
Bonobos' Travel Jeans are cheaper and designed to travel well. They're made of 10.5-ounce denim, which is relatively light for wearing and packing. The jeans also have a 1% stretch.
Chinos are classics. Every brand from Gap to J. Crew to the Banana Republic makes its own version. Find a pair that fits you well and isn't too bulky. Outlier offers a high-end version too.
Our favorite travel pants are still Bluffworks.
Shorts
Athletic shorts are a versatile option on the road. They can be used at the gym, for outdoor adventures, as a substitute for pajamas, and as swim trunks.
Under Armour and Nike Dri-Fit work well but look like gym shorts. Most pairs are bright and covered in logos.
Myles Apparel and Olivers Apparel both make basic, plain shorts that look good even outside of the gym.
Underwear
We have been long-time fans of ExOfficio underwear. They dry quickly, wick sweat, and repel odors. ExOfficio has a variety of styles for men or women.
Eytan from Snarky Nomad recommended another option: Uniqlo AIRism boxer briefs. I've tried and would recommend them too. They look better than ExOfficio underwear and are made of a smoother, softer material. Plus, you can get two pairs for under $20.
Choose any brand that looks good and feels comfortable. Avoid cotton at all costs. You need a fabric, like the underwear above, that will repel odors and dry quickly.
Socks
For socks, we're Smartwool loyalists. Their wool socks stay up and fit snugly. The only downside is that I've had a few pairs wear out above my heel. Smartwool makes men's and women's socks in every style from thick, calf-high hiking socks to thin, low-rise athletic socks. Darn Tough makes similar high-quality socks in Vermont.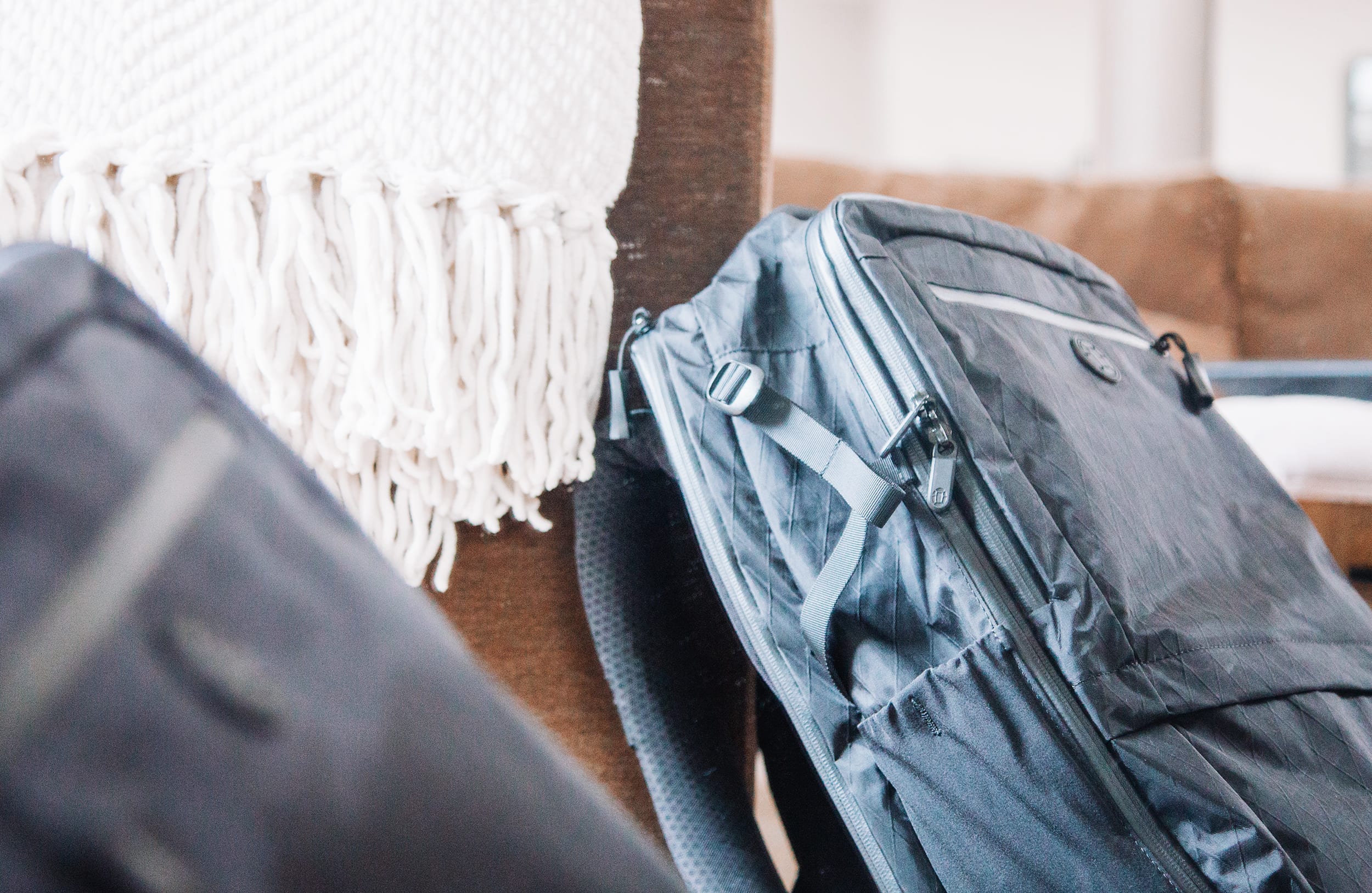 Capsule Wardrobe for Athletic Travelers
You have two options for workout gear:
Pick one athletic brand (i.e. Adidas, Nike) and buy two shirts and two lower-half wear (shorts or pants) from that brand, or…
Decide on two colors for your workout wardrobe and only buy workout clothes in those colors. For example, black and blue are your colors. You buy black shorts from Under Armour and a blue top from Lululemon.
Pro tip: Depending on the weather at your destination, make two workout capsule wardrobes. One for cold weather and one for warm weather. Store one at your home base and swap out when needed.
Summer Capsule Wardrobe for Travel
Need to build your summer capsule wardrobe for travel but aren't sure where to start? We've got you covered. Whether you're starting from scratch or have some gaps in your existing capsule wardrobe that need filling, here's how to update your wardrobe with summertime outfit pieces.
Tank Tops, T-Shirts, and Blouses
Here are some suggestions for favorite summer tops for a capsule wardrobe:
Eddie Bauer Women's Tissue Long Layering Tank ($25). Cue the fangirl freakout over a seemingly simple tank top. Sorry about that, but… I adore this tank top. With a longer-than-normal length and super soft fabric, you will too. Made out of cotton, this tank streamlines those body parts you're not-so-very-proud-of into one sleek vision of travel adventure. The scoop neck isn't too low, it layers beautifully, even as the base layer in 3 or more layers. Yeah, I've been known to do that on the coldest days.
Adea's Bra Friendly Camisole ($59). You'll love this soft, light tank top for three big reasons—it has wide straps for a bra-friendly fit, offers 50+ UV protection, and the fabric won't wrinkle (and is resistant to pilling). Oh, and it's also quick-drying, so you can wash it at night, hang it to dry, and it's ready to go in the morning.
Uniqlo Women's Drape Crewneck Short-Sleeve T-Shirt ($15). Hankering for a t-shirt with a slightly looser fit? Look no further. This clean, minimalist shirt rates 4.8 out of 5 stars. Thanks to its "I go with anything" vibe, dress this shirt up with a chunky necklace or colorful scarf, or dress it down with jean shorts. Your call.
Dresses and Skirts
Encircled Chrysalis Cardi ($128). One garment, eight different ways to wear it—this dress is a must-have for a cute, summer capsule wardrobe.
Helene Clarkson's Tulita "Maxi" Reversible Skirt ($136). Snag a spandex jersey knit skirt that is reversible so, you get two skirts for the price of one. Thanks to its quick-drying capabilities, this skirt keeps you cool. Oh, and the best part? This store is based in Canada, so if you're American, you get an automatic (roughly) 30% discount thanks to the exchange rate.
Best Shorts and Pants
Gap Women's 5 Girlfriend Chino Shorts ($40). Gorgeous, multi-length shorts. YES! Adjust the length to suit your preference. Roll them up for a beach stroll or roll them down in a more formal (ahem—modest) situation. Plus, they come in petite, regular, and tall sizes.
Anatomie Women's Skyler Travel Pant ($225). A sexy pant that's easy to wash in the sink and dries quickly? Naw, an urban legend you say. But wait. Every legend has a foundation in truth.
Maternity Capsule Wardrobe
Your pregnancy wardrobe needs to complement your lifestyle rather than hinder it, and when you're pregnant, comfort is non-negotiable. Don't let your clothes weigh you down. Plus, when you're pregnant, it's hard to tell what you want to eat in a moment, much less what shirt will make you feel good that day.
Give your brain—and wallet—a break by putting a maternity capsule wardrobe together.
Based upon the same principles of a capsule wardrobe, this maternity capsule is designed to fit you through your pregnancy. It'll make you feel good about your growing curves and reduce your decision-making muscle to save on more important things (like where to go on a babymoon).
Let's master the minimalist maternity style!
Leggings
I promise you, these will be your go-to pants. Dress them up or down with accessories, jackets, or cardigans. Buy one pair of leggings in your normal, pre-pregnancy size. Then buy a second pair, one size up, to wear during the later months of your pregnancy.
Leggings from Vera Wang at Kohls and H&M are thick enough to avoid the unflattering sheer legging look.
Dress
Pick a dress made from jersey or stretchy material (think cotton and spandex) so it'll grow with you over the next months. When your belly is small, the dress will show off your growing curves. When you've hit your ninth month, your dress will still fit.
Pants
Go for pants in dark, neutral colors for your maternity capsule wardrobe. Think blue jeans, black, or navy. Like the dress, opt for pants with a bit of stretch (you'll thank me later).
If you're going with blue jeans, the looser boyfriend cut could be your new BFF. We like Lucky Jeans (normal fit, no maternity) with a little stretch.
Shirts
Buy at least three to seven shirts. These are the staple of your maternity capsule wardrobe, so make each shirt count.
BeBand
Your secret weapon. Seriously, you'll love this stretchy elastic band. Since the elastic band is separate and not sewn onto your pants, you'll avoid the dreaded baggy butt syndrome (an unflattering problem in maternity jeans).
And in dire emergencies of a full bladder, you'll be able to drop your pants faster than a stripper.
A capsule wardrobe is a worthwhile investment for frequent travelers. Adopting the mindset of the travel capsule wardrobe essentials not only frees your pack from exploding seams and you from late-night fights with a zipper, but it also frees your mind to focus on what's important: making a living—on your terms—anywhere in the world.