"I've got my carry on bag, you ask, so why pack a second, smaller bag like a daypack? Doesn't that just take up room in my carry on?"
Fair argument.
But, riddle me this: when you're heading out on your daily adventures — which you shall, because why travel only to stay cooped up in a hotel room or Airbnb — how will you carry the items you need for that day?
In your pockets?
In your jacket?
Granted, you could.
Granted, it would be cumbersome.
And you'd be limited by the size of your pockets. Or lack thereof, if you're a girl and your pants have toddler-sized pockets. Also, you'd probably have to carry your water bottle everywhere because it wouldn't fit in a pocket.
There's a better solution.
Why You Need a Travel Daypack for City Adventures
Wouldn't it be easier if you packed a smaller backpack to fill with your wallet, phone, water bottle, light jacket, and (maybe) umbrella.
A backpack that would serve as a daily traveling companion to anticipate your needs better than Butler Jeeves.
That's exactly what a travel daypack does.
When you adventure in metropolitan and urban areas, a travel daypack is a necessity. It allows you to roam free and unencumbered with all your daily needs in one comfortable bag. So you don't have to stop in your hotel 3-5x a day just to "grab a light jacket" or "drop off my umbrella" or "darn it, I forgot my sunglasses, gotta go back."
Everything you need for the day is in your travel daypack.
Now we're talking.
What to Look For in a Travel Daypack
When you're looking for the best travel daypack, you need one that hits these five points:
Laptop sleeve

Padded back & straps

Weather-resistant fabric

Tough enough for any adventure
And one of these 3 choose-your-own adventure versions:
Packable for one-bag travel OR

Slim and packs down OR

All the features (i.e. not packable)
Here's why.
Travel Daypack Need #1: Laptop Sleeve
The WiFi in your Airbnb apartment has been kicking on and off all morning. You're this close to banging your head off the walls, just to ease your building frustration.
All you want to do is work on your projects, get 'em done, and go explore.
You collect headphones, water bottle, snack, and laptop and toss them into your daypack. Well, the laptop slides into its separate padded laptop sleeve. 'Cause it's special like that — and expensive to replace.
If that equipment broke, you'd be up the creek without a paddle and freaking out. It's how you stay connected with the world.
More importantly, it's how you make your money to keep you traveling.
You sling your travel daypack on your back, lock the apartment door behind you, and head out for a cafe reported to have strong, reliable WiFi.
A change of scenery, with WiFi that works, is just what the doctor ordered.
You breathe in the sweet scent of European cigarettes, morning espresso, and bus exhaust mixing in the morning air.
It feels so good to be on the move. If you didn't have a travel daypack with a padded laptop sleeve — like the Outbreaker travel daypack has — you'd be tucking your precious laptop to your chest, nervously clucking like a mother hen anytime a cycling commuter passed too close to you.
Instead, you hold your head high, swing your arms, and feel open to a morning of hard, productive work.
Travel Daypack Need #2: Padded Back & Straps
You'll be wearing this daypack for long hours. It will be holding an eclectic mix of items — like a water bottle, camera, umbrella, snacks, sunglasses, momentos — both heavy and light.
Meaning you want a travel daypack that is comfortable to wear for long hours. One that has a padded back, so your things don't jab into your spine with every step.
Pick a travel daypack with wide, padded shoulder straps to comfortably haul your daily gear like the Outbreaker daypack has. The wide straps redistribute the weight across a larger surface area.
So your totally-full 32 ounce water bottle feels like one half the size.
Travel Daypack Need #3: Weather-Resistant Fabric
Rain pelted my jacket. Streamed down the edges of my hood pulled tight against my face.
I shrugged against the cool breeze, held a hand up to shield my eyes against the driving rain, and squinted at the colorful graffiti-like artwork on the Berlin Wall.
It was May, but you'd never guess it from Germany's weather.
It didn't bother me. My travel daypack was made from weather-resistant fabric: nearly waterproof fabric that kept my belongings — like my expensive camera — safe and dry.
That's the fabric you want for your travel daypack, too.
Look for one made from weather-resistant fabric like rip-stop nylon, DWR-treated fabric, or sailcloth like the Outbreaker daypack. Only then can you adventure without ducking into nearby shelters every time a raindrop falls to earth.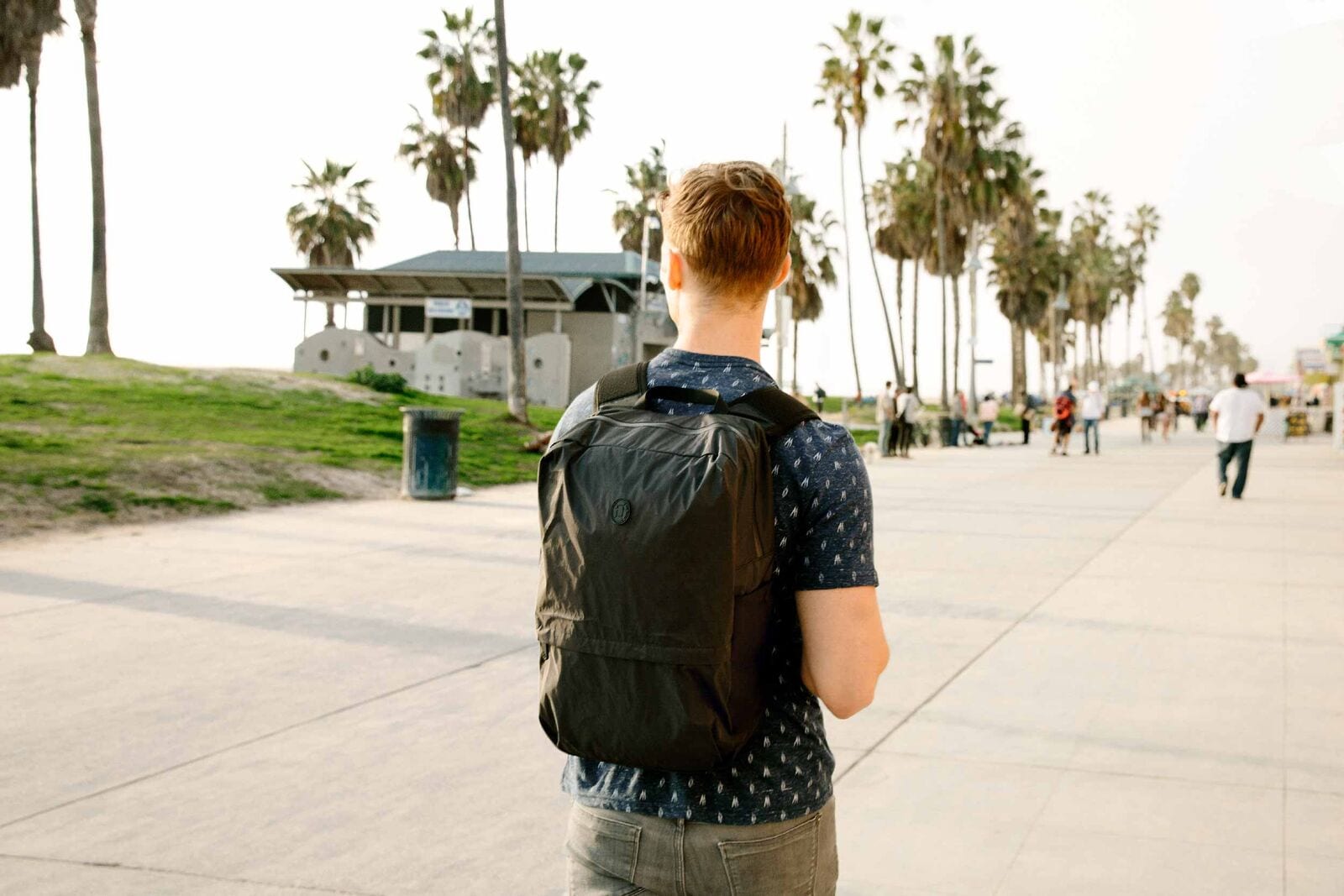 Travel Daypack Need #4: Packable For One-Bag (or Two-Bag) Travel
You need a travel daypack that slips easily into your main bag, so you're not juggling multiple bags on flights. When you reach your destination, pull your travel daypack out, give it a good shake, and fill 'er up for your city adventures.
So, with that goal in mind, look for a travel daypack that folds flat and packs down into a small size.
You want to lay it inside your carry on, zip that shut, and not have your travel daypack take up valuable real estate inside your carry on.
Only then is your travel streamlined without extra, unneeded bags weighing you down while you sprint for a good seat on tonight's budget airline.
Travel Daypack Need #5: Tough for Any Adventure
A good travel daypack needs to hold up under your toughest days.
The last thing you want, hiking through the urban jungle, is for a zipper to break or a seam to rip, spilling your valuables onto a dirty city sidewalk.
Look for a travel daypack built with durability in its design. It should have strong seams, durable fabric, and tough zippers.
Test the seams by tugging on them at the weak corners and where different materials join together. Open and close the zippers. Pull on the fabric, feel the bag's strength and weakness. Go ahead, handle it rough.
Now, faster. Like when you're hunting for an umbrella to duck under from a sudden heavy rainstorm.
How did that travel daypack stand up under your beating? If it looks worse for wear, say pass and find another one.
Travel Daypack Packing Ability
When it comes to travel daypacks, you have several packing options to pick from:
Packable

Slim and packs flat OR

Not packable (and has all the bells and whistles)
In this section, I'll explain when to pick one of these 3 choose-your-own adventure versions of a travel daypack.
Travel Daypack Packing Ability #1: Packable
Looking for a daypack that compresses neatly into a small, fist-sized bag? Wanting a travel daypack that allows you to do one-bag travel?
You need a packable daypack like the Setout daypack.
It folds down into a bag the size of a paperback book. So you can slip it into your carry on, head to the airport with your one bag, only worry about keeping track of one bag during your trip. When you arrive at your Airbnb, open your carry on, unzip your packable daypack, and shake it out of its little bag.
Fill 'er up with your most-needed items — water bottle, map, camera, sunglasses — for your day's adventure. It literally couldn't be easier.
Travel Daypack Packing Ability #2: Slim and Packs Flat
Looking for a travel daypack with more support, padded straps… sustaneous than a packable daypack?
Perfect — you need a travel daypack that folds down and packs flat into your carry on. So it lays flat against the bottom or top of your bag, available for the moment you arrive at your Airbnb and whip it out to adventure.
Or to venture down to the nearest coffee shop and bang out some work, for which you need a travel daypack with a padded laptop sleeve, like the Outbreaker daypack has.
'Cause that piece of equipment is your livelihood.
How to check if your travel daypack will fold flat:
Pick a daypack that does not have the words: packable

Check the material: you want sturdy but not bulky

Squeeze all the air out of the daypack

Flatten down the daypack

Check to see the flattened daypack is no thicker than two inches
Travel Daypack Packing Ability #3: ALL The Features (i.e. NOT Packable)
Wanting a travel daypack that allows you to do two-bag (i.e. personal item + carry on) travel?
Cool — pick a travel daypack designed to carry heavier loads. Opt for one with dedicated, padded laptop compartment, a main compartment, and a front pouch like the Setout Laptop Backpack.
Don't opt for a bag designed for hiking or carrying books for college. If you're traveling, you want a bag designed for flight and urban adventures that mix business and pleasure. Not the bag you carried in high school.
You'll use this bigger daypack — that doesn't compress into a small size or pack flat — as your personal item on your flights. Once at your destination, unpack any unnecessary items for your day adventure and — ta-da! — you're good to go.
TL;DR
When you're looking for the best travel daypack for city adventures, you need one that hits all these points:
Dedicated laptop sleeve to keep you workin' and makin' money

Padded back & straps (need I say more?)

Weather-resistant fabric for rainy weather 'round the world

Packable for one-bag or two-bag travel = streamlined travel

Tough for any day so it won't fall to pieces on you in the middle of an adventure
Want more like this?
Get weekly gear reviews, travel hacks, and packing tips sent straight to your inbox. As an added bonus, we'll send you a carry on packing list right away.