The Best Wrinkle-Free Travel Dresses for 2022
The Tortuga Promise
At Tortuga, our mission is to make travel easier. Our advice and recommendations are based on years of travel experience. We only recommend products that we use on our own travels.
Finding the perfect dress you could wear every day is already hard enough—but what about finding one that's also wrinkle-free, doesn't get smelly after one wear, works for every occasion, or, in other words, is perfect for travel?
With so many climates, cultures, and occasions to think about, it's hard to find the best travel dress that can do it all.
The best travel dress is the one that makes you feel great. Look for synthetic fabrics with a bit of elastic, shorter cuts that are easy to layer, a design and color you can style multiple ways, and a quality make that will last throughout your journeys.
Whether your travels take you to rough and rugged corners of the globe, or you take more urban journeys where you need to look presentable, these travel dresses will have your back (literally) along the way. Scroll on for our recommendations of the best dresses for travel—from versatile little black travel dresses to wrinkle-resistant dresses with pockets.
Best for: Summer and urban travel
Colors: Blue, black
Features: Transitions into multiple styles, naturally wrinkle-resistant
Material: Merino wool
Merino wool is one of the best travel fabrics, but, although it's common in t-shirts and under layers, it's not often you find it in a women's dress. However, all of the dresses by Wool&, the sister brand of Wool and Prince, are made from quality merino wool.
Impossible to wrinkle, durable, and easy to pack, all of these dresses can withstand the rigor of travel. Toss them in your backpack or wear them all day, and they won't turn into a rumpled mess. Plus, merino wool is naturally temperature-regulating and sweat-wicking, which makes it great for both cold and warm weather travel.
While all of the Wool& dresses are wonderful, the Camellia is one of their more versatile pieces for travel. It comes in several different colors and can be styled in multiple different ways, giving you multiple different looks with one dress.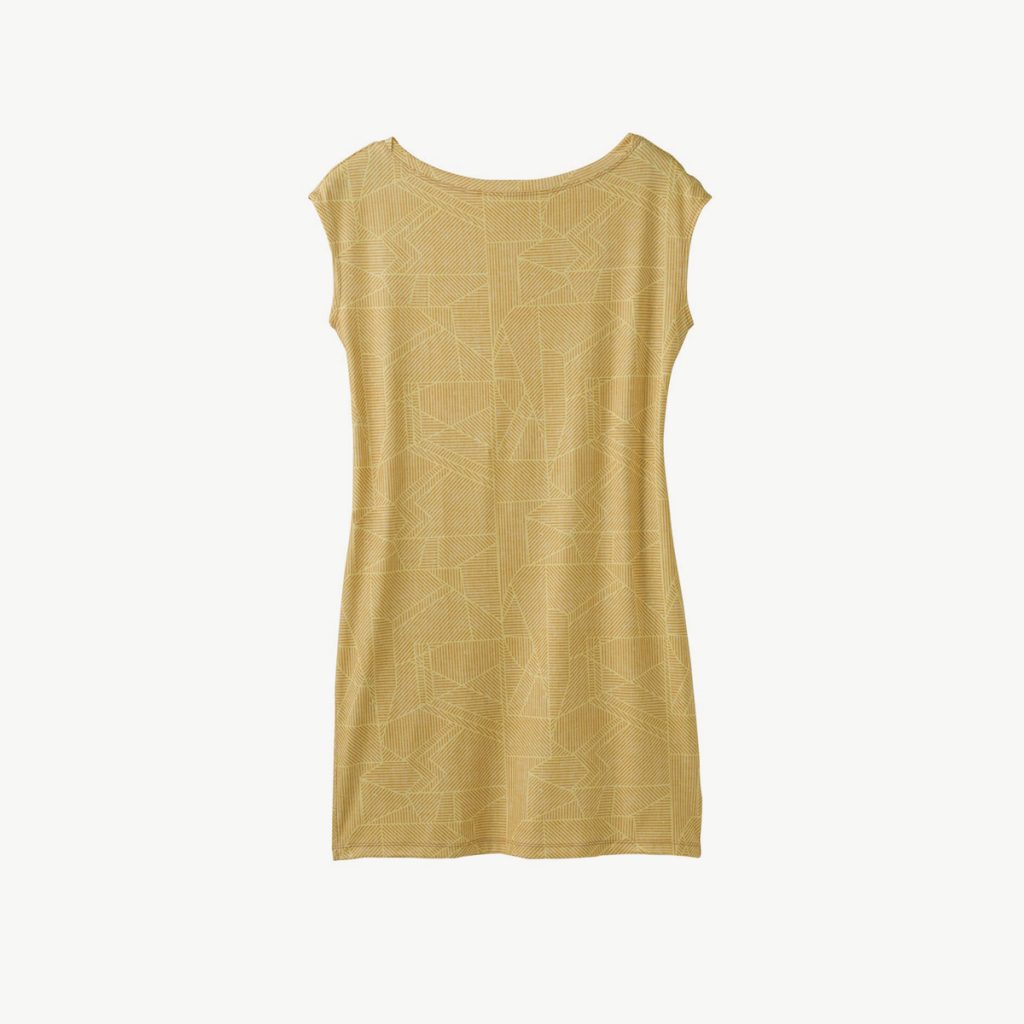 Best for: Adventure travel
Colors: Black, yellow, blue, grey
Features: Wrinkle-resistant
Material: 45% Recycled Polyester / 45% Polyester / 10% Spandex
For a dress you can just as easily wear riding a bus for three hours as you could on a classy dinner out, prAna is a wonderful brand to look at. While not an outdoors clothing company per se, their clothing is durable, comfortable, and adventure-ready. At the same time, their designs are stylish and don't scream "I'm about to go on a hike!" the way some outdoor brands do.While they have dozens of styles to choose from, I'd recommend starting your search with their Sanna or Foundation Dress. Both are cute, easy to clean, and the solid color options make them a versatile piece that's easy to dress up or down.
Best for: Business travel and urban adventures
Colors: Black, navy, crimson
Features: This is a travel dress with pockets, pockets, pockets. Also wrinkle-resistant and machine washable.
Material: 98% polyester, 2% spandex
If you're a long-time reader of the Tortuga Backpacks blog, you might have noticed that we love Bluffwork's men's chinos. But, guess what, ladies? They now have a women's line which includes the Trevi Dress, which comes in several different colors.
It's a simple shift dress cut, which makes it versatile and easy to style for multiple occasions. But don't let that simple, classic style fool you: this dress packs a lot of thoughtful features.
Made from a machine-washable, moisture-wicking, polyester blend, this dress is both comfortable and virtually impossible to wrinkle. Slits on the bottom make it the first-ever shift dress I've ever been able to bike in—without shorts underneath. Add in the generous pockets and discreet straps to hold your bra, and the Trevi becomes not just one of the best travel dresses, but one of the best everyday dresses I've ever worn. Whether you're on a business backpacking trip or a leisure trip, the Trevi is the perfect travel dress to accompany you for it all.
Best for: Summer and urban travel
Colors: Dark blue, light blue, white
Features: Wrinkle-resistant, pill-resistant, and sweat-wicking
Material: 73% polyester, 27% elastane
For travel-ready outfits, I can't get enough of ADAY, a technical clothing brand for women with stylish yet durable pieces. Whatever I wear from them, I'm confident it'll pack down well, look great, and wash/dry easily. All of these things can, of course, be said about their Back to Front dress.
Unlike the rest of the dresses listed, it's a long-sleeve dress, making it a great option for cold weather travel. For warmer days, roll up the long sleeves and wear the dress on its own. When temperatures drop, style it with a jacket or over a pair of leggings for a cute but warm look.
Best yet, the design allows you to create five different styles out of it, so even if it's the only dress in your bag, it won't feel that way. Button up in the back for a classy night-time look, or turn them into the front for a casual daytime or business casual outfit.
Best for: Urban exploration and summer travel
Colors: Black, white
Features: Wrinkle-resistant
Material: 100% triacetate
Comfortable to wear and made of a triacetate fabric that's resistant to wrinkles, this timeless piece by Everlane is a great addition to your travel wardrobe for urban adventures or sunny, summer getaways.
All of their colors are timeless in design and easy to style. Simply pair with sneakers for a casual day of walking around the city.If you prefer something in a different style, great news: Everlane has a whole line of GoWeave dresses in varying cuts, colors, and prices, but made of that same wrinkle-resistant fabric that makes this dress travel-ready.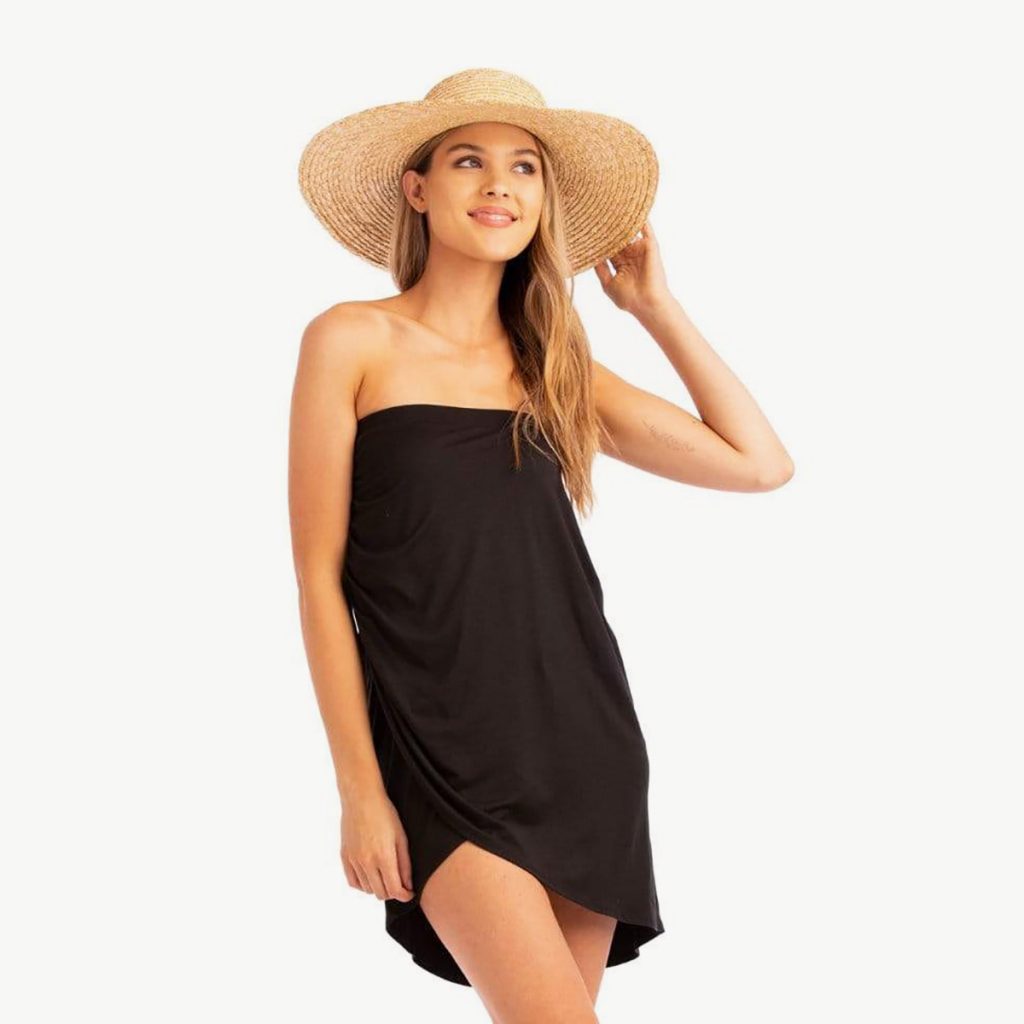 Best for: Summer travel
Colors: Black, blue
Features: Machine washable, wrinkle-resistant dress
Material: 95% polyester, 5% spandex
VacayStyle's line of two-piece dresses is designed for stylish travelers who want to pack light. These wrinkle-free, casual summer dresses can be worn together or separately with a pair of pants or another top to transform into a different outfit.
Although all of their dresses are designed for travel, the Keyhole Twist 2-Piece is a versatile option for many different warm-weather travel destinations. The shorter midi-cut on the skirt make it a little more breathable than their maxi skirts, and the tank top has enough coverage to work in more conservative destinations, like India.
Overall, it's a super packable dress, lightweight and wrinkle-resistant, and dries quickly. Plus, it's super soft to the touch and flattering on many different body types (as is their Ruched Dress, $118, which doubles as a skirt and sleeveless dress).Wherever you're going, roll this dress up, put it in your travel backpack, and get ready to pose for the perfect Instagram shot.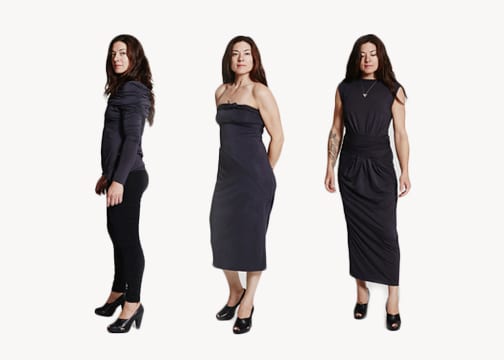 Best for: Everywhere and anywhere
Colors: Grey, black, and plum
Features: Can be worn 24 different ways
Material: 90% organic bamboo with 10% spandex
When I asked fellow travel blogger and carry-on packer Andrea from Mommy Gearest about her favorite travel dress, she was quick to name the METAmorph.
While most travel dresses are versatile because you can style them for various occasions—dressing them up or down with shoes and accessories—Theive's METAmorph dress is versatile in a whole other way. You can arrange the dress into 24 different variations.From sleeveless maxi to long-sleeved mini, this creatively designed piece will give you enough options to stave off your fashion doldrums while on the road. And yes, it's wrinkle-free, comfortable, easy to move in, and easy to wash.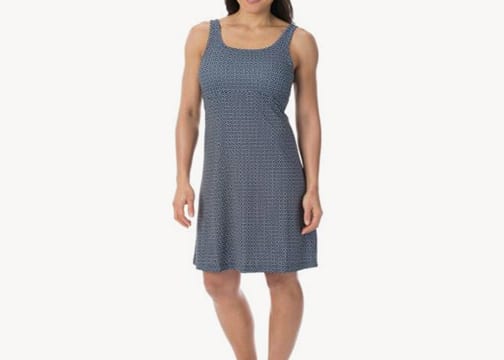 Best: Tropical and beach travel
Colors: Several prints and black solid
Features: Sun protection, cooling and wicking fabric
Material: 92% polyester, 8% elastane jersey
Compared to the other dresses on this list, Columbia's Freezer Dress is the most technical and outdoors-ready. The fabric is both cooling and blocks UV rays, making it a great option for tropical and beachy destinations. Simple yet flattering, it's a casual dress that can handle adventurous, warm-weather destinations, like Thailand, Kenya, or Costa Rica.
For this kind of travel, I'm more concerned about packing a dress that's sturdy, comfortable, and doesn't get dirty easily. It doesn't have to be fashion-forward, but flattering enough to make me feel like a good-looking human again after hiking for three days in the same t-shirt. Columbia's Freezer Dress is that dress.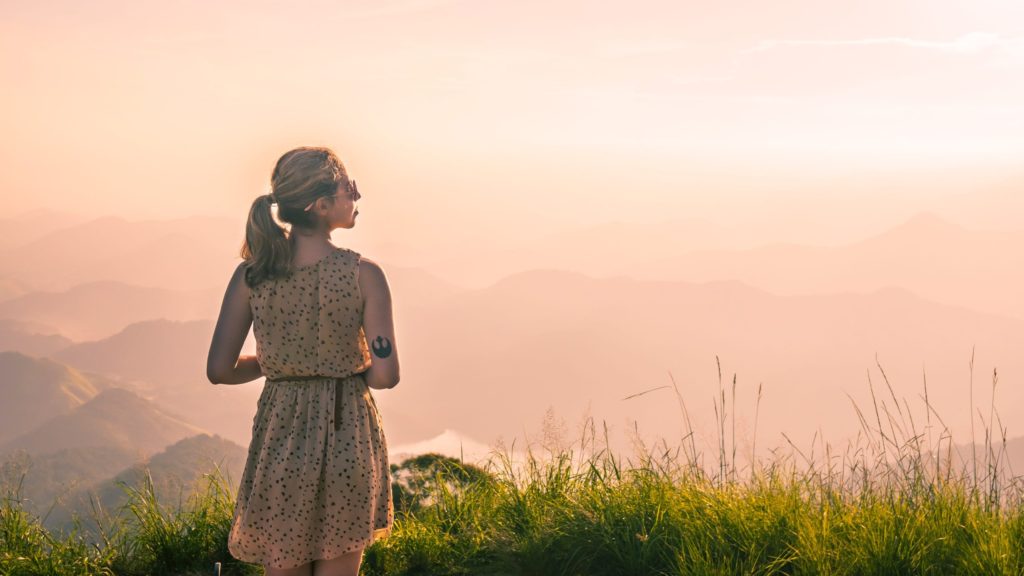 What's a Travel Dress?
You may have dozens of dresses in your closet, but a travel dress is going to be one that you can wear in multiple different situations and climates, is made from a material that resists odors and wrinkles, is durable, and dries quickly.
Ideally, it also has pockets because, well, pockets.
While you might be able to find something that looks cute on the 'gram for your vacation in Cozumel via a fast-fashion brand, it might get rumpled, stinky, or stretched out quickly. A dress that truly travels well has the following traits.
Comfortable, Durable, and Wrinkle-Resistant
Some fabrics are better for travel clothes than others.
If your dress is made of a synthetic material like polyester, that's a good sign that likely won't wrinkle. Natural fabrics like merino wool are also incredibly good for travel. Also look for something with a small percentage of spandex or elastane, which adds extra comfort and stretch.
Shorter Cuts You Can Layer
Midi and mini cut dresses lend themselves better to layering, as do short-sleeve or sleeveless dresses. While maxi dresses are fun, I find that I can make more outfit combinations with shorter cuts.
Versatile Style and Design
As a rule of thumb, look for a style that you could easily design an outfit around for both a casual brunch and a nice night out. Usually, this means avoiding anything overly trendy and sticking to something within your preferred color palette.
For me, that means black. You'll always find me in a black travel dress.
Durable and High Quality
Especially if you take long trips or travel often, choose a dress that's well made and will last for years of adventuring. You don't want to waste time, money, and resources buying a new dress every time you take a trip.
Brand
The brands mentioned above (Curator, prAna, Everlane, ADAY, Leith, and Columbia) have great options for travel dresses—even if our original recommendations are out of stock. Additionally, I surveyed dozens of ladies about their favorite travel dresses and ExOfficio, Athleta, Kameleon Rose, and Toad&Co came up as tried and trusted brands for travel dresses.When in doubt, check our favorite brands for travel dresses: prAna, Everlane, ADAY, Leith, Columbia, ExOfficio, Athleta, Kameleon Rose, and Toad&Co.