You're a traveler, you have hair and you want to look your best along the journey – what do you do? Depending on your maintenance routine, daily outings, the type of trip you're taking, budget, and patience – your hair tool needs will vary. The type of trip matters to your traveling hair care routine.
How's your hair? Curly, straight, short, long, choppy, wavy, flowy, shiny, or a blend? Whether you're the fling it in braids, blow-dry and style, flat-iron fiend, or ponytail it up kind of traveler – packing the right hair tools helps.
On one travel adventure I tried a travel hair straightener. I bought the first one I saw, and one week into a journey, it sparked, smoked and died – braids for me the rest of the way! On our one-year honeymoon to chase the sun around the world, I took a full size straightener, but only because we were checking luggage. Travel size hair tools exist for a reason because size does matter, and so does how we look on the trips we take.
Hair Tools: What to Consider
Voltage & Adapters
Domestic or International? First, figure out the type of device you have (single vs dual voltage) and know where you're headed. If life takes you on journeys across continents and countries, you'll need to invest in an international adapter. Beware, not all adapters/converters are alike. Adapters change the outlet prong set up, while converters change the voltage.
For international travelers, dual voltage products are the best option. If you're headed somewhere for a longer period of time consider buying your hair tools there, and you won't have to worry about voltage conversion.
What Do You Really Need?
Hair maintenance, whether at home or when traveling, takes patience, persistence and product.  Perhaps you have an elaborate routine home but not on the go. Or, maybe no matter where you wander, you want your product and your tools right there with you.
If you can't leave your hair routine at home, then think through what you actually need for the activities and events on your itinerary. Consider shifting your hair styles to more low-maintenance versions while traveling. Test these at home first so that you're sure you'll feel happy with your look. Then, decide which tools are going to deliver the best results and value for your trip.
Only you can decide if the hair band on your wrist is enough to change your style for the day, or if an arsenal of hair tools needs to travel with you.
The Type of Trip & Tools Matter
Attending a conference? Off on a business trip? Guest at a wedding or event? Urban adventure? Beach vacay? Based in one place for two weeks, or packing up and moving often? The type of trip is going to dictate the type of hair tools you travel with.
There are styling tool of all shapes, sizes, and types. Names like Conair, Drybar, Babylisspro, and Sephora are standybs that we've come to rely on. Others, like Hot Tools, work great and are a little more budget friendly. Factor in your frequency of travel when buying travel hair tools, as that could affect the amount you're willing to spend on items you may not use that often.
Travel Curling Irons
If you want perfect curls, look no further. These trusty tools add flips, twists, and waves to your do. Consider your destinations and journey before you decide to ditch the cords and go for the rechargeable options.
If you're worried about plug access or power conversion, the ThermaCELL butane cartridge allows you to ditch the cords, static and the frizz all at once. 
Be aware that the TSA allows these curling irons, with one cartridge installed, in carry on baggage only. No spare cartidges may be packed, carried on or checked.
Corded, this is a great little curling iron for travel.
The ceramic coating on the 1-inch barrel of this curling iron helps to heat your hair evenly to prevent damaging hot spots. After 30 seconds, the heat is stabilized, and with the uniform heat recovery.
Travel Flat Iron
I remember reading about a traveler who carried no makeup except for red lipstick. She said putting that on made her feel fresh and clean, and that feeling propelled her along the way. For me, it's a flat iron. Knowing that my hair can go from french braids for a morning yoga session and then to straight for a work meeting provides the same results. If you've got the room, one of these babies might just be for you.
At the top of the flat iron pyramid, this dual voltage giant is perfectly travel sized. Don't judge it by its size – check out this power-packed iron and enjoy the lightweight straightening magic it provides. 
 Regardless of the length of hair, this mini marvel works wonders. Weighing in at only 5.64 oz and with a 2 year guarantee, it's hard to go wrong for the price. 
A heat protectant pouch is included, which is a thoughtful touch for travelers who might have to toss it in a carry on backpack while still warm.
Small and portable, this travel iron works on thin, thick, long, or short hair. Tiny in size (.8 inches), dual voltage, with a swivel cord that won't get tangled, and a heat resistant travel cap, this flat iron ticks all the boxes. 
It also comes with a 2 year warranty.
One of Wirecutter's top picks, this lightweight iron stands up to daily use but at 7.2 ounces with a 1″ straightening surface is't light and small enough to travel with. 
One reviewer said, "I love the long cord; I didn't realize how much I would love having the ability to move further than 36 inches from the outlet! The cord NEVER gets tangled either, which is a HUGE plus if you use flat irons to create the perfect curls." 
Dual voltage rechargeable and cordless – this tool is up for any adventure. Takes 2-3 hours to charge for 25 minutes of use. It's versatile travel choice.
AND, it charges your smartphone in an emergency? What?! Yep. That's a dual functionality perk I appreciate.
Travel Blow Dryers
Most hotel rooms come with a blow dryer, so perhaps you can leave this one at home entirely. I don't carry one when I travel; neither does Tortuga writer Laura Lopuch. But if you're staying with friends, in an Airbnb, hostel, or some other less standard accommodation, you'll probably want to pack a travel sized blow dryer. 
Topping the charts, this dryer is dual voltage and complete with a foldable handle. Dries hair faster to reduce the possibility of heat damage. Wherever you roam, with this compact creation comes salon style. 
When you're ready to invest in a serious hair dryer for travel, consider this one.  A compact powerhouse, with dual voltage, two heat settings, ionic technology and a two year warranty. It fits happily in your bag, thanks to the foldable handle and handy pouch.
Dual voltage, compact in size, and comes with an adapter for international plugs and diffuser,  this Sephora blow drier is ready to take on the road. 
One reviewer said, "This blow dryer is both smaller and more powerful that expected, which makes it perfect for travel. I truly love it!"
Multi-Use Travel Hair Tools
When traveling carry on only, multi-use is the way to go, with clothing, accessories, and travel hair tools. With limited space in your pack and airline imposed weight restrictions styling tools that do the work of two or three products are often your best option for space.
Switch from curling to straightening at the touch of a button. Anti-scalding features, dual voltage, and a swivel cord that won't get tangled are all perks of this dual purpose travel hair tool. 
Folds up under 7 inches in size and complete with travel case, this multi-tool brushes, crimps, straightens and curls. It's also dual voltage. 
One reviewer raved, "I am amazed how fast this heats up and how well it both straightens and curls! I initially had this in my travel bag and only used it on trips, until I saw how well it worked! I can replace both my straightener and curling irons for this!"
Travel Hair Brush
On the go from boardroom to boat, co-working space to cocktails, and urban luncheon to upscale evening, a brush is a must have. Leave the big ones at home and invest in a pocket sized travel hair brush that will tuck into your bag and take up little space.
Our own Tortuga team has plenty to share on their brushes of choice:
Megan likes to travel with a Wet Brush—helping to keep those curls under control and ditching those pesky tangles after a day in the pool.
Angela told me, "Curly-haired individuals know, you need to brush your hair in the shower and/or while it's wet. You need soft, flexible bristles with plenty of space in between so the hair doesn't get frizzy. Most of us with curly hair have accepted the fact that combing through our knots is going to be a painful process. It's just not true and it's actually damaging if it's painful. The Wet Brush detangles painlessly. While it's not necessarily designed for travel, it's a curly haired person's best friend. No need to bring a separate shower detangling comb and a styling brush."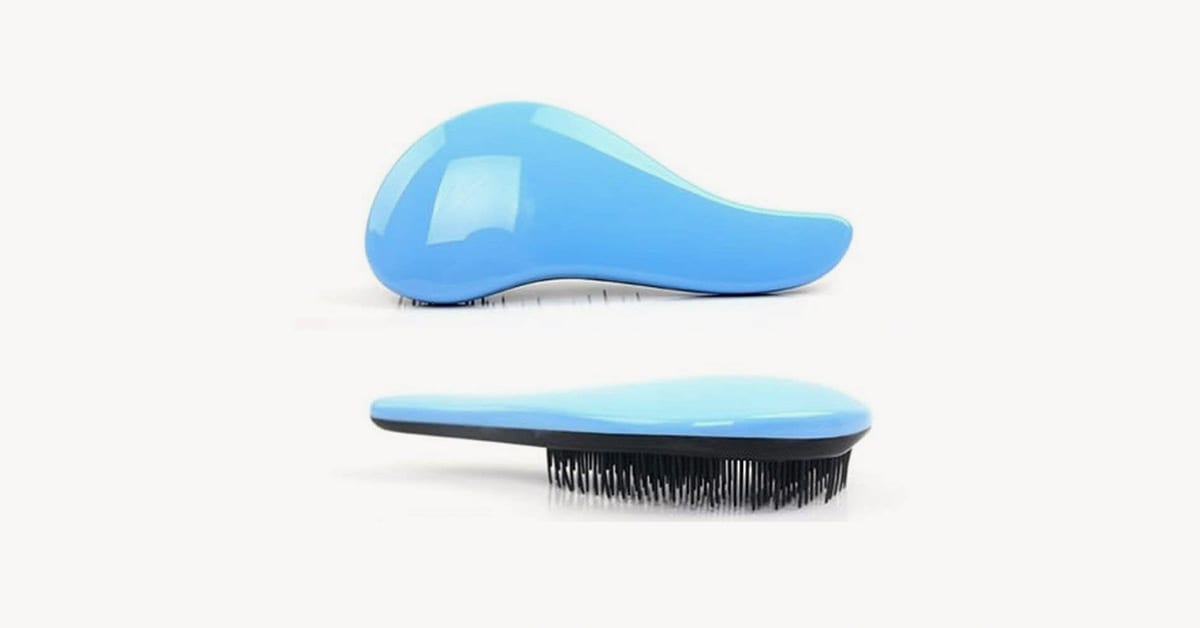 With heat resistance built in, this detangle brush works for all hair types and hairstyles and pairs well with your travel hair dryer of choice.
Compact, lightweight and complete with boar bristle – this special brush stimulates those hair follicles, exfoliates the scalp and manages to ditch the knots in style. 
This brush is an investment, and if your budget will stretch, it's worth it.
Since you want your detangler always at the ready, this one is tiny enough to fit in any travel tote.
With it's ceramic coated barrel, this mini marvel keeps and distributes the heat while providing that fabulous frizz-free feel. 
And, it's packable as well as budget friendly!
Travel Hair Products
Not everything in that crazy packed drawer in the bathroom can make it into your travel backpack, but the most important items certainly can. Go with dry products to make room in your TSA liquids bag, and decant your wet products into 3.4 oz GoToob. 
Megan, a fellow Tortuga writer, chimed in on her products of choice for her very own 'curly girl regimen.' She always stocks up on a more budget-friendly products (like Frizz Ease) then adds a travel size bottle of the more expensive stuff (like Miss Jessie's Quick Curls or Deva Curl Mousse) for those other, "fancier" occasions.
Serious coverage for those roots. Magnetic powder adheres tightly to hair and doesn't leave until you wash it out. To keep that root color up to snuff – re-apply whenever necessary.
Dry shampoo bars are amazing, and do double (or triple!) duty as body soap and, in a pinch, bar laundry soap. Jenn, Packsmith's editor, has carried these bars to six contients and swears by them. Her favorite is the fire engine red one, called "new" with a spicy scent. It's the color of her hair.
Worried about the effect of the sun on your hair color while on vacation? This special mist keeps the destructive UV rays away and while protecting that color all day long.  This is a sunscreen for your hair that comes in a conveniently travel sized 1.4 oz bottle. 
No muss, no fuss! This product has great staying power and isn't ditching that root until you shove it out with shampoo. Match your level of gray or light roots with it's multi-shades; there's something for everyone. 
Salt spray that creates those picture perfect beach waves in a portable package and offers a lower maintenance look for your travels. 
Slightly too big to fit in your carry on liquids bag, decant this into a travel sized spray bottle and leave your bigger hair tools at home.
TL;DR
Wherever you go, whatever you do – your hair goes along for the ride. If you're on the hunt for travel hair tools and products to take with you, first, consider what you can do without. For the rest, invest in something quality and travel sized; don't forget to check the voltage. For a great multi-purpose tool consider the Honglida Folding Portable Travel 3 in 1 Iron.
Want more like this?
Get weekly gear reviews, travel hacks, and packing tips sent straight to your inbox. As an added bonus, we'll send you a carry on packing list right away.