The Best Travel Jeans for Men and Women: A Buyer's Guide
The Tortuga Promise
At Tortuga, our mission is to make travel easier. Our advice and recommendations are based on years of travel experience. We only recommend products that we use on our own travels.
Jeans are the original badass travel pants. In fact, jeans might just be one of the most enduring, rugged pieces of travel gear ever made.
Jeans were the original travel pants. When miners in the California Gold Rush asked for, "A pair of sturdy pants that could withstand hard work," Levi Strauss gave them jeans. The game changed and soon everyone was wearing this durable, yet oddly comfortable, denim fabric. Held together with copper rivets and stitching in the places where other pants frayed or ripped, jeans were truly state of the art travel clothing back when "travel" meant weeks of hitching trains and stagecoaches in pursuit of a better life.
But jeans also owe part of their DNA to the world of European fashion. Jeans or "jeane," the sturdy cotton-based corduroy fabric, originated in Genoa, Italy. That's right, denim nerds; while jeans are known as the iconic symbol of tough American gold miners, the fabric itself comes straight from the fashionable streets of Italy.
Tortuga
Half European wonder fabric, half American icon, half comfortable as all hell, jeans are still great travel pants. Today, though, it's a bit different. Lightweight spandex blends, new colors, fashionable cuts and styles, and travel friendly features like zippered pockets mean that travel jeans are one of the best items of clothing you can put in a carry on backpack. They go with everything, never go out of style, and take an absolute beating.
Still on the hunt for a great pair of travel jeans? Here's our reviews of the best travel jeans for both men and women.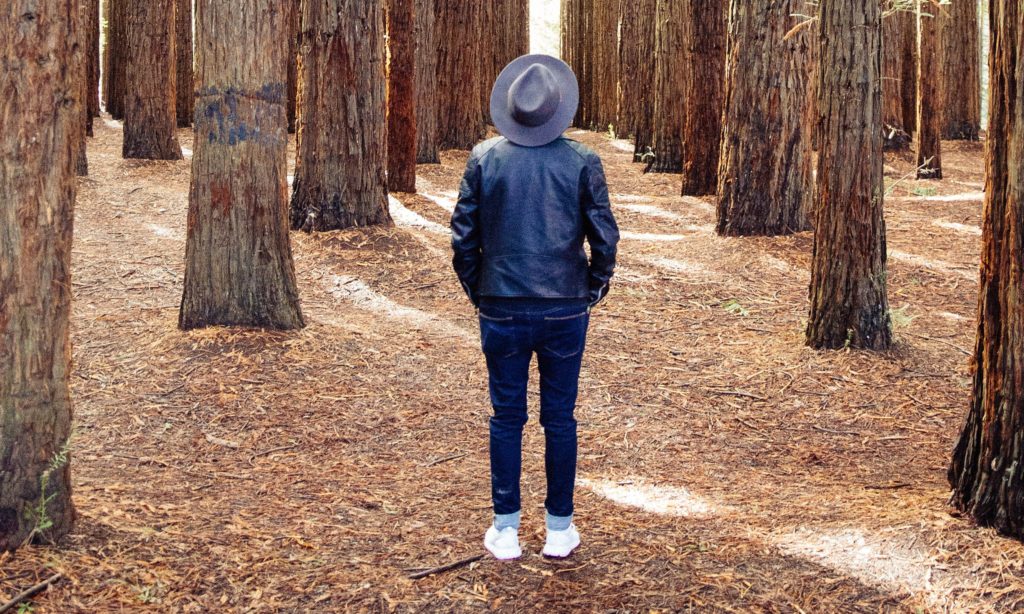 The Best Travel Jeans Review
Let's be honest. You buy travel jeans because you want to look good on the road. That's ok. Heck, it's more than ok. You should look good while you travel. Especially if you're a digital nomad taking meetings, networking, or just living your life abroad.
Before you scoff at attempts to look good while traveling, remember jeans and leather shoes are the minimum level of dress required for many nightlife spots, especially in western Europe. Before you go chasing that hot foreigner into the trendy new club, make sure you didn't pack like a dork.
Please stop dressing like your dad and being a tourist. Dress like you. Be a traveler.
The Best Travel Jeans for Men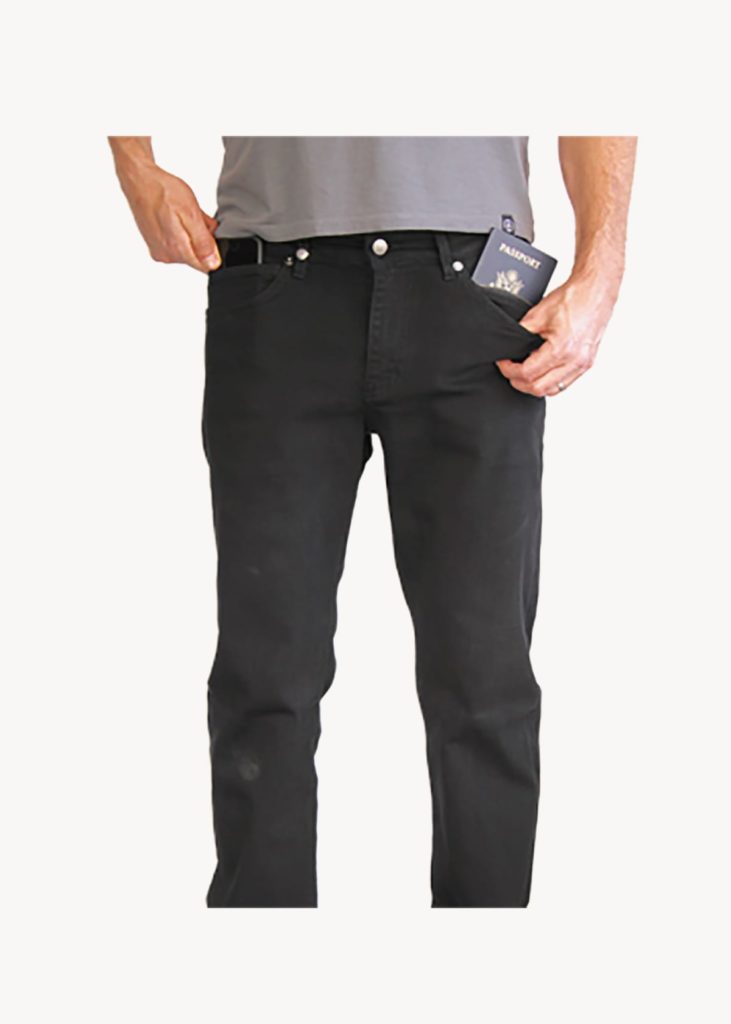 They claim to be the best travel jeans in the world… and they might just be. These jeans are the perfect blend of fashion and function in a package that you'll actually want to wear (for a price you can afford). The stone washed slim fit denim looks awesome, fits great, and handles anything you can dish out on the road.
Features like the two hidden zippered pockets (plus the 5 regular pockets) feel natural, not tacked on like so many other travel gear gizmos. Although, the belt loop clip is a rad new features.
Bonus: the pockets are actually big enough for a passport AND a phone. What a shocking concept to design pockets big enough for the two most carried travel items.
These jeans feel great on the plane, and look stylish enough to wear out on the town. I'm a big fan, and could easily travel for a week with just these and a pair of shorts. Plus, they come in a lot of sizes (aka odd numbered waist sizes) so you can find the perfect fit.
Finally, the 70/30 polycotton spandex blend (2% spandex) allows for just the right amount of stretch and give without looking (or feeling) like jeggings. These might just be the best travel jeans around.
I'm a huge fan of Bluffworks (they're my favorite travel pants), so when I got my hands on their brand new travel jeans I was pretty excited.
If you want the classic look of denim without the bulk and hassle of actual jeans, Bluffworks' travel jeans might just be the perfect travel pants for your next business trip or off the grid adventure.
Designed to be worn all day everyday, these jeans are cut for comfort and style. The regular fit is a more relaxed fit than I typically wear (I prefer the slim fit departure jeans), but either cut is a great option for anyone looking to pair down their packing list. (Side note: You'll want to err on the slim side when it comes to sizing as these jeans stretch a little with use).
These jeans are even great for long flights (which is really saying something), thanks to the cotton, COOLMAX polyester, rayon, spandex blend. They stretch and breathe like a travel fabric, but you don't have to worry about looking like a hot wrinkled mess when you land. Plus they have five sturdy deep pockets (including two super stealthy hidden zipper pockets along the rear belt) to keep your stuff safe while you snooze.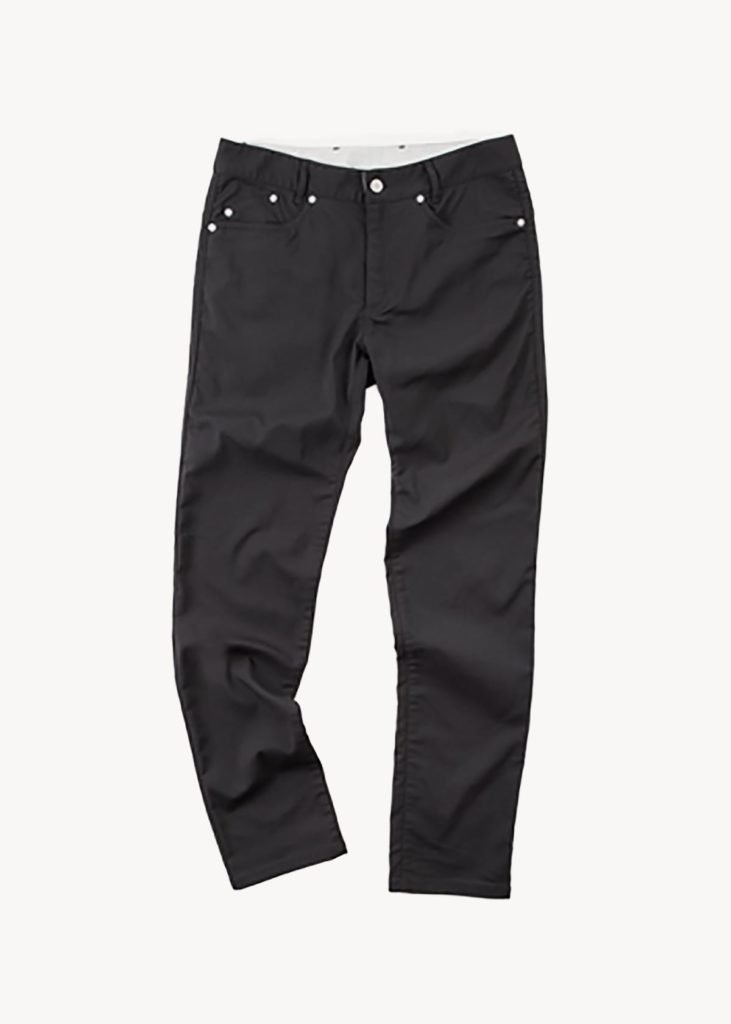 Outlier makes travel clothing that looks good, and the Outlier Slim Dungarees are no exception. If you want a pair of upscale jeans that can handle the "dust and grime" of the road, but still look good in the hotel lobby, look no further. Plus, they're made in America (NYC!), so you're getting the authentic denim experience.
These jeans kick ass and look awesome doing it because they're the next generation of travel jeans. The "Workcloth" fabric stays dry in light rain, dries quickly, and shrugs off coffee stains like a boss. Slam that fifth espresso shot with shaky hands. No one can tell!
Just listen to a review of the Outlier from Tortuga co-founder and CEO, Fred Perrotta:
"I have zero regrets about wearing jeans when I travel or even why I fly. When I travel, I want to feel and (hopefully) look good, which means dressing like I do at home. My Outlier Slim Dungarees are the best travel pants that I've found. They're are a modern, technical reinvention of jeans."
The Best Travel Jeans Runners-ups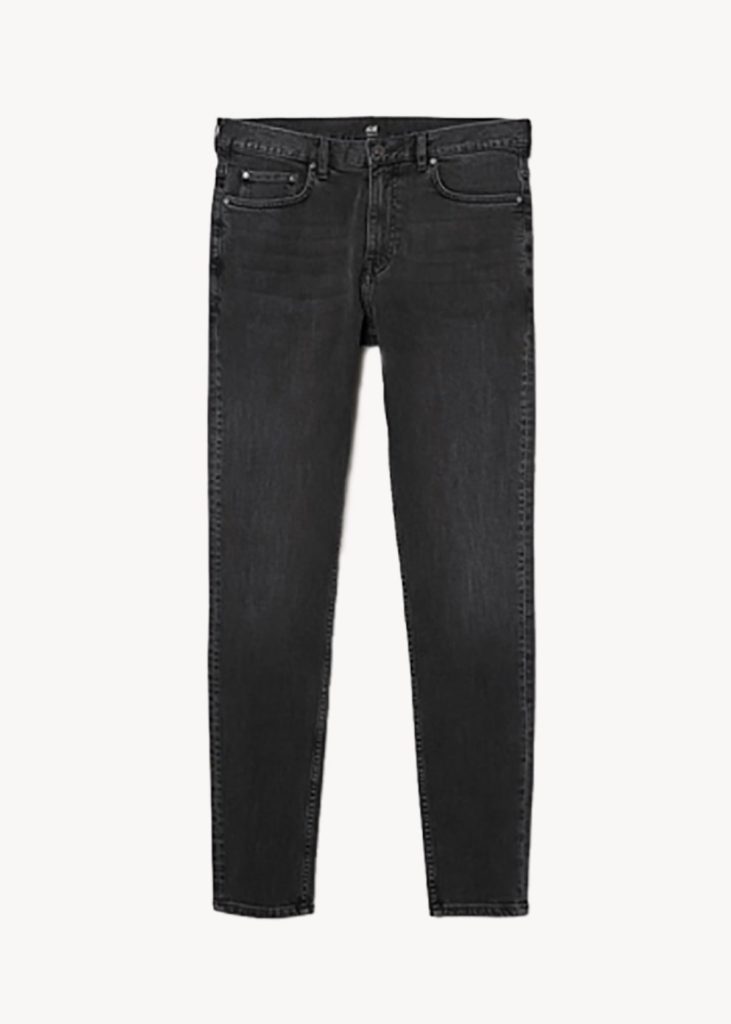 If you're into a stylish, modern, slim silhouette on a budget, the H&M 360° flex jeans might be for you. They come in a variety of colors (including classic blue jeans), and the 5% spandex/cotton weave means they give and move like crazy (5% spandex is HIGH).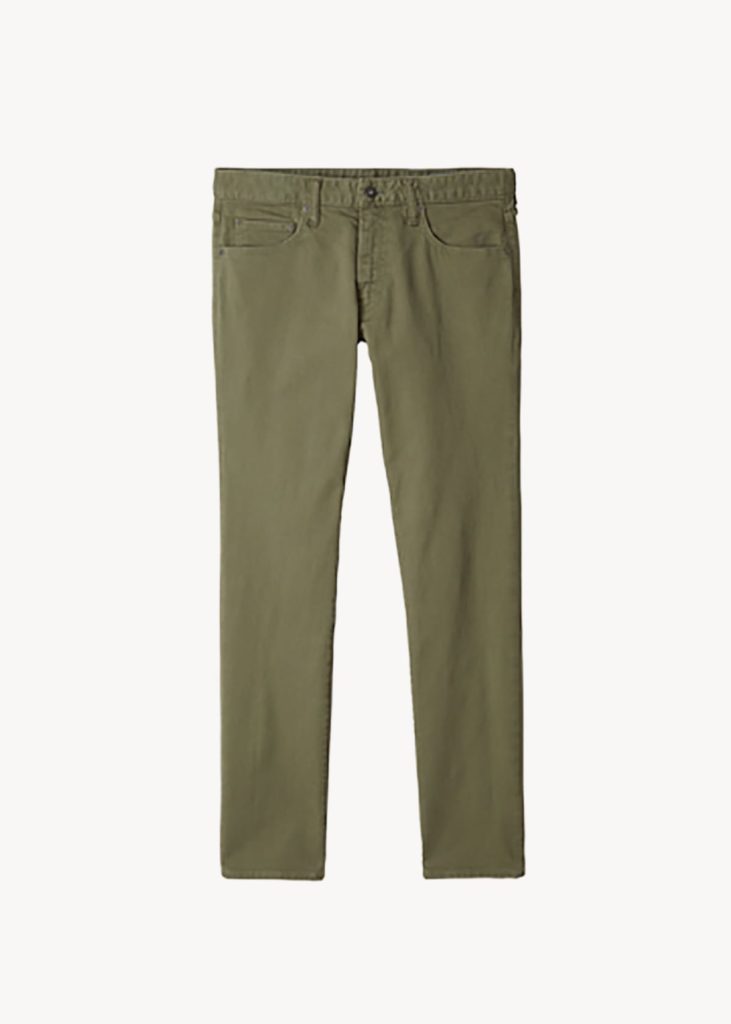 If you want to look good in some bright colorful travel jeans, go with Bonobos. 2% spandex stretch and a range of awesome shades makes these travel jeans a head turner for the beach or the club.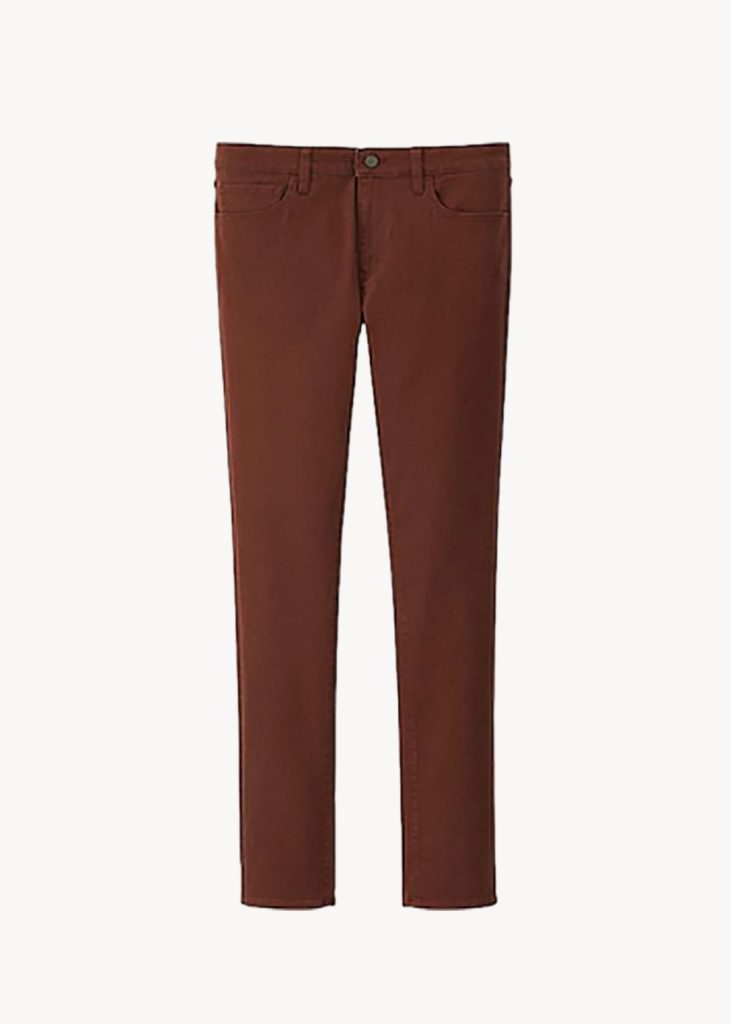 Uniqlo has been quietly making awesome travel clothing for a while. Now they're actually coming out and saying it with their "travel essentials" collection. Interestingly enough, jeans aren't in the collection. Which is super dumb. Because jeans are awesome travel pants.
The nylon blend means they dry a little faster than traditional denim (awesome), and they can move with you while you bike, climb, run, or just win that dance battle with dope windmills.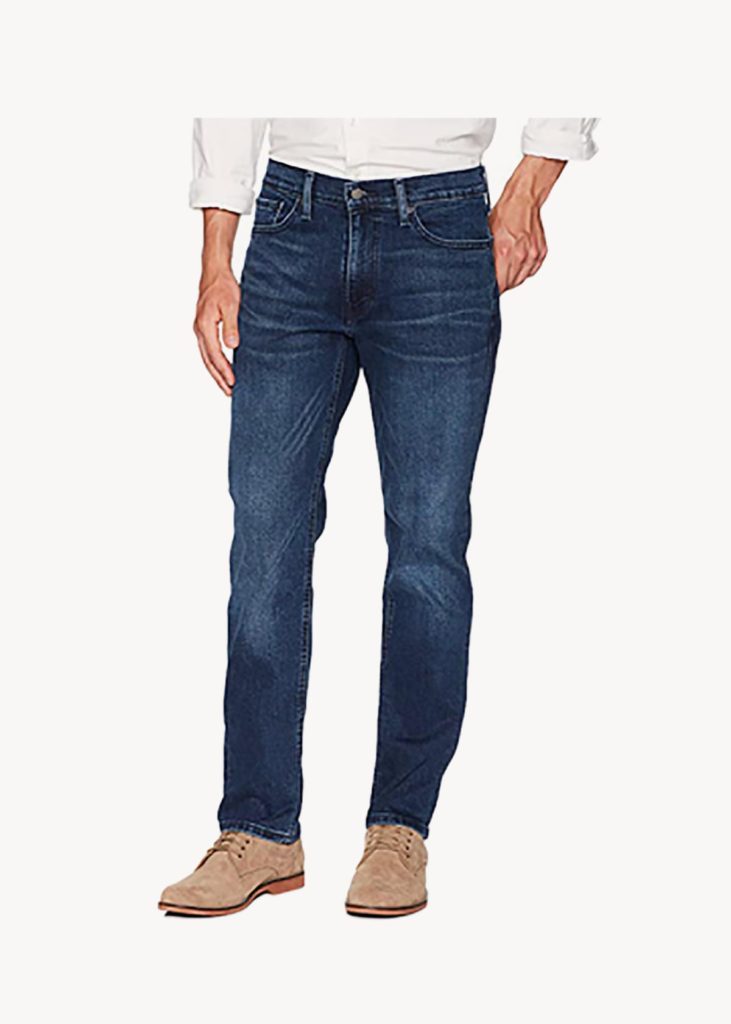 These pants aren't the most flattering fit in the world, but I know that not everyone wants a tailored or slim fit pair of travel jeans. These jeans look great, feel super comfortable, and their friggin' Levi's. They're the OG travel jeans, but with a 93% cotton, 4% polyester, 2% polyethylene, 1% elastane blend that makes them more stretchy and comfortable than ever.
The Best Travel Jeans for Women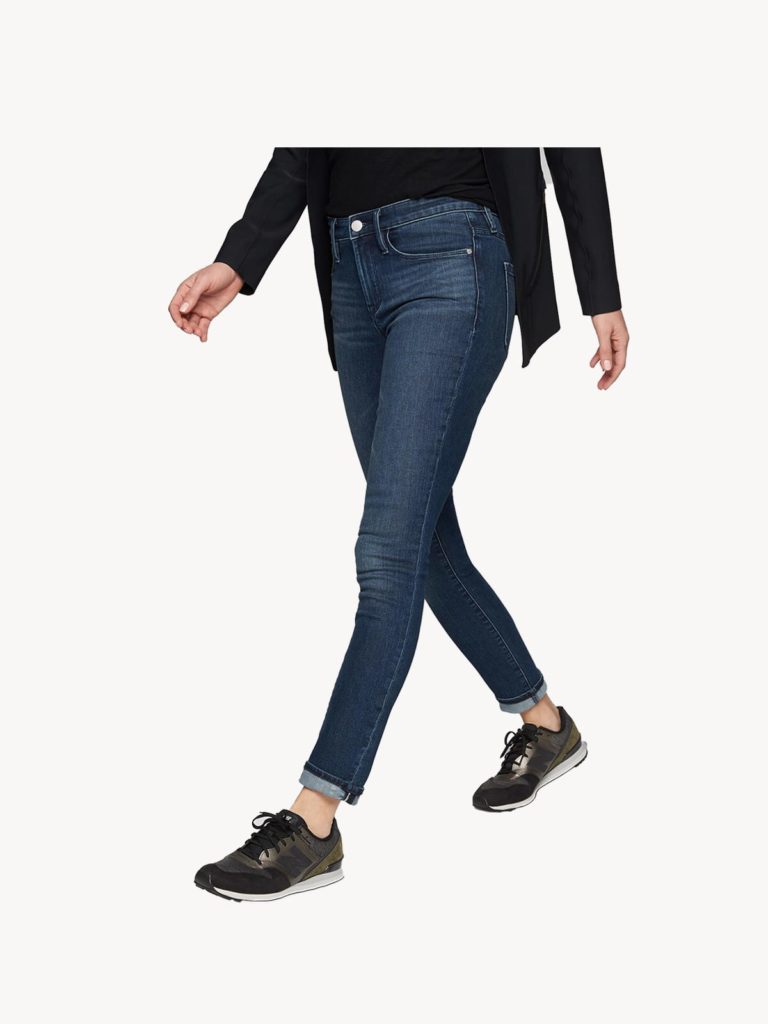 Athleta claims you can do yoga or workout in these jeans. Truthfully, they're super stretchy. Their site claims this pair "stretches 360 degrees then snaps back into shape without bagging." From what I've seen, that's true.
But I felt a bit straight-jacked into these babies, thanks to how their waist is designed. It's designed to "keep you in." Boy, does it do that.
I'd wear these jeans on a day of sightseeing or being on my feet most of the day. For a day of a flying? Skip these pants unless your stomach enjoys feeling like it was slowly being squeezed to death. For me, that feeling makes me want to barf. No thanks.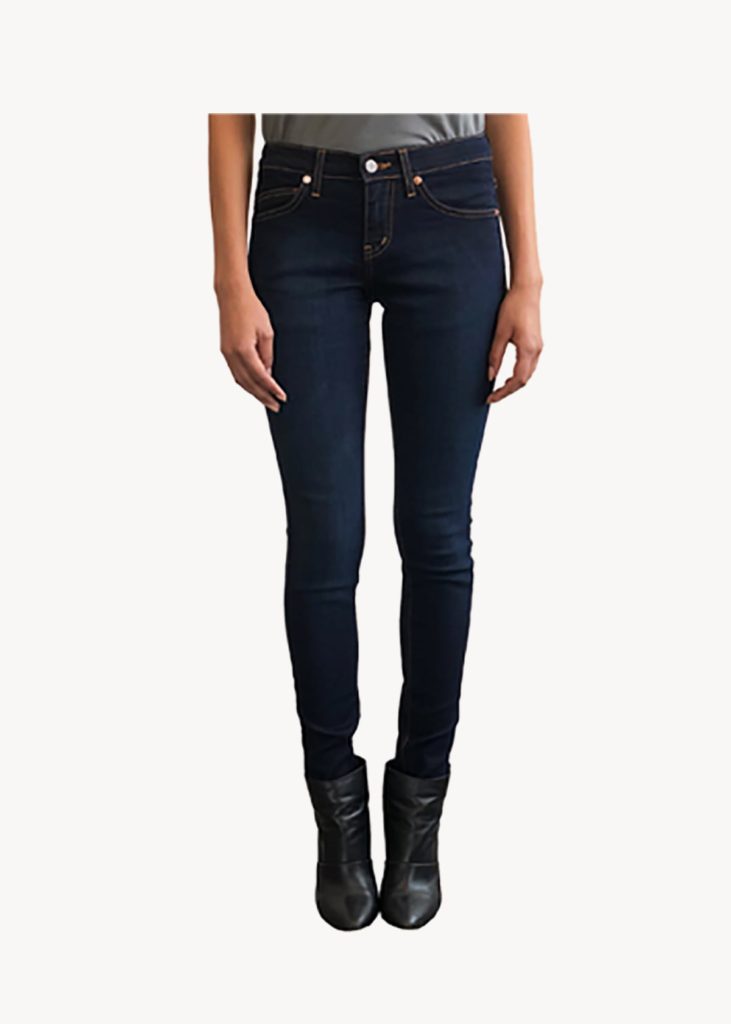 Still featuring all the awesome deep pockets, and the hidden zippered one, like the Performance Skinny, these jeans are slightly different.
Because of their material. Which is butter-soft and feels like your favorite yoga pants… in skinny jean form. Also, thanks to their long inseam that comes standard, my long legs felt — dare I say it? — at home in them.
I love how they move with my body instead of suction-cup to my ankles in dreaded skinny pant fashion. After a 2-hour flight, the bum wasn't saggy, my legs were comfy, and I wasn't too cold or hot on the plane.
Could I be in love?
Yes, it's very possible.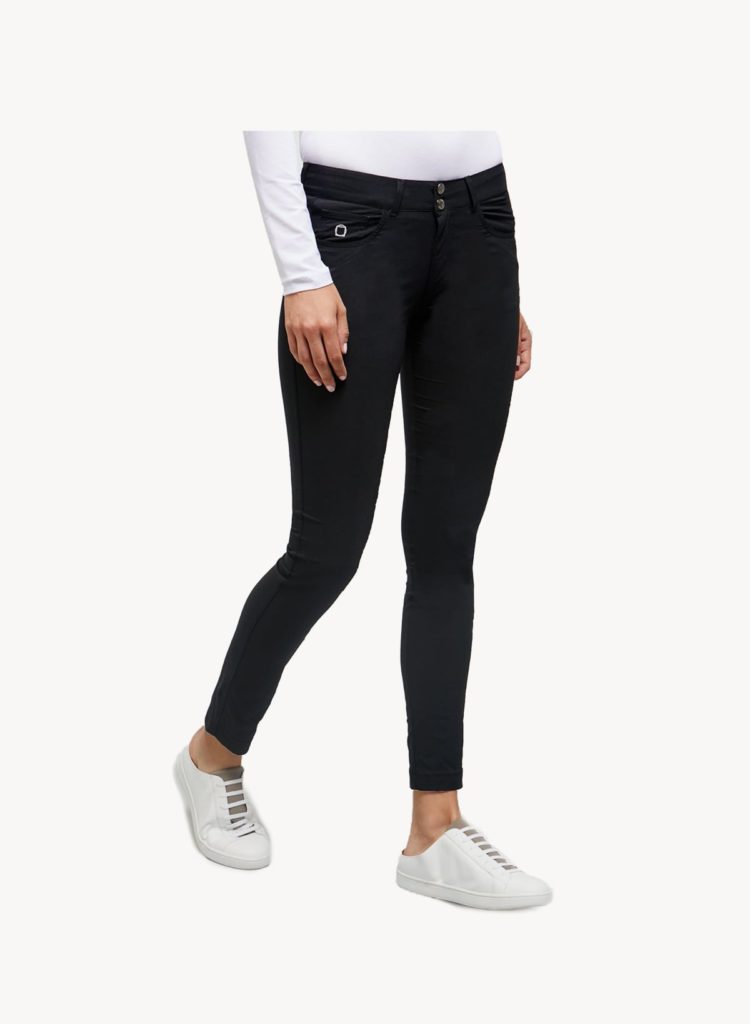 Ok, you caught me. These pants are labeled as jeans on Anatomie's website, but they're not truly jeans. Because their material is a type of lightweight polyester that manages to be stretchy, comfy, and very flattering.
The barely-cropped cut shows an amount of ankle that Audrey Hepburn would approve of. Thanks to the dark blue color, I looked dashingly put-together for a day of sightseeing.
That being said, these pants are fantastic for summer or warm destination travel. They were too chilly for weather below 60 degrees.
I recently wore them on a weekend getaway to Austin, Texas. Normally, I'd bring just one pair of jeans on a 3-day trip. Because these Anatomie pants took up almost no room in my bag, I brought them with. And I'm so glad I did because they were perfect.
I've talked before about how I love my Lucky Brand jeans. They fit me well, have the perfect amount of stretch, and dry quickly. Even when you're out walking for hours in a damp, drizzling Vancouver night.
My other favorite part? They last for years. Seriously.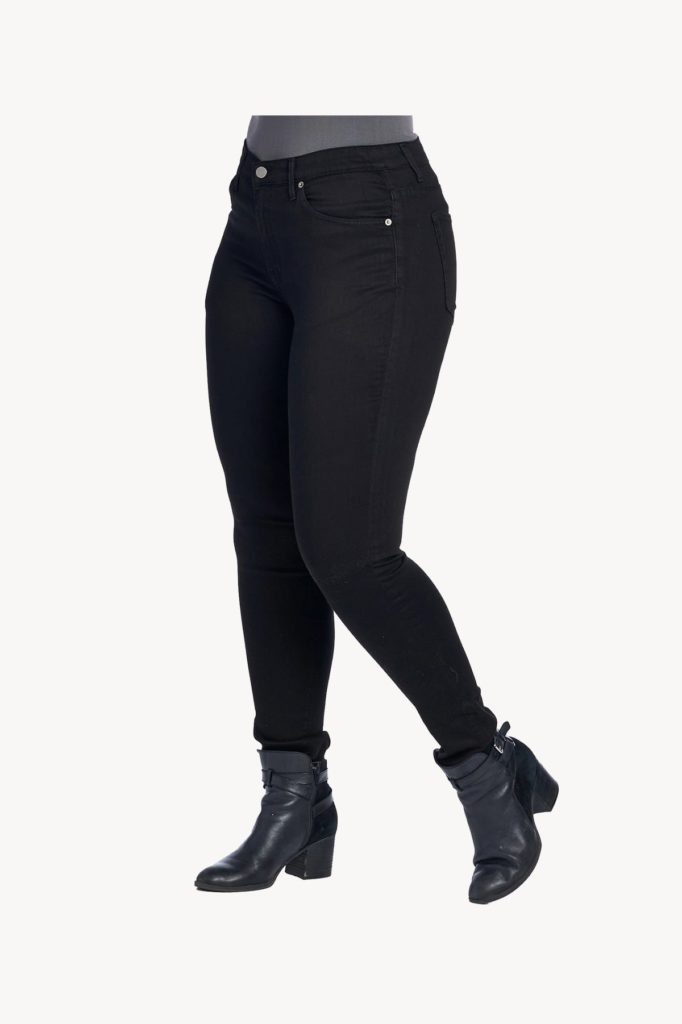 Ok, yes, I admit it. I was skeptical. Especially with a name like "best travel jeans in the world."
But these jeans score a 10/10 in the toughest category to master: deep pockets that double as a purse. Not those rinky-dink little "pockets" that barely hold a lip balm that are usually found on women's pants. Plus, they have a hidden zippered pocket inside one of the back pockets.
The thicker material feels like jeans, not wannabe cotton hoping to pass as jeans. And I loved the mid to high waist which protected against unwanted plumber's crack.
Side note: The pockets are awesome — seriously! I can't get over how beautifully deep they are — these jeans are your perfect sidekick for concerts, nightlife, or strolling the city at night. In other words: any activity where you don't want to bring a bag, but still need some MVP items that are usually too large for the super-small pockets on women's jeans.
The denim pants and shorts by DUER are a wonderful option for travel jeans. Made from a stretchy yet soft cotton-polyester-lycra blend, these jeans are built to perform. And we don't just mean last a long trek out west. They'll also keep you cool as you bike around town, flex with you as you stretch into weird trying-to-sleep-on-an-airplane positions.
If you're looking for a lightweight travel jean option, DUER's line of breathable jeans are an ideal choice to keep you looking good, but not suffocating in a sticky pair of jeans.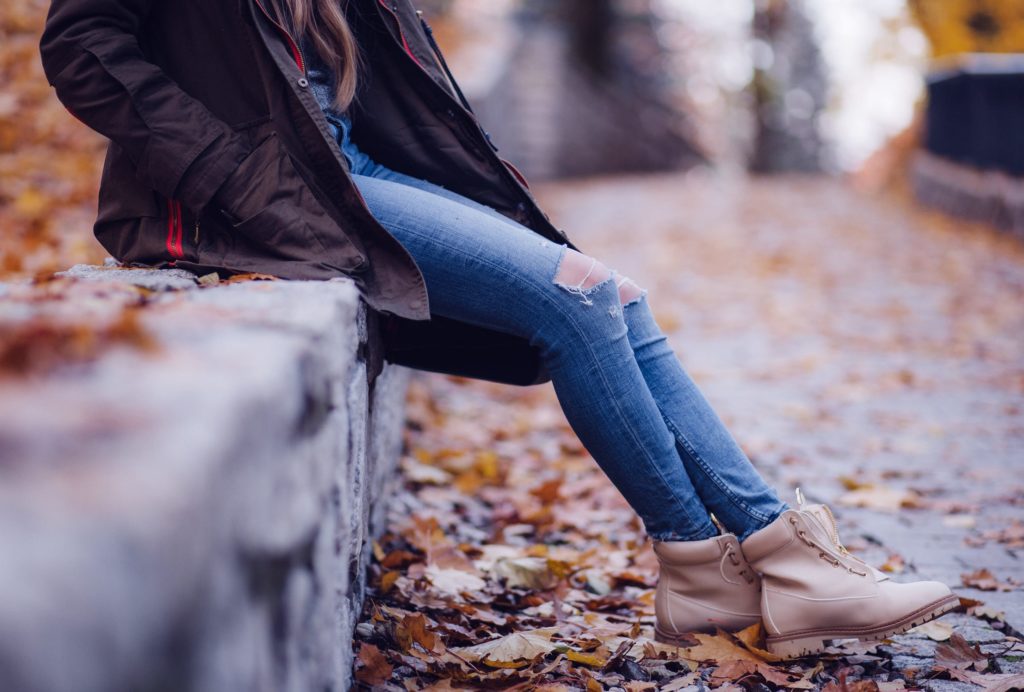 The Best Fit, Style, and Length for Travel Jeans
The perfect pair of jeans means something slightly different for everyone. Some people prefer skinny cuts, while others can't stand them. Some love the almost ubiquitous spandex in today's denim while true fanatics look for denim without.
For fit, you want to look for jeans that are comfortable and fit well, not necessarily made-for-travel jeans. They should also have sizable pockets that are big enough to fit more than two fingers in, which is a little more difficult for women than men.
The Problem With Skinny Jeans
I've always shied away from skinny jeans. They're not great for long hours on a train, plane, or car, frozen in a certain position because you can't move and your stomach feels like it's slowly being sawed in half.
However, skinny jeans work really well with lots of types of shoes. Meaning: they're a valid choice for traveling.
Straight Legs
If you, too, are very much "over" skinny jeans but are somewhat timid about venturing into voluminous territory, straight leg denim is a good starting point. Since straight legs don't grasp onto your ankles and hold on for dear life, the legs have more movement and are less likely to ride down whilst you're seated.
Bootcut
A bootcut is my favorite cut of jeans: slim through the legs with a flattering small flare. Your jeans stay put (i.e., around your waist to make your bum look cute) and your ankles don't get chilly like with skinny jeans. Plus, many brands carry a bootcut fit, making it easier to find a pair of jeans that fit you.
Cropped Kick Flares and Wide Legs
I'm sure this will be polarizing, but I love a cropped kick flare for travel. The cut is forgiving yet figure hugging, stylish yet approachable. Kick flares aren't universally flattering (they're especially tricky on shorter folks) so try them on before buying.
Flares range from pretty tame, a la Paige Colette (my holy grail denim) to more voluminous ones by Mother. For a lower-priced version, try Everlane.
Cropped Wide Legs
If you're willing to go bolder, may I recommend a pair of cropped wide legs? I particularly love this option in the summertime because the silhouette acts like two leg vents, letting your lower half breathe. Wide leg pants are much easier to fit because they don't hug your thighs or derriere. The only consideration, really, is the waistband. Plus, I personally feel more stylish when wearing wide-leg denim.
However, full-length versions are a nightmare in wet weather. For traveling in the rain, I recommend a cropped version unless you're headed to a literal desert. The Loup Simone is a higher-end favorite of mine and Gap currently makes a budget-friendly option.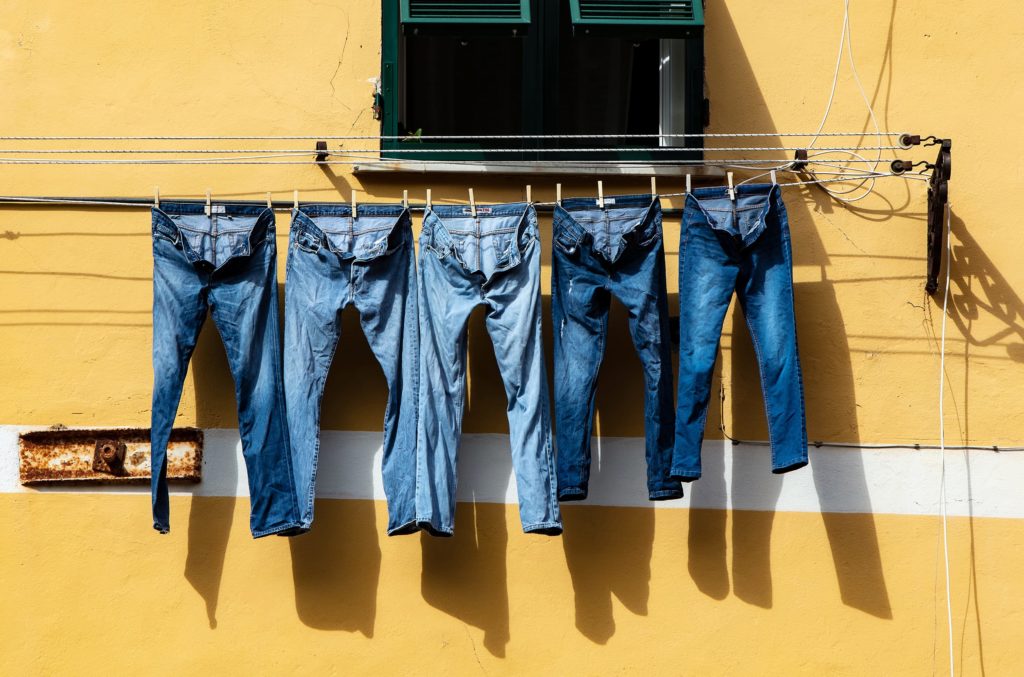 The Best Fabric Weights for Travel Jeans
Denim weights are measured by how much a 1-yard piece weighs on a scale. You'll typically see weights between 9-23 oz (though 9-16 is most common). For travel, stick to a lightweight denim (9-11oz) or mid weight jean (12-15oz).
Lightweight: 9-11oz jeans are lightweight, great for summer, and most common in denim. They're less durable and more prone to the dreaded "saggy butt syndrome." I find that I need to wash my lighter weight jeans relatively often because of this.
Mid-weight: 12-15oz jeans are stiff at first but, once broken in won't stretch out, and last a long time. Since the fabric is heavier, they might feel uncomfortable in the summertime. It can be tough to find new denim in mid weights, but vintage options are a good mainstay. Vintage Levi's are often between 12 and 14 oz.
Heavy weight: 16oz+ are not very common, or good for travel. Avoid them.
Opt for approximately 1-2% spandex or elastane.
More than that and your denim will stretch out more quickly. Less than that and you might not feel very mobile.
Tortuga
Are Jeans Good for Travel?
Jeans aren't known for being great travel pants. They are great travel pants. They're just not known for it. Here's why jeans are great for travel:
Travel Jeans are Durable
Jeans can take a beating. Heck, they were designed for the mines. Hiking, climbing, biking, sitting in the dirt at Coachella—it doesn't matter. Jump in the ocean, stomp through the mud, climb a big ol' nasty tree. Your jeans can take it.
Jeans also hide stains like a boss. Actually, stains make your jeans look even better. Get a dark denim and staining your clothes is one less thing you have to worry about.
Travel Jeans are Comfortable
Jeans can take an insane amount of abuse and yet still feel great against your skin. It's magic fabric. It really, really is.
If you can find a modern pair of jeans with a spandex or elastene blend, you're in for an even bigger treat. These jeans give and bend with you to perform during any activity, from lounging in the park to biking across Mexico City.
Travel Jeans are Versatile
Jeans work for happy hour, an 11-hour flight, hiking a mountain, or just walking around town. You can bike in 'em, go to a concert, or even rock climb in 'em. Yes, I rock climb in jeans. Frequently.
Jeans are business casual if you're taking any meetings on the road. They also look at home in a cafe while you tap out your latest blog, or the club where (stylish) jeans are usually on the dress code. The right pair of jeans can even make a t-shirt look iconic. Ask James Dean.
Oh, and before you complain about how jeans are hard to wash, stop. You don't need to wash jeans. Ever. Actually, according to Chip Burgh, the CEO of Levi's, you shouldn't wash your jeans. At least not for the first 6 months. Hiut Denim agrees:
"Raw denim is best given a good six months before washing. The longer you can leave it, the better your jeans will look."
If you do cave and wash your jeans, just pay 2€ to dry them, you cheapskate. Or wear them damp. Body heat is an amazing way to dry clothes. Seriously.
Travel Jeans are Fashionable
Speaking of fashion, how are you gonna compete with jeans—especially on the road. Most travel pants look absolutely ridiculous. Zip-off shorts? Cargo pants? Sweat wicking trail pants that *vvvvvippp vvvvvippp vvvvvippp* down the street with every step? No thanks.
If you want to look like a tourist, wear techy travel pants. If you want to look like you know what you're doing, wear a great pair of jeans.
Travel Jeans are Heavy
Yes, jeans weigh more than paper weight travel fabrics. But, pound for pound, jeans are a more valuable addition to your travel capsule wardrobe. You don't need to pack (or carry) as many different pairs of pants when you pack the right travel jeans. They're good for daytime, nighttime, work and play. One pair of great travel jeans can be your go to for weeks of travel with just a few other pieces. Plus, you can wear the jeans while you travel (aka on the plane), making your bag that much lighter.
Cuff the jeans up when it's hot, roll 'em down when it's cold, and "break glass in case of emergency"—cut them into super stylish jorts (jeans shorts) if they're "too heavy" or hot for the trip you're on. I love my jorts. They're like jeans but lighter.
Jeans Don't Convert to Shorts
No kidding. Zipoff pants are hideous.
If something claims to do two different things, it probably doesn't do either of them well. Case in point: ugly pants that turn into ugly shorts plus two extra pieces of fabric for you to carry. Convertible pants are also an indicator that their wearer is a tourist, so button your cargo pockets tight, because pickpockets will see you as a mark.
Travel Jeans are Hard to Clean
Actually, they're the easiest pants to clean, ever. You don't have to wash them. If they start to smell, just pop in the freezer overnight (cold kills odor causing bacteria), lay them out in the sun, or just hit 'em with some Febreeze. Easy. Peasy.
Travel Jeans are…
That's it. Those are the only cons. And they're not even cons. Enough of this nonsense. Here are our favorite travel jeans.
TL;DR
Jeans were made for travel. They're rugged, comfortable, versatile, stylish, and timeless. Invest in a quality pair of travel jeans and you'll have one less thing to worry about on your trip (and when you get back home).
You don't have to wash your travel jeans as much as your other pants; seriously
Jeans were designed for gold miners, they can handle sitting in the grass
Look for jeans with at least 2% spandex; it sounds weird, but it feels amazing
Guys can jeans with zippered pockets and a big enough pocket for your passport
Gals, find a brand that you love and fits just right, then experiment with other cuts
Go wide leg and feel the freedom