The Best Travel Purses for Women
The Tortuga Promise
At Tortuga, our mission is to make travel easier. Our advice and recommendations are based on years of travel experience. We only recommend products that we use on our own travels.
The ideal travel purse should be comfortable, pick-pocket resistant, and roomy enough to carry your daily essentials, including a water bottle.
But sometimes, a girl just needs a purse. Even if it's not the most "minimalist" way to travel.
Of course, when you're traveling, your purse has different requirements than when you're at home. Since you have to carry more essential items and you can't dart home if something goes missing, your travel purse needs to be secure.
On the other hand, a purse isn't a money belt, nor should you approach yours like a money belt (Tortuga writer Shawn Forno explains why that mentality ruins your travel experience). You don't want to look like a tourist carrying a portable safe.
Here's what you should look for in a travel purse and a review of some of the best travel purses on the market based on your priorities.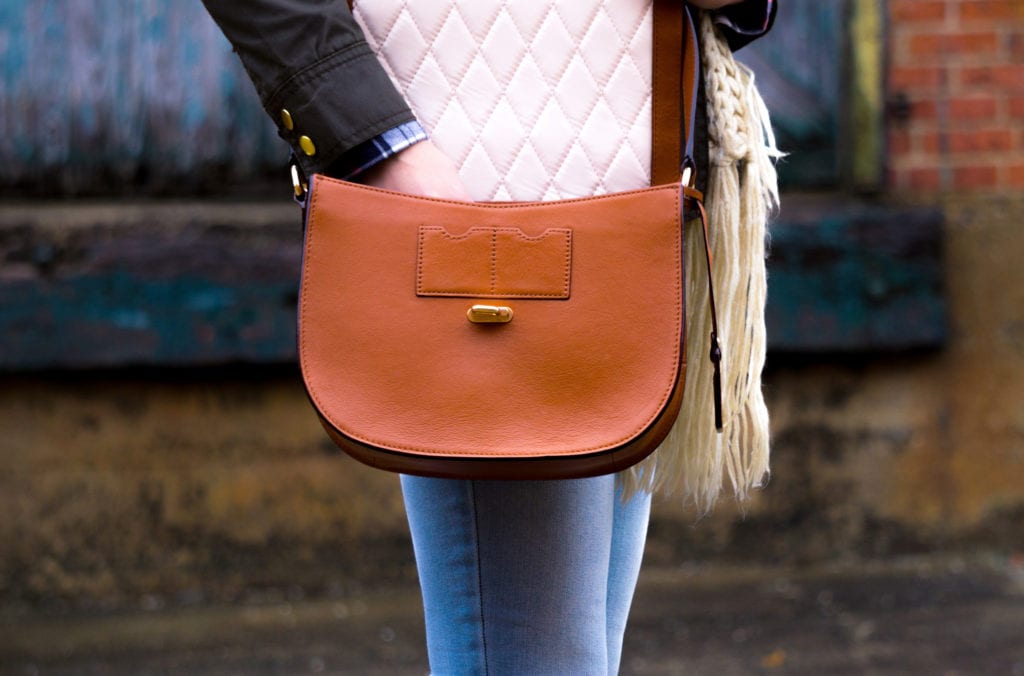 What to Look for in a Travel Purse
Hold the Essentials
Look for a travel purse that is roomy enough that it keeps all your stuff INSIDE the bag versus in a continuous state of spilling out.
Looks Like an Everyday Purse
Just like zip off "travel pants" are a faux pas, so are overly techy "travel purses." You don't want bright colors or funky styling that screams "tourist" to draw unwanted attention to yourself.
Two Straps
This is the easiest anti-theft precaution you can take.
Closed or Zippered Top & Interior Pockets
One of the key features of a travel purse is that it be hard to pick-pocket. A zippered or fold over and snap top is a good start. Also look for zippered interior pockets that are between the lining and outside material. Put your most important documents and cash in those.
Comfort
You'll be carrying your travel purse for long hours. Pick one that doesn't chafe your shoulder, weigh you down, or throw your spine out of whack.
Big Enough to Carry a Water Bottle
Staying hydrated fights jet lag and strengthens your immune system. Need I say more? In places where the tap water is of questionable safety, a water bottle is an everyday carry necessity.
What You Don't Need in a Travel Purse: RFID Blocking
As you're shopping for the perfect travel purse you'll see lots of them offering RFID blocking fabric or pockets. To put it simply: RFID blocking is bullshit. You don't need it. It's not a thing. Good marketing for the travel purse company, totally useless for you. Don't pay for it.
Crossbody Travel Purse
Created from recycled water bottles, this water-resistant crossbody ticks all the items in our must-have list.
Thanks to a zippered top and two zippered pockets, your stuff stays safe from prying fingers. Not to mention the crossbody design is more comfortable than a purse that hangs from a single shoulder, like a tote bag.
As one reviewer had this to say:
"The best thing is its size. It's just perfect enough to fit my wallet, planner and checkbook, and still have room for a glasses case and those small incidentals like makeup and tissues without being one of those purses that just collects stuff and loses it in the dark depths of hiding for several years."

Can I take a moment just to admire this bag?
Sleek style and minimalistically beautiful. The zippered top — and zippered pocket — keep your stuff safe.
And take one moment to appreciate the wide range of colors. I like the sunset color to add a splash of joy to your capsule wardrobe. Honestly, my capsule wardrobe tends towards dark colors, so this gorgeous bright red is the the perfect accessory.
Because this bag is crafted from nylon, you don't need to worry about being careful with it, like leather. Just give it wipe down and it looks good as new.

Anti-Theft Travel Purse
Let's start with the stats of this travel purse:
3 locking compartments
Slash-proof construction
Adjustable backpack straps
Card and passport slots inside main compartment (they're RFID blocking, but that doesn't add value)
Rear zippered pocket
9 colors to choose from
4.5 stars out of 5 based on 600+ reviews on Amazon
Whew. Not only that, but this bag delivers in other ways.
Tina said:
"It is amazing how much will fit into this small bag! I have two cameras, two lenses, batteries, cards, a Kindle Fire, my wallet, tissues, hand cream and I still have empty pockets. Most of the zippers have locks. The bag is very comfortable to wear across the body. It's exactly what I need for traveling."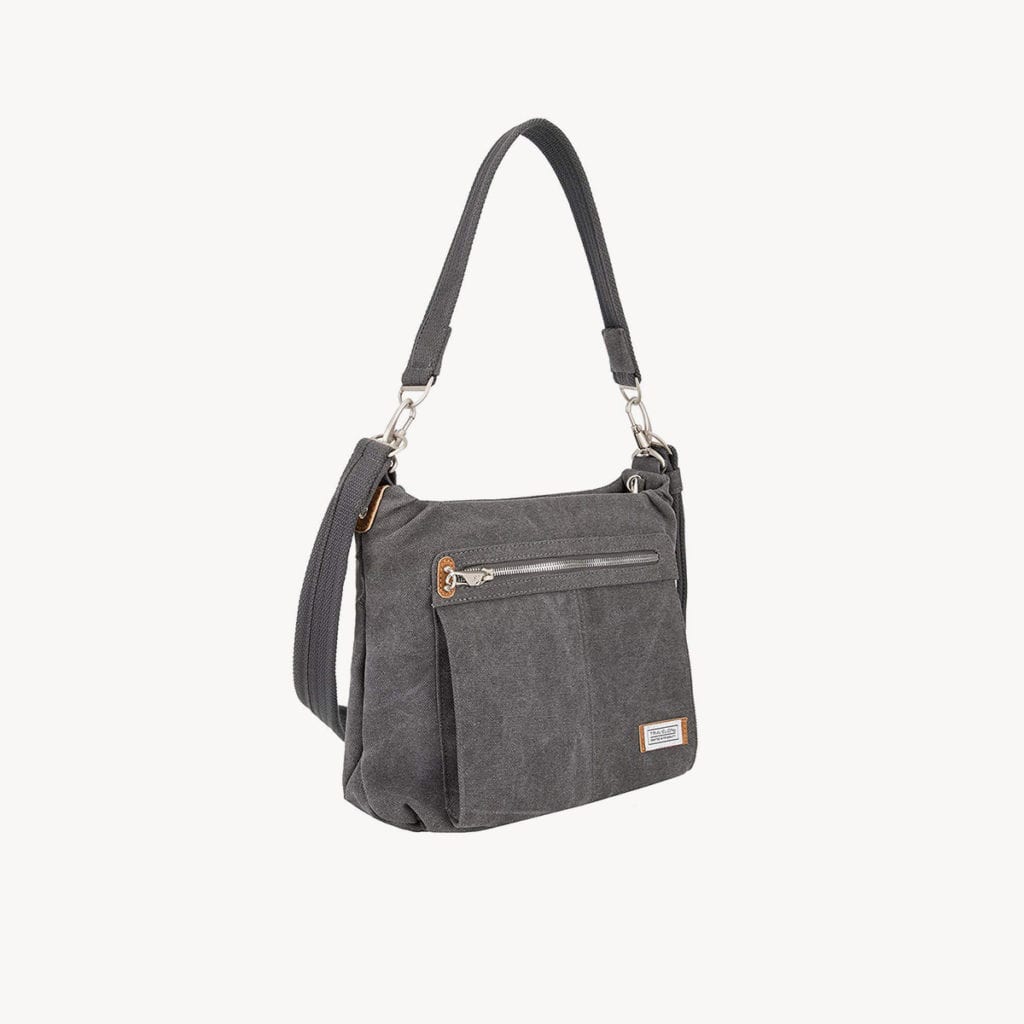 For a slash-resistant, RFID-blocking travel purse, this one looks relatively normal. Like an everyday purse, not one that screams, "I'm scared of you snatching my bag!"
Thanks to a two-strap design, you can choose how to wear this purse: as a satchel or crossbody.
It ticks all the other must-haves: zippered pockets and top, comfortable design, subdued fabric, big enough for a water bottle.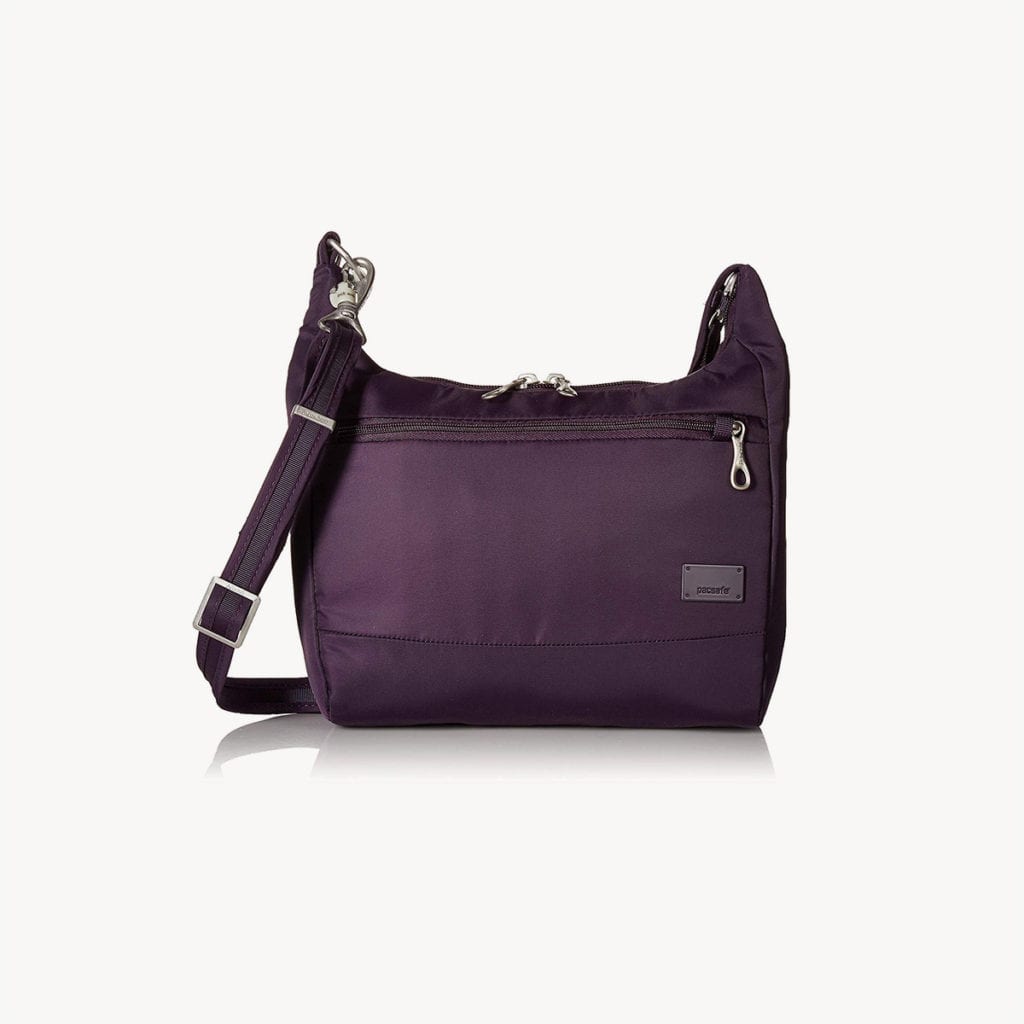 How do I put this diplomatically?
Best to come right out and say it:
This travel purse looks like a travel purse your grandma might take. Streamlined design and slightly glossy fabric that hints of khakis zip-away pants and a stripe of sunscreen down your nose.
That being said, this purse is high security. It has a hidden stainless steel wire mesh inside to protect against slash and grabs and locking zippers
Kate loves it:
"I bought this to use while I was in Spain two years ago. I loved it so much, it's now my go-to bag for travel and accompanied me to Egypt this year. It fits my iPad, iPhone, passport, small notepad, wallet, and chargers without being weighted down or looking too bulky."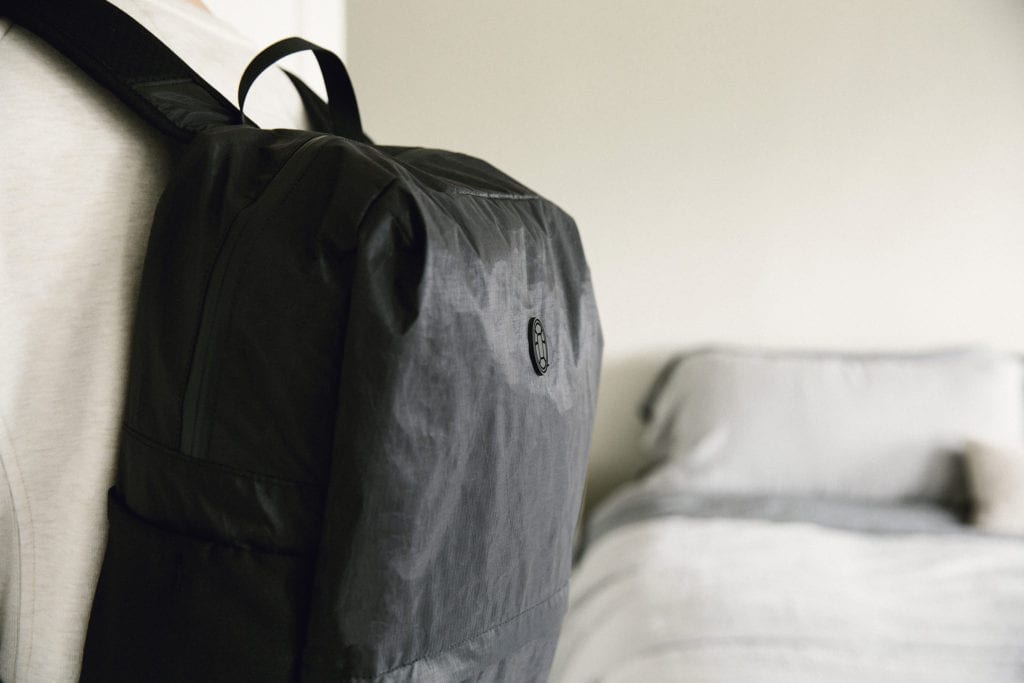 Purse Backpack For Travel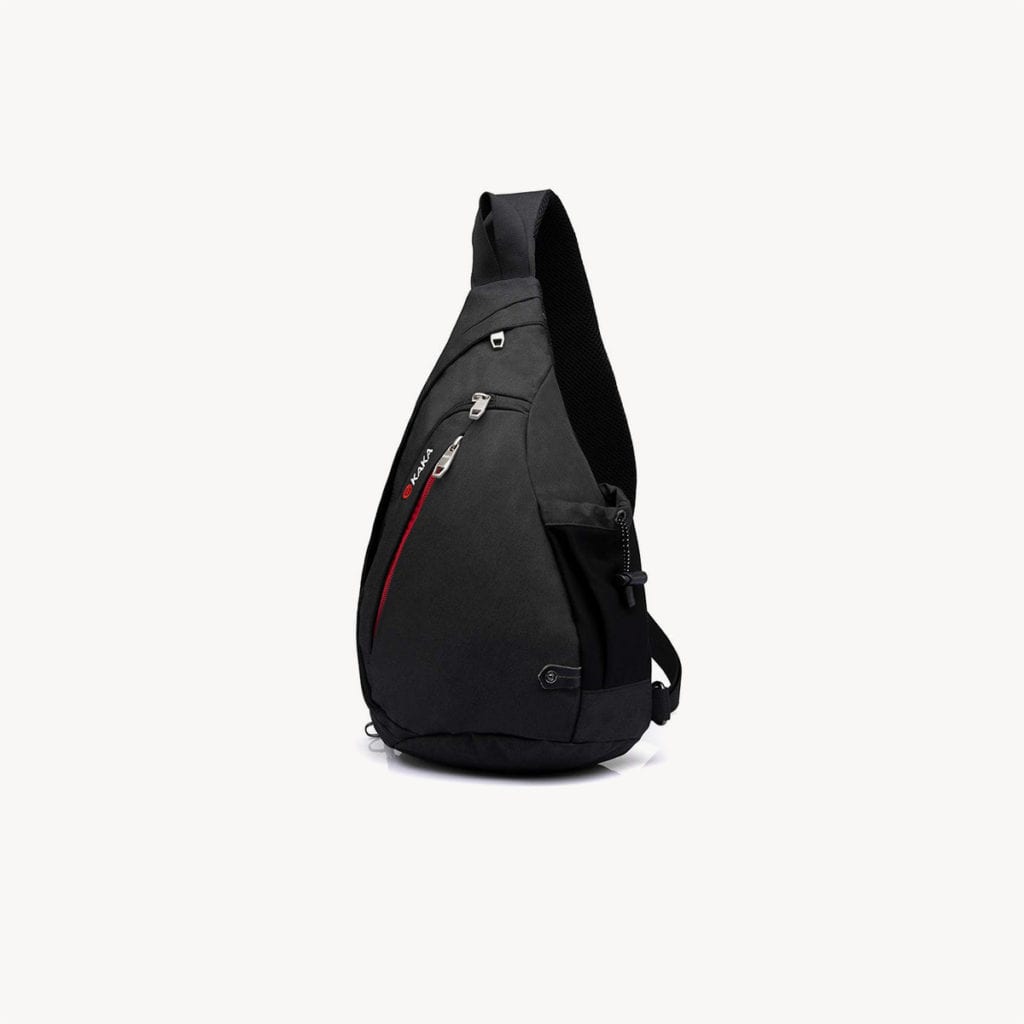 Confession time: in high school, I used a monosling bag like this one as my purse. Now, I wish I'd kept the dang thing for its easy hands-free, "but I'm not a backpack" approach to life.
This sling bag hits all the right notes: waterproof, big enough for important items yet small enough still, able to wear the bag over your chest or on your back, padded mesh back, thickly padded shoulder strap, and a hidden security pocket.
Oh, and it's big enough to hold a 10" tablet.
Plus, it has an explosion-proof metal zipper. 'Cause that's what your travel purse backpack's gotta have.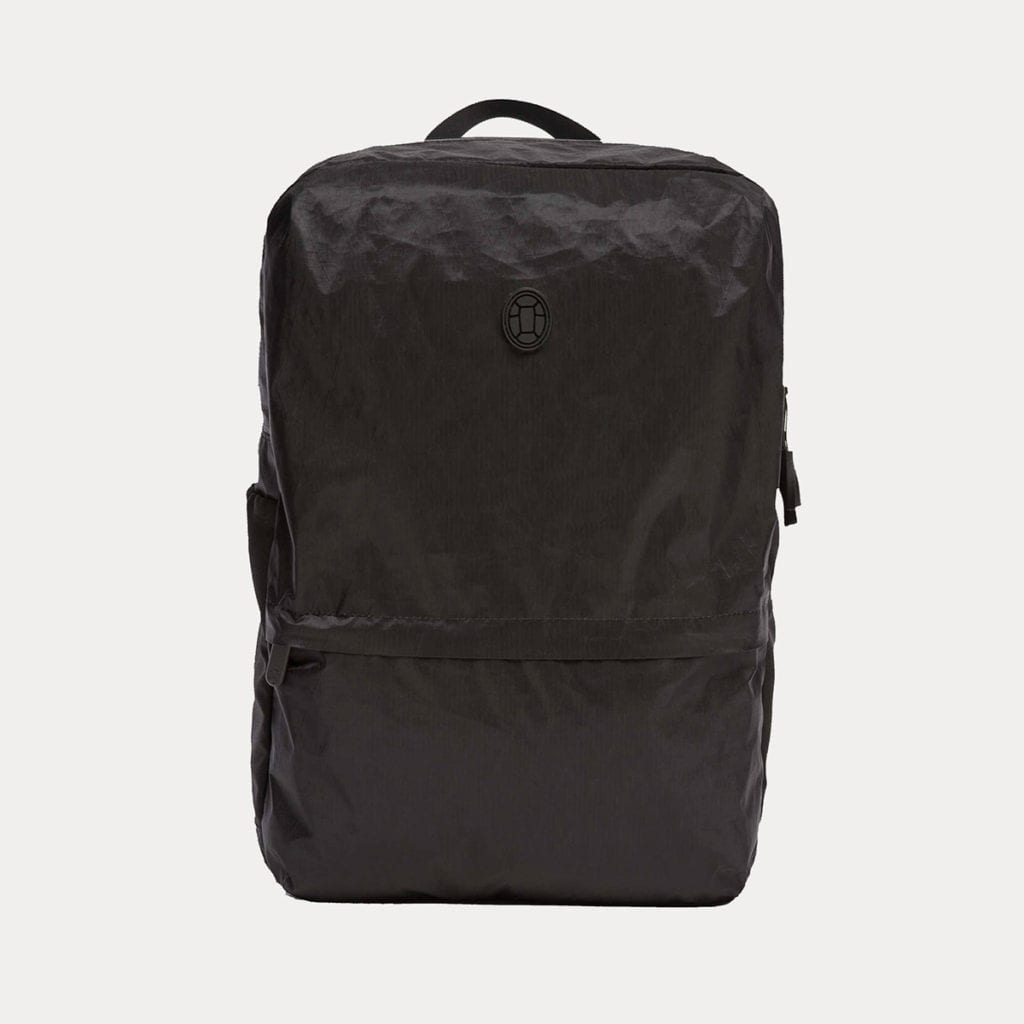 Outbreaker Daypack
Made from waterproof sailcloth (not simply water-resistant!), the Outbreaker Daypack checks all the boxes for a darn good travel purse:
Comfortable thanks to sweat-wicking, padded straps and back foam padding
Two thick straps to prevent strap-slicing thieves
Outer water bottle pocket
Black sailcloth fabric blends into the crowd, so you look like a native (not a tourist and draw unwanted attention)
Zippered pockets and top, so your stuff stays secure
This daypack is even big enough for a laptop. So you can easily hoof it to your neighborhood Internet cafe for a fresh espresso and a few hours of good work before adventuring.
Stylish Travel Purse
This classically styled crossbody can be summed up in one word: gorgeous.
Gorgeous in the way Audrey Hepburn caught your eye.
Beautiful lines and supple leather. The top closes with a magnet, the simple elegance of which makes my heart sing. At 9" x 9" this bag is big enough, yet not too big.
As one reviewer said, "It's the perfect size and goes with everything! I have a few smaller crossbodies but this one is just a little bigger which is nice."
This crossbody is sure to add a touch of luxury to your travels.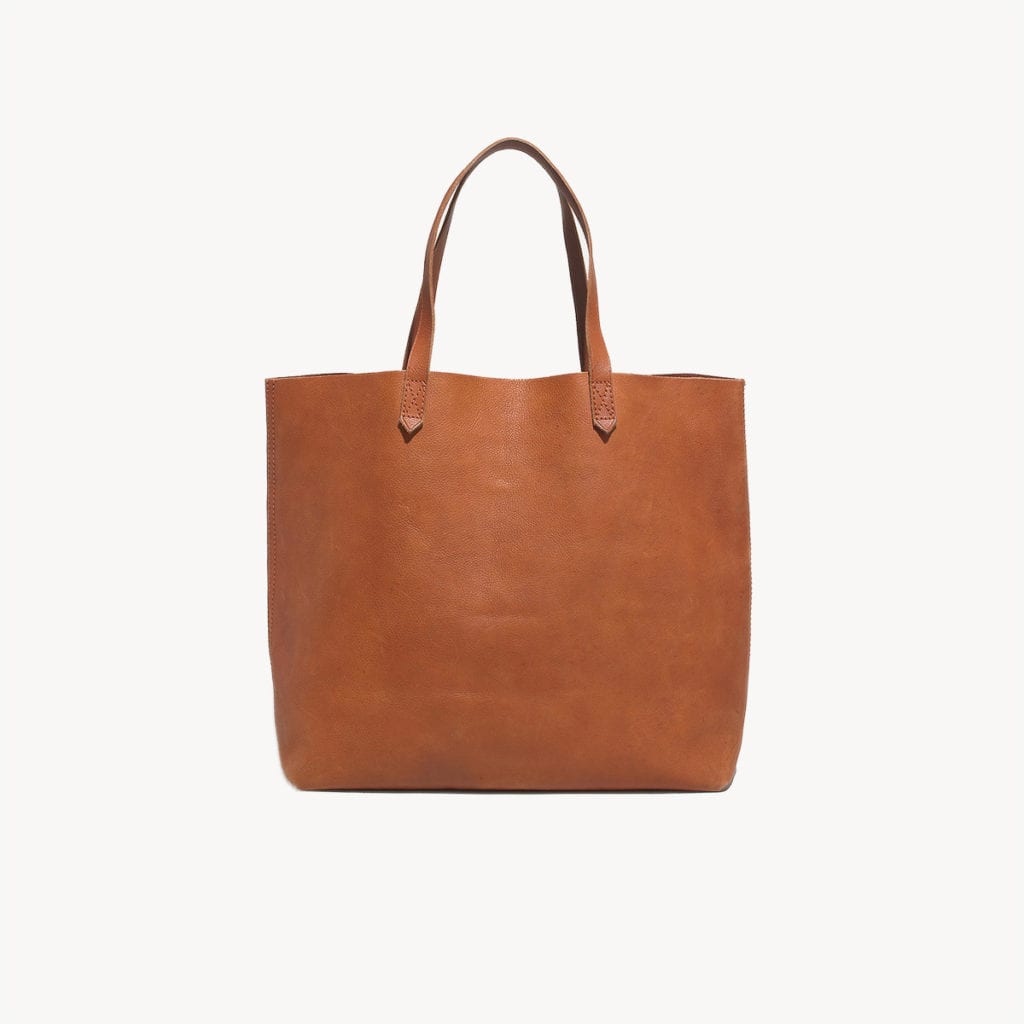 There's something undeniably sexy about Madewell's leather totes. It's the same down-to-earth sexiness that Joanna Gaines has.
This two-strap leather tote is no different.
Which might explain why I've been pining after it for years.
The inner zippered pocket adds a safe place to store your most important items, and since it's leather, it's pretty slash proof to begin with.
One way to make tote type purses more secure is to separate items inside the bag in their own zippered pouches, making it harder to reach in an grab just one small thing.
If you need a carry-all tote that's big enough to pack all the essentials on the flight, including your 13" Macbook Pro — and around town on your adventures — this tote is perfect for you.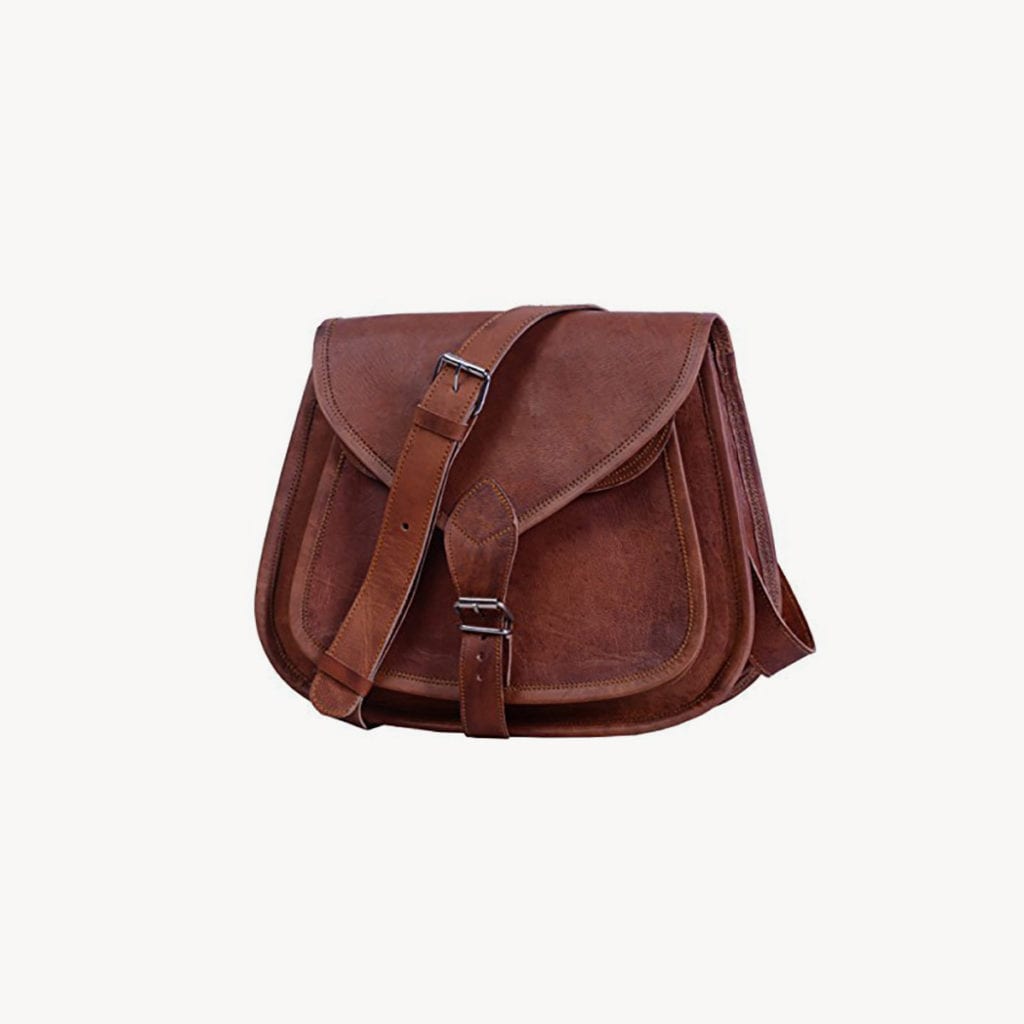 A handmade leather purse for only $45.
I'll pause while that sinks in.
And, this travel purse has an overall rating of 4.5 out of 5 stars. I can almost smell the gorgeous oak-colored leather. Which, by the way, is durable and tough. Any scars or scratches you add to the leather only adds more character like Harrison Ford's sexy scar on his chin.
According to reviews, this purse is big enough to hold a Kindle and an iPad Air 2.
One reviewer bought it specifically for traveling. She says,
"I am head over heels in love with this purse. It is stylish, functional and secure. I have three international trips coming up within the next 4 months and I am excited to take this purse along on my adventures."

Best crossbody travel purse: Haiku Women's Wanderlust RFID Blocking Eco-Friendly Crossbody Travel Bag ($90) or Tumi Voyageur ($175)
Best anti-theft travel purse: Travelon Hobo Bag ($45)
Best purse backpack for travel: Everlane Nylon Commuter Backpack ($68) or Tortuga Outbreaker Daypack ($99)
Best stylish travel purse: the oh-so-affordable Komal's Passion Leather Purse Satchel ($45)