The Best Travel Scarves for Chilly Airplanes and Cold Destinations
The Tortuga Promise
At Tortuga, our mission is to make travel easier. Our advice and recommendations are based on years of travel experience. We only recommend products that we use on our own travels.
Including a travel scarf in your autumn and winter packing lists will keep you warmer, but even in spring and summer a travel scarf can be a great addition.
Years ago, on my first trip to Bangkok, I bought a few pashminas at a night market. Little did I know they'd be more than a pretty souvenir by which to remember the trip. For years now, one of those same pashminas has traveled the world with me.
A great travel scarf is my head and shoulder covering for places of worship, a blanket when those airplane air-conditioning vents freeze me from head to toe, a makeshift towel on many spontaneous beach excursions and, of course, wrapped around my neck to keep me warm on chilly days.
There are tons of options when it comes to travel scarves and neck warmers, even some with built in travel pillows. Choose a travel scarf that adds a pop of color to an outfit, keeps you warm, and is as versatile as you are. No matter where you're headed, warm or cold, and all year round, a scarf is a useful piece of travel gear. Scroll on for our top travel scarf picks.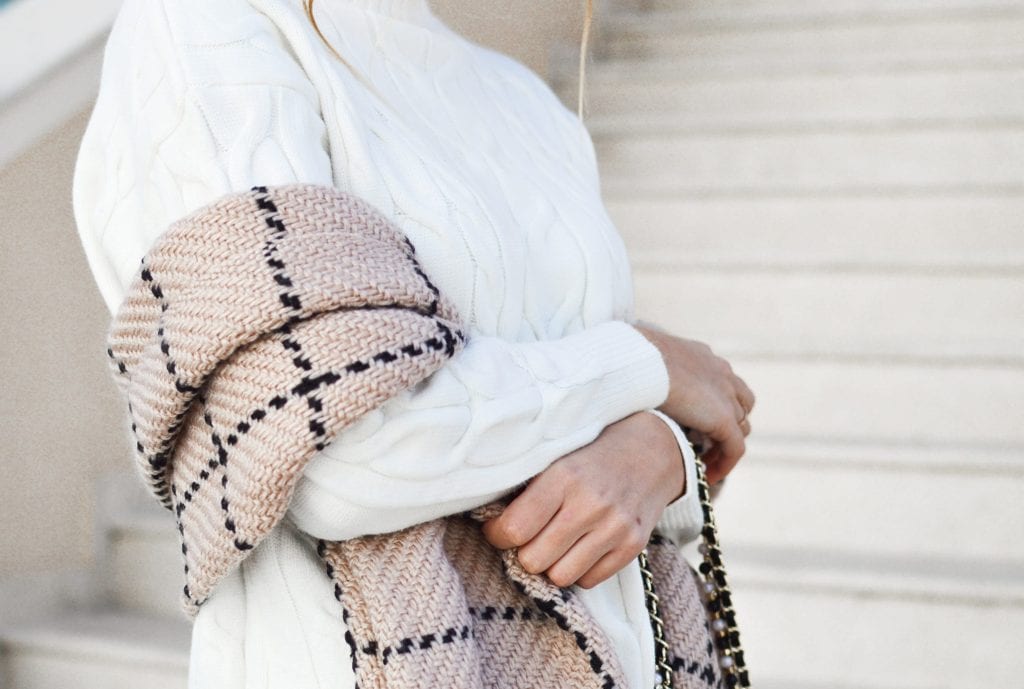 The Best Travel Blanket Scarves and Wraps
Just as there's a travel destination out there for each and every one of us, the same goes for scarves. Whether you're chilly at your co-working space in Nice, running from that Denver conference to the one in Seattle, or looking to make your minimalist capsule wardrobe stretch that much further – a blanket scarf will keep you warm.
Material: polyester and spandex
Whether you wear it as a scarf, shrug, wrap or small blanket this is a great budget travel scarf that is trendy, and stays put when you snap it. The lightweight material means it isn't designed to be super warm.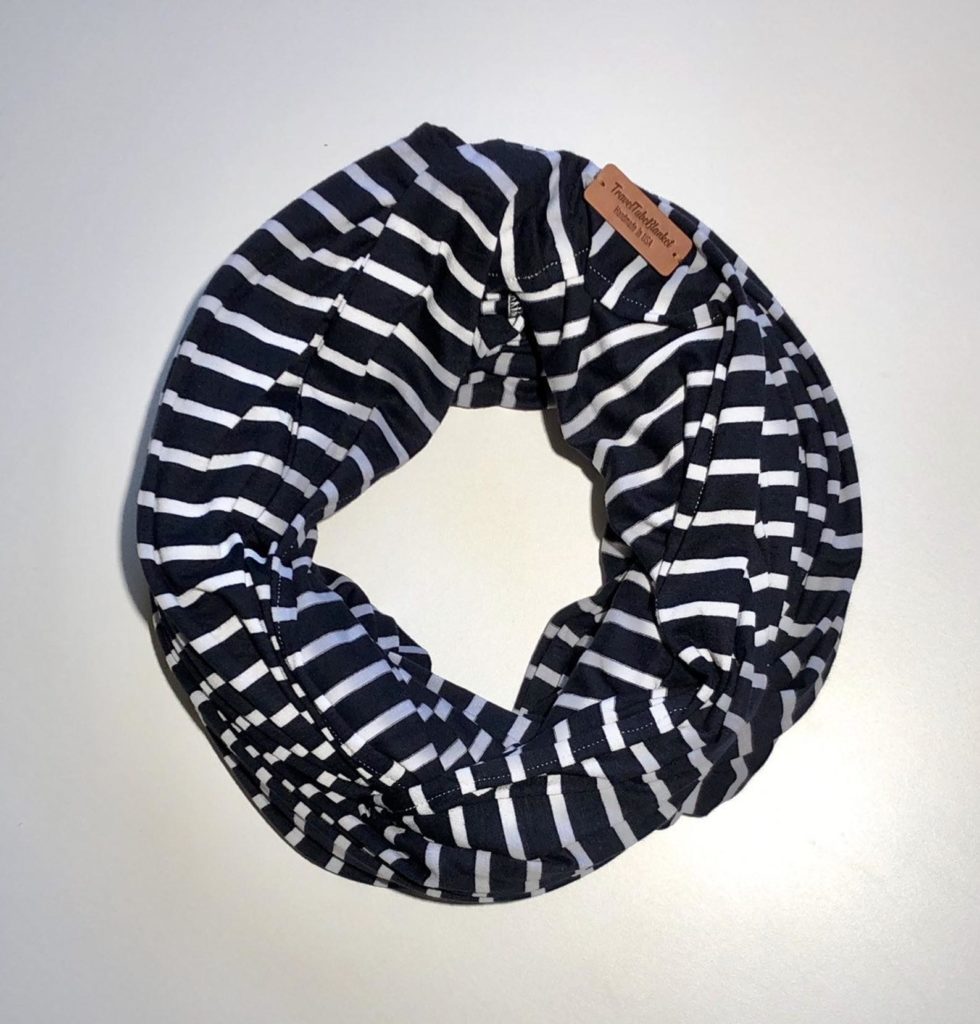 Material: poly stretch
This ultra-soft infinity scarf is one of the most unique travel scarf designs on the market. When fully expanded, it becomes a body-length tube you can slip inside while napping on airplanes — and not worry about it falling off during fidgety in-flight naps. Around town, roll it up to wear as a warm, fashionable infinity scarf for cold weather travel.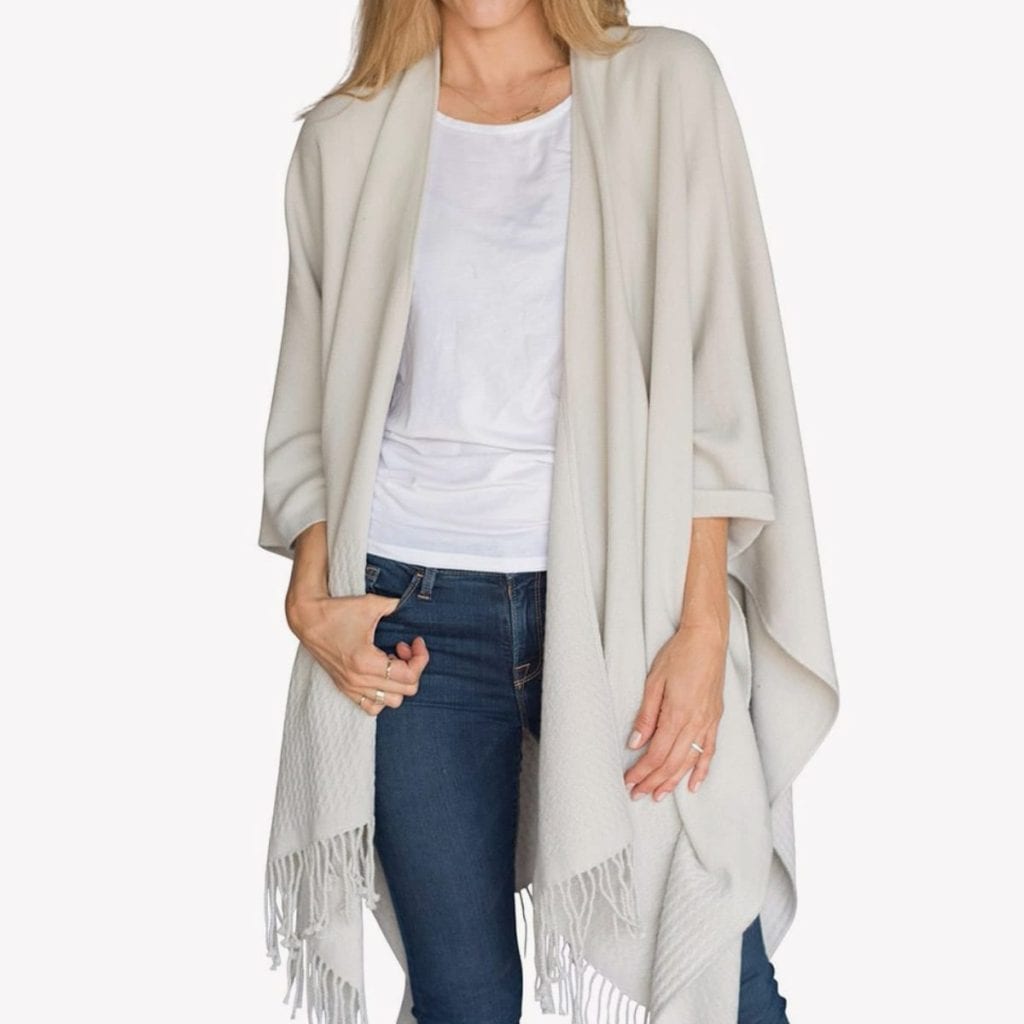 Material: 100% acrylic
This wrap comes with matching bag that could happily hold a travel pillow. And since it's not cashmere, this wrap can be both washed and dried in a machine. Mer Sea also has a full line of travel blanket scarves and wraps in different colors and materials to choose from.
The Best Cashmere Travel Blanket Scarves
For an extra luxe in-flight accessory, consider a travel blanket scarf made out of cashmere. Even if you're not flying first class, you'll feel like you are.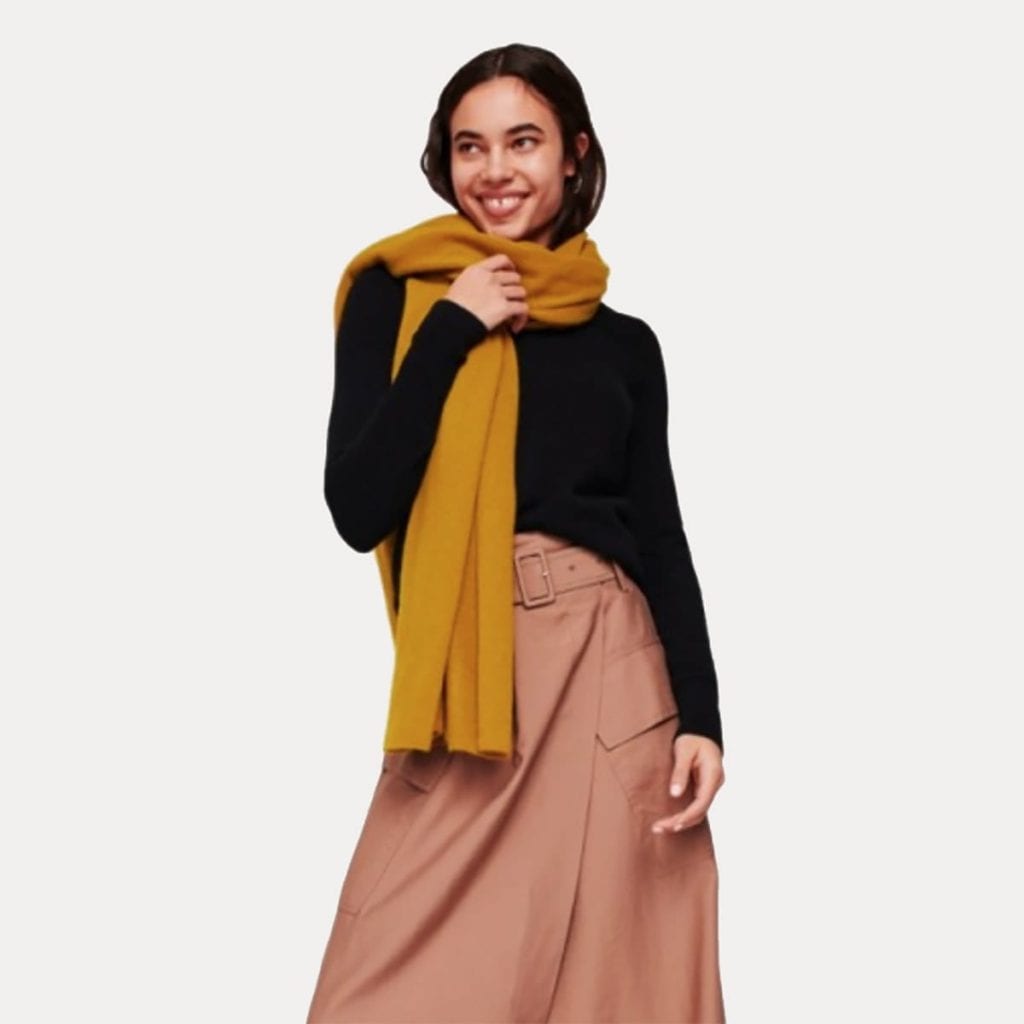 Material: cashmere
White and Warren has a dedicated section on their website for their travel wraps. Although these are more costly than most, if you're always traveling (and always freezing) it might be worth shelling out the extra coin for this 6 foot by 3 foot 100% cashmere beauty.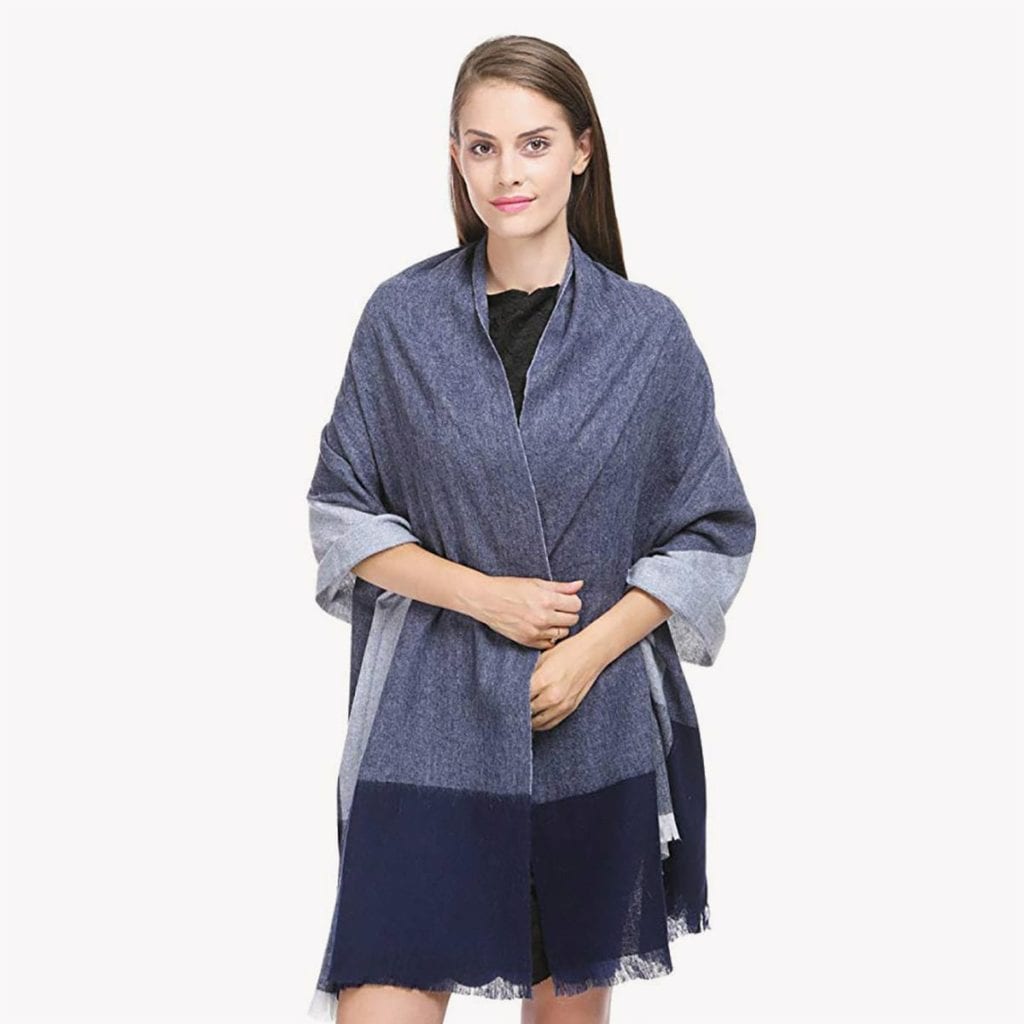 Material: cashmere and lambswool blend
More shawl than blanket scarf, this is a warmer option at a great price. Cashmere is an excellent option for cold weather travel. Add a belt and there's lots of wardrobe versatility here.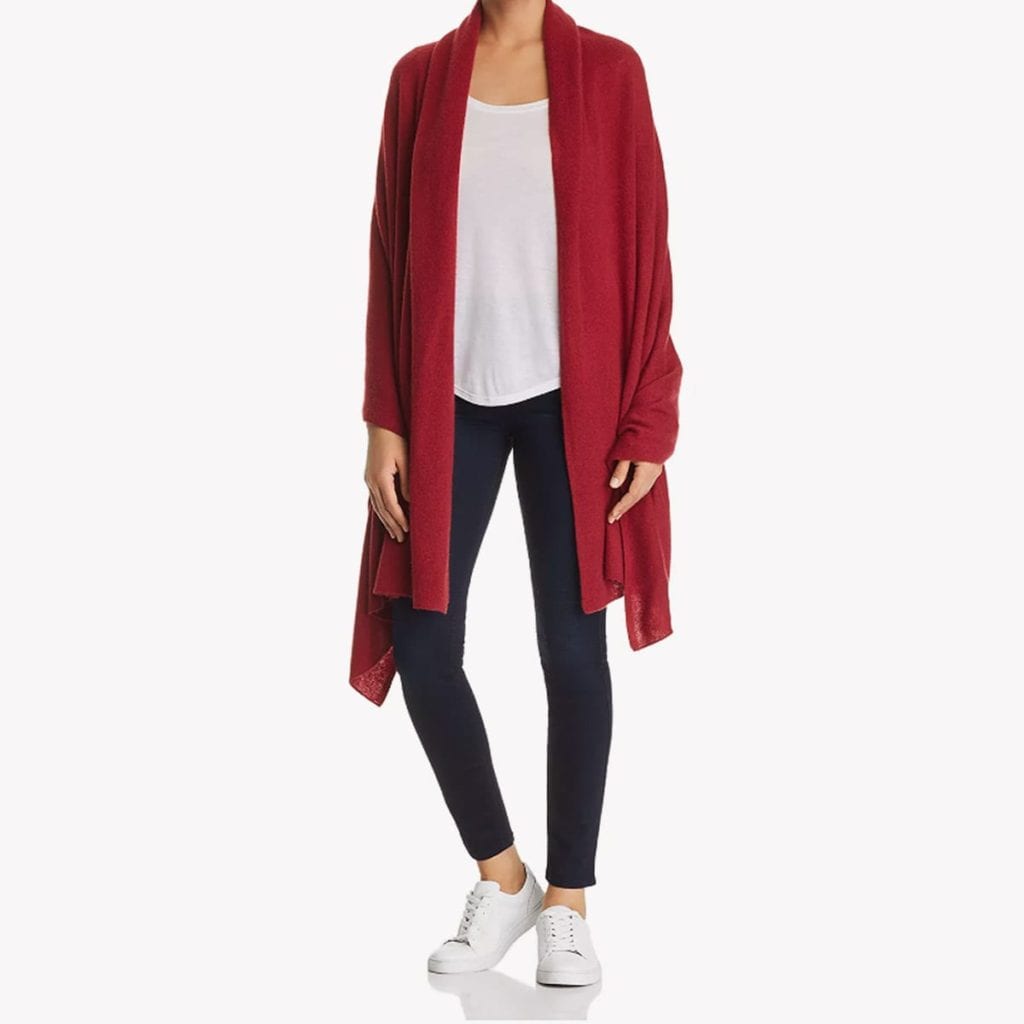 Material: cashmere and lambswool blend
More shawl than blanket scarf, this is a warmer option at a great price. Cashmere is an excellent option for cold weather travel. Add a belt and there's lots of wardrobe versatility here.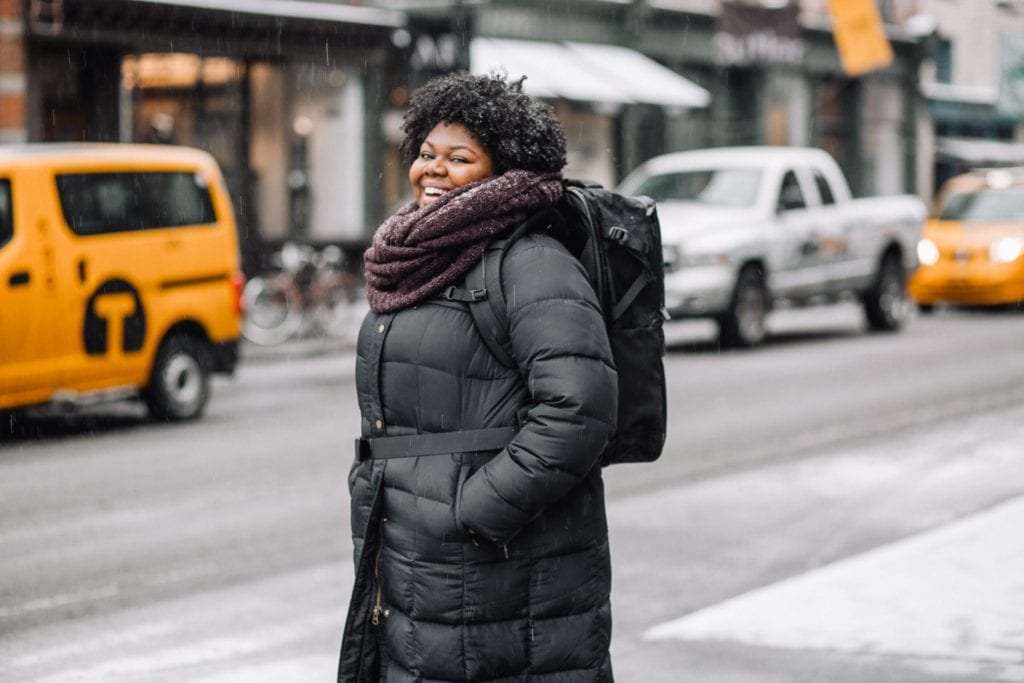 Hidden, helpful, and handy definitely describe these gems of the travel scarf world. Designed to keep your treasures out of the hands of pickpockets, the hidden zippers work their magic into your wardrobe.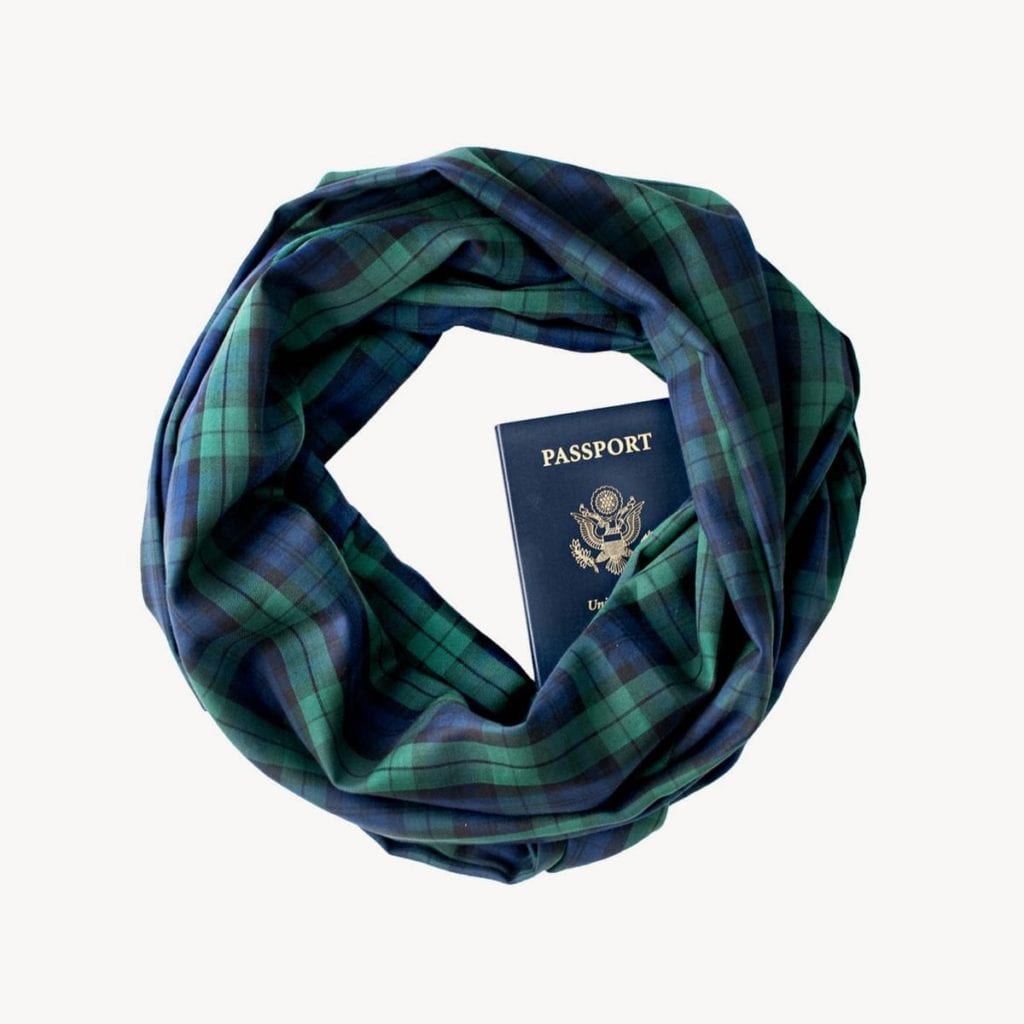 Material: varies
Speakeasy Travel Supply is a company founded by travelers. I have the Palm Springs cotton scarf. Aside from feeling childlike joy knowing I'm the owner of a magical hidden secret, what I love about this friendly, travel-minded company is that their scarves come in an assortment of fabrics, because I can only tolerate certain types. The founders handcraft most of the scarves themselves and have been featured by some of the biggest names in travel. They have collections for every season – including some of the best summer travel scarves.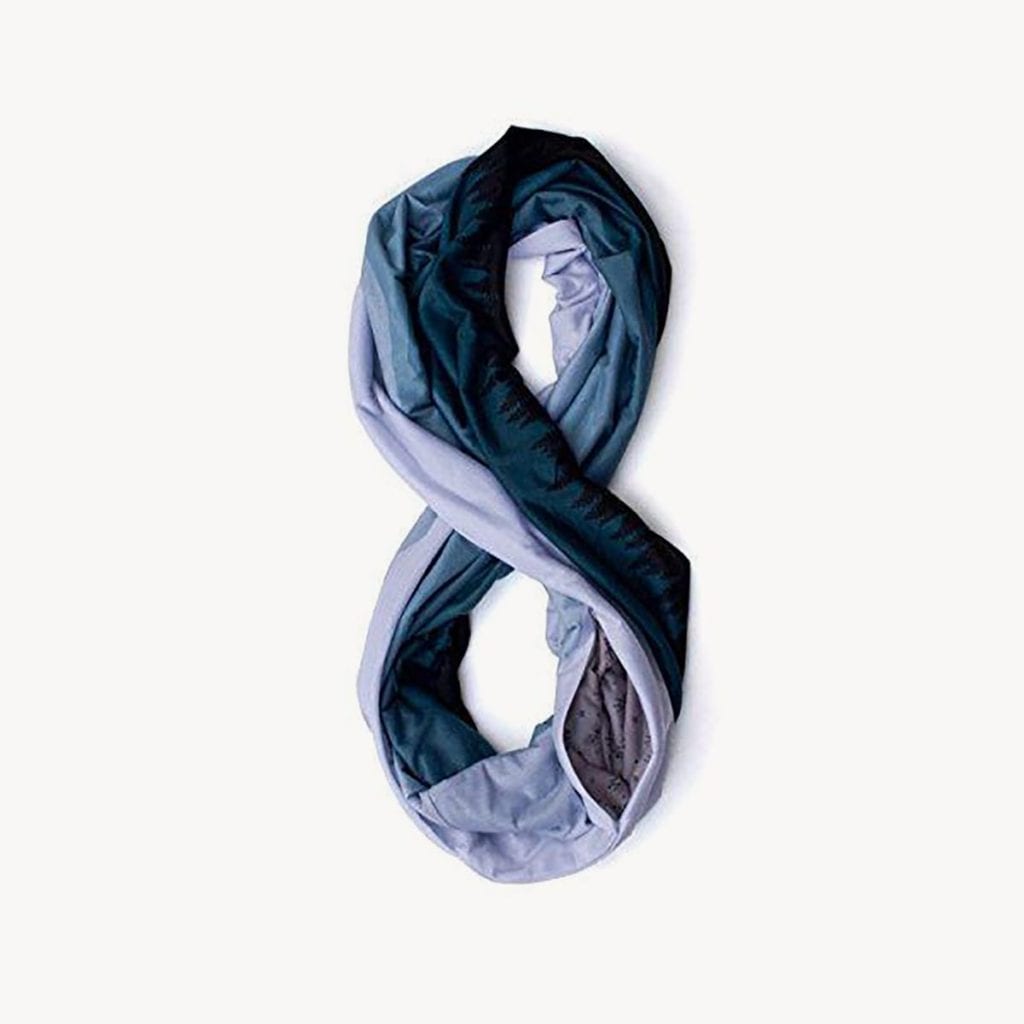 Material: lightweight polyester
This line of infinity scarves is inspired by cities, places, national parks and artists. The one pictured above is inspired by Denver and the landscapes around it. The beautiful fabric and perfectly hidden pocket capture the magic of travel. These scarves are a hand wash and lay flat to dry item, which is okay, if you're used to hand washing while you travel.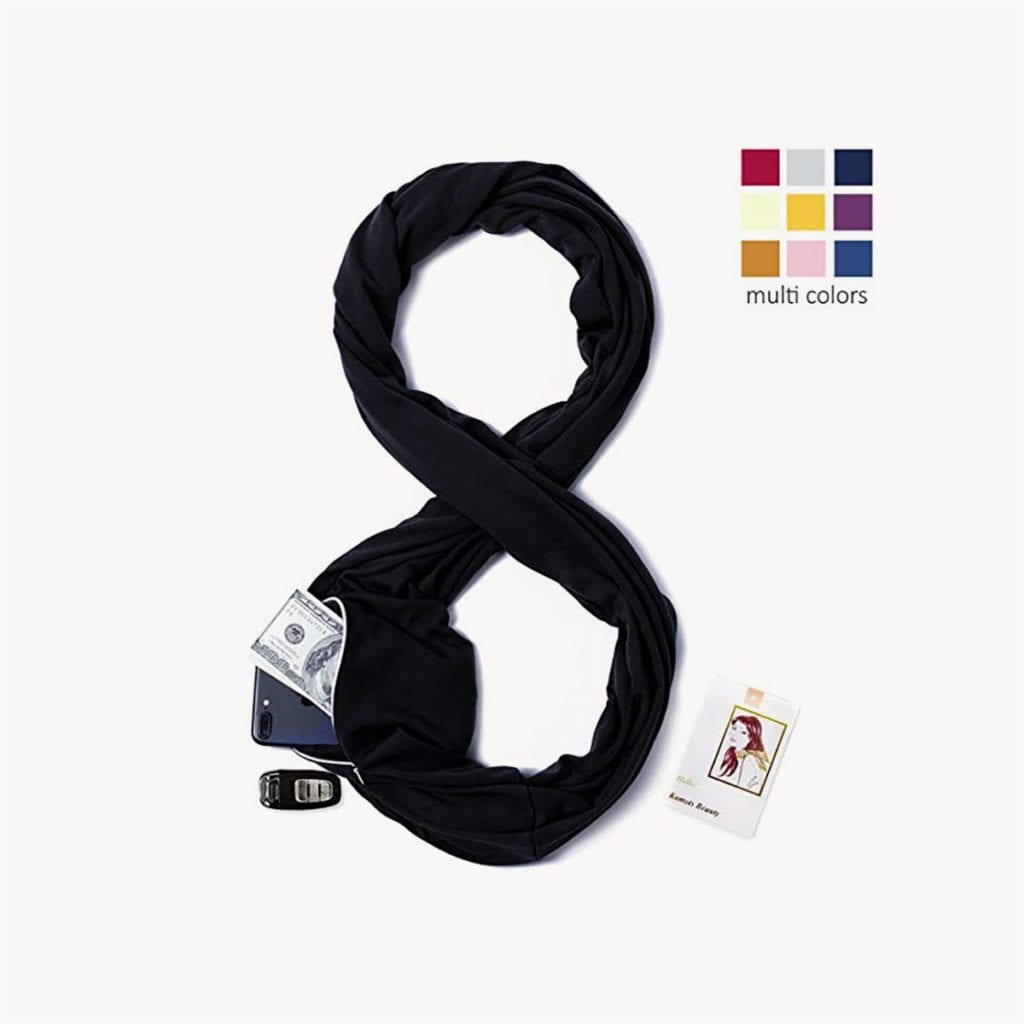 Material: viscose/polyester
If you're looking for a budget option, this could be your best bet. This multifunctional infinity scarf gets high marks in Amazon reviews. It's soft and warm with a decent sized pocket. At this price, you can probably afford to buy two and expand your fashion options!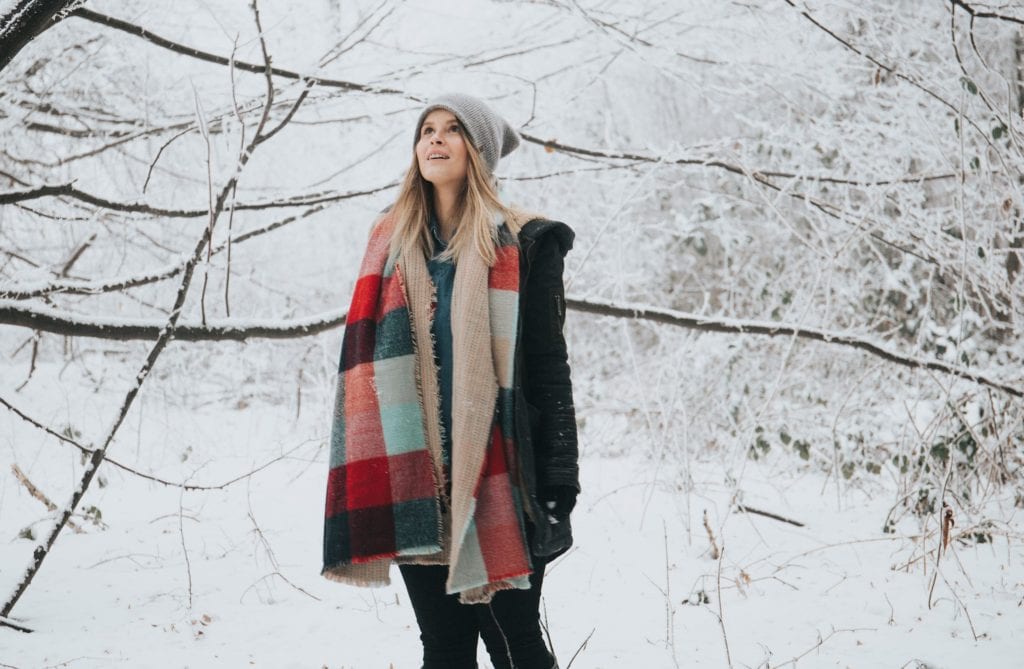 The Best Travel Scarf Pillows
It's a pillow, no it's a scarf. It's a pillow scarf!
One item – multiple uses. Whether traveling for work or pleasure, most of us try to grab our much-needed sleep whenever we can. Instead of getting off a plane or train with an irritating crick in the neck from trying to contort yourself into a comfortable position, pack one of these dual duty pillows. Travel scarves that include a pillow ease the discomfort and set us up for sleeping success.
Material: fleece
This scarf-like, fleece, 'turtle' pillow seems to provide its users with comfortable sleep anywhere. Scientifically proven neck support with adjustable fastening, and half the size of U-shaped travel pillow, Trtl weighs just half a pound. The downside is that this is not a scarf you're you're going to wear for fashion. It's for sleeping only. According to their website, the product has been spotted on quite a few famous necklines.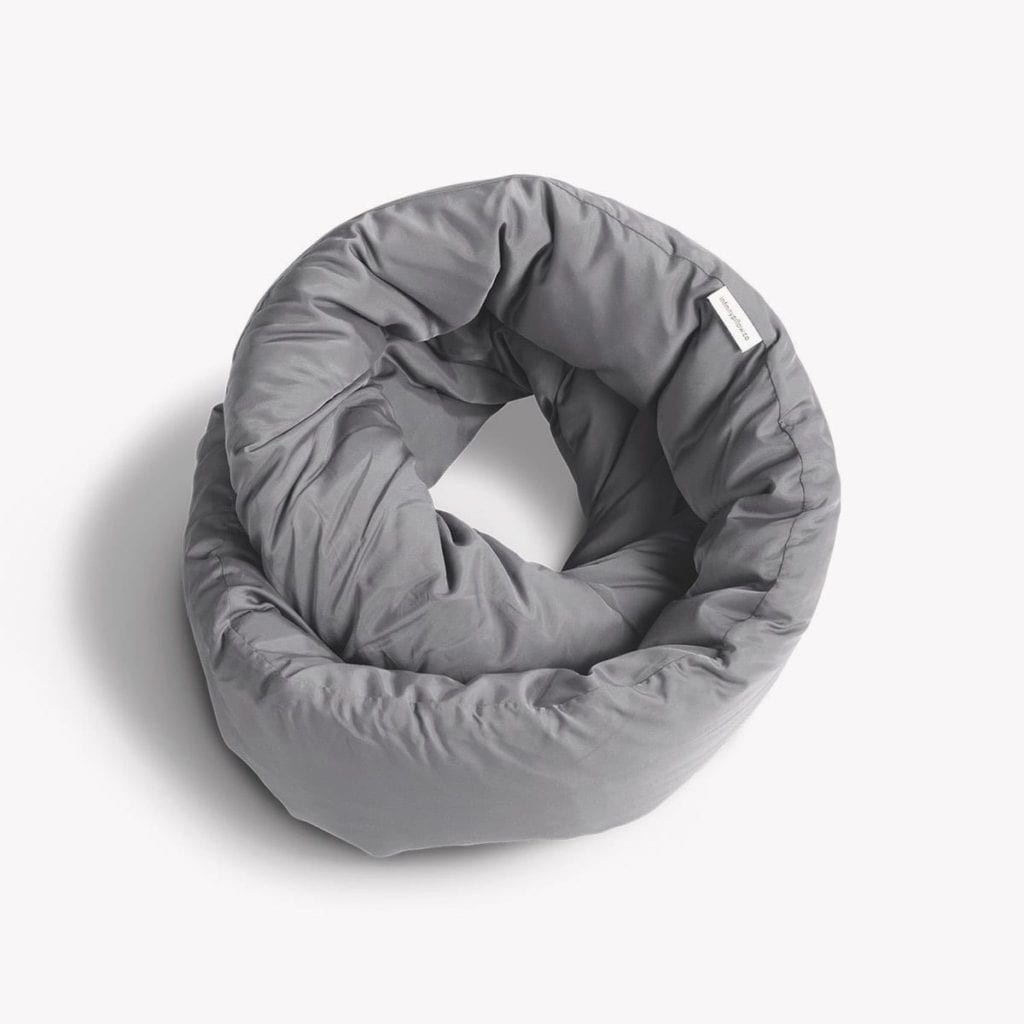 Material: bamboo
Made out of bamboo fabric, this travel pillow doubles as an infinity scarf. While it won't cover your tootsies on that chilly flight, it will allow you to skip the annoying head bob and will lessen the need for acupuncture when you land. This one isn't exactly a fashion statement either, but if comfort and rest are your primary goals, it will keep your neck warm too.

Neck Warmer Travel Scarves: Keep it Simple
Sometimes the simplest answer is the right one. When a scarf is too big for a pocket, purse, or person, grab a neck warmer. These flexible guys are often a quick fix for blustery days, or flexible cold fighting, when a full sized travel scarf is just too much.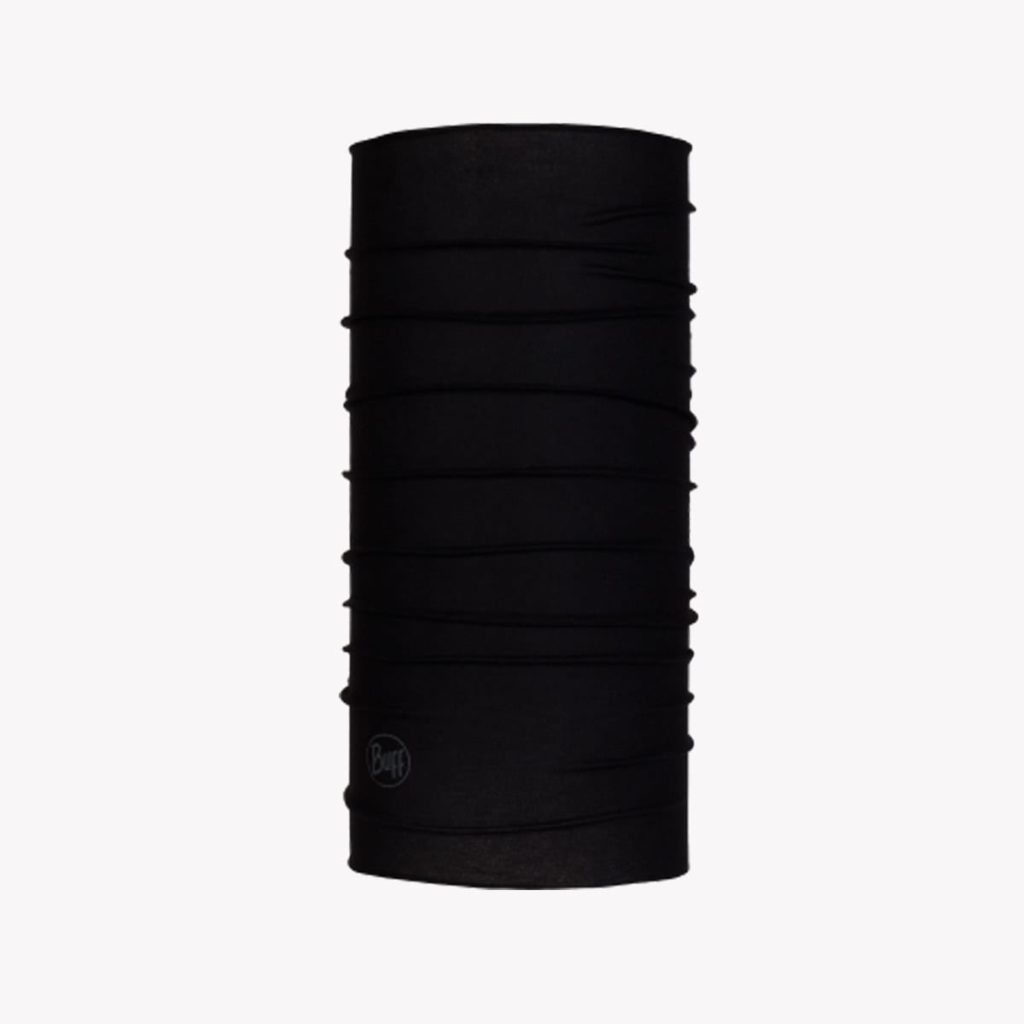 Buff $20 and up
Materials: varies
For years, these have been my go to neck warmer. Whether it's a blustery day on a boardwalk, a winter meeting at an outdoor coffee chop or tacking on a few extra days of adventure after a business trip – Buff works.
Choose from cotton, fleece, merino and more. Layer these neck warmers under your blanket scarf, hoodie, or jacket. Shove it in a pocket when the sunshine comes out, or double it as a headband when you grab a yoga class in the middle of your workday.
Buy more than one and fling them in every bag you have.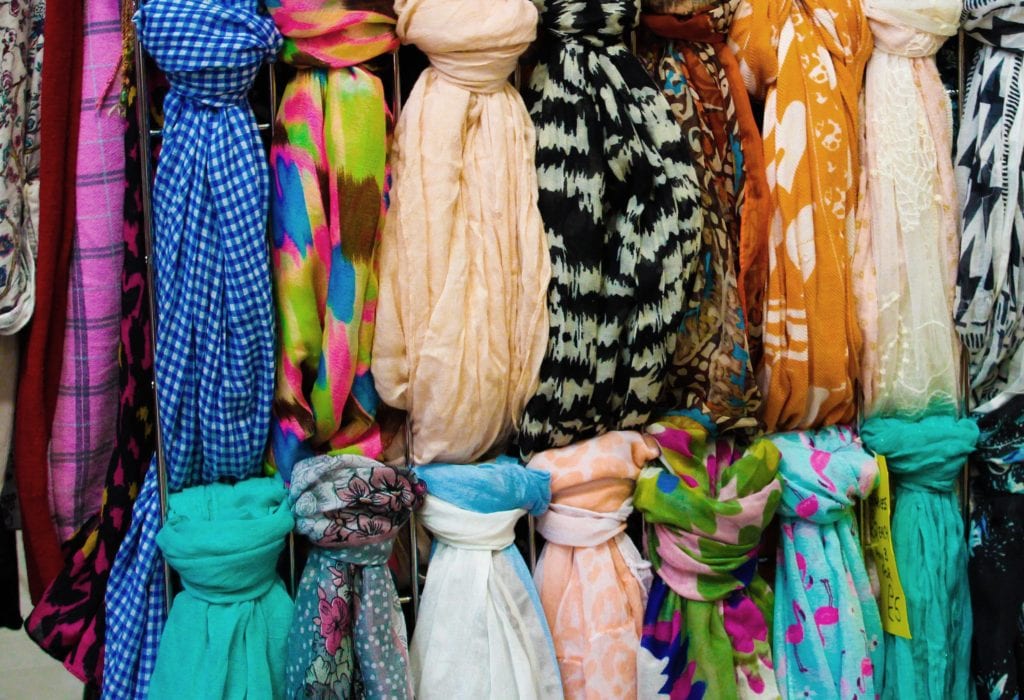 How to Choose the Perfect Travel Scarf
To choose the right travel scarf, consider material, versatility, size, and whether or not you need pockets. For people who have sensitive skin, the material matters a lot. Shorter than average people need to weigh the pros and cons of additional length and wrap styles. If you're cold all the time, thickness is going to be a factor. Light packers who insist on versatility will be looking for something lightweight, but that serves multiple purposes. There's so much more to to shopping for scarves than just color and cost.
Material
Cotton, bamboo, acrylic, wool, merino wool, polyester, rayon, acrylic – so many options. Each one has its own benefits. Price, comfort, feel, texture and breathability are a few of the factors consider when choosing the material of your next travel scarf.
For winter (and those of us who are cold all the time), cashmere and merino wool will keep you the warmest; these are also more breathable fabrics.
Acrylic and polyester are much more cost effective but won't keep you as warm. Some people will find that these synthetic fabrics can cause different reactions on different skin types.
For summer travel scarves and those in between days and the when fashion is more important than warmth, cotton is perfect. A light and airy option, cotton provides versatility, but won't be the fastest drying option.
Versatility
There are a myriad of options on the market. Whether you're hitting the brick and mortar stores to check out the feel of a material in your hand, or trolling the digital aisles for your perfect purchase – consider how you plan to use your scarf and where you're likely to journey with your new find.
If bundling up is your thing – the blanket scarf is for you
If you're looking for warmth and fashion with a little less bulk – look at infinity scarves
Capes and ponchos – are great for extra warmth but can run a bit higher in price, are bulkier and harder to pack
Throw it over your shoulders and add a belt – voila, now you have an added outer layer to accessorize any outfit
Tie it in front – for an evening wrap on one of those chilly travel nights on the town
For a simple shrug – throw it over your shoulders, under the arms and tie in the back
Instant cover up – pop it over your head and shoulders as a covering or tie it around your waist to elongate a short skirt when visiting a place of worship
Tie and tie again – and use it as a trendy hair wrap for those long, busy travel days
Scarves with hidden pockets are made for travel. They keep your items hidden from view and allow you to wear your valuable belongings close to your body. Hide your money, keys, headphones, or even a snack in the pocket of your travel scarf for those long haul travel days.
Anything with pockets is always helpful – especially when traveling
Pockets are terrific for lightweight items – like room keys, flash drives, and money
Depending on how you wrap your scarf – heavier items (like phones and passports) may cause the scarf to shift position
Choosing a scarf of a bulkier fabric – (like wool or fleece) or wrapping it a few extra times will keep those heavier items more stable
Size Matters
Let me just come out and say that blanket scarves are not for everyone. If you're shorter than average, you already know that one size rarely fits "all." Size really does matter!
Although my sister-in-law (who is a good 5 inches taller than me) can rock a blanket scarf like a boss, on me it looks like I'm wrapping myself in a blanket (not in a good way).
This especially applied to the pocket scarves I tested. The length between shoulder and chest differs on each person. Lightweight items worked great in the pockets. Phones and other heavier items didn't sit in the right spot on me very well, yet some of my taller friends who tried it on looked and felt like they were ready for the travel runway. Some of the fit was dependent on how the scarf was wrapped, but some of it was just a factor of body size.
Neck Warmers
For those quick runs between modes of transport, the meet up that's taking place in the park, or the co-living space outing that's just a shade too chilly – a neck warmer might be all you need.
For plane and train trips, larger scarves are perfect – one part accessory, one part blanket warmth; but if your wrap or cape doesn't cover your neck, add a simple neck warmer for a little extra protection.
Fashion Meets Function
Fashion matters in travel. No one wants to look like a tourist. Although a travel scarf isn't an absolute necessity, it might be game-changer you need to make travel that much more comfortable and fashionable.
At Tortuga, we embrace the idea of minimalist travel. That means every item needs to do double duty. Choose a travel scarf that accents your outfits, but that also keeps you warm, works as a swimsuit cover up, towel (in a pinch), a throw or picnic blanket for the park, and more.
Including a travel scarf in your packing list is a year-round must. In autumn and winter, it will keep you warm as you wander. In spring and summer, it can help with cold airplanes and unexpected chilly weather.
Consider which materials work for you and the season or journey
Explore your price range (polyester is going to be less expensive than cashmere)
Decide on your specific scarf needs (blanket, pocket, wrap, cape, pillow)
Follow trendy hashtags to get creative your scarf arrives (#scarf, #scarves, #blanketscarves)
Be ready to try some new styles and upgrade your travel life