The Best Travel Shorts for Men and Women
The Tortuga Promise
At Tortuga, our mission is to make travel easier. Our advice and recommendations are based on years of travel experience. We only recommend products that we use on our own travels.
Travel shorts are the epitome of "less is more." It just doesn't get better than a pair of travel shorts that fits you perfectly while performing the way you want.
If you're anything like me, your bony knees just can't wait for summer. But how do you know which shorts are good for travel, and which of your short pants ain't up to snuff for your next adventure?
Traveling with the right pair of comfy, versatile, stylish travel shorts can be a game-changer. Here's how to find the perfect pair of travel shorts, our favorite travel-friendly features, and some of the best travel shorts available right now. And, FYI, there may be jorts on this list. You've been warned.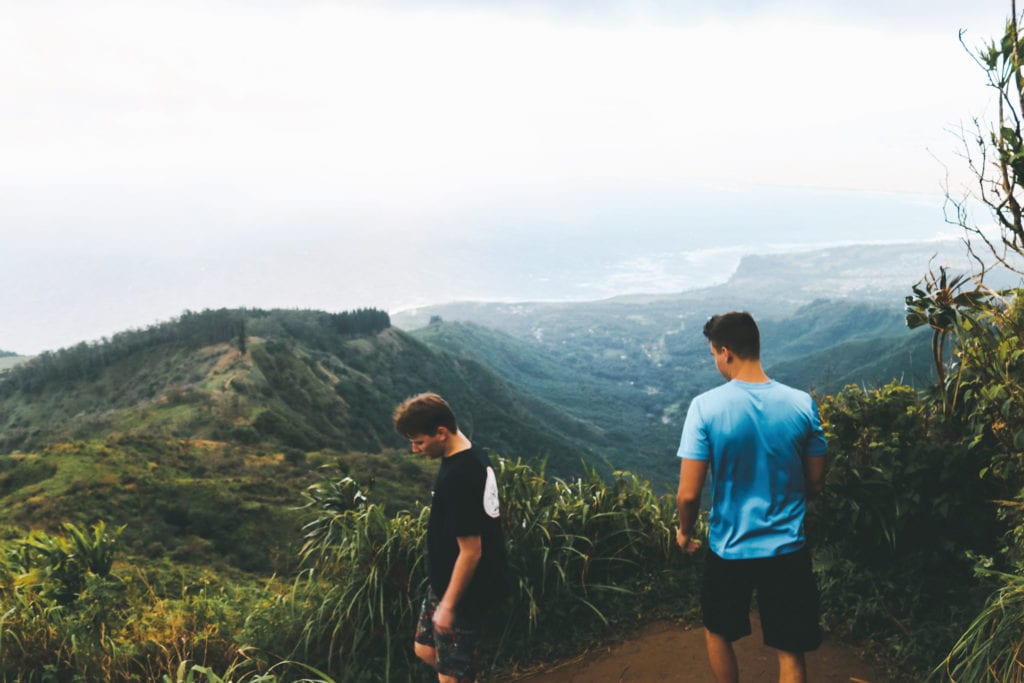 What to Look for in Travel Shorts
Evaluating what makes a great pair of "travel" shorts, is surprisingly simple. You just have to ask how the shorts pack (are they lightweight and wrinkle-resistant) and how they perform (can they handle what you like to do?)
Here are the most important features to look for in a pair of travel shorts:
Lightweight
Featherweight shorts (less than 8 ounces) are perfect for chucking in your bag for impromptu adventures and are super easy to pack when it's cold out.
Quick-Drying
The ability to hang dry your shorts in a few hours is huge. Prioritize quick-drying fabrics like nylon and poly blends are the best.
Breathability
You're probably wearing shorts because it's hot out, right? So make sure they can breathe with features like mesh pockets and gussets, especially if you're headed somewhere muggy like Southeast Asia.
Zippered Pockets
Or velcro if you're nasty.
You can't call a pair of shorts "travel shorts" unless they have at least one pocket that zips closed. Too many things have fallen out of my pocket on busses and in cafes over the years to ignore the importance of either an interior zippered pocket (like the Bluffworks travel pants) or at least one rear zippered pocket.
Bonus points for seam sealed zipper pockets to keep your phone or headphones safe in a downpour.
4-Way Stretch
Shorts = action, so get a pair of shorts that can stretch to handle hiking, biking, swimming, jumping, yoga, and even rock climbing. Stretch is a bigger deal than you think, and thanks to hybrid fabrics, performance travel shorts don't have to look like they belong in a Crossfit gym.
Other (perhaps optional) features to look for:
Stain & Odor Resistance
While it's not a deal breaker if shorts aren't stain proof it is a nice if your shorts don't look like crap after two weeks.
Drawstring
This one is a personal preference, but if you spend a lot of time in and out of the water, a drawstring can be great. Other people remove the drawstring as soon as possible. I like it, but I'm a surfer and a climber who's weight can fluctuate a lot while on long trips.
You do you, but I think the drawstring is a nice value add, especially if it means you don't need to wear a belt.
Built-In Waist Straps
Some travel shorts, particularly hiking shorts, feature a little toggle or cinch strap to snug your shorts up without a belt. I don't love these, since they don't look great when you're just walking around town, but if you're going to spend a lot of time on the trail, they can be great, especially if you carry a heavy phone and snacks in your pockets.
If that list of features seems like a lot, just answer these questions before packing shorts for your trip:
Do these shorts travel well? Do they wrinkle easily? Are they heavy or bulky?
Are they designed for the stuff I like to do? Can you swim in them? Are they stretchy enough to go climbing or hiking? Do they breathe? How quickly do they dry?
If you can answer "yes" to both of those questions, you've got yourself a great pair of travel shorts, friendo.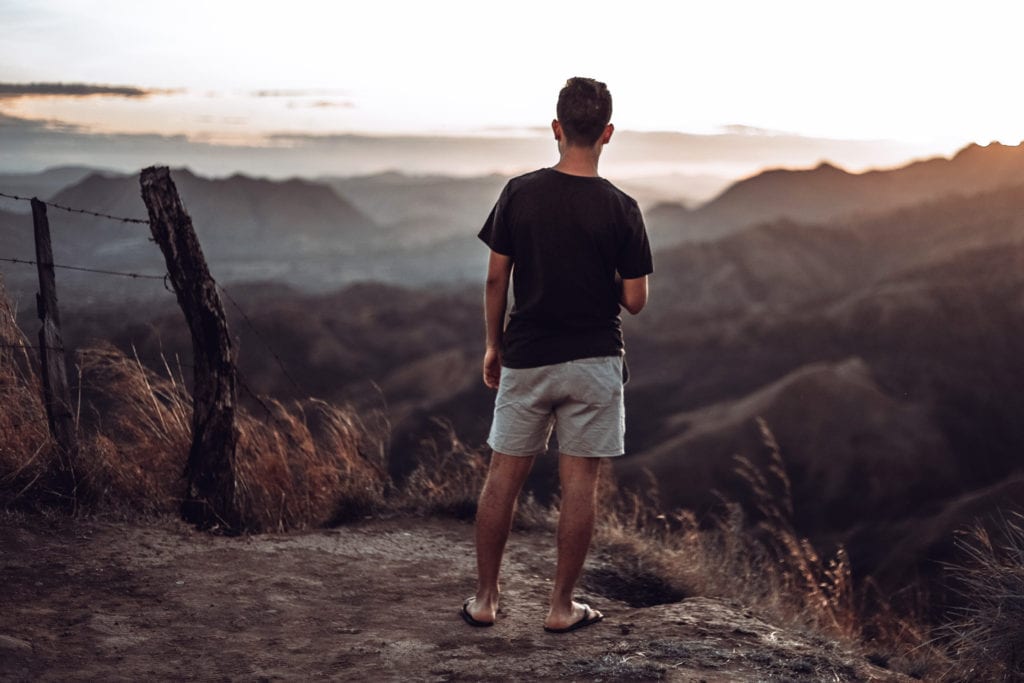 Best Travel Shorts: Men's Picks
You don't need to pack more than one—maybe two—pairs of shorts for your next trip. Obviously if you're headed somewhere tropical you'll be tempted to squeeze in a third pair, but honestly, two pairs of shorts is more than enough, especially if you get shorts that are designed for swimming, hiking, and happy hour in the city.
Here's a short list (hey-O!) of my favorite men's travel shorts for all kinds of activities and budgets.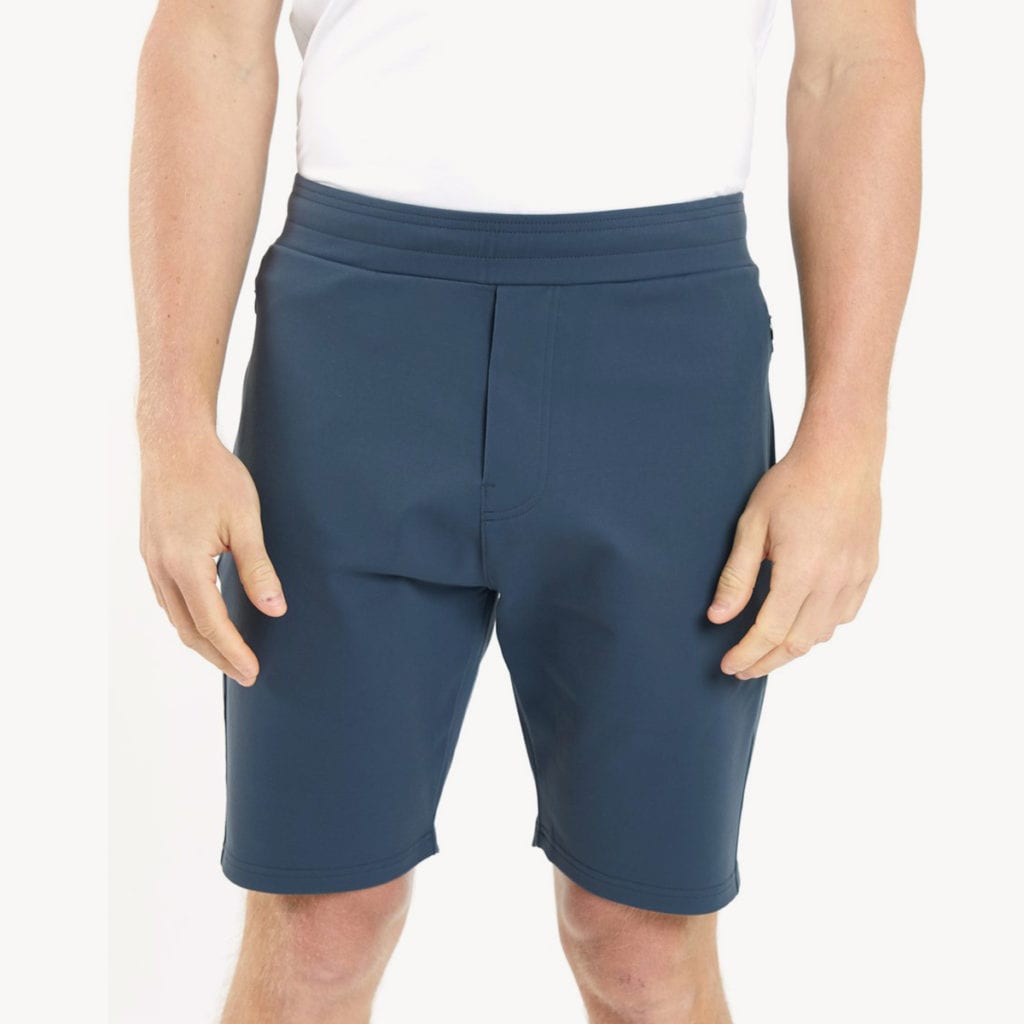 I just like these shorts. They're comfy, beautifully designed, and perfect for traveling no matter what you're doing or where you're going. The cut, fit, and moisture wicking, poly blend nylon fabric somehow manage to thread the needle for almost any situation—from the office (yeah) to a beach bbq. They just look good.
But, the performance is why they make such great travel pants. The two zippered front pockets keep your phone and wallet safe, and if you have more to carry the back pockets are roomy enough for snacks and headphones.
The only controversial feature (which happens to be my favorite part) is the elastic waist. Some people prefer belt loops to cinch up their travel shorts, but if you get the right fit, the comfy elastic waistband will fit like a gentle hug. And they have a lot of colors to choose from.
Snag a pair for your next summer trip and travel in comfort and style.
Honorable Mention: Outlier New Way Shorts ($125)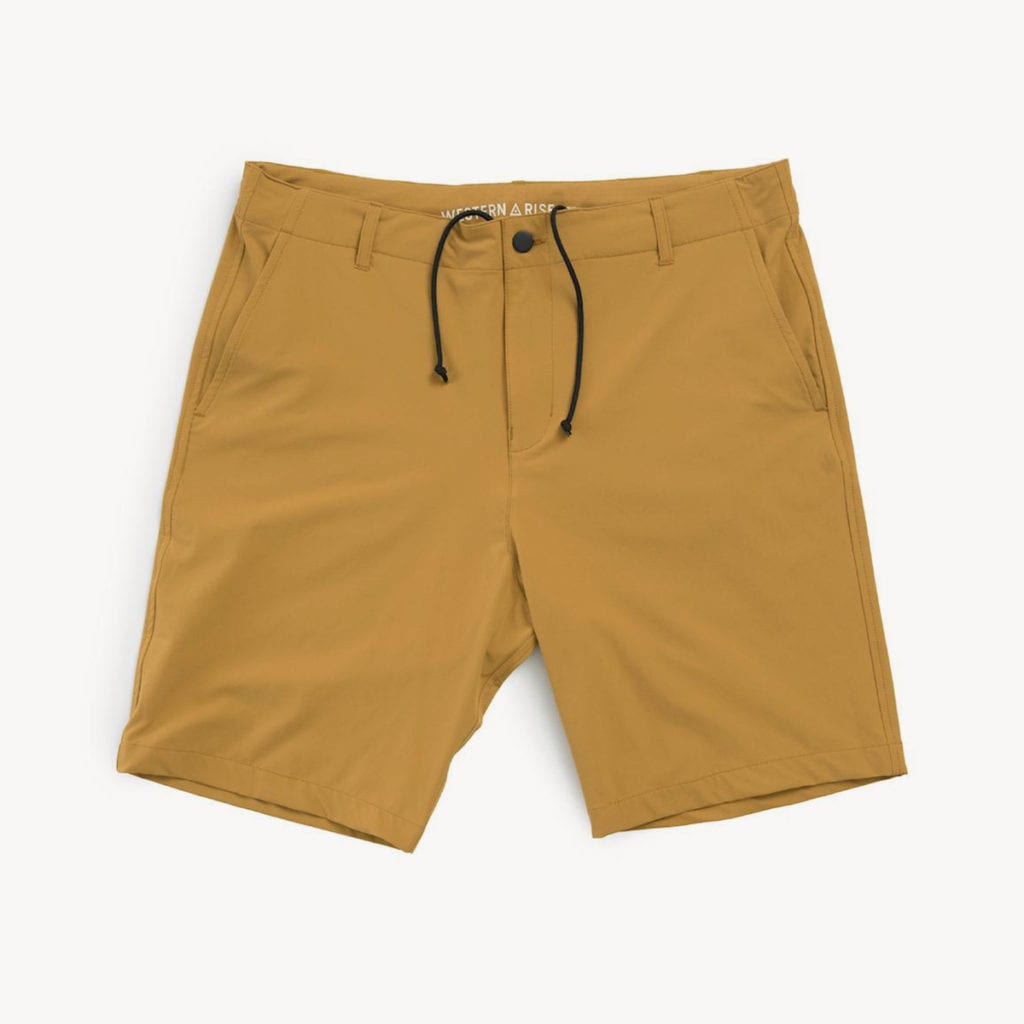 The Western Rise Boundless travel shorts can handle just about anything you throw at them. The doubleweave fabric is a tight enough weave to provide stain protection and a decent amount of water-resistance, yet it's still lightweight and breathable for muggy days around town.
The reason I like the Boundless shorts so much isn't just the build quality, but the cut and fit. These shorts just look good, and they happen to perform like a champ. The poly-blend contains 13% spandex (that's a lot), so it has an ample amount of 4-way stretch. That's huge for me since I like to bike and climb. And the zippered rear pocket is great for keeping everything snug and safe while I'm on the go.
My number one rule (besides always pack a carry on backpack!) is simple: Always pack a swimsuit. I've found that a good pair of hybrid shorts is more than enough for the occasional (or even frequent) dip in the hot tub or swim at the beach. The Boundless shorts are essentially my swimsuit and my shorts, which helps slim my packing list way down.
Honorable Mention: Howler Brothers Horizon Hybrid Shorts ($69)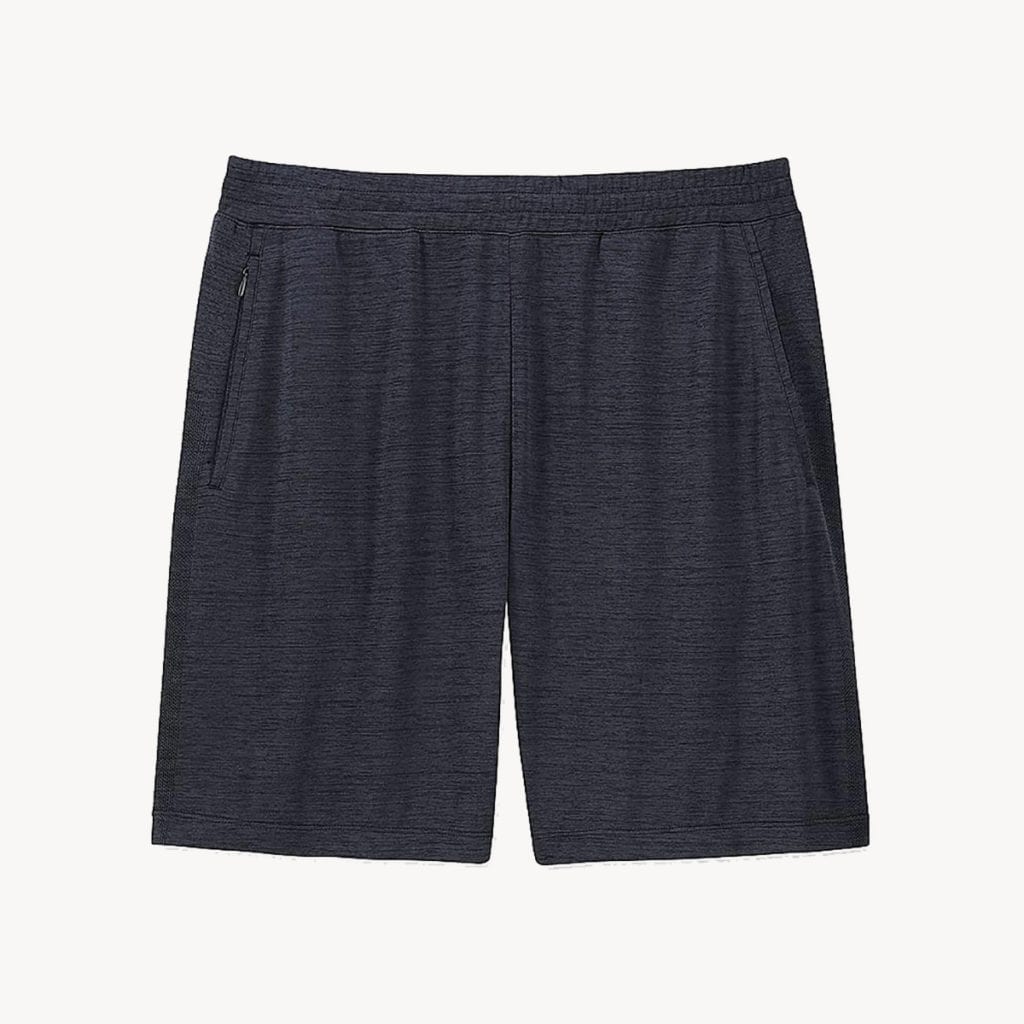 Ok, cards on the table: these are not "travel" shorts in the strict definition of the term. But they are great for traveling—specifically hanging out in a hostel or hotel at the end of the day. Travel shorts don't have to be fancy to be good.
Getting nice and comfy at the end of a long day is an underrated, yet extremely important, part of travel. Packing for downtime without taking up your whole bag is what separates the pros from the n00bs, and this pair of lightweight, extremely versatile shorts have been in my bag for years.
They're lightweight for easy packing, breathable for hot nights, comfy enough to sleep in (which I do), and have pockets for keeping a few things with you if have to shuffle around a hostel common room. The new version even has a zippered right pocket (what!?) to keep your stuff safe on the go.
I can workout, go for a run, rock climb, or even swim in them in a pinch. They're a great utility hitter, and I'm always happy to pack them for short or long haul trips.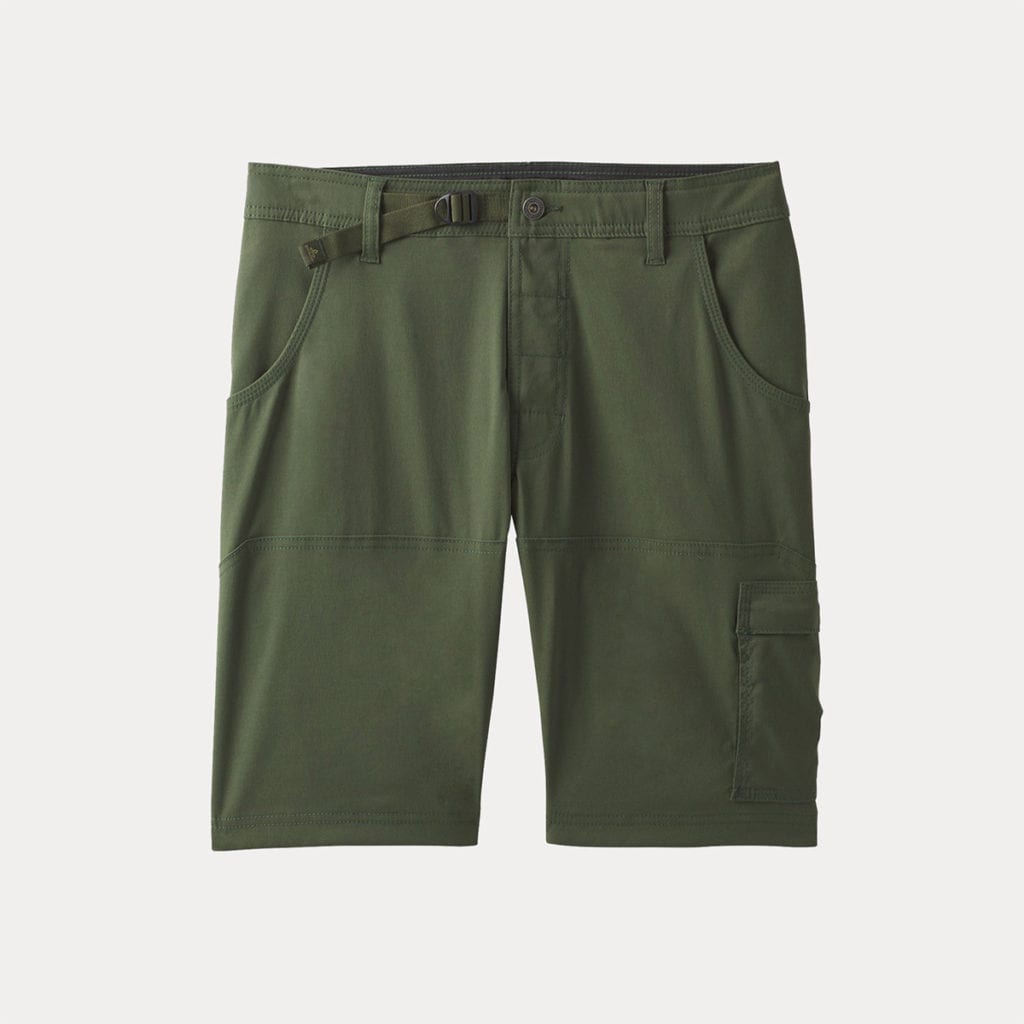 These OG travel shorts are great for the active trekker. While they are a little "trailish" for some city travelers, they're just so danged good at what they do.
The fabric is rugged, durable, and water (sweat) wicking, while also allowing for lots of stretch thanks to a 3% spandex blend. I like the adjustable waistband strap (belts are meh when I'm hiking), and the vented gussets let these bad boys breathe on the trail. Yes, they have a cargo pocket, but it's flat seam stitched so it's blends in when not in use. And if you need to use it, you'll be glad you have a solid stash pocket for your snacks and supplies. If you're traveling in summer (or spring, or fall, really), and plan to go hiking or trekking, these are fantastic travel shorts.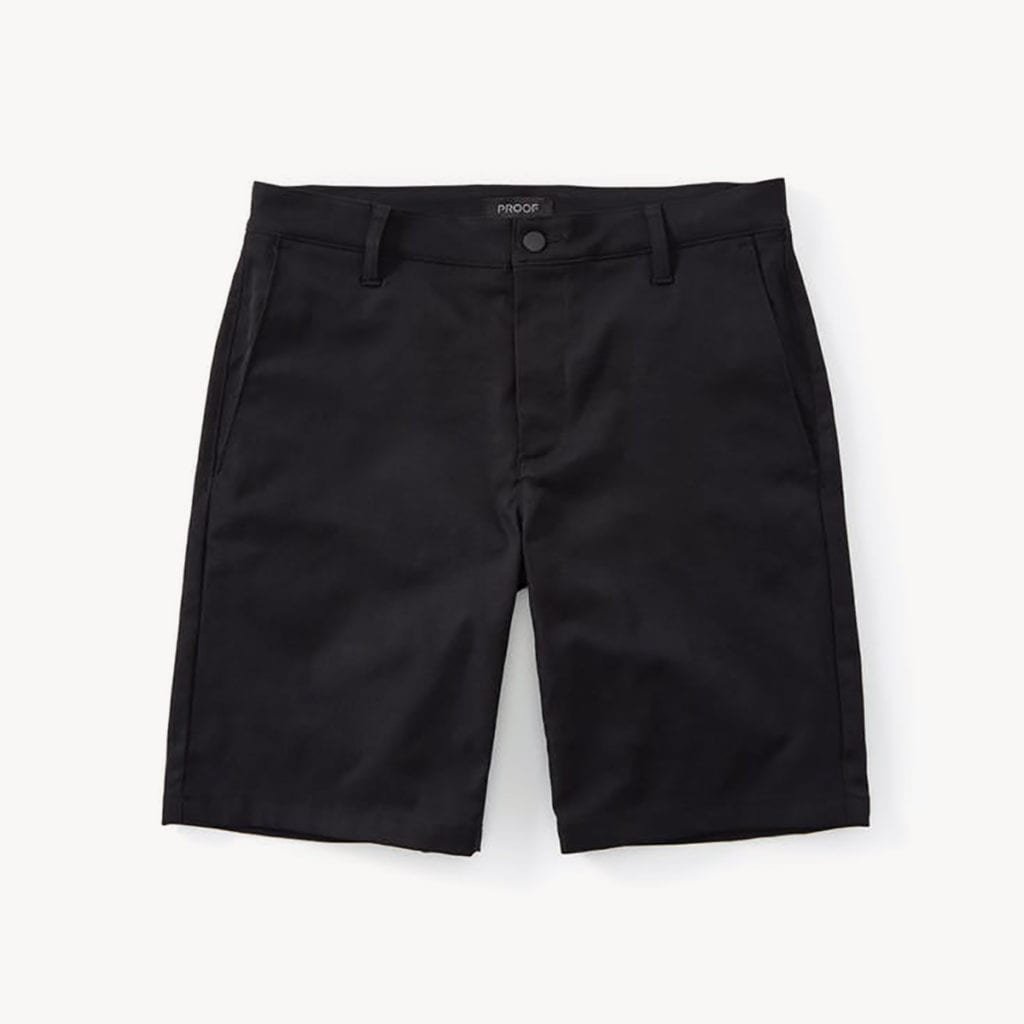 If you don't want to look like you just stepped off the trail, these travel shorts are for you. In fact, they're a strong contender for my favorite travel shorts.
The Proof Nomad shorts are clean, sleek, and built to perform. Made from "Japanese Toray twill," a comfy, stretch, technical performance fabric, these shorts can equally handle heat, sweat, rain, stains, and air-conditioned digital nomad coworking spaces.
They look great, feel better, and still pack travel-friendly features like a hidden zipper pocket to keep your wallet or passport safe and stashed away. I like a good trail short as much as the next guy, but if you want to look dapper at a beer garden patio or beach bonfire, this is the travel short for you.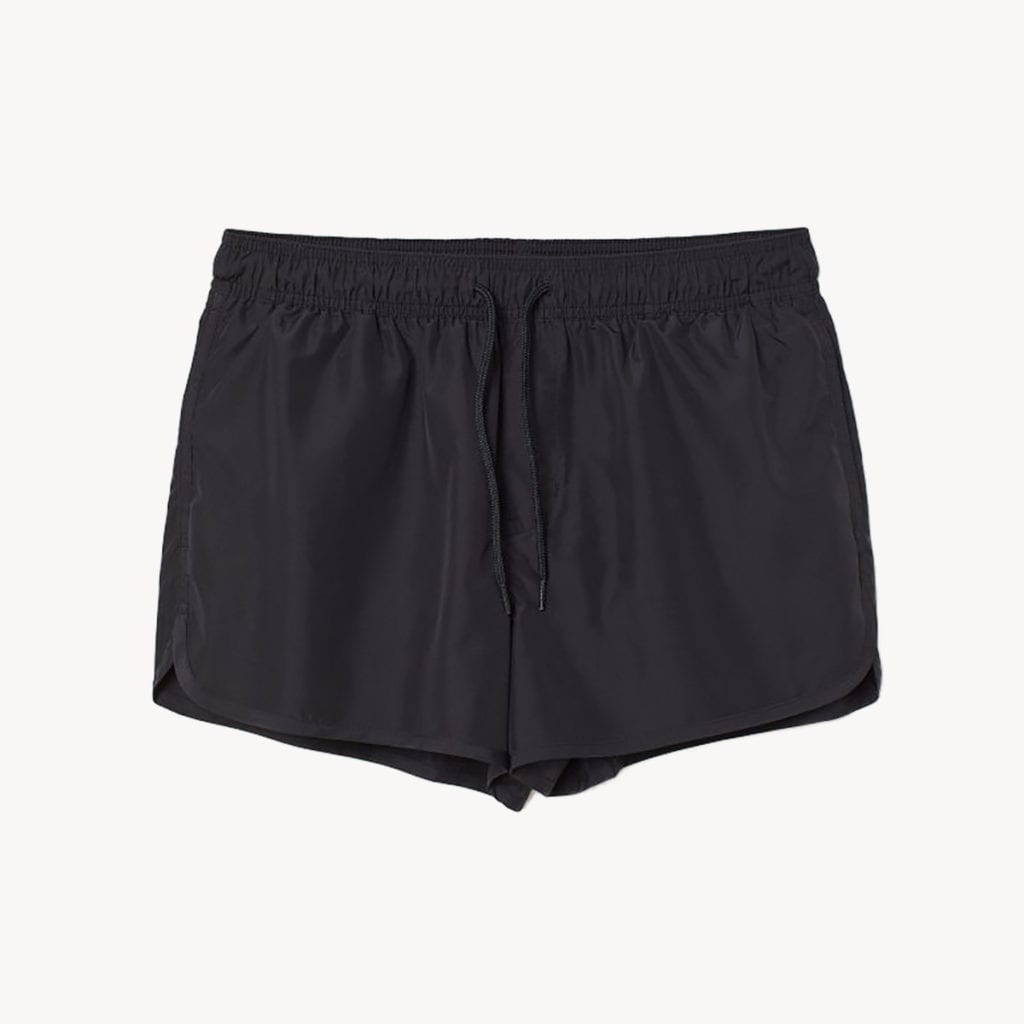 I picked up a pair of these tiny little bad boys a few years ago, and they're still going strong. They're featherweight, easy to pack, super quick drying, and stylish as hell (especially in Europe).
American guys usually opt for long board shorts that hit below the knee, but I'm telling you, shorter is better. These short shorts are easy to pack, and even easier to wear. And, bonus: the mesh lining inside means you can comfortably wear these shorts without underwear, which can stretch your packing list significantly. Seriously, that's awesome if you're going hiking or for a swim.
I will say that the mesh pockets aren't great for wallets or phones, so if you're exploring in these, you'll want a daypack. However, I've worn them on hiking treks, around the city during summer, and even the occasional bike ride. If you're looking for an ultralight pair of summer utility shorts, pick up a pair for less than $20. And if you want something a little longer, they have all length shorts available.
Honorable Mention: Oliver's Apparel All Over Shorts ($68)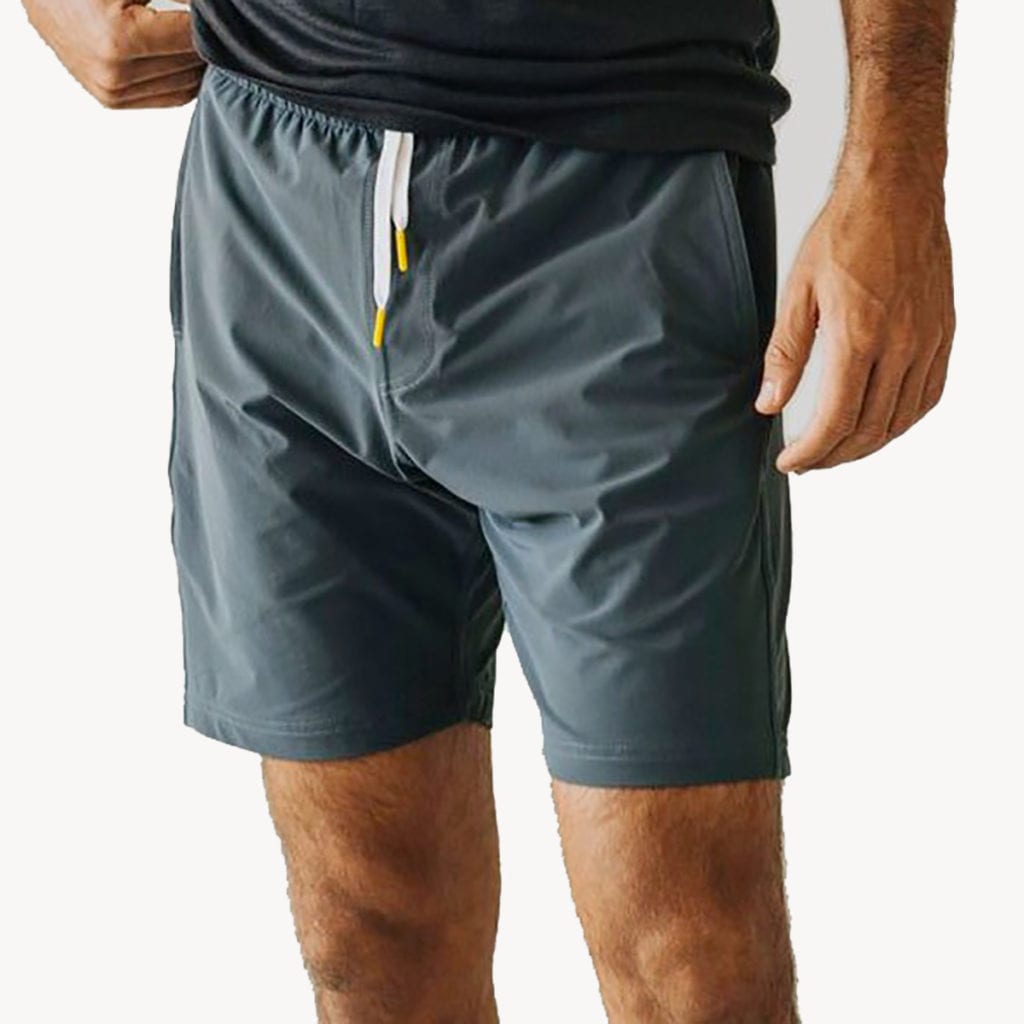 If you're one of those "active guys," you need a pair of high performance travel shorts for the gym, your morning run, or just all the cool stuff you plan on doing all day long. Enter the aptly named "All Over" shorts from Olivers Apparel.
Designed for the guy on the go, these surprisingly stylish travel shorts are a lightweight yet durable travel choice for working up a sweat. They can swim, climb, run, or just lounge like a champ. Definitely a great choice for hotter climates too.
Honorable Mention: Manduka Yoga Shorts ($58-$74)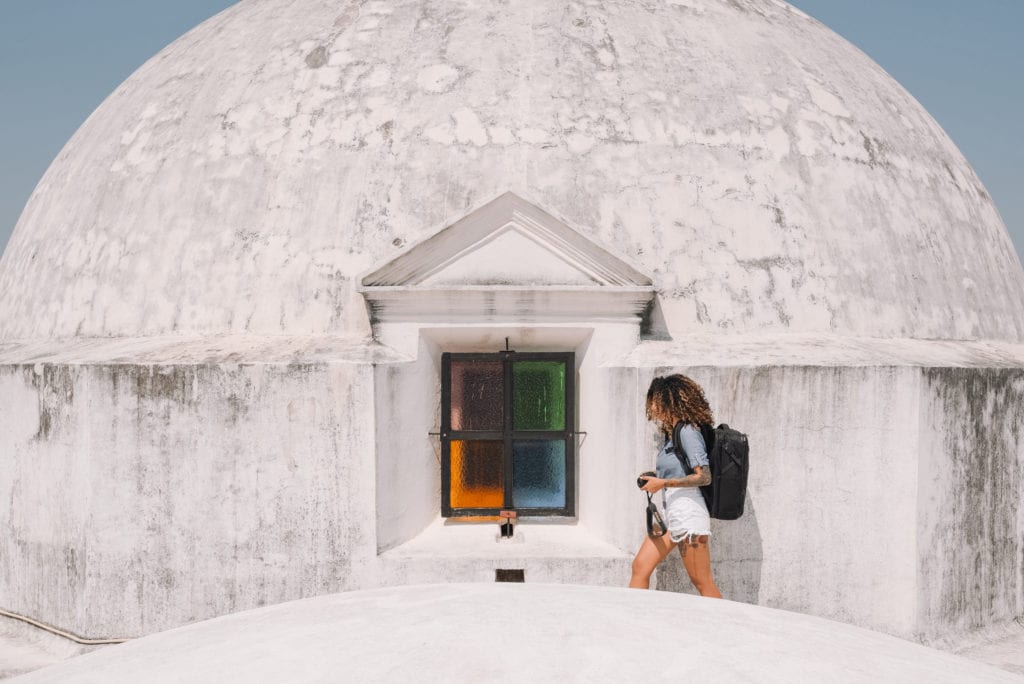 Best Travel Shorts for Women
When it comes to options in the pants-shorts-skirt-skort-capri space, women have so many more choices than men. This is great, and it's also a challenge. Finding the perfect pair of travel shorts, that goes from adventure to sundowner cocktails and are versatile enough to wear almost anywhere, feels like winning the summer wardrobe lottery. Try these options on for size: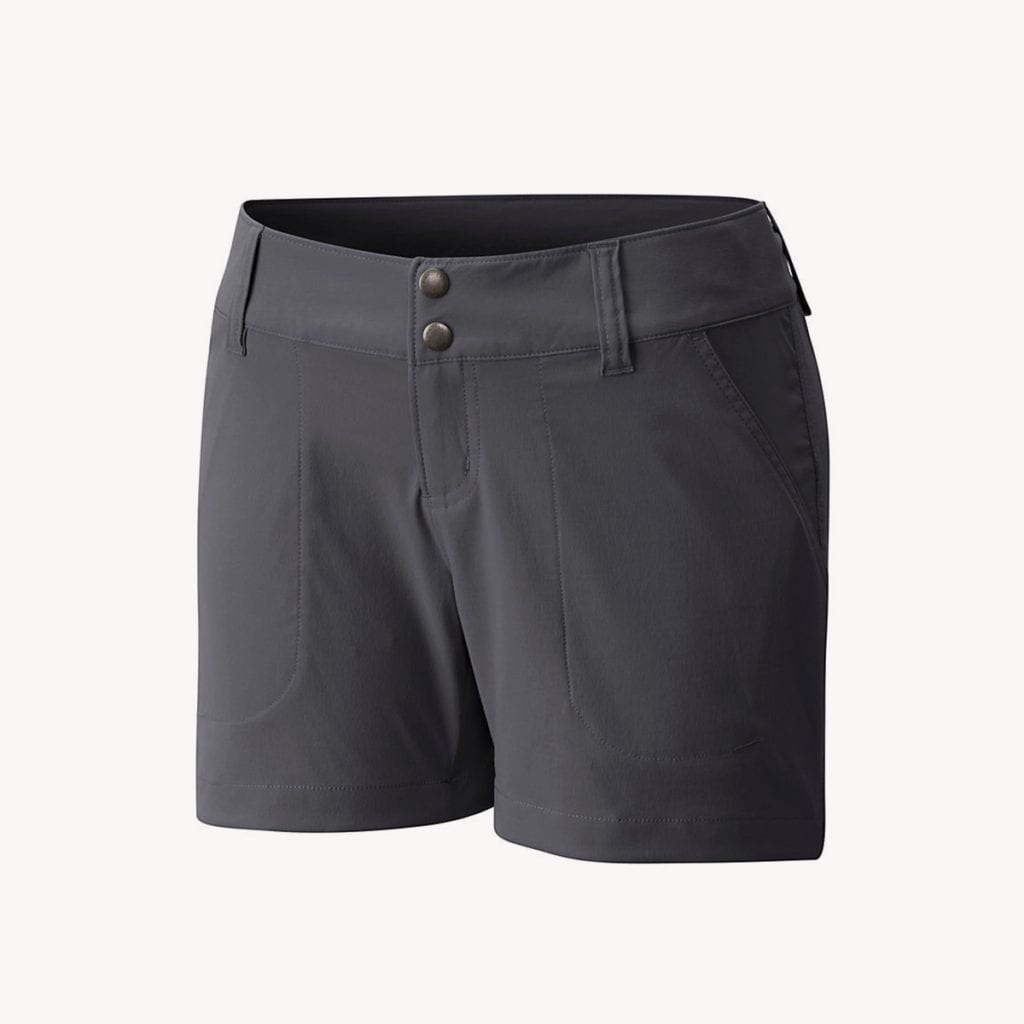 Great material, UPF protected, a preferable inseam length (no wedgies here), and multiple sizes are what make these a winner.
I love Colombia's Saturday Trail short for women, which won't put you back financially (they're less than $45 a pair) and come in a variety of neutral colors—perfect for wearing over and over again.
This pair of travel shorts for women includes Columbia's signature sun protection, Omni-Shade™, as well as its advanced repellency technology, Omni-Shield™ (ideal if you tend to spill on yourself at every meal, like me). Made with 96% nylon, these quick dry shorts are light, wrinkle resistant, and will be ready for action just as much as you are!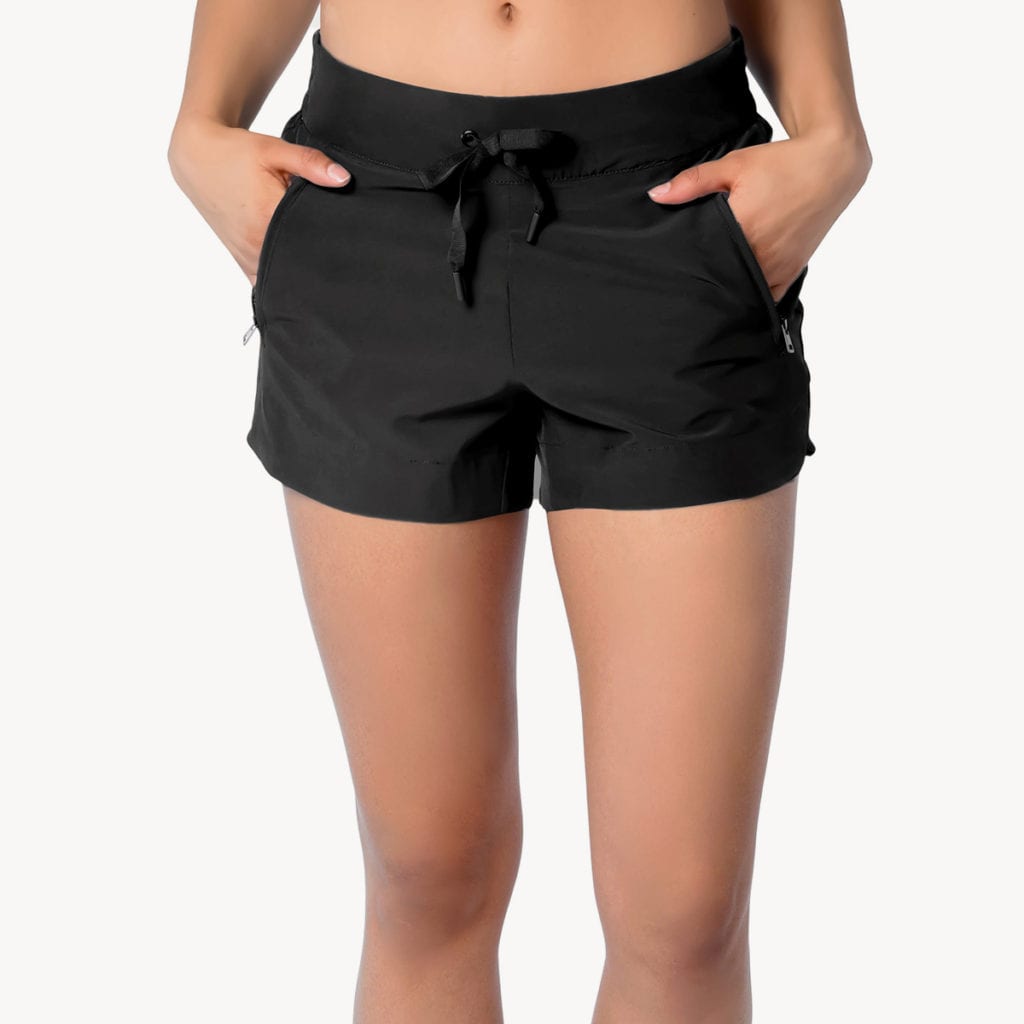 If four-way stretch didn't pique your interest, maybe this will: these workout-friendly shorts have pockets with zippers (making your keys and ID way less likely to go missing!).
Though mostly polyester (88%), I still love the color variety and utility of these travel shorts for women.
The drawstring waist means you won't lose your trusty bottoms even if/when you binge on too much carbonara and gelato (no judgment here!).
Keep in mind that these shorts are pretty teeny-tiny, so they might not make sense for everyday wear. Even so, they won't take up too much space in your carry-on as exercise clothes or jammies.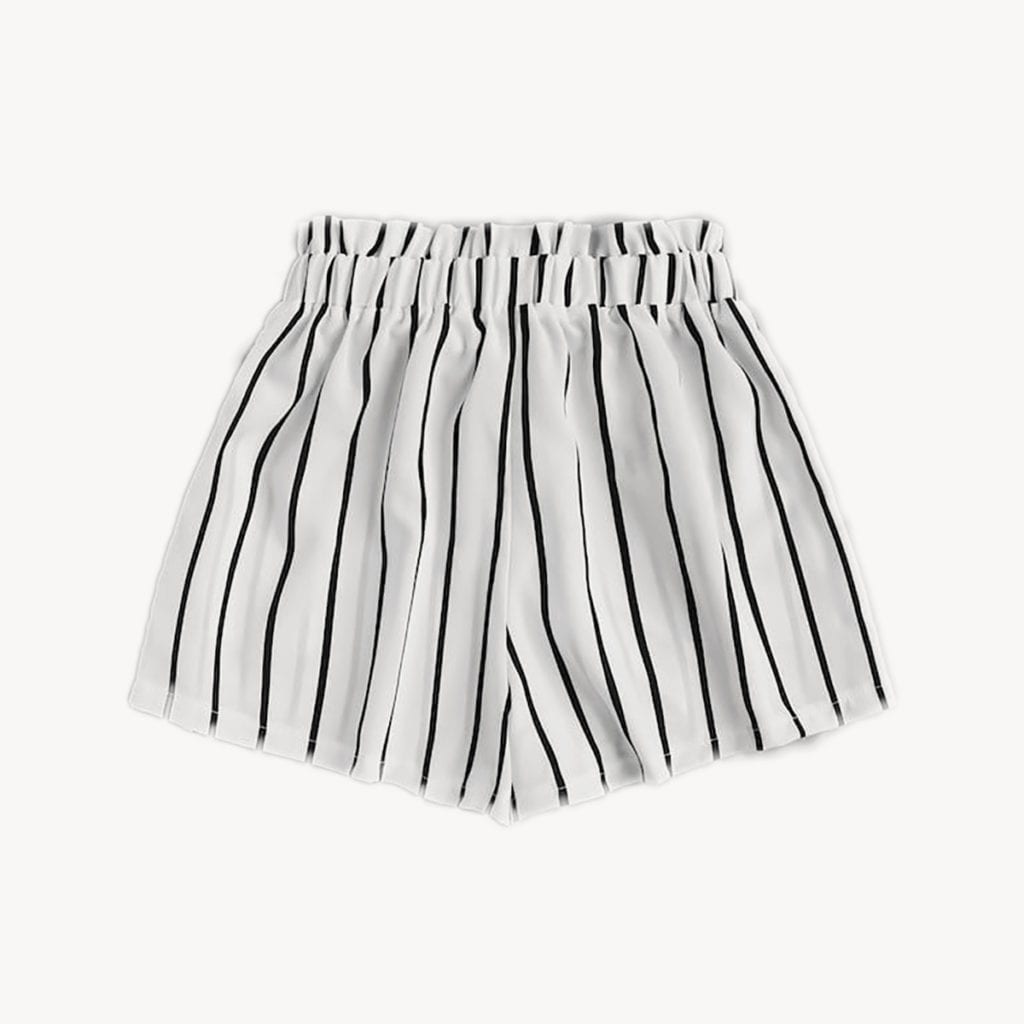 Having a pair of sweet, sassy, patterned shorts tucked in your backpack for those special night outs isn't such a bad idea—especially when you buy a pair for less than $10 from Romwe.
Not only are these cute shorts perfect for travel, they'll be turning eyes in the corner pub or along the beach on the reg. Their wide legs and elastic waist means, yes, you should definitely spring for more spring rolls.
Just keep in mind that their polyester composition means you need to plan for more dry-time!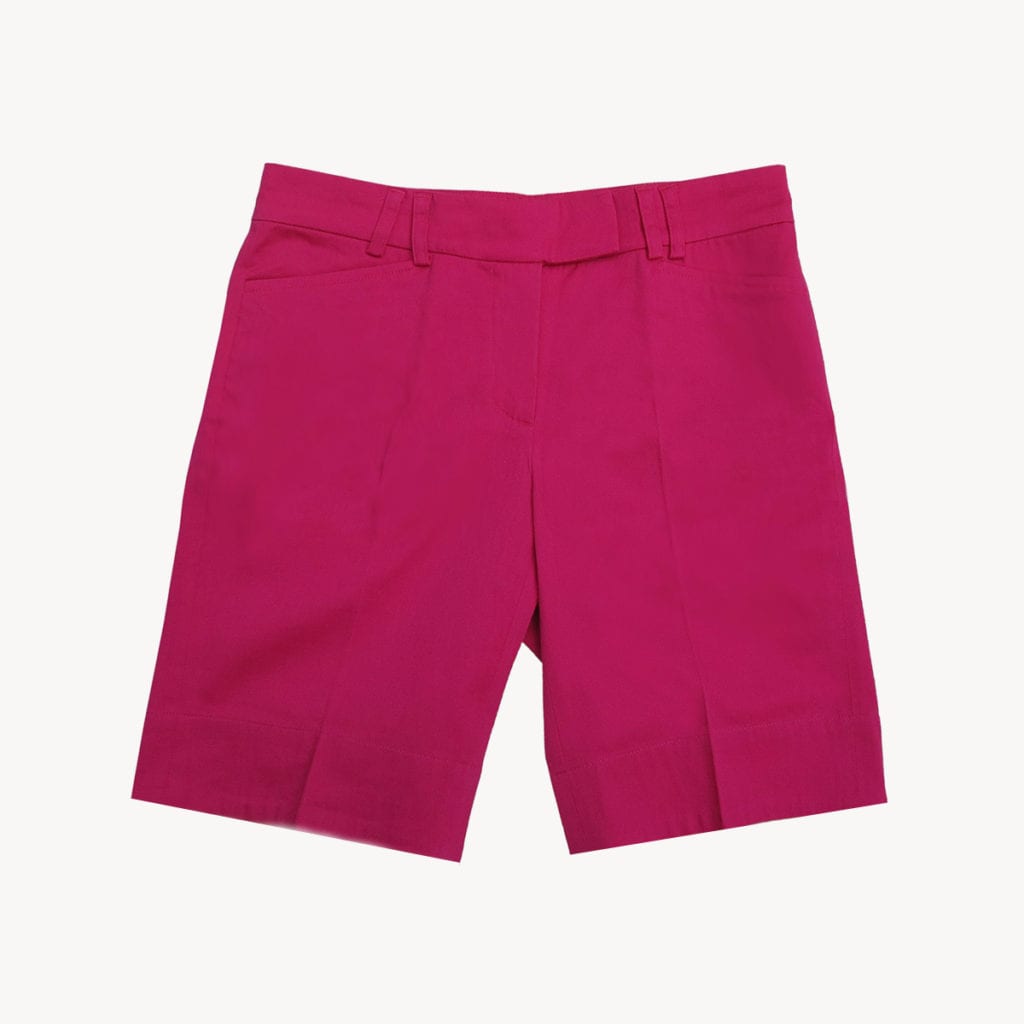 These adorable, pink-hued shorts sell themselves, but they're even more than meets the eye. With multi-zip pockets and an adjustable inseam of 8.5 inches, they're perfect for travelers headed to more conservative destinations on their adventure.
A relaxed fit means your legs look like they go on #fordays, and the hems can be rolled or not depending on your style. The contrasting black thread gives these shorts a super modern look—perfect for both a day of sunbathing or a night catching live music with friends.
What's more, Paskho has business-wide commitment to sustainability efforts for the planet, so 1% of your purchase is dedicated to helping our mother!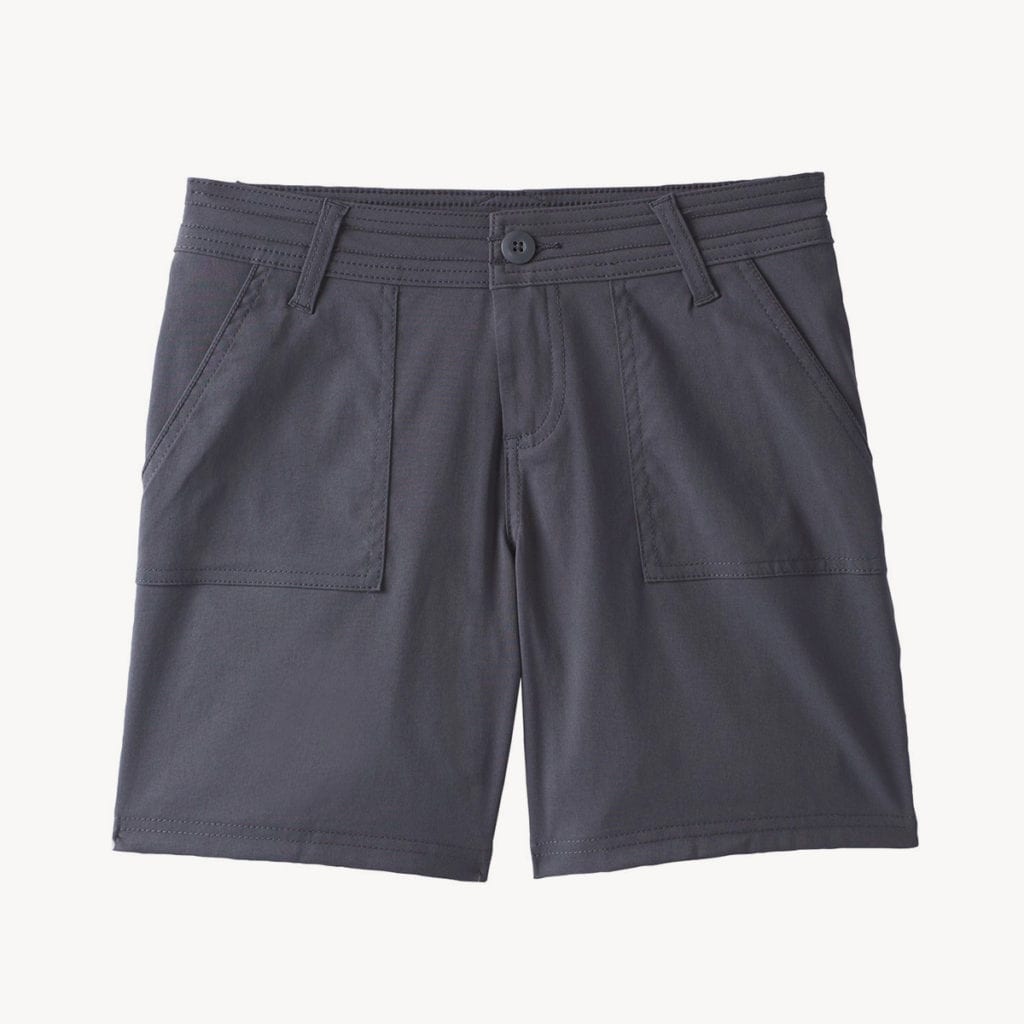 If you'd rather ride a train across Tanzania for 44 hours than wear a pair of shorts with a < 5in inseam, then you'll love these seven inchers from Prana.
Prana sets the bar for quality construction of their clothing, and their shorts aren't any different. The Olivia boasts four pockets and their signature zion stretch fabric.
These shorts can be casual, dressy, or great for bouldering. At $44 a pair, you might be wise to stock up with more than one!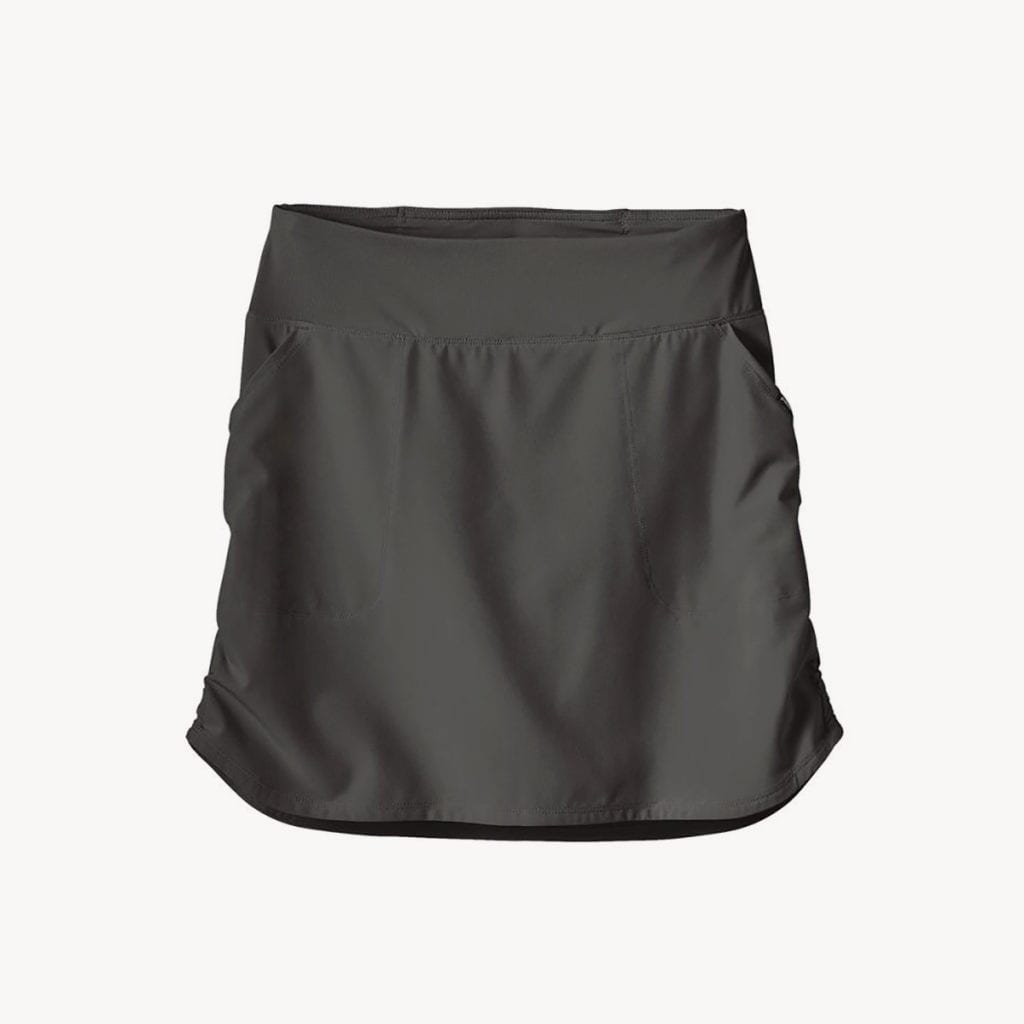 The only thing fishy about Patagonia's Tech Fishing Skort is how you can be *so* comfortable while looking *so* stylish.
A skort can be the secret weapon of your travel fashion game, and Patagonia's is truly made for the gal who loves to warm up for happy hour with a quick hike.
With a water repellent finish and four total pockets, it's no wonder these skorts are finding their way into more and more carry on backpacks in 2019!

TL;DR:
Travel shorts are the epitome of "less is more." Take everything you like about your favorite travel pants and cut the legs off for even lighter gear that goes even further. It just doesn't get better than a pair of travel shorts that fits you perfectly while performing the way you want.
You don't need more than one (max 2) pairs of travel shorts
4-way stretch is essential (get at least 3% spandex blends)
Make sure at least one pocket zips closed to keep your stuff safe on the go
Quick dry fabric is everything
Get a fit and style you'll actually want to wear, even if they don't look like "travel" shorts
Related Articles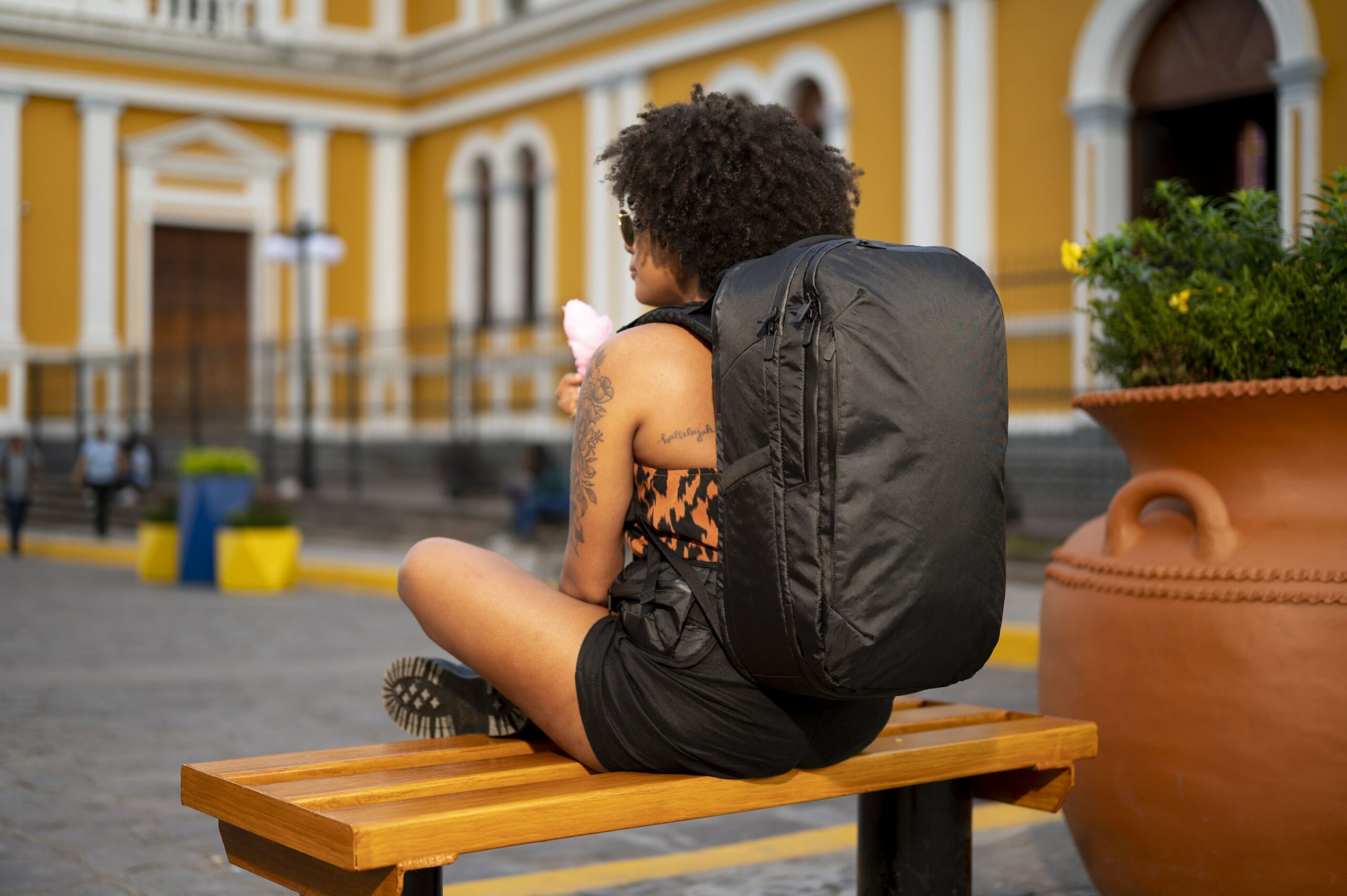 40L: Max International Carry On
Shop Now