The Best Travel-Sized Toiletries to Pack for Your Trip
The Tortuga Promise
At Tortuga, our mission is to make travel easier. Our advice and recommendations are based on years of travel experience. We only recommend products that we use on our own travels.
Topo Designs Dopp Kit
Sophisticated style, unique flat-bottom design, and enough space for every other item on this list
Who this toiletry bag is for: Minimalists and frequent travelers who want to keep all their toiletries in one place
One-of-a-Kind Design
The Topo Dopp Kit is different from other toiletries bags, and that's why we like it. It's the only one we tested with a flat-bottomed triangular design, which helps it sit easily on small bathroom counters (which I love). It's also one of the few (good) toiletry bags that doesn't come with any internal organization, again, a feature we really enjoy for streamlined minimalist packing and quick use.
Having too many internal organization pouches and pockets takes away from the overall storage space of your toiletry bag. But the real problem is how "organization" leads to overpacking. Stashing a ton of "just in case" items into your toiletry kit pockets is one of the easiest ways to pack too much stuff.
The Topo dopp kit is just one big pouch for all your stuff so you can see everything at a glance. The internal water-resistant nylon lining is even a bright contrasting color (like bright green) so you can easily locate all your stuff. It's a small detail, but a nice touch.
Coming in at 11 inches long, this dopp kit is big enough for full-size bottles (although I don't recommend traveling with them), and can easily handle full-size toothbrushes, electric razors, and other larger items. However, the soft shape and lack of hard edges lets it conform to most carry on sized travel backpacks.
The 1000D cordura fabric is tough enough for whatever you pack and, while not perfectly waterproof, the nylon interior and YKK zipper are super reliable. The handle loop can work for hanging this bag in a pinch, and you can customize your bag with a leather, canvas, or even ripstop nylon exterior in a variety of colors to match your swagger.
What We Like: Simple, Durable, Reliable
Simple, thoughtful shape: This bag is big enough for everything you need but doesn't encourage overpacking
Flat-bottom design: We love how the flat-bottom design lets this bag sit on even tiny counters without tipping over and spilling stuff everywhere
Contrasting interior fabric: See everything at a glance
What We Don't Like: Not Great for Hanging
No hook: The carrying loop can hang from a hook, but it's not ideal
Zero organization: The simple design is a plus for us, but if you need organization for makeup or medication this might not be the bag for you
Lermende Clear Quart-sized TSA Toiletry Bag
Clear, simple, spacious, and great for frequent carry on travelers who want to save time in TSA security
Who this toiletry bag is for: Frequent travelers and people with multiple (TSA-approved) liquid toiletries

A Clear Winner
TSA regulations mean that you're supposed to store all your liquids under 3.4 oz in a clear quart-sized bag that you remove for inspection. But we don't all do it. If you're a frequent traveler who's sick of getting hassled because you pack a lot of toiletries, be proactive with this regulation-sized toiletry bag and breeze through security screenings.
The Lermende clear quart-size bag is the max allowable size, yet still lightweight. It's waterproof, well-designed, and quite simply, the easiest way to travel with liquids. We liked the strong PVC construction and simple carrying loop.
It can make a great second toiletry bag for overflow items and makeup if you can't fit all of your toiletries in one bag.
What We Like: Clear and Lightweight
TSA Compliant: What you see is what you get
Affordable: At just $10 (for the 2-pack) these toiletry bags are a bargain for carry on travelers
What We Don't Like: Boxy
Boxy. The square shape can be hard to pack in some smaller or slimmer carry on bags
See-through. The see-through case is great for security, but you won't have any privacy when you land, which can be annoying in hostels or shared accommodation
Quip
An affordable, sleek, easy to use electric travel toothbrush. It even comes with a built-in carrying case for the most reliable way to keep your teeth clean on the go
Who this toothbrush is for: People who want clean teeth without the hassle of a bulky electric toothbrush
Not Your Average Travel Toothbrush
There's a reason the quip toothbrush doesn't feel like a travel toothbrush. It's because it isn't a normal travel toothbrush.
Unlike the flimsy folding travel toothbrushes you're used to, the quip is a powerful, portable electric toothbrush designed for everyday use. It just also happens to be built for travel, thanks to the clever carrying case/travel case and long battery life (it's rated to last for 3-months on a single AAA battery).
I signed up for the quip refill plan (with the metal finished brush) last year, and it's been fantastic. The 2-minute vibrating brush timer is amazing (and it keeps me honest), and I like getting a "new" brush every three months. But the best part is how well the toothbrush travels.
I like packing my "everyday" toothbrush knowing that I don't have to compromise while traveling. And the ability to stick the case to the mirror and have it ready in the morning is a simple thing, but instantly makes anywhere I'm staying feel more like home, especially during extended stays.
I love the metallic finish option (I have slate) ($40), but at $25, the plastic handle quip is an affordable way to see if a quip electric toothbrush is right for you.
Pro tip: Save your money and skip the quip toothpaste add-on since the tube is 4.7 oz (not TSA compliant).
What We Like: Doesn't Feel Like a "Travel" Toothbrush
The timer: I am a bad brusher. Or, I was before the quip. The two-minute timer helps me keep good brushing habits even on the go
The travel case: The case transforms this sleek stylish toothbrush into a badass travel toothbrush in seconds. It lets your toothbrush breathe to dry off (which is nice), and you can attach it to a mirror (the back is sticky) to keep your toothbrush handy on longer stays
It's a normal toothbrush: I have one toothbrush for home and for travel, which is one less thing to think about
What We Don't Like: A Tad Heavy
The weight: The quip toothbrush is heavier than just about every other travel toothbrush, thanks to the battery and handle. But we're talking a few ounces. If you're an ultralight minimalist, obviously a little extra weight isn't ideal, but a great toothbrush is absolutely worth a little extra weight in your toiletry bag
Price: Yes, $25 is a bit much for a "travel" toothbrush, but it's your teeth. You can pay a little extra to keep your teeth a little longer.
Jason Sea Fresh Fluoride-Free Toothpaste
Everything you need for a clean mouth, and none of the harsh chemicals you don't
Who this toothpaste is for: Minimalists, frequent travelers, and people who want a natural toothpaste that actually works
Naturally the Best
Jason sea fresh travel toothpaste is a slam dunk. It's exactly the right size for long trips (3 oz)—not too small, not too big for the TSA. It's also a great alternative to big name brand toothpaste packed with harsh chemicals that can actually harm your enamel.
I'm obviously not a dentist, so take any recommendations here with a grain of salt, but Jason toothpaste doesn't have any fluoride, gluten, saccharin, artificial sweeteners (which is hilarious that some toothpaste does). It's also free of parabens, propylene glycol, and SLS, which can cause canker sores in lots of people.
Basically, Jason toothpaste is a great natural alternative to some of the bigger name brand toothpastes with stuff that you just don't want in your mouth. But if that's not for you, here's what to look for if you still prefer a "traditional" travel toothpaste:
ADA Seal: Make sure your toothpaste is approved by the American Dental Association
SLS-free: Sodium Lauryl Sulfate (SLS causes your toothpaste to "foam" and it can be harmful to your mouth, causing things like cancer sores
Avoid whiteners: Whitening agents can strip the enamel from your teeth. Some experts also claim that whitening ingredients in toothpaste aren't in contact with your teeth long enough to do much to whiten teeth anyway
Avoid Triclosan: This antibacterial ingredient supposedly helps prevent gingivitis, but has been largely removed from all toothpastes (although not technically banned) since it can interfere with your thyroid and cause antibiotic resistance
What We Like: Not Just Another Tiny Tube of Toothpaste
It lasts forever: One tube of toothpaste can last for weeks
Tastes great: The natural flavor is fantastic
No harsh chemicals: You don't want SLS or sweeteners in your mouth
What We Don't Like:
Not much: Honestly, for the price and the quality, this product is fantastic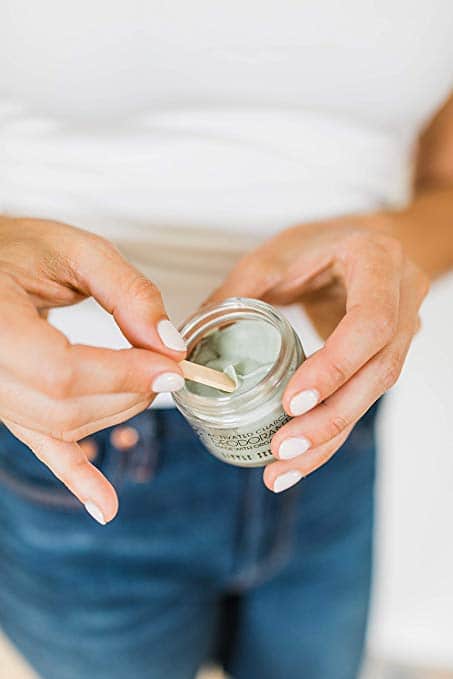 Little Seed Farm Natural Deodorant
All-natural travel deodorant with activated charcoal (not baking soda or aluminum) for a better clean smell
Who this deodorant is for: Long-term travelers who want to stay naturally fresh
Natural Deodorant
Deodorant is one of the most important toiletries you can pack. Heck, it might be one of the most important things in your travel backpack, period. Make sure you get a deodorant that makes you smell great, but one that you want to use day in and day out.
The natural deodorant from Little Seed is a crowd favorite, but that's not just because of the cute goats and marketing. This natural deodorant works using activated charcoal—not baking soda or heavy metals, like aluminum, to filter out your stank, for cleaner smelling travel days.
If you've ever had to toss out a favorite travel shirt due to sweat stains in the armpits, that's likely to due the aluminum in your deodorant. Seriously.
Activated charcoal is a great "scent" but you can order test-size samples in each scent to find one that best works with your body chemistry. And test-size samples are perfect for short trips.
Try switching to a natural deodorant that not only smells great, but doesn't use harmful chemicals or cruel production practices. You might want to transfer this deodorant from the glass container into a lighter plastic screw top container or an empty tin.
What We Like: It's Naturally Good
Lasts forever: A container can last for several months (I'm on month six)
No aluminum: Don't ruin your shirts (or your body!) with harsh chemicals and heavy metals
What We Don't Like: It's a Little Different
Takes getting used to: Unlike roll on or spray deodorants, you have to spread this one by hand (or wooden applicator). It takes a little getting used to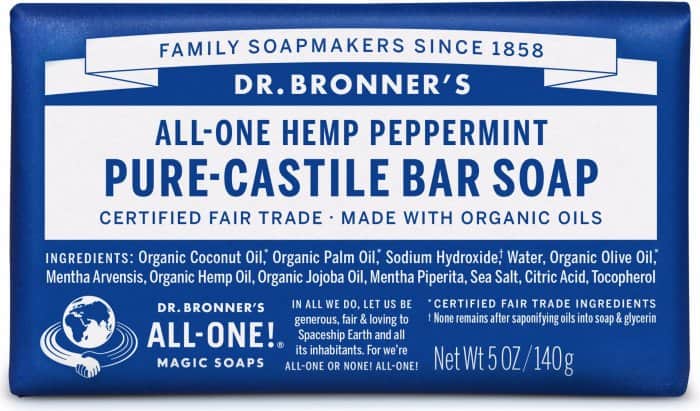 Dr. Bronner Pure Castile All-in-One Soap Bar
Bar ($5) It's Dr. Bronners. It's amazing. What else do you need to know?
Who this soap is for: Long-haul travelers and people who want a natural all in one soap that actually works for all the things
The Dr. Is In (your bag)
If you don't know about Dr. Bronner's All-In-One soap, I don't know who you are or how you've managed to avoid this fantastic product.
Dr. Bronner's is literally the "do everything" soap since you can clean just about anything with it including your hair, skin, clothes, and I'm sure any funky mess you happen across.
I prefer the Dr. Bronner's soap bar to the ever popular Dr. Bronner's liquid soap simply because it lasts forever. Sure, it's heavier than the liquid soap, and you need to carry a soap container or ziploc bag to keep it from gooping up your toiletry kit, but aside from that, you can travel with absolute confidence knowing that whatever mess you make, you can clean it up.
5 oz bars are all they sell, which can be a bit much for shorter trips. So I recommend cutting a bar in half to lighten the load.
What We Like: One soap to rule them all
Use it for everything: I use this for hair, body, and clothing
That smell: That smell, tho. Mmmmmm…
What We Don't Like: Soap bars are a bit annoying
Soap bars: Like any bar of soap it can be a hassle to pack. If you're taking a short weekend trip, snag a tube of the Dr. Bronner liquid soap in a 3 oz bottle
Sea to Summit Hand Soap Flakes
Featherweight soap in your pocket for when you really need to wash your hands
Who this travel soap is for: Germaphobes and people that really need a little extra (lightweight) soap on the go
Forget Hand Sanitizer
Here's the thing about travel—it's messy. Not everywhere you go will have soap in the bathroom (or a bathroom for that matter). If you're a germaphobe, or know you're traveling off the grid and need to keep your hands clean, the Sea to Summit soap flakes are one of the only "just-in-case" toiletry items I heartily recommend.
The easy to use click-shut case contains 50 leaves of "soap" so it will last a while if you ration them out. Great for dirty bathrooms or sketchy places when you just need a quick wash.
Honestly, they make a whole line of travel soaps, from body wash to laundry soap, but the hand soap is the only useful item. One leaf is enough to lather you up for a quick wash, just make sure that you take out the soap leaf before you get your hands wet, or you might use the whole thing in one go. Seriously.
What We Like: Weighs Nothing
Lightweight: This featherweight container weighs next to nothing for ultralight cleanliness on the go
Pocket-size: You can put this in a purse, fanny pack, or your pocket without adding any bulk
Easy to use: Just open it up, grab a flake, click the case closed, and lather up
What We Don't Like: Not a Ton of Use
Single use: Each soap flake is pretty small, so you'll need multiple flakes for truly messy situations
Don't get wet: Not great if you're already wet (or muddy) as the leaves will stick together if you touch them with wet hands
Harry's Truman Shave Kit
Get an easy, accurate shave from a lightweight travel razor that costs less than $20
Who this razor is for: Minimalists, frequent business travelers, stylish budget backpackers
You need a razor if you're traveling for more than a few days. Sure, growing a vacation mustache seems like a good idea, but you still need to trim and shape that lip caterpillar if you want to pull it off.
The choice to go with a travel (disposable) razor or an electric razor is a personal one, and has a lot to do with the frequency you need to shave (daily vs weekly), and how long you're traveling. However, a good disposable razor with a few extra blades and a good case can last for weeks or even months.
Are disposable razors allowed in a carry on bag?
Disposable razor w/ extra blade heads: YES
Electric razor: YES
Straight razor: NO
Safety razor (the old school ones with removable blade heads): NO
The Truman travel razor from Harry's is a solid choice that you can get cheaper than most Gilette or other disposable razors at your local drug store. Plus, the weighted core handle and rubber grip are actually a pleasure to use.
To get the most bang for your buck, skip CVS and order the Harry's Truman Travel Kit for $30 to get a razor handle, three five-blade razor heads, 3.4 oz shaving gel (which is way better than bulky shaving foam), travel cover, and a pretty decent dopp kit bag all for the price of a 3-pack of regular blades at the store.
What We Like: Affordability in a Travel-Sized Package
Just the right price: For $15, you get a travel-ready razor and shaving gel that will last for weeks
Portability: No charging or batteries required
What We Don't Like: Not Great for Long Trips
Still disposable: If you have to shave everyday, this isn't a great setup for long trips, since even great disposable razors only last so long
Braun M90 Mobile Shaver
The best lightweight electric travel razor for minimalists and business travelers on the go
Who this electric razor is for: Long-term travelers, minimalists, business travelers
A Reliable Shave
I don't always use an electric razor when I travel. Mostly because they're heavier than a disposable razor, and I don't have to shave all that often. Plus, it's one less thing to charge.
However, the Braun M90 travel razor has me rethinking my old-timey shave options.
This travel-friendly, compact razor only weighs 3.2 ounces and is packed with useful features. The blade guard protects the shaving foil during travel and also locks the razor into "off" mode so it won't turn on in your bag. And when you flip the guard down to use the razor, it turns into an extension for a better grip, which is partly why the razor is so compact.
It's washable which makes it easy to keep clean, and the wider foil prevents you from those painful nicks and scratches you can cut with budget electric razors. There's also a convenient sideburn trimmer (aka "mustache shaper") that flips out from the side, which I really enjoy.
This is a thoughtful travel razor that packs a serious punch for the small size. Personally, I like that it runs on (2) AA batteries, not rechargeable USB, because you can't always find a plug in the bathroom, and charging a razor isn't my top priority.
Affordable, compact, and packed with travel-friendly features—the Braun M90 is a solid travel razor for guys that just need to keep it clean on the go.
What We Like: Powerful and Portable
Long battery life: You can run this thing for weeks on (2) AA batteries (120 hours of run time)
No charging: Batteries mean you don't have ever have to charge it
Portable: It's only 3.2 ounces and fits in the palm of your hand
What We Don't Like: Still a Portable Razor
Lacks some power: It's a portable razor, so there are some trade-offs with power and closeness; you can tell when the batteries are running low
SunBum SPF50 Tinted Sunscreen Face Stick
Hands down the best zinc-based sunscreen for your face—especially if you're active or in the water
Who this sunscreen is for: Active travelers who regularly spend time in the sun or surf
Professional Grade Zinc Protection in a Portable Package
Yes, sunscreen is a "toiletry" item, and yes, you should use it every day.
As a former surf instructor, I've been applying sunscreen to my forehead, cheeks, and (pretty big) nose for decades. And I've always had three big problems with most sunscreens:
They're not travel-friendly: Liquid sunscreen can't fly carry on
They're super obvious: Most zinc sunscreen looks like you smeared your face with paint, which is fine in the surf, but not great for walking tours
They get in your eye: I can't handle sunscreen that runs when you swim or sweat
Luckily, SunBum zinc sunscreen isn't any of that.
The lightweight, easy to pack case is perfect for tossing in your bag or daypack. The SPF zinc goes on clear (with a tiny tint) so you don't even know you're wearing it. And it won't run in your eyes no matter how hard you sweat.
This sunscreen is easy to apply, works like a charm, and honestly lasted me for months. Literally. I used this sunscreen on my face in Spain, Portugal, Indonesia, Malaysia, Singapore, and Thailand. And it comes in a 0.45 oz container.
I can't explain it, but it just plain works like a charm and will last until the heat death of the universe. Well worth the upfront cost. However, if $18 is a little steep, you can get the 1 oz SPF 50 clear zinc sunscreen (not a stick) for just $10.
What We Like: Never Runny, Easy to Use
It lasts forever: I used this stick for months
No harmful chemicals: Reef safe and doesn't contain any oxybenzone or petroleum
Sweat proof: You can swim, surf, and sweat in this sunscreen
What We Don't Like: It's a Little Different
Small package: This is a face sunscreen. You can put this elsewhere, but it won't last nearly as long or work as well
Cost: $18 is a bit steep for a sunscreen stick, but it's worth it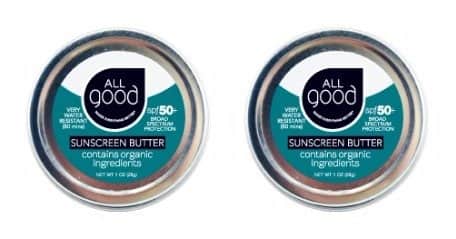 All Good Organic Zinc Sunscreen Butter
Natural zinc for unbeatable natural sun protection
Who this sunscreen is for: Long-term active travelers and minimalists who want a little extra daily sun protection
Everyday Zinc Protection
All Good is a sunscreen company from California that's dedicated to making the best reef safe zinc sunscreen you can buy. And they nailed it. This tiny tin of zinc has been with me on multiple adventures, and it's still going strong.
Seriously, just a dab of zinc for my face and hands is all I typically use for long surf sessions and outdoor activities like driving my moped (on my arms and neck). It's so effective because there's no filler in the formula.
In fact, they only use six ingredients to make this stuff: organic beeswax, organic coconut oil, organic calendula flowers, organic jojoba oil, vitamin E, and 25% pure zinc oxide.
One tin will last you for months, and it's easy to fit in the waist belt pocket of your backpack for easy use on the go.
You have to make sure you rub this zinc in, since it doesn't go on clear, and yes, you will have a bit of a pale tint if you really lay it on thick, but if you're going hiking, swimming, sailing, or just out walking all day, toss this little tin in your day bag for easy effective sun protection on the go.
What We Like: Good for You & the Environment
It lasts forever: One container can last for months (I'm on month six with half a tin to go!)
Reef safe: Made with natural ingredients that not only keep you safe, but also the delicate aquatic life around you
What We Don't Like: It's a Little Different
Ghostly. It can be a little pasty if you put on too much; start with just a dab, it'll last longer
Cost. $21 seems like a lot for sunscreen, but not when you see how long this lasts
What Not to Pack: Toiletries to Avoid
Avoid Silicone Travel-Sized Bottles
Silicone reacts with all kinds of ingredients including alcohol and salicylic acid (which is in more than you think)
Aerosol Bottles
Aerosol gels and creams are notorious for malfunctioning, especially in pressurized cabins and flights not to mention hot bus compartments and other "non-optimal storage environments." Avoid any pressurized cans if you can.
Anything 3.5 oz & Above
The TSA caps carry on liquids at exactly 3.4 oz (100mL). Don't try to sneak your favorite full-size toiletries on or you might land with nothing.

Leather Dopp Kits
For some reason, bespoke leather bathroom bags have become popular. They shouldn't be. Leather is heavy, and holds the smell of liquids and gels for longer. You can't air out leather if something goes wrong in your toiletry bag, and honestly, leather bags are heavy and more expensive than better travel fabric alternatives like waxed canvas and ripstop nylon.
How Were These Toiletries Tested?
If you want to learn about budget travel, minimalist carry on packing, or how to travel (and even live and work) in dozens of countries all over the world, Shawn is your guy. Shawn is not a New York Times bestselling travel author, but he is a full-time freelance blogger, copywriter, and content manager and is also a published photographer. He likes to rock climb, trek, surf, ride his bike, and read a bunch of sci-fi books.
I'm currently on my second around-the-world trip, and I've had a blast testing all of these toiletries and grooming products for you guys. I'm obsessed with discovering and testing quality products to create the ultimate minimalist, carry on-friendly packing list that's lean enough for budget flights, yet tough enough to keep up with my active traveling lifestyle.
I surf, climb, bike, and hike all the dang time, and I need toiletries that can keep me smelling fresh and clean no matter what I get into.
My secret wish is to travel with nothing more than a fanny pack and a cool hat, but until that magical day happens I'll keep winnowing down my carry on packing list until I can fit all my gear in my pocket.
Not all of these products have been with me for the entire trip. I've purchased a few items along the way, obviously, and some of the items I quickly tested before settling on a favorite that lives in my bag. But every item has been battle-tested in real world travel environments including:
Flights
Busses
Rain
Heat
Cities
Countries
Mopeds
Bikes
Dancing
Drinking
Beaches
Mountains
And more
Key Concerns While Testing
Portability: How does the product travel, and is it TSA-approved for carry on travel?
Ease of Use: Can I pack and use this product on the go with relative ease?
Performance: How does the product actually work in hot, cold, sweaty, stinky, real-world travel conditions?
Value: Is the product worth the price, and would I pack this for any specific type of trip?
Portability and performance are my top concerns, because at the end of the day, you're only going to pack the items that actually fit into your bag. And you're only going to use the items you packed. However, I always make sure that the toiletries I test and recommend are useful for most people and simple to use while traveling. And it never hurts to get a good deal.