The Best Travel Sweaters for Cold Weather Adventures
The Tortuga Promise
At Tortuga, our mission is to make travel easier. Our advice and recommendations are based on years of travel experience. We only recommend products that we use on our own travels.
5 Reasons You Should Pack a Travel Sweater
Whether you're traveling to a cold weather destination, or just trying to ride out the chilly cabin air on your next flight, no packing list is complete without a comfy sweater. Here are five good reasons to pack one.
Tortuga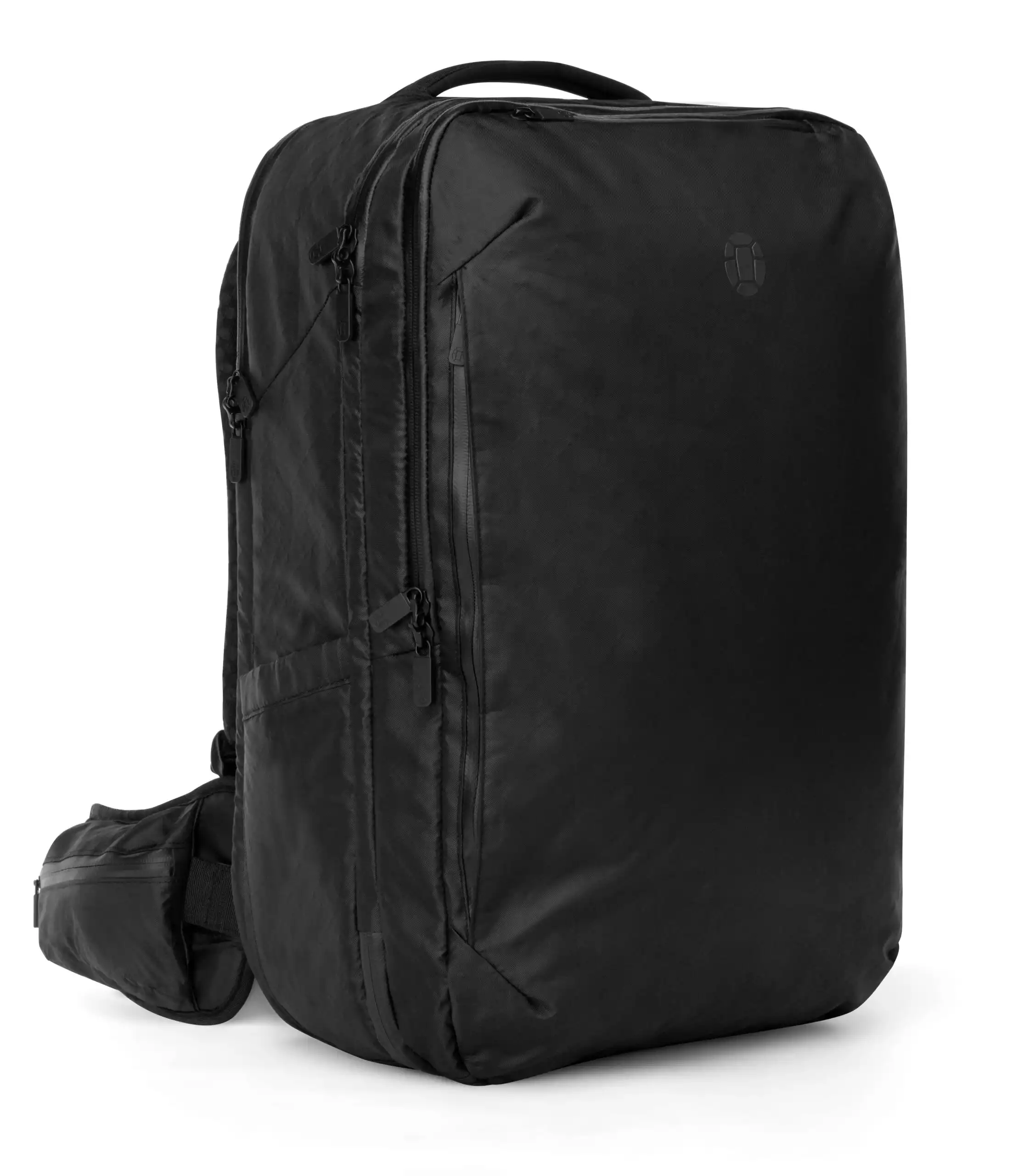 Stay Warm on the Plane
Getting on a chilly flight sucks. Especially when all you have is some techy "shell" outer layer jacket that's great for monsoon season, but doesn't really keep you warm when the automatic AC comes blowing out that little vent in the ceiling. I hate being cold on planes. Luckily, packing a travel sweater is a great to stay warm on your next flight.
Bonus: If you heat up on the flight you can take off your sweater and use it like a little lap blanket or additional cushion if you don't have a pillow. And, if you're rocking the hoodie, say hello to your own little privacy pod. If you're really into travel hoodies, check out this article on the best travel hoodies for men and women.
Double Bonus: You don't have to remove your sweater when you go through TSA security, so that's awesome.
Sweaters are Cozy
Merino sweaters are the best. The best, I tell-ya. Everyone has a guilty travel pleasure. Some people love expensive socks or multiple bathing suits, or a fancy electric toothbrush. I'm into the perfect outer layer, and for me that's a great sweater, hoodie, or shacket (shirt jacket). I don't travel with outer shell jackets or even puffy coats very much anymore and that's primarily because they're just not as comfortable. Durable? Sure. Comfy and cozy? Nope.
And cozy always wins, guys.
Layers are the Best Way to Stay Warm
I know you're excited about the $280 seam-sealed, ultra lightweight jacket/shell you just bought—and you should be. It's probably an amazing piece of gear. But is it what you need for walking to a cafe or museum? Better yet, is that one, super expensive layer actually better than a few good layers of merino?
The problem with expensive travel jackets is that they're really only good in specific situations. Don't get me wrong, some of those jackets are incredible, but if it's not pouring rain, you probably don't need a jacket. What's worse, if you don't have the right layers on underneath, even a great jacket isn't going to keep you warm and comfy. And, if you do get hot (from the humidity or even just working up a sweat on a good trek through town), you'll only have the one layer to remove.
Sweaters act like the icing on an already delicious "cake" of good quality travel clothing—like merino shirts and underlayers. When you ask one piece of clothing to keep you warm, it almost inevitably fails. Get a good lightweight travel sweater and add it to your other functional clothing for a little extra warmth. Supplement with sweaters instead of depending on jackets to do everything. And if it rains, just go inside for a while. Or get wet. You'll be ok.
Sweaters are More Stylish than a Puffy Coat
If there's one thing I've learned from traveling for over a decade it's this—you don't always want to look and feel like a "backpacker." When you travel for months at a time, or even regularly for work, it's important to still feel comfortable.
You don't always have to pack the lightest, sweat-wicking, moisture resistant, wrinkle free travel clothing. It's nice to have a few pieces of "regular" clothing in your travel wardrobe, especially if they're comfy clothes that make you feel like yourself. Also, I hate rolling up to happy hour and looking like I just rolled out of a tent. I know I look techie most of the time, but for me it's important to wear "real people" clothing while I travel. And sweaters just look way better than that North Face shell you're rocking.
Tips for Packing Sweaters
Sweaters are bulky. Your best bet is to wear it on the plane.
Even if you pack a lighter weight sweater, it will still take up more room in your bag than your t-shirts. To reduce the amount of space they take up use packing cubes or compression bag. You can buy compression packing cubes, but even regular packing cubes will reduce the amount of space your sweater takes up in your bag.
Also, roll, don't fold your sweaters. Especially if your sweater is made of a fabric that could potentially wrinkle, like cashmere, rolling instead of folding can prevent unwanted creases.
The Best Lightweight Travel Sweaters
The most common reason not to pack a sweater for travel is that they're bulky. And you're right—a lot of sweaters are chunky wool monstrosities that take up half of your bag. You might love a sweater in your closet, but when it's time to pack you ask yourself, "Can I pack this?" And it's a good question. But a better question to ask might be, "Will I use this?"
If you pack one of these lightweight sweaters, the answer is a resounding, "Yes!" Because these sweaters weigh next to nothing, look great, and keep you toasty warm. Here are the best lightweight travel sweaters.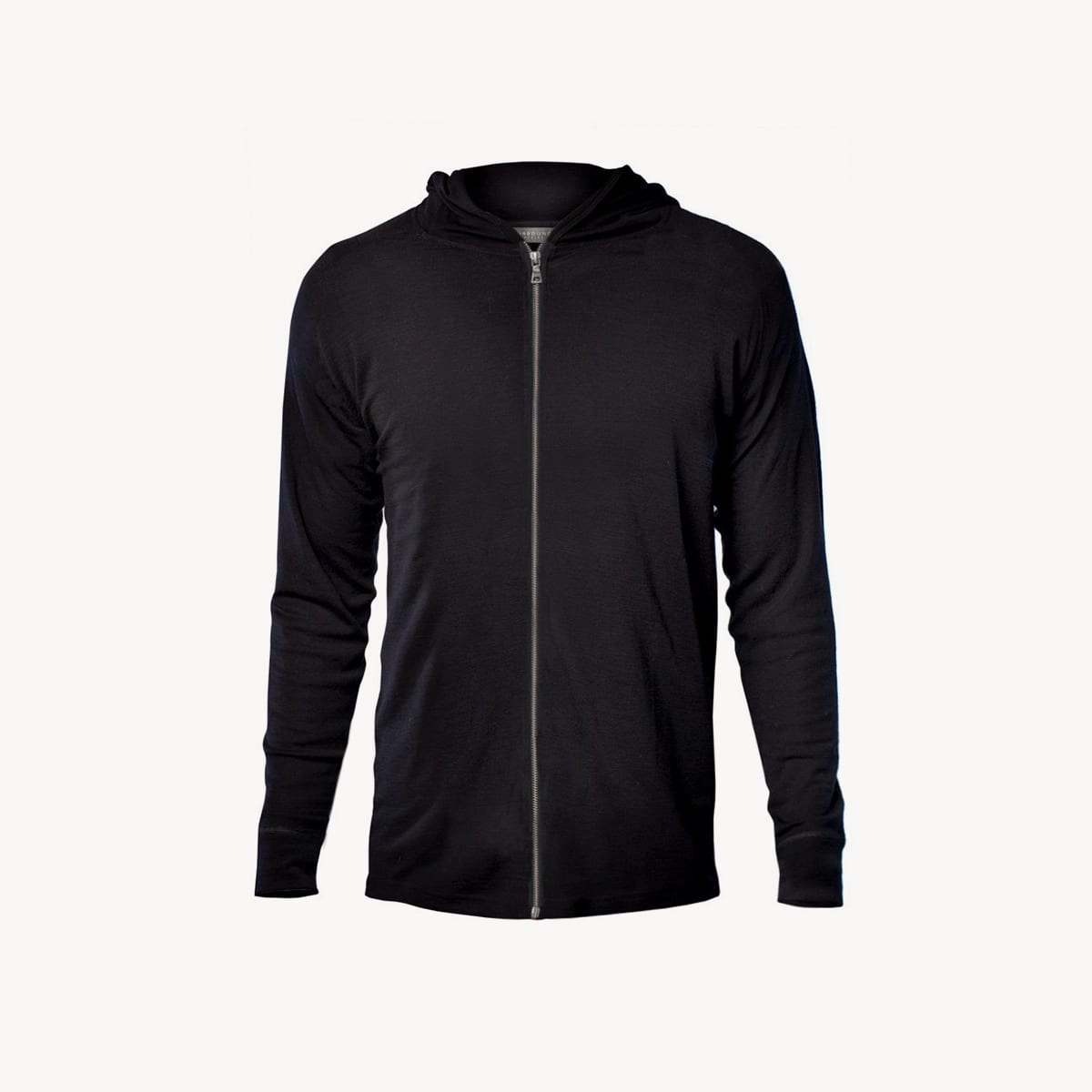 This merino hoodie tops my list of travel sweaters (yes, I consider this a sweater), for one reason. It's simple. Almost incredibly so. The Unbound Compact travel hoodie has everything I want in a travel sweater without all the crap I don't. Zipper. Hoodie. Lightweight beautifully perfect merino. That's it. It's clean, simple, perfection. Let me explain what I mean.
When I say this is a merino hoodie, I mean that it's merino. 100% merino. And not just any merino, it's "100% ultra-fine 17.5 micron, 190g/m2 Merino wool." That's crazy fine merino, which means it's not only soft to the touch and comfortable, it's lightweight, breathable and super warm. Merino is a magic fabric that excels at trapping body heat while letting moisture (and odor) escape. And the finer the merino fiber, the better it gets.
And that's just how it feels. I haven't mentioned how it travels.
The Compact Travel Hoodie comes with a (silky soft) carrying stuff sack, but if you don't feel like packing that, it rolls down to the size of a standard cotton t-shirt. I actually don't notice this thing when it's side by side with my shirts in the packing cube. It's that slim. And that's because of what you won't find on this travel sweater.
The Compact Hoodie doesn't have any pockets. That may be a deal breaker for you, but I love it. It means I can roll this hoodie down and pack it without it bulging. Also, I'm not tempted to cram tons of heavy stuff into the pockets (thereby stretching out the wool). This sweater doesn't have hidden zippers or places to stash your passport because it's a sweater. It's (painstakingly) designed to keep you warm. Period. And it looks great doing it.
This hoodie also resists odors (like most good merino), packs down to nothing, and Unbound claims that you can wear it for an entire year without washing it (another reason I think of this as more of a wool travel sweater vs a travel hoodie). I've only had this sweater for a few weeks, but it's already my go-to for biking to the city, heading to the climbing gym, or just chilling on the couch with another radical fantasy novel about dragons and wizards. Yeah, I still read those books. The unbound the best lightweight outer layer I've worn in years.
Plus, my girlfriend thinks I look great in it, so there's that.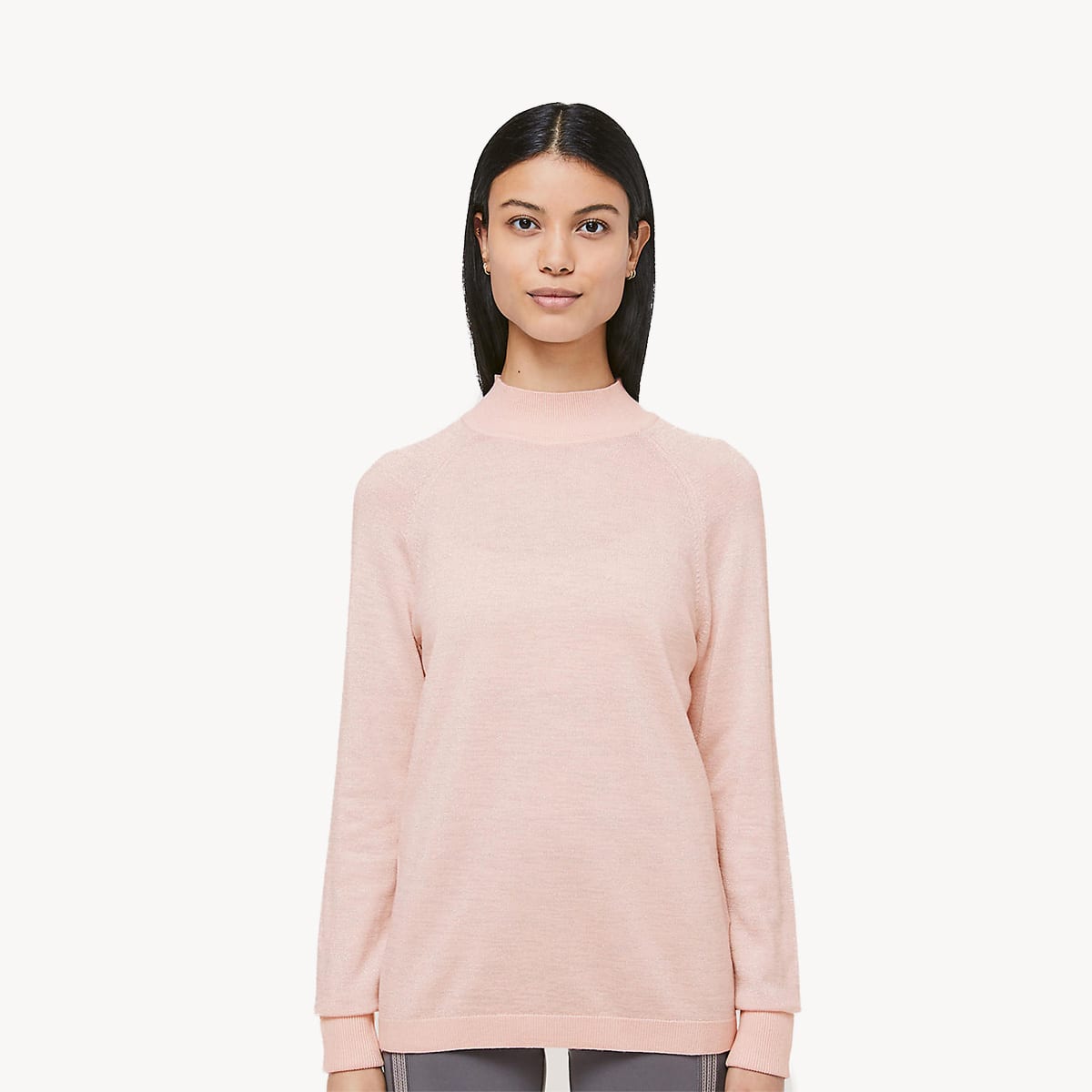 Yep, Lulu makes sweaters and, naturally, they're at once hygge-levels of cozy and functional. A touch of cashmere in travel-ready sweaters such as their Apres Your Way ($98) and Soft Shine ($79), makes them soft, comfortable. But don't let this luxurious detail fool you—cashmere is actually a really great travel fabric, since it's warm, lightweight, and doesn't wrinkle easily (and, when if you do have a few creases, you can easily release them by hanging them our laying it flat for a bit).
Unlike a lot of cashmere sweaters, though, Lulu's are machine-washable.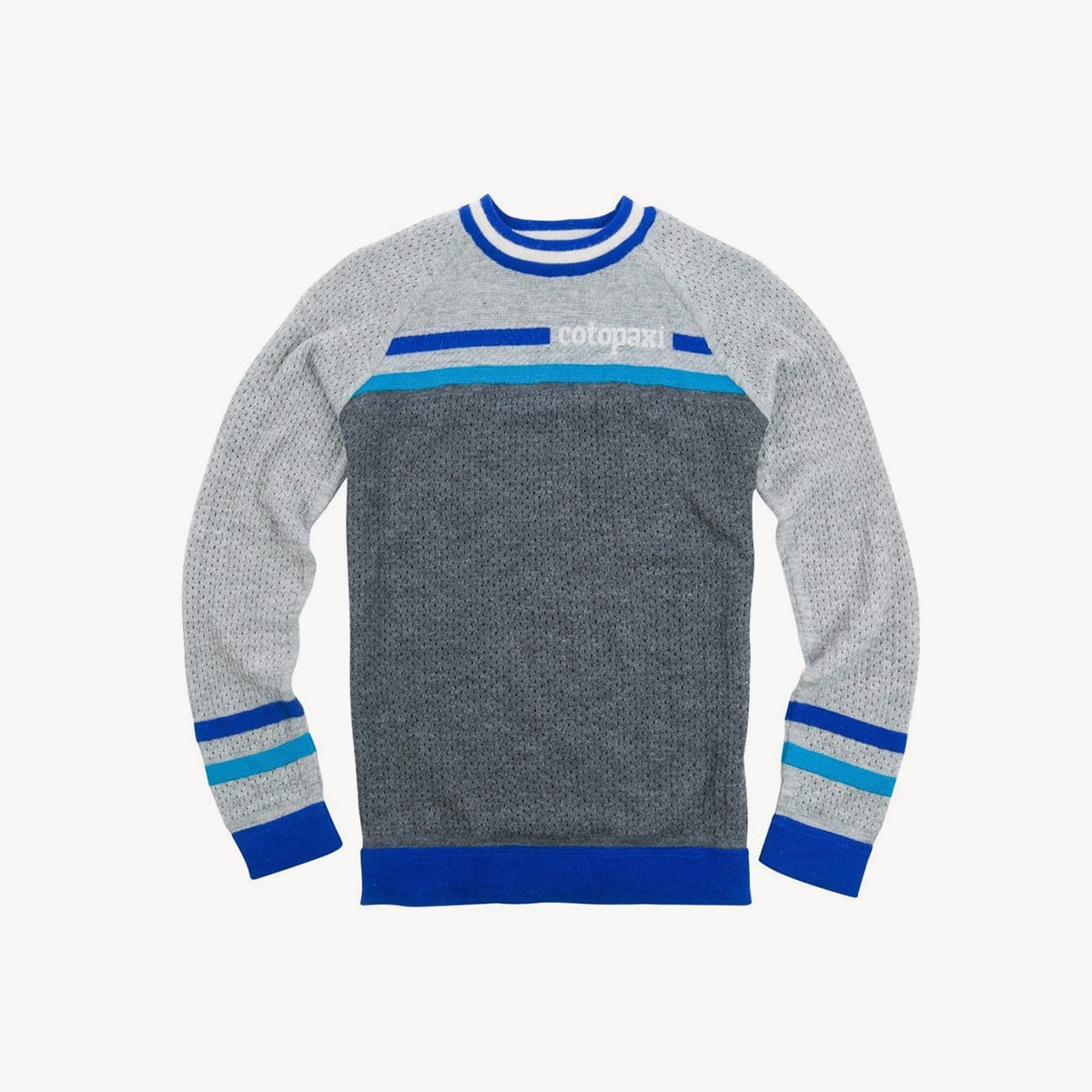 If you want a lightweight travel sweater that screams, "I'm a badass traveler," get the Cotopaxi Libre. Made entirely from llama wool this sweater is insanely soft yet vitally warm. The beefed up ribbing and special tailored "raglan" sleeves give you warmth and durability in a surprisingly travel-friendly sized package.
The silhouette is slim (which l love), and the sweater can stand up to wind and chill better than anything you probably own. Plus, it's made 100% in Bolivia using llama fiber and local farmers and workers, so you can feel good wearing it as well as buying it.
Bonus: The vintage style and wide range of vibrant colors will make you stand out… but in a good way.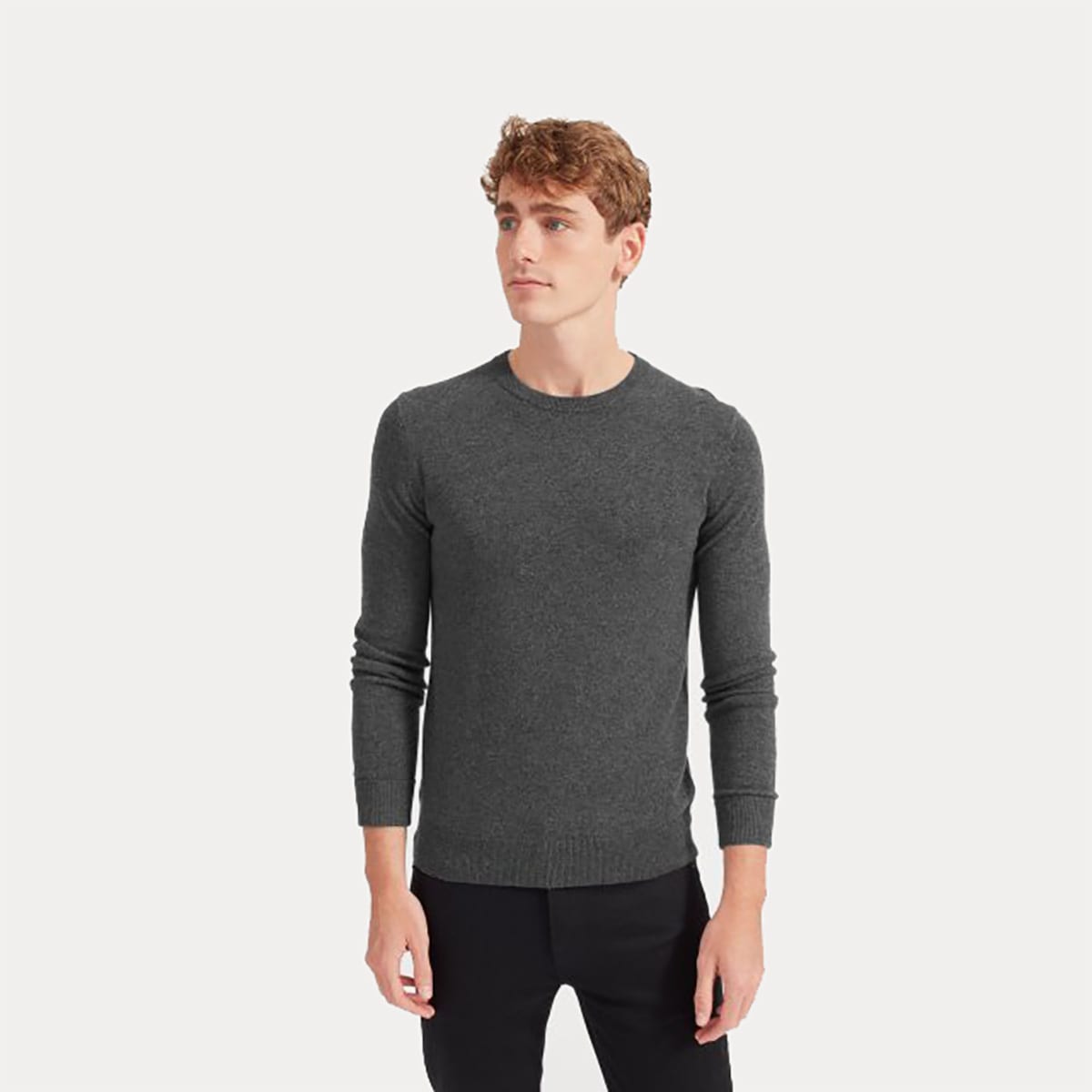 Everlane Cashmere Crew Sweater: Men's and Women's ($100)
Merino gets a lot attention (from writers like me) but cashmere is a great travel fabric. If you want a lightweight travel sweater that keeps you warm, feels like a dream, and looks fantastic, cashmere is the way to go. Yeah. Cashmere.
Cashmere is insanely lightweight yet still rugged enough to keep you warm on chilly fall or winter days (with the right layers). Cashmere fibers are hollow, which means they are designed to trap warmth without adding bulk and weight. Everlane sources Grade-A superfine cashmere from Mongolia (15 microns thin!) so you get the softest, most durable finish without taking up any extra room in your backpack.
If you have to look good on your trip, consider cashmere travel sweaters as an alternative to techie looking travel jackets.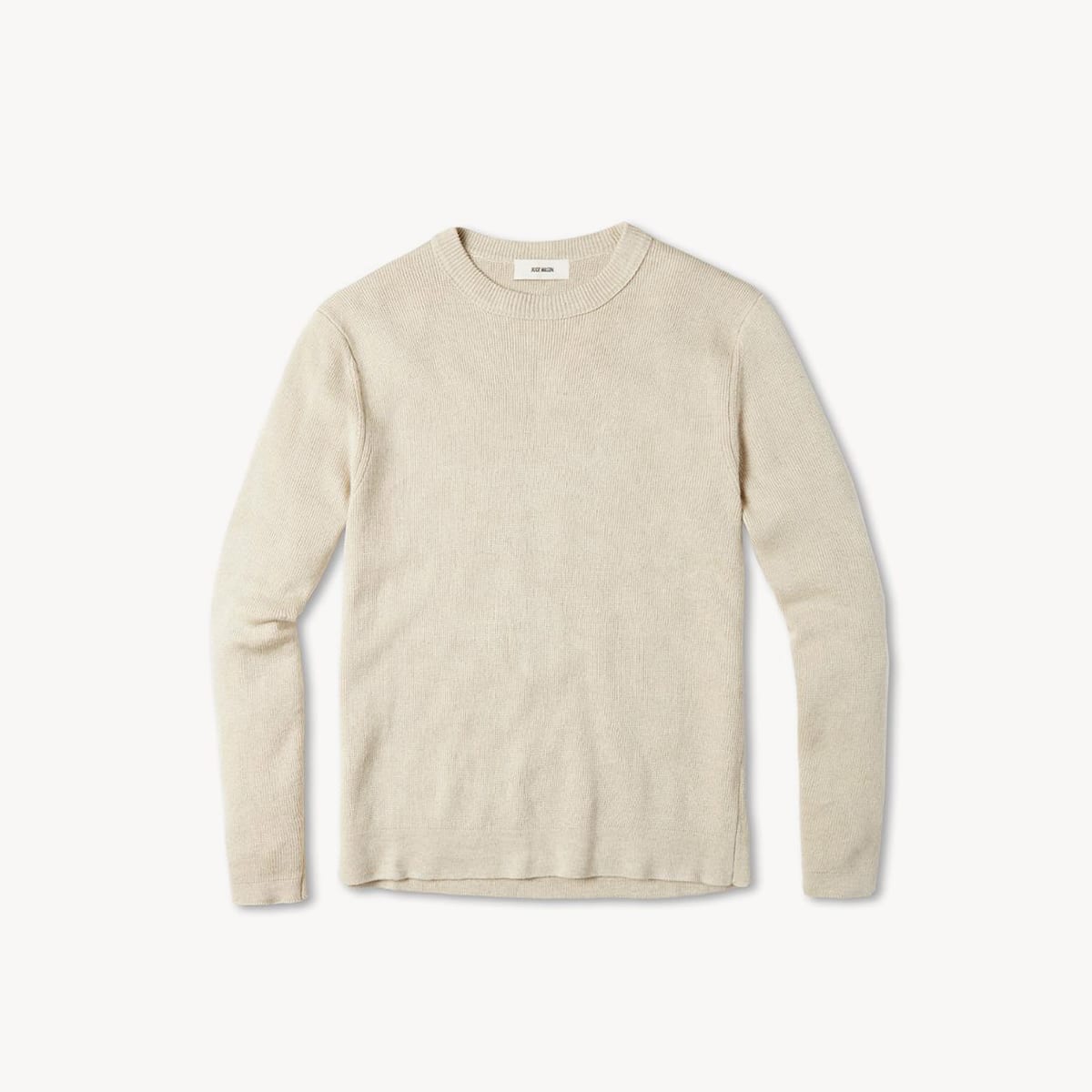 If you want a more "adult" style sweater than a hoodie, get on the Buck Mason train. Buck Mason's line of travel sweaters features cotton and linen blend crew neck sweaters might be the most versatile yet fashionable travel sweaters I've seen in long time.
The dense waffle-like knit of the cotton/linen blend makes this sweater a warmer layer for chilly nights, yet still soft enough to wear solo. It's almost a hybrid of a thermal base layer and a sweater… but great looking. Perfect for light layering when you expect cooler nights, yet stylish enough for professional meetings and sipping espresso in a cafe. This travel sweater is chic as all hell, and comfortable too.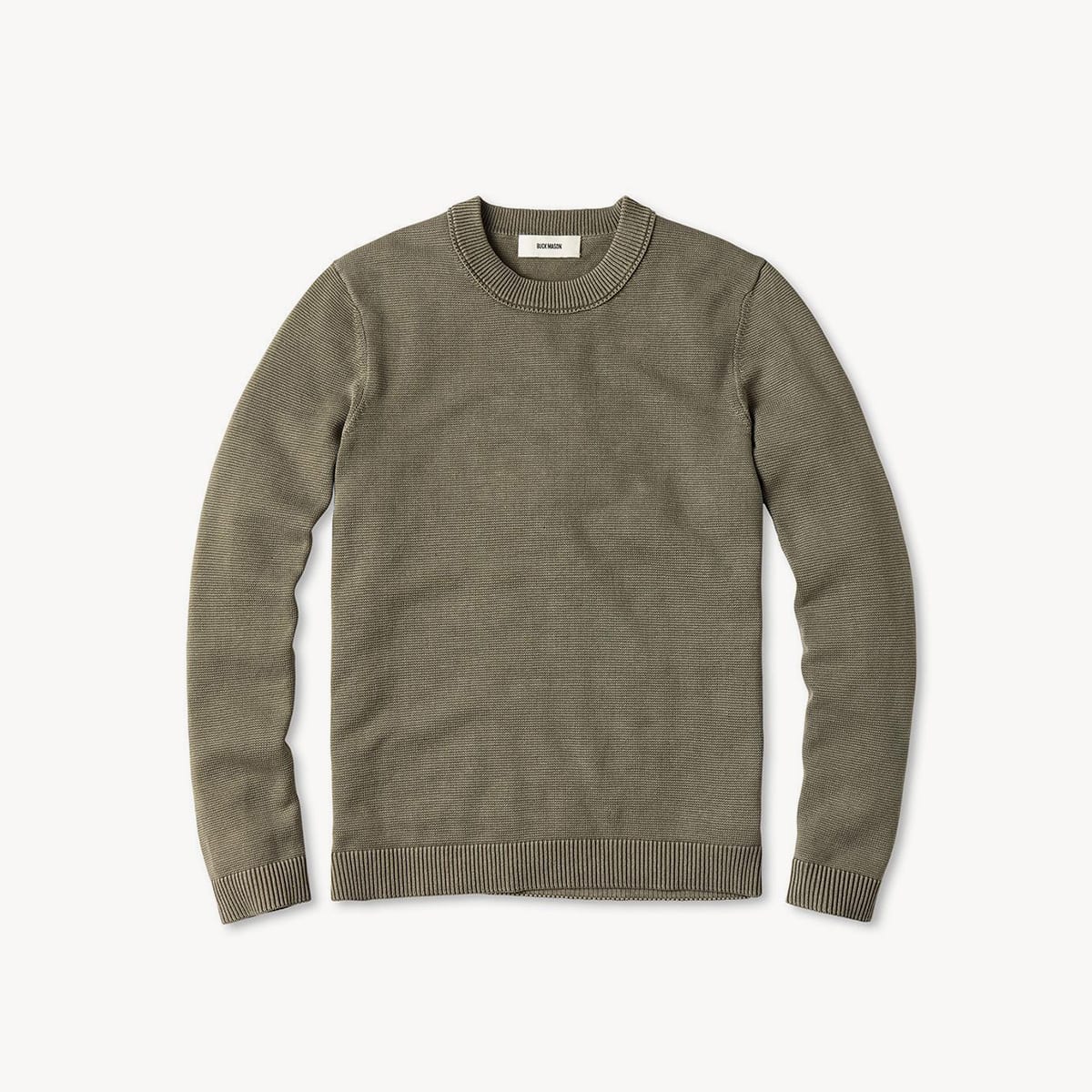 I don't often advocate for cotton travel clothing, but this lightweight travel sweater is changing my mind. The classic crew neck construction and soft lightweight cotton make this an easy wearing top layer perfect for the beach, bonfires, or a 10-hour bus ride. Treat this sweater like a fancy long sleeve shirt (it's cotton so you can wear it as a shirt without getting scratchy), or layer up for chilly nights.
I can't get enough of the textured thoughtful finish and construction. Big fan of this lightweight heavy hitter. (See what I did there?).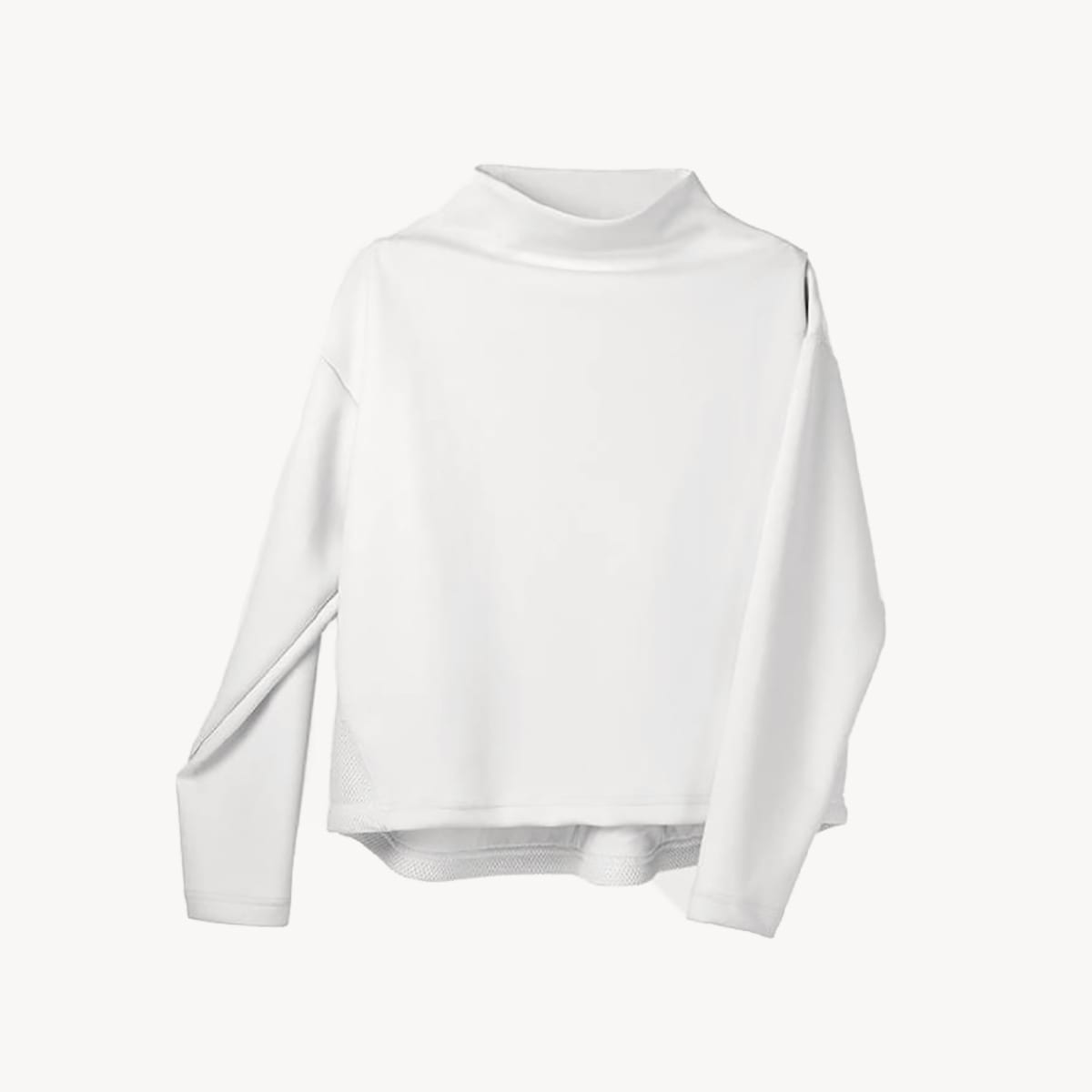 Ladies, this is your fashion-forward, eco-friendly, quick-dry option.
Yes, it's technically a sweatshirt, but ADAY's Like a Boss Sweatshirt is a damn fashionable one that will leave you looking street-ready, not sloppy. But that alone doesn't make it a great travel piece. It's also impossible to wrinkle, warm, comfortable, breathable, quick-dry, doesn't pill, and is surprisingly wind resistant. Need I go on?
The only con is that it doesn't pack down super small—it's on the bulkier side of light weight—but otherwise it pretty much hits all our needs in a travel sweater. So, maybe wear this one on the plane?
Best Travel Sweaters With Pockets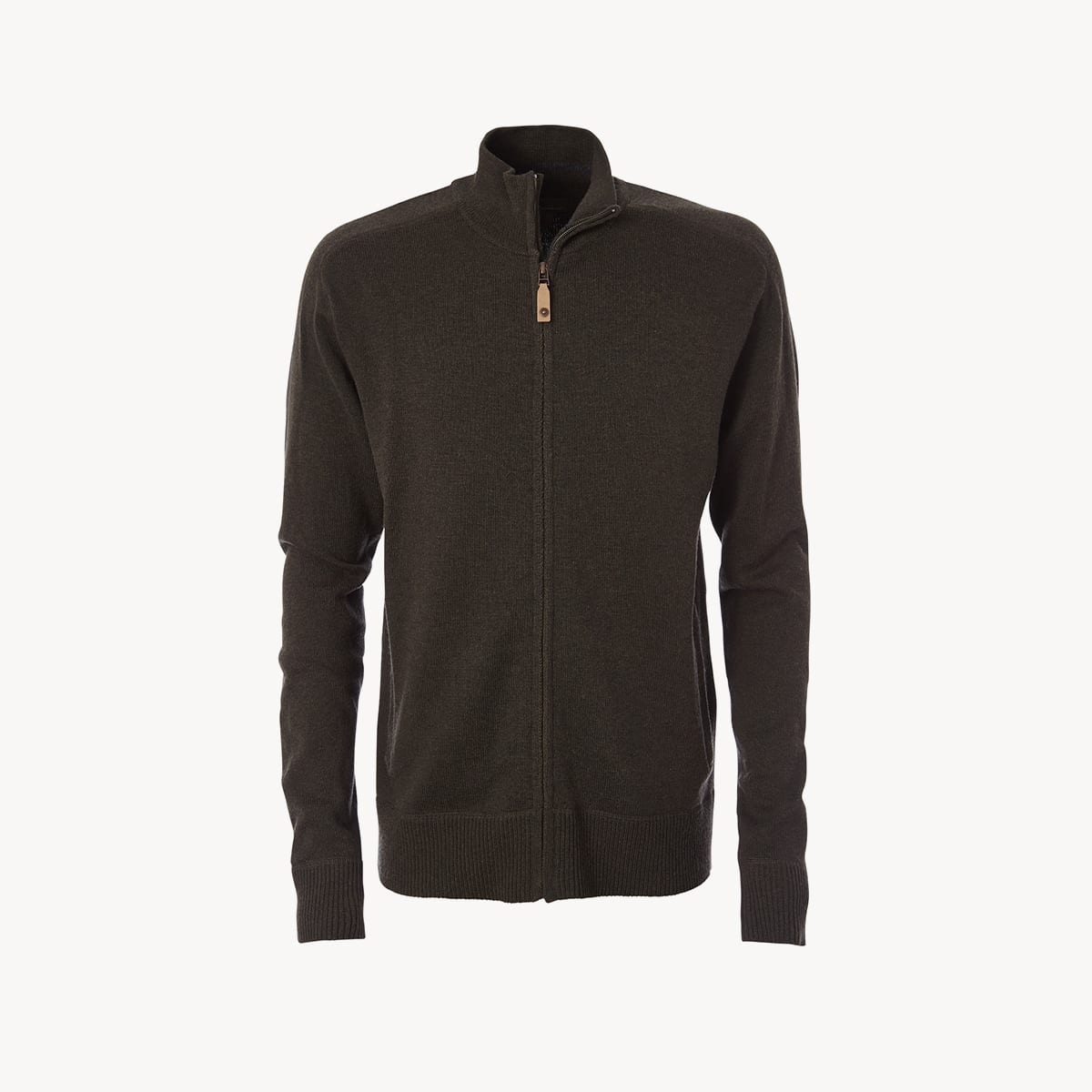 I don't love pockets on a sweater (hey, that's just me), but if you want a travel sweater with pockets to keep your stuff safe, you might as well go with merino wool. The Royal Robins All Season merino sweater is dressier than a sweatshirt but still a tough enough lightweight layer for chilly flights and chilly mornings sipping coffee while huddled around the glow of your laptop screen.
The ribbed hem and cuffs really separate this zip up sweater from other hoodies, and zippered pockets are a great place to stash chapstick or heck, even your passport.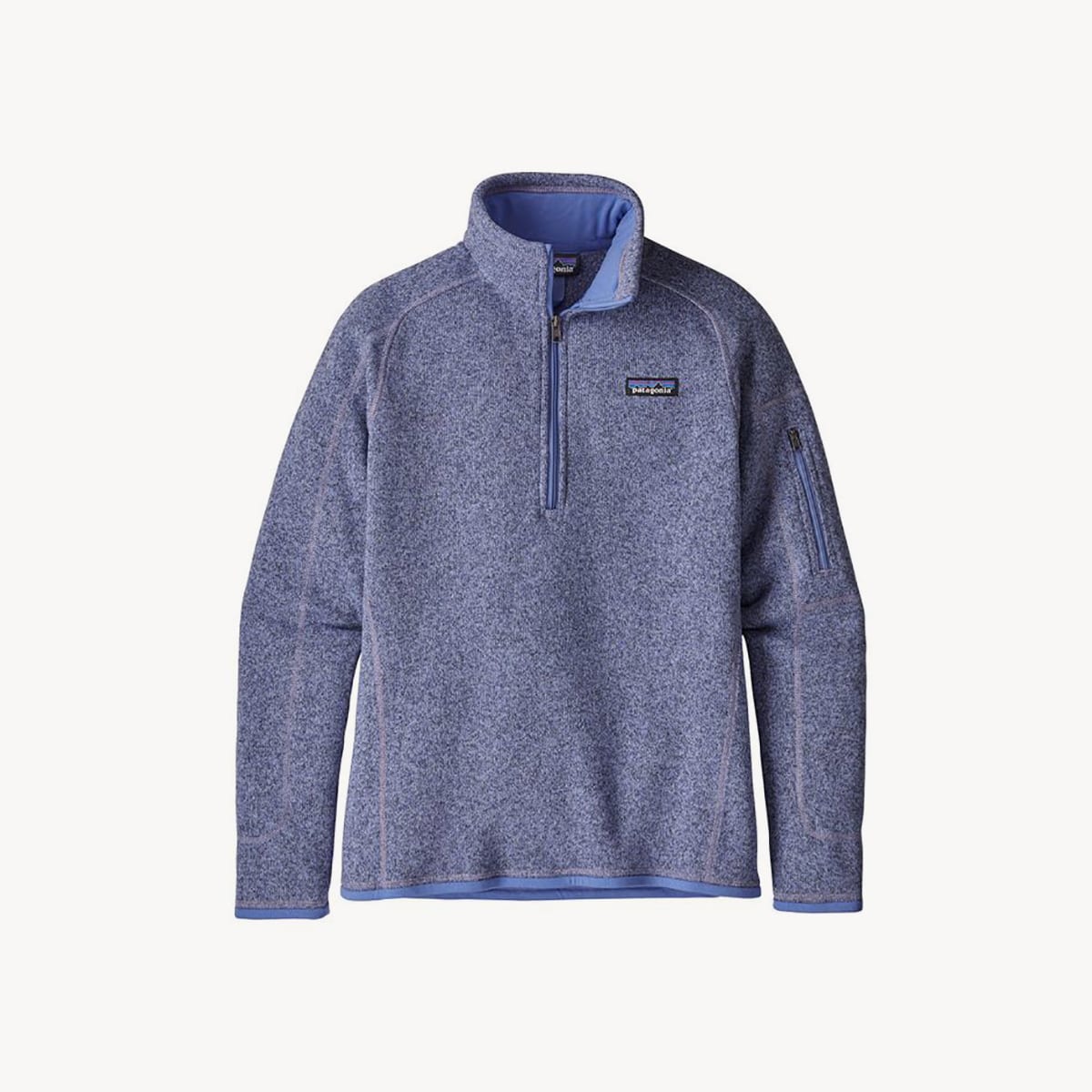 You really can't go wrong with any of Patagonia's sweaters. As an outdoor company, Patagonia puts performance and comfort first. For example, their Better Sweater is made from a lightweight polyester fleece material that balances warmth and weight better than most fleeces. But, they don't sacrifice style to get there (you may have already noticed Patagonia's classic sweater popping up in fashion retailers and blogs this past season).
Of course, one of my favorite features of their Better Sweater and its offshoots, like the Better Sweater Fleece Jacket ($139), is pockets. Sleeve pockets, side pockets, interior pockets—you heard it here: Patagonia's got pockets.
Community and sustainability are at the core of Patagonia's company mission. All of their sweaters are eco-friendly and made with sustainable practices, so you can rest assured that your purchase is an ethically sound one.
Best Travel Cardigans
I'm not a huge fan of travel cardigans, as they're not really a "travel friendly" item for a lot of guys. I find that the buttons don't handle the strains of travel all that well, and the wide open collar is kind of the opposite of what I'm looking for in a travel sweater—aka warmth.
That being said, I understand that some guys love that cardigan style, R.I.P. Mr Rogers. So here's shawl collar sweater that still handle's travel like a champ, and of course, one for the ladies too.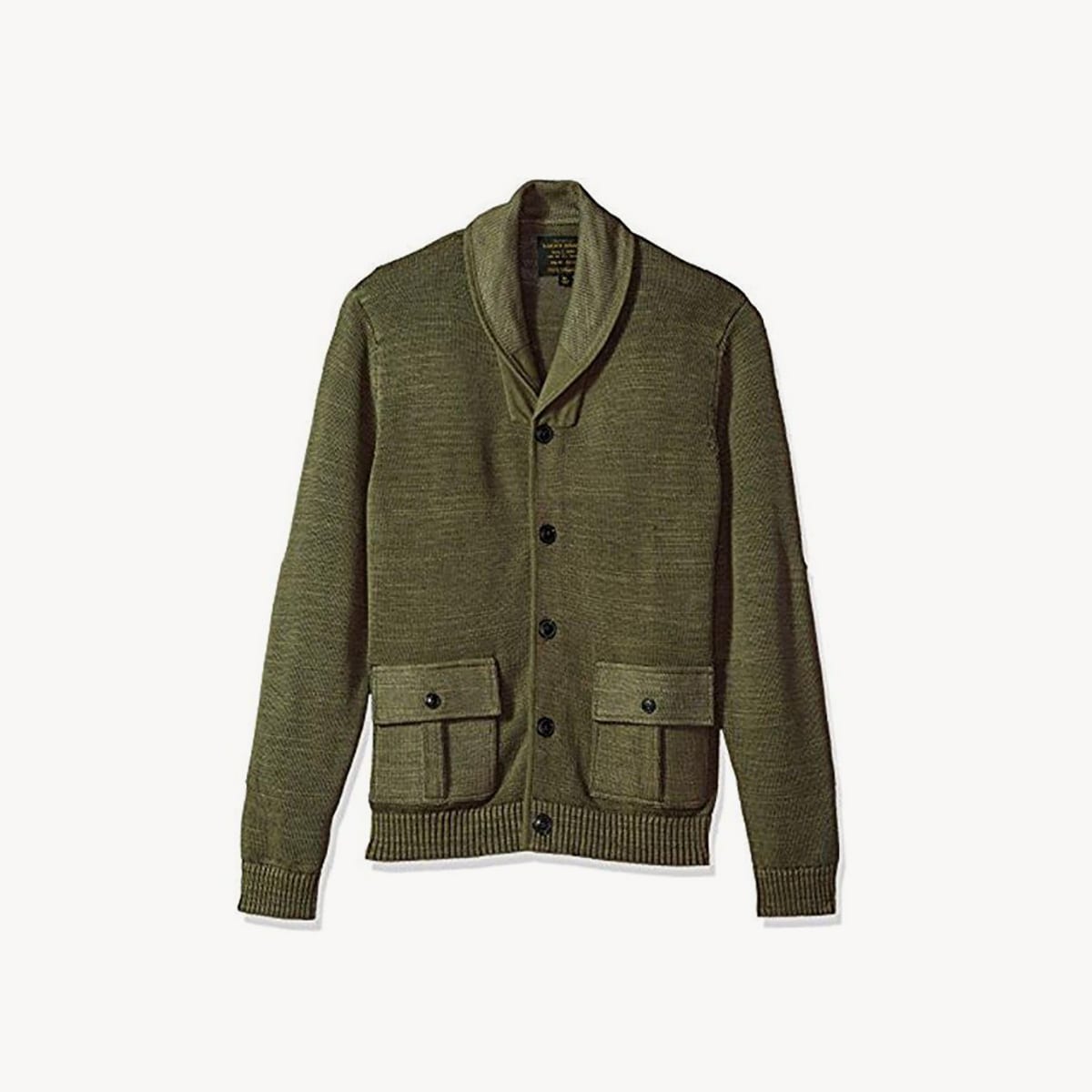 This slim, lightweight cotton travel cardigan is made with soft cotton fibers in a classic shawl collar silhouette that says, "I read Thoreau for fun." The two button, closed front pockets are perfect for a moleskine journal or your ear buds, and it buttons high enough to keep you warm. Plus, it's machine washable which is a bigger deal than you think.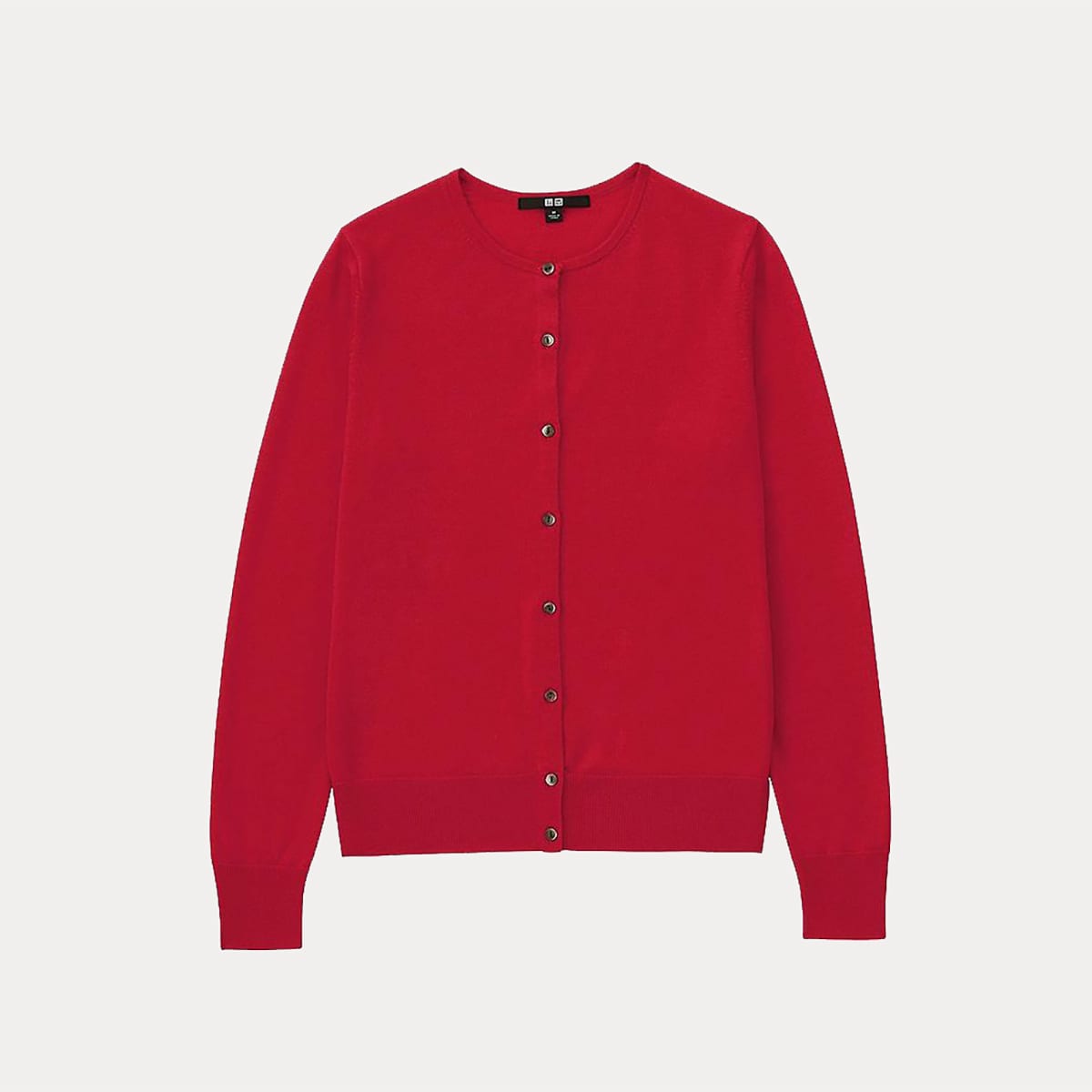 A good piece of travel clothing doesn't necessarily have to come at a high price point—which Uniqlo has proven time and time again with its down jackets, jeggings, and heattech under armor. Their sweaters are no exception.
Specifically, their 100% merino wool sweaters stand out as one of the most affordable merino wool sweaters out there. Plus, they come in a wide variety of colors and styles, including cardigans The only downside is that they're not super warm—which makes them best suited as a lightweight travel sweater or option for layering.
If you're looking for more cardigans for women as travel sweaters, try Travelsmith. They've got a wide selection.
Best Merino Travel Sweaters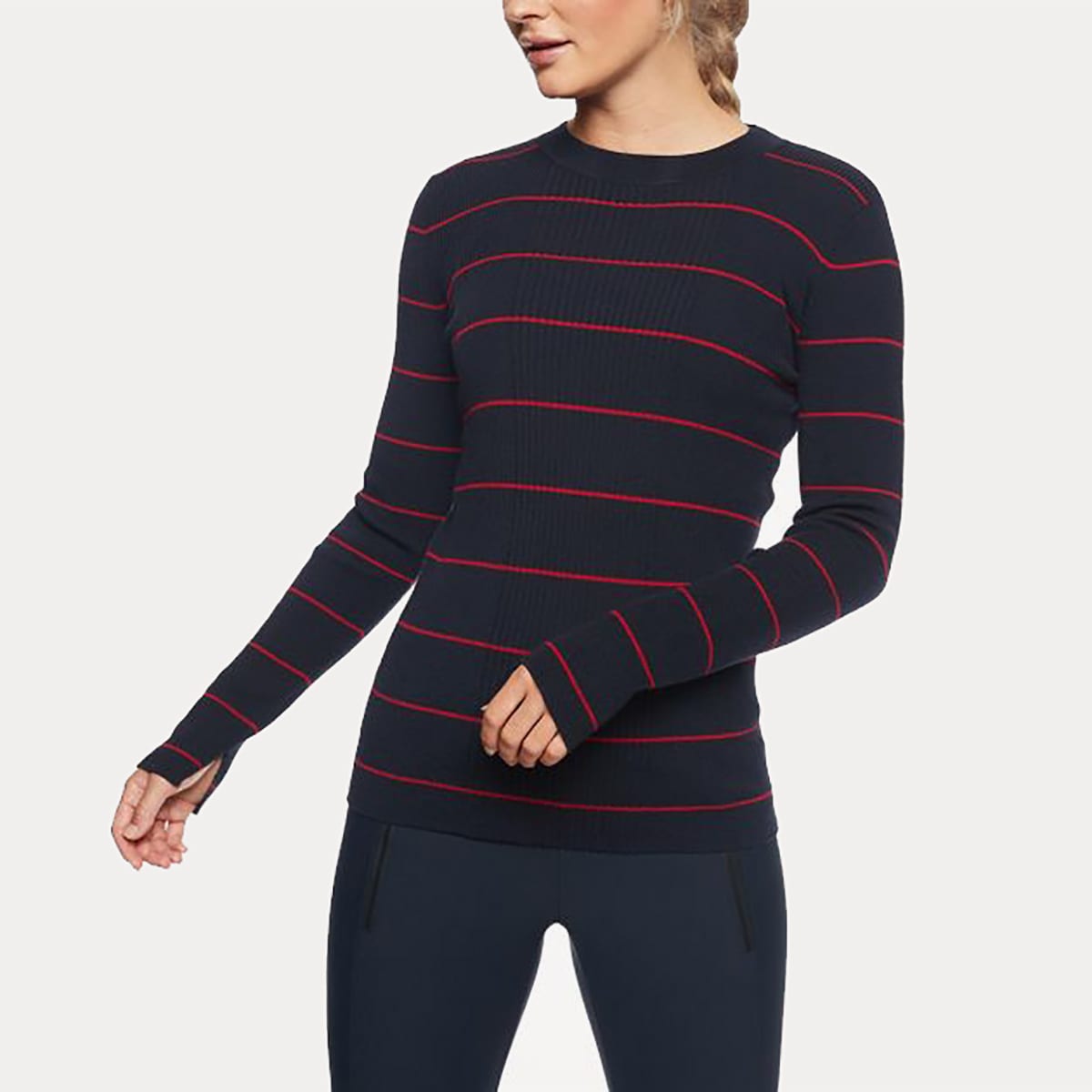 The product line at Athleta is ever-changing, but their sweater line-up always includes a few travel-ready pieces. For example, their Bayside sweater uses a cozy blend of merino wool and THERMOLITE® that gives it a comfortable feel. Plus, it's machine-washable and, since it's a more form-fitting style, packs down lighter than other sweaters. If you're looking for a simple, lightweight travel sweater, this one checks all the boxes.
If the Bayside doesn't fit your style needs, keep an eye out for other Athleta sweaters that use THERMOLITE®, a material designed to make sweaters warm, comfortable, and durable, but without the extra weight and bulk of traditional fibers. It's almost like a shorthand for "great for travel."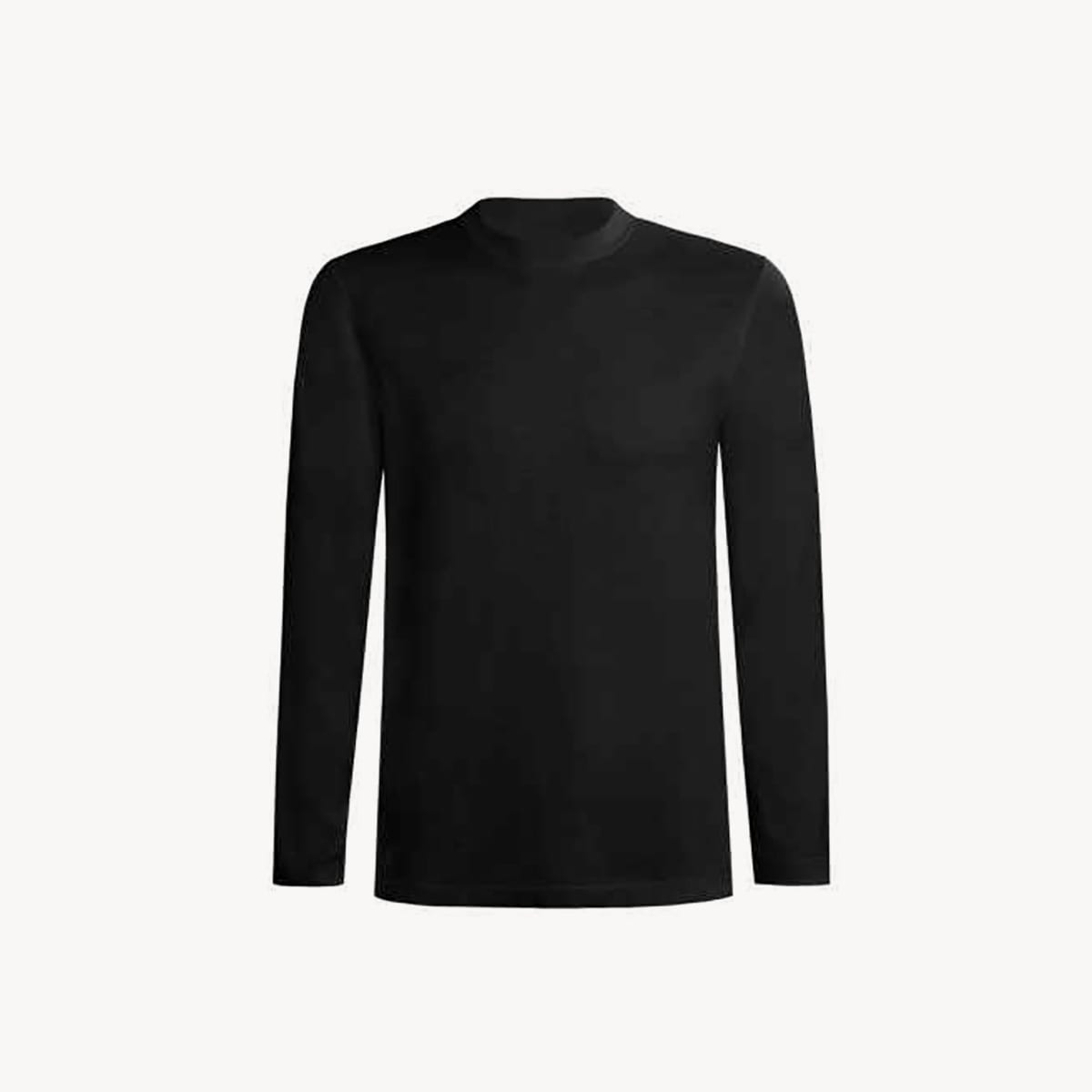 Surprisingly affordable, yet still packed with all the benefits of fine-grade merino, this travel sweater is built for the long haul. Crafted from 100% Australian merino wool (18.5 microns) this sweater is rated as both a great base layer and a mid-layer. So it's good for sunny days (with a bit of chill), or part of your layering for chilly hikes or city exploration.
This sweater is so versatile it's even got a UPF50+ rating (that's for sun protection). I love how light this sweater is (about 10 ounces), and can't get over the versatility. But that's what you get when you invest in quality merino clothing—even sweaters. You get a 3-season layer for just about any kind of weather.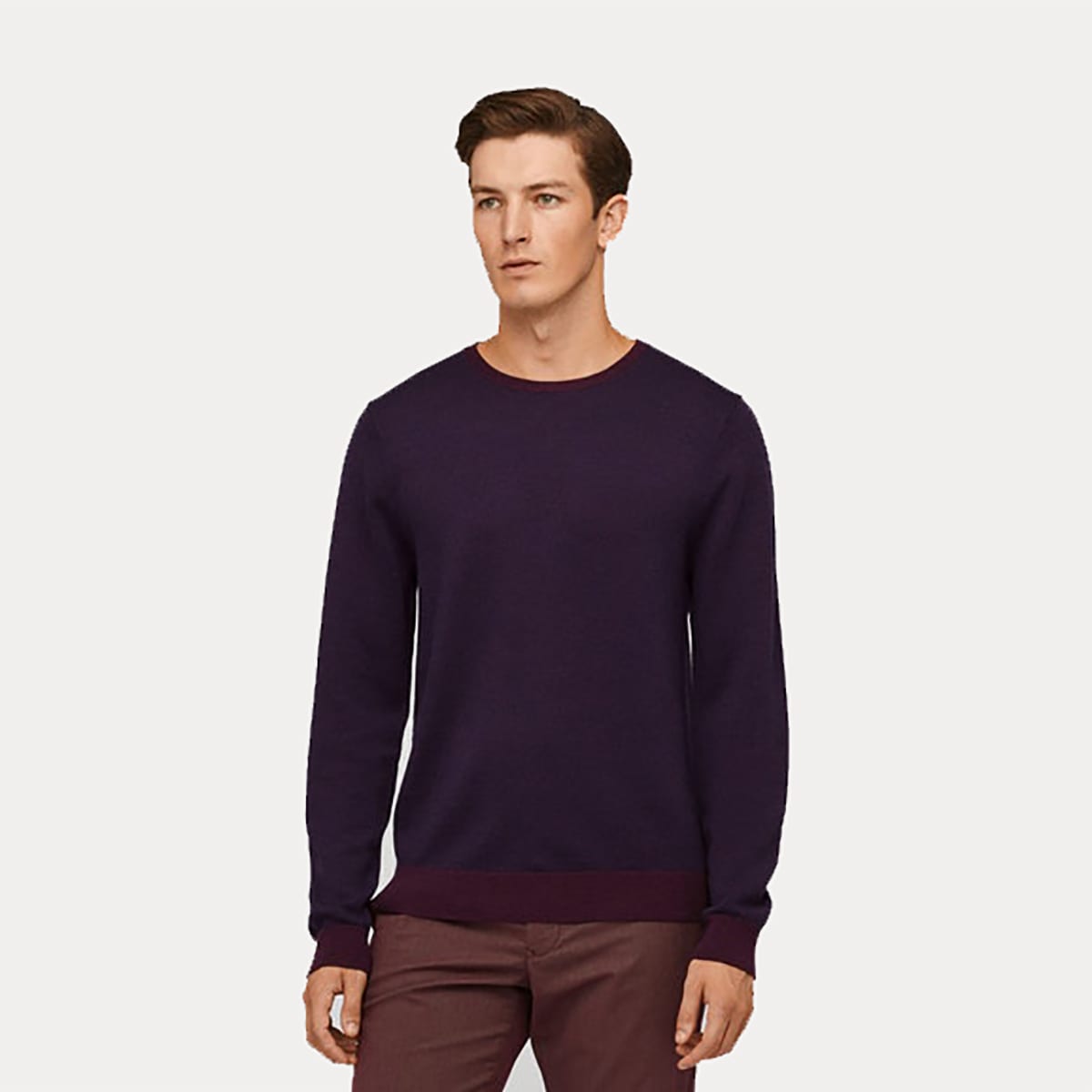 If you like ordering clothing online (like I do), you'll love Bonobos merino travel sweater. If you're unfamiliar, Bonobos is an online-only retailer. That means they have stores in select cities, but you can't take anything home with you. They're just for fit. Once you know you're size, you're good to go. And these sweaters are definitely built to go.
The 100% merino sweaters are sleek, stylish, and full of all the benefits you'd expect from merino wool. Plus, they're machine washable. You can roll (or fold) this sweater up and stash it in your bag for that important skype meeting, then grab an Aperol Spritz for sunset. Classy merino sweaters don't have to break the bank or your backpack.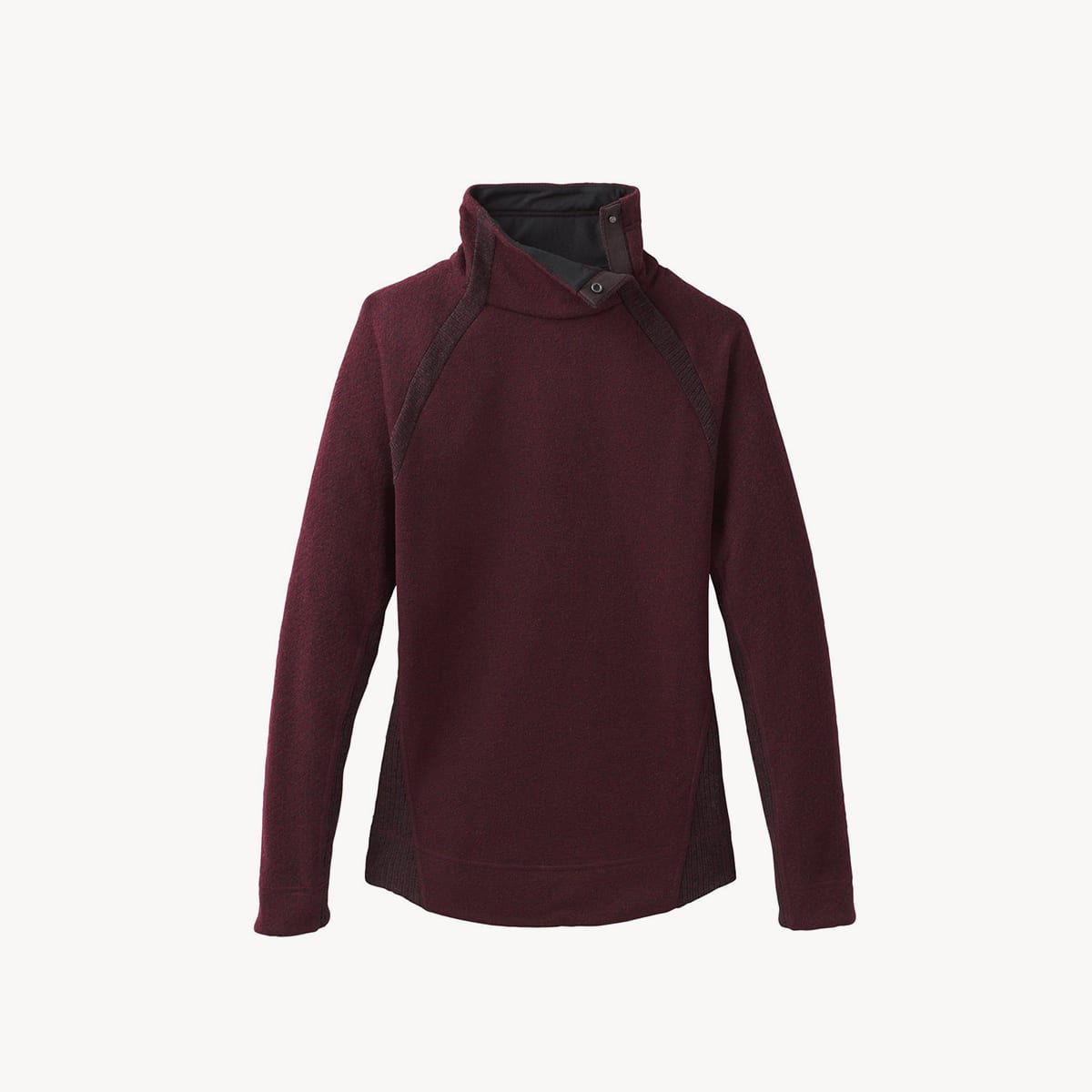 If it's an eco-friendly merino wool sweater you're after, prAna is an excellent brand to look at. While not all of their sweaters are made of wool, those that are—such as their fashion-forward Brandie Sweater—promise to be warm, comfy, and breathable. Plus, they lack the bulk of a chunky knit sweater and pack down well in your pack.
Additionally, prAna's yogi-centric line of sweaters has a few cozy cardigans (with pockets!) that works as a versatile and warm basic you can layer over many outfits.
Tortuga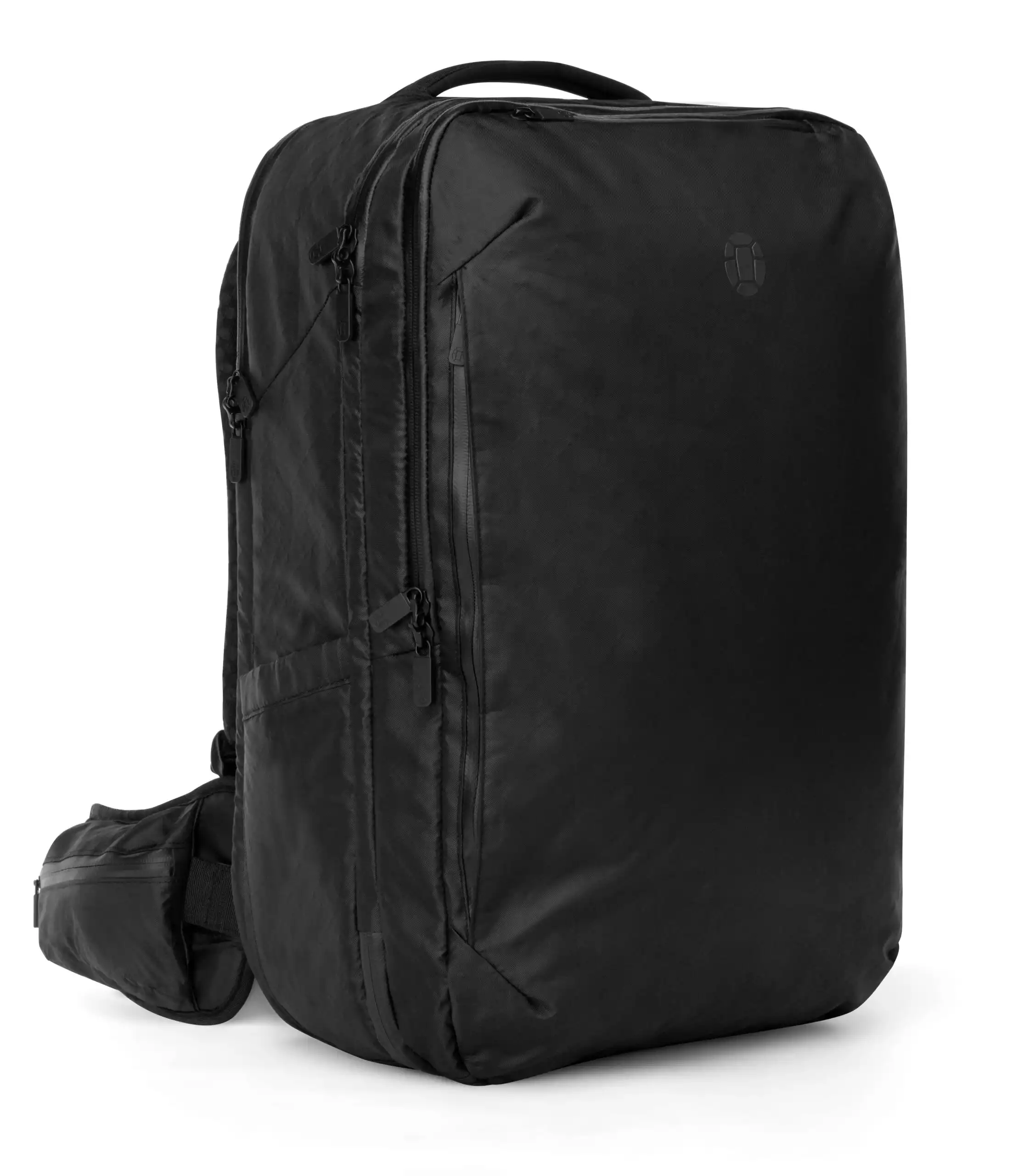 TL;DR
Travel is about more than optimizing every single inch of your packing space. It's about selecting the items of clothing and gear that perform and feel the way you want. That's why I started packing a travel sweater on almost all of my trips, and why you should too.
Today's travel sweaters are thinner, lighter, softer, and warmer than ever. Change the way you think about outer layers and level up your travel wardrobe with a great travel sweater.
Merino wool is still king; it doesn't smell, feels like a cloud, and looks great
Shawl collar sweaters are a great alternative to cardigans
Don't be afraid to ditch the pockets. Let your sweater be a sweater (it's better that way)