The Best T-Shirts for Travel
The right travel t-shirts are worth the investment, and can even upgrade your entire travel outfit from noob backpacker to carry on ninja. Never underestimate the power of a great travel t-shirt.
Confession: I really like travel t-shirts. A lot. Probably too much, honestly. But lucky for you, that obsession has lead me to personally test some of the best travel t-shirts from the best travel clothing makers and brands on the market. Jessie likes travel t-shirts too, so she jumped in to provide her top picks for the ladies.
So without any further ado, here's your complete guide to the best travel t-shirts including what to look for in a travel shirt, the best travel fabrics, and some of our favorite travel t-shirts for men and women in every budget. Get excited, because it's a great time to be a carry on traveler.
What is a "Travel T-Shirt"?
What, exactly, makes something a "travel" t-shirt? At first glance there might not seem like much of a difference between your average everyday cotton t-shirt and a fancy feature-packed travel t-shirt. But while a travel a t-shirt may be packed with a ton of features, its main selling point is that you can wear it multiple times between washes. Anti-odor fabric, hydrophobic design, armpit gussets, sweat wicking technology—all of these are geared toward making the best shirts for travel.
You can wear travel t-shirts longer than other shirts, which means you can pack fewer things. Or as Outlier co-founder and creative director, Abe Burmeister says:
"The most important things for travel clothing are cleanness, durability, and packability. The longer an item stays clean the more useful it is and the less you need to pack. When you trust your clothes can handle getting pushed to the limits you can carry less and the less you carry the further you can go."
Well said, Abe.
If you have a shirt that you can wear multiple times without washing it (and nobody thinks you smell terrible) you have a great travel shirt. But wearability is just the most important feature of a travel t-shirt. Here are the other 6 things I look for in every single travel t-shirt I own (and you should too).
What To Look for in a Travel T-Shirt
Quality material (aka merino wool)
My list of favorite fabrics starts and ends with merino wool. It just does. Merino wool t-shirts are soft, comfortable, durable, insulating yet breathable, stylish, and just plain fit. They are the best.
However, if you're not into merino wool or don't love how much it can cost (merino can be pricey), polyester blends, like 80/20 poly-tencel, are a great quick dry, comfy, stylish option that hold their shape after multiple washes while still offering a lot of stretch. Nylon blends are also pretty great, but don't typically hold up as well over the long run.
Quick dry fabric
Everybody wants a travel t-shirt that can dry in minutes after a wash—and you should. The ability to wash and hang-dry your clothing is a sweet travel luxury that you don't really appreciate until it becomes part of your routine.
My personal measuring stick for quick dry t-shirt is one that goes from wet to damp in 30 minutes, and hand dry in a few hours. Barring that, quick dry t-shirts should always dry completely when hung out overnight. You should be able to wash it and wear it the next day, no matter what.
The reason quick dry fabrics are such a big deal for travel shirts is that you (typically) do lots of stuff in a travel t-shirt. Hiking, running, even sitting on that long-ass bus ride causes you to sweat, and stewing in sweat is a bad thing for your skin.
We lose a lot more body heat through damp clothing than through the chilly air (about 20x more heat actually), so a sweaty shirt on a morning hike can cause you to get cold much more quickly than a dry shirt. Also, sweat and moisture increase friction against your skin—so you're gonna chafe if you're wearing a sweaty t-shirt .
Stop discomfort before it starts with a travel t-shirt that keeps you dry with moisture wicking and quick dry fabric.
Best quick dry travel t-shirt fabrics: Merino wool (my fav) and polyester blends (although polyester isn't awesome for hiking).
All-day comfort
This isn't just a buzzy sounding marketing slogan. You actually need a shirt that feels awesome all the dang time because you're going to wear this travel t-shirt a lot—especially if you're traveling in a carry on backpack.
A travel shirt should feel great when you try it on, not just "ok." This is an investment. Take your time and pick out one travel t-shirt that you really love and build from there. It's ok to start slow and build your capsule wardrobe, in fact, that's how I did it.
A great, good-looking fit
Just like all-day comfort, finding the right size shirt can be a challenge, but you really have to stick with your guns on what you like to wear when it comes to travel clothing. You could have the most expensive, highest quality shirt in the world, but if it doesn't fit well—or more importantly, you don't like how the fit looks or feels on you—you're never going to wear the thing.
Don't fall for trends. Find a style and fit that works for you and rock the heck out of it. Slim fit crew neck shirts are my favorite since they pack up a little smaller and layer without looking bulky, but do you. V-neck travel t-shirts are also great for layering since you can't see the collar.
Odor control
The stink factor is real, and can make or break my decision to wear a travel t-shirt. I need shirts that last for days with minimal washing or maintenance. In fact, I took one black Cottonweight Merino Outlier t-shirt, a tank top, and a long sleeve shirt on my six-week hike across Spain. And I only wore the long sleeve shirt when the merino t-shirt was drying on the clothesline. And that only happened once or twice a week.
I've picked up cheaper "budget" travel t-shirts in the past that look like they have all the bells and whistles to keep me fresh and dry, but at the end of the day I smelled like a yeti. There's a reason I'm such a stickler for high quality fabrics like merino—you can't compromise when it comes to smell. If you smell, no one will want to be your friend. I'm serious. Don't be that guy or gal. You're better than that. Quality fabrics are the most important factor for choosing a travel t-shirt—not the cool colors or features.
Merino wool is my hands down favorite for travel t-shirts for this very reason, and while I enjoy tencel and other poly blends, I always pack at least two (if not more) merino wool t-shirts when I travel, and guess what? They're the shirts I wear 90% of the time.
Not so fun fact: The aluminum in deodorant and antiperspirants can stain your travel t-shirts pretty quickly. The metals react with something in your sweat and ta-da—pit stains. By all means, please wear deodorant, but check the ingredients and use deodorant without aluminum so you don't ruin your expensive shirt. The more you know. *steps off soapbox*
Sweat wicking
Funnily enough, "sweat wicking" isn't one of my top priorities when it comes to travel t-shirts (that's why it's way down here on my list). I'm just not that sweaty. However, I know that sweat wicking and ventilation is a big deal to a lot of people. So, here's what I suggest.
Invest in one great "workout" style techie travel t-shirt and treat it like your gym shirt, even if you're not going for runs or working out. This one shirt can be your hiking/biking/trekking shirt when you know things are going to get caliente.
If you're really a sweaty person, don't try to fight it. Dedicate a section of your wardrobe to fighting sweat and make sure you don't wear that t-shirt on any long flights or busses. People will thank you and packing will get a heck of a lot easier.
You can then supplement this sweaty shirt with a few merino t-shirts for more social activities and rest assured that they'll keep you warm and dry for anything short of a handstand contest. And maybe even one of those.
The Best Travel T-Shirts for Men
Ok, here we go. These are our picks for the best travel t-shirts for men and women. We've broken them down by use, budget, and even fabric in some cases, so you'll have plenty of t-shirts to choose from for your next big adventure. Guys, you're up first. Ladies, skip ahead to Jessie's picks for women's travel t-shirts.
I love this shirt so much. It feels almost too soft to be a travel shirt, but then you realize that you've worn it for three straight days and it still looks brand new. This shirt travels like a boss.
The high quality merino wool is so good you'll almost forget this is a "travel" t-shirt. It fights odors and wrinkles and is (again), so soft to the touch, lightweight, and comfy that you can wear this shirt for days (even weeks if you push it) without having to be washed. At least that's what Dan over at Unbound Merino says:
"Stylish, simple merino wool apparel can be worn for weeks or even months without ever needing to be washed. That means you can ditch the big suitcase, because all you'll need is your carry-on."
If you really want to streamline your packing list while still looking (and feeling) great, Unbound Merino is a great travel t-shirt to build around. I have two of the crew neck merino t-shirts (black and blue). They're that good. And at $65, they're smack more affordable than a lot of other travel shirts, especially merino t-shirts.
I know this isn't technically a "t-shirt" but if you're looking for a comfy jersey knit feel in a shirt with some extra sleeves, this might be your go-to travel shirt for long flights and even longer trips.
This shirt really is "Super soft. Super stretchy. And designed to work with the rest of your wardrobe." It's nice to pack a long sleeve utility hitter for 3-season travel. I've had this shirt for a few weeks and it's already a staple layer in winter. I'm probably gonna be in this thing everyday come this spring. Made from pima cotton, tencel, and spandex for stretch this comfy, stylish henley is nice enough to wear to a dinner or happy hour at the co-working space.

Outlier makes great travel clothing and the ultrafine merino t-shirt might be my favorite. This t-shirt is always my go-to know I'm hiking, biking, climbing, or just plain on the move—which means this t-shirt is always in my bag.
The superfine merino wool fibers are just 17.5 micron thick (that's super small FYI), soft to the touch, and great at both insulating you when it's cold and cooling you down in the heat. No, really. I wore this shirt while hiking through the blazing sun at noon and cruising through town for tapas on chilly evenings. It's surprisingly versatile.
This t-shirt is an all-star for active travel, but also looks fantastic just walking around the city. If you have the means to upgrade your travel wardrobe, pick up an Outlier merino t-shirt and enjoy top of the line comfort and performance.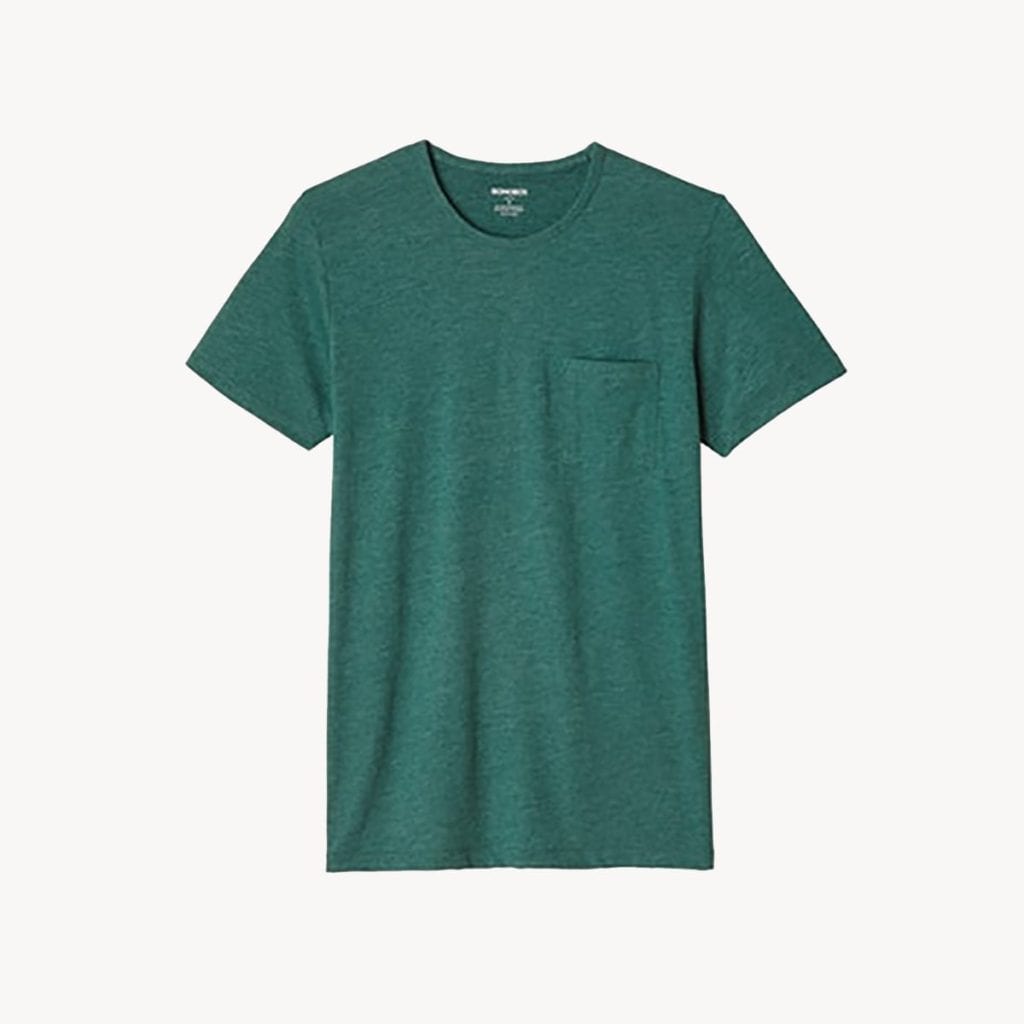 Honestly, Outlier and Unbound both qualify as quick dry t-shirts, but if you're looking for something for truly wet and wild environments and you only have a few bucks to spend you've still got a lot of options.
My favorite quick dry t-shirt is the Bonobos Softest Performance Tee for sheer wearability (with bonus style points). It's a slim fit cut so it's great for hiking and sports (no extra material), and the unique blend of Drytex (50%), Cotton (38%), and Modal (12%) means this jersey knit shirt will feel like your favorite t-shirt, but dry like a polyester performance champ.
If you're going for that Crossfit look, the Bonobos Core Short Sleeve T-Shirt ($28) is 100% polyester so you can do kettlebell pushups 'til you drop and still look great.

I had to know if this shirt is all it's cracked up to be or if it's just fast fashion garbage. And, it's kind of surprising. It really is pretty great at wicking away sweat when you're working out, and it dries quickly. The only issues I had were cosmetic.
This shirt looks like a workout shirt. There's just no way around that. Again, if you're heading out on the trail or love to look ready for jumping jacks at a moment's notice—do you. But when I travel I try to pack a few pieces of gear that work for every situation. That way I can bring fewer things and travel a lot lighter. I don't see myself wearing this t-shirt outside of a super physical situation, but hey that's just me.
It performs like a champ when you're on the move, which for many of you is exactly what you're looking for. And at less than $20, in a number of colors and sizes, you can do a heck of a lot worse than Dry-ex material for your packing list.
Most of the t-shirts on this list are wrinkle-resistant and travel friendly. Obviously. But there's one travel t-shirt that was actually designed to be wadded up into a ball and chucked into your bag.
The insanely packable BUMI t-shirt actually has a stuff pouch built into the seam of the t-shirt itself, meaning that you'll never have to fold this shirt ever again.
Aside from the internal stuff pocket, this shirt is actually pretty great. I wore it on my rickshaw race across India, and it stood up to the heat, dust, and sweat like a champ. The fabric is odor-resistant, hydrophobic, and it even features underarm gussets so you'll stay dry. It looks great, fits well, and the ability to wad your shirt into itself is nothing short of fantastic. Plus, this shirt is one of the most affordable performance t-shirts on the list.
And now for the ultra ultra budget travel tee. I looked long and hard for this one, and yes—this travel shirt is $4. It costs less than a happy meal (please don't eat one), but will actually keep you dry and comfy while you travel.
Is this a great shirt? Of course not. It's $4. But that's not the worst thing. Sometimes you want a shirt you can kick the crap out of. This is that shirt. Test out the "Dry Technology" for yourself, but hey, if it doesn't perform as well as merino for you, you're only out a few bucks.
I don't hate packing one of these as a use and abuse kind of shirt, and the Snarky Nomad agrees.
The Best Travel T-Shirts for Women
Finding a great travel t-shirt is like winning the packing lottery. It should be comfortable, quick drying, wrinkle-resistant, and ready to travel as far as you are. Below are our top picks for women's travel t-shirts.
Most Affordable T-Shirt: For Days Heritage 70's Slim V ($38 + $8 refresh)
While cotton is not the most ideal fabric for travel — especially in warm areas where you'll want something with more sweat-wicking abilities — cotton t-shirts tend to be more affordable than hyper-technical fabrics, and (at the very least) are comfortable, breathable, and come in a wide variety of styles, which is also true of the tees at eco-friendly t-shirt company, For Days.
All of their t-shirts are made from a soft, sturdy, and oh-so comfortable organic cotton fabric. Best yet, none of the 10 tops I've tried on from them were see-through — a problem every woman has surely faced in their pursuit of the perfect basic tee.
For Days is not your typical t-shirt company, though. First, they sell t-shirts as a subscription model. You purchase a subscription for 1, 3, 5 or 10 t-shirts (base price is $38 or less). If you need a refresh, send back your old t-shirt to get recycled, and get a new one of any style for $8. Second, they're committed to reducing waste through this closed-loop production process. You get the t-shirt, send it back when it's looking ratty, and they recycle your old shirts to turn them into new ones.
As a brand, ADAY embodies what we wish more clothing brands would for travel: their sustainable, eco-friendly t-shirts combine the best of fashion and function. On the function side, their shirts are pill and odor-resistant, quick dry, and breathable. In terms of fashion, they come in fashion forward cuts and colors (travel-ready turtleneck, anyone?). Pack one for your next trip and prepare for the compliments to roll in.
Best Ultra Budget T-shirt: Uniqlo AIRism T-shirt ($10)
All of the shirts in Uniqlo's AIRism collection pass our test for travel-ready t-shirts. Made from a quick-drying, odor-resistant and anti-microbial fabric, these tees can stand up to the rigor of a full day (or three) out and about. They're also very lightweight and "feel like air" — which is ideal in hot-weather climates, or as a barely-there base layer in colder weather.
At $10 each, they also come at a hard-to-beat price point for budget-conscious travelers. Really, the only downsides of these shirts are that they don't tend to last as long as some of the other t-shirts on this list, and the scoop neck style isn't the most favorable for more well-endowed ladies.
Best All-Around Travel T-Shirt: Everlane GoWeave V-Neck ($68)
I love Everlane's line of GoWeave clothing because they sit somewhere between great travel clothes and everyday fashion. They're basic yet fashionable, wrinkle-resistant and quick dry but not overly technical in appearance or feel. This, of course, applies to their GoWeave V-neck as much as it does any other item in their line.
It's not your everyday tee that you could throw on for a hike or yoga class, but it's versatile enough that you could easily wear it for a casual day out, or layer it under a blazer for a business trip. And, did I mention how great the fabric feels?

Best Packable T-Shirt: prAna Epley Top ($59)
Sometimes, you want more than a basic t-shirt when you travel: you want something you can have fun with — something with patterns, or style. At the same time, you don't want to feel guilty for sweating through it on a hike or hot day at the beach.
For that, prAna's line of eco-conscious, yoga-ready tops comes to the rescue. For example, their Epley Top comes in a loose-fitting drapey style made of a cotton-polyester blend that gives it the comfort of cotton, but with extra breathability.

Merino wool is one of the best fabrics for travel. Lightweight, quick-dry, breathable, and easily adaptable to any climate, it's easy to see why so many travelers gravitate to this fabric. While there are many brands with excellent quality merino t-shirts, Seattle-based Woolly is one of my favorites for a well-made, yet still affordable, basic merino t-shirt for women.
If you're looking for a t-shirt that can bounce between outdoors adventures and everyday streetwear, opt for their V-neck t-shirt. Otherwise,they also have the same shirt in a standard crew.
Best Long-Sleeve T-Shirt: ExOfficio Wanderlux 3/4 Tee ($36-60)
ExOfficio may not have the most stylish women's t-shirts (if I'm being totally frank), but they're always on my radar for good travel clothing. They have strong commitment to creating clothing with travel-specific features and — this is rarer than I'd like — just as many options for women as men.
For long-sleeve shirts, their Wanderlux 3/4 tee stands out as one of the best options on the market. This t-shirt has UV protection built in and is lightweight and breathable, which makes it a versatile piece for both warm and cold-weather adventures. And, lastly, its quick-drying abilities, odor-resistance, and soft-yet-stretchy fabric rounds it out for a full suite of travel-friendly features.