The Best Travel T-Shirts: Pack These Tees for Your Next Trip
The Tortuga Promise
At Tortuga, our mission is to make travel easier. Our advice and recommendations are based on years of travel experience. We only recommend products that we use on our own travels.
A great t-shirt is at the core of every traveler's wardrobe. They work well on their own or as a base layer. Tees are small, light, and can be rolled up and stuffed into your backpack. The right travel t-shirt can be hand washed and hang dried or worn multiple times.
In this article, you'll learn what makes a great travel shirt and find a range of men's and women's tees based on your needs and budget.
Why You Should Trust Us
Our team at Tortuga works remotely and travels frequently. You'll find us in t-shirts way more often than in business casual clothes.
Here on the Tortuga blog, we write gear guides about what to bring for your trip. When you're traveling, your clothes count as gear too. Sure, you want to look good. But you also need clothes that perform. That's why we test everything and share our favorites with you.
This post includes contributions from Tortuga's founders (and professional gear nerds), Fred Perrotta and Jeremy Cohen, as well as travel writers Nick Hilden and Jessie Beck.
Tortuga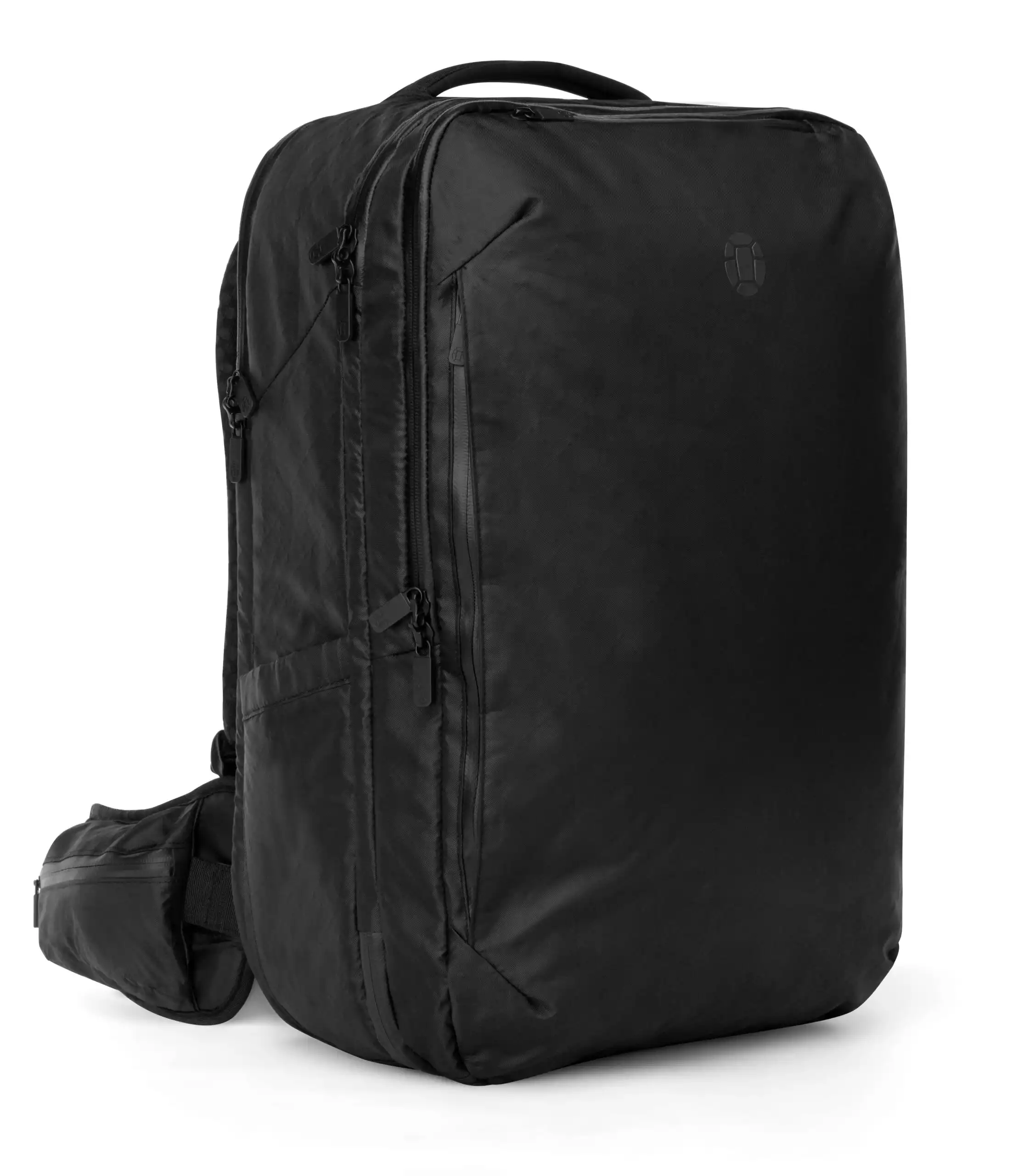 What is a "Travel" T-Shirt?
What makes a t-shirt a travel t-shirt? At first glance, you might not see any difference between a basic cotton shirt that costs $10, a fancier brand that costs $30, and a merino wool tee that costs $100.
The main selling point of a travel tee is that you can wear it multiple times between washes. Anti-odor fabric, hydrophobic design, armpit gussets, sweat-wicking technology, and other smart features can all contribute to a great travel t-shirt.
As Outlier co-founder and creative director Abe Burmeister says:
The most important things for travel clothing are cleanness, durability, and packability. The longer an item stays clean the more useful it is and the less you need to pack. When you trust your clothes can handle getting pushed to the limits you can carry less and the less you carry the further you can go."
You can wear travel t-shirts longer than other shirts, meaning you can pack fewer total shirts. The less you pack, the easier it is to travel in just a carry on.
If you have a shirt that you can wear multiple times without washing (and without smelling terrible), you have a great travel shirt. But re-wearability is just the most important feature of a travel t-shirt. There are a few other considerations that go into choosing the best shirt for your travels.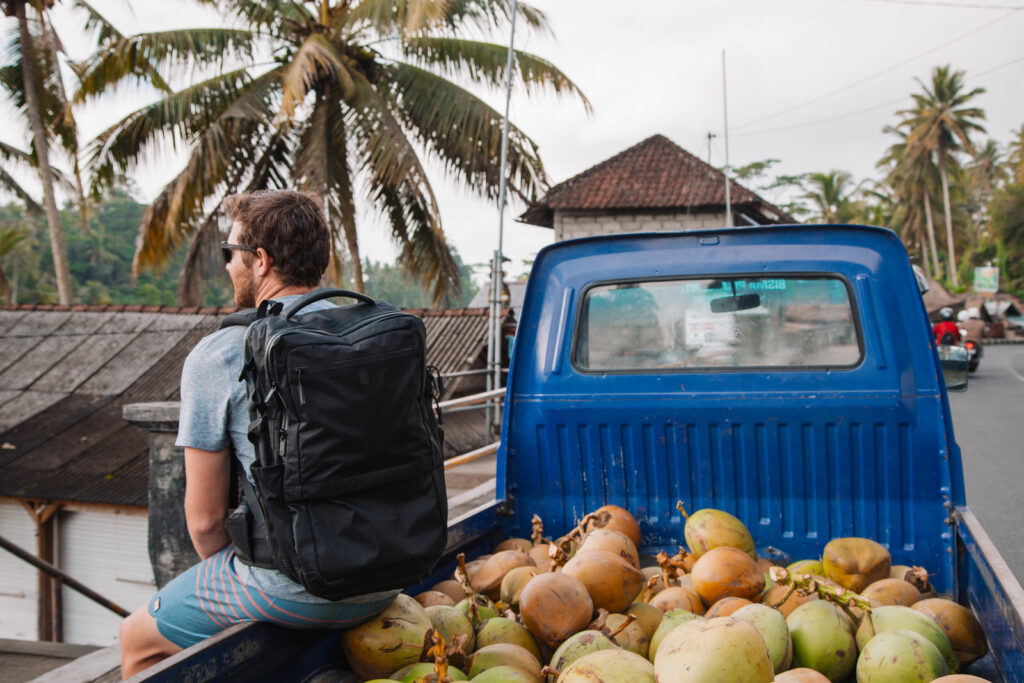 What To Look for in a Travel T-Shirt
Cutting and sewing a t-shirt is pretty simple. The magic is in the material and the fit. When you're shopping for a travel tee, focus on the fabric.
Quick-Drying
Odor Controlling
Sweat-Wicking
Comfortable All Day
Stylish
Merino wool is an outstanding material for travel as it's comfortable, warm (yet breathable), and looks great. We like to call it "nature's performance fabric." Merino t-shirts offer the best overall performance on the market. However, they are also the most expensive and can have durability issues. So they aren't the only option.
Cotton shirts feel pleasant on your skin but don't travel well. Cotton wrinkles easily, absorbs sweat, and dries slowly. We like cotton at home but don't recommend taking it on the road.
A blended fabric can offer high performance at a competitive price. Merino/nylon, cotton/polyester, or tri-blends can offer the positives of each material without all of the negatives.
For example, a strong fiber like nylon can offset the durability concerns of a more delicate fiber like merino wool.
Polyester dries fast and doesn't wrinkle, which offsets some of the drawbacks of cotton. Cotton feels nicer than polyester, so the blend feels softer and more natural on your skin than 100% polyester.
Quick-Drying
When you're traveling, you don't want to spend your time at a laundromat. Instead, you can hand wash your clothes and hang them to dry in your hotel room or Airbnb. In this situation, you need a t-shirt that doesn't take forever to dry.
My personal measuring stick for a quick-dry t-shirt is going from wet to damp in 30 minutes and hang drying in a few hours. At the minimum, your t-shirts should always dry completely when hung out overnight. You should be able to wash it and wear it the next day, no matter what.
Quick-dry shirts are also important if you'll be sweating a lot, whether from hiking, exploring a city, or hauling your bag on and off airplanes and buses. Drying quickly will leave you feeling comfortable, not clammy.
Synthetic fabrics and blends are the fastest drying materials. However, smells can linger on polyester and nylon if you've been sweating in your shirt.
Odor Controlling
Keep yourself smelling fresh, or at least not noticeably stinky, for yourself and for your fellow travelers. There's nothing worse than being stuck on a flight next to the stinkiest passenger.
Odor-controlling fabrics are increasingly common, particularly in shirts designed for travel. Don't be surprised that we're again suggesting merino wool, which is naturally stink-resistant.
Blended fabrics aren't as inherently good at odor management. But some have anti-odor treatments, like anti-bacterial coatings or silver threads. For example, Western Rise uses Polygiene on their cotton/polyester blended X Cotton Tee. However, we haven't found those odor-controlling treatments as effective at staying stink-free as merino.
Sweat-Wicking
I've already mentioned the importance of shirts that dry fast and tamp down odors. A shirt that wicks sweat will help with both of those issues.
Shirts achieve wicking with fabrics that lift sweat off your body to the exterior of the shirt, where it evaporates more quickly.
While helpful for any traveler, sweat-wicking t-shirts are essential if you plan on being active during your trip. Whether hiking, cycling, hitting the gym, or simply walking around a hot city, you want to wear fabrics up to the job.
Synthetics are the best at wicking sweat but tend to hold on to smells and need to be washed more frequently. A blend provides a better mix of wicking and odor control.
Merino wool offers the best wicking in a natural fiber. Cotton is notoriously absorbent, making it a poor choice for wicking away sweat.
Alternatively, you can pack a separate gym shirt and accept that you'll probably have to wash it after each workout.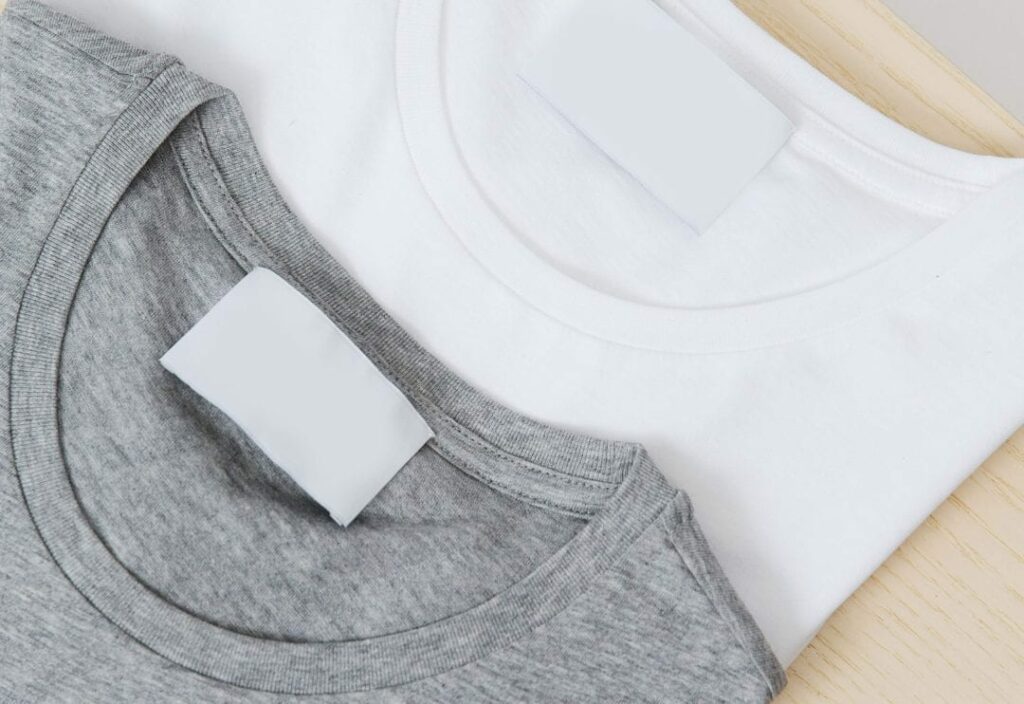 Comfortable All Day
Because a t-shirt is a core building block of your travel wardrobe, you should feel great whenever you wear it.
You're going to wear your travel t-shirt a lot. You might even buy a drawer full of the same shirt. You should love wearing it.
Whether you're buying an expensive merino t-shirt or a dozen of your favorite cheap shirts, you're making an investment. Buy the one travel t-shirt that you really love and build from there. If you've never tried merino before, start with one shirt. Wear it on the plane. Wear it again. And again. Notice that it's not smelly yet. Then decide how to build out the rest of your wardrobe. Don't go "all in" with an expensive fabric you've never worn before.
If you go for merino wool, buy a shirt of high-quality, fine gauge merino that's soft, not scratchy.
Blends often have a softer, more natural hand feel than 100% polyester or nylon. You'll get the upside of a synthetic fabric without feeling like you're wearing plastic.
Stylish
If your shirt feels great, you'll wear it with confidence.
When ordering online, check the shirt's size chart and compare it to the measurements of your current favorite tee. Every body is unique, and you probably have your own preferences for how long or short or how slim or loose you like your tees to fit. Check the size chart, read reviews, and size up or down to get a fit you're comfortable with.
The Best Travel T-Shirts for Men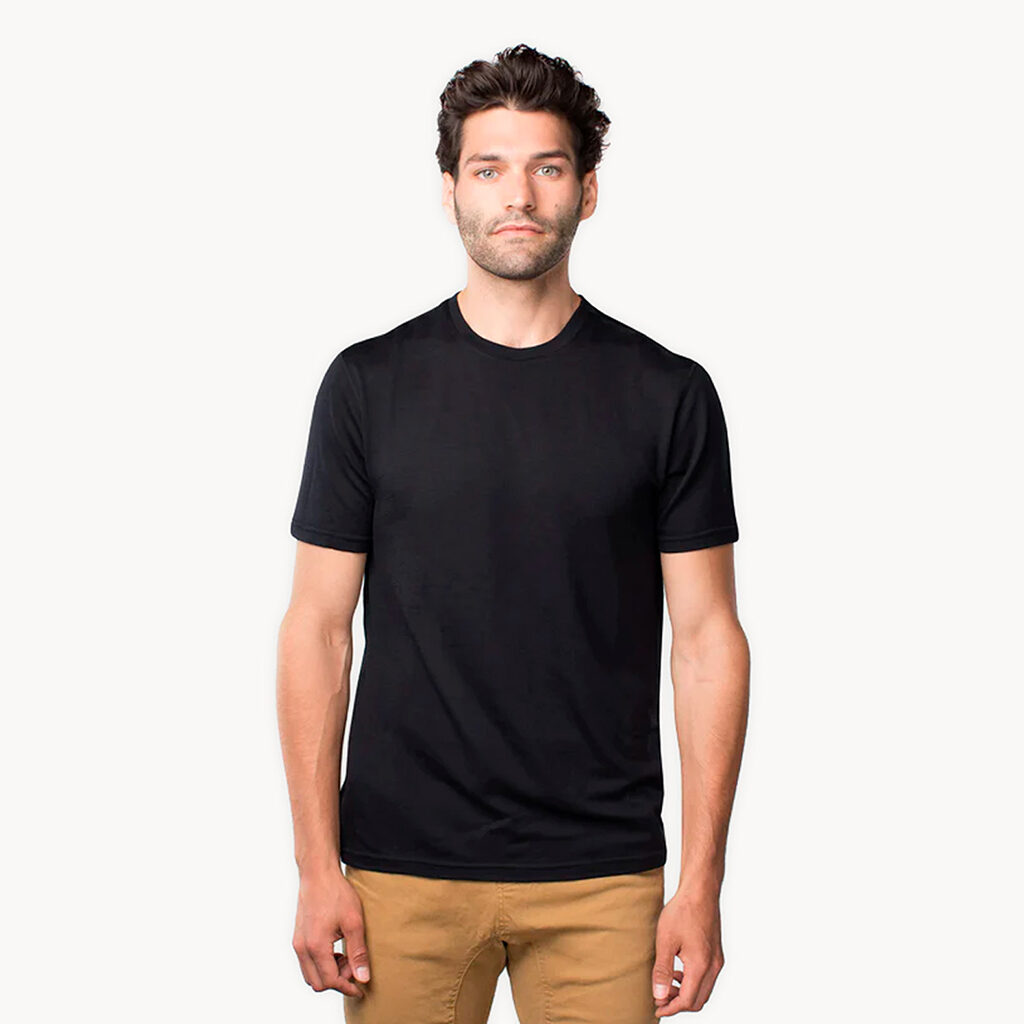 Best Merino Wool Men's Travel T-Shirt
Unbound Merino Wool Crew Neck T-Shirt ($85)
Unbound Merino's wool is so good you'll almost forget this is a "travel" t-shirt. Wool is naturally temperature regulating and odor repellant. This tee from Unbound Merino is soft, lightweight, and so comfortable that you can wear it for days (or weeks) without washing it.
Streamline your packing list with a merino wool t-shirt, the perfect foundational piece to build your travel wardrobe around.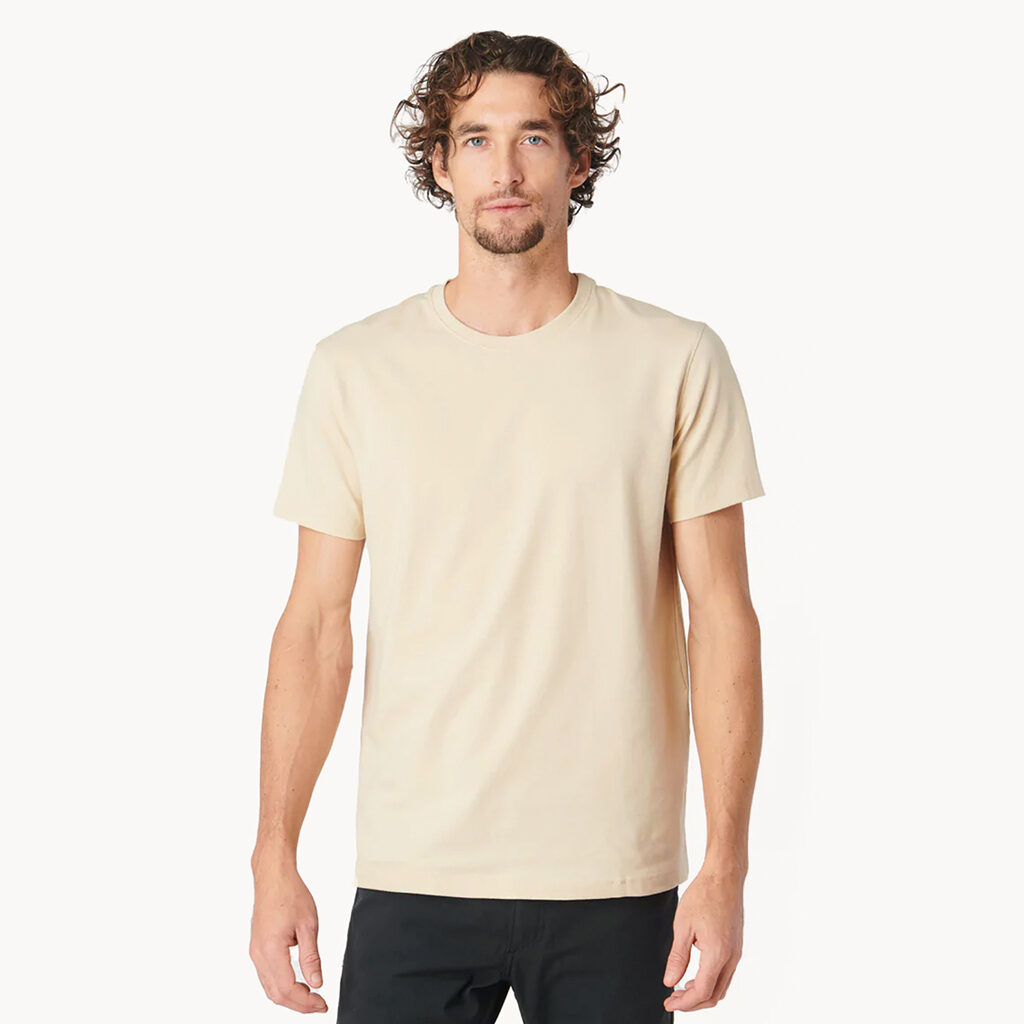 Best Blended Men's Travel T-Shirt
Western Rise X Cotton Tee ($48)
A great cotton/polyester blend offers most of the same performance as merino wool at a fraction of the price. And many people prefer the feel of a smooth cotton blend over rougher wool.
Western Rise's X Cotton T-Shirt is a medium-weight tee with great stretch. The shirt feels like cotton, but thanks to its polyester, dries faster and doesn't wrinkle as much as you'd expect. The odor-repellant Polygiene coating even means that you can re-wear it between washes.
Best Quick-Dry Men's Travel T-Shirt
Lululemon Drysense Training Short Sleeve Shirt ($78)
This is our go-to shirt for hitting the gym while traveling. Lululemon's Drysense tech fabric is quick-drying and sweat-wicking. It also has a little loop on the back of the collar for hanging it from a hook, which helps with drying and ensures that the collar won't stretch out of shape.
This training tee is also eco-friendly. All of the polyester in the Drysense series is recycled.
Best Budget Men's Travel T-Shirt
Next Level Apparel Men's N6210 T-Shirt ($8+)
This basic t-shirt from Amazon is an "excellent for the price" workhorse. The 60% cotton and 40% polyester blend feels good and never needs to be ironed. You can buy a trip's worth of shirts for the price of one of our other picks. Despite the price, these shirts can last for years without any issues aside from pilling. We recommended the Next Level if you liked the old American Apparel t-shirts from before they sold to Gildan.
The Best Travel T-Shirts for Women
Best Merino Wool Women's Travel T-Shirt
Woolly V Neck Tee ($65)
Woolly's V Neck Tee is made of merino wool, so it's sweat-wicking, odor-resistant, and ultralight. A bit of elastane gives it some extra stretch.
Seattle-based Woolly is one of our favorites for a well-made, affordable, merino t-shirt for women.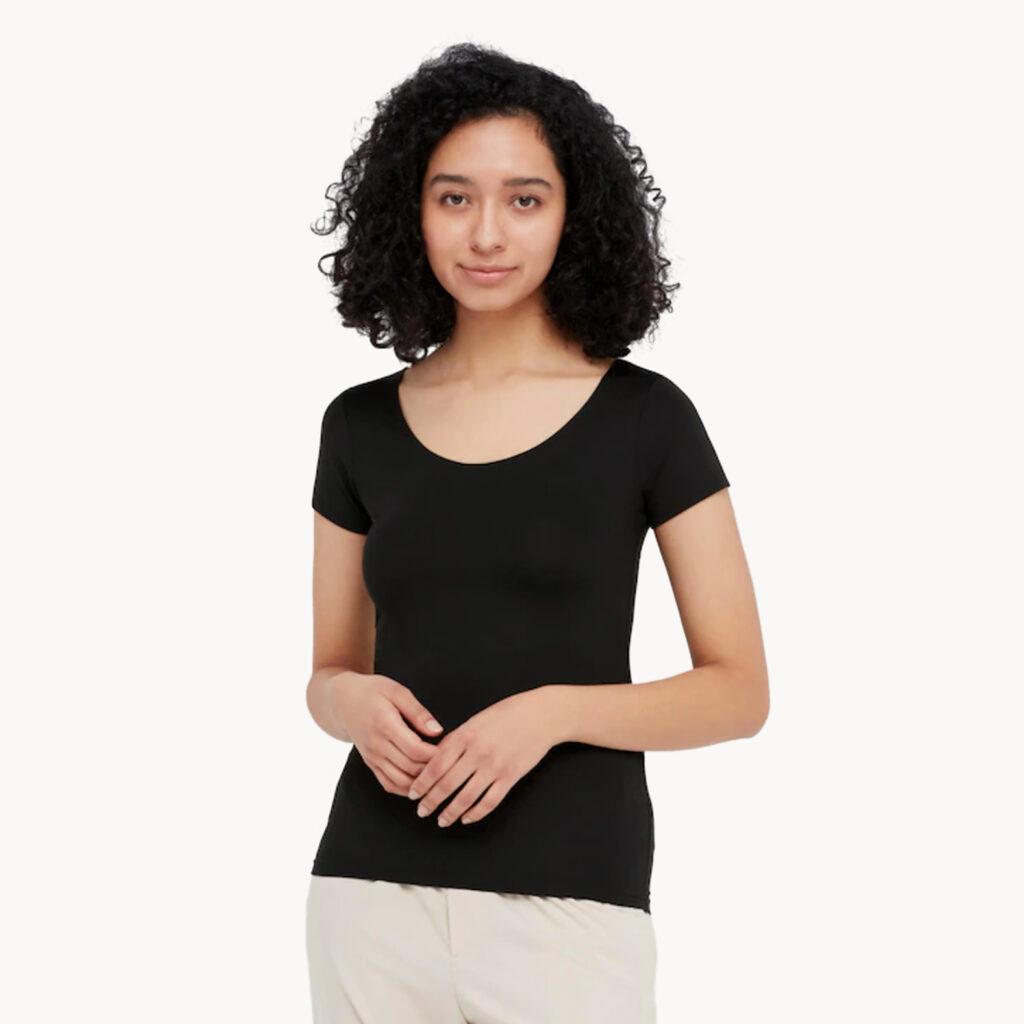 Best Budget Women's Travel T-Shirt
Uniqlo AIRism Scoop Neck Short-Sleeve T-Shirt ($15)
All the shirts in Uniqlo's AIRism collection pass our test for travel-ready t-shirts. Made from a quick-drying, odor-resistant, and anti-microbial fabric, these tees can withstand the rigor of a full day (or three) out and about. They're also lightweight and "feel like air," which is ideal in hot-weather climates or as a barely-there base layer in colder weather.
At $15 each, they also come at a hard-to-beat price point for budget-conscious travelers. Really, the only downsides of these shirts are that they don't tend to last as long as some of the other t-shirts on this list.
Tortuga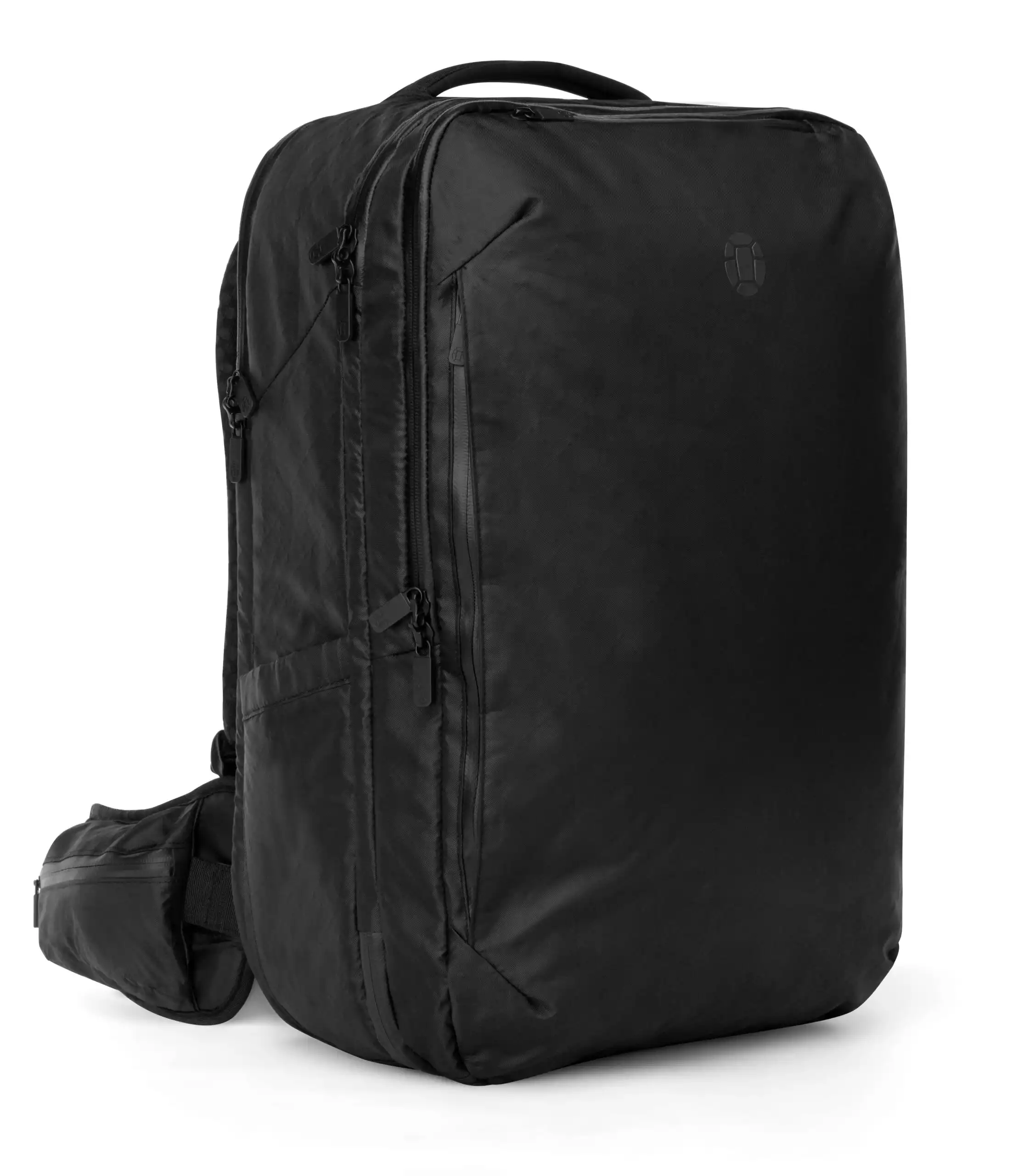 Conclusion
A high-quality travel t-shirt that you love should form the basis of your capsule wardrobe and go a long way in helping you look, feel, and smell your best on the road. Tees are light and easy to pack so you can fit a week's worth in your travel backpack. Just make sure to pick a tee in the right material with measurements similar to your current favorite shirt. Then enjoy your trip and forget about doing laundry.