Best Travel Water Bottle: A Comparison Guide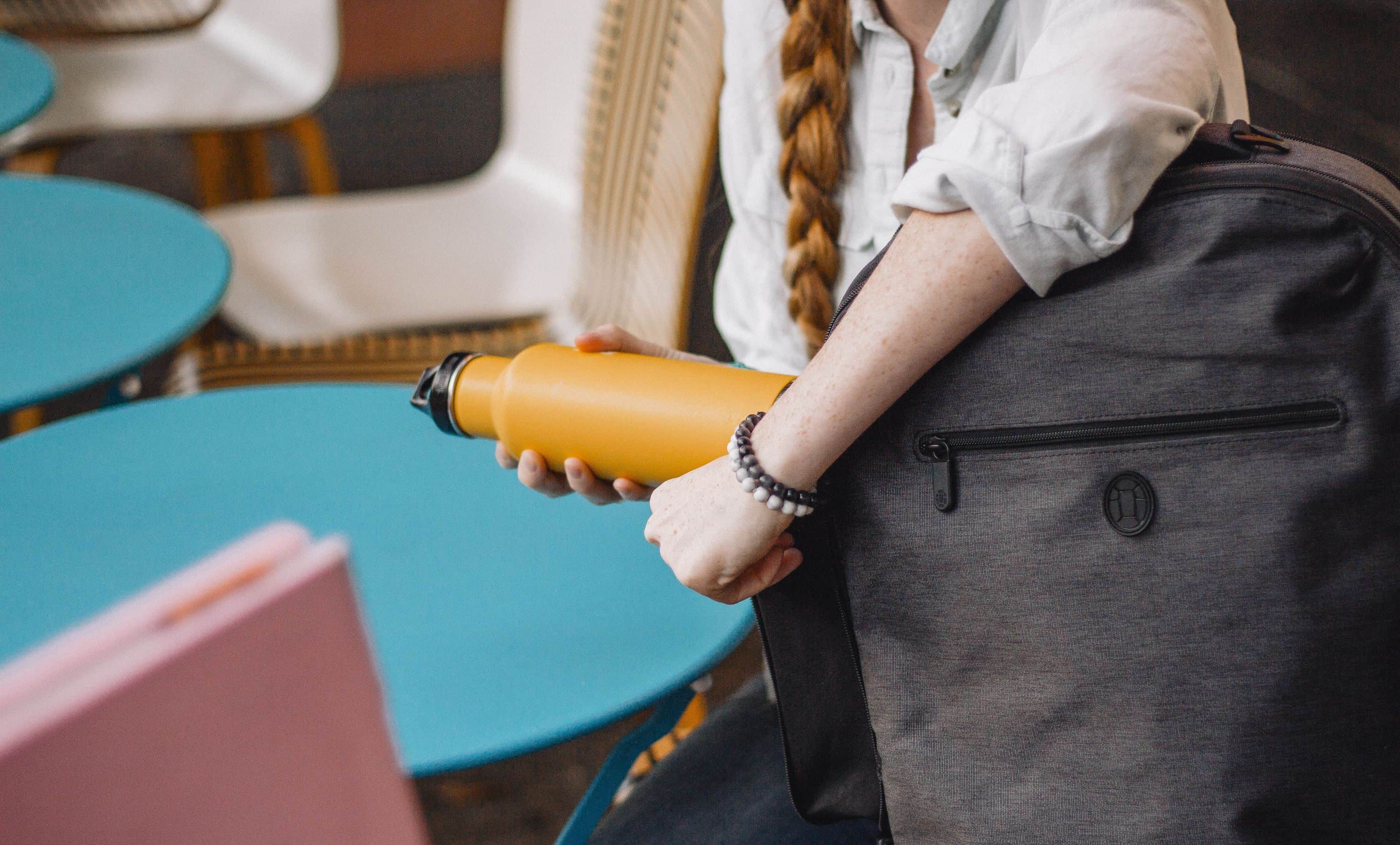 Vapur Element .7L
This featherweight, portable, collapsible, leakproof water bottle skips all the bells and whistles for a super handy travel water bottle with unbeatable versatility and portability
Why We're Water Bottle Experts
Between Shawn and Angela, they've tested dozens of water bottles while traveling. This includes more than a decade of hardcore travel, everywhere from the cities of Europe to way off the beaten path in Asia and South America.
We've checked out water bottles that do the basics: holding water, and bottles that make muddy stream water safe to drink. Here are 5 of the best travel water bottles you can get for every kind of trip.
Vapur Element .7L
This featherweight, portable, collapsible, leakproof water bottle skips all the bells and whistles for a super handy travel water bottle with unbeatable versatility and portability
Who this water bottle is for: Ultralight backpackers and one bag minimalists who hate big heavy water bottles
What We Like: Ideal for Travel
Ultralight: It weighs 2 ounces. That's nothing.
Collapsible: Folds up and hides it away when it's empty for effortless packing and portability.
Carabiner: The built-in carabiner clip is fantastic for securing to a fanny pack or backpack strap for extra versatility on the go
Easy to fill: The leakproof cap screws off for a nice wide mouth that's easy to fill from any tap thanks to the flexible material
Price: Vapur is the cheapest water bottle on this list
See-through: I like that I can see how much water I have at a glance
Freezer safe: Yeah, you can pop this in the freezer. Or the dishwasher
What We Don't Like: Lacks Some Durability
Durability: After over a year of hard daily use (think: folding, filling, rolling, and stowing) the Vapur is showing signs of wear and tear. Some creases have appeared, and while they're not actually leaking, this water bottle probably won't make it through another year of heavy use.
No filter: I'd love to have a filter for refilling on the trail or from places where you can't trust the tap, but you can't have everything especially not in this size (at this price).
Designed for Travel
Initially, when I started testing it, I was impressed with the Vapur Element .7L, but I never expected this little collapsible water bottle to become my go-to travel water bottle. Yet here we are. After nine months of daily use, the Vapur Element .7L is my main travel water bottle for one simple reason—it's the most portable water bottle that I actually like to use.
Vapur nailed it with the design of this bottle. It simply folds (or kind of rolls up) and you hold it closed with the carabiner around the nozzle for an easy to pack water bottle that's ready to go when you are. And that carabiner has come in handy dozens of times, especially when I'm exploring or hiking with just my fanny pack.
The .7L bottle is the perfect size for travel (there's a larger 1L option, but I don't think it's necessary). Everyone is different, but I found that .7L was the sweet spot for me. Twenty four ounces (two soda cans), is usually more than enough water for a long travel day, but it's not so much that you'll overfill the bottle and add a ton of weight to your bag.
When it comes to a good travel water bottle, you can look for all the features you want—uber insulation, a built-in filter, wide mouth fill, or a straw—but for me, I just want a lightweight, reliable water bottle that I'll actually use every day. And this is it.
The snap open flip cap is (surprisingly) leakproof and screws off to give me a nice wide mouth that's easy to fill, I like that I can see how much water I have left, it's easy to use one-handed, and I love being able to fold this bottle away when it's not full. Plus, the collapsible shape conforms to your bag—not the other way around—even when it's full, which is a bigger deal than you think.
I will say that after a year of heavy use the plastic is showing some creases (mainly from tons of folding) that will probably break someday. So take that into consideration. However, I've yet to have a leak or spill, and I've put this thing through the wringer on my latest 9-month around the world trip (including time in Europe, SE Asia, Sri Lanka, and Australia/NZ).
The Vapur is a supremely functional water bottle that won't take up space in your bag. For me, that's a no-brainer that makes this the best water bottle for just about any traveler, especially if you're on a budget.
Katadyn: A Collapsable Option With a Filter
If you really need a filter but don't want the bulk of a "fixed" water bottle, the Katadyn BeFree ($) collapsible water bottle is a great alternative to the Vapur. It's around the same size (.6L) and the material feels more durable and resistant to creases from folding. The filter is pretty easy to use—just fill with water and shake then drink through the filtered spout like normal—and it's rated for 1000L and claims to remove bacteria, cysts, and sediment down to .1 microns (that's teeny).
I used the Katadyn for a few weeks backpacking around SE Asia, and while I enjoyed the peace of mind that comes with a filter, I didn't love the taste and honestly didn't find myself needing it all that often as safe, free water sources were plentiful.
But it's still a good collapsible filtered water bottle, and I recommend it if you want to stay hydrated without having to think about the quality of the water you drink.
GRAYL Ultralight Compact Purifier
Reliable and easy to use filtration in a sleek, portable package that's perfect for off-grid travel (or just really clean water from the tap)
Who this water bottle is for: Backpackers, one bag minimalists, and off-grid travelers that need to refill on the go
What We Like: Reliable In-Bottle Filtration
That filter system: Simply the best water filter bottle we've used in a portable size. The filter claims "global protection from waterborne pathogens (VIRUS, bacteria, protozoan cysts), pesticides, chemicals, heavy metals, and microplastics"
Easy to use: Just fill with water, press the filter down like you're making french press coffee, and voila—within 15 seconds you have clean, drinkable water
What We Don't Like: Heavier Than I Like
Weight: At 16 ounces the GRAYL water filter bottle isn't the heaviest water bottle out there, but it still weighs a pound—without any water—which is heavier than I like
Price: $70 puts this on the higher end for water bottles, but you also have to add in the cost of filters (replace every "300 presses"). At $25 a cartridge, that adds up
Pure Drinking Water Just About Anywhere
The GRAYL ultralight compact water bottle is the filter de jour for the Tortuga team because it just plain works.
Several of our writers swear by it, claiming that they love the clean taste (it doesn't have that weird "filtered" taste you get from some water bottles) and they use it both while traveling the world and in their everyday lives in the real world to filter municipal tap water. Like most quality "travel" gear, the real test is whether you'd use it in your daily life.
The GRAYL water bottle passes that test with flying colors.
If you're looking for an easy to use, reliable water filter in a rugged, travel-friendly size, the 16 oz GRAYL filter is a great choice, especially if you plan to filter water from less than trustworthy sources.
To Filter or Not to Filter?
I don't recommend this water bottle for casual travelers, as it's a bit bigger and heavier than I typically like to travel with. However, the peace of mind you get from this filter is perfect for road warriors in faraway places, avid hikers, and anyone who wants to save money (and the environment) by avoiding single-use plastic on their next trip.
Hydroflask 21oz
Professional-grade stainless steel insulation for long-lasting temperature retention in a slim, chic, travel-friendly profile
Who this water bottle is for: Backpackers, one bag travelers, and people who really want their water to stay cold all day (or hot for a few hours)
What We Like: All Day Insulation
Double-wall insulation: I love that this water bottle doesn't get all drippy with condensation
Good for hot, great for cold: Not the best insulation for all-day cocoa parties, but it's perfect for adding a few ice cubes to your water before you hit the trail
No weird taste: The 18/8 stainless steel insulation means your water will taste like water, and nothing else
Leak proof: Signed, sealed, delivered—no leaks
Customizable lids: Choose from the standard flex cap (screw top) or a sports top for easier on the go sips
What We Don't Like: Bulky Size
Size: The 3" diameter can max out some less flexible water pouches and pockets
All Day Insulation
There's a reason you've probably seen a Hydroflask bottle recently, and it's not just the cool colors and edgy "powder coat" grip. Hydroflasks are popular because they're really well designed.
The lids on these water bottles seal perfectly so they won't leak (seriously, ever). I also enjoy the hand feel of these bottles. That slip-proof powder coat gives it a nice texture, but the double-wall insulation stops condensation build-up which is the real feature. Bottom line: this bottle feels oddly nice in your hand, and the flex strap is great for swinging it around on the go.
I like the Hydroflask because it delivers what it promises—long-lasting temperature control. It claims to keep hot beverages hot for up to 12 hours and cold drinks cold for a full 24. And while I didn't bust out the stopwatch, I was never disappointed with the temperature. In fact, I actually had to leave the lid off to cool down my coffee after a few hours (I don't like it piping hot).
If you're the kind of person that needs to keep your water cold or your tea hot for hours, this is a great travel water bottle.
Standard or Wide Mouth?
Some people swear by the 20oz wide-mouth Hydroflask, but I prefer the slightly slimmer (slightly taller) standard mouth bottle because it's just easier to drink from. But maybe that's just me.
I've never been a fan of wide mouth water bottles (looking at you Nalgene), so take that with a grain of salt. The wide-mouth Hydroflask has more lid options, but either way you go, both the standard and wide-mouth Hydroflask bottles are solid versatile travel water bottles for people that are picky about temperature.
Vapur Element .7L
Simply best lightweight, reusable plastic water bottle for daily use on the go
Who this water bottle is for: Budget backpackers and frequent flyers
Flexible and Lightweight
I've already said that I think Vapur collapsible water bottles are simply the best travel water bottle I've tested. They're incredibly lightweight, ultra-portable (both full and empty), reliable (the cap has never leaked), and simply a great way to stay hydrated on the trail or in the city.
Plastic water bottles aren't as chic as the expensive (and usually heavy) water bottles you've seen advertised on your Instagram feed. But reusable plastic water bottles are still fantastic for travel, especially if you're trying to keep your carry on backpack extra light and mobile.
The three-ply BPA-free plastic construction on the Vapur line of collapsible water bottles means a strong flexible water bottle without any of the chemical smell and taste of other cheaper plastic bottles. I like that these bottles fold flat when empty, but easily stand upright when full, and the clever carabiner design just brings the whole package together.
The Vapur .7L Element is a perfect reusable plastic water bottle, especially if you're traveling on a budget.
Lifestraw Go
Two-stage filtration you can trust in a lightweight BPA-free water bottle with a hassle-free built-in leakproof straw lid
Who this water bottle is for: Hikers, backpackers, and off-grid travelers and anyone who wants to avoid buying single use plastics
What We Like: Not Just a Straw, but a Filter!
Two-stage filtration: The hollow membrane removes the scary stuff (bacteria, parasites, and microplastics) while the activated carbon filters out the chlorine and odor
Lightweight: Triton plastic construction means this bottle weighs just under 8 ounces
What We Don't Like: Filter Replacement Issues
Varying filter shelf lives: The two-stage filter is great, but the hollow filter (the one that traps bacteria, etc) lasts for 4000L (good) while the carbon filter is only rated for 100L, (so-so) meaning you'll have to change the filter sooner (every 3 months) if you want your water to taste good
Price of replacement filters: A new carbon filter costs $10, and the whole two-step filter costs $25 to replace which can add up with heavy usage
The Original Straw
If you're going to get a water bottle with a built-in straw lid, get the one that comes with one of the most reliable water filtration systems on the market. The Lifestraw Go takes the badass water filtering capabilities of their iconic Lifestraw and bottles it—literally, in a lightweight travel-friendly size bottle.
Rated to remove particles down to .2 microns (not quite as small as the GRAYL, but still good) and up to Log 9 of bacteria like E. coli (that's 99.999999% which is really really good) and Log 5 (99.999%) of other parasites like Giardia. Plus, it even filters Log 5 (99.999%) of microplastics from your drinking water, which is becoming "ubiquitous" according to the WHO.
I like the classic "water bottle" feel of Lifestraw Go and the flip cap straw didn't leak, which is all I'm really asking for in a water bottle with a straw. It's great for sipping on the go, especially while hiking, and I found that 22 oz was a decent capacity, especially because I could refill it on the go.
The straw lid is almost an afterthought behind the two-step filter, but if you're someone that loves to sip on the go without spilling all over yourself, the Lifestraw Go is a great action-focused travel water bottle. Sure, you'll have to replace the carbon part of the filter more often than you like, but the microbial filter should last for years. And that's pretty sweet.
Mochic Flat Water Bottle
Not just another sneaky flask, this ultralight, slim "book" style 13 oz flat water bottle is small enough to fit into any bag and leakproof to boot
Who this water bottle is for: Ultralight minimalists, chic carry on travelers, frequent flyers, and anyone with a fanny pack
What We Like: Slim & Trim for Every Day Carry
Slim profile: Easily fits into just about any bag, including fanny packs, daypacks, and small purses or even a clutch (as well as your coat pocket)
Chic as all heck: When you pull this out of your bag, people will ask you where you got your water bottle; it's even in the name
Leak proof design: The wrap around tether provides a nice grip while also keeping the lid secure, which is great for tossing into your bag
Lightweight and BPA free: Made from lightweight, BPA-free Tritan plastic, this bottle even has a soft ring for grip and added protection
Decent size: This bottle holds over 13 ounces (more than a soda can) which is often what I need
What We Don't Like: It's not Massive
13 oz capacity: I actually like the small size of this water bottle since you can easily carry it in any bag, but if you're guzzling down tons of water every day, this might not be for you
It's a flask: Ok, yes, this is a "flask" but that doesn't mean it can't be great for holding water too; I've even used this for tea and juice on the go, and it's been great
More Than a Reusable Flask
You might actually be familiar with MoChic, as their reusable cups (with lids) are fairly common these days. And while the cups and mugs are cute, I'm a bigger fan of their very unique flat water bottle.
The slim form factor and "book" style design are what set this water bottle apart from the rest of the bottles on this list. And thanks to a few small details, like the soft TPU grip (and bumper) case and the leakproof threaded cap, you can actually put this in your purse or bag without worrying about leaks or damage to your phone, wallet, or whatever else you carry every day.
While this might resemble a typical flask, the significant 13 oz size and clever design will immediately set you apart from the tailgating day drinkers. This is a great water bottle, plain and simple, and one that you can easily—and proudly—carry in just about any bag or purse to stay hydrated on the go without a big bulky round water bottle clanging around all day.
Seriously, great design and a good solution for everyday use in a very portable package.
Best Small Insulated Water Bottle: Swell 9 oz
If the flask design just isn't you, you can actually go with a smaller water bottle for your purse or bag. I really enjoyed the 9 oz Swell insulated bottle for a slim lightweight water bottle for the gym or every day carry.
I mainly used it for stretching my morning coffee into my afternoon buzz, as 9 oz is on the small side for water, but it was great for short day trips as well as topping up at water fountains before a flight. And thanks to the double-wall insulation, you won't have to worry about condensation in your bag, which is nice.
LARQ Movement
A self-cleaning water purifier bottle in a sleek, stainless steel package with a silicone protection sleeve
Who this water bottle is for: City travelers who are worried about water quality but don't need to filter out dirt or sediment
What We Like: Easy to use Purification System
Water purification system: It's great not having to worry about water quality. While I don't recommend this for filling up in a stream, if you're a city traveler with clear water and just worried about any bacteria or viruses, this bottle does the trick
Long battery life: The battery lasts up to 1 month and charges via a USB cable for easy travel
Self-cleaning bottle: The UV light doesn't just keep your water clean, it keeps the bottle clean too. Most water bottles you want to wash at least once per week. This one I feel comfortable cleaning just once per month for good measure. The UV light comes on every 2 hours automatically to keep it clean
Easy to use: Just fill, press the button, and in 60 seconds you have purified water
Easy to add to: Unlike the GRAYL, if you like to add things to your water like electrolytes, trace minerals, or just a little lemon, it won't filter those out after the purification process
What We Don't Like: It's Heavy & Expensive
Price: There's no getting around it, this is the most expensive water bottle on this list
Weight: This is lighter than the original LARQ, but the 24 oz bottle still weighs over 10 ounces (empty)
99% clean: The bottle's UV light is built into the cap which extends into the bottle. The downside? It's not capturing the lip of the bottle that you put your mouth on. So if you got water on the lip of your bottle as you filled it, you might want to shake the bottle as the UV light is on to move the water around and make sure the UV light catches everything.
Pure Water On the Go
Staying hydrated while traveling is important, but you can often find yourself in places with questionable tap water. If you don't want to deal with the "french press" process of the GRAYL and are mostly concerned with avoiding bacteria and viruses, the LARQ Movement is a great option.
Cheaper and lighter than the original LARQ, this bottle is more ideal for travelers since it packs the same great UV purifying technology. The 24 oz version weighs just 10.7 oz (38% lighter than the original) and comes with a silicone sleeve on the lower half which offers a bit of extra protection to dings. Plus, it's just nicer to hold.
The main reason it's lighter (and therefore better) than the original is because they've ditched the double-walled insulation—which you just don't need as much when you travel. I like the lighter bottle, but if you're a big hot tea or coffee drinker, you'll want to opt for the heavier original LARQ Bottle.
Finally, I really like the LARQ compared to a traditional filtered water bottle, like the GRAYL, because you can add stuff to your water without messing anything up (which I like to do). Electrolyte packets, trace minerals, or other flavorings won't get filtered out since you can use the UV filter first and add more to your water after. This is perfect for runners or other athletic travelers who like to add a little extra electrolyte oomph to their water, or people that just like a little flavored water while they work at the cafe.
How Were These Water Bottles Tested?
Over the past 8 months Shawn has used more than a dozen different water bottles while traveling around Europe (Spain, Portugal, Ireland) and all over Southeast Asia (Singapore, Vietnam, Thailand, The Philippines, Malaysia, Indonesia, Sri Lanka). Obviously, each country comes
Both authors use a water bottle everyday to stay hydrated, but also tested each of these water bottles in the most common travel situations including:
Day hikes (typically 1-4 hours)
Co-working spaces (both write and work remotely while they travel)
Thru-hikes and overnights (multi-day hiking in remote locations with unreliable water sources)
Long travel days (flights, cars, busses, and more)
Flights (packing and filling after security checks)
Refilling at kitchen sinks, water fountains, and taps of all shapes and sizes all over the world
Shawn naturally gravitates toward smaller, minimalist water bottles since he prefers lightweight water bottles for hiking and slim water bottles for city use (since you can easily fill them as you go). But that's just him. Most of the water bottles on this list come in multiple sizes, so if you can usually size up if you prefer a larger water bottle.
Some of the water bottles are more useful in the city at cafes and co-working spaces, while a few are specifically designed for off-grid use and hiking. Some were great for travel days and flights when you have a full backpack. we've tried to call out each use case in the reviews below. Obviously, the water bottle you travel with should perform in the situations you need it to, so prioritize the features you need (i.e. two-stage filters vs. UV purifiers).
These water bottles were all tested while traveling with the carry-on-sized Tortuga Travel Backpack and the Outbreaker Daypack. They had to fit into the expandable water bottle pockets on both of these bags for them to even be considered for this list.
Tortuga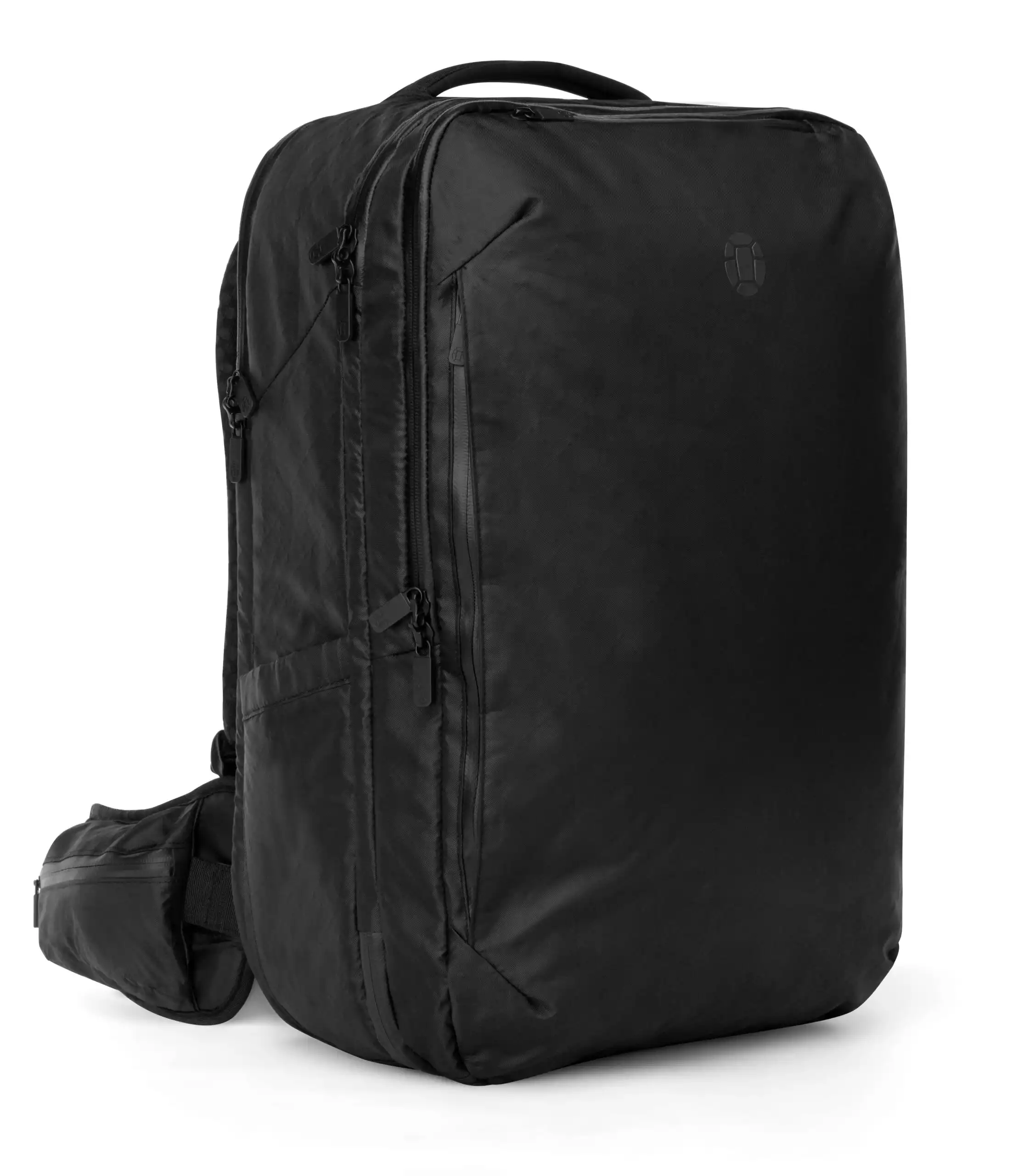 Key Features and Considerations While Testing Water Bottles
A really great travel water bottle needs to be light, strong, slim, and easy to use on the go. Here are the main concerns we focused on while testing each travel water bottle:
Weight: Every ounce counts when it comes to travel water bottles. It matters a lot actually. We left some pretty good water bottles off this list simply because they weigh too much and we couldn't justify the extra bulk even if they pack some great features.
Size & Capacity: Does the bottle easily fit into the side pocket of your backpack or day bag (and I mean easily), and can you pack it in something smaller like a purse or fanny pack? Also, can it hold enough water for an average day of use or will you have to refill multiple times?
Price: Most of the water bottles on this list are less than $40. Shawn's favorite water bottle costs less than $10
Durability: How does each water bottle handle normal wear and tear while traveling? Does it scratch or tear easily, and how does the lid (and seal) handle travel days going in and out of my bag?
Leakproof: We don't use leaky water bottles. Ever. Every water bottle on this list passed our leakproof testing
Cleaning: Does the bottle smell or taste funny and is it easy to clean. Do you need a special tool or can you wash with a normal sponge or brush?
Style & Features: Do you want to carry and use this water bottle every day? Are there any useful features like an easy open lid, wide mouth opening, UV purifier, filter, or carabiner?
Related Articles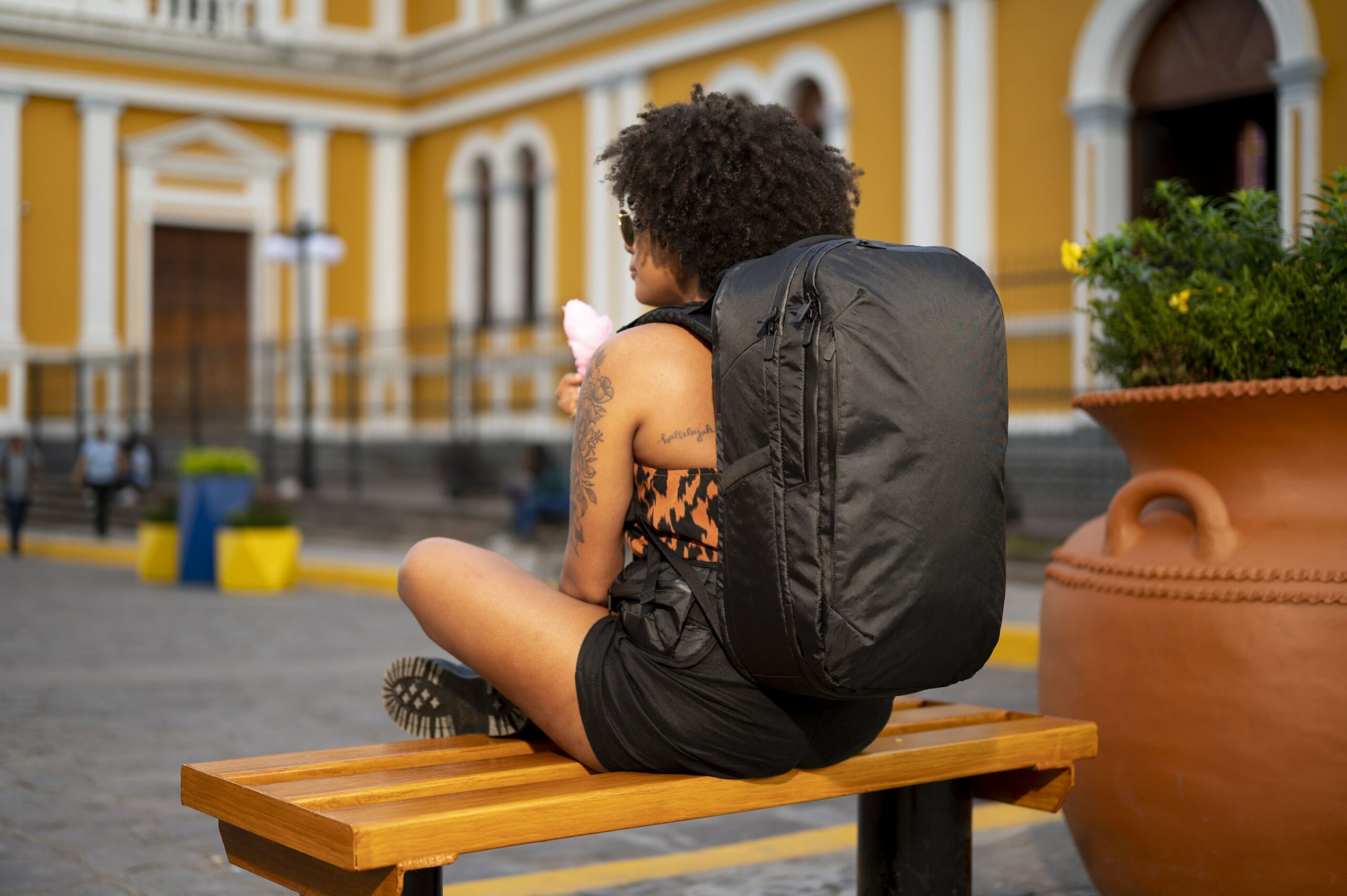 40L: Max International Carry On
Shop Now