Let's play make-believe: Santa is real and he wants to stuff your stocking with the best travel gear available—money's no object.
What travel gear makes your holiday wish list?
It's a daunting question but, to help you out, I plowed through countless product catalogues, read hundreds of expert reviews, and reached out to dozens of companies for firsthand product testing, by yours truly. Below is a complete rundown of the best travel tech, travel clothing, travel gadgets, and gizmos for all your trips in 2016. Enjoy:
Clothing
Unless you're traveling to somewhere tropical, your jacket, fleece, or sweatshirt is the thing you'll wear nearly everyday. A great coat keeps you warm, keeps your stuff secure while conveniently at hand, and looks cool. The
Baubax
line of sweatshirts, windbreakers, and blazers are great coats. The coat features:
An inflatable neck pillow built into the hood
An eye mask that flips down from the hood
Earphone holder (in the hood)
Retractable gloves that fold away up the sleeves
Insulated drink pocket
Passport pocket
10 inch ipad sleeve pocket
Smartphone pocket integrated with headphone storage
Built-in microfiber cloth
Sunglass pocket
Oh, and the
zipper toggle is a 4 inch retractable pen with a stylus tip for your devices
.
CNN dubbed it, "the swiss army knife of travel wear," and Baubax raised over $10M dollars, making it the
most successful crowd funded clothing project of all time
so obviously there's a call for your travel jacket to do more. I'd have bought it for the inflatable neck pillow alone.
Vest: The Wool Vest from Best Made ($162)
There's a reason that some pieces of technology don't change for centuries—they work really well.
The Wool Vest
from Best Made works really well. Warm yet remarkably thin, and light, I was amazed by how toasty I was in the vest. It's stylish, super easy to pack, and honestly made me reconsider why I ever thought I needed sleeves to stay warm.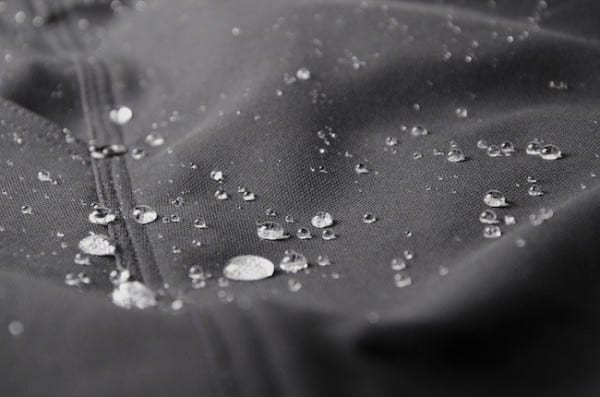 I hate travel pants that look like travel pants. That means, no cargo pockets, no reinforced knee patches, no needless toggles, zippers, flaps, or straps. I just want pants that look normal but can take whatever punishment I routinely dish out. That's why I like the Folsom Pants—because they're made for urban cycling. Like most other "commuter jeans" they're a little stretchy, absorb moisture, and have extra fabric and stitching in the saddle (the crotch) to avoid wearing thin; but the Folsom pants also have a reinforced "u-bolt strap" specifically designed to hold your heavy bike lock while you ride. That means it can hold pretty much anything else I can think of, which basically
turns your pants into a makeshift daybag in a pinch
.
Stylish enough for work, but rain resistant and rugged enough for travel, these pants are a perfect travel pant hybrid.
Shirts:
I'm a "love the shirt you're wearing" kind of guy (see my rant about travel pants above), but I recognize stellar engineering when I see it. The
Apollo dress shirt
is a truly "no-iron" button down shirt designed for travelers. Featuring NASA-engineered "Phase Change" fabric and a stretchy weave, this shirt breathes and conforms to fit you even when you're active, while ensuring you'll look great right out of the suitcase. Leave the iron at home.
Hybrid clothing is an amazing asset in a well-packed carry on bag—but only if it performs the way it should. The North Coast Shirt Jacket does. Sandwiched between the wooly outer layer and the fleece lining is a protective shell that insulates and protects you from the elements without weighing you down or making you look like the Michelin man. It's water-resistant, wind-resistant, has a bit of stretch, and looks freaking fantastic.
As a surfer, I don't like wearing sunglasses (we get used to squinting into the sun while we're in the water), but I'm here for you, dear reader. That's why when I first saw a pair of these folding Ray-Bans, I did a little research. What I found out is that these sunglasses are pretty badass. Pocket-sized, polarized, and ready for travel, these glasses feature
Green Classic G-15 lenses
originally designed for the military. That means they filter out a lot of harmful UV rays, while also making things look kind of fantastic.
Photography Pro Tip: Place your tinted sunglass lenses over your camera lens for cool filter effects on the cheap. Play around with it, you'll like it.
Comfortable as all hell, quick drying, wicking, and stylish. What else can I say about a great pair of travel underwear that hasn't already been said? Get the pair with a map on them so you can ask for directions in the weirdest way possible.
I'm a huge fan of fashionable, functional belts. Heck, I even wrote about how to use a stretchy belt as a makeshift daybag. But
Arcade Belts
takes the idea of a great looking travel belt to a whole new level. Choose between rugged, classy, or somewhere in between with their Adventure, Smartweave, and Crossover lines of expertly made, fashionable as hell belts. I'm a big fan of The Blue Dream model.
Shoes
I love boat shoes.
They are literally the best thing ever invented for career travellers. You never have to pack socks, they can handle the worst weather, they get more comfortable the longer you wear them, and they look fantastic.
The Gold Cup Edition from Sperry
 is all that and more. The eyelets are made from 18k gold. The footbed is memory foam. The supple lining is lambskin. The burnished leather is hand sewn. And they're tough as nails (they're designed for sailing after all). My feet got confused when I tried these on. They were too perfect.
People Footwear's flagship shoe, The Stanley's iconic look and design is fashionable and familiar, but the instant you put them on you realize why these shoes are the future. Made with 3D printed parts, this shoe is insanely light, comfy, and well made. I've been wearing mine for about a month, biking, running, and pounding the pavement of New York City, and unlike other "travel shoes" they hardly show any signs of wear and tear. The only downside is how often you'll take them off for people to marvel at how light these shoes really are. Absolutely perfect as a backup pair of travel shoes in your bag for running, but still slick enough for a night on the town.
I hate hiking boots
, but if you're going to wear a pair, why not wear the best? Moncler has been the luxury hiking boot of choice since 1952. Italian leather, vibram sole, and time-tested quality make this boot something I'd wear anywhere. You just have to find a store that has them in stock first. Good luck.
Gear
I hate how much I like the design of this flask. Cylindrical, wood finish, minimal. Ugh. It's just too damned pretty, and the fact that it's designed for hot or cold beverages means it's coffee in the morning and whiskey at night.
The website for this
awesome travel mug/coffee brewing system
looks like my junior high Geocities page, but ignore that and revel in a truly good travel coffee system. The Impress only has three parts—the filter, the mug, and the lid—and all three do exactly what they advertise. Simply add coffee grounds, hot water, wait, press, and you're good to go. The filter keeps the grounds away from the brewed coffee so it doesn't continue brewing throughout the day, and the mug is insulated to keep the coffee hot for hours. Seriously, be careful. No muss, no fuss, and no proprietary filters or parts to buy.
Here's a full video rundown of how it stacks up against the ubiquitous
Aerobie
.
I am absolutely in love with this sleeping bag. The genius design of zippered sleeves, an integrated hood, and cinch tie bottom make this sleeping bag the best thing to hit the campfires since sliced bread. Literally.
Snuggie meets sleeping bag.
Cameras
16 lenses in your pocket. Seriously. It's the size of a smartphone, but through a combination of 16 individual lenses, and science, it compiles the various focal ranges and exposures into
beautiful DSLR quality photos
. This thing is b-a-n-a-n-a-s. (available Summer 2016).
Pre-order here
.
Video
High quality travel video has become the norm, but you can't always lug around a full studio kit of lenses and 4k caliber rigs while on the road, and GoPros only shoot wide angle footage which doesn't give you a ton of options for more involved production. So, here are my two favorite solutions for fully contained video cameras designed for moving pictures.
The masters of drone photography bring professional quality image stabilization to the palm of your hand with their easy to use 3-axis gimbal mounted camera. 4k video, single-hand use, and a host of shooting options. Also functions as a DSLR camera which makes it great for long exposure photos, and even handheld time lapse. Sync the camera with your smartphone to use it as a monitor and easily share your images and video online, and enjoy the smooth stable video that only gimbals can provide. I'm an inch away from buying this.
Yes, this camera is almost two years old, but it still rules. At only
5 inches long, and weighing less than a pound
, this camera is a travel video beast. Featuring wide dynamic range, Super 16 sensor (fits a lot of
Micro Four-Thirds Lenses
), 1080p resolution, and shockingly open file format, this camera is for serious filmmakers. Open file format might not mean anything to you, but video editors know what a big deal that is. And 4k video sounds awesome, but if your setup can't handle that much raw data, you're gonna have to spend
$2,000 upgrading your existing system just to edit it
. Not cool. Even two years later, this cinematic camera is still one of the best options around.
Try to find it on sale
.
Gizmos
Precision-machined from solid brass, these things are superbly balanced. Custom drivers deliver delicious sound. Seriously, the guys at
Master & Dynamic
know what they're doing.
Bluetooth Speaker: Buckshot from Outdoor Tech ($39)
Surprisingly affordable, this rugged water-resistant party box can take a beating while pumping out the jams. 16 hour play life, this completely wireless system is a great way to keep the party going at the hostel…or in a field. I particularly like how easily it mounts to bicycle handlebars (strap included).
There are a ton of options out there, some that claim to charge your phone up to 10 times, but who needs all that extra weight? At only $9 and roughly the size of a tube of lipstick, this Anker Astro Mini is a piece of battery magic.
3350mAh of charge (enough one full charge on most smartphones)
4-6 hour rapid charging time
Over 17,000 people have given this thing 5-stars.
That's more 5-star reviews than the Bible
.
A few months back I showed you some great sites for backing up your data in the cloud. You should still do that, but adding a lightweight, portable, spacious, cheap, rugged portable hard drive to your rig is a great idea. Transcend features USB 3.0 and 2.0 ports so you can use this drive with older systems while still having the ability to perform massive file dumps quickly on next gen systems. Plus the military drop-tested these things. Nuff said. They also have
2TB options ($90)
if you're a maniac.
If you're looking for a kickass travel flashlight that fits in your pocket, look no further.
960 lumens (basically 1% the brightness of the FREAKING SUN)
5 modes from Turbo to Strobe
Shock proof, water resistant to 2m
Fully rechargeable USB ports AND lithium battery compatible for insane versatility
This teeny tiny flashlight packs 252 lumens and seven settings into a brass case the size of a 12-gauge shotgun shell. Waterproof to 10 feet and stylish as hell, this travel flashlight makes a statement.
TL;DR
When you're on the road, it's just you and your carry on bag. Fill it with gear that stands the test of time so you're as prepared as you can be for the inevitable pitfalls and setbacks that make travel so darn fun.
There's a DSLR that fits in your pocket
Great boots are super expensive
Travel jacket + neck pillow + useful pockets = amazing
3D printed shoes are the future of travel
There are loads of products and areas I didn't cover in this list, so please
tweet me
your favorite travel gear, and any travel items that you'd like me to review (like, compression socks—good idea or not worth it?) I want to know what you think.
Want more like this?
Get weekly gear reviews, travel hacks, and packing tips sent straight to your inbox. We'll send you a carry on packing list right away.