Travel isn't always easy. For those of us who love travel, the joys of the experience outweigh the difficulties that can be part of the process. Constant changes in protocols and procedures, ever rising checked luggage costs, and long airport lines are always a hassle.
Savvy travelers learn to minimize the inconvenience on travel days. There are strategies to help make the experience, from dreaming of travel to getting to our destination, a little simpler, a little more pleasant, and a little more hassle-free.
What do we need to know before we go? What's the best way to navigate check in, avoid the craziness of lines, weight restrictions, and questions around checked baggage? How do we minimize the headaches of the security screening process? Preparing ahead of time and knowing what to expect can increase efficiency and decrease stress. If travelers know what's accepted travel protocol, what's required during the security screening process, which line to go to, and how to skip that really long one, well, knowledge is power, isn't it?  
TSA: The Basics
TSA stands for Transportation Security Administration. This is the arm of the Department of Homeland Security that is responsible for the safety of airport passengers both inside and traveling through the United States of America. While other countries have different security and screening protocols, for any flight entering the USA from anywhere in the world, you'll have to go through an American TSA compliant screening process. In some countries, this means going through security twice: Once as usual, and then again at the gate before boarding a US bound flight.
TSA controls the security screening at airports

Your bag and your body will be scanned, and perhaps manually searched

Children 12 and under and elderly adults can now leave their shoes on

Children 12 and under who have one or both parents in the TSA-precheck program can go through that lane with their guardians
TSA: What Can You Bring?
Rules around secuity and travel change often. Years ago travelers could schlepp as much luggage and weight as they wanted. Today, most are able to bring a carry on and personal item free of charge, checked luggage often costs extra. While sizes and weights of check in and carry on luggage are specific to an airline, it's the TSA that determines which items can be carried through an airport and onto a plane (both in your carry on bag and in your checked luggage). The TSA also determines the quanities and containers some of these items may be transported in. There are specific (changing) rules for electronics transport and scanning, an ongoing assessment of which security measures children and older people are subject to, as well as regulations for pet transportation and screening. And, of course, there's the lengthy list of items that are prohibited to be carried onto a plane and must be checked, or they will be confiscated.
For the most up to date information, it's best to always check the TSA website and that of your specific airline as close to travel time as possible.
Carry On Luggage
In general, you can travel with one piece of carry on luggage and one personal item. Carry on dimensions vary by company; there is no substitute for checking the regulations for your particular airline. Even if you think you know, check, because things change without notice and lessening those last minute hassles in advance is always better than frustration on the fly. Most major airlines have 45 linear inches (total length, width and height) as the maximum dimensions for carry on luggage.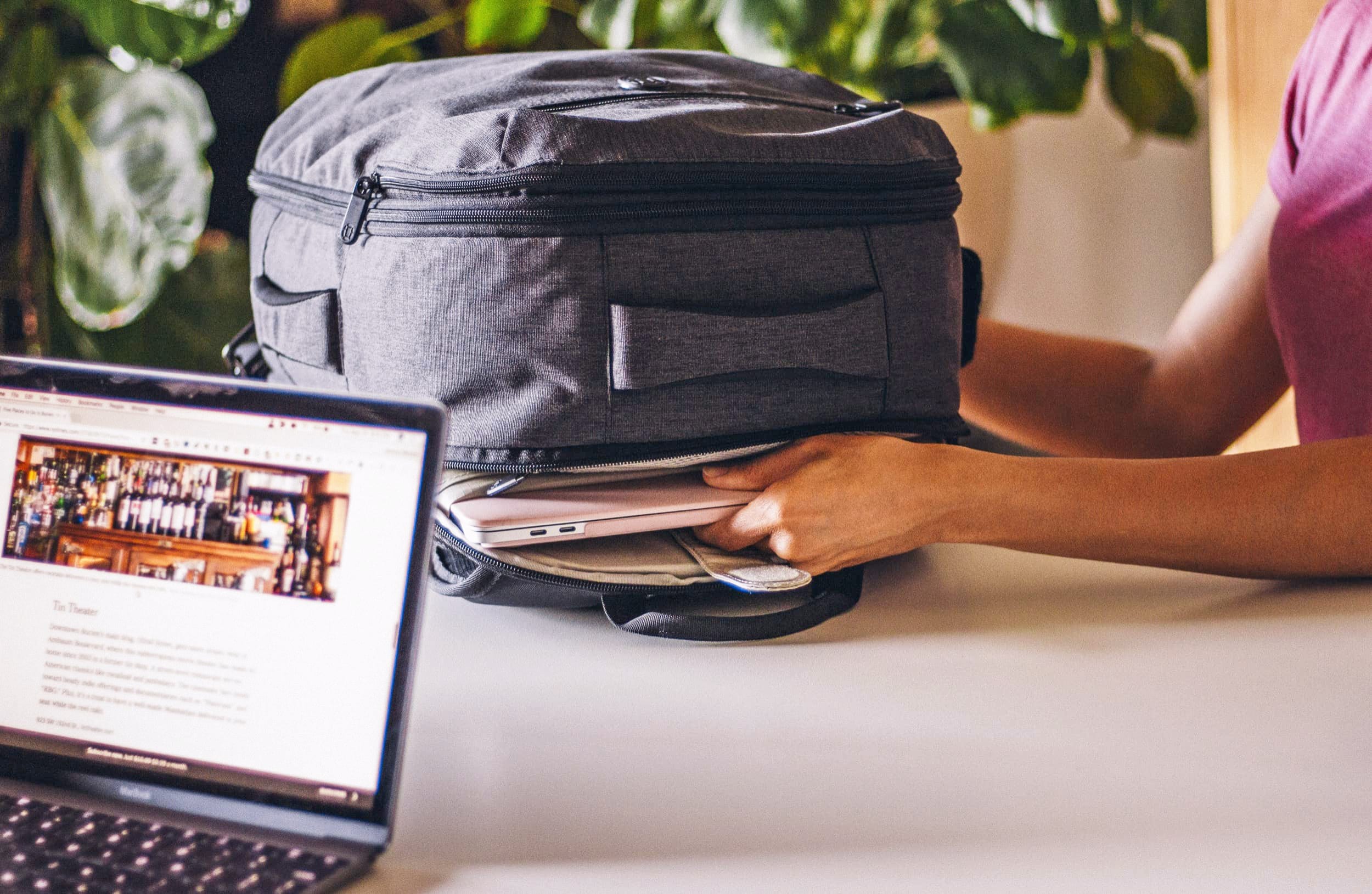 The Setout Collection is the just-right blend of organization, comfort, and durability for carry on travelers.
The Setout travel backpack packs like a suitcase and carries like a backpack; it comes in men's or women's designs.
The Setout Divide is for light packers and short trips, a full-sized carry on is too much bag. While the Laptop Backpack is is a versatile secondary bag with considered details for air travelers. It's perfect for carrying your mobile office.
TSA Restrictions: Dealing With Liquids
The international TSA liquids rule is still 3-1-1. Three ounce containers, one quart-sized clear zip top bag, per person – this is what is accepted for liquids in carry on luggage. Nothing more. This includes the contents of your water bottle, so drink it before you go through security and refill on the other side.
What's exempt from the liquids restrictions?
Medication

Infant/child nourishment
Duty-Free Purchases
For international travelers, duty free stores are located inside the secure area of the airport, after passing through TSA to get onto your first flight.
If you are traveling between countries, in or out of the USA, on a direct flight your purchase will be delivered to your plane to carry on and you'll have no problem on the other end. Bring home that bottle of Caribbean rum!
However, if you have to make a connecting flight after your first point of entry into the US – it's not fine. Duty-free alcohol is not excepted from the 3-1-1 rule and will be confiscated by the TSA when you go through security for the second time. If you aren't making a direct flight internationally, it's best to ship your alcohol if legal to do so.
Here's what happens with a connecting flight and duty-free:
Your duty free alcohol purchased after security is often placed in a tamper-evident duty free clear bag and allowed to be brought onto the plane. In the US, upon first point of entry, travelers must collect luggage, go through customs, then re-check baggage before heading to connecting flights. Duty free purchases in those tamper-evident bags are then NOT ALLOWED through the TSA security check points onto the connecting flight.
If traveling with checked baggage and it's possible to fit your purchase inside – go for it and you're good to go. If the purchase is liquid, larger than 3 ounces and the traveler does not have checked in luggage – purchases will NOT BE ALLOWED through security.
TSA & Electronics
Originally, the mandate regarding electronics larger than a mobile phone was seemingly a large, looming debacle. Swiftly, airlines and airports responded to new decrees and changed many policies.
At this time, when traveling in the US, laptops are fine to bring on domestic flights and as it stands that they're also able to be brought on international flights. However, all passengers flying to, or within, the US may be asked to put any electronic devices larger than a mobile phone in its own individual bins when going through security and remove all cases, which slows down screening. This may or may not affect those in the precheck or Global Entry programs, depending on the airport and the security level.
For those flying into the USA from Canada, Mexico, and other countries, the recommendation is to add time to your arrival at the aiport to accommodate increased screening of electronics entering the USA. It is still best to check with your carrier regarding where your flight originates and the most up to date electronics policy.
TSA & Documents
Experienced travelers know to always keep passports, identification and travel documents on their persons. Those necessary visas, passports, and boarding passes need to be easily accessible to the passenger at all times. Expect your government issued ID and your boarding pass to be checked by TSA in addition to the airline.
Travelers moving between Canada, Mexico or the Caribbean and the US are expected to have government-issued passports to board flights. The passport cards are only valid for domestic flights or overland travel between the three countries. They do circumvent the Real-ID Act obstacles, if your state is non-compliant. They are not valid for international flights.
Speeding up TSA Screening
Form the moment you enter the airport you're in a line, or so it seems. One line to get a boarding pass, another to check in luggage, one to ask a question, and another to get through security. And if you're considering buying a drink or a snack, you guessed it: there's another line to stand on in order to order and to pay.
For most international flights (and that includes going from Canada to the US), most airlines and airports are now asking for a three hour window instead of two. Do you really need that? It depends.
Security checks take longer, queues seem never ending, and everything seems to take more time. Recently, passengers have even been subjected to sniffing by security dogs as they pass through security and immigration lines.
There are strategies for speeding up your TSA screening. For frequent travelers and those who can't stand waiting on a queue, joining one of the many pre-screening programs available can lessen the amount of time spent waiting in that never-ending line.
There are more than 12 million people registered in these expedited travel programs. The US offers TSA Precheck, Global Entry, NEXUS and SENTRI. This comparison of the various programs is helpful in determining which makes most sense for your nationality. Today there are apps allowing travelers to see which airports have TSA Precheck lanes and what the wait time is at the time they'd like to travel.
Bonus: For those with Canadian citizenship, Nexus provides all of the benefits of Global Entry at half the cost ($50 for 5 years).
TSA Pre-Check
TSA Pre-check is an expedited screening process. Submit an application, a fee, and a pre-screening process to gain access. There are no negatives to TSA Pre-check and a frequent traveler will see many benefits. Find out more on the TSA Pre-check page at Homeland Security to get started.
Benefits include:
Getting through security faster (with an average wait time of only five minutes)

Faster moving lines than the standard security line (even when they look longer)

No need to remove shoes, laptops (usually), liquids, belts or light jackets

As with any other pre-approved program, further screening is always possible and any violation of the program can lead to privilege termination
Global Entry
Global Entry is a USCBP (US Customs and Border Protection) program that expedites immigration security, at airports and borders, through pre-approved clearance.
Benefits include:
Use of designated automated kiosks at airports

Expedited entry to the USA & participating countries based on document scan, retinal & fingerprint verification

Also includes TSA Pre-Check privileges

As with TSA pre-check and any other pre-approved program, further screening is always possible and any violation of the program can lead to privilege termination
As part of the pre-approval process, there's a background check, photograph taken, retinal scan, fingerprinting, and in-person interview. With over 50,000 new applications a month, approval can take a long time; apply early and expect to wait.
TSA Questions
The TSA wants to help. There are ways to get many questions answered before having to deal with them while running for that flight. Medical difficulties, stolen identification, electronics, oversized luggage, duty free, traveling with children, pets, or any other questions travelers have can usually be answered in advance. Follow TSA on their social media channels, send in a question via email or call directly and talk with an actual human. Lessen the stress on your travel day – ask in advance.
Use this number for questions about traveling and dealing with a medical condition or disability while flying for yourself or family members.
ASKTSA
on Social Media
: Facebook Messenger and Twitter
Answers are available from 8am-10pm ET weekdays and 9am-7pm ET weekends/holidays.
Available for calls 8am-11pm ET weekdays and 9am-8pm ET weekends/holidays.
TL;DR
All travelers must go through security to reach their gate and plane. There will always be changes, lines and issues beyond our control. Smart travelers can lessen their stress and create smother experiences. 
Do your research

Gather the most up to date information from your airline

Ask questions in advance through TSA online

Pack light, carry on only is best

Follow TSA guidelines

Join one of the expedited travel programs

Keep all identification and travel documents with you always

Be flexible
Want more like this?
Get weekly gear reviews, travel hacks, and packing tips sent straight to your inbox. As an added bonus, we'll send you a carry on packing list right away.