How to Pack in Two Bags and Stay Carry On Compliant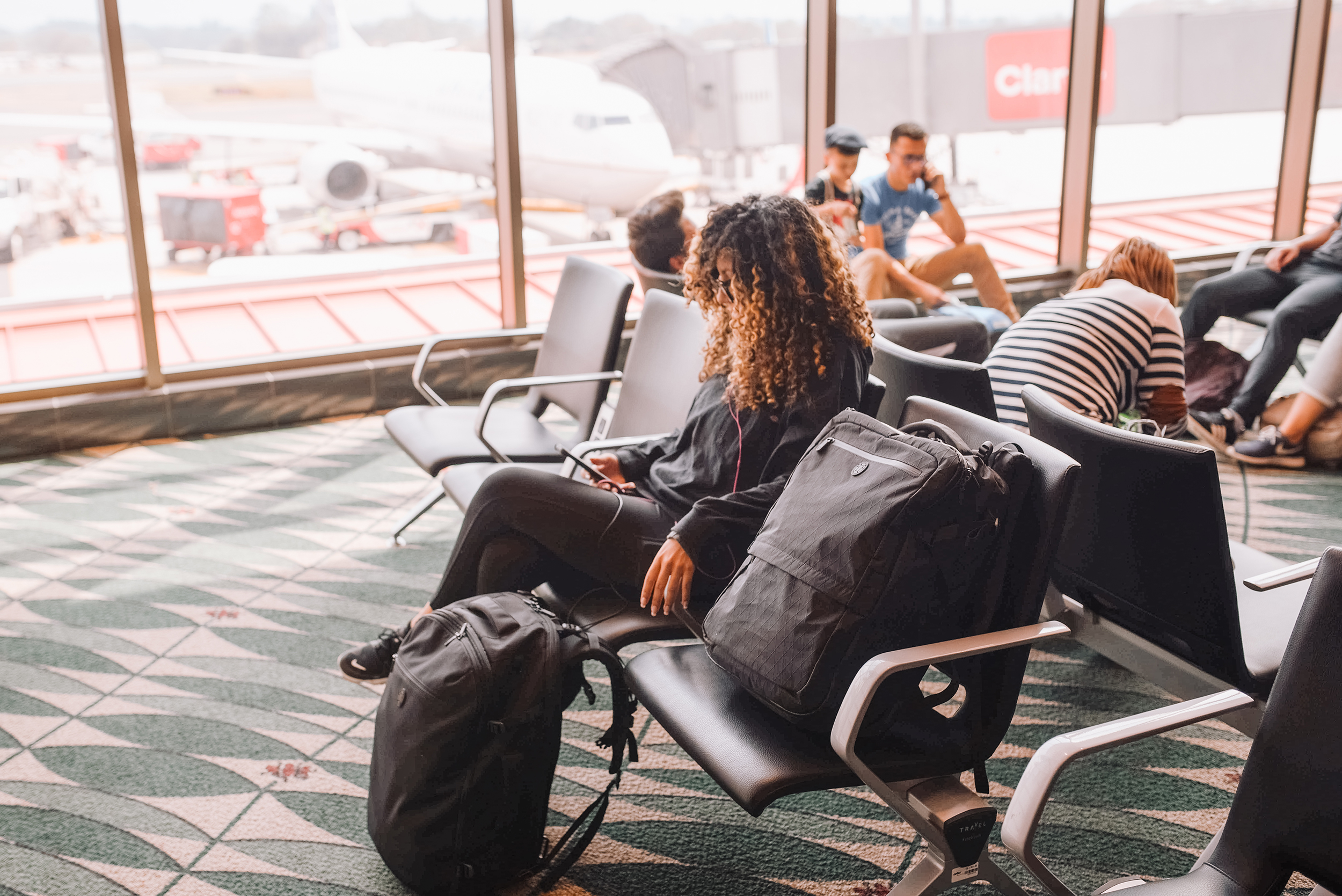 Two-bag travel is in! Maximize your carry on and personal bag allowance with a personal item under the seat in front of you and a carry on sized bag in the overhead bin.
My first backpacking experience was in Western Europe in 1996. Amidst planes, trains, buses, and ferries, I schlepped a giant duffle bag that was way too big for me. It had one zippered compartment and backpack straps with limited back support; so, in order to stop myself from falling over I popped the daypack on my front. If I stopped suddenly there was no telling which way I'd land.
Thankfully, I've learned. Now I use better structured bags that keep me organized, happy, and upright. Today, my travel style varies. I'm definitely a two-bag traveler. You know, the type who does her best to maximize every last ounce of that treasured (and often free) carry on allowance. I like to use the bag under the seat in front of me as my footrest – at 4'11, dangling feet for hours on end leads to a very unhappy back. Space and comfort are equally crucial.
For some travelers, a two-bag solution is the ideal way to pack.
Combine a flexible personal item with another piece of carry on sized luggage to maximize your carry on allowance as well as providing a well organized space for everything you need. Pack your in-flight essentials, laptop, chargers, and a change of clothes in the Outbreaker Laptop Backpack. Pack everything else you need for your trip in a travel backpack or carry on sized duffle.
What is Two-Bag Travel?
Two-bag travel is how most of us travel: Still not checking a bag but maxing available space with both a carry on and personal item. The Setout Duffle and Laptop Backpack were specifically designed to be the perfect combination.
Although many people are die hard one-baggers, it's not for everyone, and not for every trip. Frequent travelers need options, in how and what they pack. That's why we created a two-bag system that doesn't force to you to compromise convenience, organization, or your carry-on-only ethos. This new addition to the Tortuga family is perfect for the traveler who prefers two bags to one.
Packing in two bags allows for easier access to in flight essentials- the Laptop Backpack stays at your feet while the Duffle Bag gets stashed in the overhead compartment.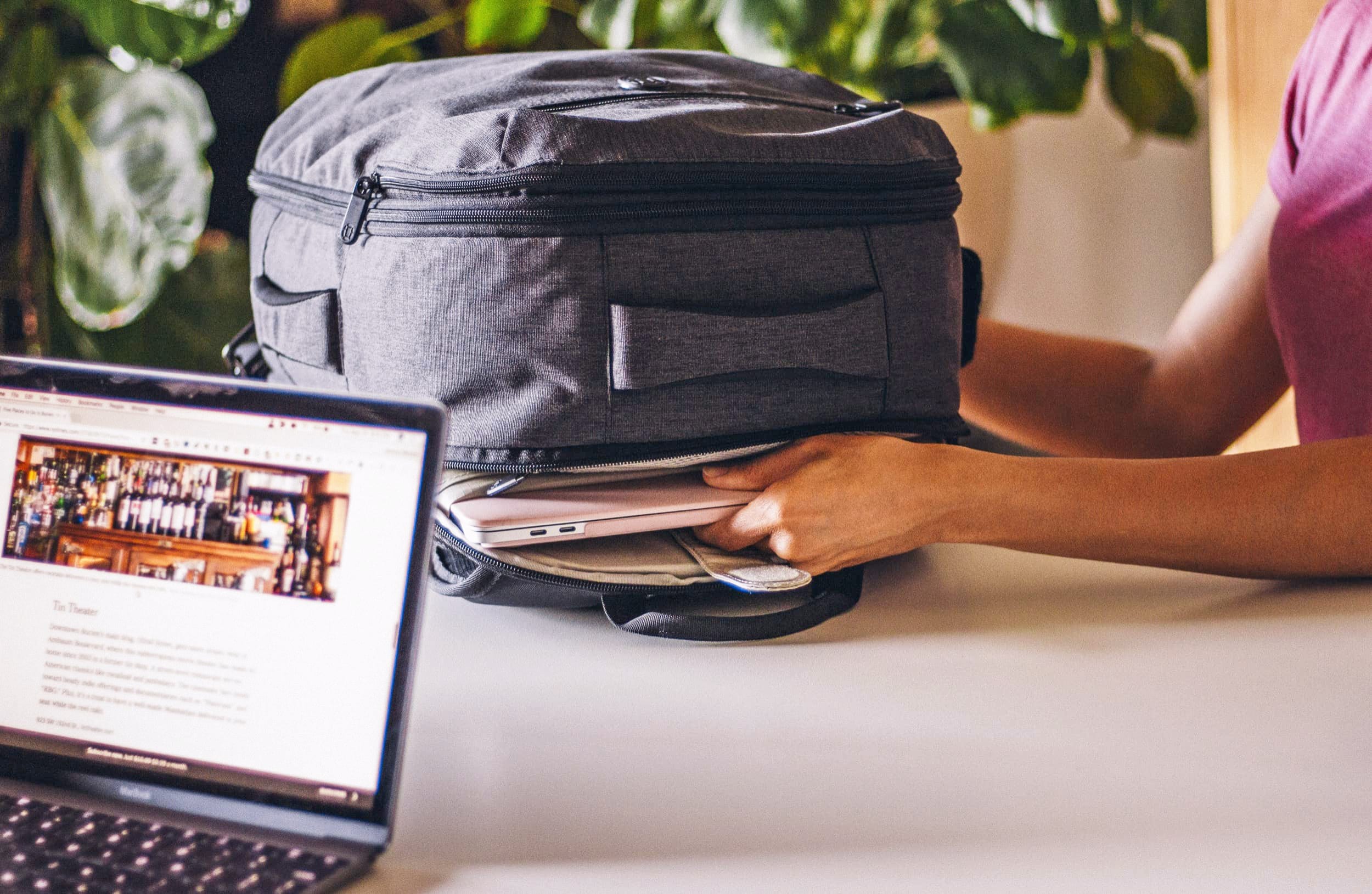 Benefits of Two-Bag Travel
If you've traveled with one carry on bag forever, it might be hard to consider adding a second one. But, with all of the changes in air-travel, with the increase in combined bleisure trips, and the constant desire to have a bit more flexibility in travel, the two-bagging mindset is on the rise.
The benefits of two-bag travel include:
Maximizing carry on and personal item allowance
Increased organization with bag flexibility
In-flight essentials at your finger tips, non-essentials safely stowed above
A backpack and a duffle are easier to carry than two backpacks
Keep your laptop and work gear separate from your clothes and stuff
Ease of hands-free travel
Separating your items without sacrificing overall space
No more shuffling in-flight essentials out of your bag before shoving it in the overhead bin
No checked bag fees, and more options
Already Own a Full Sized Carry On Travel Backpack?
Already have a full sized travel backpack but like the idea adding a personal item to your repertoire, there are options besides investing in a whole new luggage combo.
Do you travel with a carry on sized rolling suitcase? You can still take advantage of two-bag travel! The Outbreaker Laptop Backpack has a pass through sleeves for luggage handles. This means you can smoothly roll that bag from rideshare to the gate, easily pop the roller bag in the overhead compartment, and slip the backpack under the seat in front of you, with all of your essentials at your finger tips. No shuffling your gear as you board. If you're checking a bag, then the duffle makes the perfect carry on sized accompaniment, the pass through sleeve makes it easy to carry with your roller bag, and after you check it the duffle slides neatly into the overhead compartment.