How to Pack Two Carry On Bags and Get Away With It
The Tortuga Promise
At Tortuga, our mission is to make travel easier. Our advice and recommendations are based on years of travel experience. We only recommend products that we use on our own travels.
Airline rules allow for one carry on bag and one personal item, unless you're flying on a basic economy fare. But we've all seen people selfishly putting two bags in the overhead bin or carrying on more luggage than could possibly be allowed.
You don't want to be like them. But you also might not be a one bagger. That's okay! You can still pack light and be carry-on-compliant with two bags.
The solution is that one must meet your airline's carry on rules and the other must meet the personal item rules.
Tortuga
My first backpacking experience was in Western Europe in 1996. Amidst planes, trains, buses, and ferries, I schlepped a giant duffle bag that was way too big for me. The bag had one zippered compartment and backpack straps with limited back support. To stop from falling over, I popped the daypack on my front. If I stopped suddenly there was no telling which way I'd land.
Thankfully, I've learned. Now I use structured bags that keep me organized, happy, and upright. Today, my travel style varies. I'm definitely a two-bag traveler. You know, the type who does her best to maximize every last inch of that treasured (and often free) carry on allowance. I like to use the bag under the seat in front of me as my footrest. At 4'11, dangling my feet for hours on end leads to a very unhappy back. Space and comfort are equally crucial.
For some travelers, a two-bag solution is an ideal way to pack.
Combine a flexible personal item with another piece of carry-on-sized luggage to maximize your space allowance and provide an organized spot for everything you need.
Sure, some frequent travelers are dedicated onebaggers. But that travel style isn't for everyone or for every trip. Two bagging is how most people travel carry on only. In this article, we'll cover how to do it right, which rules you'll need to know, and which bag combos work best.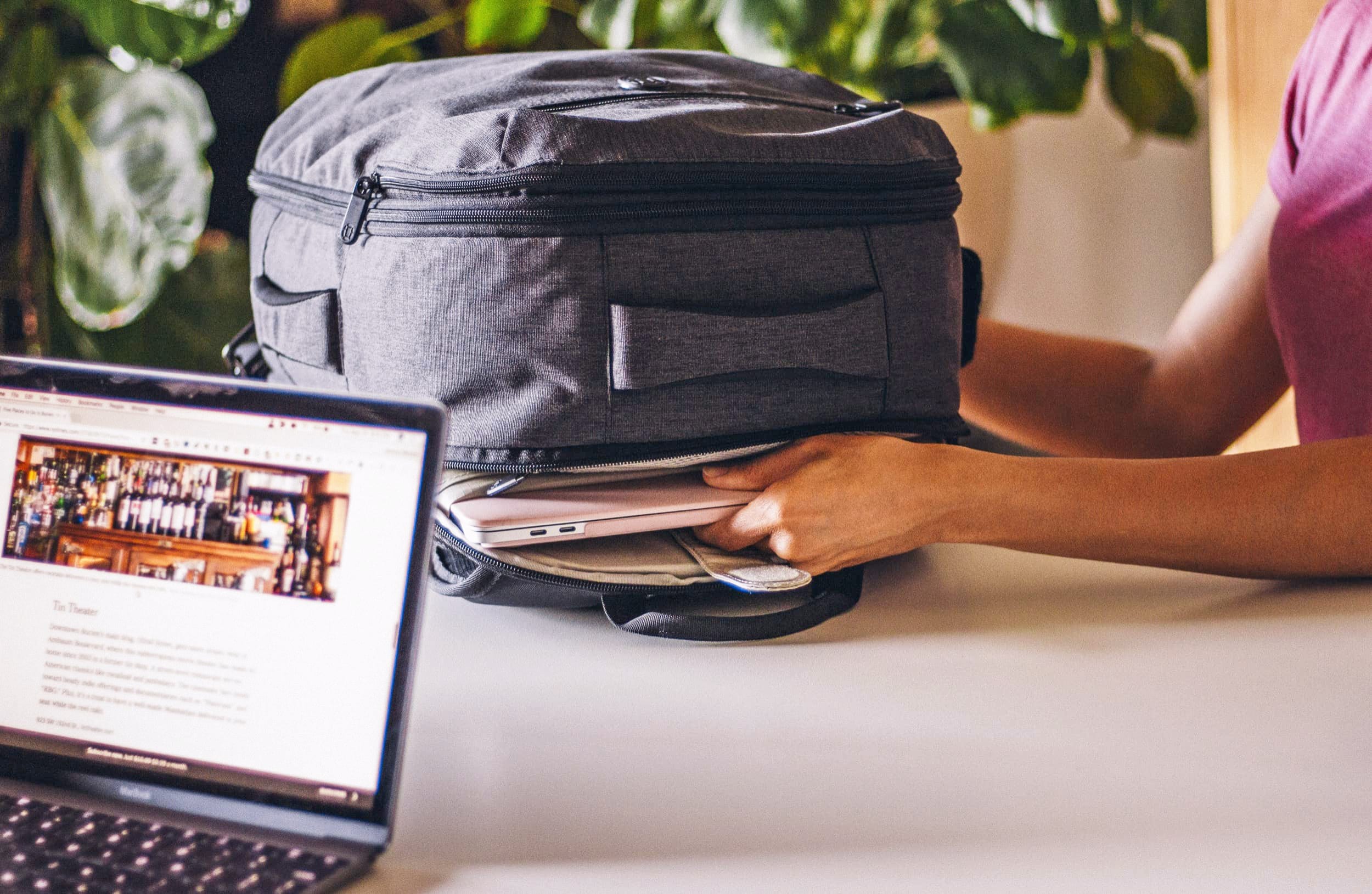 The Benefits of Two Bag Travel
If you've traveled with one carry on bag forever, it might be hard to consider adding a second one. But for travelers downsizing from checking luggage to carrying on only, a second bag is essential.
The benefits of two-bag travel include:
Maximizing total carry on packing space
Increased organization with bag flexibility
In-flight essentials at your finger tips, non-essentials safely stowed above
Keep your laptop and work gear separate from your clothes and toiletries
Ease of hands-free travel
Having a second bag for day use at your destination
No checked bag fees
The Rules of Two Bag Travel
To successfully travel with two bags, you need to know the rules. Remember you're maxing out the rules, not breaking them. You don't want to have one of your bags gate checked and have to endure the hassles of checked luggage.
For two bag travel, you'll need to abide by two different sets of rules.
You get more space, but you do have to do a bit more homework to make sure you understand what's allowed and what's not. Make sure one of your bags qualifies as a carry on and the other as a personal item. Then you can travel with two bags and zero worries.
Two Bag Luggage Options
At Tortuga, we recommend a travel backpack as your primary, carry on luggage. A travel backpack packs like a suitcase and carries like a hiking bag, giving you the best features of both types of luggage. With a backpack as your primary luggage, consider a duffle, tote, or sling as your personal item. Unless you want the double backpack look.
If your carry on is a duffle bag or suitcase, a personal-item-sized backpack is the perfect secondary bag and will fit nicely under the seat in front of you. Plus, you can use the luggage pass-through sleeve to attach your bag to your suitcase for effortless travel through the airport.