Your Essential Vietnam Packing List for Any Time of Year
The Tortuga Promise
At Tortuga, our mission is to make travel easier. Our advice and recommendations are based on years of travel experience. We only recommend products that we use on our own travels.
In 2010, that long awaited trip to Vietnam finally came. The traveler in me was excited and the history teacher in me was intrigued and still a little wary. The nerves were unnecessary – the welcome was exceptional. Vietnam held far more than scrumptious pho and exquisite tailor-made clothing. There were stories to be shared, history (through very different lenses) to be witnessed, architecture to be admired, and culture imbued in every alleyway, paddy and city. We rode, journeyed, swam, ate, did Tai Chi, checked out motorbikes, and more; our senses were heightened and palates satiated.
My trip was in April, but the climate of the region rarely includes cold, snow, or ice. Hot and humid are the norm, and be prepared for lots of rain during the monsoon. If you're not sure how to pack for Vietnam and its varying climates, don't worry, we've got you. Read on for our Vietnam packing list that you can modify for any time of the year.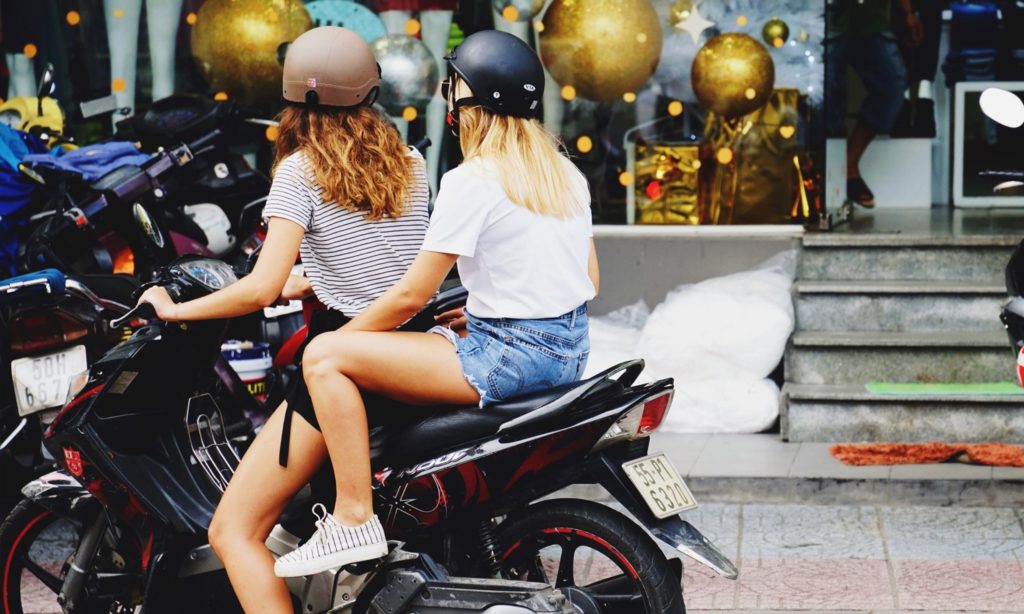 For Vietnam, as well as the rest of Southeast Asia (Cambodia, Laos, Thailand), lightweight, loose fitting clothes you can layers are ideal to pack. Humidity, rain, monsoons, and typhoons occur, and those chilly evenings that arrive without warning are rarely as much fun if you're still soaked from the afternoon's rain shower. There's sunshine and warmth, nature, cities and culture, food and friends, so pack for it all.
As far as figuring out what to wear in Vietnam, focus on lightweight layers and avoid overly short shorts — even in hot weather, most locals don't wear them. You'll also want to wear shoes that are easy to slip on and off, as is customary when entering Vietnamese homes and even some stores.
Below you'll find a Vietnam packing list that works for 7-10 day trips. If you're gone for longer, you don't necessarily have to pack more. Laundry is cheap and easy to do in Vietnam.
Tortuga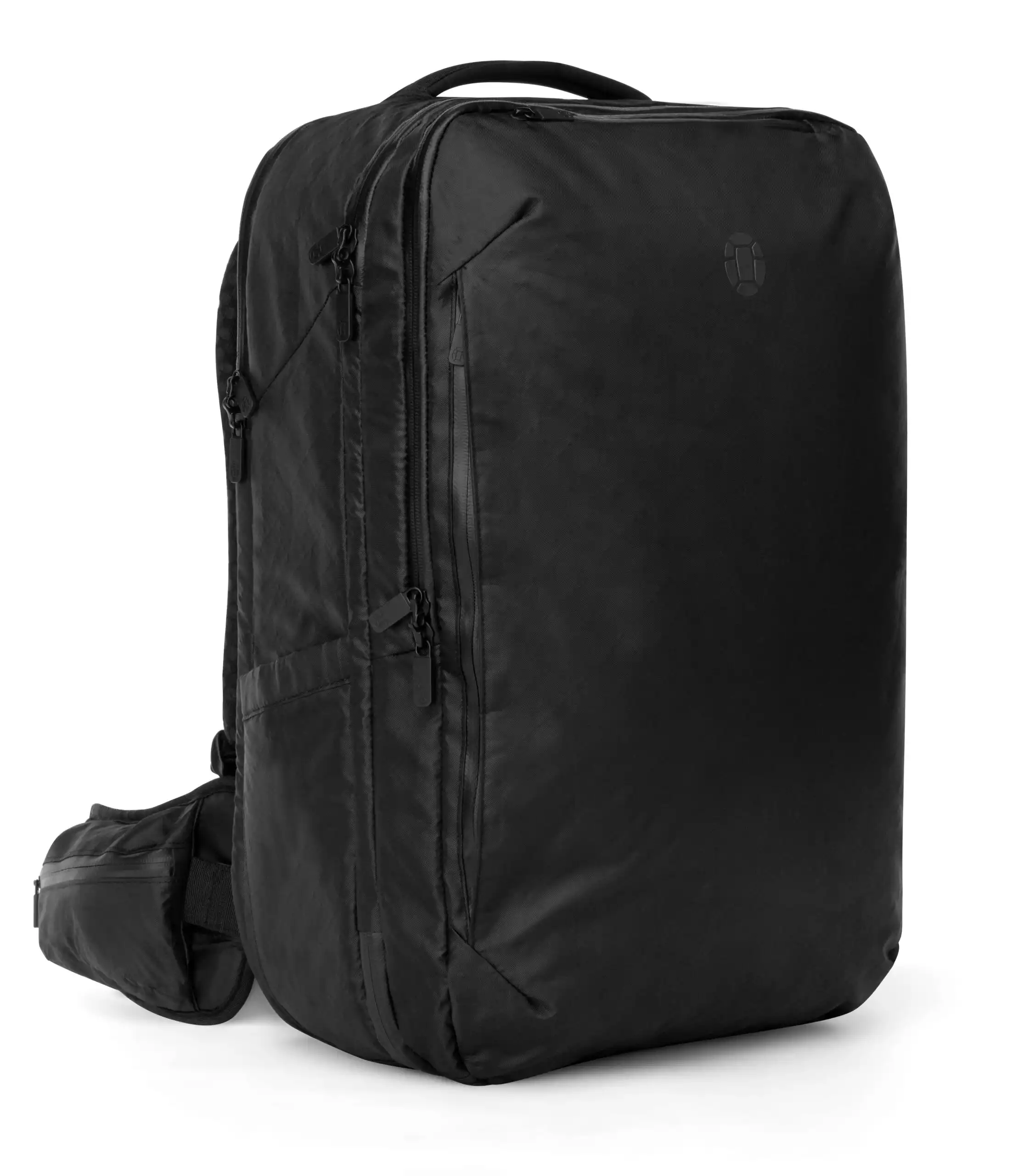 Pack the Right Bag
A good trip starts with the right bag. Vietnam is best navigated with a backpack. You'll be happy not to be managing a cumbersome suitcase on your trip while navigating city streets and public transportation, or if you plan to rent a motorbike that doesn't have much storage. Opt for a backpack instead — you'll be agile and able to carry your stuff on any form of transit. And since it's Southeast Asia, opt for something that's water-resistant.
The Tortuga Travel Backpack is the perfect piece of luggage for Vietnam.
Built for city travel, it packs like a suitcase so you can see everything you packed, super comfortable with a height-adjustable suspension system and padded hip belt. Most importantly — it's made of waterproof sailcloth to keep your stuff dry when you learn firsthand the meaning of "monsoon."
The Outbreaker is also carry-on-sized. Not only will you avoid checked bag fees, lost or damaged luggage, and waiting at the carousel — it's just so much easier to navigate a city and its public transportation with a smaller pack.
Clothes
Vietnam Packing List for Women
3-5 pairs of socks
4-7 pairs of underwear
2 bras (1 sports bra)
3-5 assorted tops (tees/light long sleeve/tank tops)
1 athletic outfit (for workout or hiking)
2 pairs of travel pants (shorts/capris/skirts)
1 travel dress
Pajamas: Or double up a pair of leggings/shorts/tee
1 cardigan/sweatshirt
1 rain jacket
1 swimsuit
Sarong or travel scarf for cold days or visiting temples
1 pair of flip flops or sandals
1 pair comfortable walking/hiking shoes
Hat
Sunglasses
Vietnam Packing List for Men
3-5 pairs of socks
4-7 pairs of underwear
3-5 assorted tops (tees/light long sleeve/tank tops)
1 athletic outfit (for workout or hiking)
2 pairs of travel pants
1 cardigan/sweatshirt
1 rain jacket
1 swimsuit that can double as shorts
Pajamas: Or double up a pair of shorts/tee
1 pair comfortable walking/hiking shoes
1 pair of flip flops
Hat
Sunglasses
What to Pack for Vietnam's Rainy Season
If you're traveling to Vietnam between April and October, rainy season in much of the country, be sure to bring:
A rain jacket
Travel umbrella
A rain cover for your backpack (unless you opted for one with premium weather-resistance)
Dry bag for your gear
Bug spray; rainy weather also brings more mosquitos
What to Pack for Vietnam in Winter
The best time to visit Vietnam, and much of Southeast Asia, is from December through February when there's less rain and milder temperatures. Especially if you're heading to a higher altitude, like Sapa, be sure to bring:
A warm layer (sweatshirt, sweater)
A pair of warm socks
Walking shoes you can hike in
Travel scarf or compact neck buff
Toiletries
Packing toiletries is always a challenge. Remember that much of what you need can be purchased when you arrive. Pack only those items that are brand specific, focus on your needs, be sure to bring enough for the first couple of days. If you're like me and attract mosquito bites – plan accordingly.
Tissues (small packs for easy travel access)
Baby wipes
Shampoo
Conditioner
Toothpaste and toothbrush
Shaving necessities
Contact lens solution (especially if brand specific for sensitive eyes)
Menstrual products of choice (the type you like might be harder to find)
Makeup
Hair products/accessories
Travel towel
Insect repellant (malaria and dengue are significant risks in Vietnam)
Sunscreen (especially if you need a specific brand)
Baby powder (a life saver for hot wet climates)
Deodorant
Optional Things to Pack for Vietnam
Sure, you want to be prepared for everything, but you know you can't fit your entire apartment into your travel backpack. Keep the miscellaneous stuff to a minimum. Still, you might want to consider some of the following:
Clothes line to hang your wet gear in the shower
A daypack for on-the-ground adventures
Travel journal and pen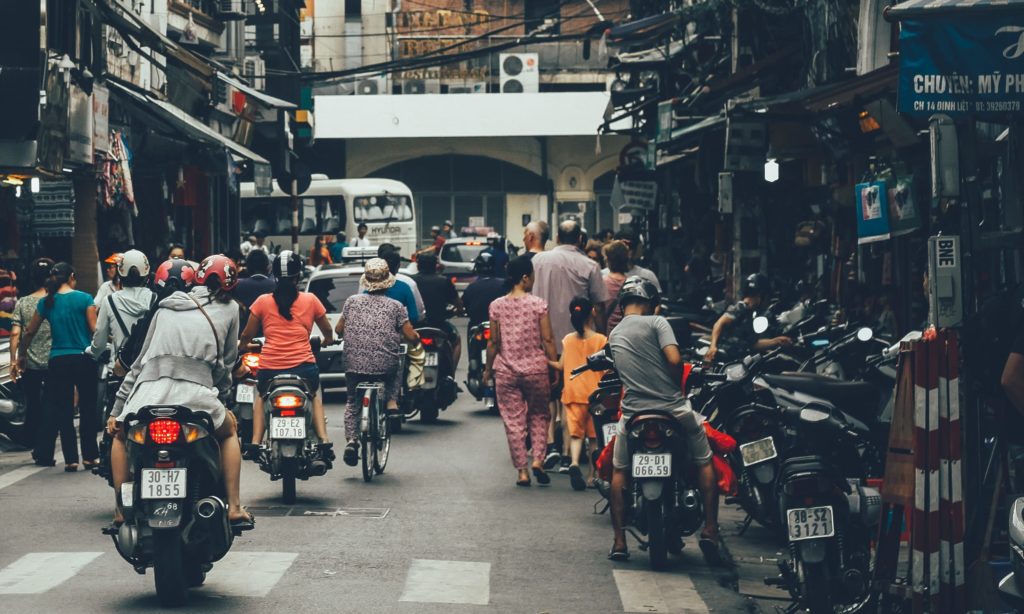 Health Items to Pack for Vietnam
Packing a basic health kit is a good idea no matter where you are going, and truly imperative if you have any sort of health conditions or take regular medications. Vietnam has chemists, doctors, pharmacies, and hospitals should you need to take advantage of those services while you're in the country. Arrive prepared for the things you can anticipate, carry copies of your prescription medications, and write down your allergies ahead of time.
When traveling to Vietnam, also be sure to pack:
Personal medical essentials plus Epi Pen if necessary
Prescription medications and copies of all of your prescriptions/immunizations
First aid kit: Immodium, ibuprofen, acetaminophen, tums/antacid tablets, Benadryl
Allergy meds, asthma inhalers, and eye drops
Hand sanitizer
Antibiotic cream/ointment
Anti-malarials if necessary (check with a travel doctor first)
Anti-itch cream for bug bites
Band-Aids/bandages
It's also always a good idea to buy and pack a copy of your travel insurance.
Electronics to Bring to Vietnam
For electronics, try to bring only what you need while in Vietnam and experience the moments instead of focusing on their capture and know that if you need to replace something – you can. If you're traveling from abroad, do remember to pack an adapter for plugging things in.
Phone, headphone, and charger
Travel adapter (Vietnam uses type A, C, and F)
Kindle and charger
Camera/memory cards, connecting cables and chargers
Portable charger/battery pack
Laptop or tablet and chargers
Back up external hard drive/portable flash drive
Pack your electronics in a waterproof dry sac to make sure they're safe if you get caught in any unexpected rain.
Tortuga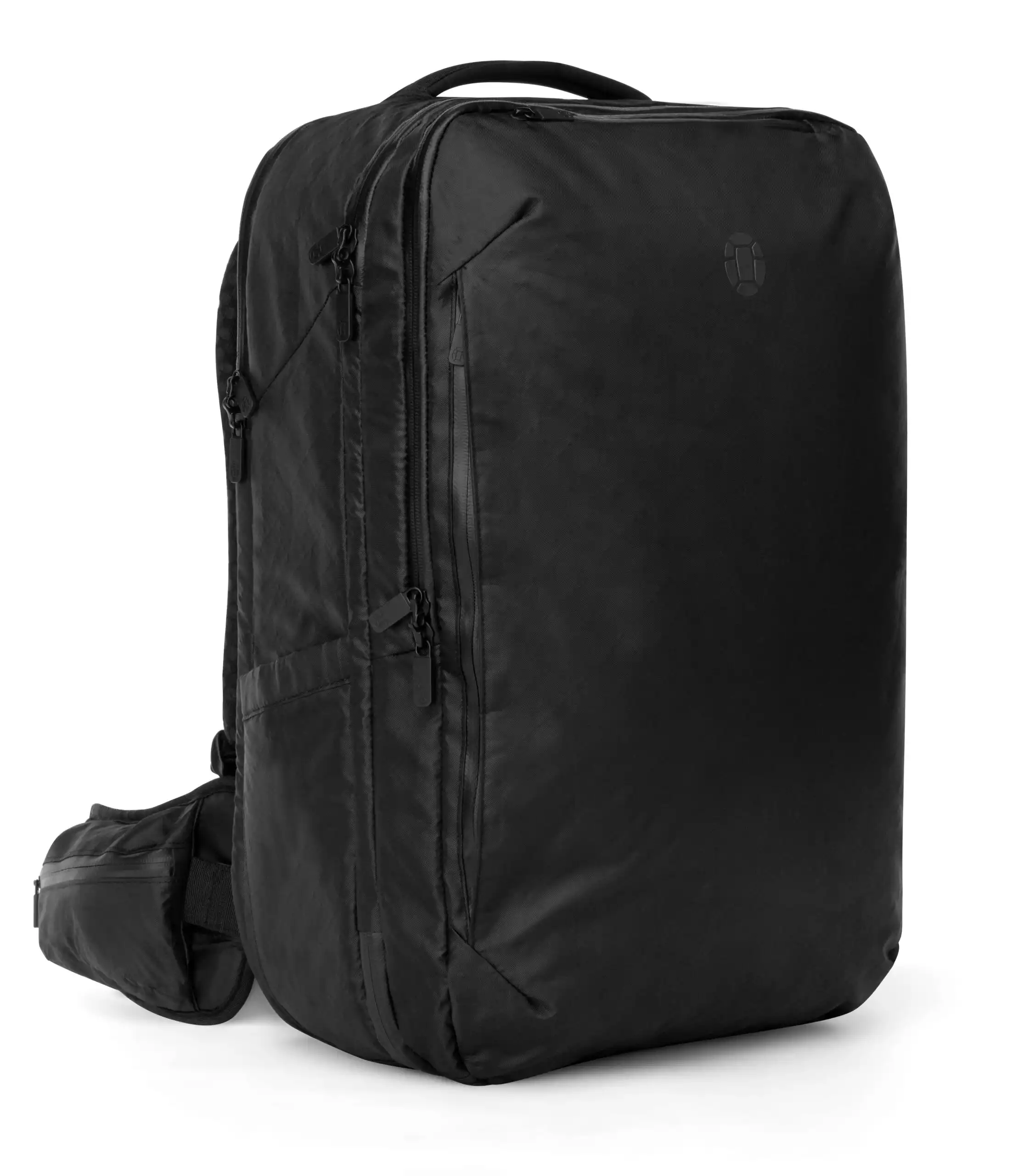 Packing Tips & Tricks
Now the fun begins!
Pack all of your chargers and cables in a separate packing cube
Keep some Ziploc bags handy for any emergency
Travel size containers for jewelry, toiletries and personal items are always helpful
Official currency is the Vietnamese Dong but keep a stash of US Dollars or Euros
Call bank cards and credit cards to let them know you'll be overseas
Power strips allow you to charge many gadgets at once; check the voltage capacity
Always keep medications and tech gear in your carry on luggage/personal item
Pack duct tape, it saves the day every time!
Clip a few carabiners – they always come in handy
Keep a few clothes pegs with you – good for laundry and closing snack bags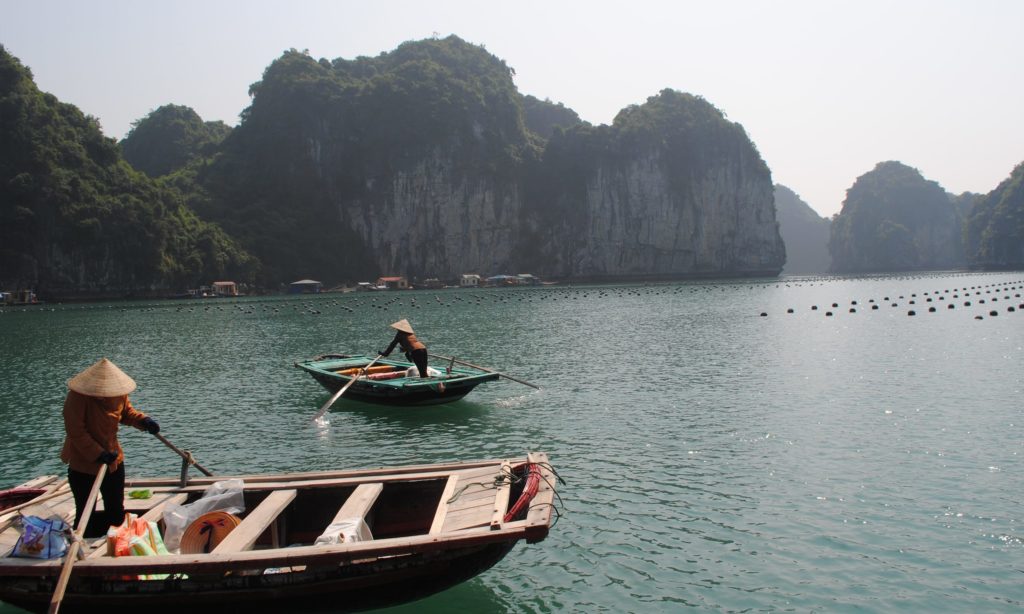 What's the Best Time of Year to Visit Vietnam?
Vietnam is a good destination to visit year-round but December-February is generally the best time to go. Although weather patterns vary between northern, central, and southern Vietnam, monsoon season is generally between April – October. March and April tends to be the hottest, as temperatures rise and monsoons haven't yet broken the humidity.
Keep in mind that even in the dry season, you can expect rain. Year-round, Vietnam is warm, humid, and–especially during during monsoon season–rainy. Rain gear is always a must, along with hat, umbrella, and that trusted travel towel to dry you off when the skies douse you midday. As always, pack layers and be prepared for the country's diverse weather patterns.
Northern Vietnam (Ha Long Bay, Sapa, Hanoi): Winter is between November-April, with temperatures hovering around 20ºC/70ºF in January-March. Summer is May-October. The wettest months are July-September.
Central Vietnam (Hue, Hoi An): January-July are hot and dry, with temperatures around 30ºC/90ºF. The wettest months are October and November, when typhoons risk hitting the coast.
South Vietnam (HCMC, Mekong Delta): Weather in South Vietnam generally flips between wet and dry seasons. Rainy season is May – November, with July and August being the wettest. Dry season is November-April. Year-round temperatures are around 30ºC/90ºF.
Places to Visit in Vietnam
There are city adventures, both large and small, UNESCO heritage site excursions that find you afloat on a traditional junk boat, trails that wind their way to the very top of cultural centers, historical sights, and cultural gems hidden amongst the paddies, the countryside and the busy city streets. Whether culture seeker or happy hiker, foodie or history buff, cycler, wanderer, or first time traveler–Vietnam has something for everyone.
A few spots to be sure to stop along your journey in Vietnam:
Strap on those sturdy walking shoes and get ready for an exciting adventure. Vietnam has it all – beaches, cities, sites, culture, tradition and history in abundance. Explore widely, experience local culture and be prepared to taste some of the best pho you've ever had! To make sure you pack well for your Vietnam adventure:
Start with the right travel backpack for the job.
For clothes, pack for the city, but plan for a few outdoor adventures. You can get your adventure on with junk voyages, bike rides, hikes and motorbike journeys.
Flip flops and a good pair of walking shoes are the best footwear.
No matter what time of year you're visiting Vietnam, be sure to pack a good rain jacket and a warm layer for cold buses and high mountains.
Consult the state department website for Vietnam passport and visa info, and make sure to get a visa in advance and carry a print or digital copy of it in your carry on.