Which Washington DC Airport Should You Fly Into: DCA, IAD, or BWI?
The Tortuga Promise
At Tortuga, our mission is to make travel easier. Our advice and recommendations are based on years of travel experience. We only recommend products that we use on our own travels.
None of the airports serving the greater Washington D.C. area are actually in Washington D.C. Two airports, Reagan (DCA) and Dulles (IAD), are in Northern Virginia, and Marshall Airport (BWI) is just outside of Baltimore, Maryland.
Between growing up in Arlington, Virginia and visiting my family who still lives there, these three airports have become the most familiar to me. Each airport is slightly different and varies in how close they are to D.C., flight availability, and in-terminal amenities. Without having flown through them, though, it can be hard to know which one you should fly into.
If you're planning a trip to Washington D.C. or the surrounding area, I'll break down which airport you should fly into with a comparison of Dulles vs Reagan vs BWI, and give you some tips on what to consider before booking your next flight. As always, we recommend packing a carry-on-sized backpack for easy transit through any airport.
Washington D.C. Airports and Airport Codes
This article will compare all three Washington D.C. airports:
Reagan National Airport (DCA)
Dulles International Airport (IAD)
Marshall Airport (BWI)
Tortuga
What Luggage Is Best for Washington D.C.?
Before you head out, you need to pack a bag. But what luggage is best for Washington D.C.?
Arguably your first consideration should involve convenience, and there's nothing that makes air travel more convenient than passing up the baggage claim by avoiding a checked bag altogether. That means bringing a carry-on-sized travel backpack.
What's more, Washington D.C. tends to have somewhat unpredictable weather, so you'll want a bag that can take whatever nature throws at it. That means you need a backpack that is water-resistant and highly durable.
From my experience, no other bag delivers on these requirements as perfectly as the Tortuga Travel Backpack. Specifically designed to maximize the usability of airline carry on allowances, no other backpack delivers such outstanding carry on capacity and organization. At the same time, the Travel Backpack is ready for the weather thanks to its water-resistant sailcloth shell that will not only keep out the rain but will hold up through many years of travel.
And if you're looking for a daypack to bring along for your around-town exploration, check out the Tortuga Laptop Backpack.
Reagan National Airport (DCA): Convenient but Limited
Of D.C.'s three airports, Reagan National Airport (DCA) is my personal go-to for three reasons.
DCA is:
Closest to Washington D.C.
Easiest to access by public transit
Small, efficient, and easy to navigate
Transportation
Reagan is closer to Washington D.C. than Dulles or BWI, by a lot. While not in D.C. proper, it's just across the Potomac River in Arlington, Virginia. This makes it easy to get to by a short and reasonably-priced taxi or Uber ride or via the Metro, which stops right at the airport. The Metro runs until 11:30 p.m. on weekdays and 1:00 a.m. on weekends, so even late-night arrivals can take advantage of the convenience of the trains.
Amenities
DCA's proximity to downtown also means it's more closely watched by the U.S. government. While you generally won't see or feel a difference as a layperson, security for both passengers and airlines is stricter than it is at the region's other airports. But this is a good thing. Their strict security policies combined with the (mostly) business travel crowd using DCA means getting through security is efficient and the airport itself is well serviced.
Flight Options
The biggest downsides for DCA are that it only has domestic flights (plus a couple to Canada) and tends to be more expensive than IAD or BWI. If you want to fly to an international destination via DCA, you'll have to transfer, likely in Atlanta, New York, or Los Angeles.
With 95 nonstop flights operating out DCA, the airport services a lot of destinations, most of which are clustered on the east coast and in the midwest. Quite a few of the direct flights fly into smaller airports like Chattanooga, Tennessee. You'll find the widest selection of routes served by American Airlines, although United, Alaska, JetBlue, Delta, Southwest, and Frontier also operate out of DCA.
Insider Tip
Trying to get from NYC to DC? Take the bus or Amtrak instead. Between airport security and transportation to/from, the bus or train are almost as fast but will drop you right in the heart of the city.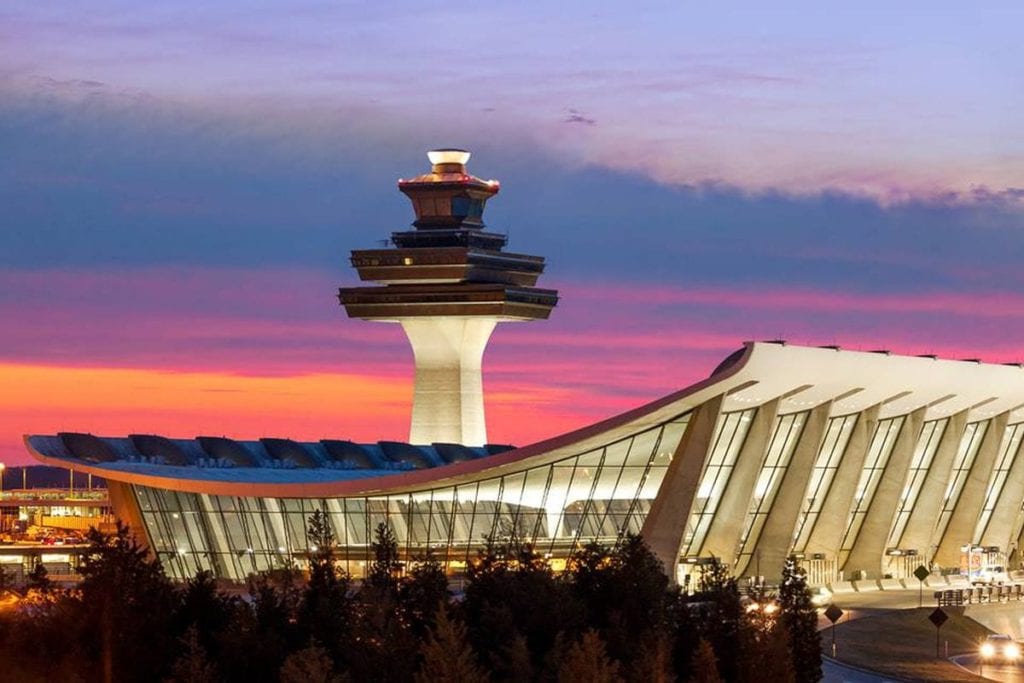 Dulles International Airport (IAD): The "Big Hub"
For the most flight options and highest overall quality, Dulles International is, by far, the best airport in the area. But there's a catch: it's actually not that close to D.C.
Transportation
Roughly 26 miles outside of the District proper, and beyond even the furthest reaching metro stops of Northern Virginia, Dulles is closer to the rolling farmlands of Leesburg, Virginia than it is to the nation's capital. Depending on where in the District you want to go, you need from thirty minutes to one hour to drive there. A taxi ride can cost as much as $60 one way.
Public transportation isn't the best either, though it's improving. In 2009, the Metro began construction on a Silver Line to extend metro rail access from the Northern Virginia suburbs out to the airport. The extension is completed and will begin carrying passengers as early as 2022. Until then, you can take a $5 shuttle from the current end-of-the-line in Reston. From D.C., this trip can take almost one and a half hours but is significantly cheaper than a taxi.
Amenities
Distance aside, Dulles is a great airport in every other regard. Even though IAD is enormous and the post-security shuttles can be a little confusing for first-timers, getting from the check-in counter to your gate is surprisingly efficient. Clearing both security and customs is pretty quick, especially since IAD has all of the expedited customs programs Global Entry, CLEAR, and Mobile Passport.
Perhaps most importantly, the airport is well serviced with shops, restaurants, and amenities. I'll even give it bonus points for opening an outpost of my favorite D.C.-area restaurant: The Lebanese Taverna.
Flight Options
When searching for flights to the D.C. area, you'll find the most options flying to/from IAD—especially with United, since IAD is one of United's hubs. IAD has the largest number of flight options of the three D.C. airports with nonstop flights to 57 international and 81 domestic destinations. Domestic routes are often a little cheaper out of IAD than DCA.
Insider Tip
If you're going into D.C. try to plan your arrival time outside of rush hour, which is roughly 6:00-9:00 a.m. and 3:00-7:00 p.m. Monday through Friday. Traffic in the DMV is some of the worst in the nation, and I wouldn't wish a two-hour drive after a ten-hour flight on anyone.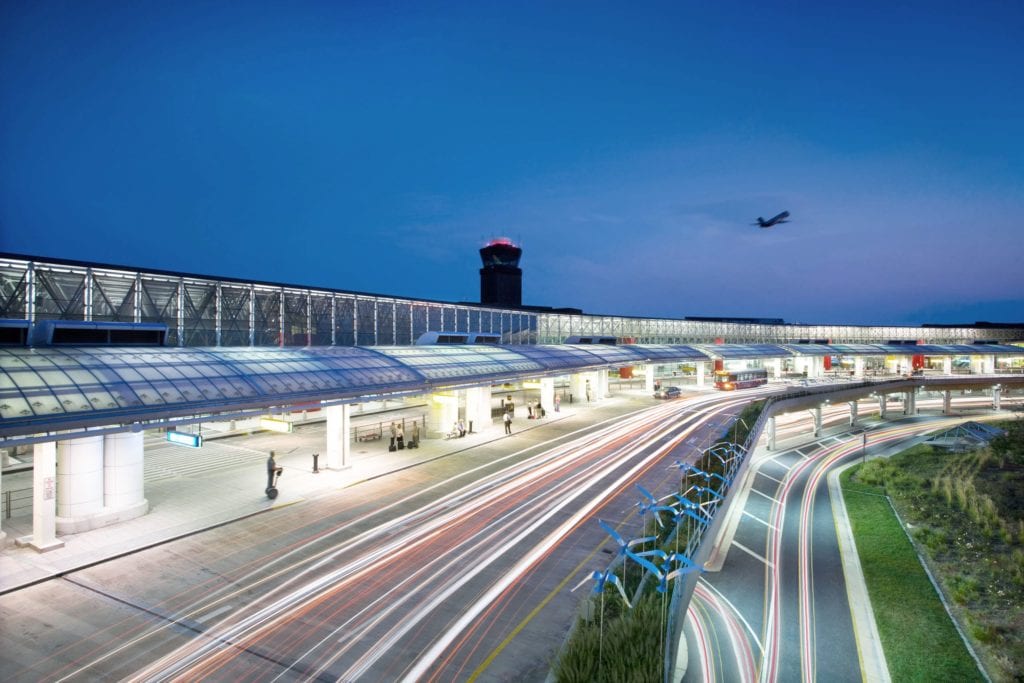 Marshall Airport (BWI): Basic but Budget-Friendly
Flying into Baltimore for a trip to D.C. may seem counterintuitive, but Marshall Airport (BWI) is less than an hour's drive from Washington D.C. and only about 30 minutes away by train. The real winning aspects of BWI, though, are the cheap flights and budget-friendly amenities.
Transportation
The best way to get to and from BWI is by train. From Union Station, travelers can take a 20-30 minute Amtrak train for $16+ or a 35-minute MARC train for $7 (one way). These operate between 3:30 a.m. and 12:30 a.m. The same goes for getting into downtown Baltimore: take a MARC or Amtrak train.
Other transportation options aren't as fast or affordable. Taxis, Ubers, and shuttles will take about an hour from BWI to downtown D.C. Expect a taxi or Uber to cost between $40-90 and shuttles to costs $37 per person.
Amenities
Compared to Reagan and Dulles, BWI has a reputation for being basic and neglected. When I flew through in 2014, it felt grungy and like the only food options were fast food.
Happily, BWI has recently embarked on a $100 million expansion project aimed at providing new services and dining options, better security, and more efficient mobility through terminals. The airport has already seen big improvements. From a gym in the D/E terminal to less congested security lines, BWI is catching up to the standards of its Virginian neighbors.
In addition to the new changes, BWI is budget-traveler friendly. With day passes to their lounge for just $17.50, and a no-premium markup for all food and drinks, neither the flights nor the in-terminal treats will break the bank at BWI.
Flight Options
Although technically an international airport, most of BWI's routes are domestic. Only eight international destinations are serviced by nonstop flights.
But what it lacks in options, BWI makes up for in affordability. Flights from BWI are often cheaper than Reagan or Dulles with budget-friendly Southwest Airlines operating the largest number of flights to and from BWI. Two other budget airlines, Spirit and Iceland's WOW Air, also have direct flights, while larger airlines like United, American, and Delta run good deals on their fares as well.
Insider Tip
You can't walk from the BWI train stop to the airport like you can at Reagan—it's offsite. Instead, you'll catch a quick shuttle bus from the train station. It's a good idea to budget an extra 10-15 minutes for this.
Tortuga
DC Airport Summary
Now it's time to book your flight and pack your travel bag.
For domestic flights, Reagan (DCA) is the best airport to fly into when traveling to Washington D.C. Reagan is the closest airport to D.C. proper (even though it's technically in Virginia), small and easy to navigate, and has easy access to D.C.'s metro system.
Dulles (IAD) tends to be better for most international flights since it services more nonstop routes on international destinations, and an international flight to Reagan may require a layover elsewhere.
While I usually prefer Reagan because it's the closest and easiest to get to from Washington D.C., I'll often find significantly cheaper flights out of Dulles. Dulles is also the only option for international flights and—though large—a fairly efficient and nice airport to navigate.
BWI is only worth it if you're coming from the north side of D.C. or are willing to catch a train from Union Station. Happily, you can find some cheap flights on budget airlines from BWI, and it often wins in terms of affordability.
More Airport Guides