Waterproof vs. Water Resistant: A Traveler's Guide to Rain Gear
The Tortuga Promise
At Tortuga, our mission is to make travel easier. Our advice and recommendations are based on years of travel experience. We only recommend products that we use on our own travels.
What's the difference between waterproof and water resistant? Truly waterproof gear means you can submerge the product under water and no moisture will get inside. Water resistant has a wider range of meaning. You'll be fine in a drizzle, but should seek shelter for heavy rain. Find out what you need.
When you travel, you want gear that will prepare you for unexpected situations and can stand up to the elements — especially the natural. For wet destinations, whether it's Seattle in the winter or Vietnam during rainy season, that means packing luggage, clothes, and technology that can withstand rain and water.
But with terms like water resistant, water repellant, and waterproof all used to describe rainy-weather gear, it can be hard to know if you're buying what you need for your trip. In this article we'll break down the difference between waterproof and water resistant, and which one you need for your next adventure.
Tortuga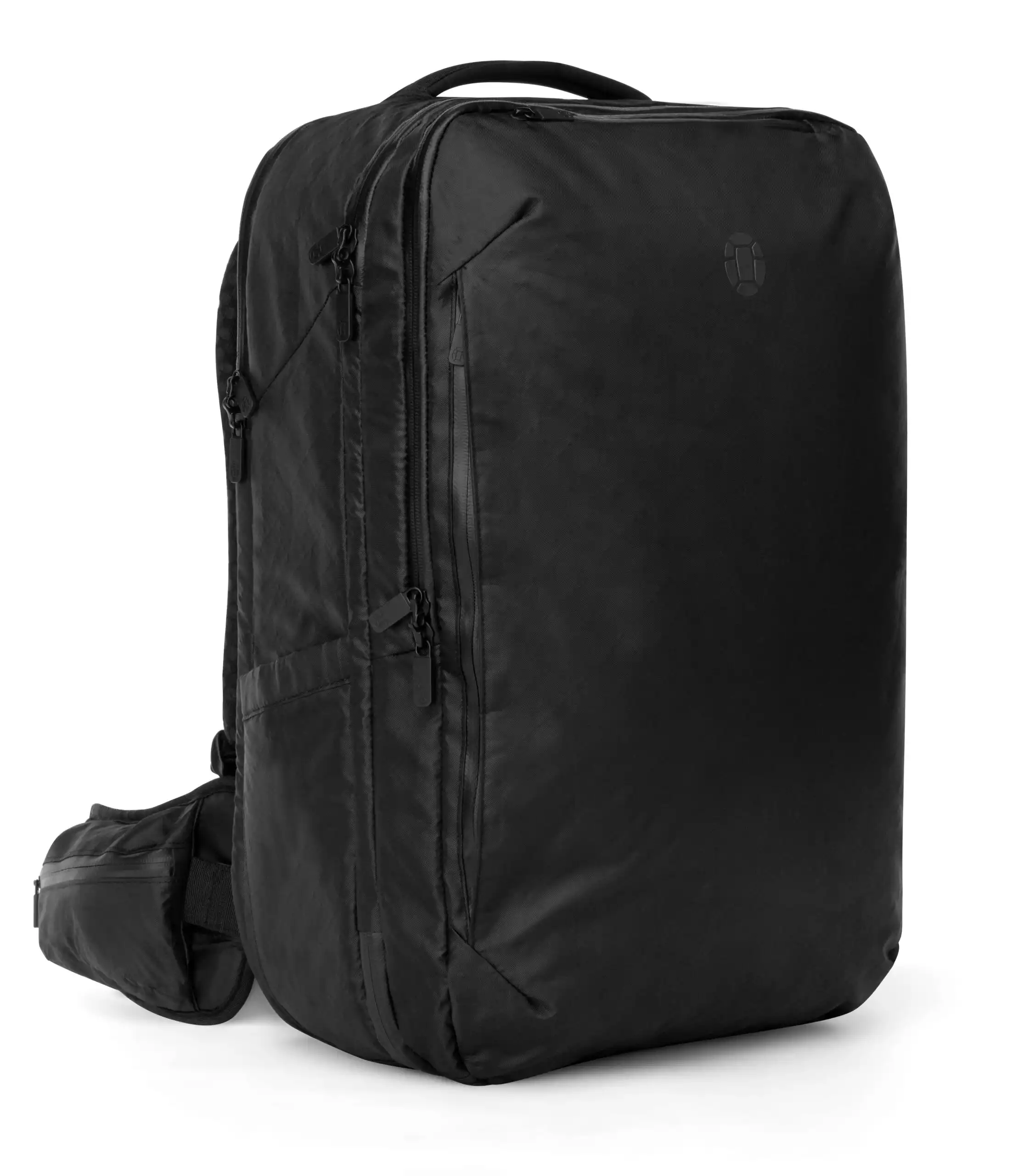 What is Waterproof?
When gear, like backpacks or jackets, are labeled waterproof, it means it can resist water for a very long time. Typically, waterproof jackets and clothes are made of several layers of fabric to create a waterproof outer layer while ensuring breathability.
In reality though, no item of clothing is completely waterproof unless it's welded seam rain gear–which is a good thing. The same seam welding techniques that keep water out also keep your body heat in, and reduce the breathability of the clothing. Instead, you'll usually find jackets and clothing made form waterproof fabrics with several layers to ensure waterproofing and breathability coexist.
Truly waterproof builds are more common in backpacks and luggage, where you don't necessarily need breathability. For textiles — like clothing, jackets, or backpacks — the main difference between waterproof and water-resistant is in the fabric and the construction.
What is Water-Resistant?
Water resistant gear is typically made from densely woven fabrics from materials like nylon and polyester. The density helps keep water from seeping in quickly, but it won't keep it out forever. This is also different from water-repellant, which wards off water with a coating or treatment, sometimes called durable water repellent (DWR).
With water repellant fabrics, water beads up and rolls off the fabric.
Water repellant gear that uses a durable water repellent (DWR) finish on the exterior will fight moisture, keeping you dry in light rain or snow. They don't have the extra layer of impermeable plastic membrane (like some waterproof fabrics would). But with repeated exposure to water, the DWR finish wears off, though you can buy a can of DWR and reapply it.
The bottom line: Don't expect your water-resistant jacket or backpack to hold up under a monsoon of moisture. It's not engineered for that type of battle, but it will help you stay dry as you scurry to the nearest cafe for shelter.
What's the Difference Between Waterproof and Water Resistant?
Although many brands will use the two terms interchangeably, they do not mean the same thing. Water resistant gear, which generally refers to anything made from fabric, will keep water out for a time but not indefinitely. Waterproof gear is meant to resist water for even longer stretches of time. Especially with jackets, tents, backpacks, and other fabric-based gear, the main difference between the two is the seams: waterproof items are more tightly sealed.
How to Spot Waterproof Jackets, Clothing, and Bags
For waterproof jackets and clothes, look for taped or welded seams and a waterproof, breathable membrane (or similar waterproof technology) within the fabric itself. Seams are the weakest link in a fabric. It's made of little holes that act as entry points for water. So, to have a waterproof jacket or backpack, your seams should be sealed or welded.
There are two kinds of sealed seams:
Critically seam sealed: Only the upper body of the garment has sealed seams
Fully seam sealed: All seams are sealed for max water tightness
And there are two ways to seal seams:
Taped seams: Sealed with a waterproof tape
Welded seams: Joined without stitching by using glue or conic bonding
If your gear doesn't have welded seams, it's not truly waterproof, even if the fabric is waterproof. For example, the Travel Backpack is made of waterproof sailcloth but is only water resistant, because the seams are stitched, not welded.
If you're still not sure how waterproof your clothing, jackets, or bags are, look at the hydrostatic rating. Here's what each waterproof rating means:
| | | |
| --- | --- | --- |
| Waterproof Rating (mm) | Water Resistance Provided | Conditions |
| 0-5,000 | No resistance to some resistance to moisture | Light rain, dry snow, no force/pressure |
| 6,000-10,000 | Rainproof and waterproof under light force | Light rain, average snow, light force |
| 11,000-15,000 | Rainproof and waterproof except under high force | Moderate rain, average snow, light force |
| 16,00-20,000 | Rainproof and waterproof under high force | Heavy rain, wet snow, some force |
| 20,000+ | Rainproof and waterproof under high force | Heavy rain, wet snow, some force |
How to Tell How Waterproof Electronics Are
Electronics can also be waterproof. You can tell how waterproof a smartphone or other electronics are by looking at the IP67 rating, which rans smartphones on how resistant they are to elements, like dust particles and water.
For example, the Samsung Galaxy S8 earned a IP67 rating. IP stands for International Protection marking. The International Electrotechnical Commission created this standard.
The second number — 6, in this example — represents the smartphone's resistance to dust, dirt and sand. A 6 rating means "no ingress of dust; complete protection against contact (dust tight)" after an 8-hour test.
The third number — 7 in this example — represents the water-tightness of your smartphone. A 7 rating means if your smartphone is immersed in water for up to 30 minutes, it should emerge in working order. An 8 rating — the highest rating — means the device survives for 30 minutes at depths of up to 1.5m.
What Fabrics are Water Resistant?
Most water resistant fabrics are made from nylon or polyester. However, it's the density of the fabric, rather than the material, that helps its resistance to water.
Which is Better: Waterproof or Water-Resistant Gear?
Whether you need water resistant or waterproof gear depends on what you plan to do with it.
Luggage and Bags
The only thing that will be totally waterproof is a seam sealed dry bag, such as Sea to Summit's dry bags. However, those aren't built to function as luggage. Instead, if you're traveling to a rainy destination a highly water-resistant bag, made of waterproof fabric with water resistant zippers, like the Travel Backpack will do the trick. For extra protection, use dry bags for items inside your luggage.
For all but the most extreme trips, water resistant luggage is usually enough. If you're going to be only a few minutes in the rain then simple DWR coating is going to be plenty. If you're going to spend some time standing in the rain, then perhaps a more robust water-resistance, like the waterproof sailcloth construction of Tortuga's travel bags, is a better choice.
Jackets and Clothing
If you're going skiing, snowboarding, or taking long walks in tons of rain, a waterproof jacket will be your best option. However, you'll still get a little bit wet in waterproof gear since there are big holes in it where your head, hands, and torso fit.
If you're just about town, in a moderate climate where the rain isn't likely to be torrential or last for hours, water-resistant is probably adequate. Even in Seattle, a good water resistant jacket will be perfectly fine in its consistent, but not torrential, rain.
If you don't want to spend a lot of money on Gortex fabric and welded construction, you can get light water resistance with a DIY spray on coating to beef up the gear you already have.
The Best Waterproof Jackets
Electronics
While many newer electronics will resist water for a short period of time, the only way to really keep them safe from water is with a waterproof case. This is a good idea if, for example, you want to take photos underwater while snorkeling or plan on hiking in some serious rain.
There are a range of options for waterproofing your tech. From glorified clear plastic bags with roll top and velcro and zip seals, to high end waterproofing that will allow you to take your electronics to depth while SCUBA diving. For most people that's too much.
Smartphone Case
Below are three of our top choices for a waterproof smartphone case:
For more serious waterproof cases, Lifeproof and Otterbox have solid choices.
Tortuga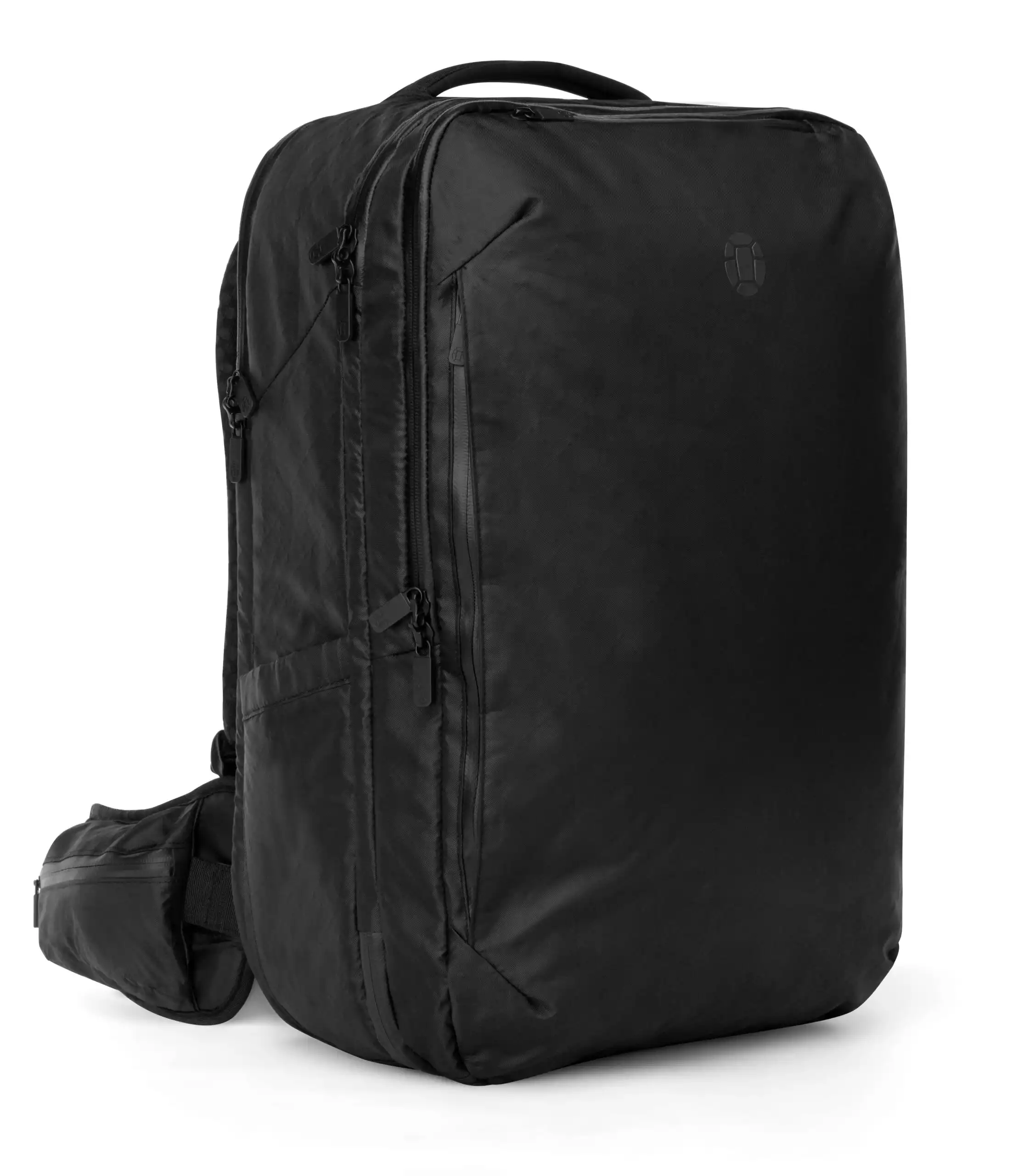 When is Waterproof Too Much?
Waterproof is actually a bad idea if you need breathability in your gear. When you buy your jacket, you're seeking a balance between water protection and breathability. However, the very definition of waterproof means water can't get in. It also means water (i.e. sweat) can't get out and can turn your jacket into a portable swamp cooler if you're in a humid area. True waterproof material isn't breathable.
When is Waterproof Just Right?
Exploring rainforest and equatorial jungles during the rainy season? Planning to watch a baseball game in a downpour? What about sailing around the world or spending lots of time out on the water? Waterproof is what you want. For your outerwear and dry bags, pick fabric that has a waterproof rating of 11,000 mm and above.
As for gear, your smartphone has an average risk of 20% of being liquid damaged as estimated by Scott Adam Gordon of Android Authority. Yep, that's including the risk of dropping it in the toilet. You can buy a water-resistant phone, but they're more expensive. My recommendation? Buy a waterproof case for your smartphone.
Whether you opt for water resistant or waterproof gear will depend on the adventure you have ahead of you, your budget, and needs. Stay dry, travelers.